There are a lot of piano brands out there.
And that's a good thing! It means you have options, and it also means there's a lot of information to sift through if you're looking for one. We're here to help.
We've rounded up 12 piano brands that are worth checking out. These companies offer everything from entry-level pianos to advanced models, so no matter what your level is, we bet you'll find something that works for you.
1. Yamaha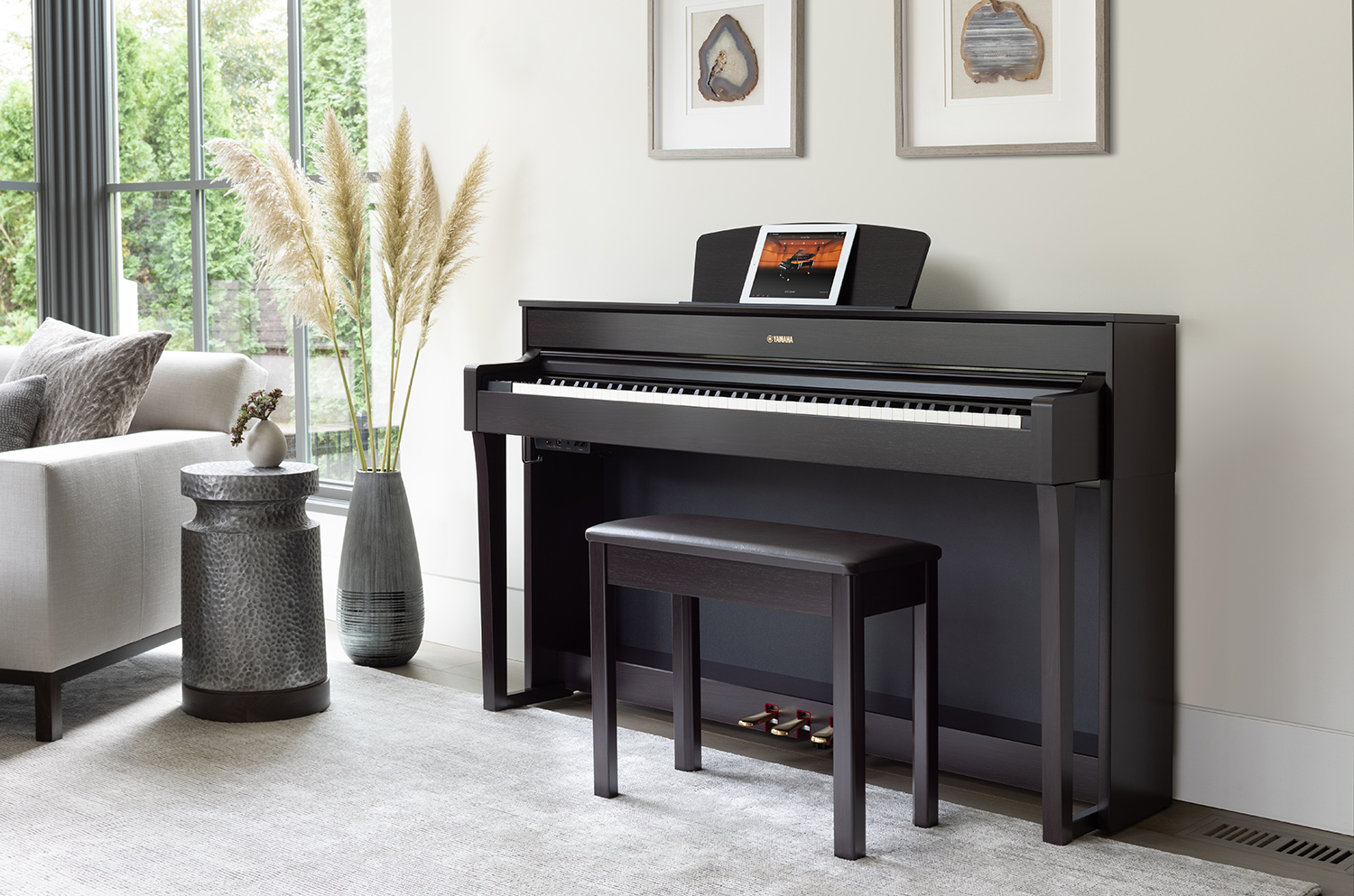 At the top of the list is Yamaha because it has an excellent variety of pianos for different budgets and skill levels. Moreover, it offers several different types of pianos.
History of Yamaha Pianos
Originating in Japan, Yamaha came onto the market in 1900. Founder Torakusu Yamaha started with an upright piano design. By 1902 though, he had also designed and manufactured a grand piano.
During the brand's first few years of its existence, it was focused primarily on selling to Japanese artists. However, its sound quickly became known across the world.
While the piano was not being sold in the United States, it was showcased at the 1904 World Fair in St. Louis. It was there that the name Yamaha first became synonymous with quality pianos.
After receiving an Honorary Grand Prize at The World Fair, the Yamaha brand continued to grow. To further develop the quality and craftsmanship of its pianos, Yamaha began learning from European piano makers.
Following several decades of growth and development in Japan and Europe, Yamaha officially made its way to the United States. Within five years of beginning imports and exports of pianos from the United States, Yamaha became the biggest distributor of pianos in the world in 1965.
Yamaha's Range of Pianos
Yamaha's growth and worldwide expansion is largely driven by its wide range of pianos. In addition to the upright and grand pianos that got the company up and running, Yamaha introduced the world to electric pianos.
Since releasing its first digital piano in 1983, it has continued to surpass other brands with its innovations. In addition to the original Yamaha Clavinova, Yamaha offers several other digital pianos. The brand also has smaller digital keyboards that offer more variety for players.
Moreover, Yamaha has gone beyond just digital and created several hybrid pianos. These hybrid pianos offer a blend of modern technology with traditional craftsmanship.
One of the brand's greatest blends is its Silent piano! An acoustic piano that can be played regularly and then switched to silent mode. In silent mode, only the player can hear the music through their headphones.
However, it isn't the only innovation that puts Yamaha at the top of the list. Another reason is that while the brand is progressive, it still maintains its roots in tradition. Therefore, continuing to provide some of the best acoustic pianos.
The Cost of Yamaha Pianos
When it comes to cost, Yahama again makes it easy to be branded as one of the best brands. Beginning piano players can find a quality Yamaha electric keyboard for as low as $499.
In addition, expert pianists have access to a range of acoustic, digital, and hybrid pianos that range anywhere from around $2,000 to over $19,000. This includes the top-of-the-range GB1K Baby Grand Piano. One of the best baby grand pianos on the market.
Yamaha truly has something for every piano player. Therefore, making it our pick for the best piano brand around.
2. Steinway & Sons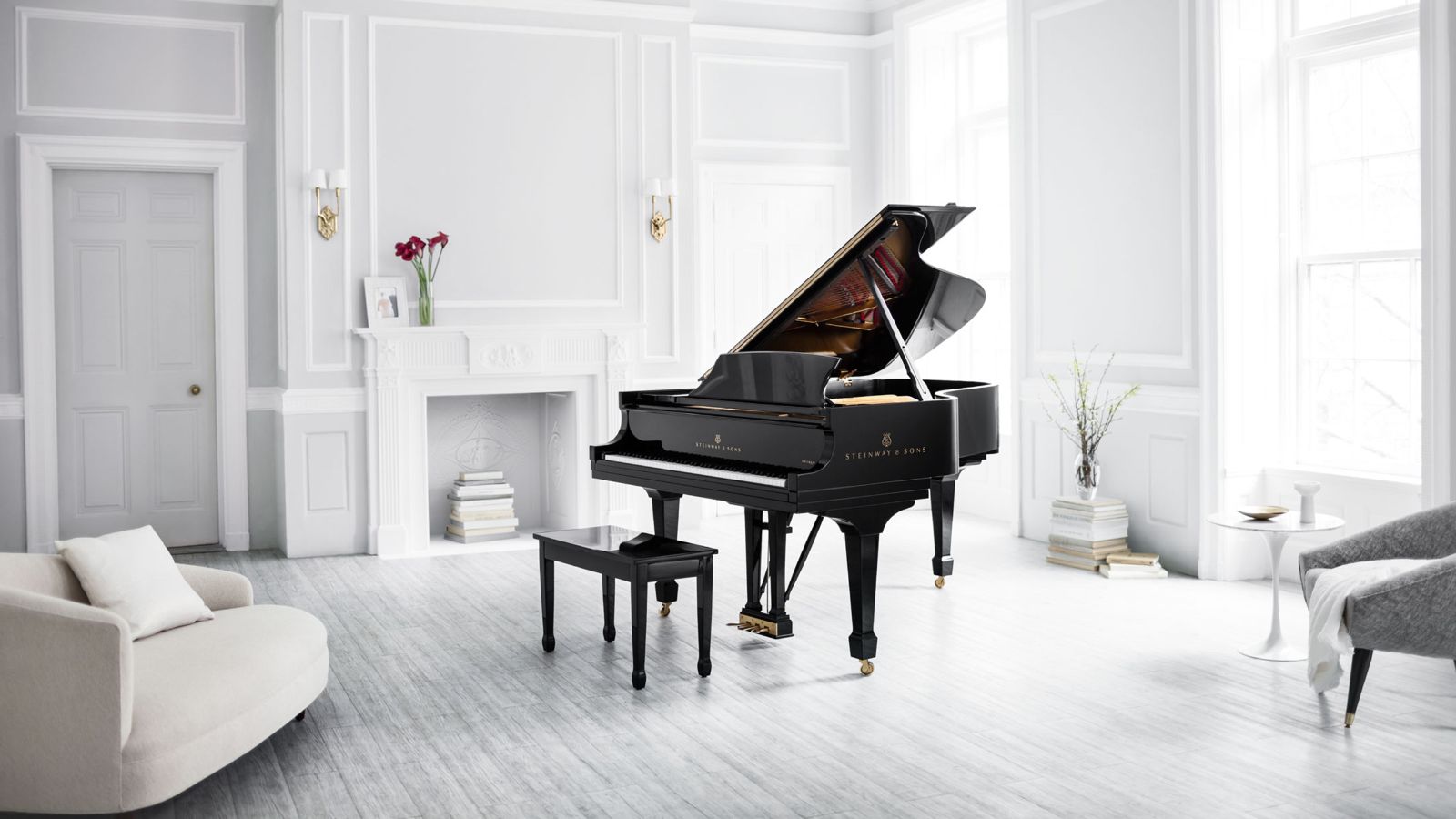 History of Steinway & Sons Pianos
While Yamaha is arguably the best piano brand due to its variety, Steinway & Sons is a top competitor for the number one spot. Some (like classical concert pianists) may argue that due to the brand's rich history it is the best choice.
Steinway & Sons founder Heinrich Engelhard Steinweg began building pianos in his family's kitchen when he was only 20 years old. He built his first piano in 1836.
Steinweg eventually took his passion to the United States. Steinweg became Steinway when he immigrated to New York, and his solo piano building became a family affair when he and his sons opened their first store in 1853.
However, it isn't just time that makes it the most respected and well-known piano brand in the world. It is the unrivaled quality of sound, craftsmanship, and aesthetics.
Steinway & Sons Grand Pianos
While there are many other great brands for grand pianos, Steinway continues to be considered one of the best. Even after over a hundred years.
This brand is a carefully crafted brand that is known for its commitment to creating a piece of art to create art. Therefore, they are intended for expert pianists. More specifically, concert pianists.
Every Steinway grand piano is made with over 12,000 individual pieces. Moreover, each of these masterpieces is handcrafted. Therefore, it takes over a year to manufacture a Steinway grand piano.
The Cost of a Steinway & Sons Piano
The artistry and time invested into crafting a Steinway piano is reflected in the price. Buying a Steinway grand piano will set you back a minimum of $63,000. However, depending on the model it could cost over $175,000.
While this price range may seem extreme to some, it is a reflection of the artistry and craftsmanship dedicated to each piano. If you want to experience the expert craftsmanship of this brand without the cost, you can try a Steinway & Sons upright piano.
A new upright Steinway & Sons piano costs about $35,000. However, many used Steinway uprights can be found for as low as $5,000. This provides a great option for up-and-coming musicians to play an exceptional piano at an affordable price.
Although Steinway & Sons does not offer the wider range of affordability and the option of a digital piano that Yamaha does, it is a classic brand for acoustic pianos. Especially for those who are committed to making lifelong music as a pianist.
3. Bösendorfer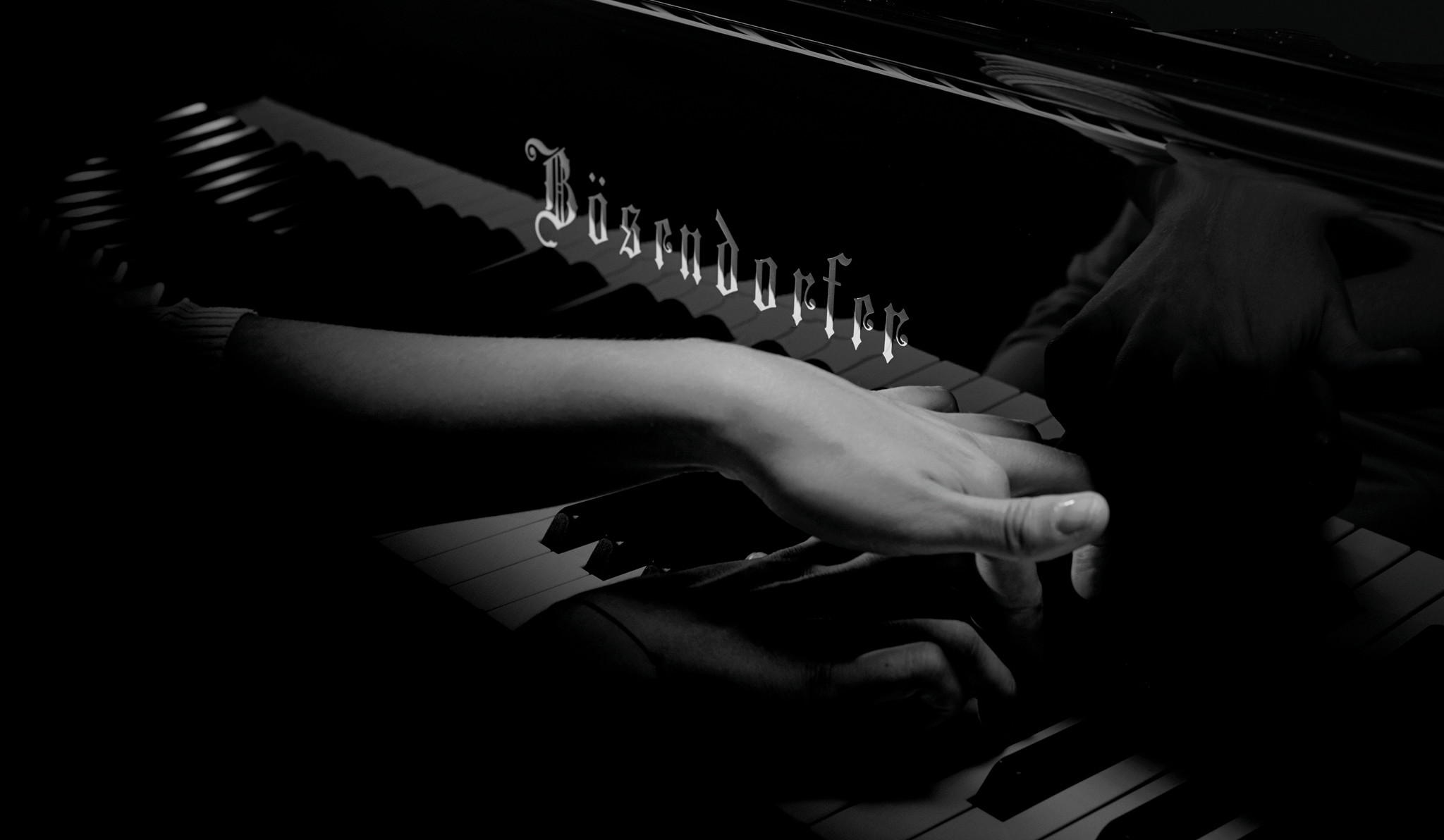 History of Bösendorfer
Vienna is historically known as one of the most musically gifted cities in the world. Home to legendary composers such as Mozart, Haydn, Beethoven, Schubert, Brahms, and Mahler, it is difficult to think of Vienna without thinking of exceptional piano scores.
Therefore, it is no surprise that one of the world's oldest and best piano manufacturers is from Vienna. It has been around for even longer than Steinway & Sons, beginning in 1828.
Founder Ignaz Bösendorfer was only 19 years old when he first started building pianos. However, despite his young age, his exceptional talent earned him recognition quite early in his career.
Only 11 years after launching his brand, Ignaz was commissioned to be the official piano maker for The Emperor of Austria. Even after Ignaz died, the respect and reputation of the brand continued to grow when his son took over.
Bösendorfer Grand Pianos
Many consider the craftsmanship of Bösendorfer pianos to be the measure of perfection. Therefore, they are most often played by exceptional piano players – specifically, concert pianists.
Bösendorfer is known for its grand pianos. Not only that, this brand is known for creating a special concert grand unlike any other.
The Vienna brand is the manufacturer of one of the largest grand pianos in the world. This piano is not only larger in size but also has more keys than other pianos.
The impressive Concert Grand Imperial 290 has 97 keys instead of the standard 88. This unique design allows concert pianists to explore an exceptional sound that cannot be found anywhere else.
Cost of Bösendorfer Pianos
Bösendorfer grand pianos are not an inexpensive purchase. A Bösendorfer can range anywhere from around $15,000 to over $180,000 depending on the make, model, and year. However, some have even been priced closer to $500,000.
The cost of a Bösendorfer along with the brand's commitment to creating the highest quality of grand pianos makes them a brand best suited for professional pianists. However, this traditional brand is not opposed to following modern trends. Moreover, creating options for up-and-coming pianists.
Collaboration with Yamaha
While other brands with a similar history to Bösendorfer (like Steinway & Sons) maintain their commitment to only acoustic pianos, Bösendorfer partnered with Yamaha to create a silent piano.
This piano is a digital model and a great example of a classical brand that is willing to go beyond what they have always known. This willingness to listen to the needs of consumers is another reason Bösendorfer is a great brand.
4. Kawai

History of Kawai Pianos
Kawai gets a top spot as one of the best brands of pianos because of its history with Yamaha. Moreover, its current ranking as the second largest distributor of pianos worldwide.
As a former engineer and designer for Yamaha, Kawai founder Kiochi Kawai already had inside knowledge of what makes a great piano. Therefore, when he launched Kawai in 1927 the brand already had a solid model to build on.
While Kawai began his company with a grand piano, the company quickly expanded to include several designs. In addition to the original grand piano design, Kawai had added 9 more grand pianos plus 75 upright designs by 1935.
Range of Instruments Offered by Kawai
This wide variety of styles is similar to the range offered by Yamaha. Like Yamaha, Kawai eventually added electrical pianos as well.
One unique quality about Kawai is the brand's expanded offerings beyond pianos. Unlike many brands that focus solely on designing and selling only pianos, Kawai manufactures an array of musical instruments.
Reed organs
Electric organs
Harmonicas
Synthesizers
Drums
With so many instruments to choose from, Kawai is a great choice for pianists who want to further explore their musical skills with a new instrument.
Cost of a Kawai Piano
In addition to the variety of pianos offered by Kawai, the brand is a great choice because of its wide price range. Upright acoustic Kawai pianos can be found for under $1,000 used. In addition, the brand's small electric keyboards and pianos can also be found for around $1,000.
On the other end, new digital, upright, and grand pianos by Kawai range from about $2,000 up to over $20,000. This includes the Kawai GL-10 Baby Grand.
While on the higher end of the brand's price range, this baby grand is more affordable compared to other brands. However, the affordable price does not mean less quality.
The GL-10 is considered one of the best baby grand pianos. It has an excellent tone and is a great choice for beginning piano players and for those who want a baby grand at home.
Depending on your level of skill and budget, Kawai truly has something for everyone. Therefore, making it a great brand to consider for a new piano.
5. Mason & Hamlin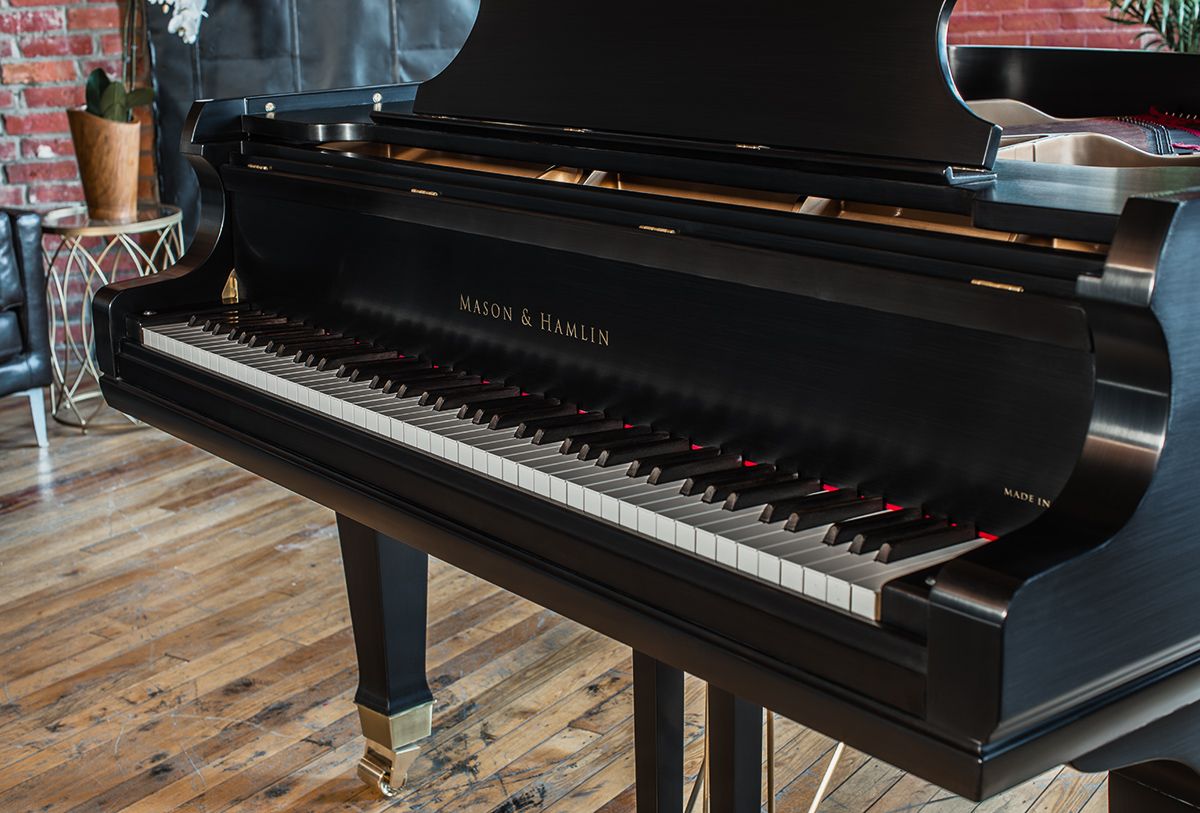 History of Mason & Hamlin
Only a year after the famed German company Steinway & Sons opened their doors in New York, United States brand Mason & Hamlin opened their piano manufacturing business in 1854. The company continues to manufacture its pianos in Haverhill, Massachusetts today.
Like its German competitors, Mason & Hamlin became revered early on and is still one of the most respected piano brands in the world. In fact, today Steinway and Mason & Hamlin are the only two companies to still build grand pianos in America.
Mason & Hamlin Concert Grand Pianos
Mason & Hamlin pianos are specifically known for being crafted to withhold robust playing. Moreover, for continuously producing a distinct tone. Many artists can spot the bell-like treble and bold base of a Mason & Hamlin piano.
In addition, the brand is also recognized for having pianos with great touch quality. It is the combination of sound and ease in playability that continue to make this brand a favorite not only in the United States but worldwide.
Today, Mason & Hamlin is recognized as having some of the best concert grand pianos on the market. Offering the craftsmanship and style that made them a household name over 150 years ago, while adding new features.
For example, their VX series includes a new Apex Soundboard that has redefined the sound of concert grand pianos.
Mason & Hamlin Classic Series
While Mason & Hamlin is primarily known for their grand and concert grand pianos, they also offer an upright piano. The brand's classic series includes an upright piano as well as a grand piano.
This classic series is intended specifically for the up-and-coming pianist. It is a series of pianos designed to provide a perfect piano for practicing. Moreover, a quality instrument that offers a beautiful sound to experience while growing as a piano player.
Cost of Mason & Hamlin Pianos
For rising piano players, you can find an older Mason & Hamlin upright piano for around $3000 to $4000 dollars. Newer models will cost closer to $10,000.
Mason & Hamlin grand pianos are comparable in price to Steinway & Sons. Newer models range in the hundreds of thousands. However, some models and years are more affordable between $15,000 to $50,000 dollars.
6. Baldwin
History of Baldwin Pianos
Often referred to as "America's Favorite Piano" we can't offer a list of the best brands without including Baldwin.
Baldwin Piano Company is one of the few other piano companies founded in the United States. Another unique quality of Baldwin pianos is that they were developed by a piano teacher.
Founder Dwight Hamilton Baldwin was not only a piano teacher, but he also taught others how to play the reed organ and violin. This was his primary business for almost thirty years, from 1862 until 1890.
D.H. Baldwin decided to design his first piano in 1890. It was ready to sell a year later in 1891.
Award Winning Piano
Despite a different start to piano manufacturing than other early brands, Baldwin earned worldwide recognition early on. Less than 10 years after premiering, the first Baldwin piano won the Grand Prix Award at the 1900 International Exhibition in Paris.
Winning this award marked Baldwin as a top competitor in the piano business. Moreover, putting American pianos on the map. Even though other American piano makers were well-known, this was the first American-made piano to earn this prestigious award.
Range of Baldwin Pianos
D.H. Baldwin had a single goal when he set out to make his first piano, to build "the best piano that can be built." This goal has carried through to several other piano styles produced by the company over the years.
In order to do this, the brand maintains a commitment to quality craftsmanship. One way the brand does this is by including both a mute and musical performing center pedal on all models.
This offering is a unique quality because Baldwin is the only brand to offer this option on all of its piano models. Therefore, making it highly competitive with other brands.
In addition, Baldwin stays competitive with other top brands by offering a wide range of pianos. This includes an assortment of upright pianos and grand pianos. Unlike Yamaha and Kawai though, Baldwin does not offer an electric piano option.
Cost of a Baldwin Piano
Depending on the year and style of the piano a Baldwin can cost you as little as $1000. However, newer Baldwin upright pianos and grand pianos can range anywhere from about $4000 to over $20000.
Since this piano brand has been around for over a century it is easy to find used Baldwin pianos still in great condition. Therefore, making it a great brand for families looking to buy their first piano at a reasonable price.
Regardless of what style of Baldwin you choose (and whether it is new or used), you can bet on the quality of sound and craftsmanship of a Baldwin piano.
7. C. Bechstein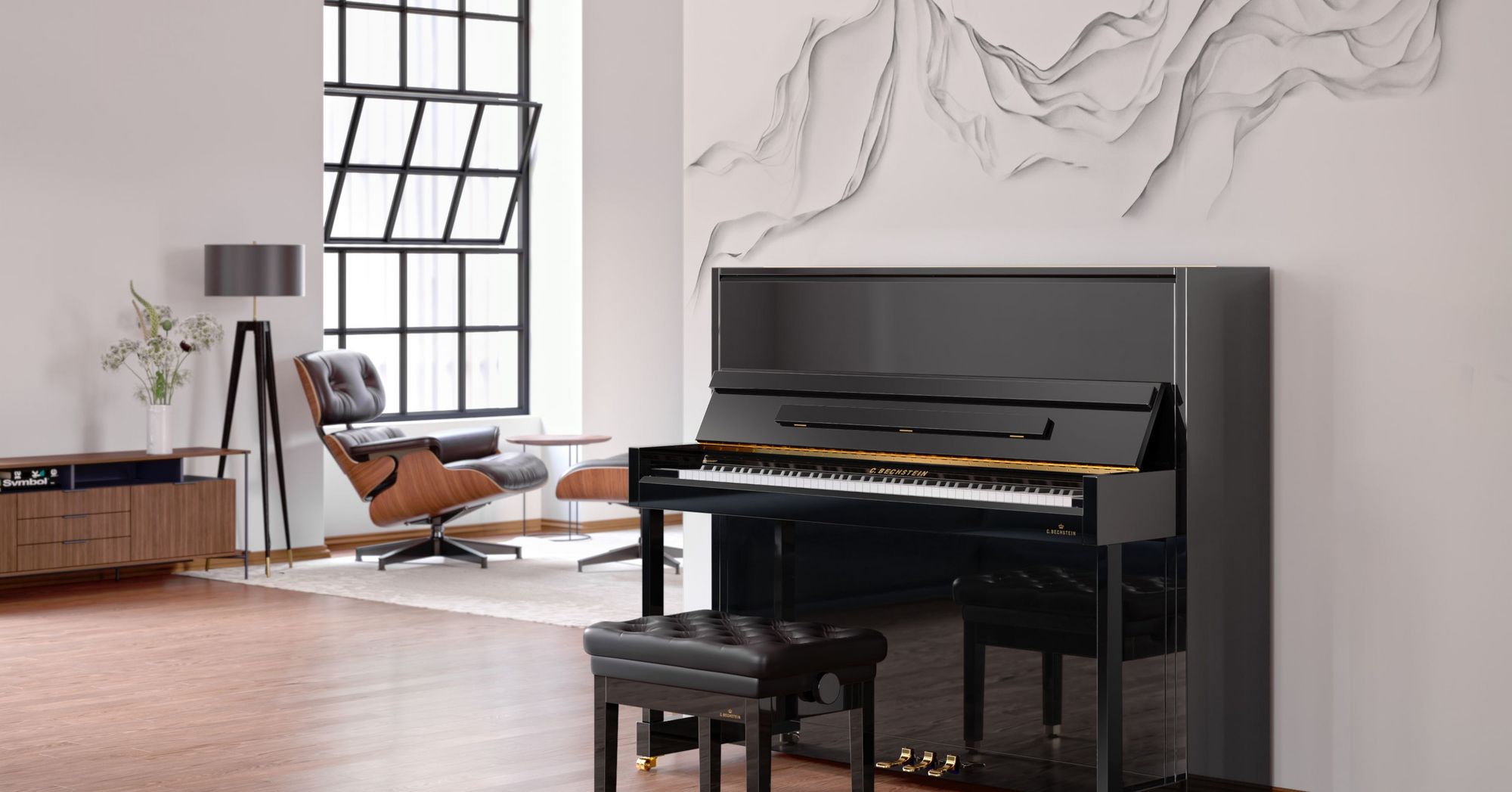 History of C. Bechstein
At the same time German immigrants Steinway and his sons were starting their piano business in 1853 in the United States, another German piano maker was launching his one business in Germany.
While Carl Bechstein opened his manufacturing in Germany, he developed his skills throughout Europe. Bechstein traveled to France and England to learn the art of crafting a piano. Then, he took his new knowledge of the artistry and craftsmanship he had observed and applied it to his own designs.
Carl Bechstein's designs worked because over 150 years later the legacy he started continues to be recognized as one of the best. While the company itself has been acquired by other stockholders over the years, the brand continues to manufacture its pianos in Germany.
C. Bechstein Grand Pianos
Grand pianos with the C. Bechstein label are still considered to be one of the best choices on the market. It is a legacy that began with Carl and his first intentional design in 1853.
Bechstein wanted to create a grand piano that could balance both bold and energetic playing and subtle and soft playing. This versatility is still seen in the brand's grand pianos today.
In addition to wanting a balanced grand piano, the company has always been committed to offering a piano for every level of player. From beginner to a concert pianist.
Therefore, you will find an assortment of designs from classic to contemporary uprights, in addition to the brand's reputable grand pianos. However, while the range is admirable for different playing abilities the cost does not reflect the same affordability as other brands.
Price of a C. Bechstein Piano
A new upright piano with the C. Bechstein name will cost you anywhere from $20,000 to $70,000. Moreover, a grand piano can cost over $200,000.
While the name may be notorious, this brand is most practical for advanced pianists looking to perform, rather than beginning players.
8. Blüthner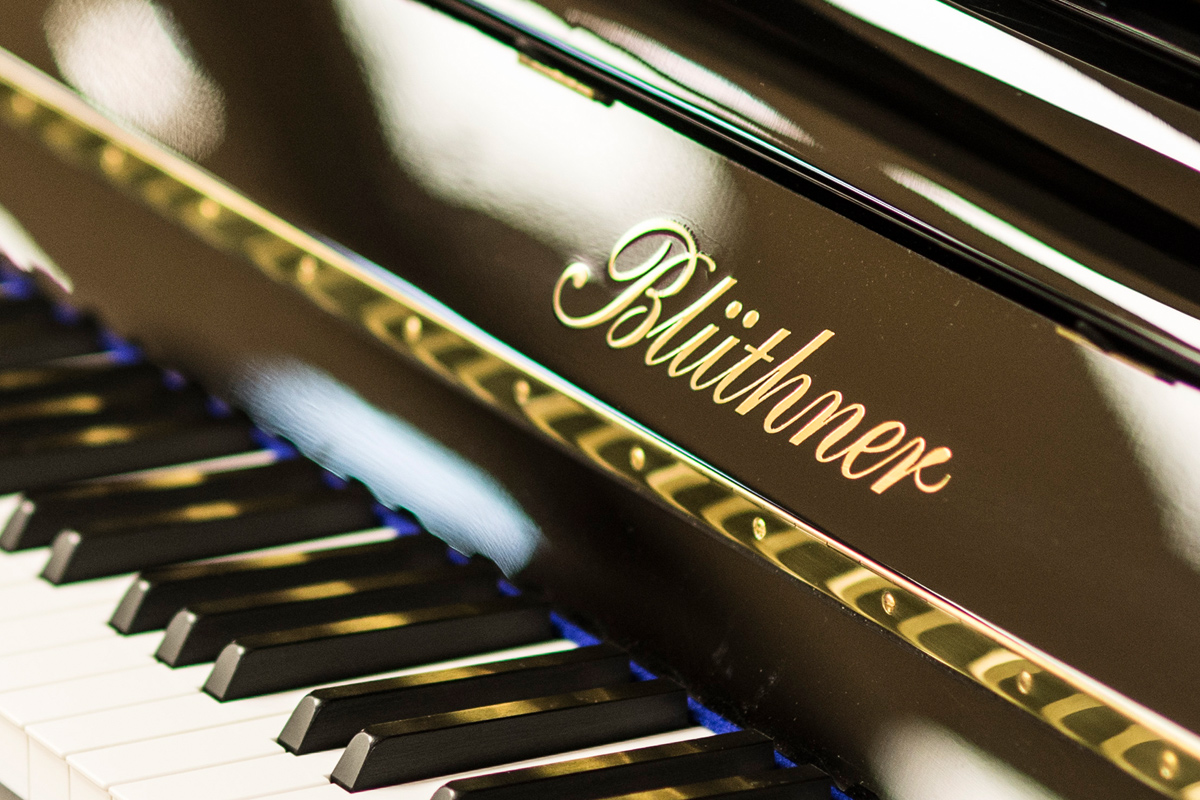 History of Blüthner
1853 was the year of the piano in Germany. Like Steinway & Sons and C. Bechstein, fellow German brand Blüthner began this same year.
Similar to the other German brands, Blüthner began with one man's dream and became a family business passed on to his sons. In addition, this family business continued to grow just as its other fellow German piano brands.
The brand gained several awards in its early years for remarkable sound and craftsmanship. However, it was the sons (who took over the business after their father's death in 1910) who showed the innovative genius of this brand.
Piano Innovators
During World War II, Blüthner was asked to build a piano to be played on the Hindenburg. In order to accommodate the structure of the airship, Blüthner pianos had to use aluminum to build the grand piano.
The beautiful sound produced by this unique piano was an early indicator of the exceptional sound to continue to come from Blüthner pianos. It is the exceptional tonal quality of Blüthner pianos that continues to make it a favorite for singers.
Over 150 years later Blüthner continues to be a leader in innovation. Making them one of the best choices for modern and classical options.
In addition to a wide range of grand, upright, and digital pianos, the company offers other unique products. Like the Blüthner digital self-play system. A digital device that plays all of your favorite composers anytime and anywhere.
Price of a Blüthner
While older Bluthner piano models can be found for under $10,000, new pianos are similar in price to other similar brands like Bechstein and Steinway & Sons. Therefore, they tend to be used primarily by intermediate and advanced piano players.
9. Stuart & Sons
History of Stuart & Sons
Compared to other piano brands, Stuart & Sons is a young brand. However, since its debut in 1990, this Australian brand has made a name for itself in the industry.
One of the reasons Stuart & Sons is well respected is its commitment to innovation. In contrast to some other brands whose innovation is reflected in digital components, this brand focuses on further developing the classics.
Grand Piano Innovators
Stuart & Sons only manufactures grand pianos. Moreover, the brand only has two designs: a studio grand that is 2.2m in length and a full concert grand that is 3.0m in length. Therefore, the brand has had to look for ways to further develop this already classic design.
Rather than adding any digital components, Stuart & Sons expanded the sound of the piano. Unlike many grand pianos that only have 88 keys, this brand's pianos are built with 97 or 102 keys.
Even more impressive, in 2018 Stuart & Sons became the first company to manufacture a 108-key piano. This is technically a third model. However, it is a commissioned model that is not regularly sold. Most likely due to its exorbitant price tag of $300,000.
Although not everyone will commission the 108-key piano, many pianists enjoy the innovative qualities still found in the brand's two main designs.
Unique Qualities of Stuart & Sons Pianos
The addition of these keys (in any of the ranges offered by this brand) makes it a key competitor with other top piano brands. Especially for exceptional pianists ready to explore the depth of sound more fully.
In addition to the added keys, the brand added a fourth pedal to all of its piano designs. Another innovation is the agraffe.
The agraffe designed by Stuart & Sons is a vertical coupling device. This device is used to help the strings vibrate in a more controlled way.
Cost of Stuart & Sons Pianos
While these additions offer a unique opportunity for pianists to expand their talent, it comes with a cost. These pianos are around the same price as a Steinway grand piano.
Due to the cost, this brand is primarily considered one of the best brands for concert pianists. Especially for those who want to explore a more modern take on a classic instrument.
10. Steinhoven
History of Steinhoven Pianos
In the world of pianos, Steinhoven is a baby. This brand has only been on the market since 2004. However, the Steinhoven team has been perfecting the art of piano making for over 25 years.
While this brand is extremely new to the piano scene it is already extremely popular. Therefore, it must be considered one of the best piano brands currently in the world.
Founded in Ireland, Steinhoven has a highly skilled team of craftsmen, engineers, and technicians. All who work together to design and build each piano. However, while the company is based in Ireland, it uses a factory outside Shanghai, China, for production.
Affordable Pianos for Teachers and Students
Since coming onto the market, Steinhoven has become a favorite among piano players. Moreover, this brand is a favorite for both piano teachers and students.
Most of the brand's upright pianos begin at just under $4000. This is a reasonable price for the quality of the piano, especially for those who teach piano or are starting their piano journey and want a quality piano that is still affordable.
In addition, Steinhoven produces one of the most budget-friendly grand pianos. Their large grand pianos begin at around $10,000. However, the company's baby grand pianos are some of the most popular on the market.
Steinhoven baby grands are around $9,000. Moreover, their compact size makes them perfect for the home. A great choice for those who are advancing in their piano playing but are not ready to commit to something like Steinway & Sons.
While this brand creates wonderful pianos for affordable prices this is reflected in the sound. The brand's pianos produce a lovely sound that is great for early players. However, these pianos do not produce the concert-quality sound of a higher-end piano.
Therefore, while this brand is a top option for new and intermediate players it is not the best choice for advanced players.
11. Roland
History of Roland Pianos
While many piano brands are committed to only manufacturing acoustic pianos, there are some brands committed to perfecting the same sound on an electric piano, like Roland.
Roland came on the piano scene in 1972 with its legendary EP-30. While it wasn't the first electric piano ever made, it was the first to offer a touch-sensitive electronic piano.
This innovative technology detects soft to hard playing to produce the best quality of sound. Roland was the first to introduce this amazing technology that is now standard in all modern digital pianos.
Electronic Pianos
While many people may envision an electronic piano as only a small keyboard, many digital pianos are the same shape and size as acoustic upright pianos. Moreover, exceptional electronic pianos like the ones made by Roland produce the same sound as an acoustic piano.
Roland pianos do not just produce a basic acoustic sound though. The brand's exceptional digital technology allows players to produce the same rich tones associated with the best acoustic uprights. These exceptional pianos can even create the same rich acoustic experience a grand piano offers.
In addition to the classic acoustic tones, players can create their own individual & unique sound. Therefore, it provides piano players with new opportunities to explore their range as musicians and even composers.
Range of Electric Pianos and Cost
The more advanced technology that comes in full-size upright styles makes these pianos best suited for intermediate to advanced piano players. This is primarily due to the higher cost of these pianos.
However, Roland brand upright pianos are quite reasonable compared to many other pianos. They range from about $4,000 up to $7,000. In addition to the more expensive full-size pianos, the brand also has a wide range of electric keyboards.
These keyboards are compact and easy to move and store. Moreover, they are more affordable. You can buy a Roland keyboard for as little as $500 and up to $2,000.
With a range of prices and styles, combined with exceptional sound, Roland is a brand worth checking out. Whether you are looking for a quality keyboard to begin playing, an upright piano to grow with, or an array of digital sounds to expand your current expertise.
12. Casio

History of Casio
Have you seen the episode of Friends when Ross takes out his keyboard from college? If so, then you have a good idea of the fun that can be had with a Casio.
This electric keyboard brand launched in the 1980s with a mission to give more people access to learning to play piano. They were able to do this through the design of an electric keyboard that reflected a piano.
Keyboard vs Piano
Casio electronic keyboards have a sound source that produces authentic acoustic sounds. Moreover, some of the larger models have the same 88 keys found on a piano.
This design allows players to learn how to play the keys of a piano. However, the electric design also allows for more creativity. Casio keyboards have an assortment of electric sounds that include other instruments, not just piano.
Like Roland pianos, these electric keyboards give musicians more creativity in their playing. Therefore, they are best suited for players who prefer a non-traditional approach to piano playing.
Affordable Piano Option
Casio is a great brand for beginning piano players, even if you want to play a traditional acoustic piano. The design of the keyboard will teach new players how to play keys but at a fraction of the cost of a full-sized piano.
For less than $100 you (or your kids) can have fun learning the notes and keys. Moreover, the size of a Casio keyboard is exceptional!
Many of the brand's keyboards can easily be stored in a closet or under a bed. Due to its affordability and size, Casio is an excellent brand for anyone curious about playing the piano.
Conclusion
As you can see, there are several amazing piano brands. Choosing the most suitable piano brand for you will depend on if you are a new piano player or looking for an upgrade to support your advanced skills.
Moreover, consider if you want something that is a classical acoustic design or more modern with digital capabilities. Whatever your needs are as a piano player, any of these brands above have great instruments to choose from.
193 Piano Studio Name Ideas That Sound Great
647 Music Slogans That Will Have You Grooving