Are you looking for the latest statistics on relationship failure?
We've got you covered! We've compiled a list of relationship failure statistics to help shed light on some of the most pressing issues in relationships today. These stats are pulled from a variety of sources, including research studies and surveys conducted by top experts in the field of relationships.
This list is perfect if you're struggling with your current relationship or if you're just looking for some helpful information about what makes relationships work (and fail).
We hope this list helps you understand more about your own relationships or helps you gain some perspective on others' relationships. If it does, please share this article with friends!
Relationship Failure Statistics (Key Highlights)
More than 85% of dating leads to breakups.
One-fifth of relationships fall apart within the first 12 months of having a baby.
Relationships last for an average of 2 years and 9 months.
Couples who meet online are six times more likely to break up than those who meet the old-fashioned way.
64% of Americans have experienced the failure of a long-term relationship.
82.7% of couples have no regrets about their relationship ending.
Only 7.6% of people are willing to accept responsibility for a failed relationship.
Infidelity is accountable for up to 40% of unsuccessful marriages.
General Relationship Failure Statistics
1. More than 85% of dating leads to breakups.
In her book titled "Hellen Chen's Love Seminar: The Missing Manual that will Make Your Relationship Last," renowned author Hellen Chen argues that more than eight out of ten relationships are made to fail.
Chen mentions that this is due to the fact that most people date with no plans whatsoever to get married, which, in the long run, leaves them with only one option: breakup.
(PRWeb)
2. 58% of Americans say ending a relationship is dramatic or messy.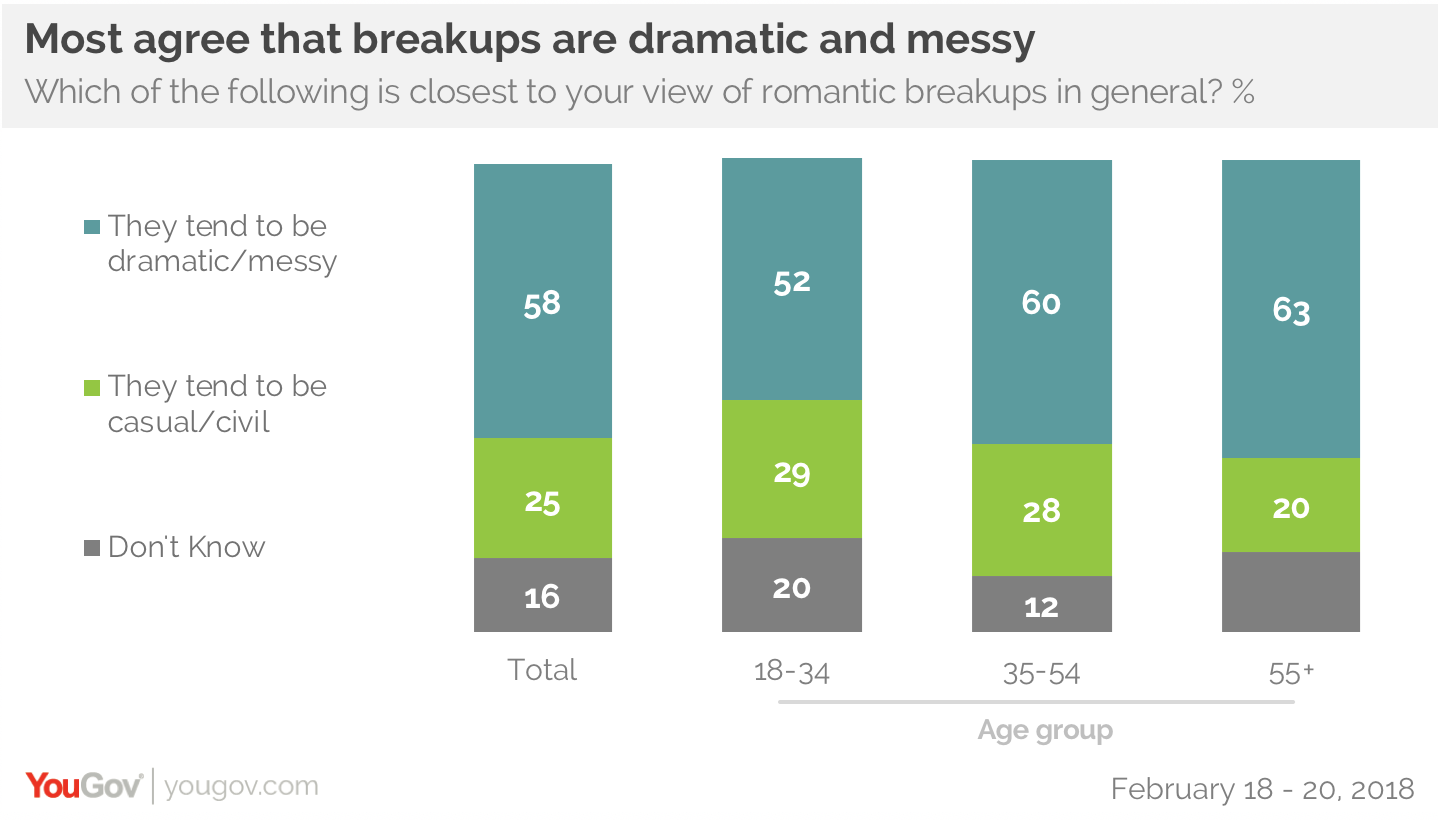 Breaking up is hard to do—but that's not news. According to a new study, breaking up isn't just emotionally difficult—it can also be messy and dramatic.
A survey by YouGov America revealed that most Americans (62% of women and 55% of men) believe ending a relationship is typically a dramatic and messy experience.
In addition to this, the study found that Americans aged 55 and older were more likely than younger respondents to say that a breakup had ended badly (52% vs 63%). This can be because older people tend to have more experience with breakups—and so they're more realistic about what happens when you decide to call it quits on your relationship.
Only around a quarter of Americans who have broken up with their partners characterize their separation as casual or civil, and men were more likely (31%) than women (20%) to see a relationship ending this way.
The report also found that, for most people, breaking up with a partner face-to-face was the norm, with 57% of respondents saying they had ended a relationship in person. Over half (66%) of those aged 55 and older said they ended a relationship in person, while 29% of millennials ended relationships by call and 17% by text.
If you're going through a breakup, it's important to reach out for support from friends and family members. Additionally, there are many resources available online or through your local community that can help you through this tough time.
(YouGov)
2. Couples who meet online are 6 times more likely to breakup than those who meet through traditional means.
There's no denying that dating apps like Tinder make it easier to find a mate. But new research shows they may also be making marriages less stable.
According to a study conducted by the Marriage Foundation, people who met on dating apps are 6 times more likely to get divorced within the first three years of being married. People who met at school or university were more likely to stay together for over a decade, with only 13% ending up divorced.
While this isn't surprising news—we've all heard stories about couples meeting on Tinder or other dating apps and then getting married quickly—it does reinforce the importance of taking your time when it comes to relationships and marriage.
Researchers noted that people who meet their spouses online don't get to know their partners well enough before they marry.
(Marriage Foundation)
3. 64% of Americans have been through the breakup of a long-term relationship.
The breakup of a long-term relationship is something that happens to most Americans, according to YouGov's latest research. In fact, 64% of Americans have been through it—and only 23% are still in the clear.
Interestingly, though, around 41% of people over the age of 65 said they have never had a long-term relationship come to an end.
70% of people who have experienced a breakup were responsible for ending their relationship, while 75% say they were on the receiving end of the breakup. It's not surprising that so many people have experienced both sides of this equation—after all, it's hard to be in a relationship without knowing what it feels like to be on either side of a breakup.
While 30% of women say they've never had a partner end a relationship., 12% of men say the same. 33% of men say they've never been the one to end the relationship, whereas 17% of women say they've never been the one who ended things.
These findings suggest that men are more likely to be on the receiving end of a breakup than women and that women are more likely to be the ones initiating the breakup. This could be due to a number of factors, such as gender norms around relationships and communication styles. Whatever the reason, it's clear that break-ups are not an equal experience for everyone involved.
Whether you're the one who ended things or whether someone else ended things with you—whether you were lucky enough to find love again or whether you are still trying to get over your last breakup—we all know what it means to be in love and then out of love again.
(YouGov)
4. 27.2% of couples get back together again after breaking up.
Based on a study conducted by Kansas State University, nearly 27.2% of all couples in the United States break up and then get back together again.
A further breakdown reveals that 37% of couples who live together and 23% of married couples who broke up were able to get back together again with the same partner.
There are many reasons why couples may break up and then get back together again. One of the most common reasons is that each partner thinks that the other has changed for the better. Some couples may need time apart to work on themselves, while others may simply realize that they cannot live without each other.
This suggests that relationships are not always perfect, and that people do make mistakes. However, it also shows that many people are willing to forgive and forget, and that relationships can be worth fighting for.
It is clear that some couples do end up getting back together after breaking up.
(Kansas State University)
5. About 50% of couples break up after going on their first vacation together.
The results of a survey conducted by Dating.com show that nearly half of all couples break up after taking their first trip together. This is a pretty staggering statistic, and it really makes you wonder what goes wrong on these trips that causes so many relationships to end.
There are a few possible explanations for this phenomenon. Maybe couples just get sick of being around each other 24/7 when they're on vacation and realize that they need some space. Or maybe being in a new environment brings out hidden flaws in the relationship that were never apparent before.
Whatever the reason, it's clear that taking a trip together can be a make-or-break moment for a lot of couples.
If you're planning a trip with your significant other, it's important to go into it with your eyes open. Be aware of the potential pitfalls, and make sure you communicate openly with each other about your needs and expectations. With a little bit of planning and effort, you should be able to avoid becoming another statistic!
(Dating.com)
6. The break-up rate for straight married couples who've been together for five years is 3%.
The same applies to around 7% of gay couples with marriage-like relationships.
Michael Rosenfeld's study reveals that the longer a couple is together, the lower the chances their relationship ends. This is true regardless of whether the couple is of the same or opposite sex.
For same-sex couples, breakup rates reduce from 8% when a couple is together for five years, to under 1% when the same pair spends more than 20 years together.
In opposite-sex relationships, the failure rate of relationships drops from 3% for those together for 5 years to less than 1% when the pair spends more than 20 years in a relationship.
The study found after a relationship has survived one year, the likelihood of it ending reduced significantly. Within only five years, the chances of failure drop by around 10% each year, reaching only 20% for both same-sex and opposite-sex couples. When each partnership reaches 15 years, it levels out at around 10% chance of failure for same-sex couples and 5% for opposite-sex couples.
(Stanford via The Washington Post)
7. 71% of people who are single or in a relationship admit they still think about their ex.
Many people, both single and married, still covet an attachment to their exes and a recent poll revealed just how many. A fantastic 81% of singles say they can't get their ex out of their head, and more than half of them (57%) say this 'clinging' is the reason why they fail at finding new love.
The poll also showed that 60% of married people still feel some attachment to their former partners, and for 36%, this affection does have an effect on their marriage.
(Your Tango)
8. 51% of people who are in a long-term relationship say they felt their partner was distracted by their mobile phone.
Cell phones have become a necessity but also a cause for arguments among lovers as many relate them to unpleasant experiences. Specifically, 40% of people who are in a committed relationship complain they are annoyed by how much time their partner spends on their phone.
In addition, 34% admit that they have gone through their partner's phone without them knowing. Meanwhile, 70% of US adults say it's simply unacceptable for their partner to look through their phone without permission.
(Pew Research Center)
9. 8% of people who are in a long-term relationship have argued at least once with their partner about spending too much time online.
Tech plays a significant role in everyday life. And for many people, regardless of whether they're married or partnered, it sometimes causes tension. In fact, research shows that 4% of people who are in a long-term relationship are upset by what their partners were doing online.
The tension rate caused by how much time a partner spends online is higher among younger adults. And so, 18% of people aged between 18 and 29 say they've had some disagreement with their loved ones about spending excessive time online, while 8% said that what their partner is doing on the internet bothers them.
(Pew Research Center)
10. Over a third of conflicts that don't get resolved lead to relationship failure.
Lovers' quarrels do happen, and according to relationship coach Lesli Doares, in 67% of cases, there is no need for them to be resolved. But Doares argues that if the remaining 33% stay unresolved, a breakup might just be inevitable.
She mentions that the latter is mainly caused by a partner's unmet needs. Finally, these needs or desires can be related to financial and lifestyle issues, the level of seriousness of the relationship, or wanting to start a family.
(BestLife)
11. One-fifth of relationships fall apart within the first 12 months of having a baby.
A recent study found that 60% of couples declared feeling unprepared for the massive change a baby would bring into their lives. Because of it, many couples resort to a trial separation, and one in ten do manage to find their way back to each other. However, 50% of new parents said they started arguing and that the diminishing sex life was the main reason for it. Many said they felt pressured into having sex.
In addition, 24% of men declared they felt insignificant because the mother's attention is focused on the baby. Finally, one in five couples acknowledged that they did not do anything to save their relationship during the early months of welcoming their baby.
(GoodtoKnow)
12. 82.7% of couples have no regrets about their relationship ending.
This leaves the remaining 17.3% with some remorse about having broken up. In the great scheme of things, however, 44.5% of those who'd decided to end a relationship say there was nothing they could do to fix it, while 26.5% believe that if they had both made more of an effort to compromise, they would have prevailed.
Additionally, 23.9% said they should have worked on improving communication, while 20.2% said that things would have been different if they had been more self-aware. Another 10% agreed that spending more time together might have resolved things, while 8.9% said the relationship would not have failed if there had been no social pressure.
(WP Diamonds)
13. The average breakup time for long-distance relationships is 4.5 months.
Long-distance relationships succeed in 31% of the cases, according to a study conducted by Sexual Alpha. But since many fail too, the study also explored the reasons and found that communication is the biggest challenge for LDR. In fact, insufficient communication was cited as a deal breaker by 40.2% of participants.
The second most commonly cited reason, with 33%, was the lack of intimacy or the distance felt by not being physically close. In addition, 30% of respondents said it bothered them that they have not agreed to an end game, while 28.7% reported feeling jealous or distrustful of their partner. Finally, cheating was the main issue for 17.5% of failed long-distance relationships.
In comparison, a study conducted by Kiiroo pointed to lack of intimacy as the leading cause (66%) and concerns that the other half would meet someone else as the second biggest reason, with 55%. This study also reported that 50% of partners involved in LDR felt lonely.
(SexualAlpha, Kiiroo)
Jealousy is commonly seen as a factor that affects relationships, especially when it's excessive. And for nearly two-quarters of the partnered population in the US, it is an issue that keeps popping up in their relationship. Research shows that the degree of jealousy is highest in people living with a partner at 38% and for 36% of those who are in a committed relationship.
Age-wise, it appears that the younger the partners, the more jealous they are, as the percentage is highest, 34% in partners aged between 18 and 29. The LGBT community is not immune to jealousy either, as 35% of these couples say they feel jealous of their partner. This rate is lower with straight couples, only 22%.
(Pew Research Center)
15. Relationships between co-workers have a failure rate of 51%.
Research shows that 89% of Americans have felt attracted to a coworker, and 58% of them have actually dated a colleague. And while 75% tried to keep this 'romance' a secret, in 33% of the cases, it turned into a regular relationship. However, in over half of the cases, the relationships eventually ended with a breakup.
Data reveals that 69% of Baby Boomers were most heart-stricken. In addition, Gen-Xers come second with a 56% heartbreak rate, and Millennials are third with 44%.
Finally, data indicates that for 25% of women, an office relationship had made the relationship with their partner worse, while only 13% of men share the same sentiment.
(Zety)
16. Only 7.6% of people assume responsibility for failed relationships.
In regards to blame, however, 40% believe both parties are responsible, and another 39.4% toss the blame on their partner. Meanwhile, 13.1% believe others are responsible because they somehow made things too hard for them.
A total of 45% of all breakups are in some way related to financial stress. In the end, as little as 17% of partners say they could have given their relationship another shot.
Two out of ten engagements get called off before the big day is scheduled. Notably, the people who did call off a wedding often felt positive about their choices.
(WP Diamonds)
17. The failure rate of open relationships is 92%.
In other words, only 8% of open relationships succeed. However, despite this astonishingly high rate, a recent survey revealed that a quarter of US adults want to try this type of relationship.
The gay and lesbian community, on the other hand, especially those in their 20s and 30s, feel they are very comfortable with this arrangement.
In addition, 12% of Baby Boomers would be willing to try a non-monogamous relationship.
(CNN)
Reasons for Failed Relationships Statistics
18. 75% of people say the reason for their failed relationship was a lack of commitment.
If you're wondering why your last relationship failed, you're not alone.
A recent survey found that 75% of people say that lack of commitment was the reason for their failed relationship. That means that out of all the possible reasons for a relationship to fail, lack of commitment is by far the most common.
There are a lot of different ways that commitment can play into a relationship. Maybe you and your partner weren't on the same page about how serious you were getting, or maybe one of you wasn't ready to make the level of commitment required to make the relationship work long-term.
Whatever the case may be, it's clear that when it comes to relationships, commitment is key.
Other reasons cited for divorce include cheating, too much fighting and arguing, marrying too young, money problems, substance abuse, and domestic violence.
All of these reasons can be incredibly difficult to overcome, but it is important to remember that you are not alone in your struggle. There are many resources available to help you deal with these issues, so please do not hesitate to reach out for help if you need it
(Couple Family Psychology)
19. 65% of marriages fail because of communication issues.
Being able to communicate openly with your partner is said to be the foundation of a healthy marriage. But, communication breakdown is not the only reason why marriages fall apart. The second most cited reason by couples is unresolved conflicts, accounting for 43% of marriage breakups.
In addition, 83% of women say their spouse does not validate their emotions and opinions, while 70% of men referred to their partner's nagging and complaining as the main factor for the fallout.
(Your Tango)
20. Infidelity is accountable for up to 40% of unsuccessful marriages.
Adultery, infidelity, or extra-marital affairs–no matter what one calls it– are major factors that lead to the failure of many relationships. According to studies, between 20% and 40% of divorces happen because of it, with rates being highest at 80% amongst secret adulterers.
(American Psychological Association)
21. A total of 36.7% of couples say their marriage didn't work out because of money issues.
Money is always a problem, and according to a study including 52 divorcees, a little over a third of them said it was the main contributor to their divorce. In 55.6% of the cases, this claim was supported by at least one partner, and in 50%, both partners were unanimous that it affected their marriage.
The study also found that for 45.1% of participants marrying too young was a factor, as most of them believed they were not old enough to make mature decisions about their union. The average age of the partners who endorsed this claim was 23.3 years old.
(National Library of Medicine)
Relationship Length Statistics
22. On average, relationships last only 2 years and 9 months.
It's no secret that relationships are hard. People come into your life, and then they go. We all know it happens, but we don't often think about how many people we've loved and lost—and how many of those losses were by choice.
But let's be real: relationships are just hard, period. They're difficult to maintain, and they require work at every stage of their development to keep them healthy and thriving.
Relationships last an average of only two years and nine months. That's according to a survey of 1,953 UK adults, of whom 24% of couples were married, 41% had lived together before their breakup, and 35% were living apart.
Like we said before, it's not just bad news—it's really bad news! But here's the thing: It doesn't have to be that way! You can change things up and make sure you never get dumped again (or dumped less often).
So take a deep breath and remember: there are plenty more fish in the sea! All it takes is some hard work on yourself and some serious dedication toward being the best partner possible.
(Daily Mail)
23. The average length of a marriage in the US is eight years.
That's right: eight years. It's not just a number—it's a statistic that tells us a lot about how we live and love. And it's not just about how long we stay with one partner; it also speaks to our attitudes toward marriage as an institution.
Marriage has been around since the beginning of human history, and yet today, we're still trying to figure out what exactly makes a good marriage work and what makes it fail—and what should be done about the latter.
If you're concerned about your marriage or want to make sure that you're doing everything possible to keep it strong and healthy, here are some tips for making it last:
Make time for each other–even if it means going on dates or taking a walk together after dinner
Encourage each other–no matter what kind of day either one of you has had, be there for each other and remind each other that no matter how hard things are right now, they'll get better with time (and maybe even some help from outside sources like therapy)
Be honest with each other–don't hold back feelings or problems because they might make your partner upset; it's better to deal with them head-on than let them fester until they turn into something much worse
(CDC, Brides.com)
24. The average marriage in the UK lasts for 11.9 years.
The average length of marriage in the UK decreased from 12.4 years in 2019 to 11.9 years in 2020 for opposite-sex couples. This is likely due to a number of factors, including the ongoing pandemic and associated economic uncertainty, which has put a strain on many relationships.
For same-sex couples, the average length of the marriage is about 4.7 years for female couples and 5.4 years for male couples meaning that female couples who divorced in 2020 had been married for 4.7 years, and male couples had been married for 5.4 years.
These statistics on same-sex divorces show that the average marriage among gay couples does not last as long as heterosexual marriages. This could be due to a number of factors, such as discrimination and lack of acceptance from family and friends.
Whatever the reasons, it is clear that same-sex relationships face unique challenges that can make them more difficult to sustain over the long term.
(ONS UK)
25. 36.6% of long-distance couples break up within three months of living in close proximity.
The statistics are pretty grim when it comes to long-distance relationships: more than one-third of couples break up within three months of living in close proximity. That means, more often than not, these relationships just don't work out in the long run.
There are several reasons cited for this might be the case, such as increased conflict, relational de-escalation and adjustment, a lack of trust in the other person's commitment to the relationship, or simply realizing that you and your partner wanted different things.
Ultimately it boils down to the fact that it's just really hard to maintain a relationship when you're not actually together. If you're in a long-distance relationship, you might want to reconsider your situation before things get too serious.
(JSPR)
Divorce Statistics
26. Between 42% and 45% of first marriages result in divorce.
Statistically, nearly half of all marriages in the US end in divorce. And while this is true, what is also true is that three out of four divorcees eventually decide to remarry. However, research shows that 60% of second marriages and an incredible 73% of third marriages also end in divorce or separation.
(McKinley Irvin)
27. Actuaries have the lowest divorce rate of all professions, at only 17%.
The average divorce rate varies for different groups of people, including race, age, and education. However, an analysis of Flowing Data found that the occupation of a couple can also affect their odds of getting divorced.
Actuaries (people who analyze financial risk) have the lowest divorce rate among all professions, at 17 percent. This is followed by physical scientists (18.9 percent) and medical/life scientists (19.6 percent). On the other end, gaming managers had the highest rate of divorce in the study, at 52.9 percent, followed by bartenders (52.7 percent) and flight attendants (50.5 percent).
There may be a few reasons actuaries have such a low divorce rate.
For one, they are very good at managing financial risk. This means that they are likely to be able to manage the financial stresses that can often lead to divorce.
Additionally, actuaries tend to be very analytical and detail-oriented. This means that they are likely to approach their relationships with much thoughtfulness and care, which can help prevent problems from developing.
Finally, actuaries tend to be very successful professionals. This could mean that they have the resources to invest in their relationships and also that they are less likely to experience the financial stresses that can often lead to divorce.
(Flowing Data, American Community Survey)
28. Transportation workers have the highest divorce rate (41%) of any other industry
The transportation industry has the highest divorce rate of any other industry—41%—while those in the architecture and engineering industry have the lowest divorce rate—25.4%.
The constantly changing schedules and living situations in the transportation industry can make it difficult to maintain a healthy relationship. This may be one of the reasons why the divorce rate is so high in this industry. On the other hand, people in the architecture and engineering industry tend to have more stable jobs with regular hours. This may help to explain why their divorce rates are lower.
(Flowing Data, American Community Survey)
29. The divorce rate in the US is 2.3 per 1,000 people.
Over the past two decades, the number of Americans who decide to get a divorce has been continuously dropping, and in 2018 and 2019, the rates were 2.9 and 2.7, respectively. In comparison, in 2000, the divorce and annulments rate was significantly higher and stood at 4.0.
Currently, the marriage rate is around 5.1 marriages per 1000 people in the United States. This means that approximately half of all marriages in the US end in divorce. There are a number of possible reasons why this might be the case, as shown by the stats, but it is clear that marriage is not always a lifetime commitment for many Americans.
Notably, the divorce rates vary from state to state. The lowest divorce rate occurs in Massachusetts (1 per 1000 people) and Louisiana (1.9 per 1000 people). However, Wyoming and Alabama have divorce rates of around 3.8 and 3.7 per 1000 people, respectively.
(CDC)
30. Illinois and Mississippi noted the highest divorce growth rate after COVID-19.
Following the COVID-19 lockdowns and the nationwide concerns caused by this unprecedented situation, experts had projected the number of divorces would grow. Instead, it noted a decline of 12%, with states like Louisiana and Maryland reporting the lowest numbers.
However, projections were released in states like Illinois and Mississippi, where a massive spike in divorce rates occurred. In Illinois, the number of divorces grew by 41.9%, and in Mississippi, by 30.1%.
(Bowling Green State University)
Conclusion
So there you have it: the latest relationship failure stats.
If you've made it this far, we hope this post has been helpful to you in some way! We know breakup statistics can be scary, but we also know that they don't have to be.
If you're feeling down about your relationship, remember that there are many people out there who are in the same boat as you—or even worse. They've gone through what you're going through now and come out the other side. You can do it too!
And don't let these numbers scare you—they're just numbers. The only thing that matters is what's going on between you and the person you love. So go forth and enjoy your relationship!
Thanks for reading!
15 Gen Z Dating Statistics To Keep You Ahead Of The Curve
21 Teenage Dating Statistics That Will Make You Cringe
451 Dating Blog Name Ideas to Tempt Potential Visitors
23 High School Relationship Statistics You Need To Know
14 Lovey-Dovey Age Gap Relationship Statistics
Sources