The body positive movement has gained traction in the fashion world. Although often misunderstood, body positivity simply advocates for accepting all body types, no matter someone's size, gender, ability, or ethnicity.
Well-established brands are changing old ways to make fashion more inclusive. Plenty of new brands are also on the scene doing exciting things to redefine beauty and body acceptance.
However, some brands use body positivity as a buzzword without actually changing anything about their mission. So when shopping for body positive clothing, it's essential to know if a brand is authentically supportive.
We've done the work for you. This list highlights 20 of the top clothing brands that are doing body positivity right.
YITTY
Lizzo is a trailblazer in the body positivity and acceptance movement. YITTY is her new shapewear line that makes fashion more inclusive. Launched in early 2022 in partnership with Fabletics, YITTY's trendy leggings, bodysuits, and bras redefine the shapewear market.
In her Vogue cover story, Lizzo notes how the mainstream body positive movement has pushed women of color and LGBTQ+ people to the sidelines. However, YITTY is pushing back and recentering inclusivity.
The brand celebrates bodies of all shapes and sizes. YITTY doesn't retouch any photos on its website. Instead, models of all sizes confidently show off their natural bodies in these comfortable, fun shapewear pieces.
YITTY shapewear works with your body, not against it. Compression pieces are lightweight, don't roll down, and provide full coverage. YITTY's shapewear pieces are available in sizes XS to 6X.
TomboyX
TomboyX's slogan is "We Fit You." Its gender-affirming underwear and swimwear do just that. Naomi and Fran, the brand's founders, couldn't find underwear that fit them the way they wanted, so they made their own.
The brand's gender-neutral underwear comes in various cuts and prints, making an often stressful shopping experience easy and fun for trans and non-binary customers.
TomboyX's products go beyond trends and focus on making people feel comfortable in their bodies and identities. For example, the Gender Euphoria collection's foam cup inserts, tucking underwear, and compression tops are beloved gender-affirming favorites for many customers.
TomboyX now offers loungewear and athleisure pieces like eco-fleece hoodies and cute onesies. All products go up to size 6X. In addition, the site includes a sizing chart with non-judgmental measuring instructions.
Girlfriend Collective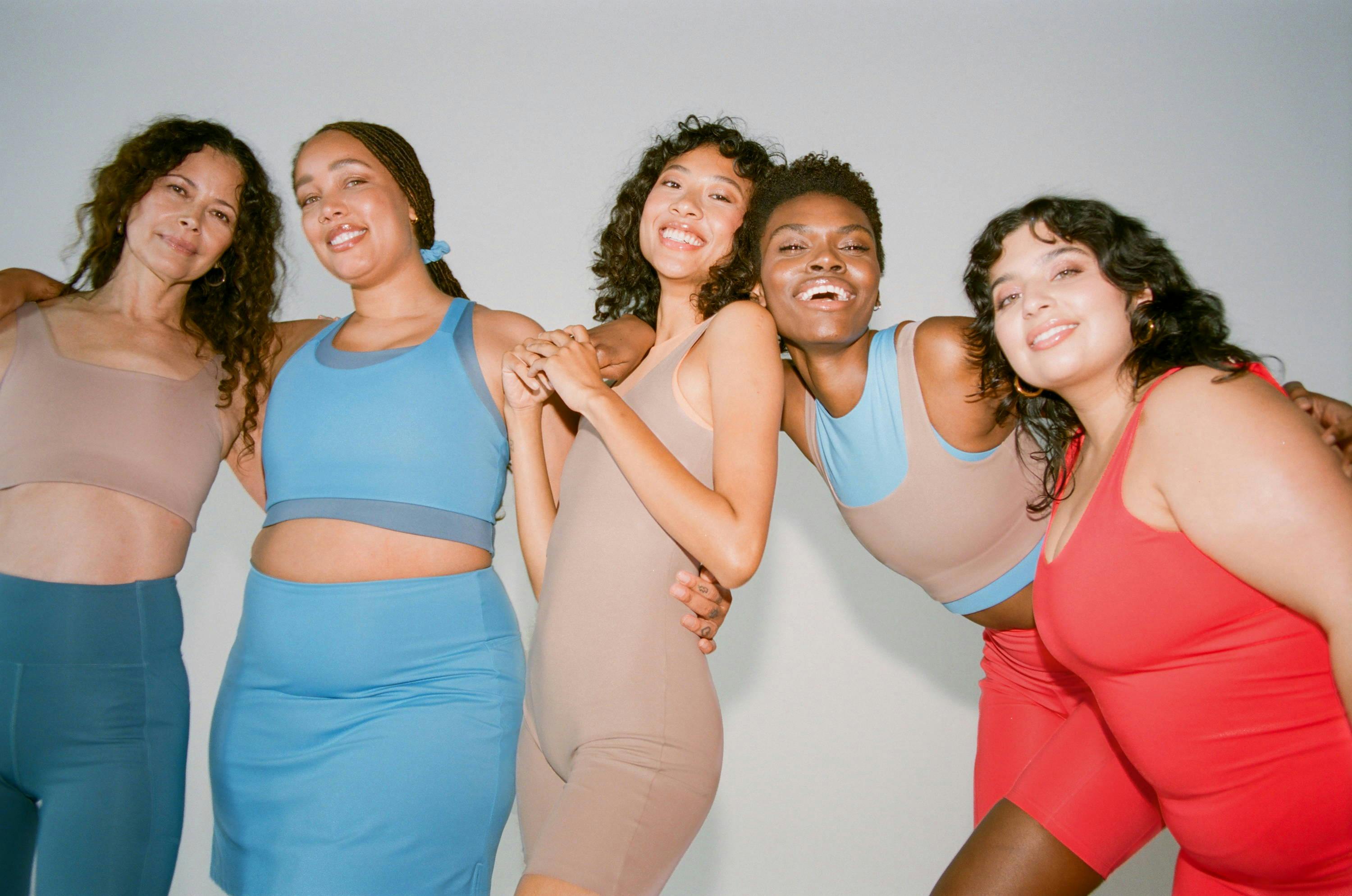 Girlfriend Collective makes size-inclusive, comfortable activewear made from recycled materials. The brand celebrates bodies of all types, centering BIPOC, LGBTQ+, and curvy models on its website.
Its matching sets, classic leggings, and other athleisure pieces range from XXS to 6X, making comfortable elegance accessible to everyone. In addition, girlfriend Collective's bike shorts, leggings, and bras work with your body, not against it.
The brand is also inclusive of the pregnant body with its maternity line. Pregnancy is a time in someone's life that traditional activewear companies often ignore. Its maternity line is, as the site states, "made by a mother-to-be for mothers-to-be."
Universal Standard
Universal Standard touts itself as the world's most inclusive fashion brand, and they may be right. The brand is about size equality, offering sizes 00 to 40 and working with customers to find their perfect size.
As its name suggests, Universal Standard is shifting the standard regarding sizing. It has a sizing system that reflects a more accurate representation of women's bodies. For example, Universal Standard's "medium" size is a traditional size 18-20.
Curvy and BIPOC models are the norm for Universal Standard. One of its central beliefs is that shoppers should be able to see themselves in a brand and have access to stylish, well-made clothes that fit them.
Another revolutionary aspect of Universal Standard is its Fit Liberty program. Customers buy the size they are at the moment. If their size changes within a year of purchase, they can exchange their pieces for a new size. This program is entirely free.
Chromat
Chromat, founded in 2010, is a luxury bodywear brand that has been pushing the boundaries of the fashion world since day one.
The world of swimwear marketing is notoriously gendered and harmful to people's self-esteem. Chromat shuns pre-conceived notions of the "bikini body" by centering models of all gender identities, sizes, and ethnicities in its marketing.
Inclusivity has always been a keystone of Chromat's innovative New York Fashion Week shows. As a result, people from all backgrounds, such as educator Ericka Hart and writer Devin-Norelle, walk down the Chromat runway with infectious joy and confidence.
Founder Becca McCharen-Tran has a background in architecture, reflected in Chromat's structured swimwear that enhances the body instead of smothering it. The brand also incorporates sustainability into its swimwear, using recycled nylon from plastic bottles and fishing nets.
Big Bud Press
LA-based indie brand Big Bud Press seamlessly combines vintage vibes with modern silhouettes. This brand is a cult favorite for its fun patterns and creative art direction.
Big Bud Press focuses on unisex clothing and other accessories. It's all about what you want to wear when you want to wear it. People of all gender identities and sizes are models for the brand.
Big Bud Press prides itself on hiring models that reflect the sizes and identities of its actual customers. It never airbrushes or retouches model photos. Big Bud Press stocks size XXS to 6X to make everyone feel welcome.
Lé Buns
Australian brand Lé Buns is all about creating sustainable, inclusive apparel and swimwear. The brand specializes in basics and neutrals that can transition from day to night and season to season.
Lé Buns wants you to find the perfect fit. Its website features an exhaustive size guide with visual aids that walk you through how to measure yourself. The size guide also provides sizing details for the models featured in their shop so you can better understand how clothes would fit your body type.
Another unique feature of this brand's site is the "Shop in Your Size" feature. You can exclusively shop for designs in your specific size, modeled by women in your size range.
Also, Lé Buns does not size its products using the words "small," "medium," or "large." Since those words can have negative connotations for some people, sizes are based on body measurements.
Hackwith Design House
Hackwith Design House is a Minnesota-based brand that knows fashion is not "one size fits all." This body positive brand crafts professional and formal clothing for women with natural bodies, not just thin models.
It can be hard to find well-made, stylish plus-size clothing. Each Hackwith piece is made-to-order and sewn by hand by one of the studio's three sewers. Its flowy dresses and ruffle tops don't sacrifice shape and quality for comfort.
Hackwith Design House incorporates sustainability with its body positive mission through its Sustain Plus line. The Sustain Shop is the brand's upcycle platform where customers can donate their gently used pieces and buy new-to-them Hackwith clothes.
ASOS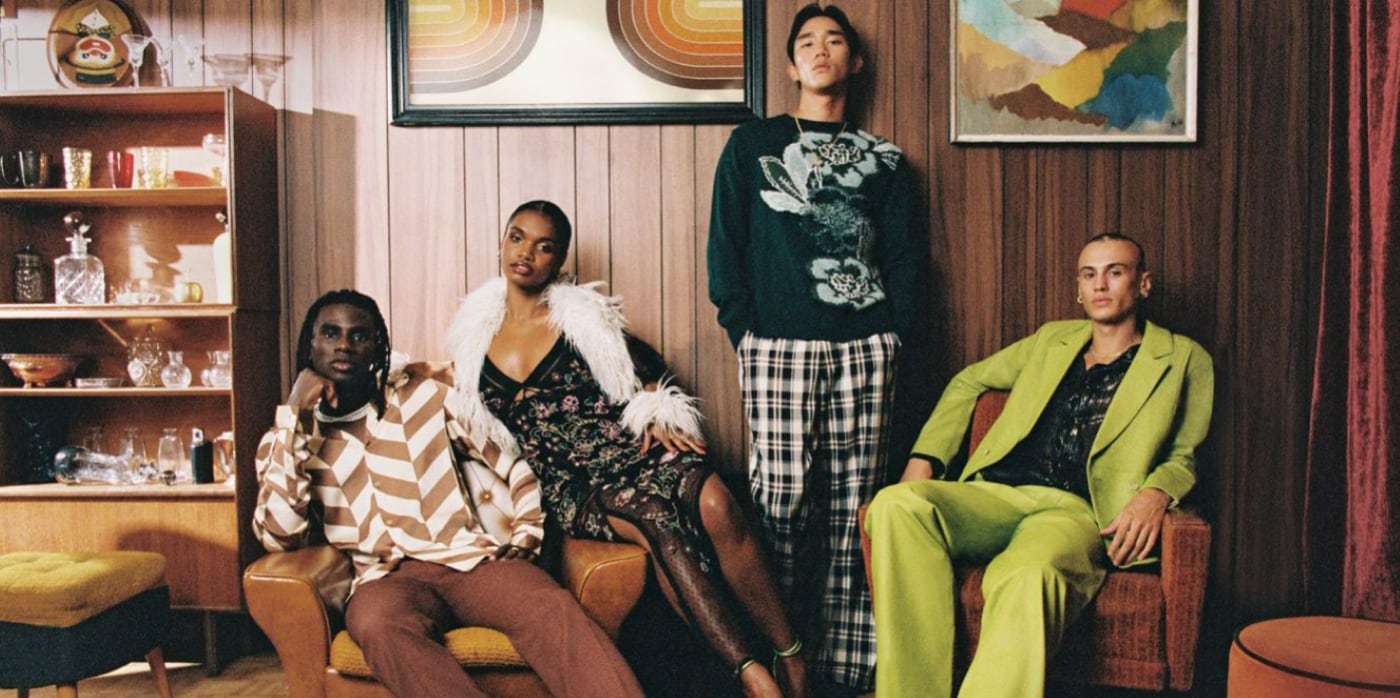 ASOS is one of the top online clothing stores in the US and UK. The brand's marketing falls in line with more traditional retail brands. However, ASOS has made strides in becoming more size-inclusive.
The ASOS website is mindful of customers' different sizes. For example, there is a "Shop by Fit" section where shoppers can filter clothing through categories like "maternity" and "plus size." In addition, the ASOS Curve collection has thousands of fan-favorite items in sizes ranging from 18 to 30.
The brand recently launched a virtual Fit Assistant that digitally maps a piece of clothing onto models of different sizes. This feature lets shoppers see a model similar in size to themselves so they can visualize how something would fit. Unfortunately, the Fit Assistant is only available for select items.
Savage x Fenty
Rihanna's iconic Savage x Fenty intimates brand is changing the face of the lingerie industry. From fearlessly slinky lingerie to cozy onesies, Savage x Fenty does not shy away from making bodies of all shapes and sizes look sexy and cool.
Rihanna disoriented the fashion world with her 2018 Savage x Fenty runway shows. One show featured a diverse cast of models, from supermodel Bella Hadid to plus-size model Raisa Thomas. The brand even spotlighted two pregnant models in full-scale lingerie.
Savage x Fenty offers lingerie and loungewear up to size 4X because everybody should feel sexy in their skin. Gone are the days of beauty being defined as a singular, thin ideal. Instead, Rihanna is shaking things up and forcing the world of fashion to be more inclusive.
Rebdolls
Rebdolls is a minority-owned fashion label that brings the motto #SexyForAll to life with its form-fitting dresses and trendy outerwear.
Founder Grisel Paula worked as a plus-size model for many famous brands. However, she was annoyed that the plus-size clothing at photoshoots was often less fashionable than other sizes. So she decided to change the game with Rebdolls.
Rebdolls is about diversifying the fashion world and creating on-trend clothing for everyone. The brand carries sizes 0 to 32 and never compromises fit and style. Customers love the way Rebdoll's clothes make them feel comfortable, sexy, and unashamed of their bodies.
Models of all sizes are represented in the brand's marketing. It's easy for clothing brands to talk the talk when it comes to body positivity, but Rebdolls walks the walk.
Parade
Parade is a sustainable brand where body positivity is the norm, not an exception. Founder Cami Tellez believes "sexiness isn't one-dimensional," and we couldn't agree more. The brand thinks underwear should be comfortable for everyone, regardless of size.
The brand is known for its innovative underwear design. People of all sizes are consulted and involved in product development to ensure every piece is genuinely inclusive. Its briefs and bras are made with your body in mind and are available in sizes XS to 3X.
Also, Parade is one of the few brands that openly welcomes customer feedback about gender- and size-inclusive options.
Parade donates some of its proceeds to various non-profits, including Black Women's Wellness. Initiatives like free breast cancer exams and free therapy further support Parade's mission to be body positive for everyone.
Decade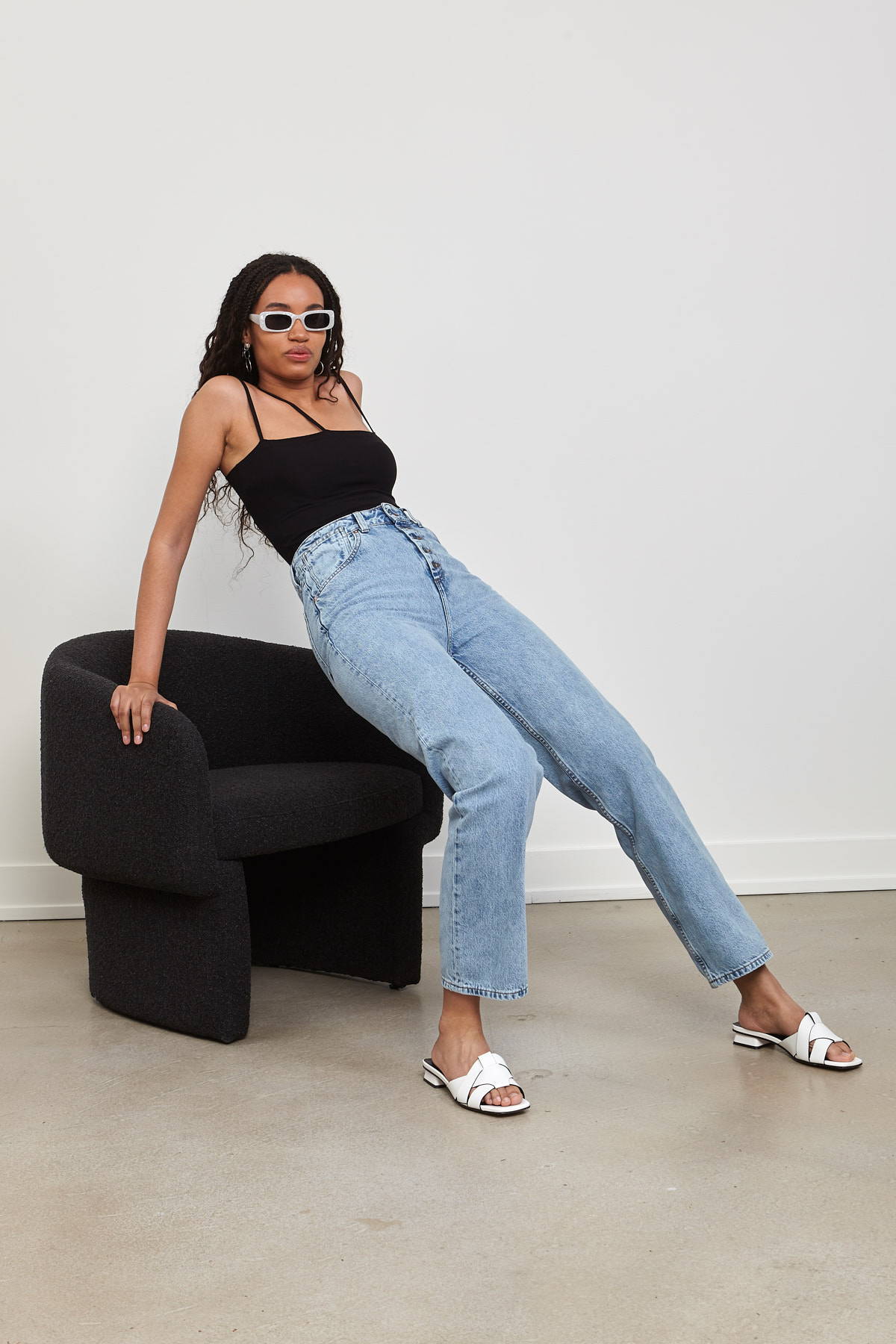 Decade arose from founder Molly Spittal's mission to create the perfect pair of jeans. As she worked on designs, she soon realized that the industry standard for sizing jeans was wildly out of line with the average body.
Decade constructs its denim to fit every body shape without compromising comfort. The brand's sizing method, Ratio-Fit, provides three different styles in sizes 25 through 50. In addition, the "See it in size" section lets you see the jeans on models of various sizes, not just a size zero.
All Decade denim is made from 100% cotton denim and is built to fit your body perfectly. Each pair has a break-in period where the denim softens and shapes to your body type. It's basically memory foam in the form of jeans.
The small brand has one physical location in Vancouver, BC. You can even get a personalized fitting if you are lucky enough to visit.
Sotela
Sotela is an LA-based fashion brand that celebrates humans in all their forms through its gorgeously crafted, ethically made clothing.
Sotela's two main pillars are positivity and sustainability. Sotela builds its clothes to accommodate one to two size variations. You can still wear them if your body changes or fluctuates in weight. In addition, all pieces are made from natural fabrics and sweatshop free.
The brand is known for its flowy, nature-inspired pieces. Bottoms like linen shorts and organic cotton skirts have elastic band waists so that they can last in your closet for years. These clothes are made to be comfortable without looking frumpy.
Sotela never uses "small" or "large" to describe its clothing. Instead, its sizing uses measurements specific to your body type and typically goes up to a size 10 for most pieces.
ARQ
ARQ is a female-owned intimates brand based in Oregon. The small brand has blown up in popularity over the last few years because of its high-quality, wildly comfortable underwear and bras.
ARQ does a great job of featuring models of different sizes and gender identities wearing its products. All of ARQ's underwear is super soft, versatile, and comfortable. In addition, each piece is gender neutral, with no "women" and "men" categories listed on the online shop.
The brand operates with a small but innovative team. Each piece is made by hand in ARQ's Oregon studio using natural fabrics. Sizes range from XXS to 6X.
Wildfang
Wildfang is a fashion label that fully embraces gender fluidity and aims to create a safe space for women and the LGBTQ+ community.
Founded in 2012, Wildfang embraces body positivity by throwing the gender binary out the window. Wildfang models of all sizes rock skirts, suits, and matching sets in colorful patterns. From jumpsuits to corsets, there's something for everybody in Wildfang's inventory.
Wildfang currently offers sizes XS to 3X and encourages its customers to wear what they want when they want. Clothes can be a huge part of someone's identity, and Wildfang is about making people feel comfortable in their bodies.
SmartGlamour
SmartGlamour, a small clothing line based in New York City, sets the new standard for body inclusivity. Every SmartGlamour design is available in sizes XXS through 15X with a ton of design flexibility.
Designer Mallorie Dunn launched SmartGlamour in 2014 because she was tired of fashion media's inaccurate depictions of women, femmes, and non-binary folks. As a result, models of all experience levels, sizes, ethnicities, and abilities are well-represented throughout SmartGlamour's online shop.
The brand offers a variety of clothing accessories, from dresses to intimates, outerwear to tote bags. Everything is made-to-order, and the SmartGlamour crew can customize things like hem length, bust size, and waistband height.
Phlemuns
Phlemuns is shattering the binary with its innovative genderless clothing. James Flemons founded the LA-based brand in 2013, and has been going strong since.
Its unisex designs are beautifully crafted by hand. The mesh tanks, graphic tees, and bodycon dresses all have cut-out visuals that would make your grandma blush. In addition, Phlemuns sexy, cool designs come in sizes XS to 2X.
Phlemuns' mission is to bridge the gap between high fashion and everyday communities. The brand makes everybody feel like they can look good in something they see on the runway.
Its designs elevate simple silhouettes into something haute couture and high-brow. Celebrities like Lil Nas X and Bella Hadid have been seen wearing the brand's nonbinary, Y2K chic pieces.
Aerie
Aerie, the lingerie line of American Eagle, is one of the first big brands to adopt a more body positive philosophy. The brand made headlines in 2014 when it announced it would stop photoshopping and airbrushing its models.
Aerie's choice was (and still is) a revolutionary move in an industry obsessed with "perfection." The brand knows that most of its customers are young women who shouldn't have to compare themselves to unrealistic beauty standards while shopping for underwear.
The brand is known for its comfortable loungewear and affordable intimates up to size XXL. With the #AerieREAL social media campaign, the brand features the natural beauty of real-life customers wearing Aerie pieces.
Admittedly, Aerie still has a long way to go. Although models are not retouched in their photos, they're still conventionally attractive and thin. In addition, there's not a whole lot of diversity when it comes to showing Aerie bras on a diverse range of bodies.
ModCloth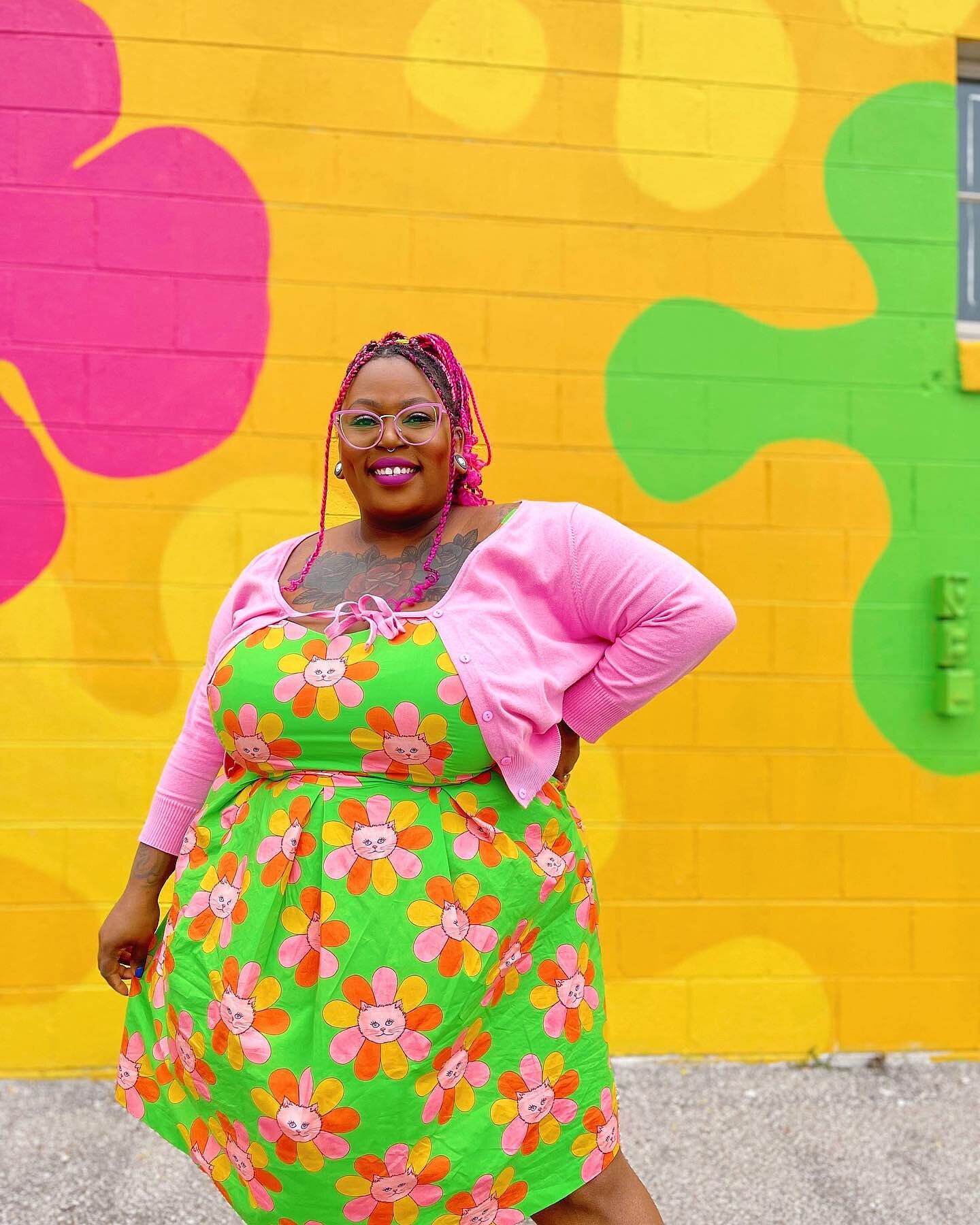 Along with Aerie, ModCloth was one of the first big companies to pledge an anti-photoshop policy in 2014. The brand doesn't alter its models' shape, size, or physical features in post-production, which is a huge win for the body positivity movement.
ModCloth offers vintage-inspired clothing in sizes XS to 4X. The plus size collections are just as adorable as the straight sizes, making it's signature quirky style accessible to more shoppers.
Like many other big-name brands, ModCloth can still do more to be more size-inclusive.
Sure, plenty of fashionable and cute plus-size clothes are available on its website. However, plus-size products are in a separate category from all the other clothes. Also, most women modeling the straight sizes are thin, with no different body types represented under specific listings.
34 Body Image Statistics You Cannot Afford To Miss
879 Self Love Captions That Are Actually Oh So True!