If you're looking for the latest statistics on bounce rate, we've got you covered.
You probably know that bounce rate is a measure of how many visitors leave your site after visiting only one page—but did you know that it can also be used to predict whether or not they'll complete their purchase? Or that there's a correlation between bounce rate and time on page? Or that it varies by device type?
If you're like most website owners and marketers, all this information might seem overwhelming and difficult to parse. But luckily for you, we've already done the hard work of sorting through all the latest statistics about bounce rate so that you don't have to!
Check out our list below—we hope this helps clear up any confusion around bounce rate and its importance in your digital marketing strategy!
Top Bounce Rate Stats (Editor's Choice)
Most websites have bounce rates from 26% to 70%.
The optimal email bounce rate is less than 2%.
The average bounce rate for eCommerce sites is 47%.
It's expected for blog posts to have a 65% or higher bounce rate.
Mobile bounce rates are roughly 10% to 20% higher than desktop bounce rates.
The usual bounce rate on tablets is up to 12% higher than on desktop devices.
The chance of a bounce increases by 123% if a website needs up to 10 seconds to load.
The probability of a visitor bouncing increases by 90% as page load time takes one to five seconds.
General Bounce Rate Statistics
1. A bounce rate of between 26% and 40% is considered outstanding.
(Go Rocket Fuel)
RocketFuel's data analysis shows a bounce rate of 26% to 40% is great. Still, it's not the bounce rate most websites have.
A low bounce rate is noticeable in websites that work perfectly, which is incredibly rare (not lower than 20%, though). Apart from that, 41 to 55% is around average, while between 56% and 70% is higher than average.
Nevertheless, a more than 70% bounce rate is worrisome for everything except for blogs, events, news, etc.
2. A bounce rate of over 90% is a cause for concern.
(Go Rocket Fuel)
If you notice a high bounce rate of over 90%, you need to find the cause of that issue. That means that something on your website is scaring people away.
Check if you have problems with website design, browser compatibility issues, a disfigured tracking code, or something else. Even if there are no rules when it comes to bounce rate, a bounce rate of over 90% is undoubtedly a bad thing.
3. Most websites have bounce rates between 26% and 70%.
(Go Rocket Fuel)
RocketFuel's report reveals that the majority of websites of all kinds have a bounce rate of 26% to 70%. It's considered a good bounce rate.
Of course, every website should have its own benchmarks, and it's better to focus only on the metric than to necessarily compare your performance to other websites.
(Social Media Today)
As social bounce rate stats reveal, the standard bounce rate for traffic referred from social media platforms is roughly 50%. But, of course, every social media platform is unique and engaging visitors varies from platform to platform.
Also, don't expect a massive click-through rate from social media, as people spend time on social media to consume content and engage with other people and their favorite brands.
5. The benchmark for email bounces is less than 2%.
(Campaign Monitor)
A high email bounce rate means that the rate of people not seeing the information you want to share is high, which can be incredibly frustrating. That's why a typical email bounce rate is less than 2%.
Unfortunately, in the case of email marketing, there are no "good" or acceptable high bounce rates.
There are many reasons for bouncing, and the main reason is email recipients not using that address anymore or being inactive.
Statistics on Bounce Rate By Website and Page Type
6. The average bounce rate for B2B websites is 25% to 55%.
(Customedialabs)
If you own a B2B website and notice a bounce rate of over 55%, something's not quite right.
Of course, some pages will stand out, like contact us pages, for instance. It's entirely acceptable to tolerate a higher bounce rate on such pages as visitors access basic information like email, phone, or address.
Also, it's normal for form submission pages to have high bounce rates because people visit them just to complete the submission process and leave right after that.
7. The average bounce rate for eCommerce sites stands at 47%.
(Content Square)
Bounce rate statistics point out that eCommerce websites have a bounce rate of around 47%, on average.
Confirmation pages are expected to have a higher bounce rate as they're typically the last step of a visitor's goal and leave right after that. In addition to that, it's not concerning if checkout pages have high bounce rates, as they're not desired landing pages and entry traffic to such pages is usually low.
Also, customer support pages have high bounce rates on good support websites.
8. The average bounce rate for landing pages is between 60% and 90%.
(Customedialabs)
A high bounce rate on a website's homepage doesn't necessarily have to mean that it has low-quality content or poor performance. In fact, nothing needs to be changed because visitors often get the information they need and move to a news-related website.
Apart from that, don't let the number of clicks on outbound links surprise you. It's good if the link redirects to a partner website, even if it's a bounce.
9. It's expected for blog posts to have a bounce rate of 65% or higher.
(Customedialabs)
A good website bounce rate shouldn't be measured by the performance of its blog posts, as it's normal for such pages to have a high bounce rate. Only expect returning visitors to bounce less frequently than new visitors, as they're probably back with a different purpose.
Also, it's hard to distinguish people's intentions, and many accidentally click on the link and bounce as it's not what they've been looking for.
10. On average, higher education websites have a bounce rate of 57.36%.
(OHO)
As education industry bounce rate stats suggest, the average season duration for these kinds of websites in 2021 was 2 minutes and 10 seconds, which is a few seconds more than the year before.
When the bounce rate is in question, it decreased from 57.44% in 2019 to 57.36% in 2020. The change is almost negligible, but it's worth mentioning.
11. Social media campaigns and paid ads can lead to a higher bounce rate, as the average bounce rate for paid traffic stands at 62.6%.
(InMotion, LinkedIn)
One of the reasons for higher bounce rates can be paid traffic, as visitors who come from organic sources know what they look for and search for it on their own.
Therefore, companies shouldn't be surprised if the bounce rate for their paid traffic exceeds 60%, which doesn't mean that their paid campaigns are bad or need improvement.
12. The average bounce rate for WordPress sites and blogs is 40%-50%.
(InMotion Hosting)
Although most websites are hosted on WordPress, it's essential to have separate statistics for WordPress and other websites. Data reveals that the expected bounce rate for websites hosted on WordPress amounts to between 40% and 50%.
It's possible to improve bounce rates by creating better content for visitors, focusing on user experience, or splitting up longer posts to be easier to read.
Statistics on Bounce Rate By Device and Industry
13. Mobile bounce rates are about 10% to 20% higher than desktop bounce rates.
(Go Rocket Fuel)
According to the website bounce rate statistics from Go Rocket Fuel's report, the lowest number of bounces comes from desktop devices. On the other hand, mobile bounce rates are usually the highest, which can happen if websites aren't optimized for smaller screens.
Therefore, it's of the utmost importance to consider optimizing sites for mobile devices because many people browse the internet via mobile phones, and their number will undoubtedly increase.
14. The usual bounce rate for tablets is up to 12% higher than the bounce rate on desktop devices.
(Customedialabs)
Tablet and mobile users tend to bounce more, as people who search for something on their mobile devices usually search for something specific (for example, an address, a product, or an answer to their question).
That's why they're more likely to bounce if they instantly don't find what they're looking for. Also, many companies don't realize how important it is to optimize their website for mobile traffic.
15. The energy industry has the lowest website bounce rates (38%).
(Contentsquare)
Contentsquare's figures from 2021 about the average bounce rate for websites in various industries point out that the lowest bounce rates are recorded on the websites that are about groceries (40%), travel (42%), and energy (38%).
On the other hand, the average bounce rate in the telco industry amounts to 56%, while websites about financial services have a bounce rate of 47%.
Statistics Regarding Why Bounce Rate Reduction is Important
16. Users who stay on your website longer are more likely to return regularly, lowering the bounce rates on a website.
(Rock Content)
Regular visitors are important, as they always come back with a purpose and tend to stay longer on the page, lowering the overall bounce rate. Therefore, it's best to work on engaging the visitors that come to a website so you can increase the retention rates.
17. The chance of a bounce increases by 123% if a website takes up to 10 seconds to load.
(Kissmetrics, Think With Google)
According to website speed bounce rate statistics, the load speed can drastically influence bounce rates. The statistics further reveal that four in ten visitors will abandon a website if it takes more than three seconds to load.
Website load speed is vital, especially for eCommerce websites.
Google's data shows that bounce rates can go as high as 90% due to the load time of five seconds on mobile devices. The longer it takes to load, the higher the bounce rate.
It's also worth mentioning that 56% of smartphone users feel better about companies whose mobile apps or websites remember their past behavior and things about them, which can also be used to lower the bounce rates.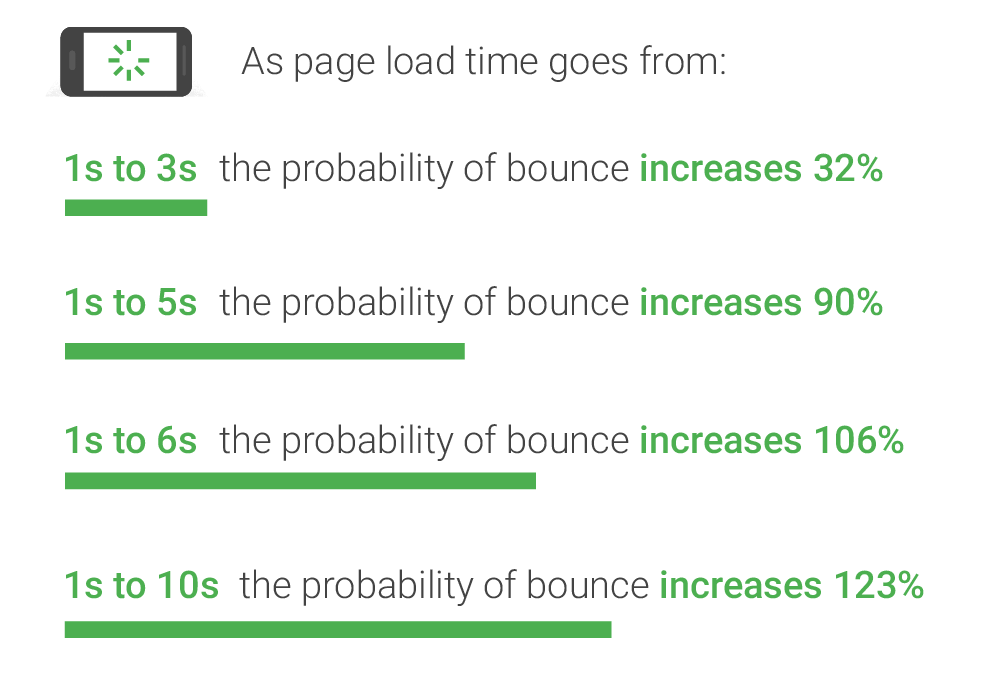 18. A web page's load time affects the likelihood of viewers bouncing from your site.
(Pingdom)
This statistic proves that visitors are generally impatient, and some will bounce even if a page takes only one second to load. The average bounce rate for websites that load in three seconds amounts to 11%, for four seconds, it's 24%, while it increases to 53% for seven seconds of load time.
Lastly, the bounce rate for a website load time of 16 seconds is 73%. That means only some loyal visitors would even wait 16 seconds for a page to load.
The following table provides a breakdown of the bounce rates for each second it takes to fully load a web page: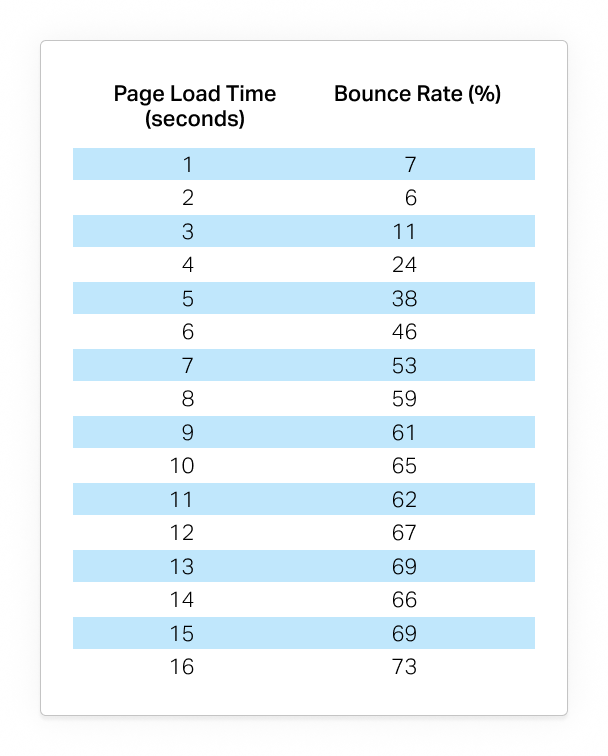 Other Noteworthy Bounce Rate Statistics
19. A 0% bounce rate for a page means that the particular page is never the first page a user visits on your site.
(Neillaborce)
If you notice that a page on your site has a 0% bounce rate, it's not necessarily a problem.
0% bounce rate for web pages usually happens when viewing the content is only available from within the website. For instance, a visitor visits a home page, clicks on the resources section, and opens one of the resources pages listed on your site. As that resources page isn't the landing page, the number of single-page sessions for that blog post amounts to 0.
But if the above is not true for your page, then a zero bounce rate most likely means that there are technical issues on the page.
20. At 76.8%, the bounce rate is the highest for the traffic from the referral traffic source.
(LinkedIn)
Bounce rates are different for different traffic sources. Namely, LinkedIn's survey that included 501 analytics accounts reveals that those visitors who came from referrals tend to bounce the most.
Also, those who come from organic sources are the least likely to bounce (55.6%). If we exclude organic traffic, the bounce rate for all other traffic sources exceeds 60%.
Related Questions (FAQs)
What is bounce rate?
A bounce is a single-page session on a website. It's a session that triggers only one request without triggering more requests to the analytics server during the session. For instance, if a user visits your page and leaves after that, it's considered a bounce. A bounce rate is calculated by dividing single-page sessions by sessions or the percentage of all bounces on a website. More precisely, it's the percentage of single interaction visits to a website.
What is a good bounce rate?
We can say that an excellent bounce rate falls somewhere between 26% to 40%, while the average bounce rate amounts to 41% to 55%. Still, whether a bounce rate is suitable depends on many things (e.g., the number of monthly visitors, website activity, etc.). Therefore, every website owner should set their own benchmarks.
How to reduce bounce rate?
To reduce bounce rate, consider providing easy navigation, investing in website design, simplifying web content, doing proper keyword research, and getting as much information as possible about your target audience. Also, you mustn't forget to optimize the website for mobile devices.
What is a 0% bounce rate?
A zero bounce rate is a sign that a user didn't arrive on that web page from an external traffic source. In other words, a 0% bounce rate typically means viewing content is only accessible within the website.
What do high bounce rates mean?
A bounce rate can be high for various reasons, such as poor website user experience or an issue related to Google's algorithm. Also, if visitors wait more than three seconds for a website to load, they'll likely get frustrated and bounce.
Conclusion
Now that we've looked at some of the most interesting statistics about bounce rate, you should be better equipped to understand what makes your visitors tick.
If your bounce rate is lower than average, then congratulations! It means you've done something right. But now the work isn't over. You need to keep up the good work and make sure that your bounce rate doesn't start creeping back up again. This means keeping an eye on how much time people spend on your site and making sure they don't get bored too quickly.
If your bounce rate is higher than average, don't panic! There are lots of ways to reduce it without having to start from scratch. You might want to think about redesigning your site to improve the user experience or adding more calls-to-action so visitors know exactly what they should do when they land on your page. You could also try optimizing your website for mobile devices so that users aren't getting frustrated with having to zoom in and out just to read content on small screens.
All in all, the bounce rate is an important metric to track in your analytics. It helps you understand how people are using your website and what they're looking for. It can also tell you what pages aren't performing as well as others and where you need to focus more energy on optimizing your content.
You can use this data to improve your website and make it more user-friendly, or you can take it one step further and start A/B testing with different types of content on your site. This will allow you to test which content works best with your visitors so that you can focus on those types of content in the future.
But if there's anything we've learned from our research, it's that every website is different—there is no one-size-fits-all approach when it comes to optimizing for bounce rate. What works for one website may not work for another, so it's important to test out different strategies and see what works best for your audience.
You might be surprised at how easy it is to increase your bounce rate and get more visitors to stay on your site for longer periods of time.
Thanks for reading!
25 Surprising Ecommerce Return Statistics
31 Healthcare Marketing Statistics To Dominate Your Niche
20 Short-Form Video Statistics To Level Up Your Marketing
39 SEO Spending Statistics To Boost Your Business
Sources