When it comes to favorite breakfast foods, it's hard to beat the fluffy texture and delicious flavor of a homemade pancake. However, in today's busy world, not everyone has time to make homemade pancakes as often as they would like.
Luckily, with the ease of over a dozen delicious frozen pancake brands on the market, you can enjoy this fluffy favorite anytime you want.
Eggo
Eggo is a household name when it comes to frozen breakfast foods. Since 1953 Eggo has been bringing the taste of homemade breakfast foods to households around the world.
Known for their frozen waffles – perfectly golden on the outside and fluffy on the inside – Eggo brought that same homestyle taste and texture to their pancakes. Moreover, they brought the same ease of enjoying these pancakes in a few minutes.
In addition to ease of cooking, these frozen pancakes are also easy to get anywhere! Not only are they easy to find in stores around the world, but you can order them online. Who doesn't want delicious homemade pancakes delivered to their house!
Another reason that Eggo makes it to the top of the list as one of the best frozen pancake brands is their variety. With a variety of flavors( and even sizes), there is a perfect frozen pancake for everyone in the family.
Blueberry Pancakes
Chocolatey Chip Pancakes
Bites Chocolatey Chip
Minis Buttermilk
In addition to the flavors above, Eggo's seasonal pancake flavors will have you saying "Legg'o my Eggo" when anyone reaches for your favorite frozen pancake!
Pumpkin Pie Pancakes
Gingerbread Cookie Pancakes
De Wafelbakkers
Another company that was first known for waffles is Dewafel Bakkers. Originally made in Holland, this company started to import its waffles to the United States in the early 1980s. Arriving in a country already in love with frozen waffles, it was no surprise this brand took off!
After only four years of importing waffles, Dewafel started producing the waffles in the United States. Less than 10 years later, Dewafel added pancakes to their recipe list.
While they began with a classic buttermilk pancake, Dewafel Bakkers continued to expand into the pancake world with additional flavors. Like many of the other best pancake brands, they have blueberry and chocolate chip pancakes. In addition, they also offer a mini buttermilk pancake.
Dewafel frozen pancakes can be purchased in most grocery stores around the United States.
Pillsbury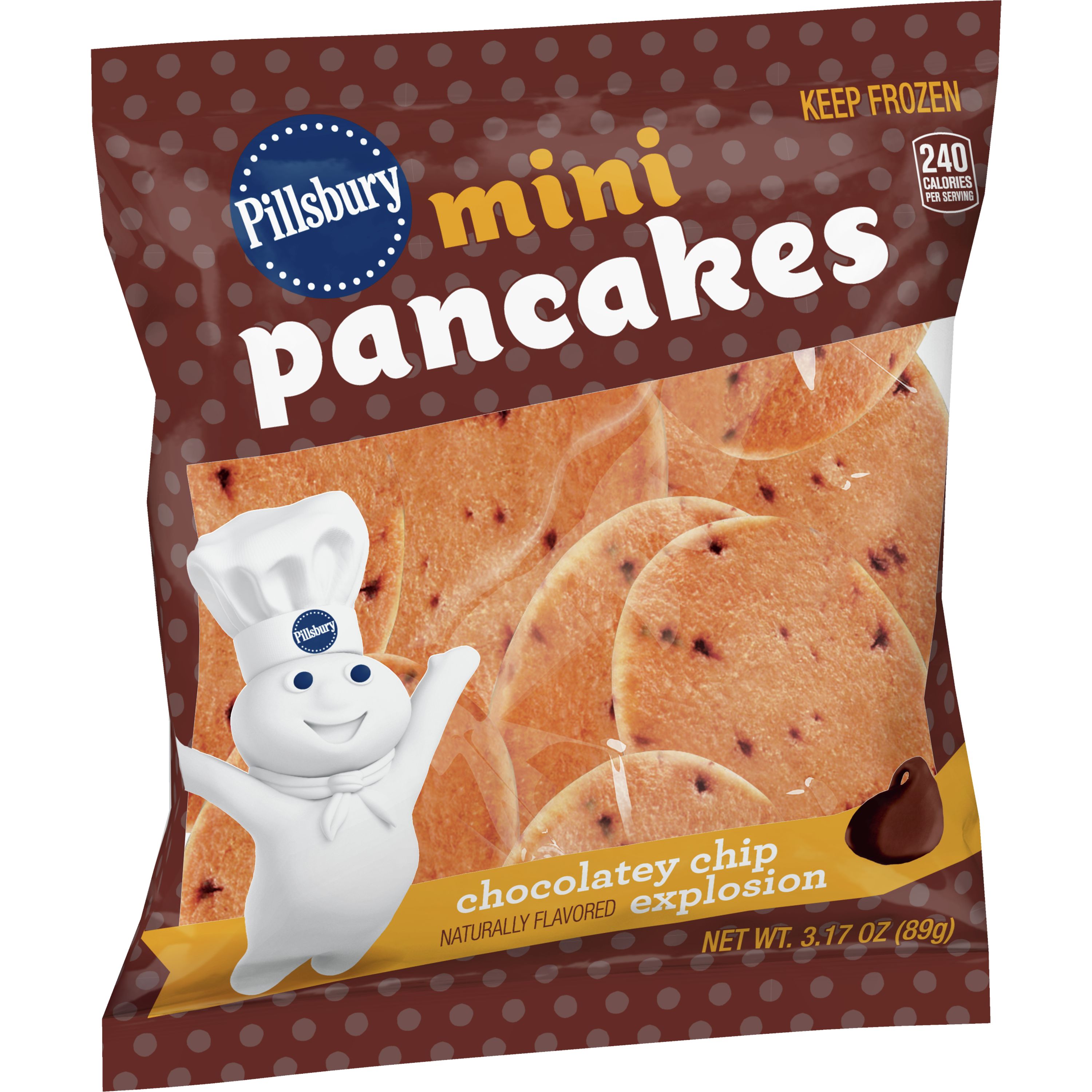 When it comes to quality baked goods, not many names can compete with Pillsbury. For over a 150 years Pillsbury has been known as an expert in everything from biscuits to cookies.
Not only is Pillsbury known for their quality of flavor, but also for the quality of their ingredients. In addition, they are also known as innovators in the industry. All qualities that come through in their frozen mini pancakes.
Made from whole grains, individually packaged, and burst'n with maple flavor, these mini pancakes are the perfect flavor-packed frozen pancake. Look for these in most grocery stores where Pillsbury products are sold.
Hungry Jack
Known for their frozen dinners that can be heated up in a hurry, Hungry Jack now offers breakfast in a similar fashion. Designed with the microwave in mind, these pancakes can be popped into the microwave for the perfect quick breakfast.
In just a few minutes, they come out of the microwave with a soft fluffy middle and slightly crisp edges. Choose how hungry you are, and simply pop enough pancakes in the microwave to get your day started right.
Hungry Jack also knows that sometimes hungry humans aren't Hungry Jack HUNGRY! Therefore, they made a mini version of their tasty frozen buttermilk pancakes. These mini microwavable pancakes are perfect when you need a quick pick-me-up in the middle of the day, or a late night snack.
Look for Hungry Jack regular or mini frozen pancakes in most grocery stores.
Jimmy Dean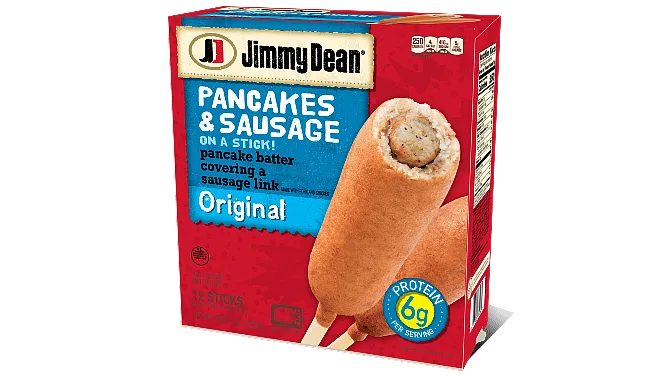 While a traditional buttermilk pancake is a favorite for many, there is also room for getting creative. Jimmy Dean, the experts in sausage, combined the love of two breakfast foods for a new favorite.
This fun food is like a breakfast corndog, but instead of a hot dog and cornbread, you get the delicious combination of breakfast sausage and pancakes. Enjoy it at home with a little syrup for a yummy sweet and savory take on breakfast, or on the go, with its handy little stick to keep away sticky fingers.
Look for these fun frozen pancakes in stores where Jimmy Dean products are sold.
Banquet
If you want that tasty blend of pancakes and sausage, but not on a stick, then grab a Banquet Brown 'n Serve Pancake and Sausage platter. This is like the classic frozen TV dinner, but for breakfast.
Complete with fluffy frozen pancakes and sausage all on one plate, you can enjoy the classic taste of a diner breakfast at home. Just pop in the microwave and you are ready to eat.
Banquet Brown 'n Serve Pancake platter can be found in many grocery stores and even in Walmart.
Belgian Boys
If you want an original Belgium pancake in a jiffy, then grab a box of Belgian Boys. Belgian Boys was started by two childhood friends from Belgium that wanted to bring the flavors of home to New York City.
While they make tasty European treats for any time of day, their Belgian bite sized pancakes are a favorite for the mornings. These bite sized delights are traditional fluffy Belgian pancakes, and offer a fun alternative to a flapjack style pancake.
With just a hint of sweetness, you can eat them on the go just as they are. However, for a more decadent breakfast, slow down the morning with a plate of these mini pancakes topped with syrup or even chocolate.
In addition to Belgian Boy bite-sized pancakes are the Belgian Boy Boy Crepes. Traditionally found in Europe these thin and tasty pancakes are a great alternative to traditional pancakes.
Whether you choose Belgian Boy bite-sized or crepes, you can order them to be shipped to your home worldwide. Moreover, they are sold in many grocery stores around the United States.
Good Food Made Simple
With a slogan like "Tastes like mama slaved in the kitchen for hours, but ready in seconds" you can bet that Good Made Simple knows how to make simple pancakes taste like a quality homemade breakfast.
Moreover, this brand is focused on not only convenience but quality. They are committed to using fresh, simple, and quality ingredients. The proof is in the taste. The best place to find that taste is in their original pancake puffs – frozen Belgian style pancakes that go from frozen to fluffy in just a few minutes.
In addition to their original flavor, indulge with their banana puffs or chocolate chip puffs. The only downside is that these tasty puffs may be harder to find depending on where you live. Check out their website to see if they are available near you.
Earth's Best
While frozen pancakes are for people of any age, they are often tailored to kids. Therefore, many of the best brands cater to both what parents and kids want.
Earth's Best is a brand that has been creating ready-to-eat foods for kids for over 30 years. Always offering organic products that are healthy for kids and make parents happy.
In addition, they use smart marketing strategies to get kids excited to eat healthily, such as making mini frozen pancakes that are perfect for tiny hands. They also use kid-friendly characters like Sesame Street's Elmo on their boxes.
If you're looking for a frozen pancake for the kiddos (that you can also sneak a bite of), check to see if Earth's Best is available in your stores.
Kidfresh
Kidfresh is another brand that caters to kids. They go beyond just organic ingredients though and sneak veggies into all of their frozen foods!
While they do not currently offer a frozen pancake, they do offer a frozen waffle. With so many parents looking for the perfect healthy breakfast for their kids though, it is worth including in this list of the best frozen pancakes.
If you are looking for a veggie filled breakfast that your kids will love, keep an eye out for Kidfresh waffles at your local grocery store.
Kodiak
Nutrient dense pancakes are not just for kids. Many adults are also looking for a healthy pancake. If your goal is a nutritious frozen pancake that also tastes great, then Kodiak Frozen pancakes are a great choice.
Kodiak Cakes started from a homemade whole wheat pancake mix and grew into a brand known for their protein powered breakfast foods. A great choice for those who want a nutrient dense breakfast that will power them throughout the day.
In addition to their commitment to a healthy breakfast, Kodiak Cakes knows that a little bit of flavor and fun is also important. Therefore, in addition to their classic Buttermilk Power Flapjacks, they offer a Chocolate Chip Power Flapjack. While not a pancake, Kodiak also offers a tasty gluten-free frozen waffle for those who have a gluten intolerance.
Kodiak cakes are easy to find in grocery stores and even Target and Walmart.
Van's Food
Even though pancakes are a beloved breakfast favorite, not everyone can enjoy a classic buttermilk pancake. Whether it be a gluten sensitivity or a personal choice to avoid dairy, Van's has a pancake for you.
A California based company, Van's Foods is committed to making quality foods that are packed with plant nutrition and free from gluten. In addition, they are committed to maintaining delicious flavor!
Look for Van's Frozen Original Pancakes that are gluten-free or explore their other flavors:
Protein Original Pancakes
Chocolate Chip Pancakes
Simply Wholesome Homestyle Pancakes
Van's Foods can be found at most natural grocery stores (like Whole Foods, Sprouts, and other similar stores).
365 by Whole Foods Market
This brand offers all the desired qualities of the taste and texture of a traditional pancake that comes from quality organic ingredients. While being frozen and easy to eat!
While 365 is a brand specific to Whole Foods, with the ease of the internet, you can now buy these frozen pancakes online through Amazon.
Trader Joe's
Even though Trader Joe's is only located in certain locations in the United States, their Gluten & Dairy Free Frozen Pancakes are worth mentioning for those who live near a store. These high-quality and delicious pancakes are a fan favorite among Trader Joe's shoppers.
Many people have commented on the Trader Joe's site that they find these pancakes "filling" and that they have started "buying two boxes at a time" because they love them so much! So, if you are looking for a delicious gluten-free and dairy-free pancake keep an eye out the next time you come across a Trader Joe's.
Conclusion
There's no denying that pancakes are one of the most popular breakfast options around.
We hope that this article has helped give you some ideas on which frozen pancake brands to try next time you're in the mood for a delicious pancake breakfast or snack. Whether you're looking for a classic, or something more creative and fun, we think you'll find something on our list that's perfect for your next meal.
If you have any questions about the brands we've covered or any recommendations of your own, please let us know.
Until next time, happy pancaking!
1243 Sweet and Savory Bakery Name Ideas
567 Pancake Slogans To Help You Wake Up With a Smile