Fruit snacks are the perfect on-the-go treat. The individual serving size of each package makes it easy for parents to drop in their kid's lunch boxes or to take them in the car. They are loved even by adults. Whether for your kids or you, we have found the 16 most promising fruit snack brands to try!
When it comes to choosing a fruit snack, there are two important characteristics to look for: taste and texture. However, beyond taste and texture, there are nutritional factors to consider. While most fruit snacks contain some form of fruit (whether juice or puree) there is a range of nutritional benefits.
This article will introduce you to a wide range of fruit snack brands. All with great taste and texture, but some more focused on fun shapes and flavors, and others more focused on organic fruit and quality ingredients.
Whatever you choose, any of these will satisfy the need for the fruity flavor and gummy texture!
Welch's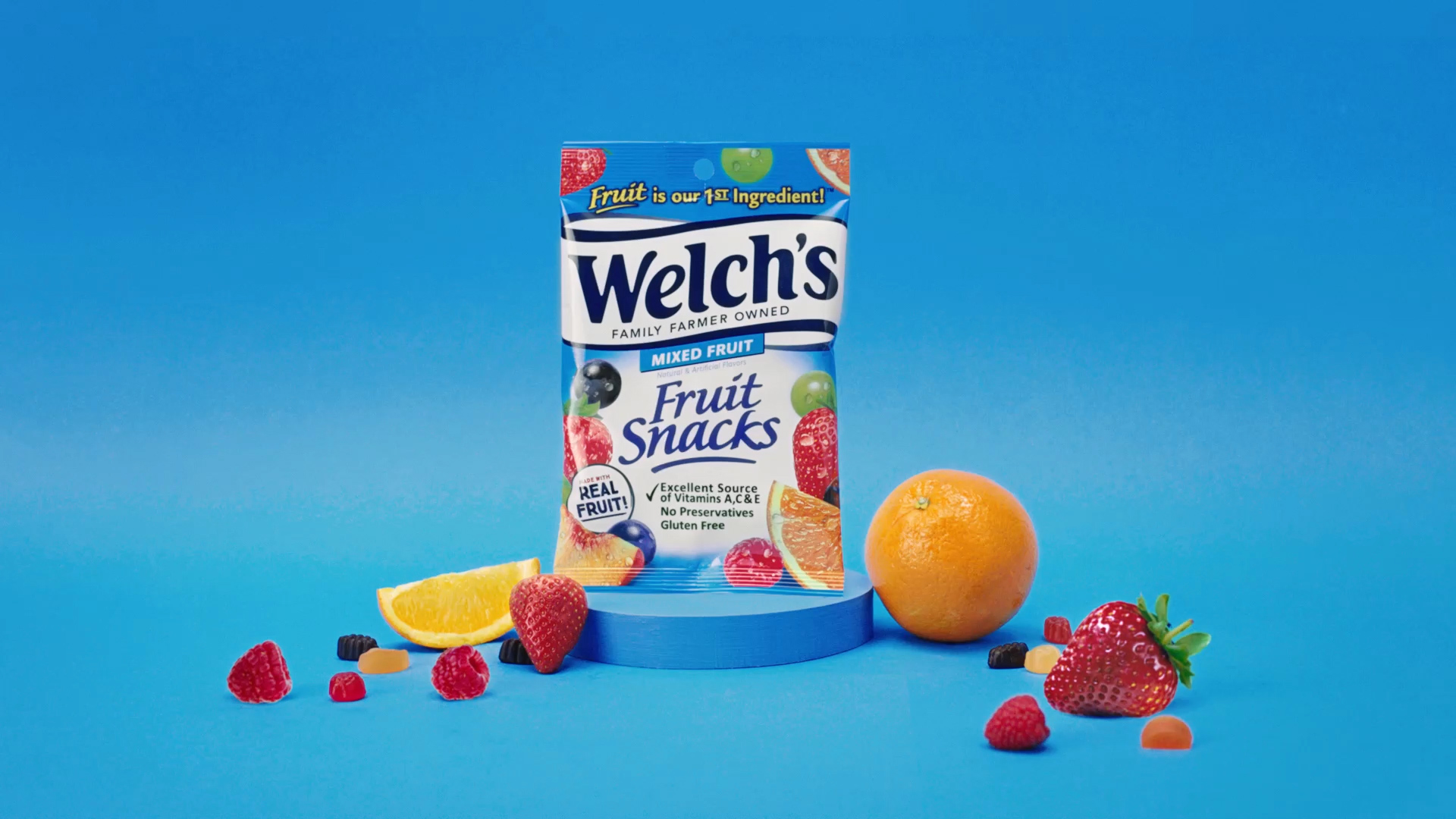 When it comes to delicious fruit flavor Welch's is a brand known around the world. Since 1869, Welch's has been providing flavorful fruit products for families everywhere. This amazing brand isn't just about providing families with amazing flavor but giving opportunities to families!
Unlike brands that are owned by a single family, Welch's is owned by 700 farm families in the United States. All of these farms work together to grow and harvest the best fruit. This fruit is then used to give these tasty fruit snacks a strong fruity flavor.
In addition to the wonderful taste, Welch's fruit snacks have an amazing gummy texture that is loved by adults and kids alike. These snacks aren't just about taste and texture, but also nutrition. Each package of gummy goodness is filled with Vitamins C, A, and E.
Enjoy these fruit snacks in Mixed Fruit packs, or try the Berries & Cherries flavor pack. They can be found in grocery stores across the country as well as on Amazon.
Betty Crocker
As an adult, your draw to fruit snacks may be more about nostalgia than nutrition, especially if you are a kid from the '90s! While fruit snacks were all the rage at this time, what you may not have realized is that all of your favorite fun fruit snacks were all from the same brand. None other than Betty Crocker.
Betty Crocker is a household name in the world of delicious snack foods. Although it is usually associated with cakes. This brand isn't just about cakes, though, it is one of the biggest brands to produce fruit snacks. However, hailing from the baking experts, these fruity fun treats are not as health-forward as some other brands. This brand does create the most fun and creative fruit snacks, though.
It was basically Betty Crocker that taught kids it's okay to play with their food when they introduced Fruit Roll-ups and later Fruit By The Foot.
From there, the brand continued to reinvent snacks for kids by creating fruit snacks with new flavors and textures. The perfect example? Gushers!
In addition to the classics mentioned above, this brand reinvents fruit snacks frequently with new shapes and flavors to match current trends.
Here are just some of the popular fruit snacks by Betty Crocker.
Shark Bites
Scooby Doo
Pixar Pack
Disney Princess Pack
Pokemon
Spider-Man
Whether you are looking to revisit your childhood or share your favorite nostalgic flavors with your kids, Betty Crocker is the go-to for fun fruit snacks. Look for them everywhere you shop both in person and online.
Black Forest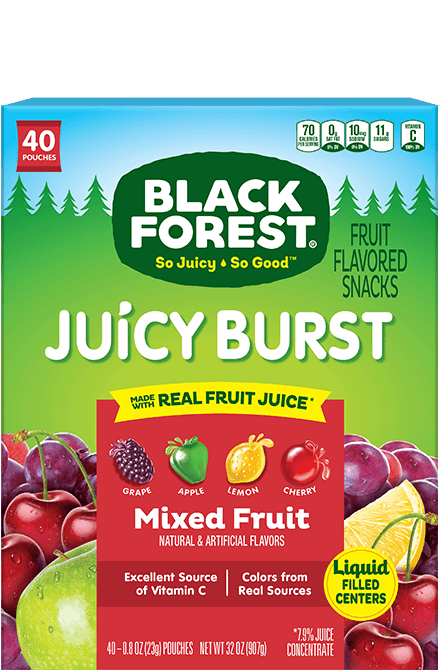 If you grew up loving Gushers by Betty Crocker then you will love Juicy Burst fruit snacks by Black Forest. As an adult, you may even enjoy these more as the gummy outside is less sticky than Gushers (so it doesn't stick to your teeth).
The combination of the delicious gummy outside and juicy center is a delightful blend of textures. A great choice when you want something beyond the basics of a regular fruit snack.
Like other brands, Black Forest includes a full daily dose of Vitamin C in each packet of Juicy Bursts. While all of the brand's fruit snacks are made with real fruit juice, they also offer an organic version for those who want added health benefits.
Look for these Black Forest Juicy Burst flavors at your local Walmart or on Amazon.
Mixed Fruit
Berry Medley
Organic Mixed Fruit
Organic Berry Medley
Sunkist
Your favorite go-to brand for orange juice found a new way to provide you with your daily dose of Vitamin C by creating fruit snacks! In addition to the health benefits of Vitamin C, Sunkist keeps its fruit snacks healthy by avoiding artificial colors and flavoring.
Although not as well-known for fruit snacks as its parent company Betty Crocker, Sunkist still knows how to make a quality fruit snack. The taste and texture of these fruit-forward snacks are a great choice for kids and adults. However, Sunkist keeps it simple with only one flavor option: an assorted fruit snack pack.
The only downside to these fruit snacks is that they are more difficult to find. However, when they are in stock on Amazon, they are a great choice for a great price.
Great Value by Walmart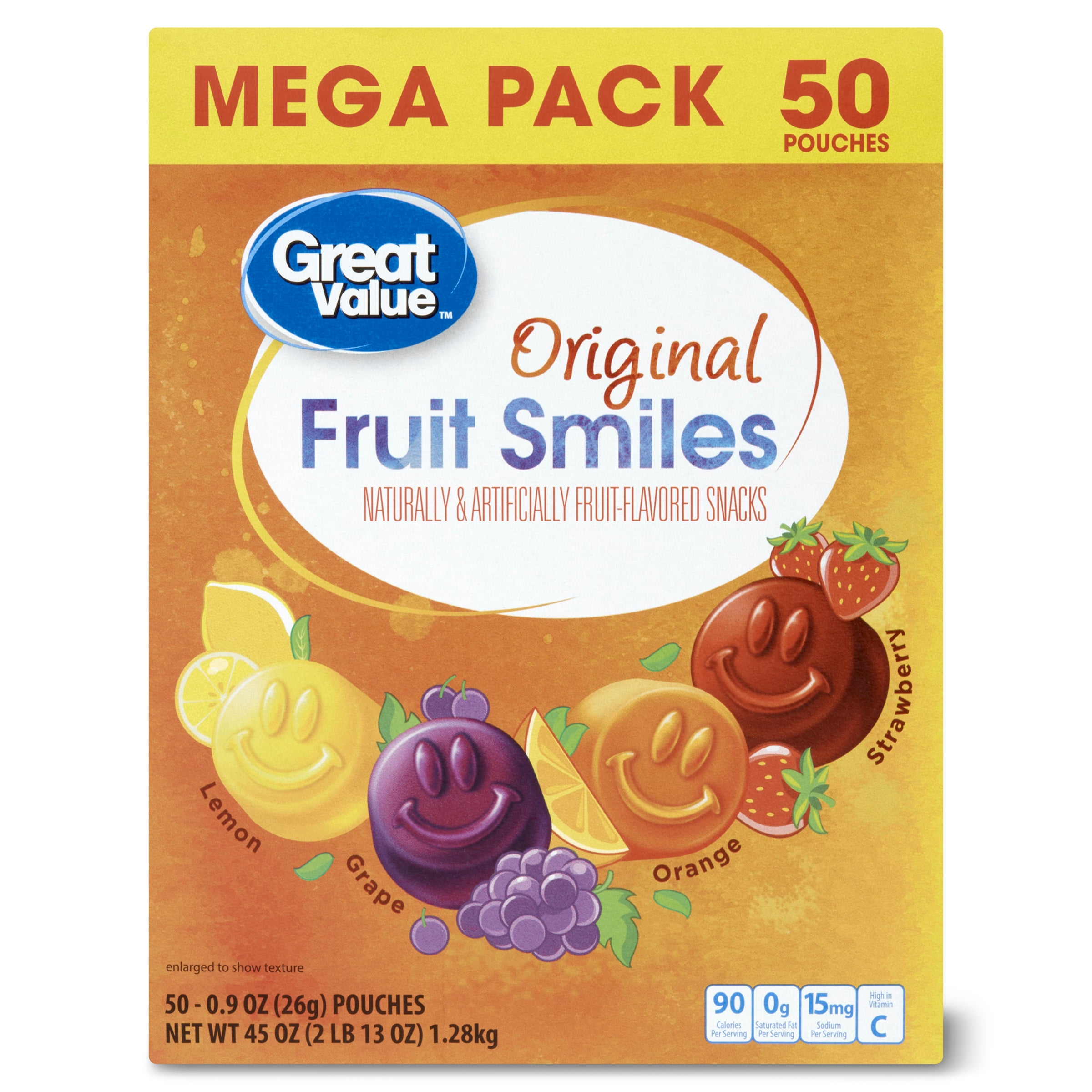 Great Value by Walmart is a brand committed to supporting families by providing affordable products that are also of great quality. Their fruit snacks are a great example of this.
Fruit Smiles by Great Value are an excellent choice for those who want the same fantastic texture and taste of a name-brand fruit snack without the cost. You can pick up a box of 50 fruit snacks for under $7! However, unless you eat fruit snacks in your home daily, the smaller box is a better choice for maintaining freshness.
While these affordable snack packs are full of flavor, the flavor comes from artificial flavoring. Therefore, if real fruit juice or real fruit flavor is important to you, then these are not the best choice. If your goal is a great tasting easy-to-grab snack that is fun to eat and affordable though, this is a winner!
Pick up a box of the Original Fruit Smiles or the brand's Tangy Fruit Smiles next time you are at Walmart.
Market Pantry by Target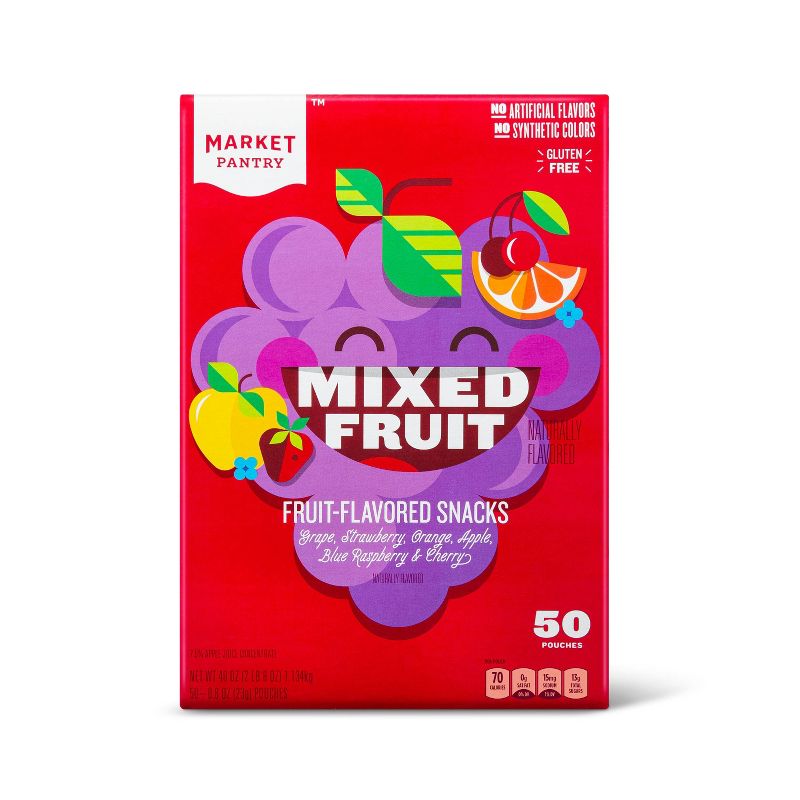 If you frequent Target more than Walmart, then Market Pantry fruit snacks are worth checking out. Like Great Value, Market Pantry offers great-tasting fruit snacks at a family-friendly price.
Even though these are more affordable compared to some name-brand snacks, they still offer many of the same high-quality benefits like being made without synthetic colors or artificial flavors. They also have a great taste and texture.
Look for Market Brand fruit snacks in either Mixed Fruit flavor or Strawberry flavor the next time you are at Target.
Dole
Although mostly known for pineapples, Dole is a brand with a strong focus on all fruits. Moreover, they are a brand committed to using fresh fruit to create the best products possible. That's why their fruit snacks are a great choice for those who want a healthier option from a well-known brand.
Dole fruit snacks are made with real fruit juice, but it is more about what they don't use that makes them popular. No high fructose corn syrup, no added colors, and no gelatin. Therefore, they are great for vegans and those with allergies to food dyes.
While these fruit snacks may not come in the same fun shapes and colors as other brands, they are still a delicious choice. Surprisingly, there are not any pineapple ones, but you can choose from three other flavors: strawberry, orange, or grape.
These are easiest to find on Amazon but may also be available in your local grocery store.
Mott's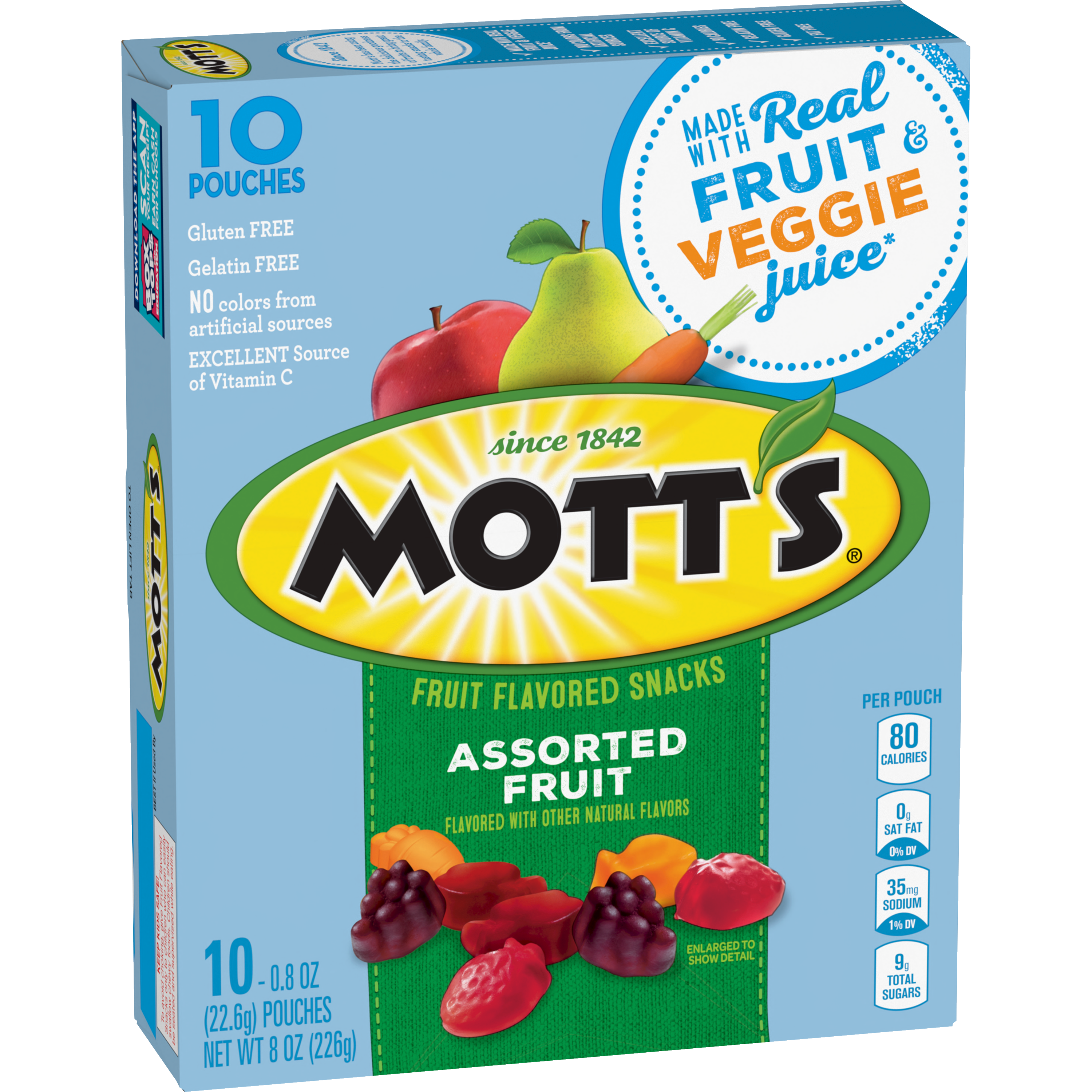 Like Dole, Mott's is another brand known for a particular fruit. In this case, apples. If you have enjoyed Mott's applesauce before, you may already know that they are a health-forward brand.
Fruit snacks are one of the newest products for the brand. Launched in 2010, Mott's fruit snacks have been providing parents with a sneaky way to get their kids to eat fruits and vegetables. Every package of Mott's Fruit Snacks has two servings of fruit and veggies.
The fruit and veggie servings help to color these snacks too. That means no artificial colors are needed. In addition to the traditional fruit snacks, Mott's even makes a fruit snack with fiber for extra health benefits.
Although these snacks have a lot of health benefits, one complaint from health-conscious parents is that they are still made with high fructose corn syrup. If you need a way to sneak some veggies to your kids though, that may balance out the corn syrup.
Look for Mott's different flavored fruit snacks at your local grocery store.
Assorted Fruit
Berry
Tropic Fruit
Assorted Fruit with Fiber
Kellogg's
Kellogg's is best known for its cereals and other breakfast foods. However, if you look closely at some of the fruit snack boxes on the grocery aisle you may be surprised to see several Kellogg's options.
This Kellogg's brand label is sometimes overshadowed on fruit snack boxes by the fun shapes that appeal to children. Like their Paw Patrol fruit snacks!
While this brand does focus on a variety of fun shapes for kids they are not as focused on having a variety of flavors. Therefore, you will most likely only find strawberry, mixed berry, or cherry-flavored fruit snacks.
As seen in the fun shapes, these fruit snacks lean more towards the snack part and less on the fruit. These are a good choice for giving kids a fun treat, but may not be the healthiest choice compared to other brands.
If you can't find these fun-shaped fruit snacks at your grocery store, check online at Amazon.
Funables

When it comes to creating fun fruit snacks, Funables is the brand to look for. This brand is committed to creating fruit snacks that are focused on being kid-approved.
Although this brand is committed to being kid-approved and fun to eat, they also want to be parent-approved. Therefore, each pack of fruit snacks is made with real fruit puree and is packed with vitamins A, C, and E.
While Funables does use corn syrup as a primary ingredient for flavor enhancement, many find that the variety of fun shapes and flavors they offer is worth the extra sugar.
Strawberry fruit snacks
Mixed Berry fruit snacks
Sour Mixed Berry fruit snacks
Paw Patrol fruit snacks
Batman fruit snacks
Baby Shark fruit snacks
Super Mario fruit snacks
Barbie fruit snacks
Tic-Tac-Toe fruit snacks
When you want a fun fruit snack for the kids look for Funables online at Amazon or in person at Target.
AriZona
You may think of tall cans of iced tea when you hear the name Arizona. While Arizona began as a beverage company, they have expanded over the years to include snack foods.
One of the brand's fun snacks is its fruit snacks.
This brand prides itself on having fruit listed as the first ingredient in its fruit snacks. Compared to many other brands that list the sweetener as the first brand. This is a great reflection of the brand's focus on creating a truly fruit-flavored snack.
Although fruit snacks are a newer product for Arizona, the brand stayed true to its beverage roots by bringing the fun flavors of Arizona drinks to the fruit snacks.
Try their brand favorite Arnold Palmer Half & Half Fruit Snacks or the classic Arizona Green Tea Fruit Snacks. In addition, you can also find a classic Assorted Fruit flavor pack.
Arizona fruit snacks are easy to find on Amazon for direct shipment to your home.
Organic Fruit Snack Brands
Most classic fruit snacks have some nutritional benefits. They may provide a daily dose of vitamins or a serving of fruits and vegetables. However, most of them are still made with other ingredients that some feel counteract the nutritional bonuses.
Some brands use high fructose corn syrup and artificial coloring. Other brands have artificial flavoring. Most are made with gelatin. Therefore, while you and your kids may love the texture and taste of a classic fruit snack you may not love what is used to make them.
If you want a fruit snack that is fun, flavorful, and free from artificial ingredients, try one of these amazing organic fruit snack brands.
Yum Earth
Yum Earth makes a fruit snack that is the ultimate healthy version of the childhood classic. These fruit snacks are not only organic but also allergy free. No eggs, no dairy, no gluten, no nuts, no soy, and no fish. They are also free from artificial sweeteners and dyes. Plus, no high fructose corn syrup.
Despite eliminating so many ingredients typically found in fruit snacks, Yum Earth fruit snacks have delicious flavor and texture. In fact, many find these healthy fruit snacks resemble a gummy bear more than a fruit snack.
In addition to the standard fruit snack flavors like cherry and strawberry, Yum Earth also has a peach flavor and even a banana flavor. A unique and fun combination compared to other brands.
Look for these tasty and healthy fruit snacks on Amazon.com
Annie's
If you are someone who regularly looks for organic foods then you are most likely familiar with Annie's. This brand is one of the most well-known pre-packed food brands. Moreover, they are known for being a favorite for kids because of their signature bunny shape.
Annie's also makes a fun mini-sized bunny fruit snack. These aren't just made for kids though. Packed with real organic fruit juice and without high fructose corn syrup or gelatin, these are perfect for anyone looking for a healthy vegan fruit snack.
Look for these fun-shaped and flavorful fruit snacks at your local grocery store or on Amazon.
Summer Strawberry
Berry Patch
Tropical Treat
Bunny Fruit Snacks Minis
Bees, Bugs, and Butterflies: strawberry, raspberry, and apple
Stonyfield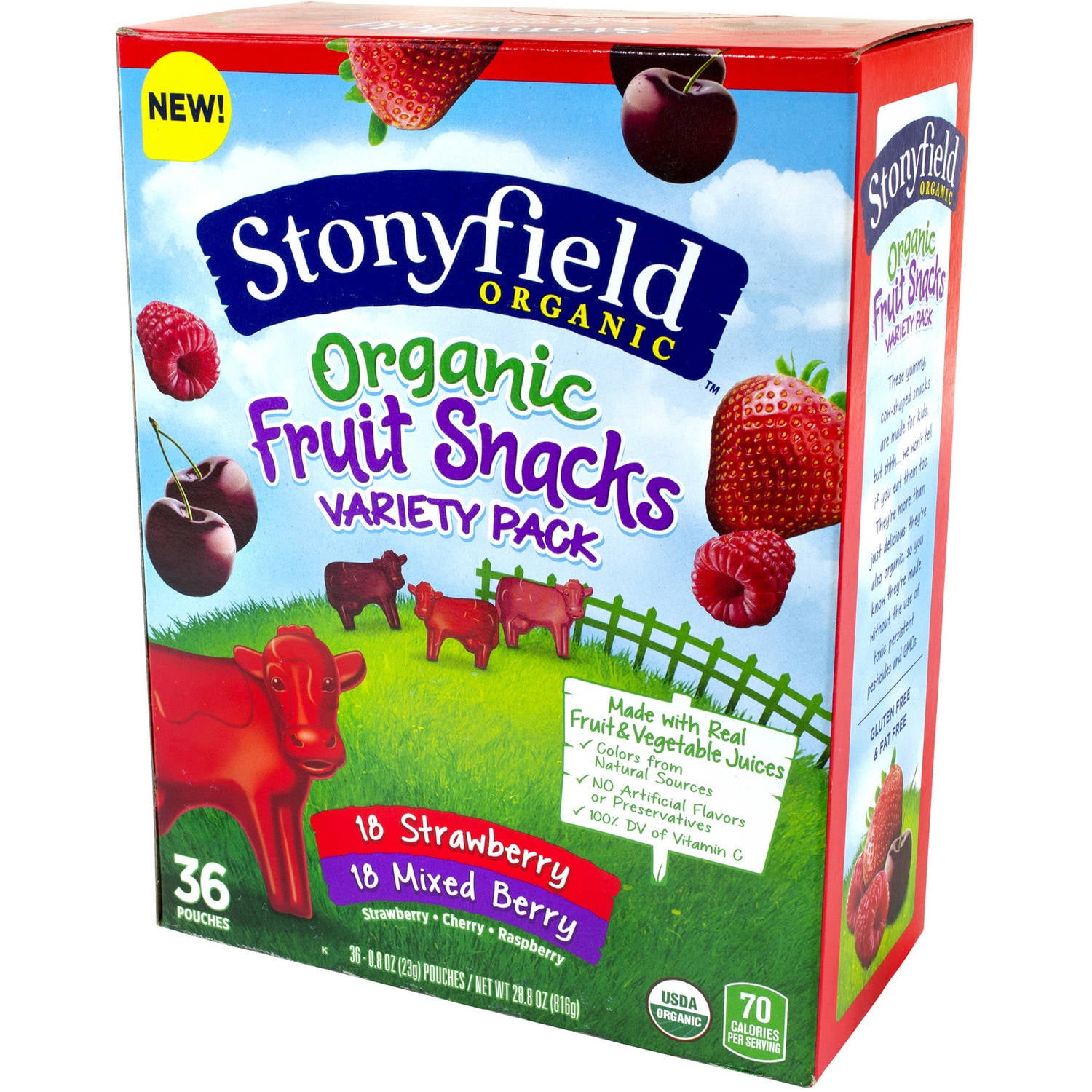 Stonyfield is another brand that is well-known in the organic market. However, they are typically associated with dairy products. While the brand's main line of organic products is yogurt they have a newer line that includes other organic snack products like its fruit snacks.
These fruit snacks maintain the brand's commitment to organic ingredients. Made with organic fruit and vegetable juice they are a fun and healthy choice. They come in two flavors, either Mixed Berry or Strawberry. Both flavors come in fun cow shapes!
The only downside to these fruit snacks is they are less commonly sold in grocery stores. Therefore, you will need to look for them online at Amazon if you can't find them in stock at your local grocer.
Stretch Island

If you don't mind missing out on a cute cow or bunny shape and are more focused on real fruit flavor then look for Stretch Island Fruit Leather. These fruit snacks are made from fruit puree rather than fruit juice. Therefore, the flavor is bold and fresh.
The use of real fruit puree also provides a texture that is thicker and chewier compared to the gummy texture of traditional fruit snacks. If you want a fruit snack that has a more adult-friendly feel then these are a great choice. However, they are also perfect for kids.
Another great thing about these fruit snacks is that they have a wide variety of flavors. Even better? They are sold in a variety box so you can try all of the flavors.
Cherry
Apple
Strawberry
Grape
Raspberry
Apricot
Pick up a box at Walmart or order one on Amazon.
That's It

Similar to Stretch Island, That's It provides a different take on fruit snacks. Focusing on using real fruit, not just fruit juice.
That's It uses only real fruit to create its fruit bars. Just take a look at their labels and you will see the only ingredients listed are fruits. For example, the only ingredients you will find listed on their popular Apple + Blueberry Bar are apples and blueberries.
While they don't come in fun fruit shapes each bar does provide two full servings of fruit. Moreover, they make up for the lack of fun shapes with a wide variety of fun flavor combinations.
Apple + Apricot
Apple + Banana
Apple + Blueberry
Apple + Cherry
Apple + Coconut
Apple + Date
Apple + Fig
Apple + Mango
Apple + Mango + Chili
Apple + Strawberry
Apple + Pear
Apple + Pear + Ginger
Apple + Cranberry
Apple + Cinnamon
If you want a true fruit snack that is all-natural, check out this brand. While you can buy directly from the brand's website, they are often sold out of their more popular flavors. Therefore, you may have better luck buying from Amazon.
Conclusion
And that's it! If you're feeling hungry, now you know where to go for a delicious snack.
We hope this list has been helpful in giving you an idea of what's out there and what kinds of fruit snacks you can expect to find in stores near you.
If you don't see your favorite fruit snack brand on this list, let us know via email, and we'll add it to the next edition.
Happy (fruit) snacking!
467 Smoothie Slogans To Get The Attention You Need
353 Smoothie Shop Name Ideas For Smooth Business
545 Juice Bar Name Ideas You Cannot Go Wrong With
449 Deliciously Fun Jam Company Names