Chocolate. It's been around for thousands of years, and it's one of the most popular treats in the world. Chocolate exists in almost every culture. It comes in so many forms that hundreds of volumes exist, exploring its complexity and diversity.
Italy is one place where chocolatiers have been perfecting this craft for centuries. Chocolate's history in Italy dates back to the 1500s when knowledge of cocoa eventually trickled into Italy from Spanish Conquistadors returning from the New World. Today it is estimated that more than 500 Italian companies are producing chocolate products made from natural ingredients like milk and dark chocolate. The Italians have come up with some pretty incredible innovations along the way.
This post will take a journey through some of these innovations and explore 10 of the most beloved Italian chocolate brands. Let's begin!
1. Ferrero
A perfect blend of deliciousness and value.
Ferrero is a family-owned company founded in Alba in 1946. We've all heard of the Ferrero Rocher. It's one of the world's most recognizable and beloved chocolates, and with good reason: it's delicious!
The chocolate-covered hazelnut treat wrapped in gold foil was first concocted in 1972 by company founder Michele Ferrero. Since then, it has become a year-round classic, though it is most often associated with Christmas.
But what launched Ferrero to its international fame was a more spreadable treat. In 1946, Michele's father (Pietro) crafted the first version of what would become the iconic hazelnut and cocoa cream spread called Nutella. At first, this delicious treat was made into loaves and cut with a knife when serving. Then, in 1964, Pietro's son, Michele, took the true potential of his father's recipe to market, and the Nutella brand was born.
While many chocolatiers sell their treats at premium prices, Ferrero has consistently focused on keeping its prices low while maintaining excellent quality. This strategy has paid off with consumers in a big way. Today, Ferrero does more than $12 billion in business every year, making Ferrero one of the world's largest confectionery companies.
2. Caffarel
A pioneer in mass production.
Founded in 1826, Caffarel is one of the oldest and most iconic Italian chocolate brands, specializing in gianduja-based pralines, known as The Gianduiotto.
Gianduja is a chocolate hazelnut spread (similar to Nutella) created to solve the problem of cocoa shortages that ravaged Europe. By blending hazelnuts with cocoa, chocolatiers could greatly extend their cocoa stock while still producing delicious sweets and treats.
While there is much debate over who exactly invented gianduja, one thing is for sure—Caffarel was the first brand to mass produce it. Early in the company's history, it invested in a particularly innovative industrial machine, which allowed it to produce up to 600 kilograms of chocolate daily. This machine surpassed the production capabilities of manual operations, which meant that Caffarel could take advantage of economies of scale and grow while maintaining its high-quality standards.
Today, Caffarel remains a famous Italian brand owned by Lindt, which acquired it in 1998.
3. Venchi
Success built on meticulous experimentation.
Nougatine? Venchi Spa? The Royal Purveyor of the Household? If you're not a classically trained chocolate lover, you might wonder what all this means. Well, it's good news: we can sum it up in one word: delicious.
Venchi is a family-owned confectionary company making gourmet chocolates since 1878. You only have to visit their shops in Italy, online, or in key cities across the globe to see how much care and attention goes into every one of their sweet treats.
Venchi's sophistication and success did not come about by accident. Instead, it built on a foundation of meticulous experimentation and focus. Venchi's founder, Silviano Venchi, was a 20-year-old from Turin who loved chocolate so much that he started experimenting with new flavors in his apartment. His experiments eventually led to one of his first commercial successes: Nougatine, a sweet treat made with dark chocolate and caramelized hazelnuts.
It didn't stop there. Before long, this dedication to experimenting led to other commercial successes, including Venchi Chocoviar, Truffles, and Cremini. Now, 140 years later, there are 150 high-end Venchi shops in 70 countries across the globe where you can experience the delicious results of the experiments for yourself.
4. Perugina
A love note to the world.
Founded in 1907, Perugina is known worldwide for its little "kisses" (Baci). But, if you have never had a Baci, you have missed out on one of the sweetest Italian treats.
The Baci was created in 1922 by Luisa Spagnoli, who expertly concocted this new treat for the young confectionery company. The candy was initially called a "fist" or "punch" (cazzotto) due to the chocolate's shape resembling a clenched fist. However, two years later, Perugina made the wise choice to love rather than to war, and they renamed the "punches" to "kisses" (baci).
Wrapped in colorful foils, each Baci contains a hazelnut or chocolate filling that is perfectly balanced. In addition, each chocolate's foil has a love note printed inside in one of seven languages. Today, Perugina and their Baci are iconic tokens of love that make excellent gifts for the special people in your life.
5. Domori
Preserving rare cocoas from extinction.
Founded in 1997, Domori is a newer kid on the block, but that does not diminish the immense influence this brand has on the chocolate world. Domori's founder Gianluca Franzoni spent his time studying rare cocoas in South America and created Domori to protect this biodiversity from extinction.
Today, Domori produces some of the world's most exquisite and rarest chocolate. The chocolates come in stunning white packaging with vibrant illustrations reflecting the unique character of the cocoa's native region.
Their single-origin chocolates come from places like Peru, Venezuela, and Ecuador. While their products are certainly not cheap (a 100-gram bar can cost $15 or more), they are well worth every penny. So if you're looking for an exquisite gift to give someone special, this is it!
6. Gobino
Combining tradition and innovation.
Gobino entered the chocolate scene in the 1960s as a traditional Italian chocolate maker. But in the 1990s, the company revamped its approach to push the limits of innovation with conventional chocolate recipes.
Today, they are known for gourmet chocolates with deep roots in traditional chocolate types but also unique twists and innovations in every aspect of the chocolate, from new textures to complementary flavors to individual shapes to vibrant new colors.
Gobino also uses only the best ingredients locally sourced and many more from around the world, such as cocoa beans from Ecuador and Venezuela, cocoa powder from Ghana, and vanilla beans from Madagascar. In addition, Gobino makes its chocolates in small batches, giving each piece of candy its unique character and artistic appeal.
It remains an iconic "Made in Italy" brand built on tradition and history, but don't let that fool you! You never quite know what surprises Gobino chocolates may hold.
7. Amedei
Artisans in search of excellence.
Amedei. It's a brand that breathes sophistication and class. Founded in 1990 by a brother-sister team, Amedei is all about the magic of chocolate. They create treats with unique aroma profiles that blend elegance, simplicity, and passion. And they are ardent about their chocolates reflecting artisan life in their homeland: Tuscany.
Each piece of chocolate looks like a work of art. Amedei chocolates have an intense aroma, smooth texture, and a lingering finish. In addition, each Amedei chocolate looks like a work of art, packaged in stunning branding that evokes images of Tuscany and the Renaissance.
The company's mission is to make the world's best chocolate, reward the cocoa growers, and share their passion for Tuscany and chocolate with everyone.
8. Baratti & Milano
Italian resilience.
Yet another Turin-based chocolate maker, Baratti & Milano is a brand whose history goes back to the mid-1800s. Ferdinando Baratti and Edoardo Milano opened a confectionery in Turin in 1858, and they've been in business ever since.
They have not ceased operation even in the face of both World Wars and many other significant events that have shaped and shaken Italy's history. It has never lost sight of its roots or the importance of tradition, and its brand resilience and perseverance come through in its products' consistently high quality.
Baratti & Milano's history finds expression in its brand over the years. The packaging is beautiful, vibrant, and full of images and logos recalling artistic styles of the past, such as the Renaissance, Baroque, and Art Nouveau movements.
Like a fine wine, each chocolate is to be savored and appreciated for what it is. This dedication to the chocolate-making craft has earned Baratti & Milano the commendation of being "the 'Grand Cru' of Chocolate."
9. Cioccolato di Modica
Embracing ancient wisdom and techniques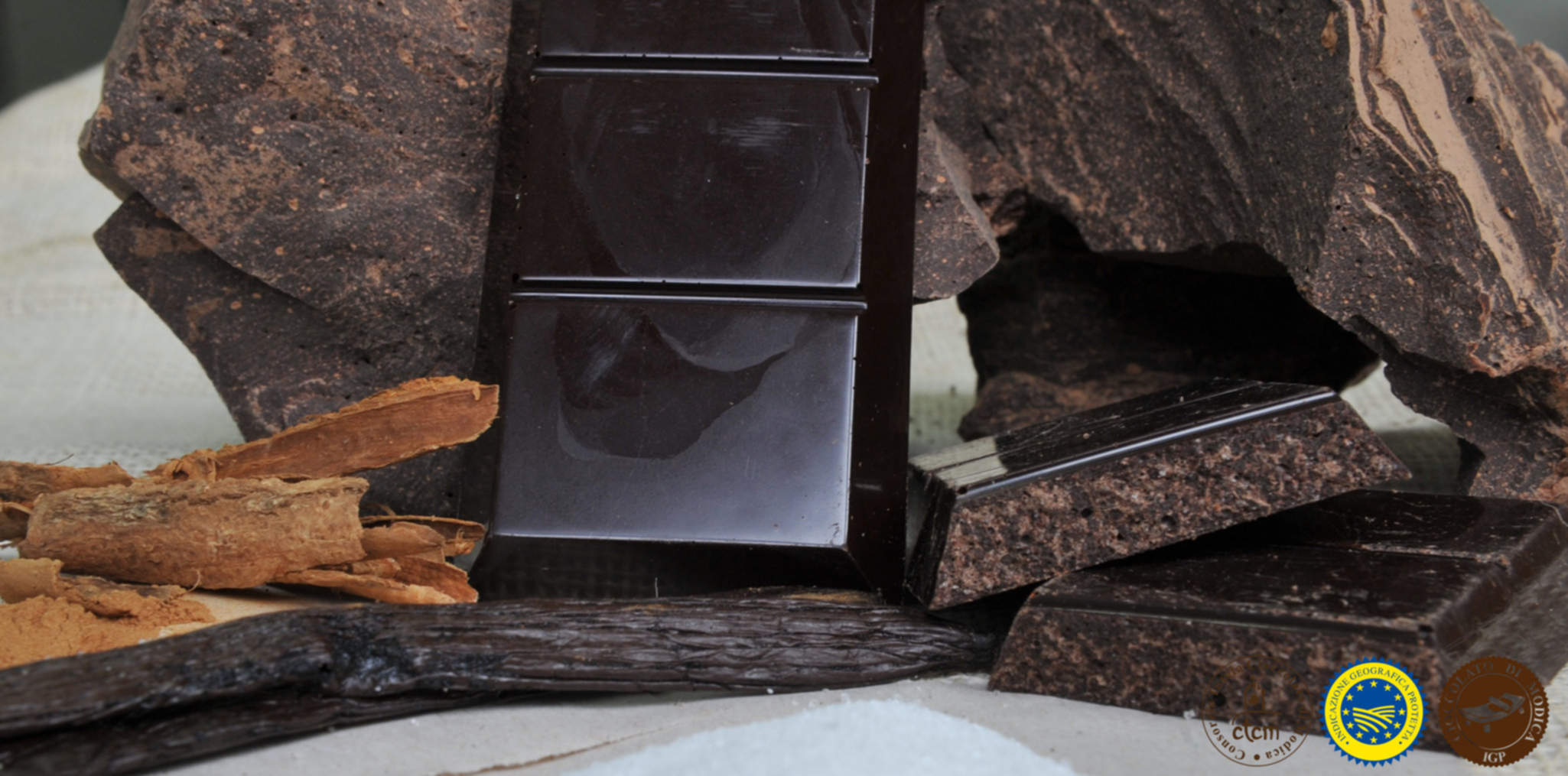 Have you ever eaten chocolate with roots back to the ancient Aztec civilization? Italian chocolate maker Cioccolato di Modica has created a chocolate that is just that.
Historians believe that the returning Conquistadors learned about cocoa from the Aztecs and brought the technique of processing cocoa beans back to Spain. This knowledge eventually made its way to Italy in the 1500s or 1600s.
Though the Aztecs are not known to have mixed sugar into their cocoa, Cioccolato di Modica utilized these cold processing methods instead of conching. The result was a bar of chocolate with an unmistakably unique texture and flavor. Without conching, the sugar does not dissolve fully, and the stone grinding of the cocoa bean retains some of the bean's original properties and nutritional benefits.
This unique chocolate-making technique has earned Ciocollato di Modica a place as a favorite chocolate brand that creates one-of-a-kind chocolates with deep roots in the past.
10. Sperlari
Looking to the future.
Lastly, we come to Sperlari. This company has a history going back to 1836, but they have embraced both the past and the future throughout the years. Their chocolates use traditional recipes, craftsmanship, and cutting-edge production methods and techniques.
Now, 175 years later, Sperlari still embraces this mindset and is constantly reinventing itself to meet the needs of today's consumers. This focus on consumers has earned a place in the hearts of Italians and the rest of the world. Today, Sperlari produces some delightful and unique creations, such as nougat, truffles, and pralines, that are sure to delight.
Conclusion
Chocolate is a window into Italy's rich history and culture. Given the diversity of Italian culture, it is not surprising that such variety exhibits itself in their chocolate.
Cocoa is the heart of chocolate and the base ingredient in every bar. Still, the Italians have not limited themselves by this fact. Instead, they have taken advantage of it to create a wide range of products, each with its unique flavor profile. From hazelnut to citrus, dark chocolate to milk chocolate—there's something for everyone in Italian chocolate.
We hope this article has inspired you to explore the world of Italian chocolate and discover your favorite.
615 Chocolate Slogans and Taglines To Boost Your Sales