Korean streetwear has taken the world by storm.
South Korean fashion is known for its experimentation and hypermodernity. Oversized silhouettes, ironic references, and unapologetic styling of eclectic pieces are all signatures of the country's bustling streetwear scene.
South Korean brands have gained an international audience thanks to K-pop idols like BTS and Twice. From the runways of Paris to the retail spaces of Canada, the fashion world is paying attention.
We've handpicked 22 of the hottest Korean streetwear brands to put on your radar.
99%IS
99%IS is the most famous Korean streetwear brand you've probably never heard of. The brand's famous Gochang Pant, a parachute-style pant with a Y2K vibe, is a favorite among artists like Billie Eilish and A$AP Rocky.
Founded by designer Bajowoo, 99%IS's innovative designs constantly push the envelope of high-brow streetwear. Its collections are full of heavy zippers, ironic graphics, and splashes of color.
The most recent 99%IS Spring 2023 collection commemorates the brand's 10th anniversary. It reinterprets past designs while drawing influence from rock and punk subcultures.
Brownbreath
Brownbreath focuses on outerwear that fuses comfort and style. Its slogan is "spread the message," and its collections focus on different themes like "try anything" and "keep on."
Its puffer jackets, parkas, and screen-printed pullovers are the perfect armor for navigating the streets of your city. Brownbreath clothes give you the air of effortless cool without looking like you tried too hard. There are definite "just rolled out of bed, but I look so good" vibes.
Brownbreath continues to grow in popularity in South Korea and beyond. As a result, the brand just opened a new flagship store in the trendy Hongdae area of Seoul.
UNAFFECTED
UNAFFECTED is streetwear built for our complicated modern-day lives. It operates under the motto "we wear what we want" and takes that adage to the next level with its high-quality clothing.
The brand's minimalist aesthetic fuse with subtle features that make each piece stand out in a wardrobe. Its elaborate puffer jacket stitching and slightly off-beat cuts make UNAFFECTED a streetwear favorite for shoppers that love the details.
UNAFFECTED currently focuses on retail in South Korea, with several stores and stockists across the country. In addition, it sells limited stock in France and Denmark but has yet to expand into the U.S. market.
Hyein Seo

Hyein Seo's namesake brand burst onto the fashion scene in 2014 when Rihanna was spotted wearing a Hyein Seo faux fur "FEAR" stole during Paris Fashion Week. It has been at the forefront of Korean fashion ever since.
The brand is simultaneously feminine and masculine, sexy and comfy. It masterfully treads the line between straightforward streetwear and haute couture with surprising peekaboo cutouts and off-the-wall cuts.
Hyein Seo's Spring/Summer 2023 collection elevates basics like bodysuits, tanks, and crop tops with a subtle nod to '90s fashion. It's the perfect combination of sexy and cool, and fans can't get enough.
IISE
IISE translates to "second generation." It's a fitting name for the Seoul-based brand founded by Korean-American brothers Terrence and Kevin Kim. IISE is different from other streetwear brands because instead of disregarding the past, the brand embraces it.
The Kim brothers draw design inspiration from Korean architecture and traditional clothing. In addition, the brothers say Korean history is a huge source of inspiration because everything about it was new and fresh to them when they first moved to Seoul from the United States.
That reverence for history and tradition is apparent in IISE's use of traditional textile and sewing methods, like nubi. In addition, IISE brings Korean history into the future with its dynamic silhouettes, GORE-TEX jackets, and comfy tracksuits.
MISCHIEF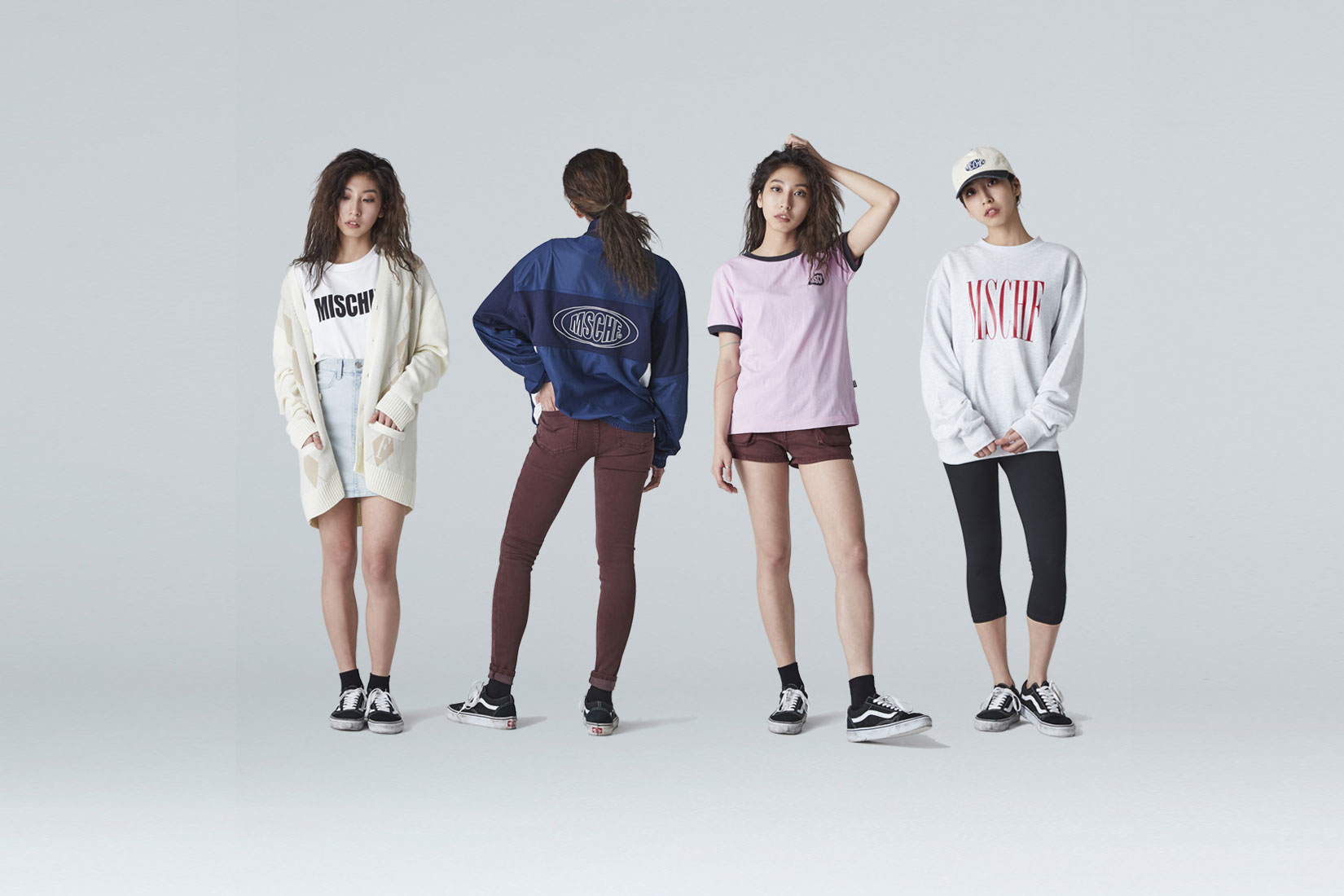 MISCHIEF's founders, Jieun Seo and Jiyoon Jung, are fashion icons in the world of underground street fashion. Their streetwear brand brings throwback '90s and Y2K fashion to the forefront in a fresh way.
MISCHIEF creates pieces with the modern Korean woman in mind. The brand wants its fans to express themselves and feel sexy, regardless of hemline lengths and silhouettes.
MISCHIEF collections always ooze coolness. Each one remixes the construction of traditional streetwear cuts like pullovers, baggy pants, and tank tops.
In 2020, MISCHIEF released an iconic collaboration with Casio. The brand released a special edition G-Shock watch that fully embraces 1990s streetwear fashion. The transparent plastic has an aged appearance, and all the watch's bells and whistles are delightfully vintage.
Solid Homme
Renowned menswear designer Youngmi Woo launched Solid Homme in 1988. It's an elegant take on streetwear with a minimalist aesthetic.
Heavily influenced by Bauhaus, Solid Homme's simple silhouettes and functional designs make it one of the top menswear brands in South Korea. In addition, the brand's quilted jackets and luxury hoodies are more subtle than other streetwear brands, making its appeal wider.
The brand is international, with collections debuting during Milan and Paris Fashion Week. It launched in the UK in 2016 and continues to bring ultra-modern, street-ready style with each new collection.
Stereo Vinyls
Stereo Vinyls is a unique brand in the Korean streetwear scene. It operates as a collaboration between London-based creative director Jae Huh and Seoul-based CEO Kim KiHwan. All production takes place in South Korea.
The brand is known for its humorous and wildly colorful clothing. Its playful designs have an indie appeal that infuses classic streetwear looks with a bit of whimsy. Smiley faces, embroidered cursive, and cute illustrations pop up in unexpected places all over its pieces.
Stereo Vinyls constantly releases collaborative collections that feature famous pop culture brands. The brand has created fun collections of hoodies and tees with Peanuts, Sesame Street, Pink Panther, and more.
withMNW
WithMNW is an understated brand that produces "standard daily wear" for people of all ages and genders. Its playful designs and comfy cuts make it a popular choice for fun-loving shoppers.
WithMNW takes inspiration from Korean manhwa comics, the outdoors, and youth nostalgia. The brand also plays upon classic streetwear tropes like the bandana motif. Its playful typography and simple designs bring the simpler days of summer to mind.
The brand has a whimsy similar to Stereo Vinyls. However, withMNW's designs are much more understated and minimalist. Pullovers, shorts, and tees usually feature its smiley face logo, and that's it.
ADER error
ADER error is one of the top streetwear brands to come out of South Korea in recent years. The brand consists of an anonymous design collective. These unknown designers collaborate to create pieces that are thought-provoking and bold.
The brand operates under the idea of "but near missed things." Its designs draw attention to the little things often missed in everyday life. Off-kilter handbags, detailed knitwear, and oversized, tailored outerwear mark ADER as a brand to be reckoned with.
ADER error collaborates with big-name brands like PUMA and G-Shock, and it's not slowing down anytime soon. For example, it recently announced a mysterious upcoming collab with Meta on its Instagram.
thisisneverthat
Thisisneverthat, founded in 2010, is often dubbed South Korea's response to the ultra-famous skate brand Supreme. Its sans serif brand logo may look similar in design, but thisisneverthat's clothes have a more subtle, refined edge.
The brand is wildly popular in South Korea, with its oversized tracksuits and comfy puffer jackets becoming a wardrobe staple for streetwear fans. Its designs incorporate a normcore campus aesthetic with sleek, effortless silhouettes and cuts.
The brand has leaned into the logomania of streetwear with its collaborations with New Balance, Vans, and PUMA. It also loves to keep fans on their toes with off-the-wall collabs. For example, the brand unveiled a Grateful Dead x thisisneverthat limited edition collection in October 2022.
87MM Seoul
87MM Seoul is unique because its three founders were fashion models before they became designers. Founders Seo Hongseok, Kim Won-joong, and Park Ji-woon named the brand after their collective birth year, 1987.
87MM embraces the collegiate influence that's so popular in Korean streetwear these days. Its latest collection drop features letterman jackets and cable knit polos that would be the envy of any high school prep.
The brand's motto, per its Instagram, is "No concept, but good sense," which is evident in its straightforward, comfy designs. Its classic pullovers, joggers, and cardigans are guaranteed to become trusty pieces of any street-smart wardrobe.
Stretch Angels
Stretch Angels is a women's streetwear brand known for its handbags, accessories, and comfy athleticwear. Its take on the popular Y2K aesthetic is a bit more refined than other streetwear brands. For example, its leather hobo bags and pullovers come in soft pastels with subtle logos.
The brand's flagship store in Seoul perfectly reflects Stretch Angels' active, globe-trotting customers. The entire store looks like an airport, with check-in counters acting as registers and a conveyor belt displaying new accessories.
The cross-body Panini bag is a fan favorite for its versatility and compact, adorable design. Shoppers also go wild for Stretch Angel's other handbags, thanks to the brand's popularity with South Korean fashion influencers and K-pop stars.
A Piece of Cake
A Piece of Cake, aka APOC, doesn't take itself too seriously. Instead, the brand has a playful take on Korean streetwear with its bright colors and bubbly designs.
APOC's designs lean into all things cute, featuring teddy bears, cats, and stars. Fans of the brand love its ability to combine this aesthetic with edgier streetwear silhouettes like balaclavas, bucket hats, and hoodies.
The brand soared in popularity after J-Hope and Jungkook from BTS wore A Piece of Cake in their "Euphoria" music video. In addition, APOC is dipping into international waters with a recent successful pop-up store in Paris.
acmé de la vie (ADLV)
Acmé de la vie, aka ADLV, is an affordable streetwear brand wildly popular for its collaboration collections. The brand has created pieces with Disney, The Simpsons, and more.
ADLV landed on the map when it collaborated with the South Korean girl group Twice for its Spring/Summer 2020 collection. The brand has also snagged other high-profile celebrities, like singer Sandara Park, for its advertising campaigns.
The brand is best known for its fun Baby Face prints featured on comfy t-shirts and hoodies. Its cheeky prints and colorful artwork pair perfectly with the oversized silhouettes that make ADLV so well known.
ESC STUDIO
ESC STUDIO is the brainchild of social media influencer Lee Sang Won. It's a luxury brand known for its gender-fluid pieces that constantly push streetwear into the avant-garde.
Kitsch is an element of ESC STUDIO's approach. Jeans with exaggerated silhouettes pair with zip up hoodies featuring phrases in Papyrus font.
Its ironic approach to high fashion works because it garners the attention of K-pop icons and fashion lovers. ESC STUDIO has a cult following that keeps on growing. Its new product drops are highly coveted and sell out fast.
NERDY
NERDY is a super trendy, affordable activewear brand that is slowly but surely making a name for itself on the international stage.
Its comfy tracksuits and sneakers are similar in style to other brands like FILA and Nike. But NERDY stands apart from the crowd with its fun pastel color palette and early 2000s flair. Fuzzy handbags, gradient puffer jackets, and logomania fleece zip ups are all must-haves.
Celebs like singer Dahyun and K-pop band Seventeen are fans of the brand, sporting NERDY apparel on tour and TV spots. The brand also opened a NERDY CAFE flagship store in Harajuku, Japan, in 2020.
Mahagrid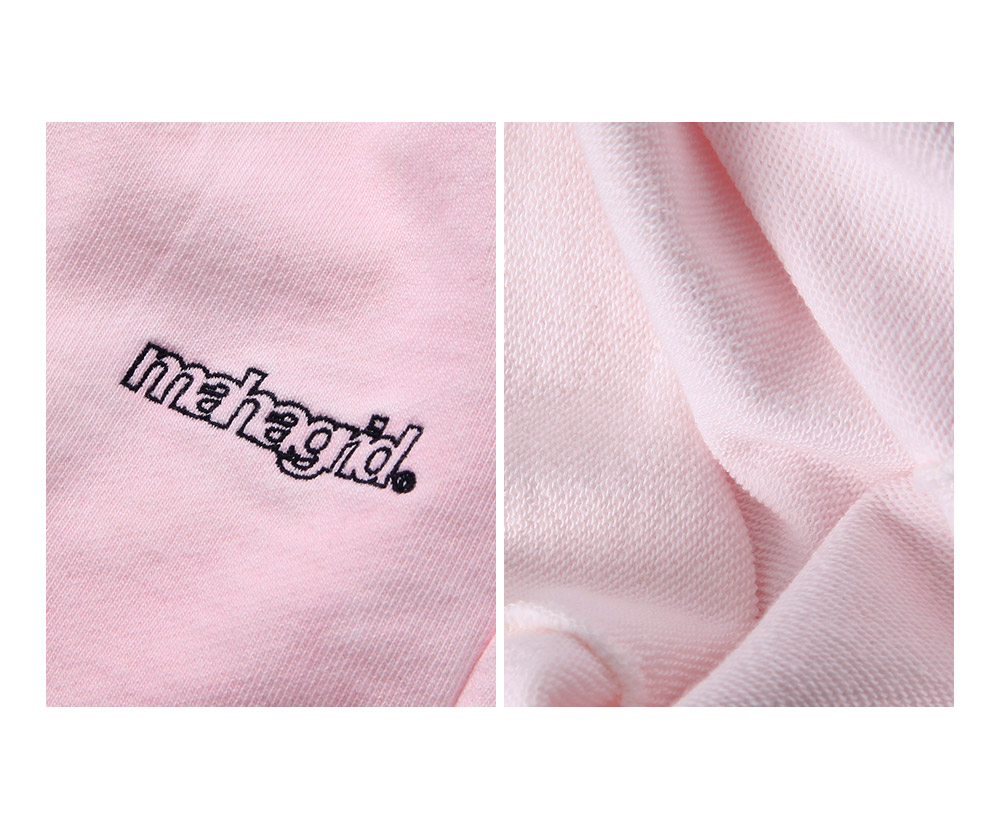 Mahagrid is streetwear with a collegiate edge, drawing on Ivy League inspiration for many of its pieces.
Its hoodies, bucket hats, and jackets feature invented campus logos, such as "Team Mahagrid" basketball team icons. There is even a varsity jacket featuring ironically cheesy typography that will immediately bring you back to the hallways of your high school.
Mahagrid uses cuts that are slouchy, comfy, and versatile. It's very reminiscent of a lazy Monday on campus.
The brand also has ironic references to mundane normcore design, like a hoodie's embroidered animal landscape that looks a lot like something you'd find in a tourist gift shop.
13month
13month's motto is to "create something that does not exist," like the 13th month of a year. The brand aims to push casualwear beyond expectations with its vintage-inspired, refined designs.
Its collections are usually unisex and feature fleece zip ups, sporty turtlenecks, and old-school polos. In addition, the brand embraces "newtro" fashion, meaning it refers to vintage styles that its younger shoppers didn't have a chance to experience.
13month is a favorite among Korean K-pop and TV personalities. The brand also elevates its pieces through collaborations with artist Buwon Seo and the beloved shoe brand FILA.
NOHANT
NOHANT creates iconic fashion staples for the everyday city dweller. Its designs are timeless, versatile and cross-seasonal.
Oversized puffer jackets and tiny hobo bags tie in the trendy Y2K aesthetic. Suede coats and embroidered zip up hoodies bring in a collegiate element that grounds the brand's overall look.
NOHANT's sans serif typography is often screen-printed or embroidered on its sweats and pullovers, giving it a light, modern feel unique from its competitors. The brand's staple pieces are a great addition to anyone's capsule wardrobe.
Charm's
Charm's is the darling of the bubblegum grunge aesthetic in South Korea. It fully embraces the girliness of streetwear with high-waisted denim skirts and wide-collared stretchy tees.
The brand's ruched spaghetti strap crop tops are the epitome of early 2000s glam. Other designs also draw from that era, including its butterfly knitwear and "honey" crops.
Charm's isn't all rainbows and butterflies. Instead, its loud silhouettes and unique proportions prove the brand is a modern take on the popular look of recent days past.
CHANCECHANCE
Founded by designer Kim Chan in 2013, CHANCECHANCE is a streetwear favorite in South Korea. K-pop powerhouse BTS has a working relationship with Kim Chan. Many members have been seen out and about in CHANCECHANCE pieces.
The brand's clothing has a unique nostalgia reminiscent of 1950s suburban culture and vintage band tees. These influences are made fresh with modern colors and cuts, like its salmon quilted jacket and high-waisted "grandma pants."
CHANCECHANCE uses unique typography and cultural references (like Michelangelo's paintings) to elevate its deceptively simple hoodies and tees. The brand expertly marries low-brow street fashion with high-brow references in a way that is hard to achieve.
Conclusion
There you have it! A comprehensive list of Korean streetwear brands that are definitely worth checking out. There's a lot to love about Korean streetwear, and if you're not familiar with some of these brands, now is the time to get acquainted.
We hope this article has helped you discover some new brands to check out and given you some inspiration for your own wardrobe. Whether you're looking for casual, everyday pieces or something more edgy and fashion-forward, there's sure to be a brand on this list that will suit your taste.
So what are you waiting for? Start exploring the world of Korean streetwear today!
Thanks for reading, and happy shopping!
20 Japanese Streetwear Brands To Get Your Street Cred Up