When it comes to household products, paper towels are one that many homes cannot live without. Paper towels are also essential for businesses, both for their public restrooms and general cleaning purposes.
Whether you need to clean up after kids or customers, it is essential to have a paper towel that fits your needs. To find the brand that is perfect for you, keep reading as we share the benefits and features of several paper towel brands.
Bounty
Known as the "Quicker Picker Upper" Bounty has been a go-to brand of paper towels for years. This brand is recognized as one of the most absorbent on the market and promises to be 2x more absorbent than other brands.
Not only are these towels absorbent, but also durable. For example, customer reviews praise these super absorbent sheets for not tearing when used dry and wet. Therefore, providing a paper towel that gets the job done efficiently.
This reliable name-brand paper towel is an excellent choice for home use. It can be used to clean up kitchen spills or wipe down countertops and mirrors around the house. In addition, small businesses can also benefit from keeping this brand on hand for general cleaning purposes.
Types of Bounty Paper Towels
Bounty has four different types of paper towels available for purchase. Two of these are part of the classic Bounty paper towel line and two are part of the new Bounty Essentials line.
The classic Bounty Full-Size Sheets are great for big messes. These are recognized by Bounty as having the ability to absorb 2x more liquid than generic brands. Therefore, while Bounty may be more expensive than generic brands you will save money by using fewer paper towels at a time.
In addition to the classic full-size sheets, is Bounty Select-A-Size Sheets. These paper towels give you the same amazing absorbency with the choice of choosing how much paper towel is needed for each spill. Simple tear off a half sheet for small messes or use a full size for large ones. Another great way to use fewer paper towels and save money over time.
Beyond the basic function of these excellent paper towels, Bounty also provides both full-size and select-a-size towels in a variety of seasonal prints. Therefore, you can add some joy to your cleaning throughout the year.
In addition, this brand lets you choose from regular, double, and even triple rolls. This allows you to choose the best-sized roll for your family or business so you always have paper towels on hand.
6 Double Rolls (equal to 12 regular rolls)
110 sheets per roll
2-ply
11" x 5.9" sheets
Approximately $12.00 at Walmart
Bounty Essentials
Bounty has always been considered a premium paper towel brand. While many consumers are willing to pay a premium price for the effectiveness of this brand, Bounty recognizes not everyone is able to do so. Therefore they introduced the Bounty Essentials line.
Bounty Essentials is a cost-effective line of paper towels. Like the original Bounty paper towels these are available in full-size and select-a-size rolls. Both types also come in a variety of roll sizes (regular, double, triple).
Unfortunately, this less expensive price is reflected in the quality of these paper towels. Unlike the rave reviews for classic Bounty paper towels, many consumers have noted that Bounty Essentials tear easily.
If you need an inexpensive paper towel brand for simply cleaning then the Bounty Essentials will work. However, if you need a reliable brand that will hold up under any type of mess it is worth investing in the original Bounty paper towels.
6 Double Rolls
124 sheets per roll
2-ply
11" x 5.9" sheets
Approximately $9.00 at Walmart
As one of the most popular paper towel brands in the country, Bounty can be found at all mainstream stores and online at Amazon.com.
Viva
The joy of a paper towel is that you can throw it in the garbage and it does not need to be washed like a washcloth or towel. However, some people miss the softness of using real cloth for cleaning.
If you are one of those people, then Viva is the brand for you. This brand's signature paper towel is one of the softest paper towels on the market.
The cloth-like texture of Viva paper towels is so soft that it can be used to wipe hands and faces. This unique quality of a paper towel makes it highly versatile and an excellent choice for those who regularly need to wipe tiny hands and faces.
Beyond its versatility and lovely texture, this close-knit cloth-like paper towel is highly durable and super absorbent. Therefore, allowing you to swipe and wipe up any mess (large or small) without worrying about these towels ripping.
Another unique quality of this paper towel is its ability to reuse it. While most paper towels absorb the liquid and immediately need to be in the garbage, Viva paper towels can be gently rinsed in water and then used wet. This provides you the ability to wipe up larger spills or clean large surfaces with only one paper towel.
Viva Multi-Surface Cloth
In addition to its Signature Cloth Paper Towels, Viva also has a Multi Surface Cloth. These paper towels have a special micro-scrubbing texture that is intended for delivering a professional clean.
Along with the extra scrubbing power, these clothes trap everything from dirt to dog hair 3x better than other brands. So, whether you need to clean granite, glass, wood, or metal, this Multi Surface Cloth will get the job done. Not only will it get the job done, but it will do so without scratching any surfaces.
Like the original Viva Signature Cloth paper towels, the Multi Surface Cloth can also be rinsed and used again. Once again offering additional cleaning from one single paper towel.
Both the Signature Cloth and Multi Surface Cloth are excellent for at-home use or if you want a more luxurious choice for your business.
6 Double Size Rolls
110 sheets per roll
1-ply
11" x 5.9" sheets
About $10.00 at Walmart
Viva is a common brand that can be purchased at Walmart, Target, and most mainstream grocery and drug stores. It is also available to order online at Amazon.com.
Sparkle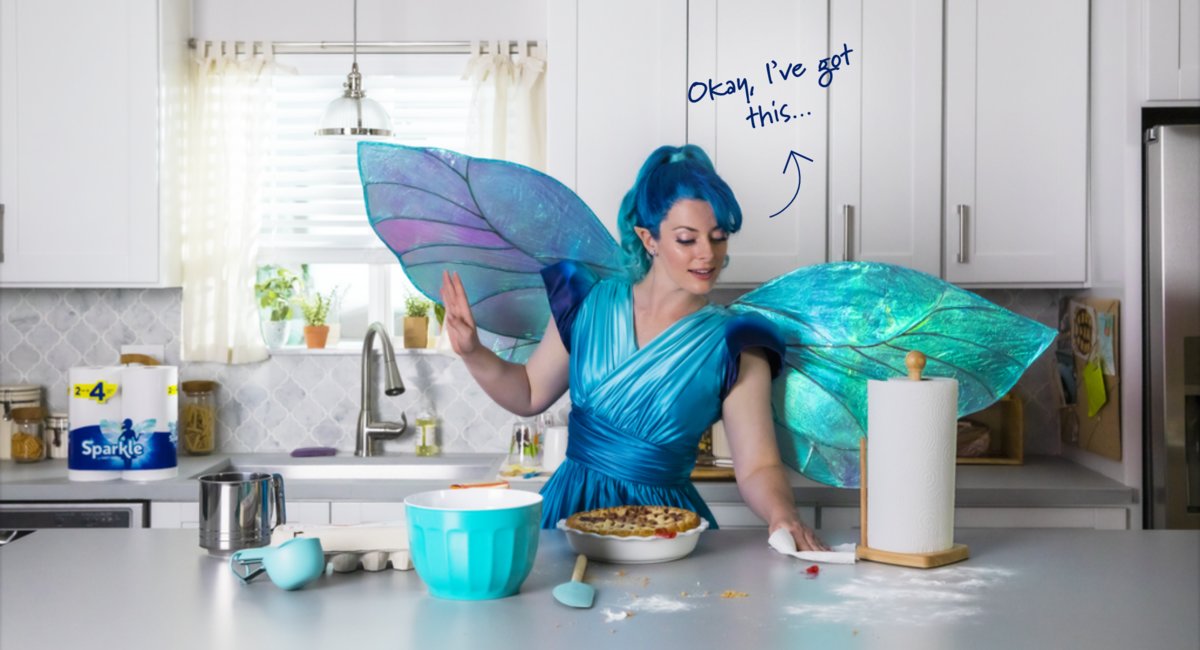 Sparkle offers great paper towels that save you money, while still making your house sparkle and shine. Made for everyday messes, this brand is focused on providing a quality paper towel that can genuinely be used for every mess.
One way Sparkle helps families save money is with its Pick-a-Size towel. These rolls allow you to choose a half sheet or a full sheet so that you can use only what you need.
This everyday brand is not just for the indoors either. Sparkle prides itself on being "Your A to Z Paper Towel" that can get any job done – inside or outside.
In addition to the standard white Pick-a-Size towels, this brand also offers a Spirited Print Pick-a-Size option for those who want to add even more sparkle to their cleanups. Beyond this paper towel roll that allows you to choose between a half sheet or a full sheet is Sparkle's Tear-A-Square paper towels.
Tear-A-Square goes one step further and provides an option of tearing a half sheet into two squares. This provides even more options for cleaning up tiny messes without wasting paper towels.
6 Double Rolls (Pick-A-Size and Tear-A-Square)
110 Sheets Per Roll
2-ply
11" x 6" individual sheets
About $7.00 at Walmart
Sparkle can be purchased at Walmart and on Amazon.com in addition to most other mainstream grocery stores and drugstore chains.
Scott
Scott is often associated with toilet paper, but this household paper brand also makes paper towels. Unlike other brands that have multiple types of paper towels, Scott only makes one type of paper towel roll. However, keep reading to see other types of specialty paper towels made by Scott.
While many brands make paper towels with embossed or quilted designs for absorbency, Scott uses a ridged design. The rapid ridges on Scott paper towels spread across each sheet to quickly lock in moisture when wiping up spills.
Many consumers love Scott paper towels and agreed that they get the job done. However, some have said these paper towels tear too easily. We suggest deciding for yourself.
As a reputable brand, Scott has a proven record of replying to online customer complaints and providing options to remedy any issues. Therefore, if you try it and decide it is not the brand for you there is an opportunity to get support for your purchase.
6 Mega Rolls (equal to 11 regular rolls)
102 sheets per roll
1-ply
11" x 6" sized sheets
Approximately $15 at Walmart
Scott is sold across the country at most mainstream stores as well as online. In addition to regular-size rolls, this brand has a wide variety of rolls available: double, mega, and triple.
Scott Multifold Paper Towel
While Scott only provides one option as an everyday paper towel roll, this brand also manufactures a MultifoldPaper towel. This Multifold Paper Towel is made from 100% recycled fiber and is an excellent choice for cleaning, sanitizing, and janitorial purposes.
In addition to general cleaning, these paper towels are a good choice for businesses that want a paper towel that is to dispense and refill in public restrooms. Although primarily advertised towards businesses these are an affordable option for at-home use too.
1 Box of 175 sheets
1-ply
8.1" x 12.4" sheets
About $9.00 per box at Walmart
These paper towels are easiest to find online through retailers like Walmart and Amazon.
Scott Shop Towels
If you are looking for Scott paper towels online you will also come across Scott Shop Towels. These utility shop paper towels are made specifically to absorb heavy fluids like oil and grease. Therefore, making them ideal for auto shops.
However, while these heavy-duty paper towels are made with auto shops in mind they can also be used in other areas. Grab these extra durable and absorbent multi-purpose towels for all of your DIY projects.
Package of 6 Rolls
55 sheets per roll
11" x 9.4" sheets
Around $7.00 at Walmart
Brawny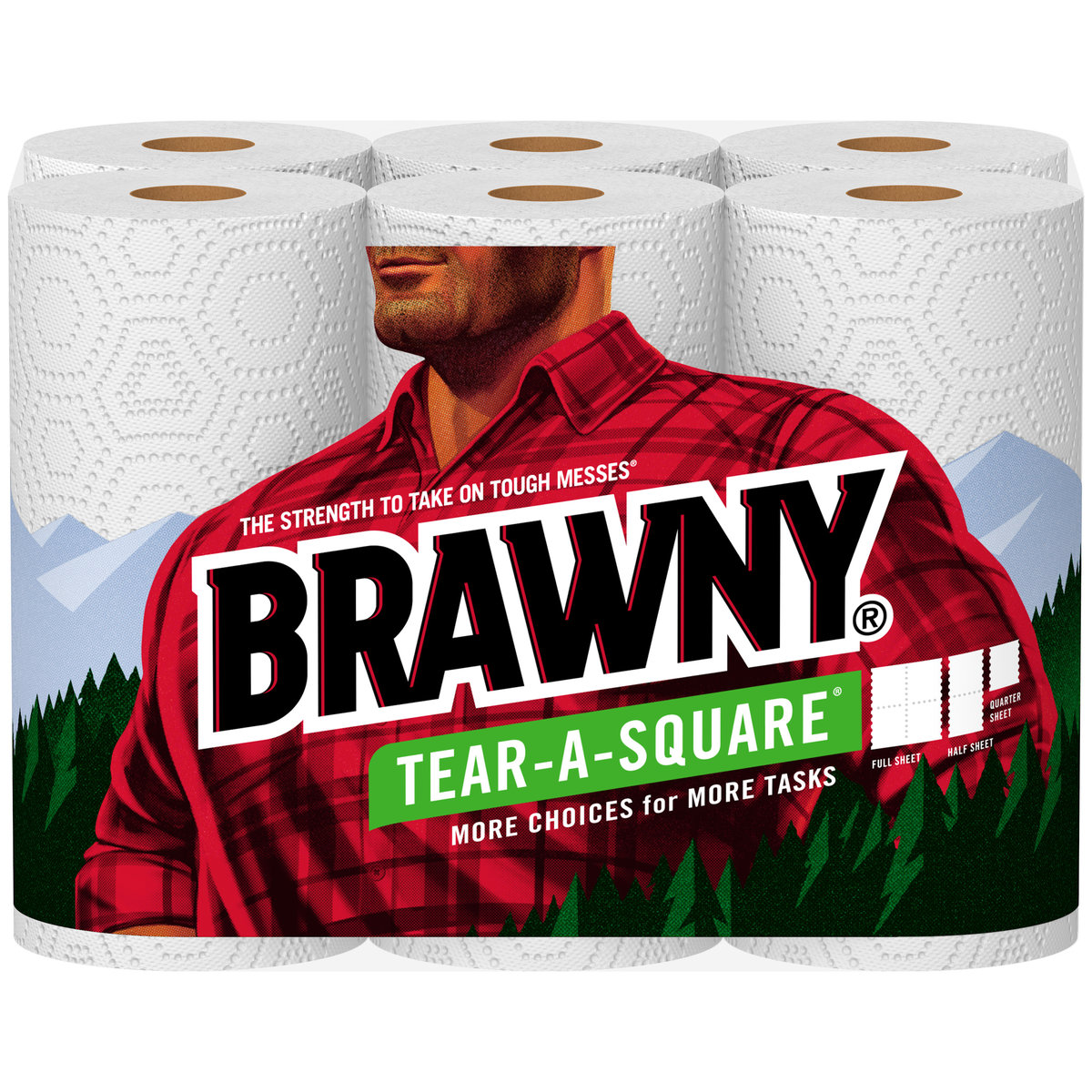 Alongside Bounty, Brawny is one of the most recognizable brands of paper towels. While Bounty is known for being the "Quicker Picker Upper" Brawny is a brand built on strength and durability.
The durability of Brawny paper towels has been put into physical form as the Brawny Man – a strong lumberjack man that exudes strength. Part of the Brawny strength is in its ability to also absorb tough messes.
These quilted paper towels can be used to wipe up wet messes or even to hold your favorite snacks. The options are endless.
To support the many needs of customers around the country, Brawny follows the other big brands by offering several options. This includes three sizes of paper towels as well as three sizes of paper towel rolls.
Paper Towel Sizes
Full size
Pick-A-Size
Tear-A-Square
Roll Sizes
6 Double Rolls (Tear-A-Square)
120 sheets per roll
2-ply
11" x 5.5" sheets
About $14.00 at Walmart
While prices may vary, Brawny can be found at stores around the country and online.
Brawny Pet 3-Ply Paper Towels
For families that have pets, Brawny makes a special 3-ply paper towel. This heavy-duty paper towel goes beyond the regular strength of Brawny to help clean up even bigger messes.
The only drawback is that this newer product is not available nationwide at this time. However, if you live in Michigan, Ohio, Wisconsin, Indiana, or Kentucky you may be able to find this heavy-duty paper towel at a store in your city.
Brawny Professional
Like Scott, Brawny makes a professional towel that can be used for heavy-duty projects. However, this product is not as readily available as the Scott Shop towels.
If Brawny is your go-to brand though you can look for Brawny Professional towels online at places like Zoro.com. They cost about $32.00 for a box of 100 towels.
Great Value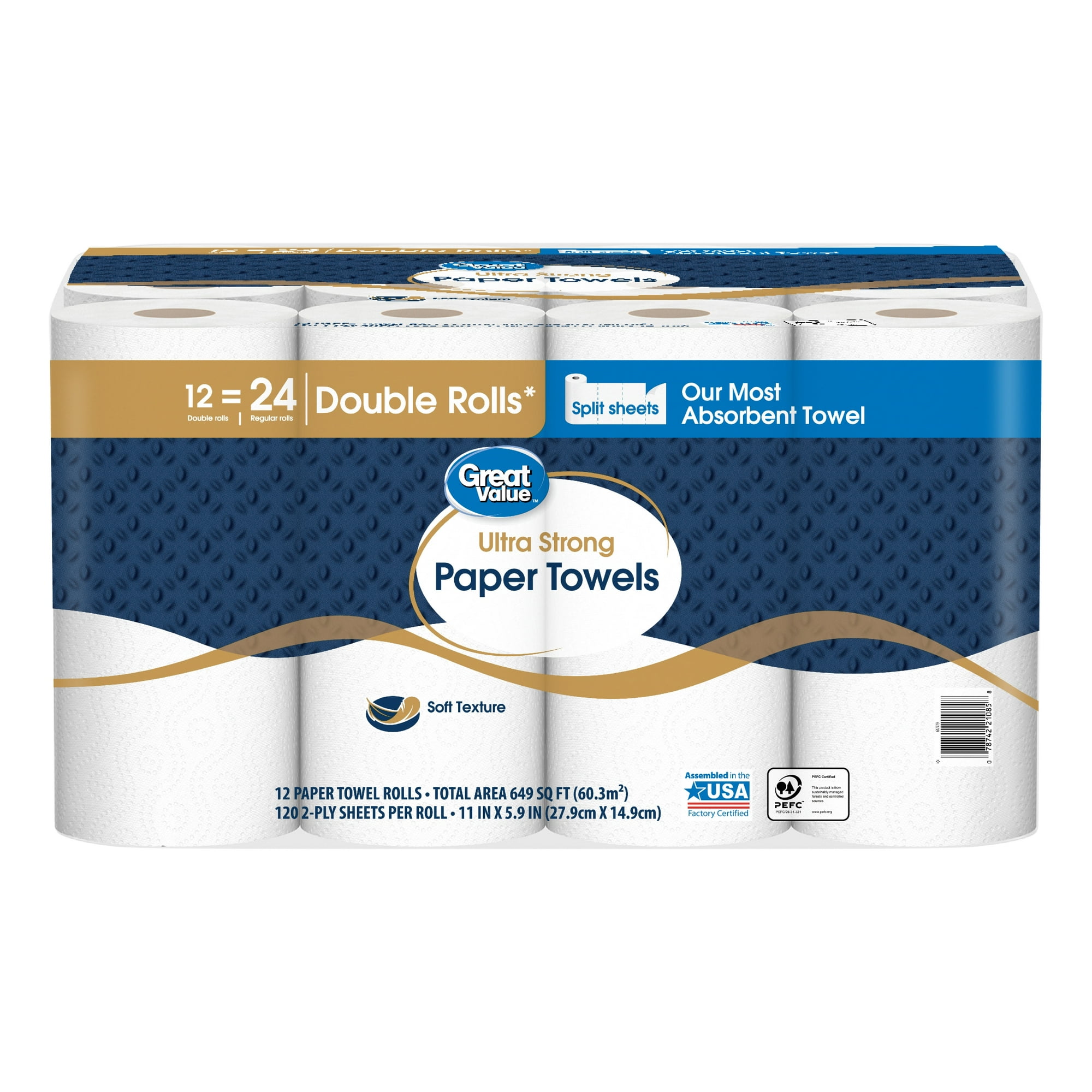 In addition to the many amazing name-brand paper towels, there are some great generic brands. Like Great Value by Walmart.
This brand makes Ultra Strong Paper Towels that have everything you need in an everyday paper towel. These towels are soft and cloth-like with additional quilting that helps make them durable and absorbent.
In addition, you can choose if you want to use a full sheet or a half sheet. This saves you additional money by not wasting excess product on small spills. The combination of pick-a-size sheets and soft cloth-like texture makes these paper towels like a crossover between Sparkle and Viva.
6 Double Rolls
120 sheets per roll
2-ply
Each Sheet is 11" x 5.9"
About $10.50 at Walmart
If an ultra-soft texture is not a priority then the Great Value Everyday Strong Paper Towels are another great choice. These are durable and absorbent, but not quite to the extent of the Ultra Strong towels. In addition, they are not as soft.
However, they are less expensive which makes them a good cost-effective choice. In addition, they can also be split in half if a full sheet is not needed.
4 Triple Rolls (equal to 12 regular rolls)
110 sheets per roll
2-ply
Each sheet is 11" x 5.5"
The average cost is $6.00 at Walmart
Since Great Value is a Walmart brand you can only purchase these paper towels there. If you do not normally shop at Walmart or do not have one near your home you can order these off the Walmart website.
Kirkland
If you are a Costco member then you probably already know what an amazing brand Kirkland is. This brand is primarily sold through Costco and is known for its exceptional products, including its paper towels.
Kirkland paper towels are strong and absorbent in the same manner as many name brands. In addition, these paper towels come in split sheets. Therefore, you have the choice to use a full sheet or half sheet as needed.
While other brands offer a variety of package sizes to choose from, Kirkland only comes in a package of 12 rolls. However, as you can see in the numbers below, the regular Kirkland roll has 50 more sheets than most double rolls from other brands. Therefore, you get even more for your money.
For large families or businesses that use paper towels frequently, this 12-pack is definitely worth the money. If you do not use paper towels regularly though or do not have extra space to store this large pack then one of the name brands may be a better choice for you.
12 Pack of Paper Towels
160 sheets per roll
2-ply
11" x 7" sheets
The current price is $22.99 at Costco
Although Kirkland is primarily a Costco brand you can sometimes find Kirkland products on Amazon. However, the price is typically higher. For example, this 12-pack of paper towels is around $39.00 on Amazon.
If you are not ready to get a Costco membership though then it may be worth trying these out for a higher price. You can always get a Costco membership later on or borrow a friend's if you really fall in love with the Kirkland brand.
Presto!
If you are still not ready for the Costco membership but also want a good cost-effective brand then give Presto! a try. Presto! is an Amazon exclusive brand that has become a favorite for many Amazon regulars.
Amazon customers rave about how great these paper towels are compared to name-brand ones. They are durable and absorbent to effectively wipe up spills without tearing. They are also sturdy enough to carry your breakfast toast or other snacks on the go.
Like many popular brands, Presto! also provides a flex-a-size sheet so that you can create a paper towel perfect for any spill – small or large. Customers have even noted that due to how absorbent these sheets are they sometimes don't even need all of the half-size sheet.
6 Huge Rolls that are equal to 19 regular rolls
158 sheets per roll
2-ply
11" x 5.7" sheets
Currently $17.74 on Amazon.com
The only downside to this brand is that it is only available through Amazon. Therefore, you will need to plan to order before you may need them.
However, a great benefit of this is that you can schedule regular deliveries through Amazon. You can set up automatic refill orders for anywhere from every 2 weeks to 6 months (depending on how frequently you need to refill your paper towels at your home or business).
If you think these sound too good to be true go ahead and give them a try. If you do not like them (for any reason) then Amazon will refund you.
Up & Up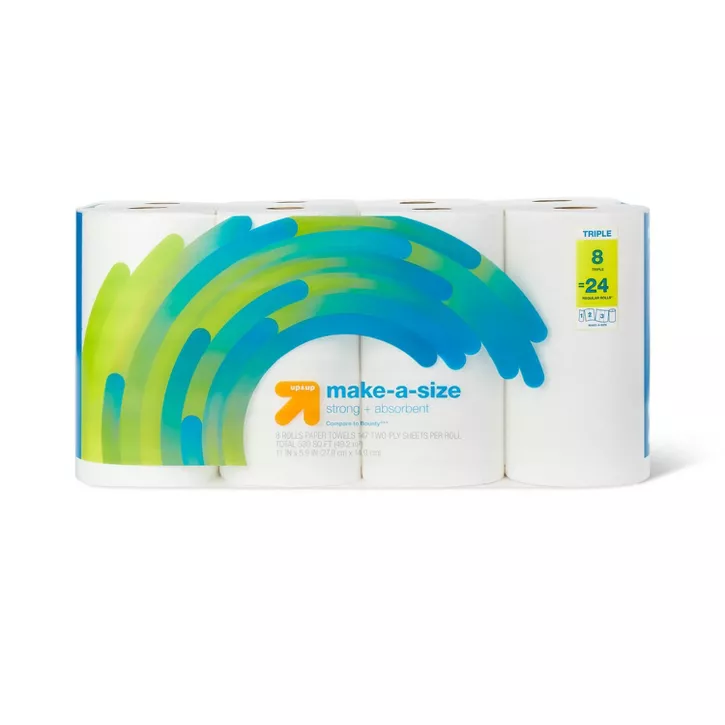 Walmart is not the only store to carry an in house brand of paper towels. Target also manufactures and sells paper towels under its brand name Up & Up.
The Up & Up paper towels are a favorite among Target shoppers. They are thicker and more absorbent than most generic brands. Moreover, many shoppers have stated in product reviews that these are thicker than some name brands.
In addition, these thick and absorbent paper towels are available in both full size and the brand's Make-A-Size variety. Therefore, providing you the same convenience of tearing off only what you need. This brand also offers a range of roll sizes (double or triple) and package sizes (2 rolls, 6 rolls, 8 rolls, 12 rolls).
6 Double Rolls (Make-A-Size)
98 sheets per roll
2-ply
11" x 5.9" sheets
Currently priced at $8.99 in stores or online at Target
The only downside to this brand is that while they provide excellent quality at an excellent price, there are about 12 sheets less per roll. However, if you are a regular Target customer the convenience and cost may still be worth a slightly smaller roll.
Smartly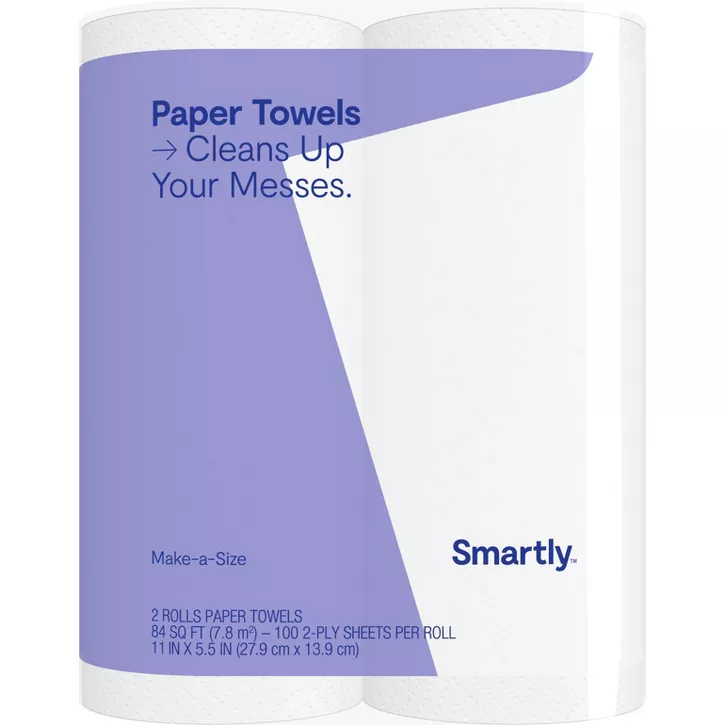 While Target's Up & Up brand is reasonably priced compared to many other brands, it may still be more than you want to spend. If so, look for Smartly, the other in-store Target brand.
Smartly provides a less expensive paper towel option (less than $1 per roll!) compared to the Up & Up brand. Like many other less expensive options though, the quality is also less than. You will find these are thinner than the Up & Up brand. In addition, they are not quite as durable.
For those looking for a reliable everyday paper towel that can work on any mess, Smartly is not the brand for you. However, for those who do not use paper towels on a regular basis or simply need a roll to get by in a pinch, this brand is good.
This brand is even marketed for customers that just need one or two rolls, only offering packages with one single roll or two rolls. In addition, these rolls are only available in a standard roll and not in a double or triple. However, Smartly does still offer make-a-size perforated sheets.
1 Single Roll
100 sheets per roll
2-ply
11" x 5.5" sheets
Only .69 cents at Target
365 by Whole Foods
A lot of people buy paper towels when they buy their groceries. Therefore, it is important to have an easy option at any grocery store.
While mainstream grocery stores all carry the top brands of paper towels, not everyone shops at these grocery stores. Especially if you prefer a store that provides specialty health food items, like Whole Foods.
In addition, if you prefer to shop at a health food store you may also be looking for healthy cleaning products. Thanks to 365 by Whole Foods you can find chlorine-free paper towels at your favorite health food market.
Like Seventh Generation, the 365 brand uses a safer and environmentally conscious bleaching process without chlorine. In addition, these paper towels are also made from 100% recycled paper materials.
Although these are better for you and the planet they do not have the same efficiency as other brands. Since they are thinner and not as absorbent, you may find yourself using more paper towels to clean up a spill.
3 Standard Rolls
75 sheets per roll
2-ply
11" x 8" sheets
Between $7.00 and $8.00 on Amazon
As you can see, these rolls have significantly fewer sheets per roll than any other brand. Therefore, this brand may not be the right choice for a family or business that uses paper towels regularly.
However, this brand is a better price than Seventh Generation if your priority is a non-chlorine paper towel. In addition, you can buy these online at Amazon.com if you do not want to make a trip to Whole Foods.
Amazon Basics
Another brand available through Amazon is the Amazon Basics paper towels. These name-brand paper towels are just as they say – basic.
While they are durable and work well for holding food or wiping up a quick mess the quality is not quite as good as Presto!. Therefore, you may need to use more paper towels to get the job done than with another brand.
Compared to a name brand, Amazon Basics is similar to Bounty Essentials. These paper towels will do the basic job needed at a cost-effective price.
If you only use paper towels every once in a while and just want something on hand that is easy to find, Amazon Basics will do the job.
6 Value Rolls
150 sheets
2-ply
11" by 6" sheets
Currently about $17 on Amazon.com
Since these basic paper towels are about the same price as Presto! and are available through the same site, you may find Presto! to be a better choice for a more premium quality paper towel.
Seventh Generation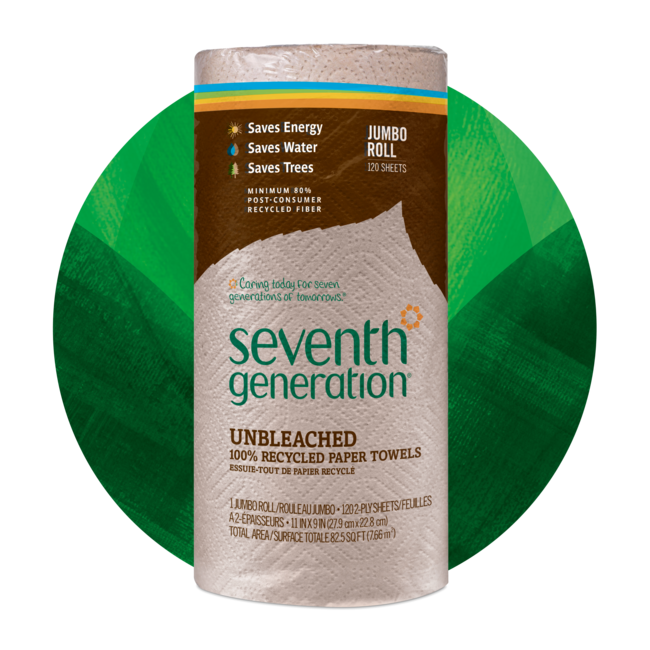 In recent years more people have started to choose cleaning supplies based on the ingredients found in them. Essentially choosing cleaning supplies that are made without as many chemicals as traditional products.
While this search is often aimed at things like bathroom and kitchen cleaners, it also includes paper towels. The natural color of paper is brown Therefore, to make paper towels pristine white they typically go through a chemical bleaching process that uses chlorine.
Although the chlorine will not impact those using them it does impact the environment. Seventh Generation uses a non-chlorine process to bleach its paper towels and provide a product that is safe for the environment. In addition, these paper towels are made from 100% recycled paper.
These good for the planet paper towels are also good for their users. Durable and absorbent these paper towels can be used for general household cleaning and to wipe up unforeseen spills and messes. However, some note that once they get wet they do tend to tear more easily than other brands.
6 Jumbo Rolls = 13 Regular Rolls
140 sheets per roll
2-ply
11" x 5.5" sized sheets
Approximately $29.00 online at Walmart or $23.00 on Amazon.com
Unbleached Paper Towels
Even though Seventh Generation does not use chlorine in bleaching their paper towels they also recognize that some consumers want a completely natural option. Therefore, this brand offers one of the only unbleached paper towels.
These unbleached paper towels are also made from 100% recycled paper. They have a similar effectiveness and quilted texture as the bleached ones described above.
6 Jumbo Rolls = 13 Regular Rolls
140 sheets per roll
2-ply
11" x 5.5" sized sheets
Currently around $28.00 online through Walmart
In addition to purchasing these paper towels online, Seventh Generation is commonly sold at Whole Foods as well as other mainstream retailers.
Kleenex
Kleenex is not a brand just for runny noses, it is also a brand that can help with wiping up spills or drying hands. However, rather than following the common household format of paper towels on a roll, this brand makes multi-fold paper towels.
Multifold Paper Towels by Kleenex are perfect for bathrooms or other areas you want to provide a disposable hand towel. This could be the guest bathrooms in your home or public restrooms at your place of business.
Kleenex markets these thick and soft disposable towels as the best choice for drying hands. To further encourage customers to use these next to their sinks (instead of a cloth towel) Kleenex made an Expressions line. This line is sold in stylish boxes much like Kleenex tissues.
Although these highly absorbent paper towels are marketed for the hands they are also a good choice for general cleaning. Basic white towels can be purchased in large quantities to store in janitorial closets.
Case of 6 Boxes of Kleenex Expressions
360 sheets (60 per box)
2-ply
12.12 x 9.93 inch sheets
Currently about $35.00 on Walmart.com or $20.00 on Amazon.com
Box of 8 Packs of Multi-Fold Paper Towels
1200 sheets (150 per pack)
2-ply
9.4 x 9.2 inch sheets
About $30.00 at Walmart.com
While the Kleenex Expressions can be purchased as single boxes at many stores, the Kleenex Multi-Fold Paper Towels are easiest to find online.
Uline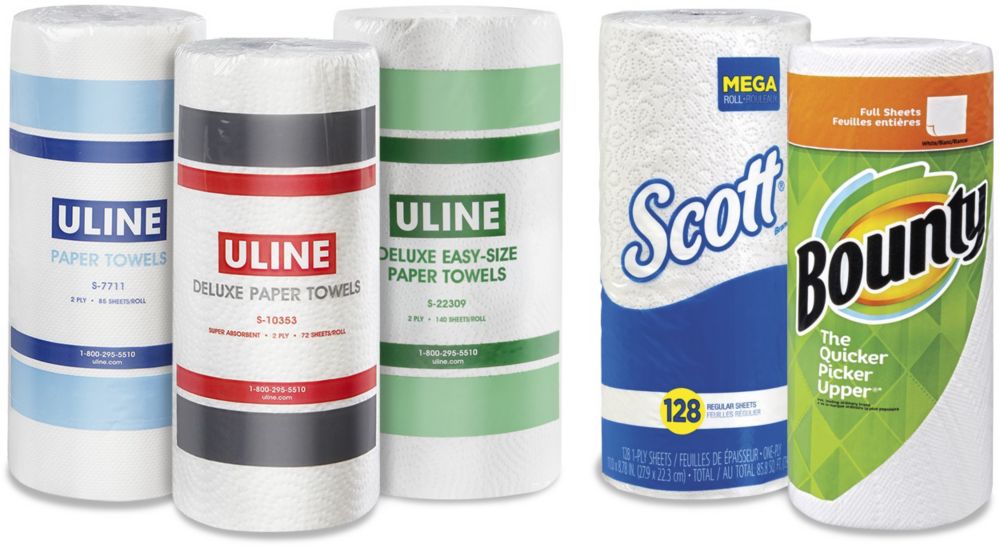 Uline is a brand that caters to companies that need large quantities of paper towels for janitorial responsibilities. While this includes larger rolls of paper towels that are best suited for electronic dispensers, Uline also sells standard paper towel rolls.
Uline Paper Towels: A standard 2-ply white paper towel that is absorbent. These 11" x 9" sheets are similar to basic generic paper towels.
Uline Deluxe Paper Towels: This 2-ply towel is super absorbent and will clean up spills more quickly. It is also larger than the other two with 11" x 11" sheets.
Uline Deluxe Easy-Size: This jumbo roll of 2-ply paper towels has the same absorbent qualities as the Deluxe version while also offering a smaller 11" x 6" sheet so that you do not need to use it as much.
Keep in mind that since this brand is tailored for janitorial purposes so these products must be purchased in bulk. Therefore, even though these regular paper towel rolls reflect those used for household purposes the purchasing options are not ideal for small orders.
Beyond the standard paper towel rolls by Uline, this brand also sells large rolls of towels that are used in manual and electric dispensers. Since these paper towel rolls match the different dispensers it depends on the dispenser you already have or want.
Therefore, to get the best idea of what this brand offers check out its array of dispensers first. Then take a look at the suggested paper towels to purchase for your dispenser.
Pacific Blue
If you own a business, you may require paper towels that can be dispensed from automated dispensers. In this case, Pacific Blue is an excellent choice.
This brand makes quality embossed paper towels that come in extra-large rolls that are great for household uses and beyond. Pacific Blue specifically mentions that this full-weight towel is ideal for commercial kitchens and hospitals.
Case of 12 Paper Towel Rolls
250 Sheets Per Roll
2-ply
11" x 8.8" sheets
Currently $45.71 through Walmart
In addition, Pacific Blue also manufactures multifold towels and paper towel rolls that can be used in both electric and non-electric dispensers. Below are the features of these two types of paper towels.
Basic Recycled Hardwound Paper Towel Rolls
800' per roll
7.7875" wide sheets (length determined by the user)
Fits most universal roll paper towel dispensers
Select Multifold Premium 2-ply Paper Towels
125 towels per pack
2-ply
9.2" x 9.4" unfolded
Check Walmart for the most up-to-date prices on these Pacific Blue products. In addition, this brand can be found at Staples.com and other similar office and medical supply retail sites.
Tork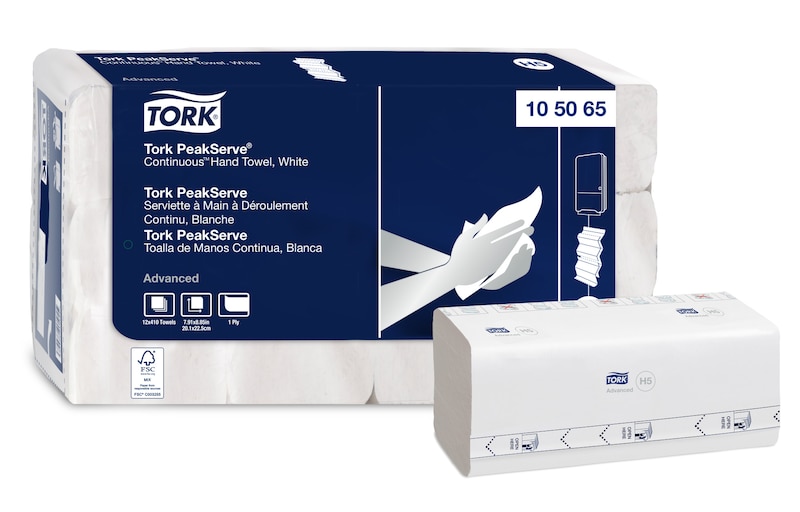 Tork is another paper towel brand tailored towards bulk orders. This brand offers a wide selection of paper towel rolls and multifold paper towels that are made for corporate settings. Like Pacific Blue, these can be used to refill a wide variety of electronic paper towel dispensers.
The best paper towels from Tork will depend on the dispenser your office or building already uses. Therefore, visit the Tork website and begin with the type of dispenser you need refills for. From there, the website is easy to navigate to different suppliers (including Amazon) to purchase the paper towels you prefer.
Conclusion
Life is filled with unexpected messes. These may be small messes at work or large messes at home. But whatever the mess may be, paper towels can help make cleaning up easier.
Therefore, having a paper towel brand you trust is important. The list above will guide you in finding the paper towel brands that are best for your messes, and that you can trust.
233 Towel Brand Name Ideas to Soak Up Inspiration
395 Creative Recycling Company Name Ideas