While whiskey has been around for several decades, peanut butter whiskey is new on the cocktail scene. Making its way into your favorite drinks in 2018, this new spirit was created by Skrewball.
However, as soon as peanut butter whiskey became the hot new liquor, more brands began exploring their own recipes. While it's hard to beat the original, several other brands come close.
Here are our favorite peanut butter whisky brands.
Skrewball
Before you can decide what peanut butter whiskey brands are the best, you have to know the competition. Therefore, you need to know what makes the original so great.
While whiskey is most commonly associated with Kentucky, it took the casual spirit of a California couple to expand on the flavor of a classic. Hailing from Ocean Beach, California Skrewball peanut butter whiskey was created by Steven and Brittany Yeng.
The taste of this bold new whiskey came from a creative cocktail the couple had sold at their bar and restaurant. A balance of smooth whiskey and rich creamy peanut butter, Skrewball is the award-winning whiskey that started the peanut butter craze.
In addition to the two notable flavors, this brand also shows hints of honey and vanilla. A perfect blend of savory and sweet flavors. However, compared to some other brands this one is on the sweeter side.
While many others have followed the peanut butter whiskey craze by adding a peanut butter whiskey to their list, Skrewball is unique in that their entire brand is based on this one whiskey.
Therefore, you can guarantee the quality and attention to the perfect flavor will continue to shine through in each bottle. Since 2020 this whiskey brand has been earning awards across the country.
An ideal spirit that can be enjoyed solo in a shot or the center of a creative cocktail. Pick up a bottle at your local liquor store starting at about $30 for 750 ml.
While most liquor stores across the United States carry this now, it is still a new product. Therefore, it may not be available in all stores just yet.
Ole Smoky
While the original is worth mentioning at the top of this list, there is another brand that can easily compete for the top spot. Ole Smoky.
Ole Smoky is a Tennessee brand that ages its 100% corn whisky for two years. This develops a deep and rich whiskey flavor that true whiskey drinkers will enjoy.
In addition, this brand uses real peanut butter oil (rather than artificial flavoring) to produce a true peanut butter flavor. Not too sweet and just salty enough.
Alongside the distinct peanut butter flavor, you will also notice hints of vanilla, oak, and honey. These simple flavors all blend together for a delightfully balanced flavor and smooth finish.
The only real downside to this brand is its price. It is 1.3 times the price of Skrewball. However, for those wanting a higher-quality whiskey with the same fun flavor, the $40 per 750 ml is worth it.
Bird Dog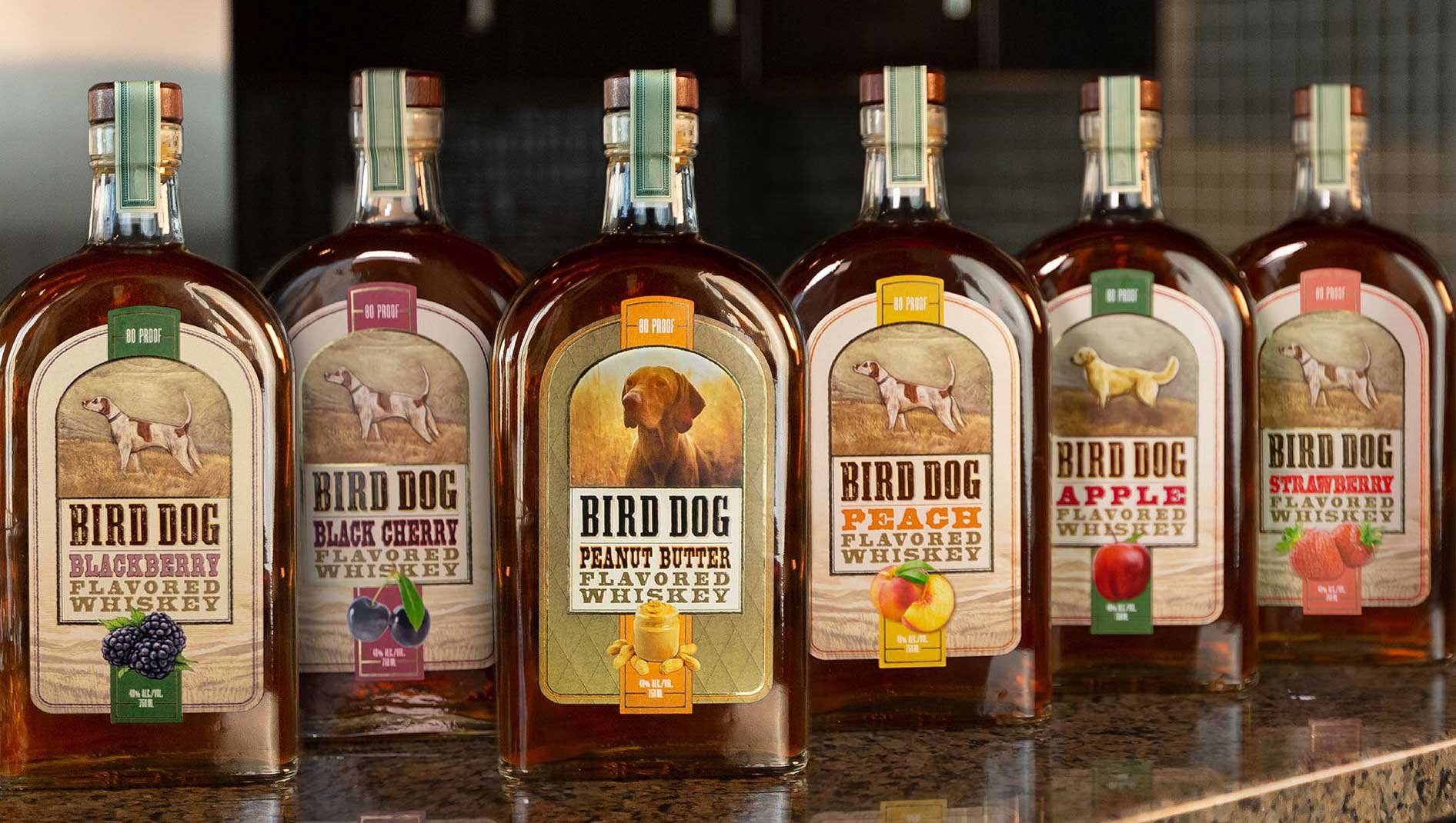 While Bird Dog was not the first brand to create peanut butter-flavored whiskey, they were the first to venture into flavored whiskeys. Since introducing its first flavored whiskey in 2010, the brand has won the most awards for flavored whiskey.
With an already reputable name in flavored whiskey, Bird Dog followed the peanut butter trend. The Bird Dog Peanut Butter Whisky follows in the footsteps of other exceptionally flavored whiskeys.
Bird Dog has a stronger-tasting whiskey. This is due to the higher alcohol content.
Compared to the other brands that are between 30-35%, the alcohol content of Bird Dog is 40%. Therefore, you will notice a stronger alcohol finish with this brand.
However, despite a stronger alcohol content and flavor, the bold peanut flavor comes through beautifully. Like Ole' Smoky this brand has a flavor that tastes of real roasted peanuts rather than an artificial flavoring.
The strong flavor of this whiskey is a great choice for those who prefer a stiffer drink. However, it does come at a higher price. A 750 ml bottle runs about $30.
Sheep Dog
Sheep Dog is the child of The Sazerac Company, an alcohol company out of New Orleans, Louisiana. This company has been around since the 1800s and has several smaller brands, like Sheep Dog.
Therefore, while Sheep Dog is a newer brand it has over a century's worth of knowledge backing it up. The Sazerac Company also has production facilities in Kentucky. Another solid nod to the whiskey knowledge behind this new whiskey.
Sheep Dog Peanut Butter Whiskey pairs the salty and sweet flavors of roasted peanuts with the savory taste of whiskey for a nicely balanced flavor. This balanced blend is great for appealing to a wide range of whiskey drinkers.
However, some more mature whiskey connoisseurs may find this twist on their favorite spirit to be a bit too sweet. Younger drinkers though will love the sweetness paired with the smooth finish that makes it easy to explore the taste of whiskey.
Another thing younger customers will enjoy is the price. Sheep Dog is one of the least expensive brands.
Therefore, for under $20 a bottle you can try this new flavor without investing too much.
Sqrrl
Like Sheep Dog and Skrewball, Sqrrl follows suit in creative names and only offers a single flavor of whisky: peanut butter whiskey.
While Sqrrl shares some other similarities with these other two American brands, it is also distinctively different. With a bold peanut butter flavor that will remind you of freshly roasted peanuts and a hint of butterscotch, the rich warm flavor of Sqrrl peanut butter whiskey is distinctly recognizable.
The rich flavor of this brand is excellent to sip on its own. However, don't miss out on the amazing and fun combinations available for cocktails. A quick click on the Sqrrl website will take you on a journey of peanut butter whiskey cocktails for every occasion.
Sqrrrl peanut butter whiskey is comparable in price to Skrewball. Although, as a newer brand it is harder to find. It is available in many stores in the Midwest and along the East Coast. However, you may not be able to find it west of Illinois until the brand grows.
Hard Truth
In contrast to the three brands mentioned above, Hard Truth is not a brand solely focused on whiskey. Hard Truth is a brand with a distillery in Nashville, Indiana that produces a wide range of spirits.
While this brand is not focused solely on creating peanut butter whiskey it does have a long history of making exceptionally flavored spirits. Therefore, you can guarantee that each bottle of peanut butter whiskey gets the time and attention needed to create the perfect flavor.
Made with aged straight bourbon whiskey, this is a good choice for those who regularly drink whiskey. Paired with the saltiness of plain roasted peanuts and the sweetness of honey-roasted peanuts, it is a truly perfect flavor pairing.
Pour this whiskey straight over ice for a simple, yet boldly flavored drink. If you are looking for something more adventurous, try out Hard Truth's signature cocktail that pairs the brand's Toasted Coconut Rum Cream with its Peanut Butter Whiskey. Simply mix equal parts of each liquor for a "PB Whip."
The only downside to this delicious spirit is that it is only available in certain states. If you live in the midwest or Texas keep an eye out for it at local liquor stores. Moreover, those who are in Florida, New York, Massachusetts, or Maine can also find it.
If it's not in your state yet, consider making a trip to the distillery. While you are there, enjoy a tasting, tour, and meal before picking up your peanut butter whiskey for $29.99.
Barrel & Banter
Barrel & Banter is proud of their American-made spirits that are "Born & Bred in Northern Texas." This includes their peanut butter whiskey.
Made with the brand's bourbon base, this flavored whiskey is a balanced blend of sweet and savory with a smooth finish. Compared to other brands that lean towards sweetness, Barrel & Banter maintains a close hold on a classic whiskey flavor.
The distinct peanut flavor leans more toward savory. However, there is a delightful sweetness that has notes of cinnamon and vanilla to add to the peanut butter flavoring.
The smooth finish of this American Bourbon whiskey is delicious when poured over ice for a sweet and savory drink. Moreover, at the affordable price of $19.99 for a 750 ml bottle, this brand is on its way to being an American classic.
Look for Barrel & Banter at your local liquor stores or at large outlets like Total Wine.
Revel Stoke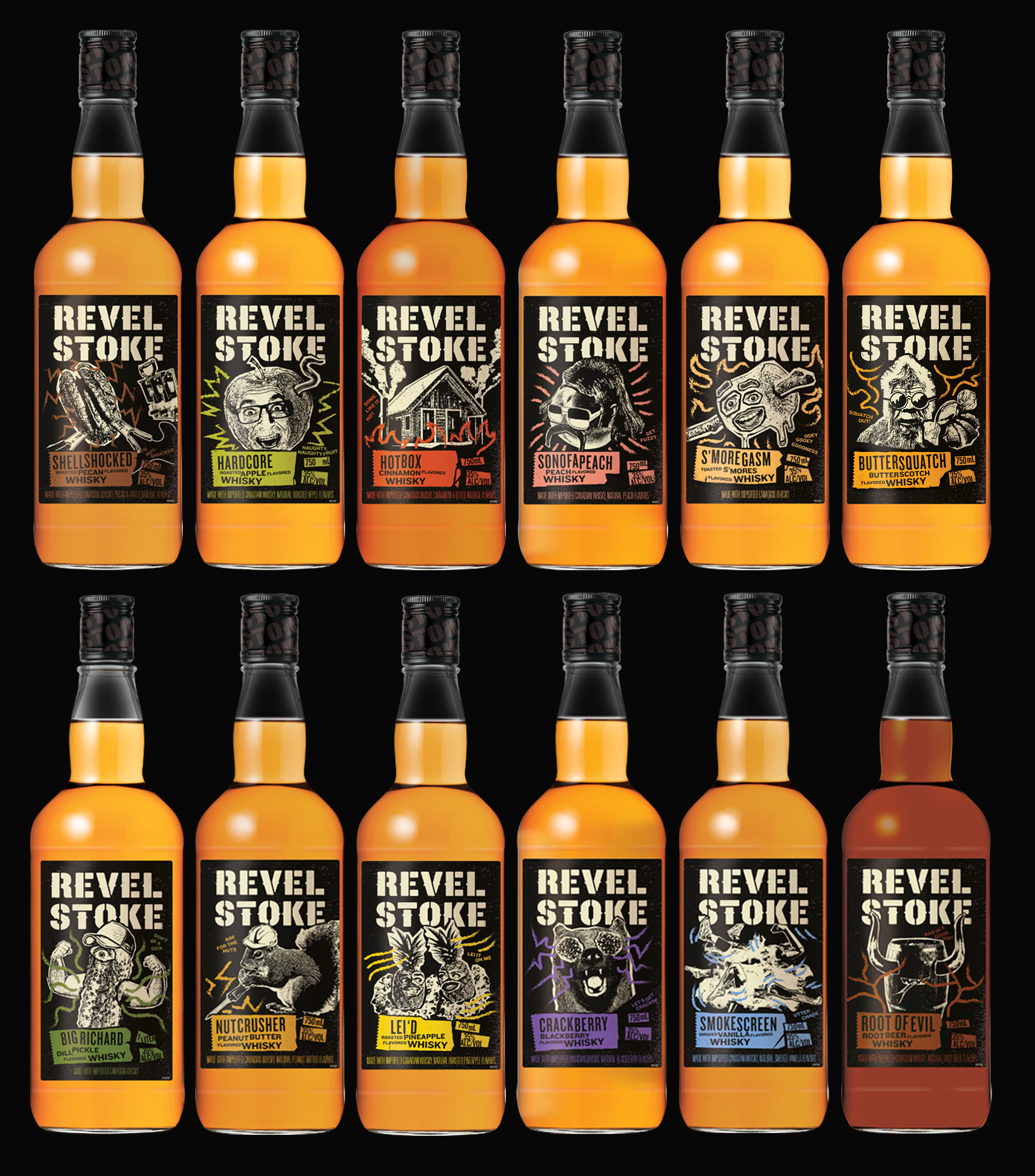 Revel Stoke is a brand that is all about wild and fun flavors. So it is not surprising they jumped on the new trend of peanut butter whiskey.
They didn't just jump on the trend though, they came to win. The brand won the 2020 world of whiskey award.
The brand's Nutcrusher Peanut Butter Whiskey is made with a Canadian whiskey base. A blend of rye, corn, and barley malt that is triple distilled. Then, it is sent to the company's Minnesota distillery where it is blended with the natural peanut flavors.
The milder Canadian distilled whiskey makes for a great base that allows for the full-flavored peanut butter to boldly shine through. In addition, Revel adds brown sugar, vanilla, and bittersweet maple to enhance the flavor.
For the amazing flavor you would expect this to be more expensive. However, it is one of the most affordable brands at around $15 per 750ml bottle. Even better? The brand offers $5 back through PayPal or Venmo! Visit their website to learn more about this amazing rebate.
Ram's Point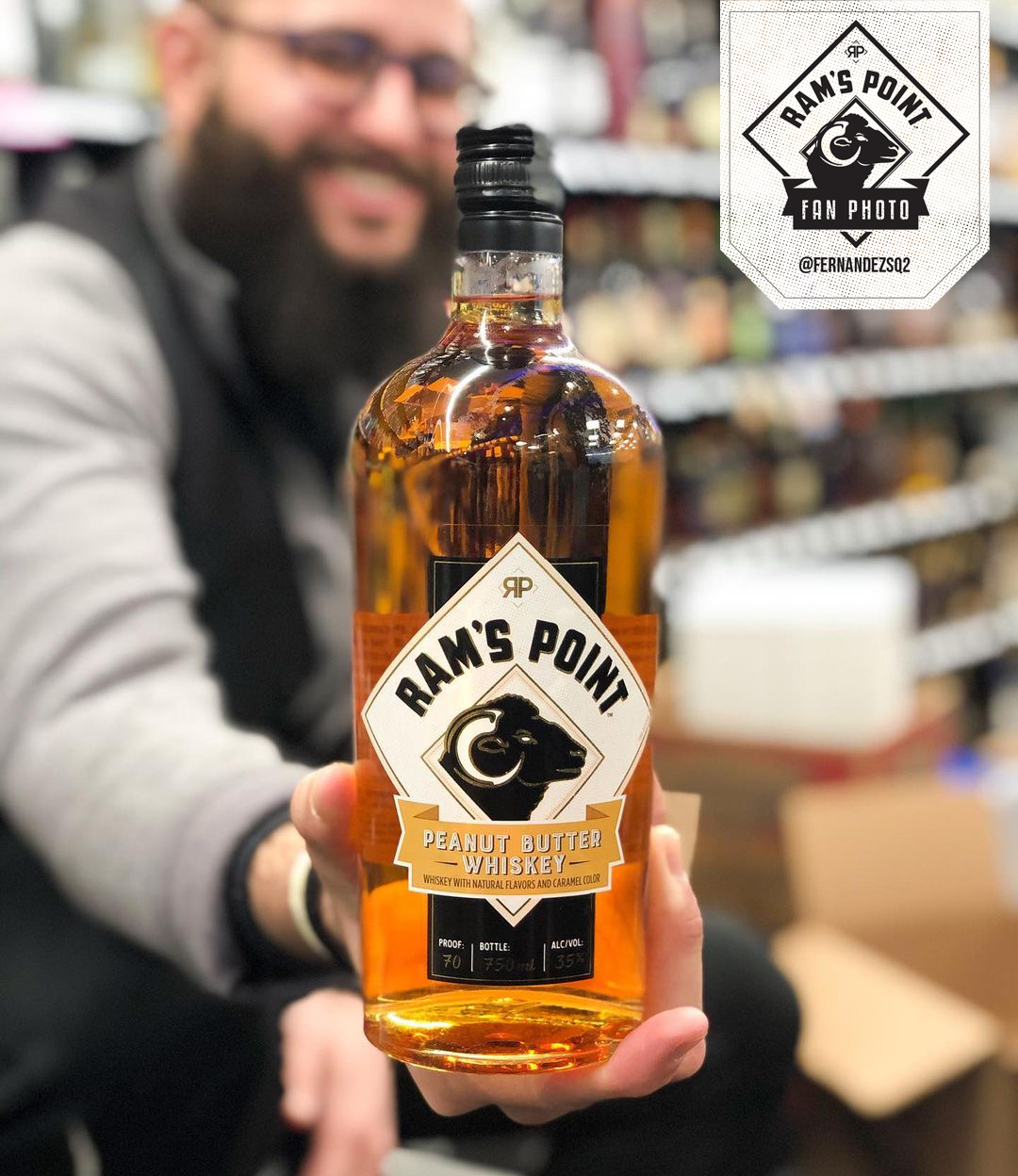 Like Sheep Dog, Ram's Point is a brand created by the Sazerac company. Therefore, you can expect some similarities in the overall taste of this peanut butter whiskey.
Ram's Point shares a distinctly bold peanut butter flavor with Sheep Dog. However, this brand is on the sweeter side. Overall, it is sweeter than many other peanut butter brands.
Therefore, this brand tends to be enjoyed more by a younger crowd. Although it is sweeter overall, Ram's Point still has some nice salty notes from the bold whiskey base. Therefore, you will still find a blend of sweet and savory flavors.
This brand can be enjoyed on its own if poured over ice to chill. However, many people find this brand is better used to make specialty cocktails.
At about $20 a bottle, this brand is slightly more expensive than Sheep Dog. It is still a reasonably low price though, especially if you are looking to just test out a new brand.
Two Trees
Two Trees Distillery is known for its unique and creative approach to distilling whiskey. They created a machine that speeds up the process that usually takes two years in oak barrels. This machine can achieve the same flavor in a day.
All of the brand's whiskeys are made in this special machine. In addition, Two Trees is committed to their recipe that relies on the best grains, water from the Appalachian Mountains nearby, and a bold toasted wood chip variety.
It's this proprietary blend that is the base for the brand's delicious peanut butter whiskey.
The toasted notes of White Appalachian Oak are at the base of this whiskey. It is then paired with a distinct roasted peanut flavor.
Although slightly more expensive than some other brands, at $24.95 a bottle this is a great choice for bold flavored peanut butter whiskey.
Coastal Creek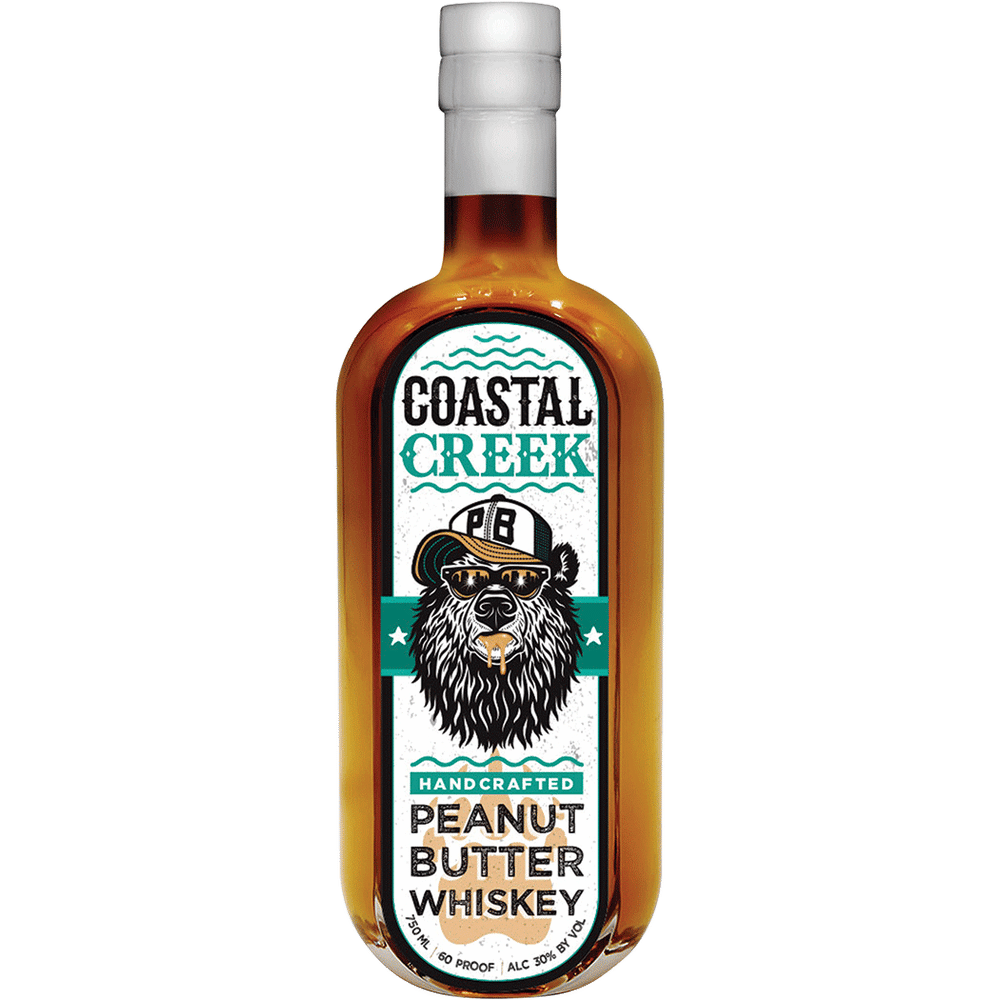 Coastal Creek is a private label that is sold exclusively at Total Wine & More. So, depending on where you live that may determine whether this brand is for you or not.
If you do live near a Total Wine & More then this brand is an inexpensive choice to pick up. It is distilled in Illinois and made from a slightly aged bourbon. The peanut butter flavor is distinctly noticeable with warm flavor notes.
Overall, it has a sweeter flavor profile compared to other brands. It also has a lower alcohol content. Two reasons this is preferred by many people as an easy to drink liquor.
Coastal Creek Peanut Butter Whiskey has only a 30% alcohol content. This is lower than the standard 35% found in most brands (like Skrewball). However, this makes it a good choice for those who don't love a strong whisky base.
At $19.99 a bottle this brand is a nice choice for a casual drink over ice or a cocktail mixer.
Skatterbrain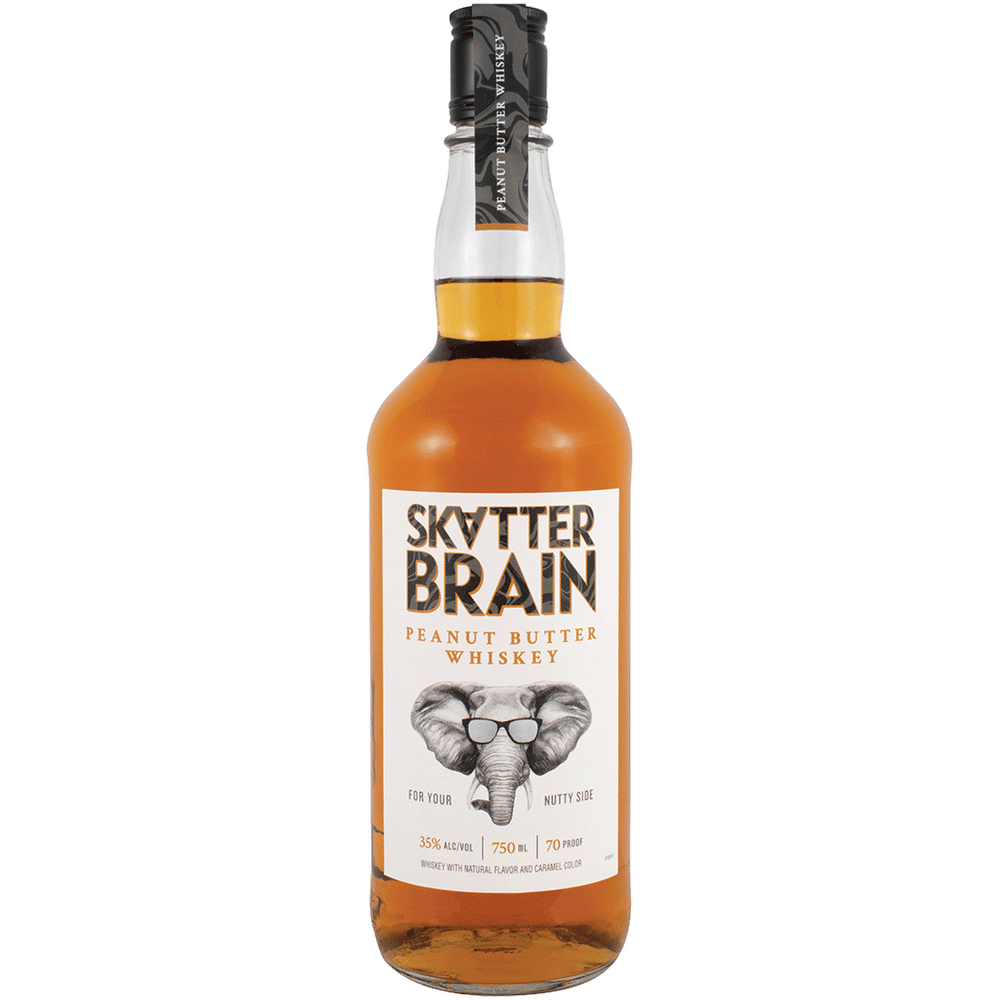 Most people notice that Skatterbrain is quite similar to Skrewball when it comes to marketing. Both in the choice of spelling and logo design. However, while this brand does seem to try and mimic the original, it doesn't quite achieve its goal.
Skatter Brain uses a Canadian whiskey base that is distilled and flavored in Minnesota (yup, much like Revel Stoke). Compared to other similar brands, though, this one misses the mark on a strong peanut butter flavor.
While there are hints of peanut butter, the strong sweetness overpowers it. Moreover, the syrupy sweet flavor diminishes the overall savory flavor of the whisky.
Although this is not the pick for the best of the best when it comes to peanut butter whiskey, it is worth mentioning for those who prefer a sweeter drink.
In addition, it is easily available at large liquor stores like Total Wine for less than $20. So, while it may not be the brand to drink neat or over ice, it can work as a good inexpensive base for a dessert cocktail.
PB Chocolati
Are you ready for the next level of peanut butter whiskey? Then look for one of the new brands that added chocolate to the mix! Peanut butter, whiskey, and chocolate. A truly perfect blend.
PB Chocolati is one brand taking on this new flavor blend and people are loving it. The brand has hundreds of reviews from customers praising the flavor.
This spirit presents bold oak and vanilla notes from the whiskey, blended with rich milk chocolate and creamy peanut butter flavoring. A decadent blend that is delicious to sip on when served over ice.
The best part is the extra flavor won't cost you anything extra. PB Chocolati sells for $19.99 on the brand's website. It is also available in several liquor stores.
Ballotin
Ballotin is a whiskey brand out of Louisville, Kentucky. It is not just any whiskey brand, though. Ballotin is a brand that is specifically dedicated to chocolate whiskey.
The brand was built on a love of chocolate, whiskey, and bringing people together. Its newer addition to the other chocolate whiskey flavors continues in this spirit.
Natural chocolate and peanut butter flavors are blended with Ballotin whiskey to create a drink that is perfect for any social event. Moreover, an easy-to-enjoy spirit anytime of the week!
This whiskey has a super smooth finish that is easy to drink. It also only contains 30% alcohol which makes it easier to sip without a strong bite.
While the flavor is delightful, this brand is difficult to find in person. However, you can order a 750 ml bottle for $25.99 from Drizly.com or NestorLiquor.com
Copper Still
Copper Still is another brand that took the bold step to add chocolate to their whiskey blend. This bold new blend won the Silver Award at the San Francisco World Spirits Competition in 2021.
This indulgent spirit begins with Indiana bourbon that is distilled for two years. It is then blended with the rich flavors of chocolate and peanut butter.
The natural flavoring used produces a distinct roasted peanut taste and aroma. In addition, hints of caramel add another layer of sweetness and flavor.
If you have ever wondered what a Reese's Peanut Butter Cup would taste like as a drink, this is the answer. The price is comparable to other similar brands, but may vary depending on where you purchase it.
Escape
Not everyone loves the taste of alcohol, but most people love the taste of peanut butter. If you are here for the peanut butter but not the whiskey, then check out Escape.
Escape is a brand that focuses on making delicious-tasting non-alcoholic spirits. Perfect for drinking with others during celebrations or for making your favorite mocktails.
While Escape does not offer a peanut butter whiskey flavor at the moment, they have several options that could be used for a similar flavor. Choose from one of the brand's alcohol-free bourbon or whiskey blends, and then add your own peanut butter flavoring.
In addition, Escape has a tasty chocolate peanut butter tequila. A fun alternative for a new spin on peanut butter mocktails.
These specialty spirits are more expensive than the original alcoholic ones. A 750 ml bottle is $35.99 on Escape's website.
Conclusion
As the original, Skrewball is still considered the best of the best by many people. However, with so many peanut butter whiskey brands on the market today, that title is up for the taking.
Depending on your taste preference and budget, you may find that one of these other tasty brands is your favorite. Take some time to try a few using our guide to find the brand you think is best!
423 Whiskey Bar Name Ideas That Will Get You Drunk
371 Creative and Funny Liquor Store Names