Some say it's the color. Some say it's the taste. Whatever the draw of pink lemonade is for you, it is a favorite beverage around the country. For many, it reminds them of playing outside on hot summer days when they were kids. Others are reminded of special occasions like birthday parties or weddings. Whatever this cool colorful beverage reminds you of, we have 13 of the best pink lemonade brands to help you celebrate your memories.
These 13 brands offer you an assortment of classic pink lemonades. Ones you can share with a large group or fun single-serving bottles and packets just for you. Moreover, in addition to the classic pink-colored lemonade (made by simply adding pink coloring to classic lemonade), there are several flavored lemonades with naturally pink colors. A variety that gives you the perfect pink lemonade for any occasion.
Minute Maid
Around since the 1980s Minute Maid is one of the most popular brands of fruit beverages. Their popularity is with good reason. They are known for providing the best tasting and refreshing beverages, including their Pink Lemonade.
In addition to the refreshing taste of their pink lemonade, Minute Maid earns a spot as one of the best brands for their variety. Beyond the traditional flavor of pink lemonade, you can also get a lovely pink-hued beverage and lemonade flavor from some of their flavored lemonades:
Raspberry Lemonade
Strawberry Lemonade
These traditional flavors can all be purchased premixed or as frozen concentrate. This gives you plenty of options on how to use it best for your celebrations!
Beyond these traditional full flavored lemonades are lighter flavored options. For a low-calorie option, reach for Minute Maid's Zero Sugar Pink Lemonade. Another delicious pink drink option with minimal calories is the brand's Light Cherry Limeade.
Minute Maid lemonade is easily found in grocery stores around the country. You may also look at ordering it online from some retailers.
Frozen Pink Lemonade
While you may be satisfied with an icy cold glass of pink lemonade, the innovative minds at Minute Maid created the ultimate refreshing lemonade treat: Soft Frozen Strawberry Lemonade cups.
These delicious 12-ounce cups are filled with a refreshing frozen treat that looks like pink lemonade, tastes like strawberry lemonade, and has the texture of gelato. A delicious alternative to a regular glass of refreshing lemonade.
While this lemonade is seasonal, keep an eye out for it during the summer as a special treat.
Country Time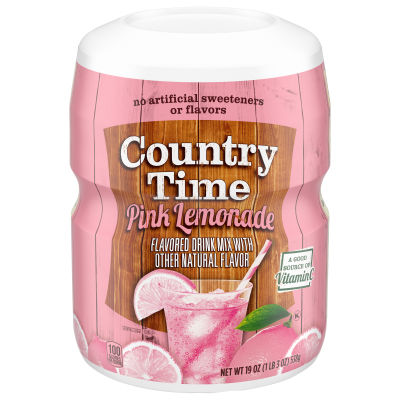 Next to Minute Maid, Country Time is one of the best brands known for lemonade. In fact, as a brand that solely makes lemonade, it may be more popular than Minute Maid. However, the debate about which one is better depends on your personal taste.
While Minute Maid lemonades are either fully prepared or frozen concentrate, Country Time made their mark with their powder lemonade. However, over the years, Country Time has started to sell some pre-made lemonade in bottles.
Even though the brand has added pre-mixed drinks, its original powder form has many benefits that other brands don't It can be easily stored and transported without refrigeration. Therefore making it a favorite to keep in the pantry all year long or to take on camping trips.
Country Time Pink Lemonade has a distinct and familiar flavor that is refreshing and light. A little sweeter and less tart than their original lemonade. In addition to the classic pink lemonade you can also choose from two flavored lemonades:
Strawberry Lemonade
Black Cherry Lemonade
These two varieties provide a pink hue with a twist on the original lemonade flavor. A bonus about this brand is that because it is a powder drink you can buy it online. Making it easier to find and saving you time with running to the store.
Depending on where you shop you may also come across Country Time On the Go Zero Calorie Pink Lemonade. Easy little packets with zero calories to add a little boost of flavor and color to your water at any time and anywhere.
Look for this classic brand in any grocery store or other food retailer. You can also easily order Country Time online.
Calypso
Calypso may be named after the island vibes that lend their flavor to these delicious tropical lemonades. However, Calypso was started far from the islands in Milwaukee Wisconsin.
The original lemonade recipe that all Calypso flavors are based on was created by the owner of the King Juice Co. in 1985. With the goal of a delicious lemonade made with real lemons and real sugar, the four original lemonades were made in small batches for years.
Eventually, the company decided to explore even more fun flavors. These tropical flavors led to a change in the company name in 2000. Today's Calypso offers a few fun pink lemonade options! While they do not have a classic pink lemonade, they have tropical-inspired flavors with natural pink colors.
Triple Melon Lemonade has a bright pink color that reflects a combination of watermelon, cantaloupe, and honeydew.
Island Wave Lemonade offers a bright pink color with hints of purple. A reflection of its blend of lemons, bananas, mangoes, oranges, pineapple, and passion fruit.
Strawberry Lemonade has a slightly more reddish tone than pink. However, it is still a fun color and flavor. Moreover, it comes available in a zero sugar option as well.
While the flavor of Calypso is a refreshing blend to take you to the islands, it only comes in small single servings. Therefore, it may not be the best choice for a large gathering that calls for a pitcher of lemonade. Use the Calypso store locator to find a perfect pink lemonade near you.
Joe's Tea
Pink lemonade makes most of us think of old-fashioned flavors that are filled with memories. That is exactly what Joe's Tea Pink Lemonade embodies.
A brand built on nostalgic memories of the owner driving around on Sundays with his dad (Joe), this brand provides a pink lemonade it describes as "summer in a bottle." Created as a way to relive the childhood memories of summers on the lake.
Bright pink and served in easy single serve bottles. This classic pink lemonade is the perfect choice for taking on trips to the lake, beach, or anywhere else you want to feel like a kid again!
Like many other of the best brands, Joe's also offers a spin on the classic with flavored lemonades. While leaning more red than pink in color, these flavored lemonades are another refreshing option.
Strawberry Lemonade
Watermelon Lemonade
Kiwi Strawberry Lemonade
Black Cherry Lemonade
While sold in some stores, these special lemonades are easiest to find by simply ordering directly from the company's website. If you live in New Jersey you can also get local delivery!
Santa Cruz Organic
Since regular pink lemonade is simply lemonade with pink coloring, it makes sense that this brand would not have a simple pink lemonade. Focused on organic and simple ingredients – adding coloring does not align with its mission.
However, while Santa Cruz Organic doesn't have a simple pink lemonade they do have several flavored lemonades with a pink color. For a pink-colored lemonade that has a fun flavor, check out these organic and naturally flavored lemonades.
Raspberry
Strawberry
Blueberry Lemonade
Each of these flavors offers a pink hue, although they are each slightly different. Moreover, they are all more richly colored than a light pink lemonade.
Although Santa Cruz Organic is a specialty brand many mainstream grocery stores carry their products. If you can't find their lemonade at your local grocery store though, visit a health food store like Whole Foods or Sprouts.
Simply Beverages
If your goal is to find a refreshing lemonade that tastes homemade, Simply Beverages is the best brand. This brand's lemonade line is known for its fresh-tasting lemonade that feels like it was made right at home. The perfect balance of sweet and tart flavors. Complete with just the right amount of lemon pulp.
Moreover, the ingredients reflect the same simple ingredients you would use if making your lemonade at home: pure filtered water, lemon juice, cane sugar, and natural flavors.
Like Santa Cruz Organics, Simply focuses on the natural coloring of different fruits to provide a pink hue. Therefore, while you won't find a classic pink lemonade you can choose from two flavored lemonades with natural pink coloring:
Strawberry Lemonade
Raspberry Lemonade
In addition, if you want a pink lemonade that is light on calories (but not color) try Simply Light Lemonade with Raspberry. Made with Stevia, this lemonade is full of flavor but not calories. However, if you do not like the taste of stevia you may not enjoy this lighter option as it does have a slight aftertaste from the calorie-free sweetener.
Simply is sold at most grocery stores nationwide. Including outlets like Target and Walmart.
Newman's
While it feels like you have to choose between the addition of a distinct fruit flavor (strawberries or raspberries) or a pink dye to get pink lemonade, Newman's found the perfect middle ground.
Newman's brand takes their refreshing and tangy traditional lemonade and brightens it up with a bit of grape extract. Staying true to their brand's commitment to no artificial colors, preservatives, or sweeteners.
This bit of grape extract is just enough to give their original lemonade a pink hue and a mild fruity sweetness. However, not so much that you would think you're drinking grape lemonade. The lemonade flavor is still distinct, sweet, and tangy.
This brand is a favorite for those who enjoy a flavor that is truly light and refreshing with the taste of homemade lemonade. Look for Newman's in most grocery stores around the country.
Brisk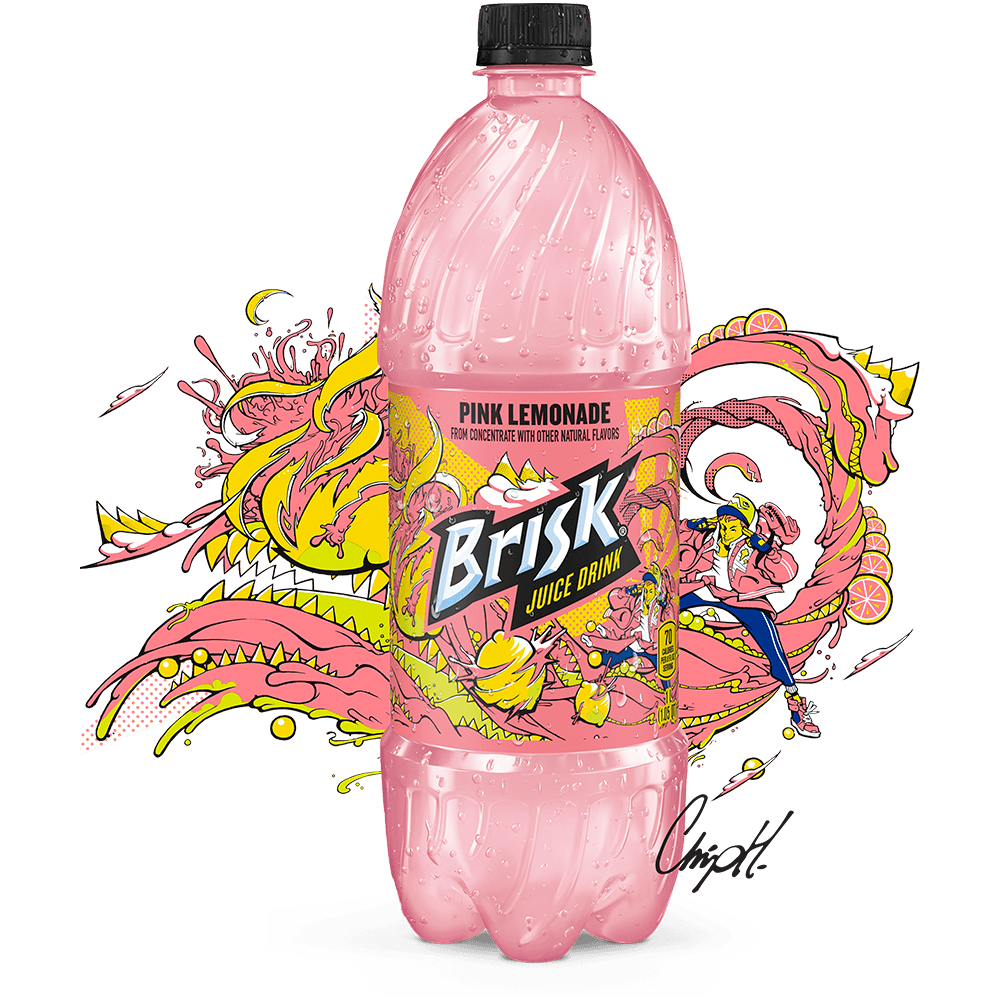 Part of the Pepsi corporation, Brisk was created as a brand that offers on-the-go refreshing beverages. However, unlike Pepsi sodas, Brisk is committed to beverages that are more health-focused. Offering flavorful iced teas and lemonades.
While a take different approach to beverages than soda, Brisk still follows the same bold marketing strategies as its parent company. Using big names in big industries like sports and media. They even sometimes collaborate with artists on their designs.
Therefore, when you grab a bottle of Brisk Pink Lemonade you are getting a visual appeal beyond just the pink coloring. This pink lemonade will not give you a homemade flavor, but is a great choice for an on-the-move refreshing taste that is slightly sweet and tangy.
In addition to their lemonade, Brisk was started as an iced tea brand. Therefore, if you want something less tangy (but still pink) give their Strawberry Melon Iced Tea a try.
Look for this brand in grocery stores and convenience stores across the country.
Crystal Light
Even though many people love the taste of pink lemonade, not everyone loves the calories. Traditional lemonade is made with real sugar. Real sugar equals real calories. This makes pink lemonade a beverage that many only enjoy on special occasions, despite loving the drink.
However, thanks to Crystal Light, pink lemonade lovers can enjoy their favorite tangy sweet drink every day! Without worrying about the calories.
This brand is also one of the best because they offer an option for making a big pitcher of low-calorie pink lemonade or an on-the-go single serve option. Whatever you choose, you still get a lovely pink lemonade in your cup.
In addition to their classic Pink Lemonade you may also enjoy their low-calorie Raspberry Lemonade.
As one of the most popular beverage brands in the nation, Crystal Light can be found in most grocery stores and even online.
Wyler's
Wyler's is not as popular as Crystal Light. However, this brand is a great choice for those who want the same benefits of a sugar free pink lemonade on the go plus vitamins!
Beyond their commitment to offering health in their products, this brand also creates awareness around health. Specifically creating awareness around ovarian cancer. Since 1995, Wyler's has used their brand as a platform to educate and inform its customers and others about the seriousness of this disease.
A brand with a purpose is always included with the best of the best! It's not only their commitment to health that makes them a great brand though, it's their product.
People love the light flavor of this easy-to-drink pink lemonade. Sold in single serving packets, it quickly elevates a bottle of water with a light refreshing taste. Giving you everything you need to quench your thirst and stay hydrated. Want to share the refreshing taste? Try out their pitcher packs to make a whole pitcher of pink lemonade to share with your friends.
These tasty packets can be purchased directly on Wyler's website or on Amazon.
Snapple
Around since the early 1970s, Snapple had a big resurgence in the 1990s. With their assortment of fun flavor juice combos and real facts on their bottles, this brand was a favorite for many.
While they didn't go anywhere, they have come back around in recent years with new popularity. Especially since adults have sought out their favorite childhood and teen flavors, including Snapple's classic Pink Lemonade.
This lemonade has a cool and crisp flavor that some say leans towards a more acidic tangy taste. Fans of this classic have said it is the best-bottled lemonade brand they have come across.
While the pink lemonade is still sweet, if you want a pink drink that is a bit sweeter try one of Snapple's other juice drinks:
Watermelon Lemonade
Kiwi Strawberry
Zero Sugar Kiwi Strawberry
To get your hands on this favorite brand check out the selection on Amazon. You can also look at your local Walmart, Target, or grocery store.
Smirnoff
Pink lemonade may remind you of your childhood but that doesn't mean you can't embrace the memories of past summers while embracing the freedoms of adulthood. This is exactly what Smirnoff was aiming for with their Pink Lemonade flavor.
Known as a classic choice in vodka and ready-to-drink adult beverages, Smirnoff has two choices for an adult spin on this classic beverage.
Smirnoff Pink Lemonade is sold in regular size cocktail bottles. Made by infusing the vodka with strawberries and raspberries, this new summer flavor is a perfect balance of tangy lemons and sweet berries. Perfect to enjoy on its own or as part of a new summer cocktail.
Smirnoff Ice Pink Lemonade is the brand's ready-to-drink version of this classic. Sold in their standard ready-to-drink glass bottles, you will love the nostalgic look and taste of this adult pink lemonade. Perfect for pairing with your favorite adult summer events at the lake, beach, or backyard.
Look for Smirnoff Pink Lemonade and Smirnoff Ice Pink Lemonade at your local liquor store. Depending on where you live, you may also find Smirnoff Ice Pink Lemonade at the grocery store.
Emergen C
This may not be the go-to pink lemonade for a party, but if you are feeling a little under the weather and need a tasty vitamin boost then reach for Emergen C Pink Lemonade packets.
With 1,000 mg of Vitamin C, these individual packets are packed with vitamins and minerals to help you kick a cold, with the flavor of fun in the sun. A perfect way to enjoy your favorite pink drink while getting better.
While this flavor is not as popular in the stores as their classic orange, you can easily find it online at Amazon.
Conclusion
So, there you have it—all the brands of pink lemonade you could hope for.
There are so many pink lemonade brands out there, and the popularity of this amazing summer drink is only growing. So if you're looking for a new brand to try, we hope this list was helpful!
It's important to remember that not all of these brands are created equal, and some are better than others. If you're looking for the best pink lemonade out there, we recommend trying as many brands as possible and seeing which one tastes best to you.
If you have any questions about any of these brands or the benefits of pink lemonade in general, feel free to reach out to us. We'd love to hear from you!
Good luck!
609 Lemonade Stand Slogans To Boost Your Summer Sales