It's wintertime, so it's time to hit the slopes with your skis. However, before you head out onto the snowy hills, you need the best gear to keep you protected and warm.
Ski wear clothing brands are a dime a dozen, so it can be overwhelming to try and find the best gear out there.
In addition, everyone knows that skiing can be a notoriously expensive sport. However, you can still enjoy the slopes with ski wear brands that make quality gear more affordable.
We've rounded up 31 ski clothing brands to choose from, whether you're looking for an affordable jacket or a luxury ensemble.
Patagonia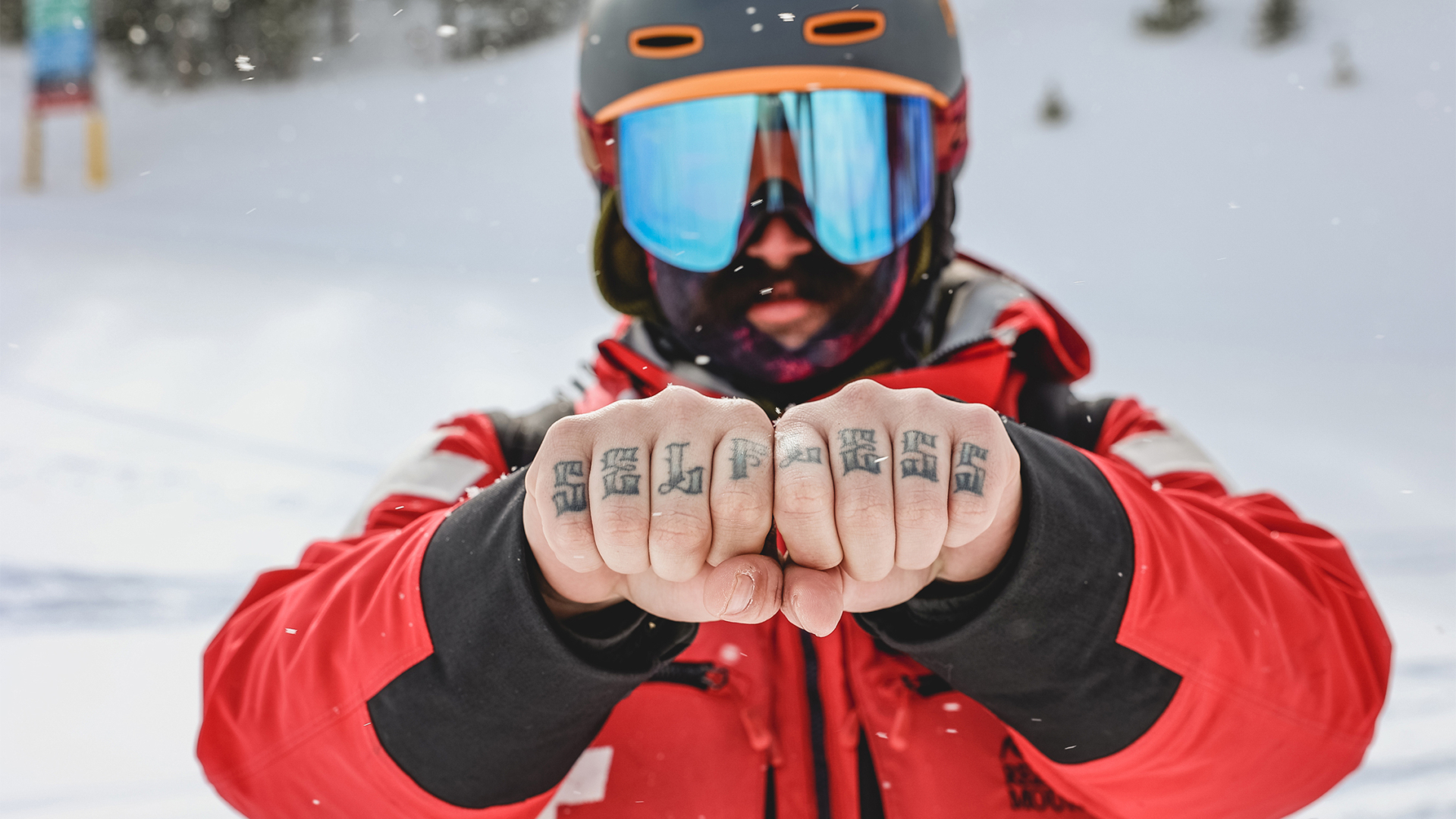 Patagonia is your one-stop shop for all things outdoors. This California-based brand is a favorite among avid nature lovers, for good reason. It has everything you need for some high-quality fresh air, including durable ski gear for men and women.
You really can't go wrong with the outerwear from Patagonia. For example, the Nano-Air and Micro Puff jackets are famous for their impressive warmth-to-weight ratio. So you won't feel bogged down while skiing but you'll stay warm.
In addition to creating durable, versatile outdoor gear that will last for years, Patagonia is a leader in eco-fashion. Up to 87% of all Patagonia clothing uses recycled nylon, polyester, and wool materials. Also, the brand emphasizes fair and ethical trade practices in its supply chain.
Ortovox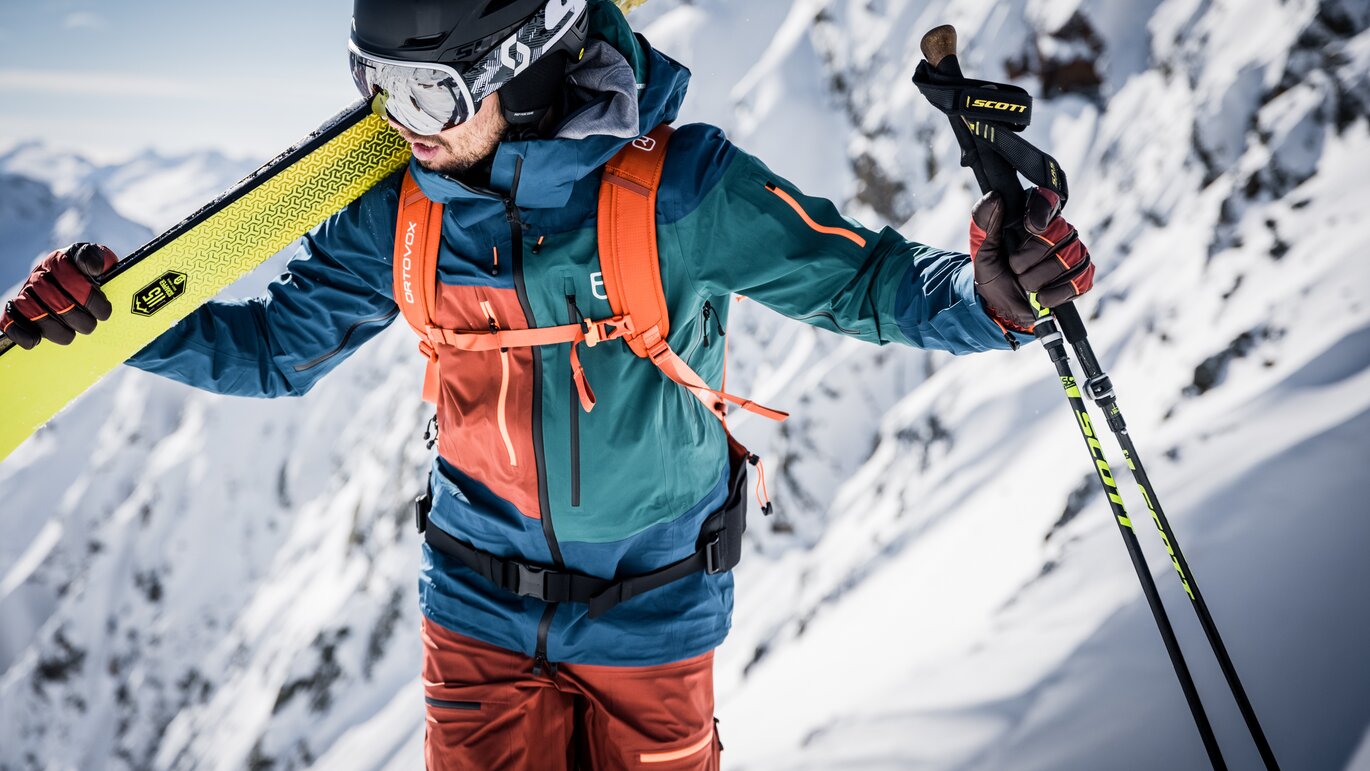 Ortovox, based in Germany, creates some of the best backcountry ski gear on the market. Its award-winning designs put protection and utility above all else.
The brand offers a range of specialized ski wear developed to accommodate different skiing styles. Whether you're into freeriding, ski touring, or high alpine adventuring, Ortovox has durable, lightweight jackets, bibs, and pants. In addition, the brand produces high-performance mid layers made with merino wool to guarantee maximum warmth.
Ortovox takes skiing very, very seriously. In addition to your typical ski wear, the brand also produces emergency safety equipment like avalanche backpacks and transceivers. In addition, the brand sponsors avalanche safety courses to ensure backcountry and freeriding skiers are equipped with the knowledge they need.
The North Face
The North Face is a California brand founded in the 1960s. It has since become a worldwide household name because of its versatile, wide-ranging outdoor products and athletic gear. In addition, it is an approachable brand to shop if you are a beginner skier or want to outfit yourself on a budget.
The North Face is on the more affordable end of the ski wear spectrum. Like Patagonia, it offers everything you need for the winter ski season and then some. In addition to sturdy jackets, it produces durable, quality ski gear like bibs, boots, and gloves.
Its ski wear ranges in price from $80 up to $800, which is relatively affordable compared to other ski brands. But don't worry, you won't sacrifice quality. The North Face has a good reputation for crafting long-lasting, durable clothing.
Canada Goose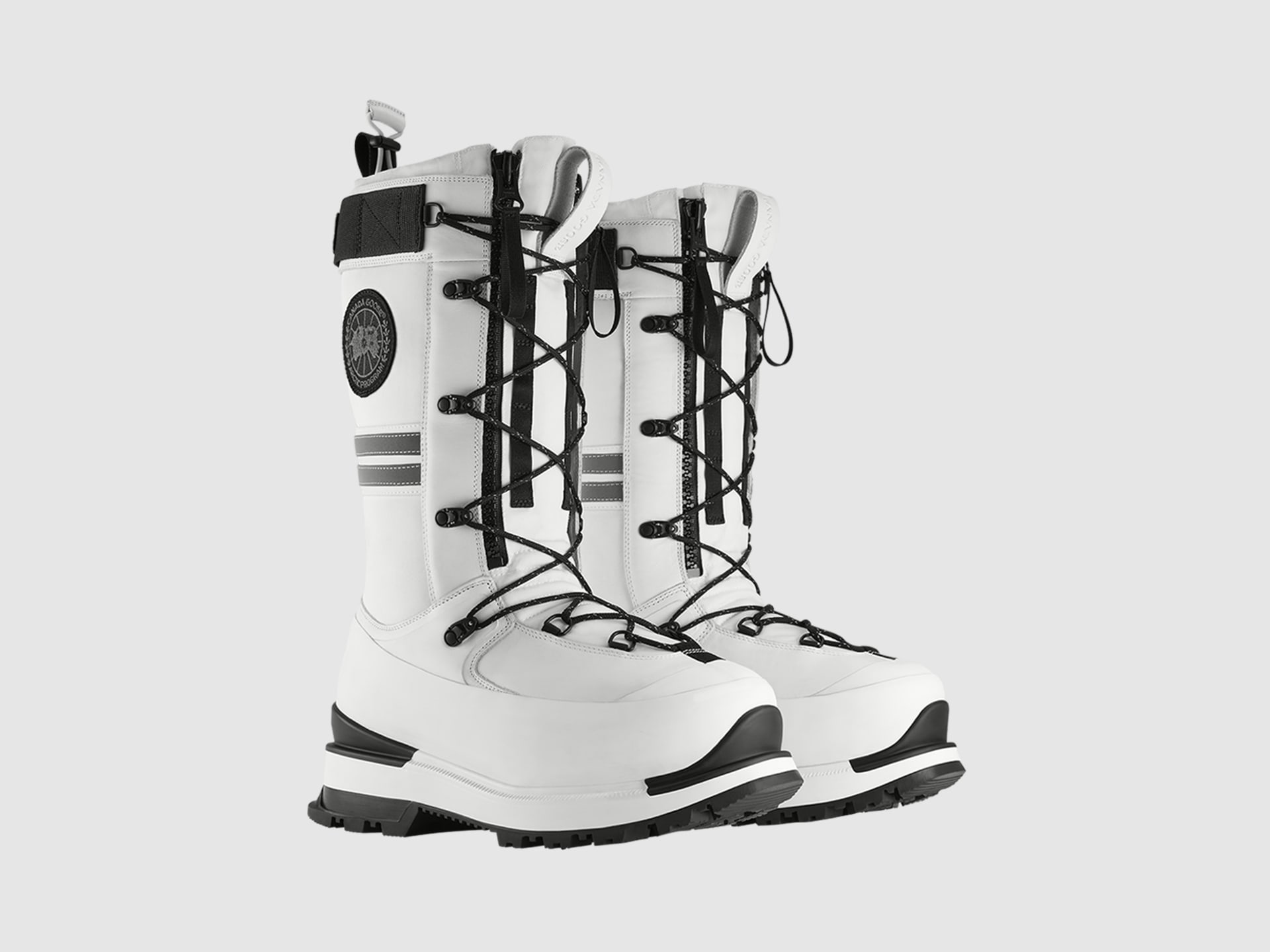 Canada Goose is a luxury ski brand known for its Arctic-ready performance gear. Its heavy-duty apparel doesn't mess around when it comes to staying warm. As you shop their site, the brand even outlines the lowest temperatures each piece can endure.
Canada Goose offers luxury winter wear for the minimalist skier. Its streamlined parkas, snow pants, and jackets have little to no ornamentation beyond the brand's iconic red, white, and blue patch. Fur-lined hoods and the occasional trendy pastel color keep the brand modern and fresh, but it always puts endurance first.
The brand is best known for its high-quality parkas, but it also offers a small selection of pants and other winter outerwear. Its Resolute Parka can withstand temperatures down to -22°F and is a fan favorite among Arctic explorers and researchers. Whether skiing or hiking, you're guaranteed to stay warm out in the snow when you wear Canada Goose.
Outdoor Research
Outdoor Research creates practical, versatile winter gear built to keep you warm and safe on the snowy mountains. The brand began after founder Ron Gregg's traumatic experience of his backcountry hiking partner getting severe frostbite because of inadequate gear insulation.
The brand designs winter gear to give people the insulation, freedom of movement, and durability they need while out in the elements. Its gloves, jackets, pants, and more are comfortable and durable so that you can stay out skiing longer regardless of the weather.
Outdoor Research makes it easy to shop for the ski gear you need. Its website has collections emphasizing breathability, versatility, warmth, and more. Its "Stretchy Protection" collection is particularly popular for its GORE-TEX protection and comfy cuts.
Columbia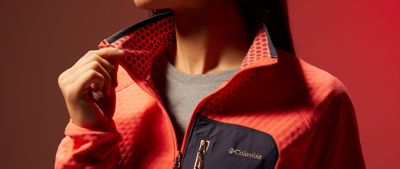 Columbia is one of the oldest and most established sportswear brands in the United States. It started in 1938 as a small hat distributor and has since grown to an international brand that produces classic outerwear and sportswear.
Columbia's ski wear is simple, straightforward, and efficient. Its insulated jackets, heavy-duty pants, and super warm base layers do the job without looking too flashy. In addition, the brand offers quite a range of winter wear, from waterproof puffer jackets to thinner fleece that's perfect for the lodge.
The brand is constantly improving upon its old designs and technologies. For example, it recently developed a new thermal technology called Omni-Heat Helix that improves its garments' breathability and insulation.
Flylow Gear
Greg Steen and Dan Abrams, two friends who weren't finding adequate gear for their backcountry skiing adventures, started Flylow Gear in 2005. The Colorado-based brand is a favorite among skiers for its no-nonsense approach to durable ski wear.
Flylow's ski wear isn't just durable but modern and fashion-forward. Its lightweight ski jackets and bibs come in trendy colorways like burnt orange, mustard, and lilac. Also, its efficient cuts and silhouettes are sleek and won't make you look bulky.
The brand has a massive range of products, and you can't go wrong with anything in its lineup. Each piece uses durable, innovative fabrics that allow breathability and insulation for all types of winter weather.
Norrøna
If any brand knows how to gear up for the snowy slopes, it's the Norwegian-based label Norrøna. Founded back in 1929 by outdoorsman Jørgen Jørgensen, Norrøna crafts high-quality, high-end ski wear worth the splurge.
The brand organizes its ski wear based on activity. Shoppers can choose gear best suited for backcountry, freeriding, or ski touring. Each ski wear collection is durable and practical, with an emphasis on things like material weight and breathability.
The family-owned brand is known for its innovation and craftsmanship. In fact, Norrøna was the first European brand to produce a GORE-TEX jacket. In addition, the brand continues to research and develop new materials for its gear that improve movement, breathability, and versatility.
Strafe Outerwear
Colorado is known as a ski-worthy destination, so it's no wonder that two athlete brothers in Aspen established Strafe Outerwear. The brand is building outerwear that performs across every weather condition possible.
Strafe offers a wide selection of sporty, sleek ski wear perfect for both the backcountry and the resort. Patterns and colors like camouflage, neon green, and pastel pink make Strafe's designs appeal to a younger base while providing support, flexibility, and durability.
The brand's most popular pieces are its Pyramid Shell Jacket and Nomad Bib Pant. Both are highly rated and built from advanced waterproof fabric that will keep you warm and insulated without overheating.
Picture Organic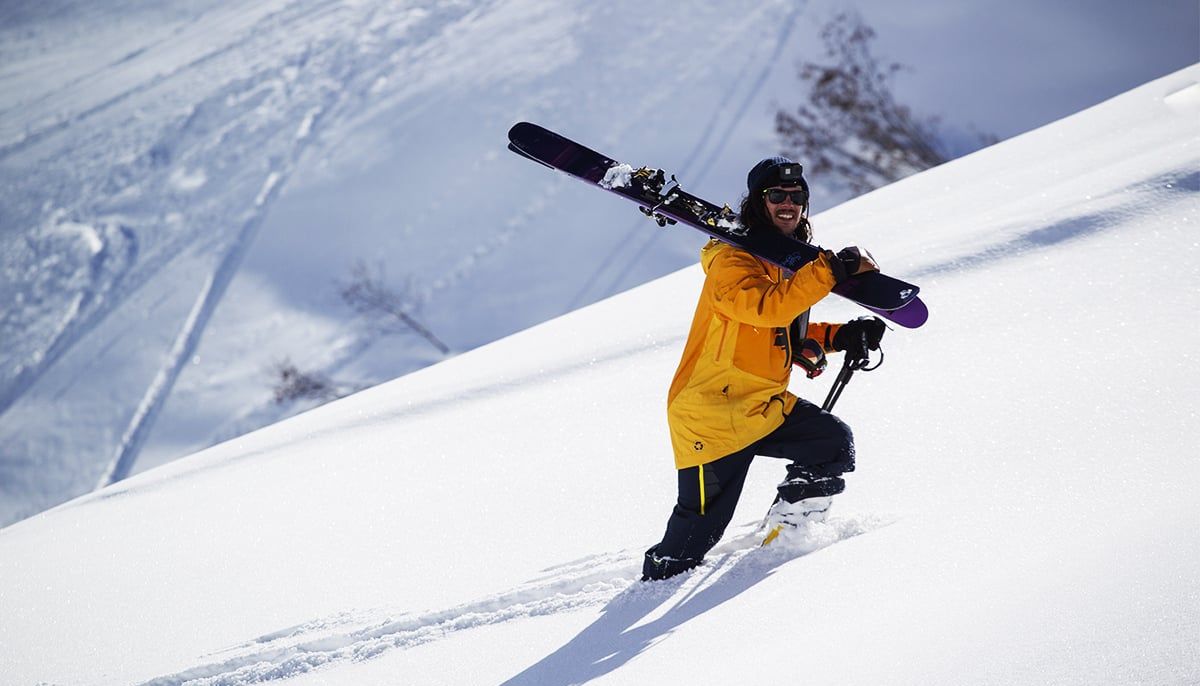 Picture Organic is the younger French version of Patagonia. Sustainability is built into Picture Organic's roots, making it the perfect brand for the eco-minded skier.
The brand offers plenty of ski wear options for men and women. Its designs are reminiscent of many American skate brands, with muted olives, browns, and grays used in its colorways. Picture Organic's bibs and ski pants are limited, but it offers plenty of ski jackets, puffers, and fleece pullovers.
Picture Organic is a certified B Corporation that makes strides in its sustainable production practices. For example, the brand uses recycled polyester, organic cotton, and lyocell fabrics to minimize its carbon footprint. It also plans to reduce its reliance on polybags and other non-sustainable packaging.
Mammut
Mammut is legendary in the world of ski wear fashion. The Swiss brand began in 1862 and is still relevant today thanks to its ability to adapt, pivot, and maintain its high-quality reputation.
Mammut's ski wear is sporty, sleek, and streamlined. With over a century's design experience, this brand knows how to build durable, comfortable snow jackets and pants. For example, its signature Photics Thermo Hooded Jacket is touted as the world's first completely waterproof down jacket.
Although many heavy-duty fabrics are known to harm the environment, Mammut is trying to change that. The brand recently adopted a more sustainable approach to producing its pieces and plans to reduce the use of harmful chemicals and plastics in its fabric sourcing.
TREW Gear
TREW Gear got started with a simple pair of bibs. This Oregon-based company developed a lightweight, waterproof pair of bibs that could withstand rugged backcountry skiing. The TREWTh bib was a hit with local skiers, and the brand took off.
Today, TREW Gear offers its classic bibs as well as new base and mid-layers. Its designs are refined and fashion-forward, providing skiers with plenty of insulation, comfort, and pockets. For example, its ski jackets use durable woven nylon that is stretchy, breathable, and waterproof.
The brand is expanding quickly but maintains its small business mindset. For example, TREW recently collaborated with fellow Oregon brand Deadstock Coffee to create a special edition line of its backcountry gear. Also, it only sells its products online or in select locations in Utah, Colorado, and Oregon.
Moncler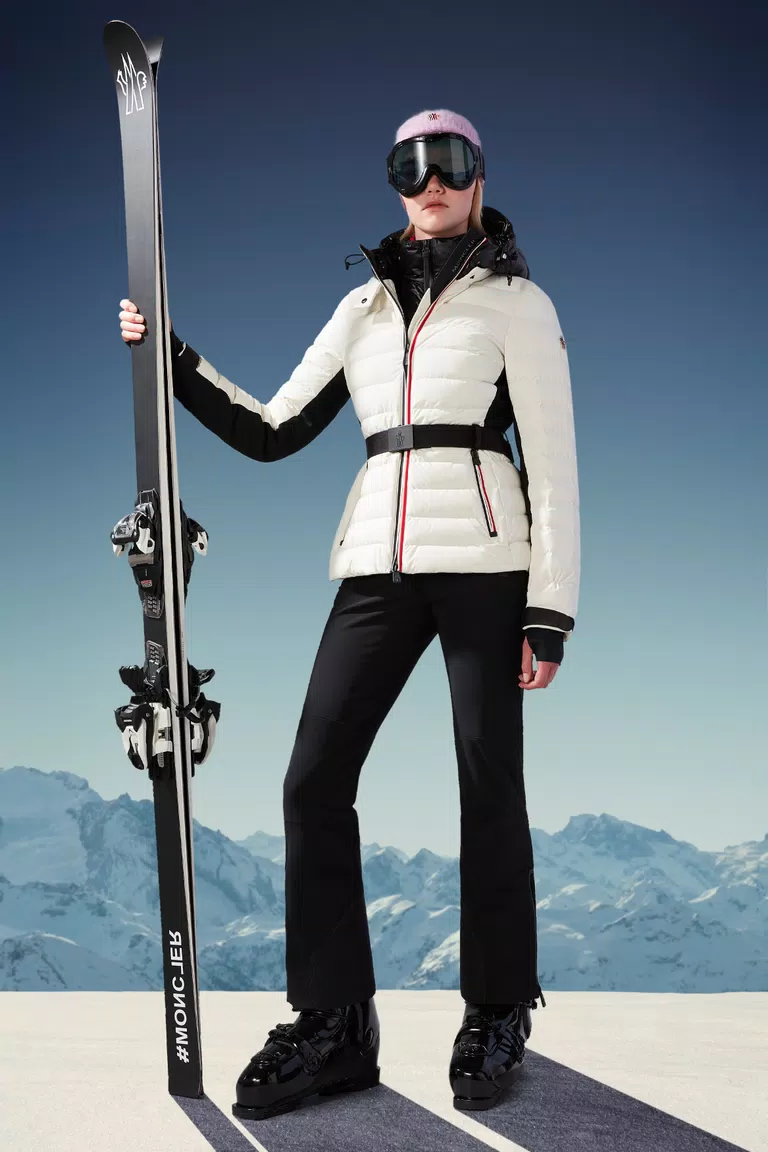 French luxury ski brand Moncler entered the scene in 1954 when its K2 Expedition Jacket equipped explorers to summit the world's second-highest mountain range. Since then, Moncler has crafted winter and ski wear of the highest quality.
The Moncler Grenoble line, in particular, offers heavy-duty, fashionable ski wear for men, women, and children. Classic durability and versatility combine with innovative, edge silhouettes and tailoring to create a modern, street-style feel.
Moncler's Grenoble collection also includes après-ski clothing like graphic hoodies, fleece sweatpants, and quilted shackets (a shirt and jacket combo). The brand's designer price tag makes it a worthwhile, long-term investment for luxury skiers.
Bogner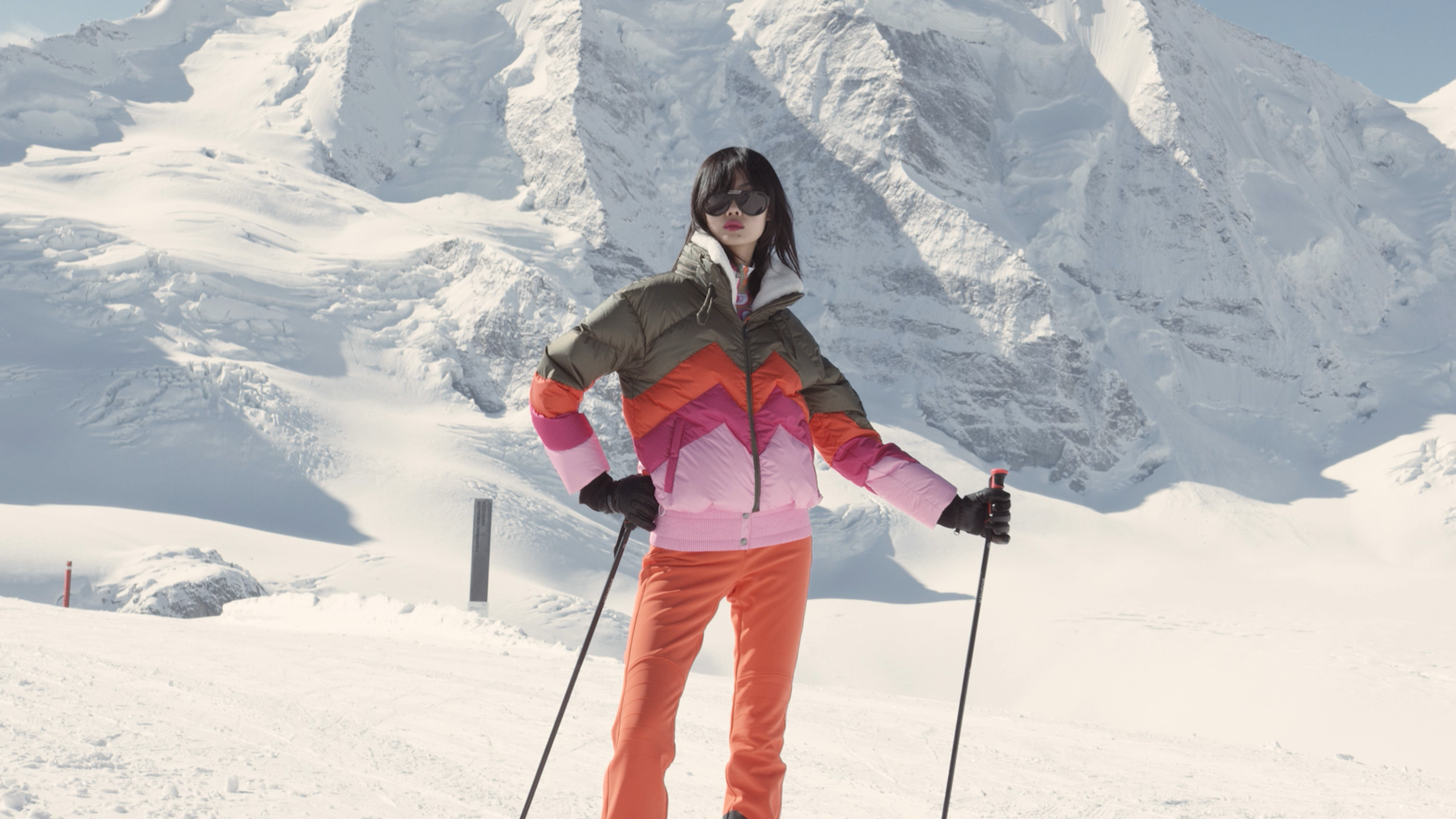 Founded in 1932, Bogner has been one of Germany's top luxury ski wear brands for almost 100 years. Its men's and women's ski wear is renowned for elegant durability and a designer aesthetic.
The brand oozes luxury through and through. Bogner's pieces are well-made, chic, and versatile, from base layers to heavy-duty ski jackets. Each piece is constructed with plenty of insulation and pockets but with a sleek, fashionable design.
Bogner makes some of the best ski gear in Germany and is constantly improving upon its classic designs. The brand has even officially outfitted the country's ski team for decades, in addition to other top European ski teams.
Aztech Mountain
Founded in 2013 by Heifara Rutgers and David Roth, Aztech Mountain creates stylish winter wear that works on and off the slopes. This luxury brand brings Y2K streetwear trends to the mountain, making it stand out in the luxury ski wear scene.
Aztech's skintight, psychedelic base layers, neon puffer jackets, and bold ski pants would fit equally at a ski resort or a Bad Bunny concert. But don't be fooled. Its designs are fun but don't skimp on durability or quality.
The brand's attention to detail, high-quality tailoring, and breathable, warm materials ensure you get the best performance possible out of your Aztech gear. Professional athletes vouch for the company's quality, and it expanded into women's ski gear just a few years ago.
BLACKYAK
BLACKYAK advertises its gear as "the last products you will ever need," and they're not wrong. This South Korean mountaineering and outdoor apparel brand creates durable ski wear of the highest quality.
BLACKYAK's pieces are developed and classified as base layers, mid layers, insulation pieces, and shell outerwear. Each piece can be layered to create a complete, insulated, durable outfit that can withstand the elements while skiing. In addition, each layer is made of different high-quality materials to ensure ultimate technical performance.
Many of BLACKYAK'S ski wear is multifaceted and can be used for other outdoor activities and seasons. For example, its merino base layers make great breathable shirts for summer. However, the ultimate winter garment is the Watusi Expedition Suit, which is definitely only suitable for high altitude and freezing conditions.
HOLDEN
Based in Venice, California, HOLDEN creates edgy performance fashion that can easily transition between streetwear and ski wear. HOLDEN's pieces are multifaceted and pull from modern trends.
The brand crafts outerwear that is bold, colorful, and modern. Its insulated ski jackets and puffers have voluminous proportions, while its ski suits play with trendy color palettes like lavender and chartreuse. In addition, durability and warmth are in all HOLDEN pieces, using sustainable performance fabrics like Primaloft and Toray Dermizax.
HOLDEN also offers a range of ski accessories and knit base layers. For example, nylon-insulated pullovers, 100% wool hoodies, and moisture-wicking balaclavas are just a few staple pieces offered by the brand.
Arc'teryx
Arc'teryx was founded in 1989 in British Columbia and has since become one of the leaders in high-performance outerwear. Known best for its incredibly durable and weatherproof ski jackets, the brand constantly uses science to improve its classic designs.
Arc'teryx designs for performance first and aesthetics second. The brand has a partnership with GORE-TEX to create proprietary heavy-duty outerwear you can't find anywhere else. Its gear comes in basic colors with a practical design in mind. Wearing Arc'teryx means you're on the slopes to perform, not show off.
Like most high-quality ski wear, Arc'teryx is the opposite of fast fashion. Its gear is built for the long run and will last for decades, if not longer. Although still pricey, the brand offers ReGEAR, an online store where you can purchase pre-loved Arc'teryx gear.
Kjus
Kjus strikes a delicate balance between luxury and technical quality. Kjus' craftsmanship and materials are of the highest quality, but its pieces will still keep you warm while on the slopes.
Founded by ski champion Lasse Kjus, the luxury brand creates fully functional, durable, and efficient gear. It creates base, mid, and top layers that adhere to a muted, classic color palette and classic cuts.
The brand's designs are a bit more understated than other, more trendy, luxury ski wear brands. However, it's the perfect fit for skiers who want the luxury look while getting the best technical performance out of their gear. You won't necessarily stand out wearing Kjus, but you won't look frumpy.
Fusalp
Hailing from the French Alps, Fusalp was founded in 1952 by two tailors. The brand's classic, timeless designs are a masterclass in ski-chic tailoring.
Fusalp is best known for its iconic stirrup pants and ski suit. Its ski wear is durable and warm without being frumpy. The brand's roots in fine tailoring mean its ski pants are sewn in a way that elongates the leg, slims the figure, and provides freedom of movement. Its heavy-duty ski jackets and base layers are also effortlessly chic.
The famous brand has outfitted several Olympic skiers throughout the decades, including the Monaco Olympic Committee in 2018 and Guy Périllat in the 1960s. Fusalp continues to be one of the top luxury ski wear brands, with several flagship stores in Europe, Asia, and the United States.
Halfdays
Halfdays creates on-trend ski wear basics for women. The start-up brand intends to make skiing and winter wear fun and accessible for women of all shapes, sizes, and backgrounds. It was founded a couple of years ago by Olympian Kiley McKinnon in collaboration with Karelle Golda and Ariana Ferwerda.
Halfdays' designs are comfortable, flattering, and made for the female form. Its fashionable silhouettes and cuts are functional, too. Its popular eco-friendly Lawrence Jacket, for example, is made from quality PrimaLoft Eco insulation and comes in various colors.
Another great thing about Halfdays is that its ski wear is size inclusive. For example, its bibs, pants, and jackets go up to size 2X. In addition, its models are realistic sizes to give shoppers a better idea of how its pieces will fit them.
Perfect Moment
Perfect Moment creates high-end, luxury ski wear that looks good on and off the slopes. Its designs infuse streetwear elements like bold patterns and logos for a more youthful, fashion-forward aesthetic.
Perfect Moment's ski gear is ideal for those interested in a more casual day of skiing. You'll be après-ski chic and ready with the brand's sleek houndstooth ski pants, flared bibs, and chic puffer jackets. There is also a selection of athletic knitwear for your cozy evening in the lodge.
The brand also collaborates with well-known companies like Goop and DL1961. In addition, Perfect Moment is a favorite among celebrities. It even released curated collections of après-ski gear handpicked by power couple Priyanka Chopra and Nick Jonas.
Salomon
Salomon is one of the best and most well-established European ski wear brands. Established in the French Alps in the 1940s, Salomon strives to enhance the sport of skiing with high-quality clothing and equipment.
Salomon's tops and bottoms keep you warm, dry, and comfortable for long days on the slopes. Its GORE-TEX pants, insulated jackets, and essential mid-layers prioritize functionality and versatility.
The brand's designs are minimalist, practical, and built for rugged use. It's an excellent ski wear brand for athletes who want top-quality gear for an affordable price. In addition, Salomon offers a wide range of other ski essentials like goggles, helmets, and boots. The best part is that getting outfitted in Salomon gear won't break the bank.
DESCENTE
In 1957, Japanese brand DESCENTE released the RWSB jacket, a lightweight ski jacket that was revolutionary and easy to carry. Since the brand launched this iconic design, DESCENTE has made a name for itself as one of the best ski wear brands.
DESCENTE's designs are practical and functional and use the most up-to-date technical fabrics. In addition, the brand is renowned for the technology it develops and incorporates into its pieces, such as its Motion 3D fabric and Thermal Circulation System.
The brand is a go-to line for serious skiers who want gear that will enhance their experience, give them freedom of movement, and withstand any wear and tear. Its insulated jackets, thermal mid-layers, and shell pants are worthwhile investments that will last for years.
AETHER
In 2009, AETHER's co-founders Jonah Smith and Palmer West left the movie industry and forged a new path in outdoor apparel. Over ten years later, AETHER continues to create high-quality, durable clothing for skiing, hiking, and more.
AETHER'S outdoor apparel can withstand any adventure. Its ski and winter wear, particularly, is built with durability. For example, its ski jackets are waterproof, seam sealed, and resistant to extreme temperatures.
Although AETHER's ski wear offerings mainly focus on heavy-duty jackets, it does offer some ski bibs and pants for men and women. They're worth a look because they use 3-layer stretch and GORE-TEX fabric for ultimate breathability and strength.
Goldbergh
Amsterdam-based lifestyle brand Goldbergh is all about creating fashionable sportswear that is freeing, fun, and adventurous. Founded in 2009 by sportswear designer Lieke van den Berg and entrepreneur Sandra Peet, the luxury brand creates women's clothing that works in the chalet, the city, and the gym.
Goldbergh brings fierce, feminine looks to the ski slopes. Neon pinks, bright reds, and glistening gold hues are hallmarks of the brand's designs. Faux fur and fuzzy fleece are also fun elements to its après-ski pieces.
The brand's skiwear is comprehensive, including bibs, jackets, and base layers that all match. Beneath Goldbergh's girly aesthetic is high-quality construction that shoppers shouldn't underestimate. Fabrics and materials like PrimaLoft, down feathers, and recycled polyamide ensure you stay warm and snug while looking cute.
Cordova
The world of skiing and ski wear is often criticized for being male-centric, but Cordova is here to change that. The brand's luxury ski wear is for fashionable women focused on performance.
Cordova is all about creating expertly tailored ski wear that people can wear on and off the mountain. For example, its bodysuits double as a sleek basic and a warm base layer. Its matching ski jackets and pants come in trendy monochromatic hues like pastel yellow, caramel, and balsam green.
While the brand's gear isn't best for extreme backcountry skiing, it will get the job done at the alpine ski resort. Its latest 2023 collection harkens to 70s ski silhouettes with dramatic collars and sporty side piping. Also, how can anyone say no to this dramatic, slightly impractical trapper hat?
Superdry
UK-based clothing brand Superdry draws influence from American, Japanese, and British styles to create super hip, street-chic clothing. In addition to its regular women's and menswear lines, the brand produces high-performance ski and snowboard gear.
Superdry's minimalist, sporty base layers and outerwear combine the brand's urban vibe with utility, durability, and efficient design. For example, bold lettering is on most of its ski jackets and beanies. Also, its ski gloves and outerwear come in sleek cuts and modern colors.
Its ski pants, leggings, and waterproof jackets are on the more affordable end of the ski wear spectrum. While not the most luxurious or high-quality, Superdry is a great brand to start with when building your essential ski wardrobe.
Rossignol
Rossignol is a mainstay brand in the world of French ski wear. Founded in 1907, the brand is a pioneer in exceptional craftsmanship. In fact, Rossignol was one of the earliest companies to produce plastic skis in the 1960s.
The brand's timeless basics are simple, straightforward, and efficient. Its ski jackets, compression tops, and zip layers are more in line with sleek athleticwear than luxury clothing because it's built for precision and technical performance.
Rossignol is an excellent ski wear brand if you want long-lasting, high-quality ski wear that isn't too flashy. Its pieces are guaranteed to maximize your time on the slopes with its immaculate construction.
Alps & Meters
The Massachusetts-based brand Alps & Meters was born after its founders took a ski trip in Sweden. Drawing inspiration from that fateful trip, the brand celebrates classic alpine apparel by incorporating traditional motifs and vintage styles.
Alps & Meters' pieces are "tailored, technical, and timeless." The brand utilizes natural materials and classic construction techniques to bring vintage ski traditions into our modern times. Its jackets, pants, and other outerwear have an organic, timeless feel but live up to modern-day standards regarding durability and moisture-wicking technologies.
The brand moves American skiing traditions forward with its innovative collections and collaborations. In 2021, the brand released a collection created with the Land Rover US Alpine Ski Team. Proceeds from the branded casual wear go toward the team's programs that foster the next generation of athletes.
Toni Sailer
Toni Sailer, named after the famous Austrian skier, creates premium, sporty ski gear that will make you stand out against the bright white of the snow. Its bold color palette is paired with a high-performance design to create durable, flexible ski wear.
Toni Sailer has everything you need to ski safely and warmly. You can choose from lightweight base layers like quarter-zip pullovers, shiny, plush ski jackets, and hybrid mid layers like the fleece and PrimaLoft Linda zip-up. The brand is also versatile because it offers a range of bright, loud colors alongside more muted neutrals.
The brand uses the highest quality proprietary fabrics, including jet material, innovative thermal shells, and merino tech wool. Its modern, sleek designs reflect the brand's constant evolution and innovation in creating the best ski wear.