Venus is a clothing store that needs no introduction. The online retailer is beloved among fans for its on-trend, fashion-forward womenswear, swimwear, and lingerie. If you're a Venus fan, you already know that it's famous for its high-quality, affordable looks that stand the test of time.
Even if Venus is your favorite place to get new clothes, you may want to jazz things up in your closet. Well, we're happy to report that there are plenty of clothing stores out there that offer a similar style to Venus.
Whether you're looking for a few new wardrobe staples or an on-trend refresh, these brands have something for you. Here are 23 clothing stores like Venus to explore.
LASCANA
If you're looking for other stores like Venus, the best place to start is LASCANA. The online retailer is a sister company to Venus, which are both owned by the Otto Group. Like Venus, LASCANA features on-trend womenswear, swimwear, and lingerie at reasonable prices.
LASCANA's clothes have an overall resort wear vibe, much like Venus. You can find flowy tops, floral dresses, and comfortable joggers that are easy to dress up or down, depending on the occasion. For example, its paisley jumpsuits and floral maxi dresses look good whether you're on the beach or going out to dinner.
In addition to vacation-ready looks, LASCANA also has professional attire and cold-weather pieces. There's a wide selection of cozy sweaters, satin tops, and cropped pants that are perfect additions to anyone's office attire.
ZIMMERMANN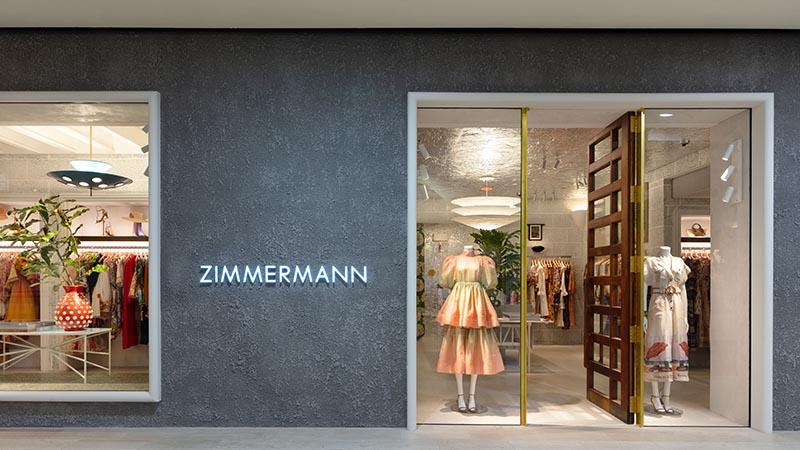 ZIMMERMANN is luxury fashion's answer to Venus. If you're willing to spend a pretty penny on high-quality, luxury resort wear, ZIMMERMANN is the brand for you. The Australian designer brand is known for its sophisticated, feminine styles for those who love to turn heads.
The brand is known for its eclectic patterns, cheerful use of color, and expert use of volume and ruching. Its Resort 2023 collection is full of flowy dresses, and breezy separates with boho and sailor influences. ZIMMERMANN takes Venus' love of floral one step further with its use of gorgeous cut-out flower appliques on its dresses, skirts, and tops.
In addition to its luxurious resort wear apparel, ZIMMERMANN makes luxury swimsuits that are to die for. Choose from standouts like a paisley one-piece with a plunging neckline or a frilly crochet bikini. The brand also has many classy accessories like sunglasses and wicker bags to complete your vacation-ready look.
Chico's
Chico's is your store if you love Venus's breezy style but want something a bit more mature or modest. Chico's has many parallels to Venus because it is also based in Florida and was founded in the 1980s. Both brands do an excellent job of creating fashion that looks great but remains comfortable.
At Chico's, you can find colorful tops, artfully patterned dresses, and classy one-piece swimsuits. Its style, like Venus, gives off a vacation vibe with its bright color palette and love of lively patterns. You can also find excellent staple pieces like fluttery blouses and bermuda shorts that pair well with pretty much anything.
Chico's is an excellent alternative if you want to add some upscale pieces to your wardrobe rotation. Chico's is on the pricier side, but you get what you pay for. Its styles are timeless and made with high-quality materials and craftsmanship, so a piece from Chico's will last for years.
Zara
If you love Venus but want to add a chic edge, check out Zara. The world-famous Spanish retailer has an overwhelming amount of styles and cuts, so there are bound to be new pieces that fit right into Venus's breezy aesthetic.
From semi-formal styles to athleisure wear, Zara has it all. It's a great option to stock up on versatile basics and on-trend styles to update your closet. Many of its new releases lean into the 90s and Y2K fashion trends, but in a timeless way. Your Zara pieces won't be in today, out tomorrow.
Zara's styles target a younger crowd than Venus, but that doesn't mean there's no overlap. For example, Zara offers plenty of breezy, comfortable dresses in color block prints and delicate satin. Also, its button-up blouses feature bold patterns that any Venus shopper will love.
J.Jill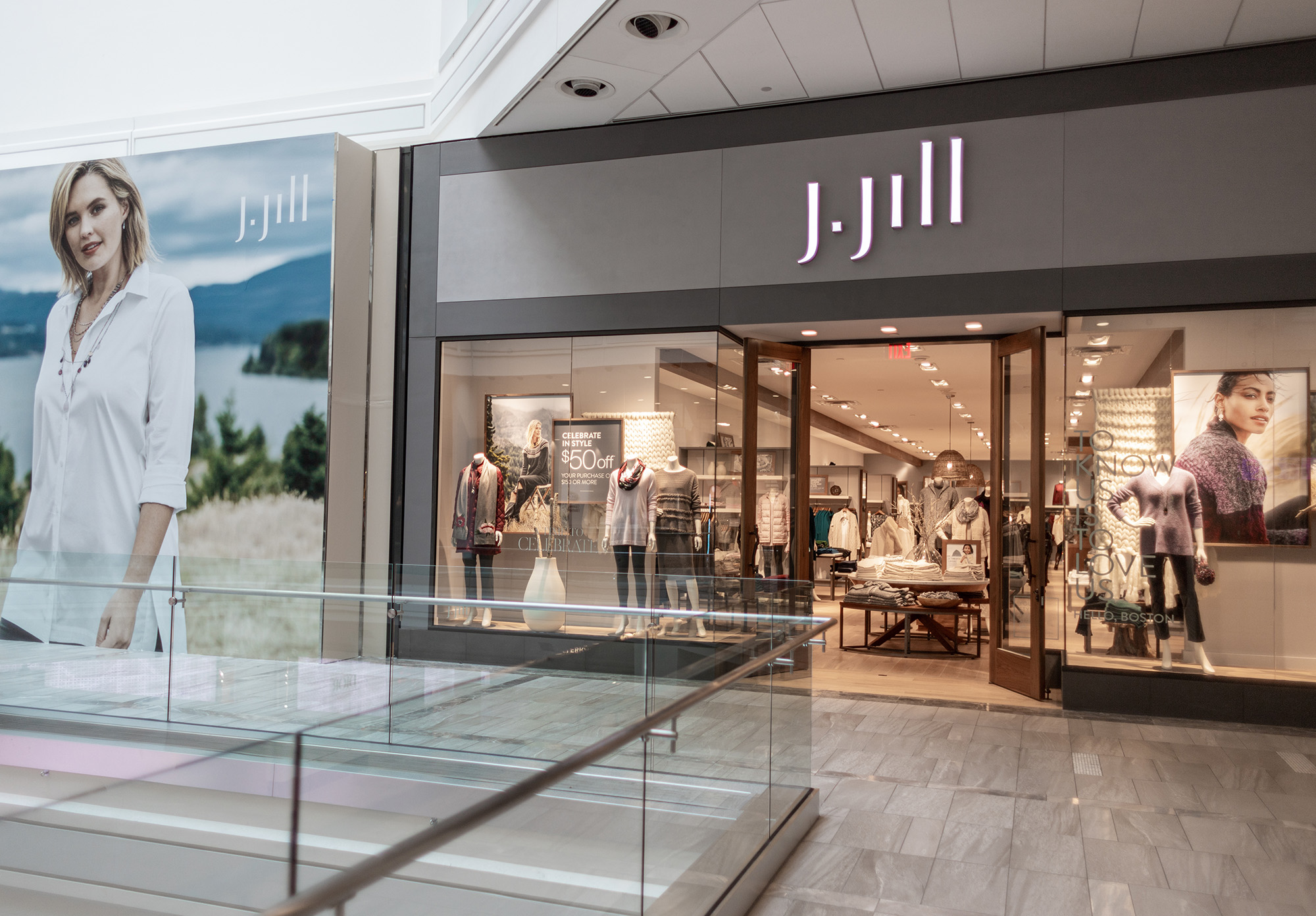 J.Jill creates clothing for the woman with a full, fun life. The Massachusetts brand proudly focuses on timeless styles for women over the age of 45. But don't let the brand's older demographic fool you into thinking of stuffy sweaters and frumpy shirts. J.Jill channels modern looks with a classic feel.
If you love the florals and patterns from Venus but want something more grown-up and refined, J.Jill has it. For example, its mixed-print tunics and flowy peasant tops are relaxed enough to wear on vacation but versatile enough to wear to work.
J.Jill also offers feminine, flowy dresses and skirts that fit into Venus's boho-inspired aesthetic. Paisley prints and tiered silhouettes are paired with modern tailoring and comfortable necklines to create versatile pieces that any woman can easily mix and match.
Altar'd State
Altar'd State is a unique brand in the fashion world. Founded in 2009, Altar'd State is a faith-based womenswear brand that gives back to the community and uses its profits to help those in need.
Altar'd State serves chic boho looks that pair perfectly with Venus's feminine styles. Floral midi dresses and sweet babydoll minidresses are brand mainstays, along with boho tops and sleek skirts. The brand also features more on-trend pieces, like its slinky corset tops and vintage-inspired graphic tees.
In addition, Altar'd State features a line of super cute swimwear. Its bikinis and one-pieces feature fun florals, feminine pinks, and a variety of styles to fit everyone's comfort level. There are also plenty of on-trend cover-ups to complete your beach-ready look.
Boston Proper
Boston Proper makes feminine, fashionable clothing for any occasion. The Florida-based brand features everything you need to build a timeless, versatile wardrobe that is age-appropriate but still fun.
One look at Boston Proper's inventory will make you want to get your suitcase ready for a vacation. Its laid-back resort wear is flirty, feminine, and fun. Bright colors, lively florals, and dynamic lace details are incorporated into most designs, giving the brand a chic island vibe.
If floral prints aren't your thing, Boston Proper also has plenty of solid colors. Its sleeveless dresses, classic essentials, and dressed-up blouses come in every shade, from bright turquoise to chic champagne. The brand also makes swimsuits with more coverage than Venus styles but just the right amount of sexiness.
Lilly Pulitzer
Many people credit Lilly Pulitzer with creating American resort wear as we know and love it today. The designer unintentionally created her brand in 1959 while running a fruit stand in Palm Beach, Florida. Pulitzer asked her dressmaker to make a shift dress to hide the citrus stains. The original brightly printed cotton dress was so popular that Lilly began selling dresses instead of oranges.
Today, Lilly Pulitzer's fashion empire is still going strong. Its cheerfully bright dresses, sweaters, and blouses are synonymous with the vacation lifestyle in Florida and beyond. Its colorful floral matching sets, relaxed tropical button-ups, and flowing midi dresses are fun, feminine, and free-spirited.
The quality and craftsmanship of Lilly Pulitzer pieces are unmatched. The brand is known for its 100% cotton jersey shift dresses, which are super soft, comfortable, and breathable. In addition, some beach dresses are made with UPF 50+ fabric to protect your skin from the summer rays.
Francesca's
Francesca's offers trendy, boho-inspired clothing and accessories that capture the same free-spirited vibes of Venus. The brand offers a vast range of pieces that exude effortless elegance, from comfy jumpsuits to affordable wedding dresses.
The brand features flirty, romantic styles with plenty of ruffles, cute prints, and feminine silhouettes. For example, you can't go wrong with its sweet floral midi dresses, cropped knits, and wide-legged pants that are essential for any boho wardrobe.
In addition, Francesca's offers everyday essentials that every girl needs in her outfit rotation. Cropped camis, long-sleeved tees, and other basics have unique elements like drop-sleeve cuts, sweet ruffles, and vintage-inspired details. They're perfect for mixing with your favorite stand-out piece from Venus!
Quiz Clothing

Quiz Clothing is a UK-based clothing brand that creates a diverse range of clothing, shoes, and accessories for women. The brand's designs resemble a more sleek, formal version of Venus's style.
When you shop at Quiz, you'll find everything you need to take your style to the next level. There are ruched bodycon dresses, puffer jackets, and flirty blouses galore. In addition, Quiz is a great place to shop if you love to stand out with a bold pattern or slinky silhouette.
Like Venus, Quiz Clothing has an extensive offering of plus-size styles. Finding affordable, cute clothing in extended sizes is notoriously difficult, so the brand's Curve line is a much-needed breath of fresh air. Shoppers can discover elegant formal dresses, professional blazers, cute swimsuits, and more at affordable prices.
For Love & Lemons
For Love & Lemons is a beloved indie brand co-founded by designers Gillian Rose Kern and Laura Hall. The small clothing brand is known for its adventurous, dreamy womenswear that oozes sensuality and femininity.
Like Venus, For Love & Lemons focuses on dresses and lingerie. Its designs are flirty, feminine, and delicate. The brand targets a slightly younger crowd, so florals, lace, and ruffles pair with edgier, more on-trend cuts and silhouettes.
For example, its vintage-inspired floral dresses bring something new to the table with organza puff sleeves, unique corset detailing, and low-cut necklines. In addition, almost every dress design incorporates an element of surprise rarely seen in other brands. Peek-a-boo cut-outs, contrasting prints, and sheer flowing lace are brand mainstays.
Maurices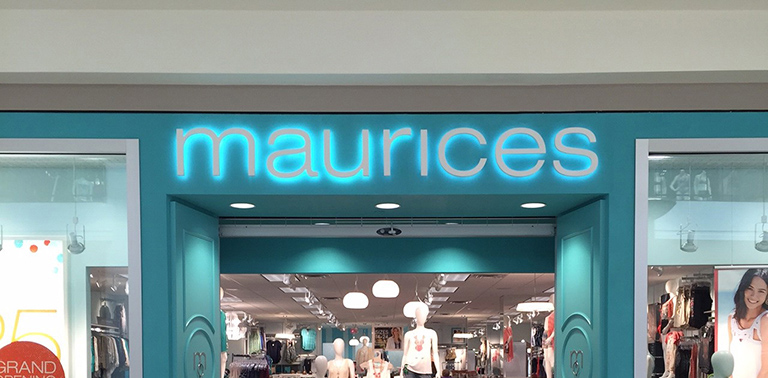 Believe it or not, Maurices is one of the oldest clothing stores on this list! Founded in 1931, the fashion retailer has been a Midwest mall mainstay for decades. It's known for its cute, practical styles and fashion-forward plus-size line.
Maurices is the perfect go-to clothing store for adding dressed-up staples to your closet. For example, the brand's simple sweaters always have a cute touch, like a heart pattern or unexpected cut-out. In addition, Maurices has a wide variety of jeans, dresses, tops, and trousers, so you can get everything you need on one shopping trip.
In addition to its cute, relaxed styles, Maurices also features loungewear and intimates. While not as risqué as Venus's lingerie line, Maurices' offerings are excellent everyday basics that are cute, comfy, and feminine.
Anthropologie
If you love the vintage-inspired feel of Venus's resort wear, look no further than Anthropologie. The upscale retailer is known for its free-spirited, quality womenswear that is unique, stylish, and effortlessly elegant.
Anthropologie features an eclectic mix of boho, vintage, and minimalist pieces that work together because of their differences. For example, its relaxed tiered minidresses, neutral mock neck sweaters, and classic white button-up shirts all work together to create an air of refinement that is hard to replicate.
Anthropologie is a great store if you love Venus's dresses but want to step it up a notch. The brand's offerings are a bit pricier, but each piece uses high-quality materials, and the garment construction is superb for the price.
Lane Bryant
Lane Bryant is a great store to add to your shopping rotation if you're a fan of Venus's stylish plus-size pieces. The Ohio-based brand is the most widespread plus-size retailer in the United States and is beloved for its classic, timeless style.
Lane Bryant's designs are a bit more subtle and professional than Venus's but can easily be mixed and matched to fit anyone's personal style. The brand also has an extensive inventory, so you can easily find some boho-inspired pieces, like its tiered maxi skirts or tropical-print halter dresses.
In addition to its timeless dresses and separates, Lane Bryant also has on-trend athleisure wear and workout gear under its Livi Active line. Also, its intimates line, Cacique, offers scintillating lingerie in extended sizes, so you can love the skin you're in.
Charlotte Russe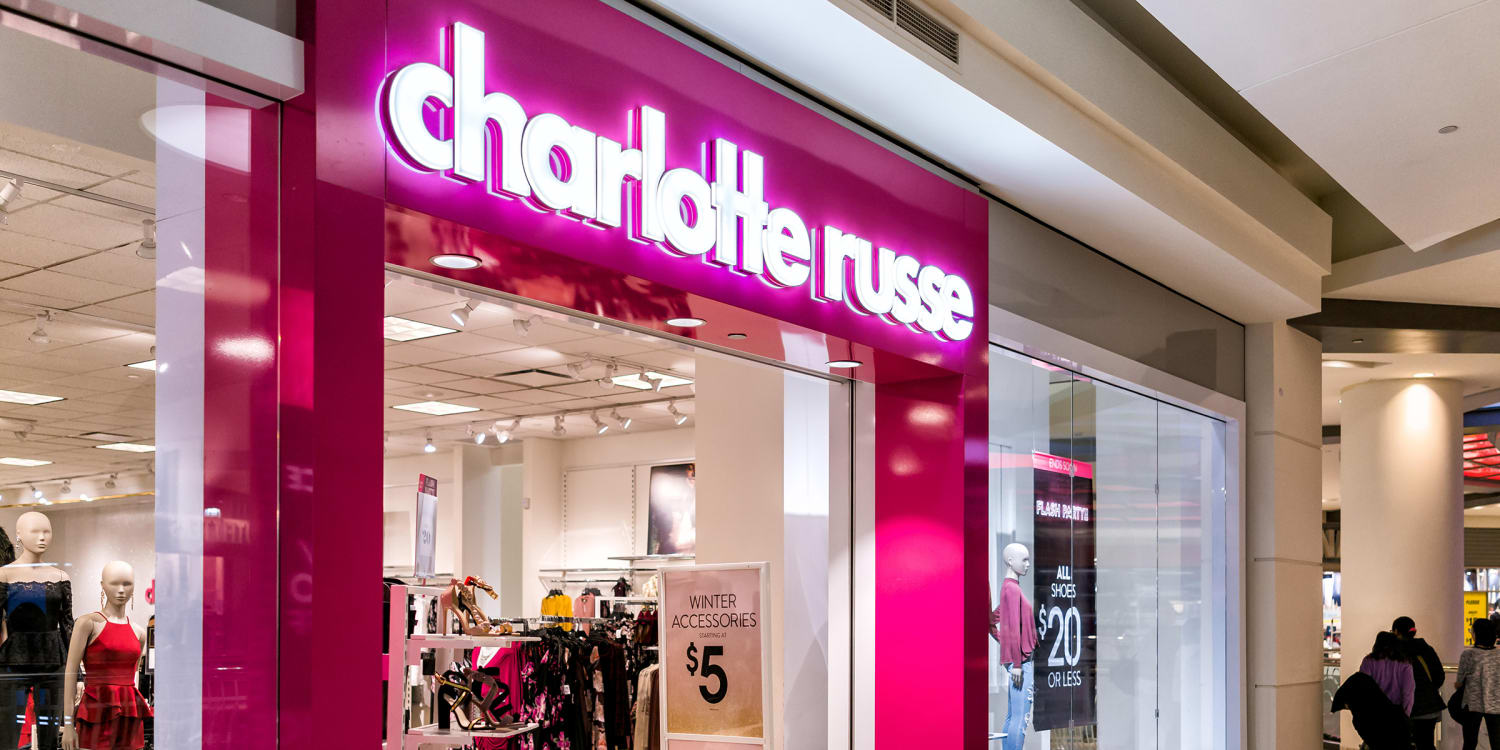 Charlotte Russe is another clothing store to add to your rotation if you love the basics offered by Venus. Charlotte Russe has feminine styles with a more relaxed streetwear edge. The brand also carries cute mini dresses and jeans.
Charlotte Russe's designs are simultaneously classic and modern. As a result, they almost never go out of style. For example, its line of leggings, joggers, and hoodies come in a range of neutrals and jewel tones, making them easy to mix and match. In addition, its mini dresses feature florals and solid colors like Venus but with much shorter hemlines.
Also, Charlotte Russe is extremely affordable, so it's an excellent option if you want to update your closet on a budget. The brand is almost always running a sale. You can get mini dresses and basics for as low as $5 a piece!
Lulus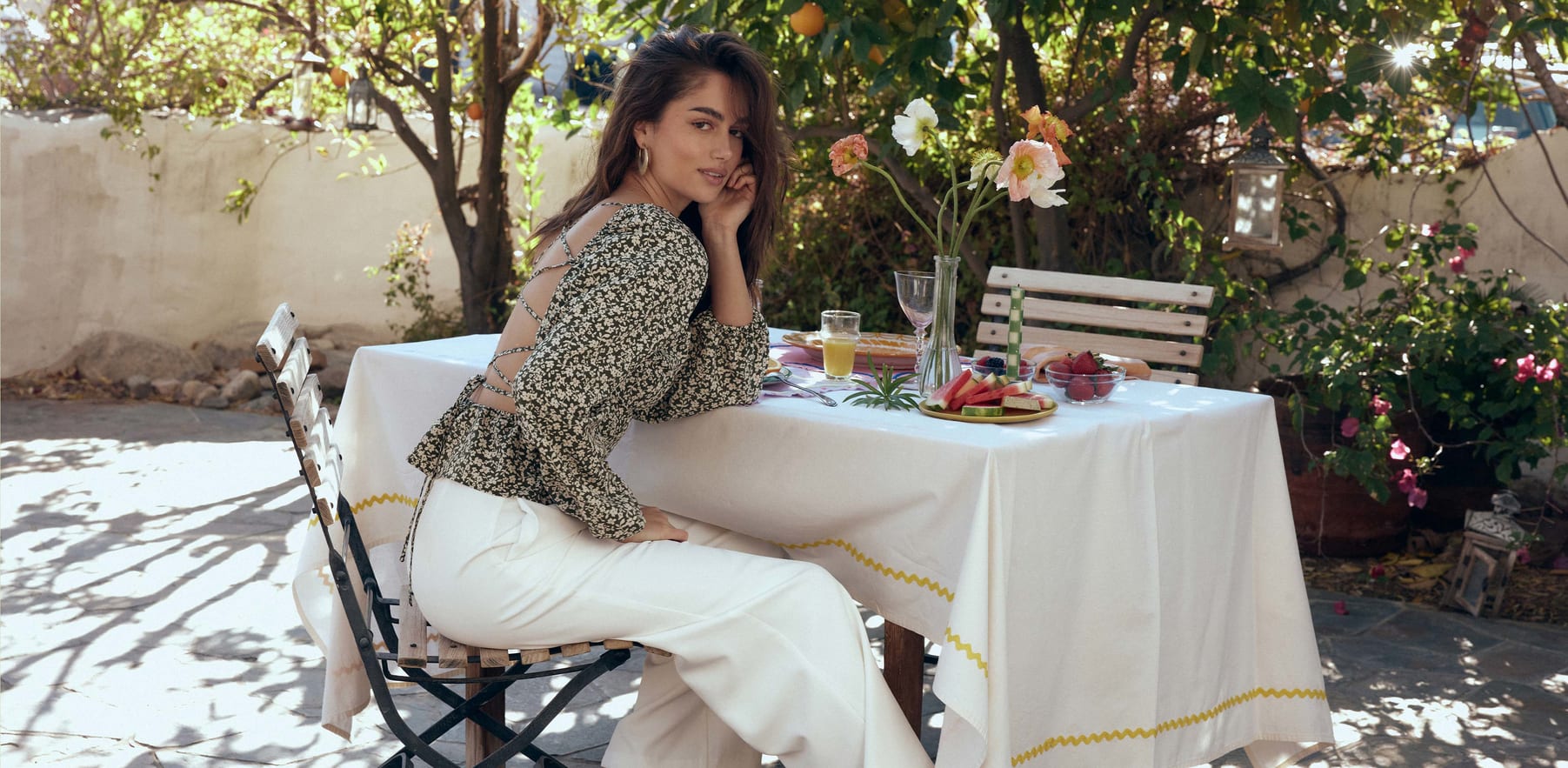 Lulus offers free-spirited styles inspired by resort wear and current trends. The California brand began as a brick-and-mortar vintage shop but quickly pivoted to online-only retail. Its designs are slightly edgier than Venus, but they still capture the same casual and flirty feel.
Lulus is known for being at the forefront of trends, so you really can't go wrong with any of its designs. You can get dressed up in a pink satin evening gown or dress down for a lazy weekend in an oversized striped sweater top. In addition, Lulus has so many casual, cute dresses that it's hard to choose just one!
Lulus is also an excellent clothing store to shop for basics. Like Venus, Lulus offers elevated essentials with a twist. For example, its simple white button-ups are made with luxurious satin fabric, its mock neck long-sleeves use gorgeous jewel tones, and its tanks have on-trend necklines and cropped silhouettes.
White House Black Market
White House Black Market is the perfect clothing brand for your inner minimalist. Owned by Chico's FAS, the upscale mall retailer sells clothing in, you guessed it, black and white. While the brand has since incorporated pops of color into its collections, it's still known for its chic neutrals and refined style.
White House Black Market offers similar silhouettes to Venus but elevates them to the next level of professionalism. The brand is perfect for when you have to go back to work after a Venus-worthy vacation. You'll find plenty of tailored pantsuits, wrap dresses, and semi-formal blouses in the brand's lineup.
However, this retailer isn't all business. White House Black Market also offers versatile basics with streamlined silhouettes, neutral colors, and comfy fabrics. For example, it has a ton of leggings in different colors and patterns, making it easy to dress up or down for any occasion.
Windsor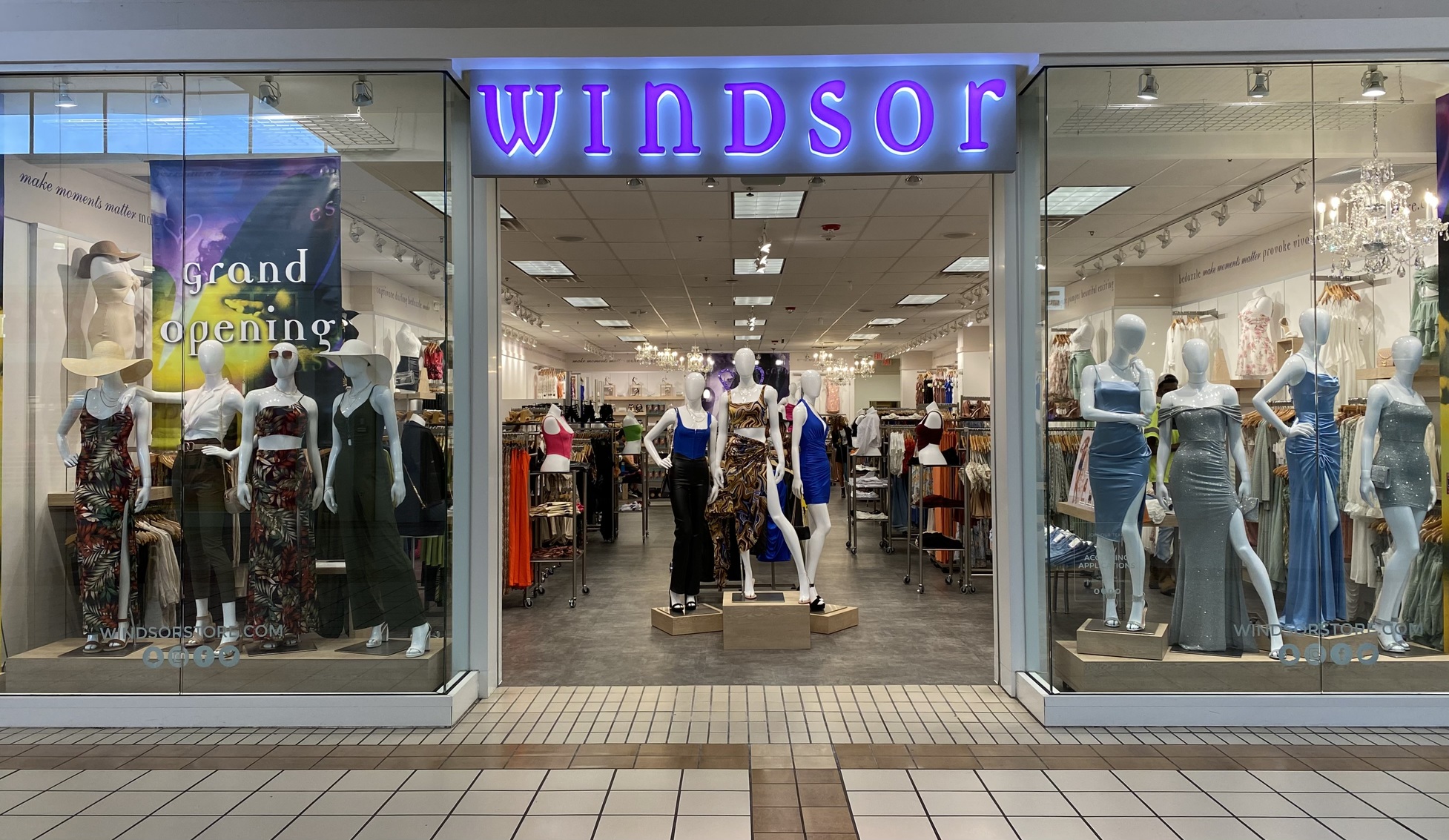 If you go into any mall in America, you're bound to find a Windsor store. This family-owned business was started by Maurice Zekaria and has stood the test of time over the decades of different fashion trends and styles.
Although Windsor is most famous for its formal prom dresses, it also creates more casual looks. Windsor's cute mini dresses are perfect if you love the look of Venus dresses but want some shorter hemlines. You can find everything from boho florals to psychedelic bodycon dresses.
Windsor also offers plenty of tops and skirts perfect for going out on the town. Spice things up with a romantic off-the-shoulder floral blouse, or lean into the current trends with a revealing lace-up corset tank.
Cider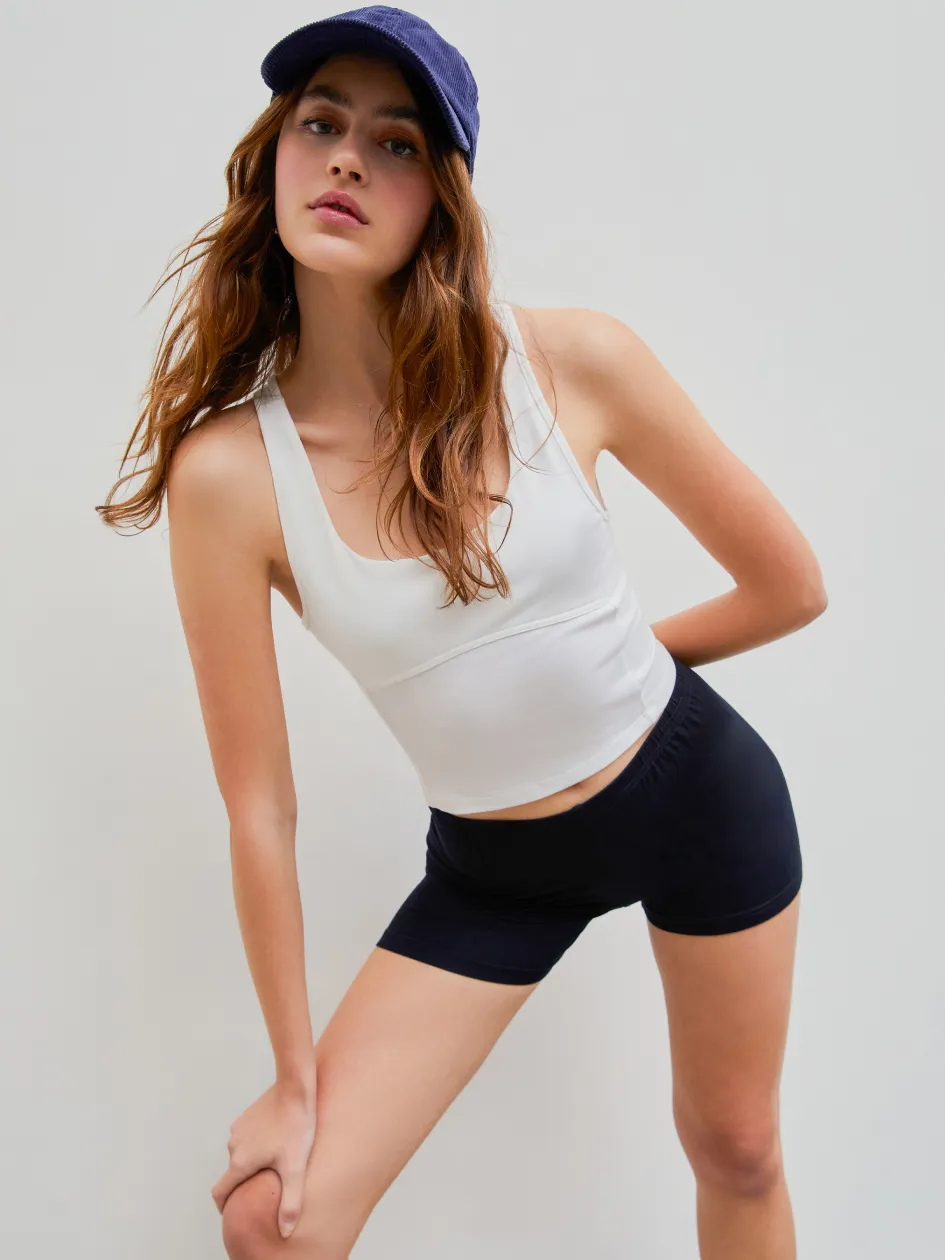 Cider is a relatively young online retailer founded in 2020 by four friends. The brand is a favorite among Gen Z shoppers, and there's an endless supply of different styles, cuts, and patterns to match anyone's taste.
Cider is an excellent clothing store to try out if you love florals and bright colors with a touch of whimsy. Compared to Venus, its silhouettes are more modern and geared towards a younger crowd but still have a resort wear feel.
For example, there's a vast selection of dresses with a boho vibe and cute florals. Choose a flowy midi dress with a sweetheart neckline, or go with a bell-sleeve peasant dress with a daring slit up the side. In addition, there are plenty of vintage-inspired pieces, like groovy bell-sleeve tie tops and paisley belt dresses.
Lands' End
Lands' End is a go-to clothing brand for people who want quality clothes for the whole family. Founded in 1963 as a sailing equipment company, the brand now focuses on crafting comfortable, versatile clothing for the everyday.
Lands' End makes womenswear that is streamlined, practical, and durable. The brand's style is more "outdoorsy" than Venus's resort wear, but its tees, shorts, and tanks are still perfect for a vacation in the sun.
In addition, Lands' End is known for its durable outerwear and winter gear. So, if you have some favorite Venus pieces but need to bundle up for colder weather, go with a Lands' End down coat or fleece-lined parka.
Cupshe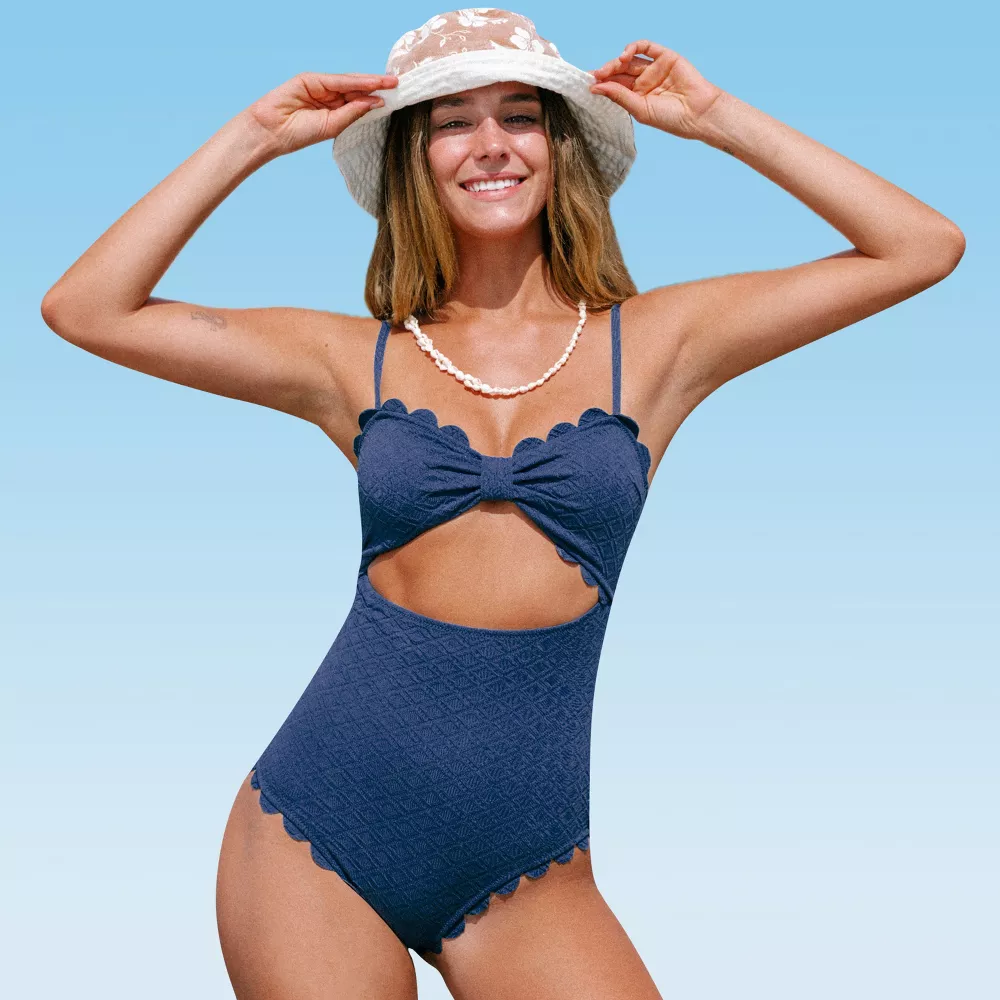 If you can't get enough of Venus but want to try something new, Cupshe is the perfect store. Its style, price range, and aesthetic are almost a perfect match to Venus! The brand, founded in 2015, creates swimwear and clothing for all the confident, vibrant women out there who want to feel comfortable while looking great.
Cupshe's dresses are feminine, cute, and easy-going. Their loose silhouettes and sweet patterns make each one comfortable enough to move freely without looking frumpy. For example, its floral ruffle midi dresses are perfect for a summer vacation or an evening out on the town. In addition, Cupshe has a selection of satin slips and ruched bodycon dresses if you want something more sleek and modern.
Cupshe is a close comp to Venus when it comes to swimwear. Like Venus, Cupshe offers a variety of one-piece and bikini styles that work for a range of body types. Cupshe designs its swimwear to work with your body, not against it. You'll get full coverage and support no matter which style you choose!
DKNY
Founded by designer Donna Karan in 1984, DKNY serves elegant womenswear looks inspired by New York City's energy and lifestyle. With a primary focus on black, white, and gray neutrals, DKNY offers more sleek, streetwise looks that are comparable to Venus's silhouettes and cuts.
DKNY's designs are minimalist, refined, and chic. Its dresses lack the ruffles and liveliness of Venus and come in a muted palette of neutrals, pale pink, blue, and nudes. However, they're still comfortable, feminine, and versatile.
You can also find a ton of durable basics and sleek, professional wear at DKNY. For example, its blazers, coats, and trousers use modern tailoring to create an elegant look. If you love a good pattern, have no fear. DKNY offers the occasional animal print or stripe on its blouses. However, if you want a Venus-esque floral print, you're out of luck.
Topshop
Topshop is one of Britain's most well-known fashion brands. Despite its tumultuous history, its 2021 acquisition by mega-retailer ASOS has given the brand a new life. Topshop is now only online, making it easy to peruse through its endless inventory of dresses, streetwear, and accessories.
Topshop offers such a wide range of dress styles that it's easy to find at least a few options for every taste. From boho to Y2K, you can find it all. For example, its satin midi dresses come in gorgeous watercolor-inspired color block prints and bold floral patterns. In addition, there are a ton of flowy paisley dresses to be found amid the brand's skimpier, club-appropriate styles.
The brand also offers an inclusive line of plus-size styles under its Topshop Curve line. Like Venus's plus-size line, you can find comfortable, trendy dresses and separates that don't skimp on style.