Taco Bell is one of the most popular fast-food chains in the world. It's also one of the most fascinating. But Taco Bell statistics can be hard to come by. That's why we've compiled all of them here, so you'll always have the information you need at your fingertips.
Some of these stats are just fun facts about Taco Bell that you might not know. Others are more serious: they'll help you understand how this giant company makes its money.
And still, others can help you become a better consumer—because let's be honest: Taco Bell isn't perfect. But if you know what they're doing right (and wrong), you can make sure your next trip through the drive-thru is as satisfying as possible!
Top Taco Bell Stats (Editor's Pick)
In 2021, total Taco Bell sales amounted to $13.28 billion.
94% of Taco Bell restaurants are owned and operated by independent franchisees
Taco Bell's most popular menu item is Crunchwrap Supreme.
The initial Taco Bell franchise fee costs between $25,000 and $50,000.
More than 210,000 people are employed at Taco Bell.
Only 33% of Taco Bell's employees would recommend working there.
33.3% of people describe Taco Bell's drive-thru customer service as pleasant.
There are 7,621 Taco Bell restaurants in the US.
75% of Taco Bell's menu is under 500 calories.
The original price of tacos in Taco Bell was 19 cents.
General Taco Bell Statistics – Sales, Industry, and Restaurants
1. In 2021, the sales of all Taco Bell restaurants totaled $13.28 billion.
(Source: Yum! Brands Annual Report)
Taco Bell's total sales in 2021 were $13.28 billion, including both company-operated and franchise-operated outlets, a whopping 13% growth from the previous year wherein total sales were 11.75 billion USD. Out of this sum, $0.944 billion was from company-operated stores and $12.336 billion came from franchisee locations.
| Year | Taco Bell Sales (Billions of US$) |
| --- | --- |
| 2021 | 13.28 |
| 2020 | 11.75 |
| 2019 | 11.78 |
| 2018 | 10.79 |
| 2017 | 10.15 |
| 2016 | 9.66 |
| 2015 | 9.10 |
| 2014 | 8.46 |
Furthermore, in 2021, Taco Bell reported a revenue of 2.238 billion USD. This is an increase of 10.2% from the previous year (2020) when it brought in 2.031 billion USD.
This is a staggering number for a company that started as a small taco shop in Downey, California. It's hard to imagine that just over 60 years ago, there wasn't even any such thing as "Taco Bell." But thanks to founder Glen W. Bell, Jr.'s vision and drive, we now have one of the most recognizable fast-food chains on the planet.
Taco Bell's success is due in large part to its ability to adapt to changing consumer preferences. By offering healthier options like their Cantina Bowls and their customizable salads, Taco Bell has managed to stay relevant by keeping up with customer needs—and this will continue as more people seek out healthier choices when dining out.
2. Taco Bell has 7,791 restaurants across the globe, 94% of them are owned by franchisees.
(Source: Yum! Brands Annual Report)
Taco Bell is the largest worldwide chain of Mexican-style cuisine quick-serve restaurants. It has been around for over 60 years and is a staple in many people's lives.
The fast-food industry is a competitive one, but Taco Bell has managed to carve out a niche for itself by offering a unique experience and focusing on its customers' needs.
In addition to their traditional fare, Taco Bell also offers a wide range of items that have become increasingly popular among customers. These include Cool Ranch Doritos Locos Tacos, Mountain Dew Baja Blast Freeze and the Quesalupa, which features cheese on both sides of the shell.
It's no wonder that it continues to grow in popularity. Currently, Taco Bell has 7,791 restaurants in 31 countries, out of which 94% of them are owned by franchisees and the rest are company-operated.
(The Waycroft)
The Crunchwrap Supreme is Taco Bell's most popular item by Taco Bell, and it's easy to see why. It's a portable, hexagon-shaped serving of their signature crunchy, cheesy, melty goodness.
The Crunchwrap Supreme takes all the flavors that make Taco Bell so irresistible and wraps them in a tortilla for on-the-go eating.
So if you're like us and love tacos but don't have time to sit down for lunch or dinner—or if you just want something more portable than a burrito but still want that signature crunchy shell—give Taco Bell's Crunchwrap Supreme a try today!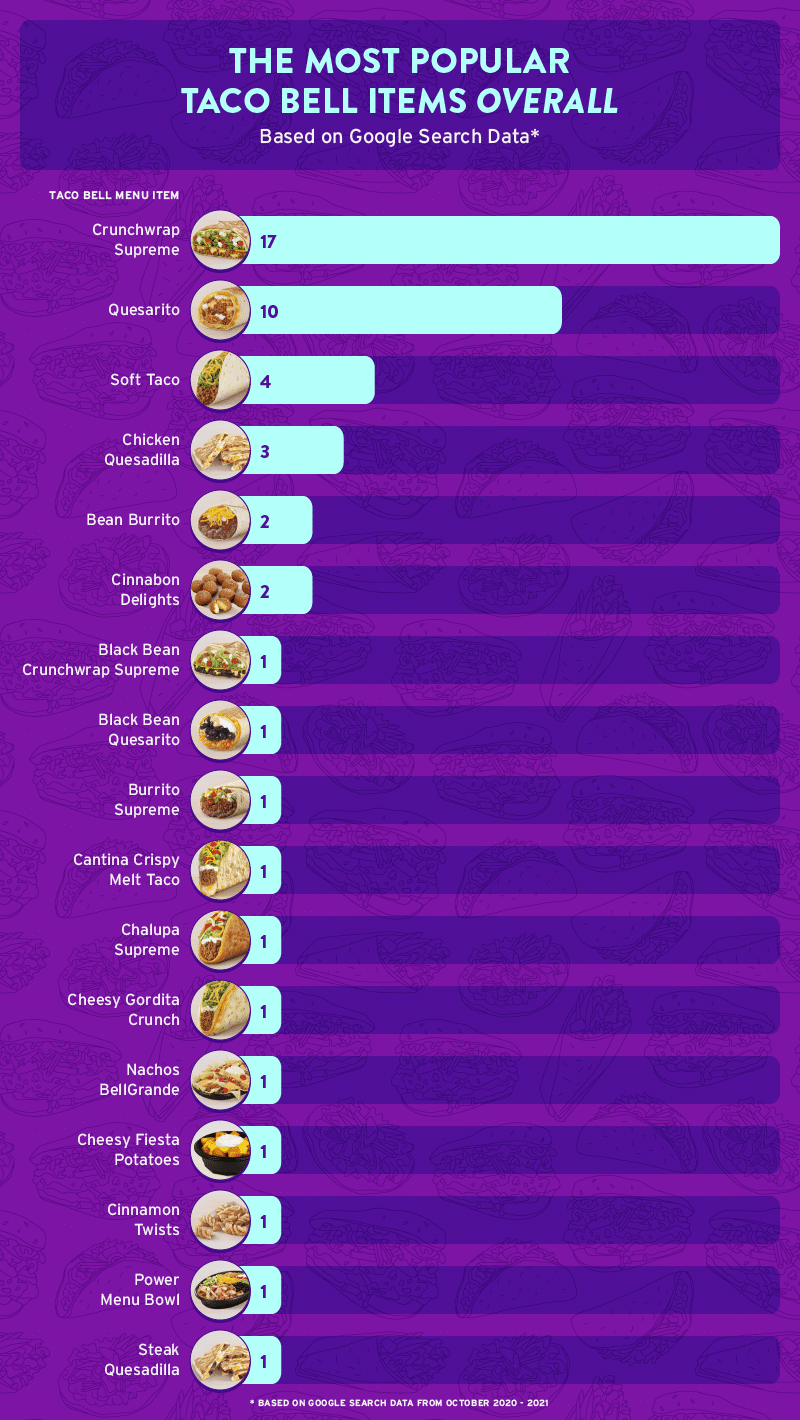 4. The initial Taco Bell franchise fee costs between $25,000 and $50,000.
(Nerd Wallet)
If you wish to open a Taco Bell franchise, prepare for significant expenses. Still, it's interesting that over 90% of Taco Bell restaurants are actually independent franchisees.
Taco Bell stats suggest that the total cost of one franchise, in dollars, is between $1.2 million and $2.6 million before including prices for land and/or building leases.
5. The Taco Bell franchise network makes over $10 billion in sales every year.
(Nerd Wallet)
There are three types of Taco Bell franchises: traditional units, gas station units, and express units.
Thousands of such stores are already open, and statistics from 2020 reveal that their number increased by more than 10% in the previous three years and more than 3% in 2019 alone.
When staff training is in question, the on-the-job training lasts 400 hours, while classroom training lasts eight hours.
6. Taco Bell is ranked 143rd by its customers in the list of global top 1000 brands.
(Comparably)
Although Taco Bell is incredibly popular both in the US and globally, customers aren't entirely satisfied with its services.
According to Comparably, Taco Bell has a negative social sentiment. If we compare it to McDonald's, which is in the 85th place, we can conclude that McDonald's is better both as a restaurant and as a workplace.
7. The Taco Bell happy hour lasts from 2 PM to 5 PM, seven days of the week.
(Taco Bell)
Taco Bell has had a happy hour (it's actually called Happier Hour) for years now. Between 2 PM and 5 PM, you can get medium-sized freezes and drinks for just $1.
Apart from that, it's possible to find all kinds of promotions, deals, and special offers during this time.
Nevertheless, Happier Hour deals are only available at participating locations.
8. In 2020, the average Taco Bell sales per unit amounted to $1.6 million.
(Statista)
Statista's report points out that earning $1.6 million in sales per unit per year is Taco Bell's record since 2006, and 2018 and 2020 are the only years when sales per unit were this much.
Conversely, the lowest average sales per unit per year were in 2007, when they were $1.15 million.
Also, Taco Bell statistics from the same report revealed that the sales gradually increased between 2007 and 2020.
Stats Regarding Taco Bell Employees and Working at Taco Bell
9. Taco Bell has over 200,000 people in its workforce.
(Taco Bell, Glassdoor)
Taco Bell has a large employee base, both in its company-owned stores and with its franchise restaurants with 40,000 people employed by company-owned stores and 170,000 working in franchise restaurants. The company has grown rapidly in recent years, and it's no wonder that they've had to hire so many people.
One of the encouraging Taco Bell facts is that 67% of people who have been on a job interview for a job in Taco Bell have a positive experience, while only 14% have a negative experience. Most people (55%) applied for an interview online.
Currently, there are 70,000 Taco Bell job openings on Glassdoor.
10. 25 employees are recommended per each Taco Bell franchise.
(The Balance SMB, Glassdoor)
High costs aren't the only issue when opening a Taco Bell franchise is in question. It's important to note that many of them, according to some employee reviews, have staff shortage problems.
That's why it's a bad idea to think about opening a franchise if you don't have between $1.2 million and $2.6 million (that's the worth of the total investment) and aren't sure that you can pay your employees fairly.
11. 33.3% of people think Taco Bell's drive-thru customer service is pleasant.
(Statista)
One-third of Taco Bell customers describe Tayo Bell's drive-thru customer service as pleasant, while 26.7% see it as very friendly. On the contrary, 30% would call it average and 10% lazy. Lastly, no consumers said Taco Bell's drive-thru customer service is rude.
12. Only 33% of employees would recommend working at Taco Bell.
(Comparably)
One of the bad facts about Taco Bell is that its employees aren't entirely satisfied with the work conditions and rate their coworkers a D+.
Half of the employees don't recommend working at Taco Bell, but 39% admit to staying with the company due to comfort and familiarity.
Interestingly, 52% of Taco Bell employees are typically excited about going to work every day.
13. The average hourly wage of a food service worker at Taco Bell in the US is $13.80.
(Indeed)
According to Indeed's estimations for the job positions in the US, general managers at Taco Bell earn $53,967 per year, while shift leaders make $31,030 per year.
In addition, restaurant managers earn $16.10 per hour, while kitchen team members are only paid $12.52 per hour.
Also, only 38% of employees claim they're paid fairly at Taco Bell.
Taco Bell Demographics and Global Statistics
14. 7% of Hispanic survey respondents said the fast-food restaurant where they eat most frequently is Taco Bell.
(Statista)
As the data from Statista's Taco Bell survey points out, Hispanic survey respondents were the most likely to say that Taco Bell is the quick-service restaurant they visit most frequently.
More precisely, 7% of Hispanic respondents said so. Still, the sample of Hispanic respondents was a bit higher, so that should also be considered. On the contrary, Asian Americans are definitely the least likely to visit Taco Bell (1%).
15. There's not a single Taco Bell restaurant in Mexico.
(Vice, Seattle Times)
We have to agree that one of the most contradictory but interesting facts about Taco Bell is that Taco Bell is prevalent in so many countries, but not in the country where tacos were invented.
Moreover, the restaurants were closed less than two years after Taco Bell was launched in Mexico in 1992. There were a few more attempts to run Taco Bell restaurants in this country, but none of them was successful.
16. California has the biggest number of Taco Bell restaurants (860).
(ScrapeHero)
11% of all Taco Bell locations in the US are in California, where there are 860 restaurants. Texas is right after California with 681 locations, followed by Florida with 469 locations.
Texas and Florida account for 8% and 6% of all Taco Bell locations in the US, respectively. Some other states with a lot of Taco Bell restaurants are Ohio, Michigan, Illinois, North Carolina, and Georgia.
17. There are 7,621 Taco Bell restaurants in the US.
(ScrapeHero)
Taco Bell's growth is noticeable primarily in the US, as there are 7,621 open restaurants in 51 states and territories.
On the other hand, some US states and territories with no Taco Bell locations are Puerto Rico, American Samoa, Guam, US Virgin Islands, and the Northern Mariana Islands.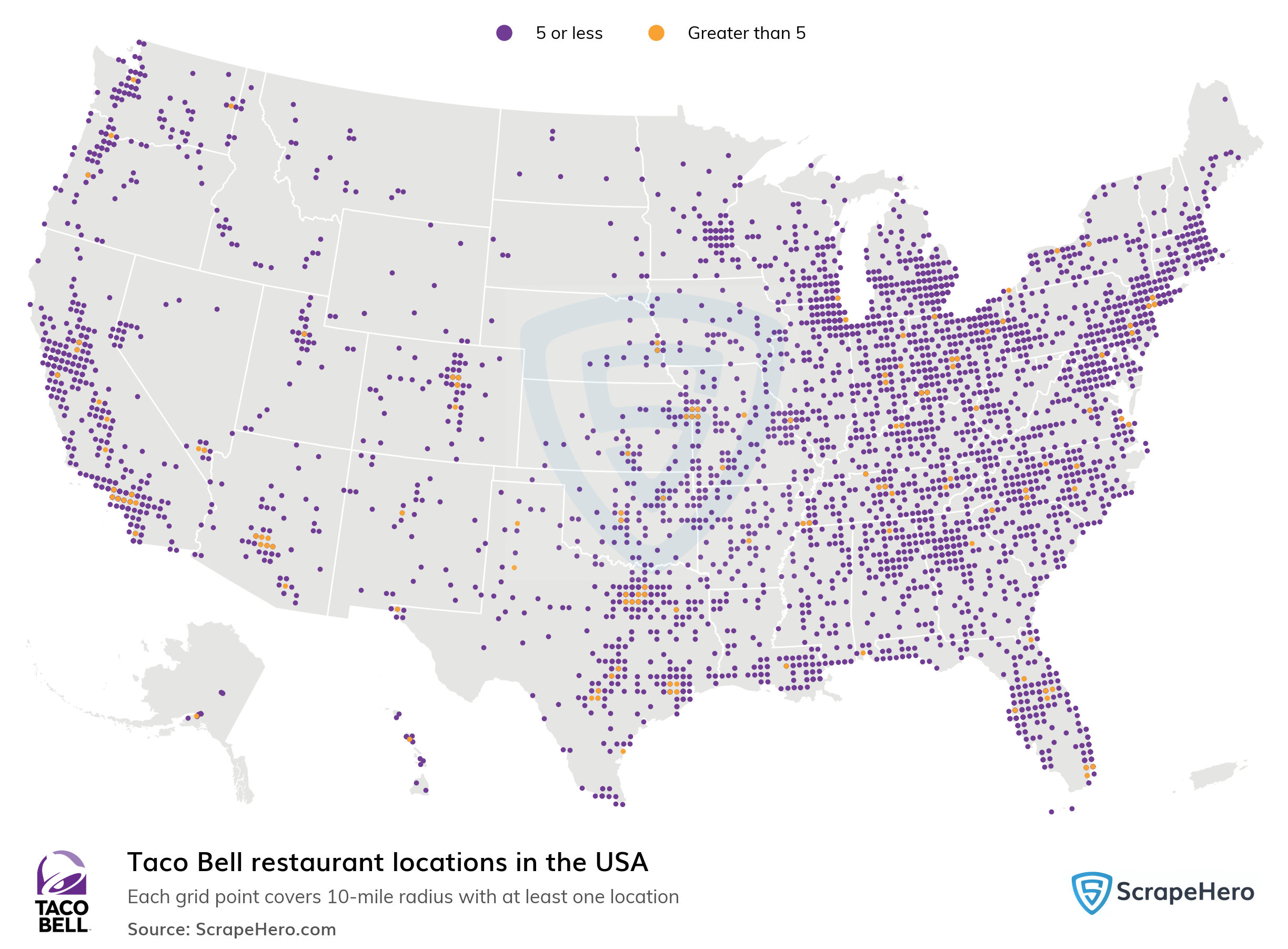 18. The US City with the most Taco Bell restaurants is Houston, with 64 locations.
(ScrapeHero)
ScrapeHero's data shows that there are 64 Taco Bell locations in Heuston alone.
Apart from that, other cities with a high number of Taco Bell restaurants are Las Vegas (43), San Antonio (43), Indianapolis (39), Miami (38), Phoenix (37), and Chicago (35).
19. Close to 168 million people see a Taco Bell commercial at least once per week.
(Latin Trends)
If you live in the US, you must have heard about Taco Bell. Apparently, half of the US population sees a Taco Bell commercial at least once per week.
Also, another Taco Bell fact worth mentioning is that this chain regularly updates its menu, so there's always something new and interesting to try.
That's why this company has stayed popular for so long.
20. Taco Bell has nearly 500 international restaurants in close to 30 countries around the world.
(Yum!)
Apart from the US, where 40 million customers are served per week, it's possible to eat Taco Bell in close to 500 locations across the globe. Some countries with Taco Bell restaurants are Canada, India, Japan, Korea, Peru, Portugal, Sri Lanka, and Spain.
21. There are 29 Taco Bell franchises in the UK.
(This Is Money, Insider)
It's interesting that Taco Bell tried to enter the UK market for the first time in the 1980s. However, Taco Bell stats show that there's only one location in London and 29 in the whole country.
The future of Taco Bell in the UK isn't really certain. Still, it seems that some Brits have fallen in love with this chain.
22. Roughly 25% of Taco Bell's international footprint is stores opened in the last two years.
(CNBC)
Taco Bell has been accelerating its international presence in recent years. Consequently, about one-fourth of Taco Bell's global footprint is restaurants opened in the last two years.
In addition, it opened its 100th restaurant in Spain this year and plans to open a total of 1,000 international restaurants soon, which is very optimistic.
23. Taco Bell's target market is people aged 18 to 34.
(Quality Logo Products)
Taco Bell knows its target market well, changes its branding strategy often, and knows exactly how to reach this age group via social media.
Although Taco Bell isn't a perfect company, it puts enough effort into getting closer to its target market and understanding its customers.
Important Taco Bell Facts and Stats Regarding Health
(Taco Bell)
Taco Bell offers its most popular dishes in "fresco style," replacing cheese, mayo-based causes, sour cream, and guac with fresh pico de gallo. That means that the same dishes contain a lot less fat and calories.
Its own calculator estimates Taco Bell calories, so customers don't have to worry about an accidental intake of excess calories. For instance, one fresco-style Chicken Soft Taco has only 150 calories.
25. Taco Bell's seasoned beef actually contains 88% of beef.
(Mashed, Jezebel)
Back in 2011, Taco Bell was sued by the Alabama Law firm due to the claims that Taco Bell's beef contained only 36% of real beef meat. Apart from losing millions of dollars because of it, it had to reveal what its beef was made of.
Apparently, the Taco Bell percentage of meat stands at 88%. Not ideal, but still better than eating beef which is everything else besides meat.
26. Eating Taco Bell every day increases the chance of stroke, heart disease, and depression.
(Eat This)
Some well-known Taco Bell nutrition facts prove that you can eat incredibly cheap in this fast-food chain but that you definitely shouldn't do it on a daily basis.
Processed meat worsens the symptoms of depression, while the lack of nutrients in Taco Bell's food will leave you hungry and make you crave more food. Also, a lot of saturated fat can lead to stroke and heart disease.
27. It's possible to make up to 1,000 vegetarian items during Taco Bell's breakfast hours.
(Fast Company, Thrillist)
Since its ingredients are generally simple and it's easy to combine them, Taco Bell is an excellent choice for vegetarians. Namely, it's possible to make 1,000 vegetarian orders during breakfast hours with its 30 vegetarian ingredients.
Furthermore, Taco Bell's collaboration with Beyond Meat is promising when plant-based meat options are in question.
Other Interesting Taco Bell Facts and Stats
28. The world's most expensive Taco Bell order amounts to nearly $6,000.
(Entrepreneur)
One of the fun Taco Bell facts is that someone almost paid $5.555.49 for a chicken quesadilla with a tax price of $361.27.
That person was Kenzie Rae, who filmed the order and posted the video on Tiktok. It received 467,000 likes and was viewed more than 2.7 million times.
The drive-thru worker probably fixed the order so she didn't have to pay for it.
29. The original price of a taco in Taco Bell was 19 cents.
(Mental Floss, Mel Magazine)
Paying 19 cents for a taco sounds impossible. Still, one of the weird taco bell facts is that you could really afford it for less than 20 cents.
Nonetheless, Taco Bell is relatively affordable even today.
The secret behind its affordability is that it uses more or less the same ingredients for all new inventions (and their core ingredients are very cheap).
30. Taco Bell's fries were ordered 53 million times from January to April 2018.
(Business Insider)
Taco Bell's idea to sell fries was excellent. They came out as a limited dish and were ordered 53 million times while they were available.
Luckily for all Taco Bell fries lovers, they were back on the menus in July 2018, again for a limited time.
The secret of Taco Bell's fries lies in seasoning and cheese dipping instead of ketchup.
Related Questions (FAQ)
What is the healthiest food at Taco Bell?
Some of the healthiest options in Taco Bell are Burrito Supreme (Fresco Style), Chicken Soft Taco (Fresco Style), Bean Burrito, Veggie Power Menu Bowl, Cheesy Toasted Breakfast Burrito, Black Beans and Rice, Black Bean Crunchwrap Supreme (Fresco Style), and Grilled Steak Soft Taco (Fresco Style).
What race eats the most Taco Bell?
According to Statista's survey, the race that stated that the fast-food restaurant where they eat most frequently is Taco Bell. More precisely, 7% of Hispanic people said so, along with 5% of African Americans, 4% of White Americans, and 1% of Asian Americans.
Is Mcdonald's more popular than Taco Bell?
It's difficult to say if Mcdonald's is more popular. Still, Taco Bell's brand is ranked 143rd in the list of the world's top 1000 brands by its customers, while McDonald's is ranked 85th by its customers.
Who is Taco Bell's biggest competitor?
Some of Taco Bell's serious competitors are Freshly, Luby's, Del Taco, McDonald's, Chipotle Mexic Grill, and Wendy's Company.
Is the original Taco Bell still open?
The first Taco Bell ever opened called Numero Uno lives on, but the building was moved from its original address in Downey on a flatbed truck in 2015 and is now parked at Taco Bell's headquarters.
Conclusion
In this article, we looked at Taco Bell statistics in order to learn more about the company and its consumers. From its menu items to its financial performance, we've covered it all!
As you can see, Taco Bell has grown a lot over the years. They've been able to do this by staying true to their roots and focusing on what made them successful in the first place: delicious food at affordable prices. Whether you want something spicy or sweet, crunchy or soft, Taco Bell has something for everyone.
Overall, it's clear to see that Taco Bell is one of the most popular restaurants in the world — so don't be surprised if you see it on your list of favorite places to eat next!
If you didn't know it before, now you know: there are a lot of great reasons to be a fan of the Bell.
And if you are a fan? Well, we hope this has helped you learn more about your favorite fast food restaurant's stats and that it has inspired you to get out there and enjoy them even more!
Thanks for reading! And don't forget to share this post with your friends!
577 Catchy Taco Slogans To Spice Up Your Marketing
419 Taco Truck Name Ideas That Will WOW Your Customers
567 Mexican Restaurant Names To Inspire Your Next Opening
Sources