When it comes to home upgrades, adding a tankless water heater is at the top of the list. Not only do these water heaters take up less space, but they also use less energy. Less energy means less power, which means more money saved!
Since time is money, we saved you more money by rounding up the top tankless water heater brands. Including the most energy efficient to save you even more money!
In this article, we'll discuss 12 of the most popular tankless water heater brands and what makes them stand out from their competitors.
Whether you're looking for a high-end product or something more budget-friendly, these brands have something for everyone!
Rheem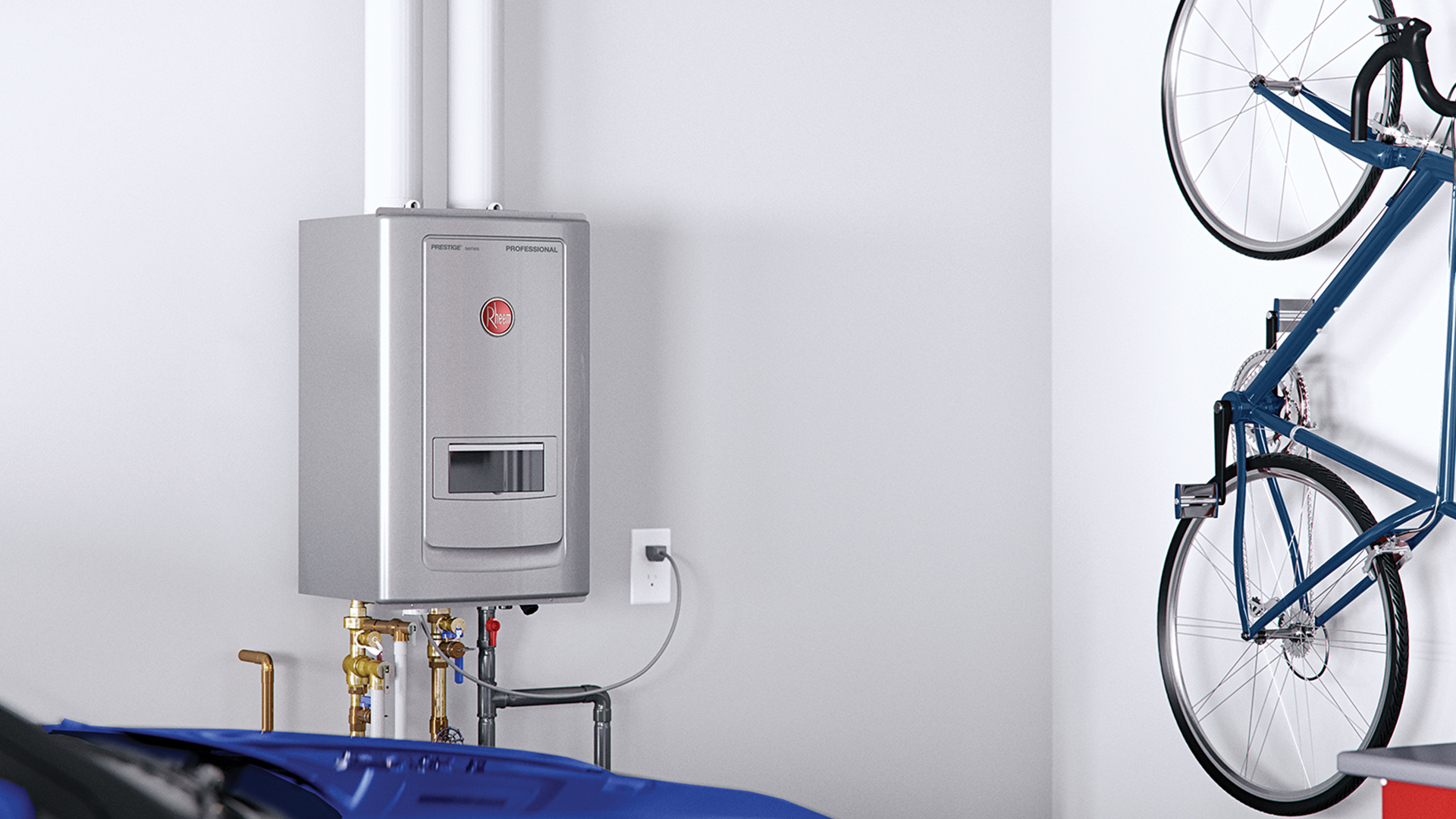 Rheem is one of the oldest water and heating manufacturers in the United States. Moreover, to date, they are the largest manufacturer of water heating products in North America.
It's not just about how long they have been around or how large the company is though. It is about the quality of their products. And consistently, Rheem comes in at the top of favorite tankless water heaters.
Rheem's top-selling tankless water heaters are the RTEX-24 model, the RTEX-18, and the RTEX-13. The three models vary in the type of power they run on, the hot water flow rate, whether they are indoor or outdoor, and how energy efficient they are.
Rheem RTEX-24
Indoor
Electric
5.9 Gallons Per Minute (GPM) hot water flow rate
99.8% energy efficient
Rheem RTEX-18
Indoor
Electric
4.4 GPM
99.8% energy efficient + ENERGY STAR certified
Rheem RTEX-13
Indoor
Natural gas
3.17 GPM
Variety of Rheem Tankless Water Heaters
These top three customer favorites are just an example of what Rheem has to offer. The brand offers over twenty different tankless water heaters. Some run on natural gas, while others run on electricity.
There is a range of indoor and outdoor models. Moreover, most models can be used either indoors or outdoors. Rheem also offers a range of water heaters with varying GPM so customers can find what suits them.
GPM stands for Gallons Per Minute. This is the rate at which hot water flows through the water heater and into the shower (sink, tub, etc.). The desired GPM will depend on what activity you are using the hot water for.
While the GPM in some Rheem tankless water heaters is lower than other brands, Rheem also offers a model with one of the highest. The Rheem RTGH-95DVLN has a 9.5 GPM flow rate. In addition, this high-end model includes Smart Home Technology
The variety of models offered by Rheem means a range of costs as well. Depending on your needs, Rheem tankless water heaters run anywhere from about $500 to over $1,000.
In addition, each model has an individualized warranty associated with it. This shows that Rheem stands behind its products. This is another reason that demonstrates why Rheem is considered one of the best brands for tankless water heaters.
Rinnai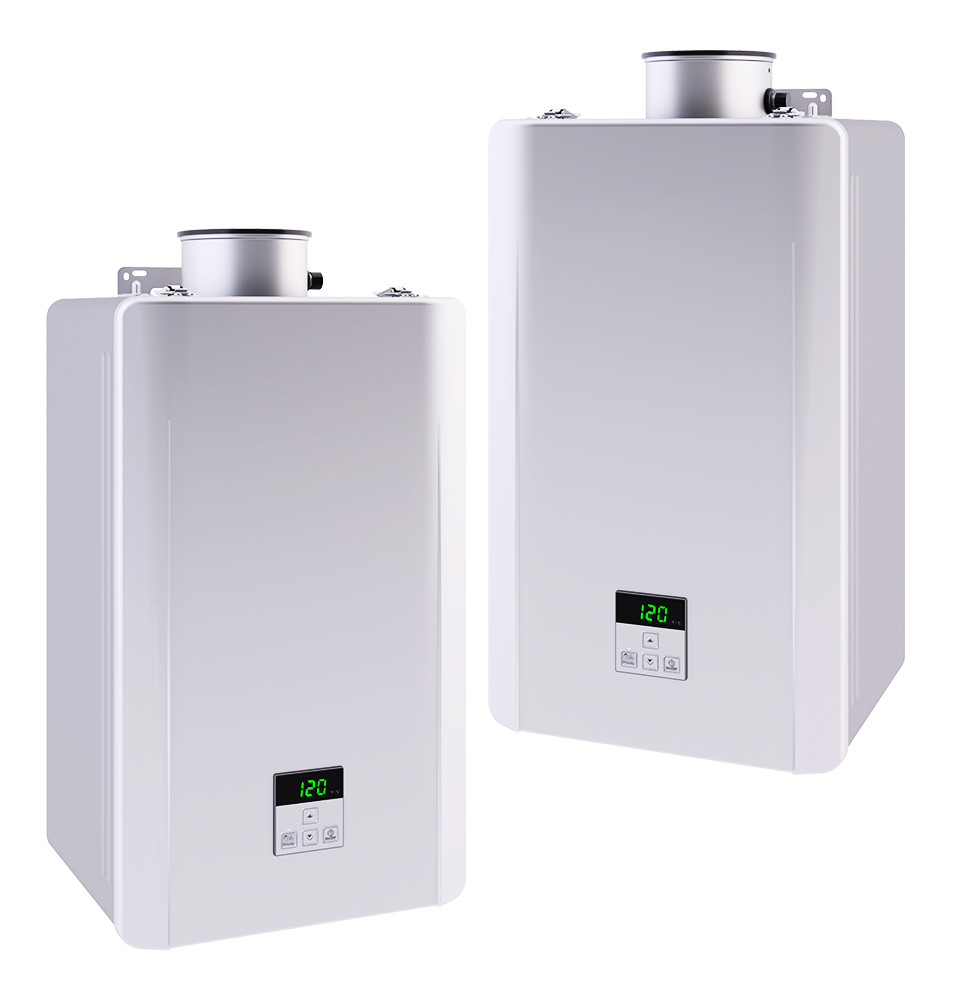 Rinnai has been manufacturing water-heating products for over a hundred years. Although the company was founded in Japan, its manufacturing is now housed in the United States.
Moreover, Rinnai is currently the first and only brand to have an automated and precision assembly manufacturing facility in the United States. In addition, they are known to be innovators in the industry.
Innovation demonstrates a brand's commitment to staying up to date with the newest technology and with the needs of its customers. Therefore, the consistent commitment of Rinnai to be innovative further proves them as one of the best brands.
The brand's newest innovation (RE•Series) was the release of a non-condensing tankless water heater with a built-in recirculation pump. Rinnai is the first company to manufacture this type of tankless water heater.
It is this kind of innovation that has kept Rinnai at the top of the many best tankless water heaters lists for years.
Here are a few of the models currently listed as favorites among customers, plus some of their specifications that put them at the top of the list.
Rinnai RUC98iN
9.8 flow rate
Top of the line
Rinnai V Series
Natural gas or propane power options
Excellent hot water flow rate
ENERGY STAR Certified
Rinnai v65iN
Natural gas
6.5 GPM hot water flow rate
ENERGY STAR qualified
Like Rheem, Rinnai models offer a variety of models. Therefore, having something for almost every potential buyer. Including large corporations.
In addition to the models Rinnai manufactures for residential homes, the company also provides tankless water heaters to commercial buildings.
Rinnai is the tankless water heater provider for some of the biggest brands nationwide:
Arby's
Dunkin
Planet Fitness
Jimmy John's
Sonic
Don't just take the word of large corporations, though, look at the trust Rinnai has in itself!
Rinnai Warranty
Rinnai stands behind its products by offering some of the best warranties in the industry. They also make it easy to review and register for a warranty on the company website.
Therefore, whether you spend $500 or $2000, you have peace of mind when investing in a Rinnai tankless water heater.
Takagi
Several things make Takagi stand out as a top tankless water heater brand. Including the brand's attention to safety and being the leader in many tankless water heater innovations.
This includes being the first tankless water heater company to specialize in tankless-only products. While other companies (like Rheem and Rinnai) may have a few decades on Takagi in the water heater business, Takagi is the first to be exclusive in manufacturing tankless systems.
They were the first company in North America to have this specialty. Therefore, Takagi has the advantage of focusing primarily on learning and creating the best tankless heaters around without the distraction of manufacturing other products.
As a specialist in tankless water heaters, Takagi offers an extensive range of models. The brand has outdoor and indoor models and a wide range of sizes. Moreover, over half of the models provide a GPM of over 7.49 and up to 10.
Takagi Warranty and Safety Measures
Takagi is a brand that is about more than just numbers though. They are committed to the safety of their customers and the safety of the planet. The most simple safety feature is the warranty for 10 or 15 years.
The warranties offered by Takagi are some of the longest in the industry. This reflects how Takagi is committed to keeping its customers safe with a product that is working properly, even a decade after purchase.
In addition, there are three safety features specific to this brand. The internal freeze protection system on some units helps during cold weather, the internal flame sensors check for gas, and the overheating cut-off fuse helps from overusing energy.
Takagi doesn't just protect its customers but also takes extra precautions in manufacturing to protect the earth. The company only uses the highest quality products that are also eco-friendly. In helping to stop global warming, the brands see this as another safety feature provided to their customers.
The safety even comes through in how they are sold. The only downside is that you cannot pick up a Takagi at your local hardware store like many other brands.
Takagi tankless water heaters are only sold by plumbing wholesalers and contractors. However, while this does not make it as easy to purchase, it does reinforce the safety precautions the brand is known for.
Stiebel Eltron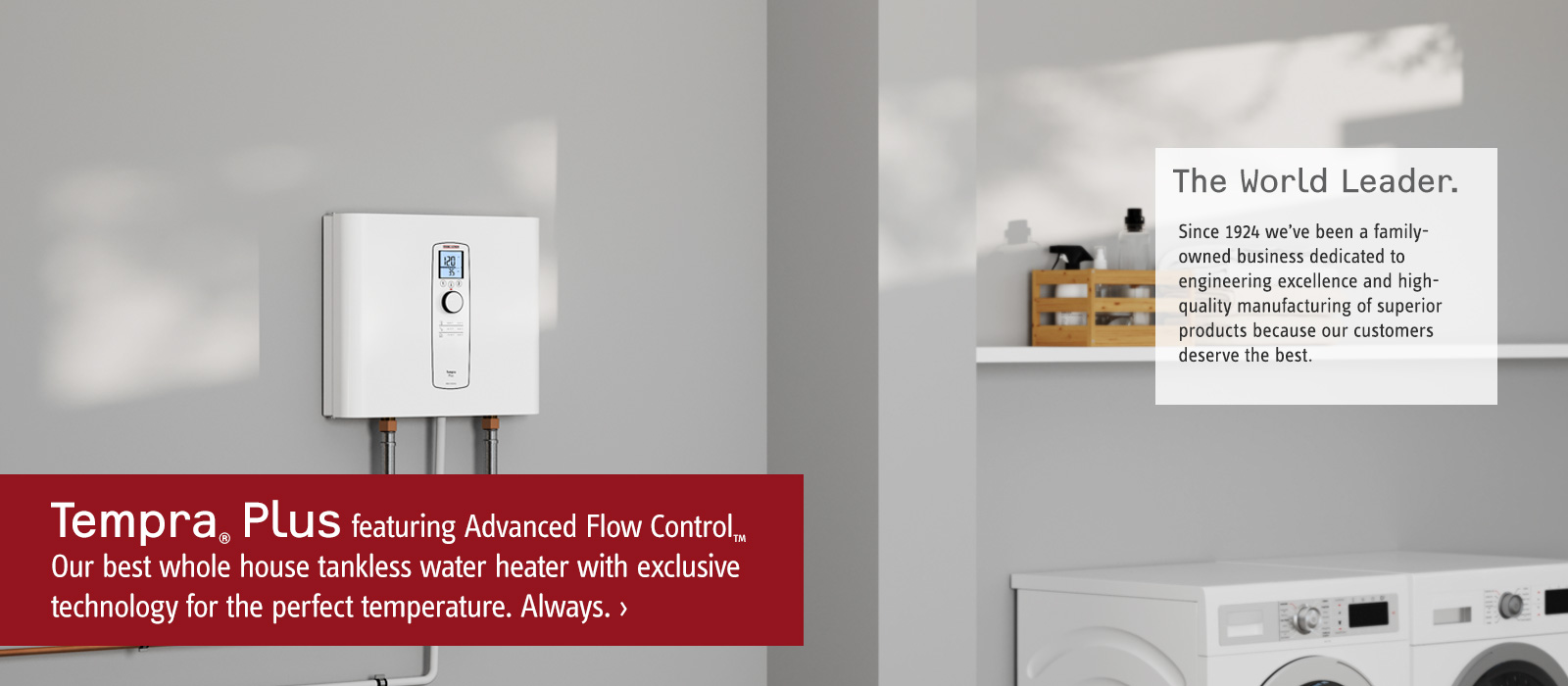 Since 1924, this family-owned company has been providing high-quality heating products. They were also the first company to patent a tankless water heater. While the concept of a tankless water heater had been around for decades prior, this brand took the initiative to patent a design in 1929.
Over the years, Stiebel Eltron has continued to be recognized for being innovators that keep up with modern technology and customer demands. This commitment to innovation and quality craftsmanship is what has helped Stiebel Eltron maintain its reputation as one of the best heating appliance brands for over 90 years.
One product that helps Stiebel Eltron continue to be recognized at the top of the list is its Tempra Plus tankless water heater model. This electronic savvy model is one of the most advanced tankless water heaters on the market.
The Tempra Plus features the brand's unique Advanced Flow Control function that allows for a consistent flow of hot water at all times. In addition, it also has memory presets that allow you to personalize your ideal water temperature.
Other Stiebel Eltron Models
In addition to the Tempra Plus Model, Stiebel Eltron offers a variety of other exceptional tankless water heaters. From mini tanks to high-capacity industrial models, this brand has something for everyone.
This includes a wide range of pricing options as well. Moreover, regardless of what your initial investment is on a Stiebel Eltron tankless water heater, you can rest assured knowing you will be saving money every day you use it. Providing energy-efficient, money-saving water heaters is one of the things this brand is known for.
One drawback to this well-known brand is that its warranty options tend to be shorter than other brands. Most Stiebel Eltron models come with only a three-year warranty. However, even with a shorter warranty, the quality craftsmanship of these products has proven to be worth the investment for almost a hundred years.
BOSCH
Bosch is a name synonymous with household appliances. Moreover, household appliances are known for lasting through the decades due to their exceptional craftsmanship. This includes their tankless water heaters.
This well-known brand provides customers with both gas or electric tankless water heaters.
However, compared to other brands that primarily manufacture tankless water heaters, Bosch does not provide as many model options.
If you are looking for a quality tankless water heater without being overwhelmed by too many choices though, Bosch is a great choice. Moreover, if your goal is a compact model then this brand is great.
The brand offers three tankless water heaters that can heat the entire house but take up a small amount of space and are wall-mounted.
Greentherm 9000 Series (gas)
Therm Series (gas)
Tronic 6000C (electric)
In addition, if you only need a sink or two heated, you can choose their compact electric Tronic 3000 2R model.
Whether you want to heat your whole house or just a small sink, Bosch has a model that will work for you. Moreover, this brand offers a range of warranty options from 5 to 15 years, depending on what part needs to be replaced.

Environmentally Friendly
The Bosch brand has always been committed to being the best and producing the best. This includes not just building great appliances but building appliances that reflect the values of their customers, including environmentally friendly products.
Bosch is one of the best brands for environmentally friendly tankless water heaters. Therefore, if your goal is to keep your carbon footprint small, Bosch is a great company to buy from.
Sio Green
Compared to other historically well-known brands, Sio Green is young in the world of tankless water heaters. However, this Clearwater, Florida company which was founded in 2008 by Henry Mai is one of the most innovative brands around.
After having some bad experiences with water heaters, Sio Green founder Henry Mai set out to create a residential water heater that was truly the best. That meant research, testing, and prototypes.
After several tries, Mai created not only an exceptional tankless water heater but a one-of-a-kind model. Sio Green is the only manufacturer of an Infrared Tankless Water Heater.
Infrared Quartz Tankless Water Heater
This one-of-a-kind infrared water heater has an Infrared Quartz heating element. This element keeps the carbon heating component separate from the water and helps the water reach the exact desired temperature.
Moreover, this unique tankless water heater will never build up lime scale or corrode! Therefore, saving you even more money in the long run.
In addition, this building structure creates a model that doesn't need maintenance and will last up to 20 years. All while helping the customer save up to 60% of the typical energy cost for water heating.

Top Rated Sio Green Tankless Water Heater
One of the top-rated tankless water heaters by Sio Green is the SIO18. This model has a flow rate of 3.07 GPM and reduces energy costs by up to 65% compared to other electric tankless water heaters on the market. It is a favorite for those looking to save money while heating water in the whole house.
In addition to the SIO18, Sio Green offers a range of models for the whole house or point-of-use models. Beyond the residential home, the brand also manufactures heaters for large homes and commercial buildings.
While every Sio Green tankless water heater comes with a warranty, the parameters will vary depending on the model. Therefore, it is best to check with the installation company about what warranty is available for the model you are interested in.
Noritz
One of the things that have made Noritz a trusted brand for years is that they focus primarily on tankless water heaters. This allows the company to take a more focused interest in further developing tankless water heaters.
This focus allowed Nortiz to develop the first electronically controlled tankless heater in 1981. Since then, the brand has continued to grow and develop.
Today, the company has three different lines of tankless water heaters. Therefore, providing a wide range of models for customers to choose from.
While Noritz has a wide range of models, one unique quality is that they are all powered by natural gas. While this is not everyone's preference, Nortiz chooses natural gas because it heats water 50% faster than electric heaters.
As a manufacturer of tankless water heaters for both residential and commercial buildings, Noritz focuses on long-lasting, reliable, and energy-saving designs. Moreover, they also focus on creating eco-friendly models.
While Noritz is one of the best in the business, this comes with a cost. Noritz tankless water heaters range from around $600 to over $2000. However, while the initial investment is higher than other brands, it is well protected.
Noritz has one of the best warranty policies in the business. While many brands determine the length of a warranty on the model, Noritz has one warranty policy for all models. Moreover, a 12-year warranty is one of the longest warranty options available for any tankless water heater.\
Marey Heater Corp.
Marey is a brand that has been built from a family foundation. Created by Puerto Rican entrepreneur Mariano Reyes, the brand is currently run by the third-generation brother and sister duo Victor and Lourdes Yanguas.
One of the primary focal points of the Marey brand has always been point-of-use water heating systems. Moreover, creating tankless water heating systems that provide an endless hot water supply and are sustainable.
Variety of Tankless Water Heaters
The point-of-use shower water heater was one of the first innovations from the Marey brand. Since then, Marey has continued to be one of the most innovative brands in the industry.
As the primary manufacturer of tankless water heaters, the brand offers a wide range of models. This includes other point of use models as well as heaters for large homes.
Depending on the model and your needs, you can choose from gas or electric tankless water heaters. Moreover, the brand offers a range of 2 GMP to over 8 GPM to choose from.
Today, you can find a great selection of tankless water heaters by Marey with ECO smart technology. This includes digital panels that allow users to automatically set their desired temp and output.
In addition to the brand's innovative designs, these tankless water heaters are extremely durable.
Refurbished Models
A unique feature of this brand is the option to choose from a selection of refurbished tankless water heaters. This provides an excellent opportunity for a quality tankless water heater at a lower cost.
With such a wide range of products available, the warranty will vary depending on your chosen model. Therefore, make sure to check with the manufacturer or installation company for specifics regarding the model you are interested in.
Although Navien is a relatively newer company, this brand which was established in 2006, is considered one of the best when it comes to tankless water heaters. Specifically, condensing tankless water heaters.
As a leader in condensing technology, Navien focuses on manufacturing primarily efficiency models using this condensing technology. This has led them to be named the #1 seller in North America of high-efficiency condensing tankless water heaters.
Unlike other brands, this company only has two primary designs. However, this allows the brand to focus on fine-tuning and creating the best possible model. This can be seen in the NPE-S2 series by Navien, which has a flow output range of 10.1 GPM – one of the highest on the market.
Money Saving Designs
Part of this brand's commitment to advanced condensing technology includes the use of a built-in recirculation pump and buffer tank. This is one of the efficiency design factors that help you save money.
Another money-saving benefit you get with Navien is through installation. Navien tankless water heaters don't require a new gas line. Therefore, you save money on installation since these models can be added to an already existing gas line.
Navien will not only save you money during installation but later on down the road. With a 15-year warranty for the dual stainless steel heat exchangers, you can rest assured that your investment is well protected.
EcoTouch
Compared to other brands with a long history in the world of water heaters, EcoTouch is much newer. However, with over 20 years of experience in the appliance industry, this brand has already established itself as one of the best.
This brand is well known for its innovative approach to appliances. Moreover, its commitment to providing quality craftsmanship is based on research that is also budget-friendly.
The brand's ECO90 tankless water heater is a great example of this commitment. This electric water heater is compact and easy to use. It's perfect for those needing on-demand hot water for washing dishes, clothes, and hands.
While this tankless water heater is a great solution for smaller household chores, its 1.3 gallons per minute (GPM) of hot water may not be enough for larger needs like showers or baths. However, with its 99.8% optimal energy efficiency, it will still help you save money on electricity bills by using it for smaller household needs.
In addition to saving money on electricity bills, the EcoTouch ECO90 is cost-effective. At less than $200 and available to purchase on Amazon, it is a quick and easy way to add a quality tankless water heater to your home.
One thing to note is that the low cost of this brand only offers a 1-year warranty for their tankless water heaters. Therefore, if you are looking for a long-term water heater that is covered by warranty, this may not be the best choice for you.
Eccotemp
While many people are searching for an efficient way to heat water throughout the entire home, you may need hot water for another location. Whether you need to get hot water to a food truck or to take on a camping trip, Eccotemp is an ideal brand to help you.
This brand focuses on creating small portable tankless water heaters. These models are the perfect size to bring hot water on the go wherever you need it. Moreover, these water heaters can also be used indoors for small needs around the home (like the kitchen sink).
Choosing a portable tankless water heater is not only convenient but also cost-effective. Eccotemp models range anywhere from about $200 to $800. However, this brand is known for having weekly sales where you can get their best models for a fraction of the cost.
With only a 2.5 GPM these models will not work for those who need a strong flow of water or to heat water throughout the entire home. If your goal is on-the-go hot water, though, Eccotemp is top of the line.
Gasland
Gasland is an Australian-based company that is quite different from the larger water heater brands mentioned above. This newer brand is not a water heater manufacturer but a company that primarily manufactures stove top ranges.
However, while the main focus of the company is creating heat for stovetop ranges, it has an excellent product that makes it a worthy brand for this list.
The Gasland BS158 6L
This portable tankless water heater is an amazing product for on-the-go hot water. Whether you are camping in a tent or need hot water in the RV, this tankless water heater will get the job done.
This compact tankless water heater can even be used indoors if you ever needed an emergency backup at home. However, with only a 1.9 GPM it will not provide the necessary hot water flow most people desire regularly.
For those needing a great way to adventure with hot water though, this lightweight and efficient tankless water heater is a great buy for under $200.
Conclusion
Choosing the right tankless water heater brand can be a bit tricky if you're not sure what you're looking for.
First, think about how long you want your water heater to last. If you want something that's going to last for several years, then you may want to consider investing in a more expensive model that has been proven to be reliable over time. But if you're looking for something on the go and inexpensive, then look into portable models.
Next, think about what type of financial investment are you looking for right now? If money's tight but you still want all of the benefits of owning a tankless water heater, then consider buying an electric model instead of a gas-powered one because they tend to be cheaper overall since they don't require any installation costs or maintenance fees like gas-powered units do!
Finally, consider if a warranty is important to you. A warranty can help protect your investment and ensure that any problems with your tankless water heater are handled promptly. Some companies offer very long warranties on their products, while others only offer short-term coverage. This can depend on things like how well-known they are as well as how many people have complained about their product failing them over time.
Whatever your needs, these 12 brands are sure to come through with the best tankless water heater models around.
167 Catchy Plumbing Slogans and Taglines
319 Catchy Plumbing Company Name Ideas to Get More Customers