Tennis is a sport that can be enjoyed by people of all shapes and sizes. On the court, you don't have to be tall or short, thin or heavy, fast or slow. You just have to play.
But when it comes to tennis clothing—well, things aren't quite so simple. There are so many options out there that it can be hard to separate the wheat from the chaff.
The right outfit can make all the difference between winning and losing, after all. And while we're not here to tell you what you should wear (you do you), we are here to tell you about some of our favorite brands that make tennis clothes so that you can feel great on the court and look good off of it!
Although it's easy enough to get some sweatpants, a T-shirt, and some sneakers from your local Target or Zara, you might be wondering: what else is out there?
After all, when you're on the court, looking good matters. It's all about confidence! And if you look good, then you feel good—and when you feel good, that means your game is on point.
So we've compiled this list of tennis clothing brands for all of your needs: whether you're looking for something classic and timeless or something ultra-modern and edgy (or both!). We'll break down exactly what they're known for so that no matter what kind of style you prefer, there's something here for everyone.
Here are the top tennis clothing brands that you should know.
Lacoste
"Tennis has always been associated with elegance," according to the chief brand officer of Lacoste. This brand and plenty of others recognize the tennis court as another runaway. A chance to make beautiful, quality, useable sports clothing appropriate for the audience that loves tennis.
Once considered the sport of aristocrats, now millions of individuals participate in the sport and its incredible fashion.
All the tennis greats have worn this brand, including ​​Novak Djokovic, Daniil Medvedev, and Venus Williams. Known for making particularly well-fitting preppy clothing, Lacoste specializes in both on and off-the-court wear. Expect pleated skirts, collared polos, and cable-knit sweaters. Lacoste sticks to neutral colors, like pastel blues and yellows.
Lacoste's signature green alligator logo is another reason why this brand is so famous. Fans love the fun and simple logo design that adorns Lacoste clothing. This 2022 season, you can find lots of blacks and greys in the activewear line. You'll find matching polos, sweats, and sneakers with that color pattern.
There's also a fun dark navy and red theme, with cool color-block sneakers, leggings for women, and fleece tennis shorts for men. Lacoste's Wait Flowing Pleated Skirts are an excellent option to bring out individuality for the ladies. Mid-calf length, they're a fun way to play and stay comfortable.
Uniqlo
Though they're a newish brand (formed in the 1970s), Uniqlo has skyrocketed in popularity in the United States and around the world in the last two decades. In recent years, they began debuting sportswear, including tennis outfits.
In a monumental 10-year deal, Uniqlo signed on tennis star Roger Federer as their global ambassador. Their tennis clothes are known for being stylish and functional, which is representative of the whole brand. Uniqlo's tennis clothing is made with its patented Dry EX fabric. This fabric helps repel sweat and keep you cool while playing.
Uniqlo's tennis clothes are so famous that clothing and accessories sell out within 10 minutes of restocking. When affordable designers make something comfortable, and quality, that puts them on the map, and Uniqlo did just that.
Nike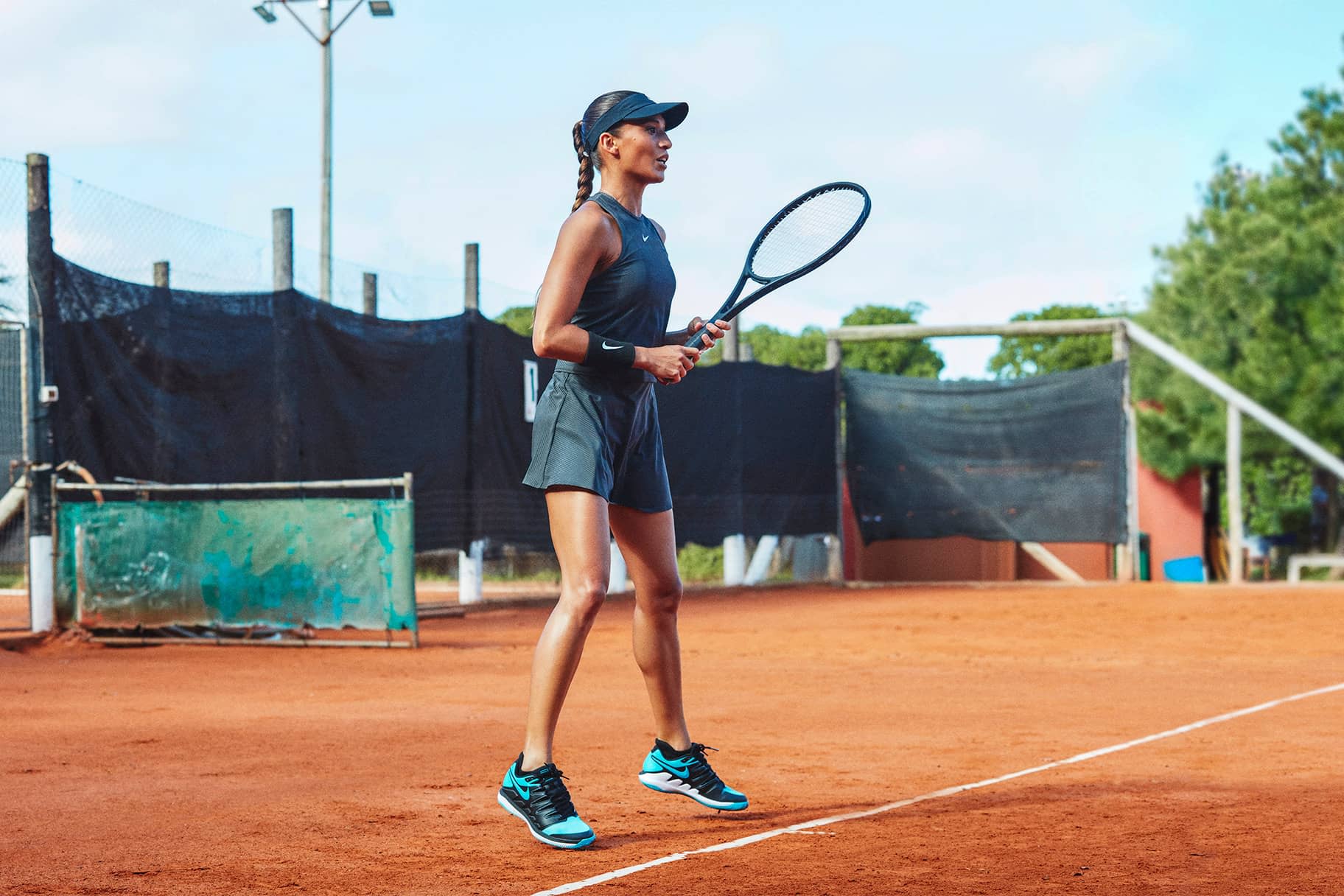 Sure, Nike makes all types of sportswear. It's a trendy brand specializing in clothing and footwear for basketball, baseball, football, and tennis. The tennis clothing line is beloved amongst individuals and athletes, on and off the court.
Nike's tennis sneakers are simple in design but made with materials to ensure ultimate comfort for athletes. Nike sneakers include that famous air pocket made to put spring in one's step. Their fabrics are meant to be stretchy and airy, worn by all body types.
Clothing for men and women is wonderfully tailored in the Nike style, with straightforward and functional designs. The focus is on the materials and utility of all the items. Otherwise, it's a minimalist look that's great for athletes who don't want to think too hard or love tennis basics as everyday wear.
Adidas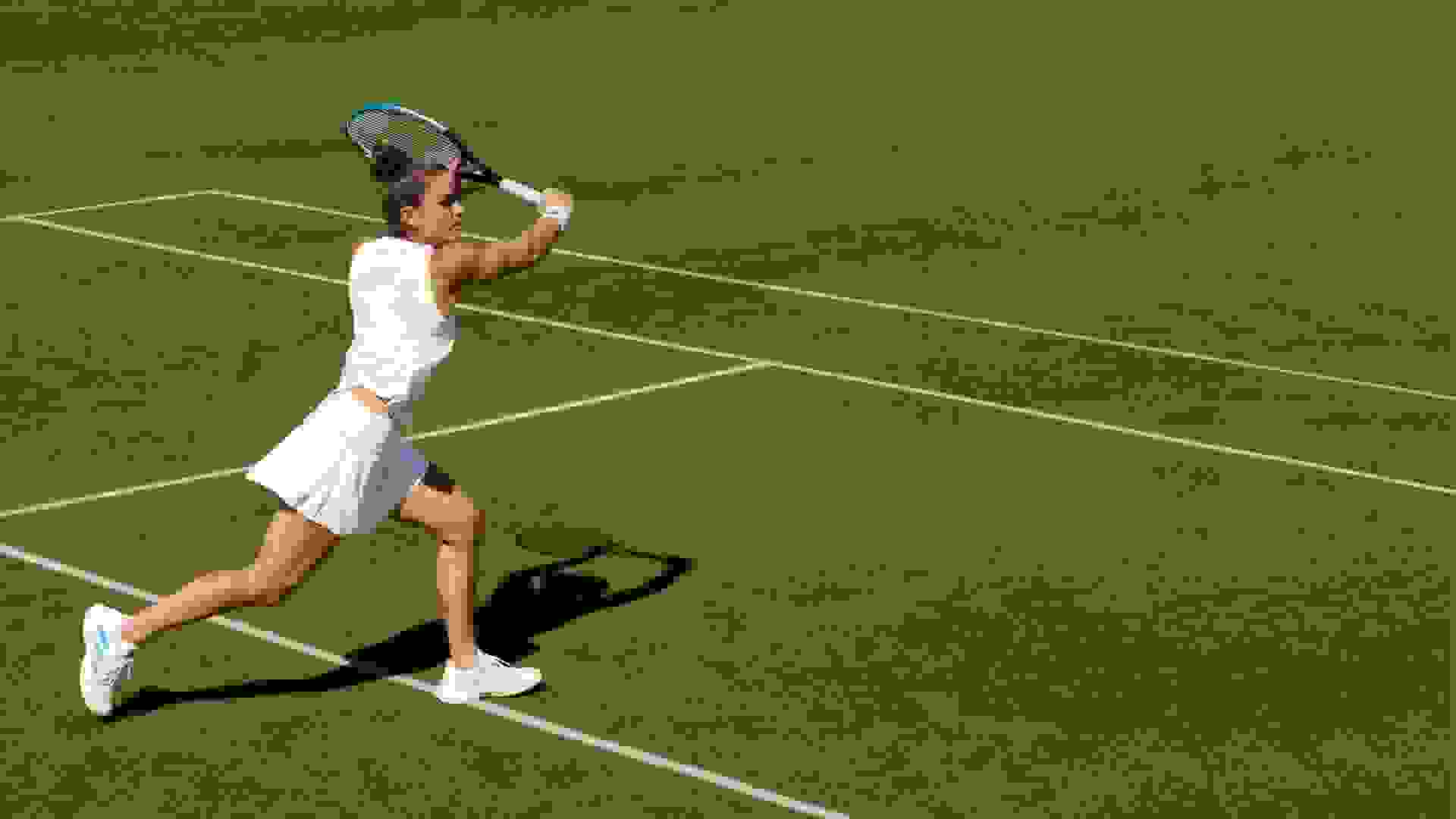 Adidas had made waves in the tennis fashion sphere since the 1940s when US player Stan Smith collaborated with the brand. Smith wore Adidas for his matches, proving that this brand's gear was perfect for all players. Since then, Adidas has become one of the top sportswear brands with their iconic double-line sneakers that double as streetwear.
Their particularly crowd-pleasing tennis shoes are worn by men and women off the court, proving that tennis styles aren't just reserved for athletes. Tennis fashion is defined by simple colors, lots of white, and comfy clothes. Adidas was one of the first brands to offer tennis styles for the average day.
Serious athletes and home-gym buffs love Adidas clothing because it is comfortable and iconic. The black sweatpants with white double lines are fashionable worldwide. For tennis players, bright white pleated skirts and polos are convenient to play in and wear on a daily basis.
ASICS
This footwear brand is at the top of its game right now, with all the major athletes hyping up ASICS sneakers. You can recognize ASICS by the signature pattern on most of their sneakers. In addition to style, this brand emphasizes higher functionality on the court.
Sneakers are made with exceptional ankle support and are highly recommended for athletes. The sole is also specially placed to help individuals push their weight forward. Comfortable tennis shoes that enhance power on the court are what ASICS is known for.
Sneakers come in various colors, although their logo is classic and is the focal point of most of their shoes. This season features lots of bright blues in different hues. Women's sneakers are baby blue and pink, while men's shoes feature a darker teal color for some fun and flash.
New Balance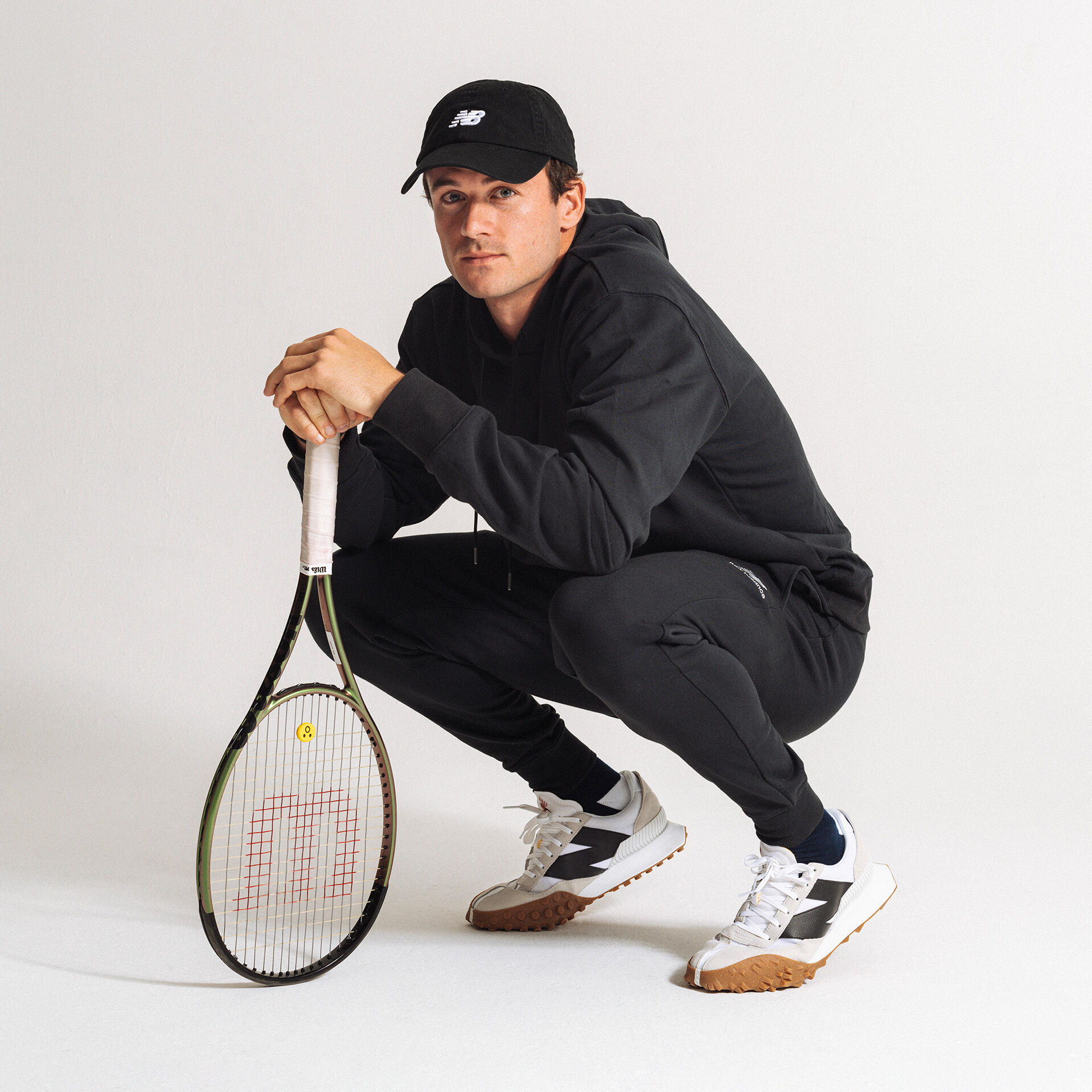 Considered the perfect brand for newbies or fashionistas who want that just-got-off-the-court look. New Balance showcases crisp whites, tennis skirts with shorts underneath, and great sneakers that match the whole look.
New Balance wasn't always highly regarded, but trends in recent years have made these tennis sneakers a luxury wardrobe staple. It's simple and assuming, yet it fits well and can be worn by just about anyone.
The new Tournament Racer Tank has fun pink, orange, and yellow color-block patterns that are classic for tennis fashion lines. The colors on the Foam sneaker series are also a great way to show some style on the court, with lots of bright yellow and red.
Ellesse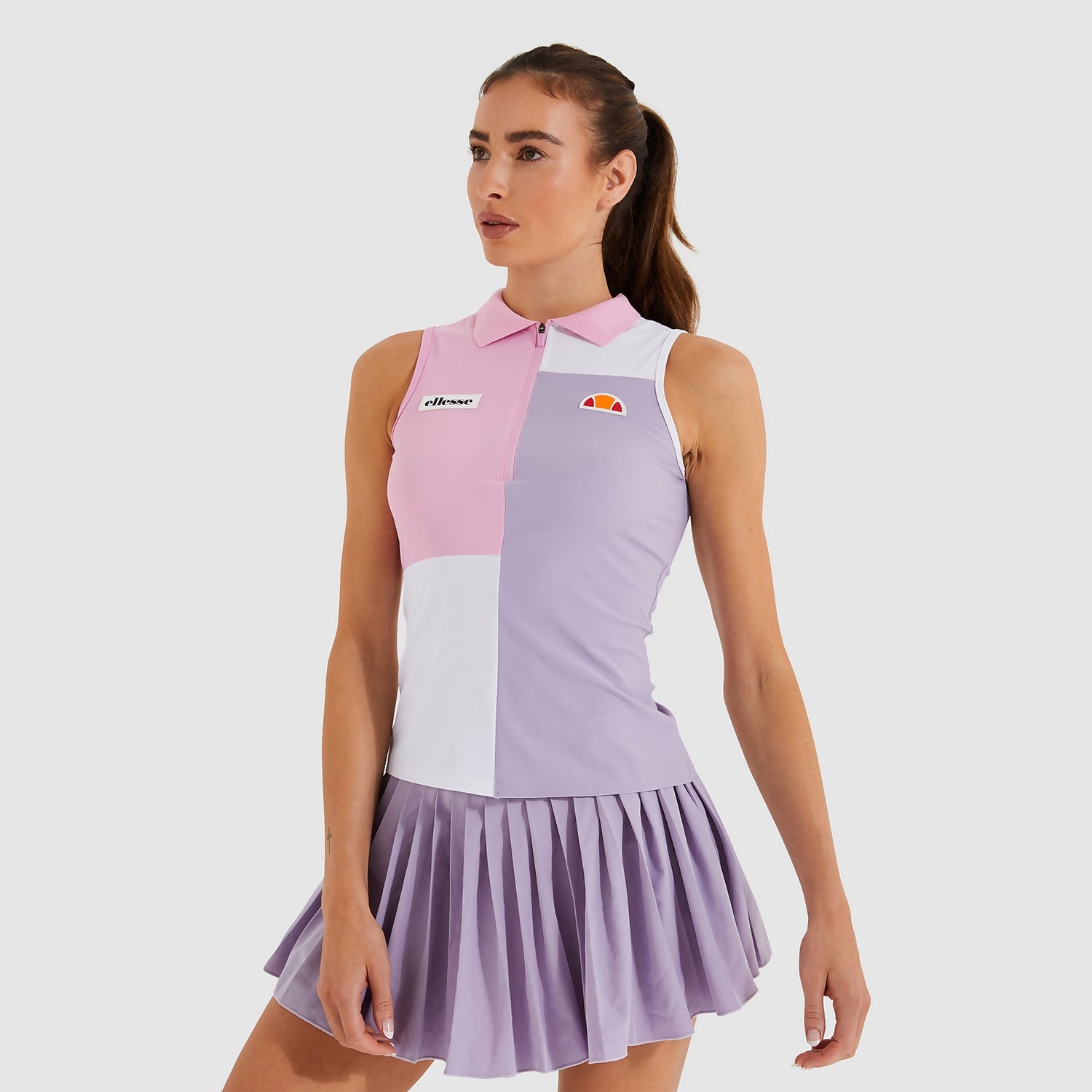 This clothing brand became a luxury sports icon a few years ago, and since then, athletes have endorsed their comfortable and stylish pieces on and off the court. This Italian brand started in the 1950s when the designer, Leonardo Servadio, decided sportswear should be more glamorous and tailored.
From then until now, the brand has kept up this philosophy. Ellesse is all about well-tailored tennis clothing for both men and women. Ellesse's signature designs include color-blocking, sleeve and leg taping, and chevron pattering, which have become synonymous with the brand.
Expect to find court jackets, tennis t-shirts, and plenty of pleated skirts and shorts designed for comfort, style, and mobility. This season, they have lots of purples and patterns for tennis dresses, skirts, and shorts. There are also some beautiful black and gold designs for men and women that are worth checking out.
EleVen by Venus Williams
Williams has seven Grand Slam Single titles and is probably the most recognized name in tennis worldwide. It makes sense this athlete would branch out to create her own sportswear. Williams' brand features clothing close to the athlete's personal style.
Williams says each piece is made for comfort and confidence on the court. With a variety of dresses in pastel colors, shorts, T-shirts, tennis shirts, and leggings, EleVen is a brand for all body types.
Both fashion and sports require confidence, according to Williams, and doing well on the court have a lot to do with how you feel on the court. This brand was designed to empower women to reach new levels as they play.
Diadora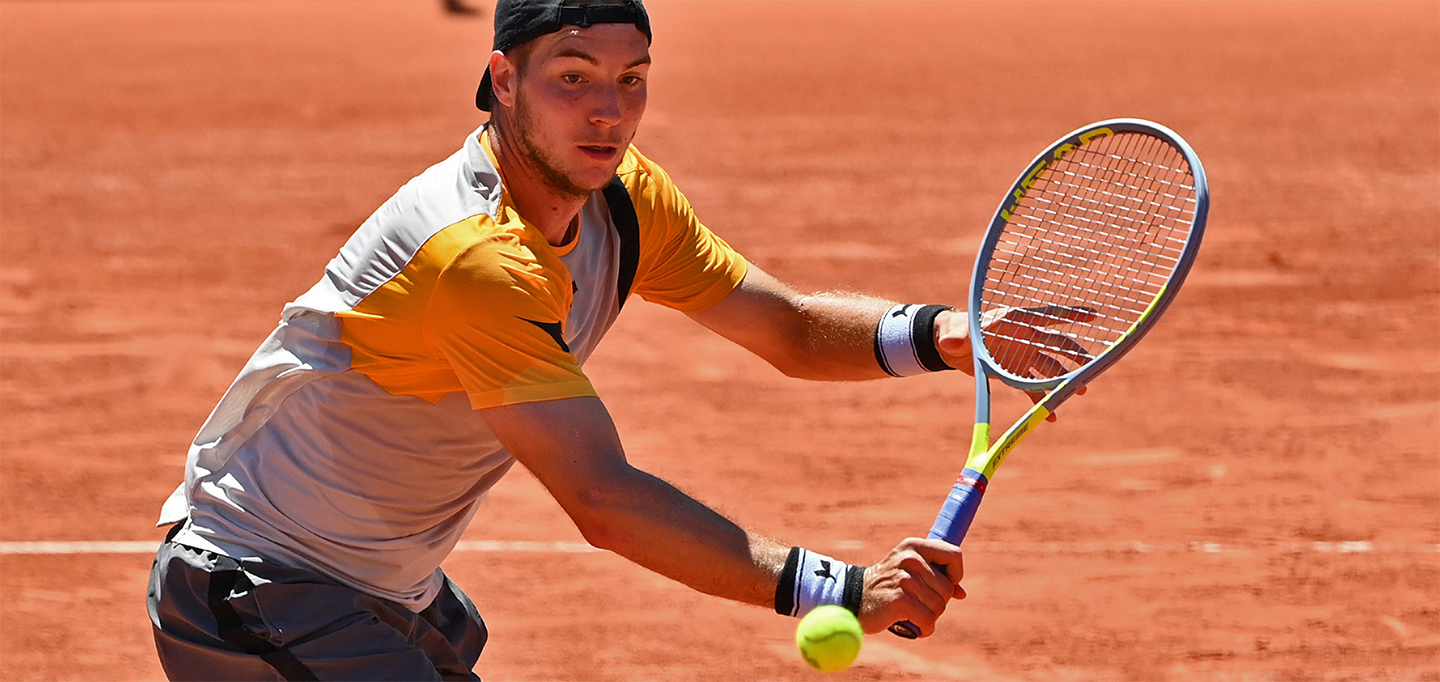 This Italian brand sets itself apart by creating clothing meant to withstand weather extremes and stay comfortable while you play. European tennis stars swear by Diadora's lightweight material for clothing and shoes. Made with the highest polyester, athletes working up a sweat on the court will still feel cool and breezy.
Diadora's clothing is also made in a signature 90's style design, making it a beloved brand for all those athletes feeling nostalgic for this vintage fashion. Diadora's triangle-flag motifs and logos scream 90s sports clothing.
With colorful signature designs, 2022 season sneakers showcase blue and white and orange and red patterns. They're made to be highly comfortable with foamy materials to add bounce to your step and keep your feet cozy as you run around the court.
FILA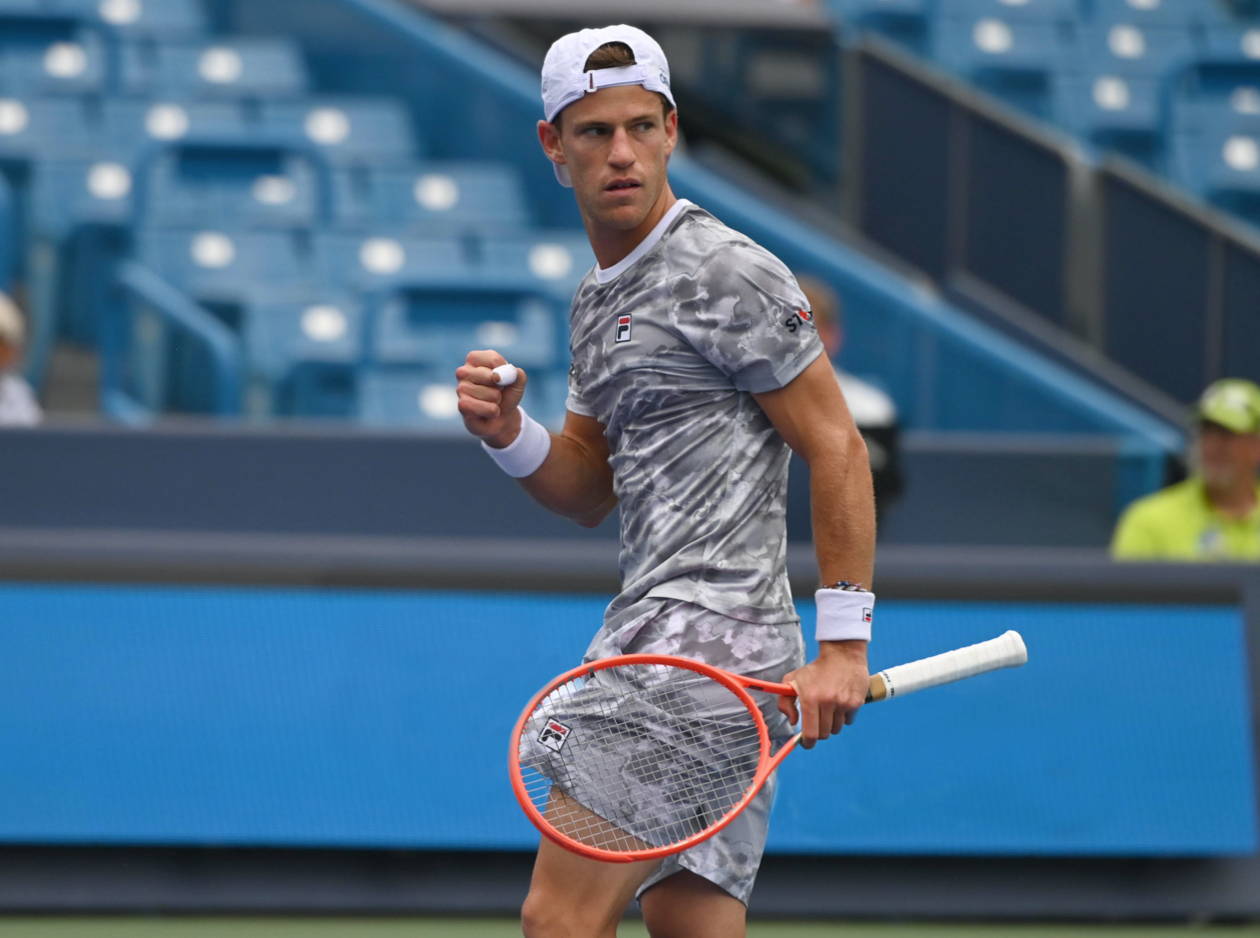 FILA is a top brand that's loved by athletes and fashionistas everywhere. Providing incredible street style with their sneakers, sweatpants, hoodies, and T-shirts, the red and blue FILA logo has come in and out of fashion several times in the last few decades.
FILA became popular in the 80s and continued to be worn by top athletes and celebs in the 90s before falling a little flat. Then, Gen Z came along and revamped the company, bringing it back to its early glory.
In a brilliant business move, the FILA look is still pretty nostalgic, using modern materials and colors to revamp that 80s athlete look. FILA tends to stick to its white, navy blue, and red color markings for a classic and stylish look on the court.
Boast
This American brand was created as an answer to Europe's strict rules about what's trendy and what isn't. According to its mission statement, Boast is incredibly high-quality activewear made for the "rebels" of the sports world. Their highly-recognizable Japanese maple leaf logo dons their polos, shorts, and T-shirts.
While European tennis clothing brands focused on luxury and exclusivity, the idea of Boast was simply to be the opposite of that. They create fun, useable activewear for men and women. Polo shirts for men and women are made from UV-resistant materials and woven with a technique to help keep air flowing while playing.
Tennis shorts from Boast are designed with a vintage 80s feel in mind. Made to be lightweight and allow for optimal movement, each item from Boast comes complete with a beautifully sewn signature logo brightening up their minimalist designs.
Castore
An English brand that skyrocketed to the top of the tennis luxury brand list, Castore clothing is modeled after "Wimbledon style." They feature many crisp white shirts and shorts, emphasizing the old-school classiness of this particular athletic style.
Because they're a new brand, they're not shy about using fabrics and materials that aren't usually found in brand-name tennis clothing. While other companies look for a strict style and fit, Castore focuses on comfortable materials, stretchy fits, and "unique" technology to ensure their brand's clothing is useful on the court, not merely stylish.
We love their Midlayer Longsleeve shirts for men, which are made to comfortably fit any body type and look good. The AMC Tennis Collection is a collaboration between Castore and tennis star Andy Murray and does an excellent job recreating the vintage tennis court look with a modern feel.
Lily Pulitzer
This designer released a specialty tennis line that was so pleasing it is permanent in the collection. Lily Pulitzer tennis clothing is remarkable for its style, a total clash with the plain white tees and minimalist colors of the usual European brands. Instead, Lily Pulitzer features vibrant patterns and bright colors for those who want to stand out.
On top of providing a totally unique look for tennis players everywhere, the Lily Pulitzer brand also invests in the best fabrics to make sure their clothes are light and stretchy. The Gardenia skort is one of the most festive designs out there for those who prefer a one-of-a-kind look. The Brittana Jacket is another lively piece featuring pink and floral colors.
From sports bras and crop tops to tennis skirts in bold patterns, it is no wonder they're a top-rated tennis brand. This season is all about the tropics and the florals. Expect to see lots of polos covered in Monstera-plant leaves, bouquets of flowers, and blue and teal underlying tones.
MICHI
We love this brand for the cross of vintage and modern. Classic tennis styles in a contemporary fit. Clothes are stretchy and meant to be tailored enough to fit the body. They go for traditional colors like white, black, and navy. But what sets MICHI tennis wear apart from the rest is the idea that their pieces are meant to fit snugly, showing off those tennis bodies!
MICHI is made with durability in mind. So, in addition to the stretchy fabric, it's meant to stay in shape for years to come. One downside of brand-name athletic wear is that sports clothing doesn't usually last very long – but MICHI has come to combat precisely that.
The Drive Top for women is a beautiful piece to show off individuality and style on the court, with accentuated shoulders and a narrow-in waistline. The Splice Tennis Dress is a little twist on a typical look, featuring a split front skirt and a rich purple color around the hem.
Casablanca
"The coolest clothing line you've never heard of," according to GQ, has a loveable tennis line that's being praised by fashion critics worldwide. With the bright and apparent upside-down triangle Casablanca logo splashed across sweatshirts, pants, dresses, skirts, hats, and fanny packs, you can find everything you need to have the ultimate tennis street-style look.
While created for sports, Casablanca has become celebrated in the world of leisurewear with its comfortable shorts, sweatpants, and hoodies. They're the epitome of athletic street style. You'll see individuals around the globe wearing their colorful signature pieces.
The Casablanca Laurel Leaf Bracelet is a unique play on the usual jewelry you'd spot at a tennis match. Mostly, their signature Tennis Club t-shirt with beautiful graphics depicting the luxury of Morroco. Their clothing elicits a feeling of lounging around in a Morrocan resort, with loose-fitting tops and pants great for sports and leisure.
Wilson Sportswear
Wilson has always been a top name in sports equipment. But now, Wilson is branching into the world of sportswear, and their debut is a big hit. Classic tennis clothing in fun colors that is manufactured by a company that takes pride in providing the right tools to athletes.
Whether you wear them while you play the game or just looking for something stylish to stroll in, Wilson's new line has what you need. This season they're featuring a beautiful evergreen and off-white color theme for their pieces.
Trendy items include women's tennis pants, men's tennis shorts, and women's seamless bra tops. The Essex Polo for women is beautifully knit with a cinched waist and fun colors on their sleeves. With dozens of tennis shoes, rackets, and clothing options, Wilson stays the GOAT of sportswear.
L'Etoile Sport + Veronica Beard
One of the best collabs of this year was between L'Etoile Sport and Veronica Beard to create this insanely sought-after, limited edition tennis clothing line. They're offering everything from lacey tennis skirts and dickeys to matching racket covers.
The women's wear has a crisp-white lacey theme, and you can find all the pieces necessary for a complete outfit. The dickey jackets in the line are well-liked by the crowd, offering some sophistication and originality when it comes to tennis court fashion.
You can also find some beautiful bags, big enough to fit all your athletic accessories and a collection of bucket hats. This collaboration is for you if you enjoy showing a slight flair at the country club!
Tory Sport
Tory Sport by Tory Burch is exactly as you'd expect. Lots of cute and preppy skirts, vests, shorts, and dresses. The designs are classic tennis fits, like shift dresses and pleated bottoms, all lined with bands sporting the Tory Burch logo.
Tory Burch is a classy style choice designed to impress everyone at the match. Made with comfortable & stretchy material, like the Performance V-neck Dress, Tory Sport evokes 70s vibes. Modern and vintage, all at once, is symbolic of this designer.
Tory Sport is on the higher-end scale of designer clothing, so you can expect to get quality fabrics that are sewn to last. It's also high-end enough to wear anywhere, whether at a tennis match or in the office.
Splits59
This is a beautiful and well-tailored line, made for use and style. Splits59 keeps their designs simple, with tennis dresses and skirts in the usual cuts. However, the fabric is comfortable and made to compliment most bodies. The Martina tennis dress uses "soft, Rigor fabric," which is unique to this designer.
A trendy and well-selling tennis clothing line, Splits59 has classic designs reinvented for those who prefer contemporary fashion. Skorts that hug the body, racerback tanks, and sports bras are on the list of best-sellers.
Their material is supposed to be extremely lightweight, so you don't feel uncomfortable, hot, or itchy when playing. Investing into creating fabric that will wear well while looking good is a cornerstone of companies that produce sportswear, and Splits59 has ensured that their creations will last.
YONY
This LA brand is new on the scene but quickly beloved by the public. Presenting a "racquet club for everyone" tennis clothing line, they offer some of the most down-to-earth original styles in this sport. Made from sustainable cotton in the US, YONY showcases sweatshirts and tennis shorts for men in off-white and navy colors.
It's vital to the fashion of the sport that companies like YONY continue to produce new looks, unafraid to challenge the norm. Lightweight pants and button-up polos are fit to be worn by women and men and aren't too masculine or feminine in design.
Made in New Jersey, YONY brings a necessary injection of East-coast style. You can find split-color polos, knit beanies, and lots of plaid in all of their looks. The Racquet Club Sweat Shorts are made from breathable materials and excellent for any sport.
Free People Movement
Their tennis line is beloved as a fun American answer to stuffy European styles. The Love-All Tennis Dress is a unique take, loose-fitting, with a scoop back and ruched detailing along the A-line hem. Most tennis dresses are standard, form-fitting tunic dresses, occasionally broken up by an A-line design, so it's nice to see designers take some liberties.
They also offer dresses, skirts, skorts, and accessories. We love the "Run For It" two-tone skort with pleats. FPM has a full line of bright and colorful tennis apparel for those who want to stand out on the court. If you prefer crisp whites, FPM has simple but classy tennis shorts for women, racerback tanks, sports bras, and two-tier skorts with ruched details.
Their sportswear is prominent because it's affordable, stylish without being restrictive, and made from quality fabrics that last. With full-body onesies and new designs for sports bras, FPM provides options that are made for active women in any sport.
Lululemon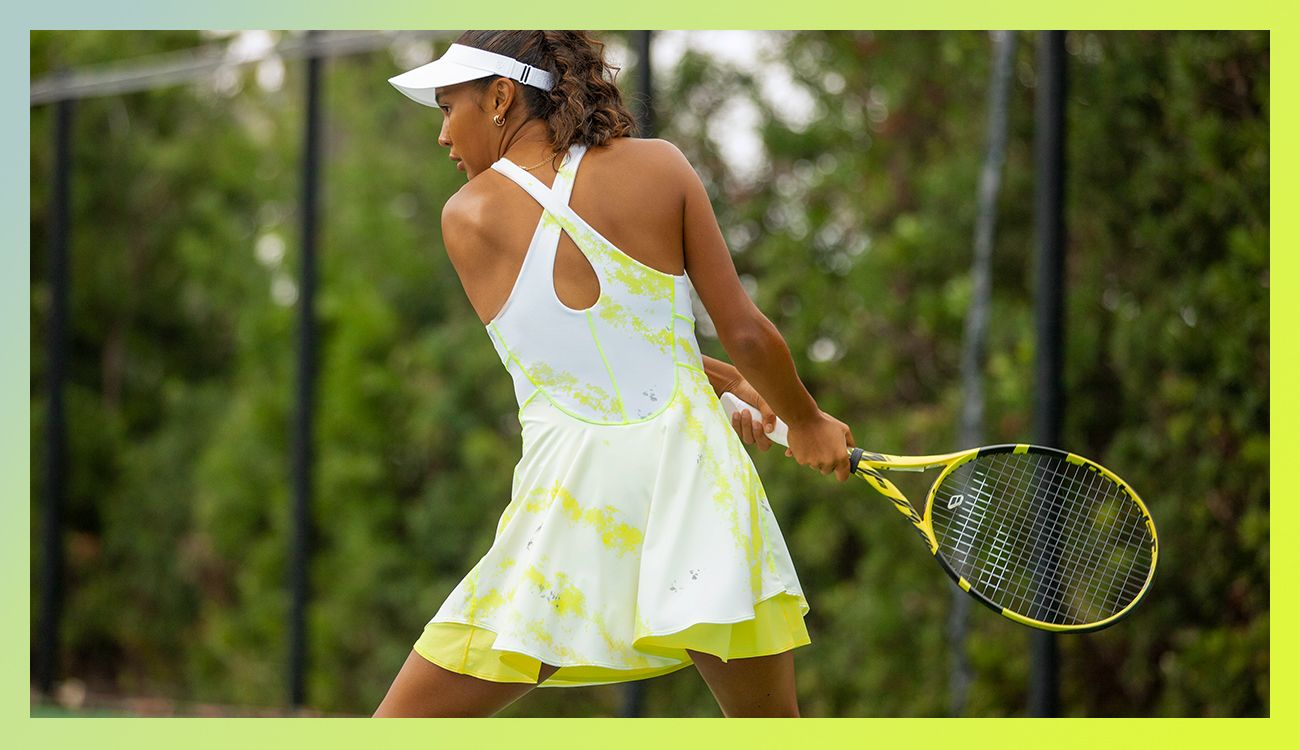 Lululemon is known for its excellent fabrics, leggings, high-quality sports bras, and other gym wear. Branching out with a tennis line, you can find a lot of classic looks for reasonable prices. Using their usual lightweight, stretchy fabrics, you can find plenty of leggings in various designs (some with pockets!). You can also find a few dresses and skirts in bright white and lime green colors.
Lululemon has a full line, including t-shirts, training tank tops, racerback tanks, mid-rise skirts, and athletic shorts in all lengths. They have short and long-sleeve options. They only make women's clothing, but it is quality and fits well, which is the golden rule for all high-end designers!
Lululemon's focus has always been activewear for women, so it's no surprise that they have dozens of items carefully created for specific sports and movements. Tennis requires a full range of motion and supportive clothing that can keep you light and speedy, like Lululemon's lightweight Nulux fabric.
Aerie
Aerie Offline is the company's workout and tennis line with excellent customer reviews. Comfortable and affordably priced, the high-quality skorts ensure you're covered and not distracted while looking good on the court.
The pleated tennis skirt comes in black, white, and burgundy to match the rest of the line. You can find leggings, tank tops, and sports bras to match. Aerie designs are meant to be simple. You won't find too many colors or patterns here. Perfect for the minimalist.
You will find comfortable materials and a variety of sizes, making Aerie a very wearable brand. Utility is key when it comes to athletic clothing, and Aerie pulls that off. These can also be worn off the court as they're stylish enough to pair with almost anything and lightweight enough for even the hottest summers.
The Upside
When most tennis clothes have a 50s or 70s vibe, the Upside is mixing 80s with modern to create something really fun in the industry. The Upside's activewear is a mix of spandex and colors, with lots of contrast and color-blocking in geometric patterns.
You can expect lots of knit oversized sweaters for lounging after a good game, sweatpants in silky materials, dresses, and bicycle shorts to match every outfit. The "Match Player" top and skirt brings the fun of past decades onto the court, in an off-white coloring, with deep-red seams across the skirt and sides of the polo tank.
The collared tank top features a fun open-back design. There are also some beautifully-fit evergreen bomber jackets, bras, and leggings to choose from that are incredibly well-liked.
Full Court Sports Clothing
Launched in 2014 by Marguerite Wade, when she decided there weren't enough options for proper women's tennis attire. Wade boasts that Full Court clothing is made with well-researched materials that allow skin to breathe and repel moisture. Full Court is all about great fabrics and bold colors.
Lots of loose-fitting clothing made from the best cotton and linens showcase the overall style of this designer. This season's athletic wear showcases bright oranges, fun blue and green windbreakers, and crisp whites. The Palm Leaf Windbreaker is sure to catch attention while keeping you comfortable. We love that this brand is affordable!
Full Court provides lovely high-end tennis clothing featuring classic European styles but with a modern twist. Currently exclusively producing women's sportswear, you can find several different styles of sports bras in a full spectrum of colors.
Conclusion
As you can see, there is so much variety when it comes to tennis clothing. You have your pick of color and style, but also the option of picking up some high-quality gear for a reasonable price. Finding the perfect fit for your game doesn't have to be difficult!
So get out there and start playing. Whether it's a round of doubles with friends or hitting the court solo, tennis is a great way to stay active and have fun—especially when you're wearing some awesome new duds!
We hope that you enjoyed reading this article as much as we did writing it! Please leave us an email with any feedback or questions, and don't forget to share this article with your friends if you liked it.
225 Tennis Business Name Ideas that Hit a Winner!
20 Sports Bra Statistics You Need To Know