Australia is famous for its stunning beaches, diverse wildlife, and bustling cities. It's also home to many of the hottest up-and-coming luxury fashion brands on the market.
Australia's signature style of relaxed silhouettes and effortless cool has caught on in other parts of the world. It-girls, fashion influencers, and celebrities are all gleefully adopting the casual, fun approach to fashion that Australian shoppers have known about for decades.
From swimwear to streetwear, Australian designers should be on your radar. Here are 20 of the finest Australian luxury brands to add to your wardrobe.
SIR.
SIR, which stands for "separates, intimates, ready to wear," was founded by best friends Nikki Campbell and Sophie Coot in 2014. The two designers weren't seeing the kind of effortlessly chic clothing they wanted to wear, so they took matters into their own hands.
SIR creates elegantly minimalist pieces that are easy to dress up or down. Its floral dresses, ruched collars, and bustier crop tops convey the relaxed chic aesthetic that has made SIR famous.
Its feminine, breezy vibe brings the quintessential Australian look to an international audience. The label is a favorite among celebrities like Margot Robbie and Gabrielle Union, putting it front and center on the world stage of fashion.
Aje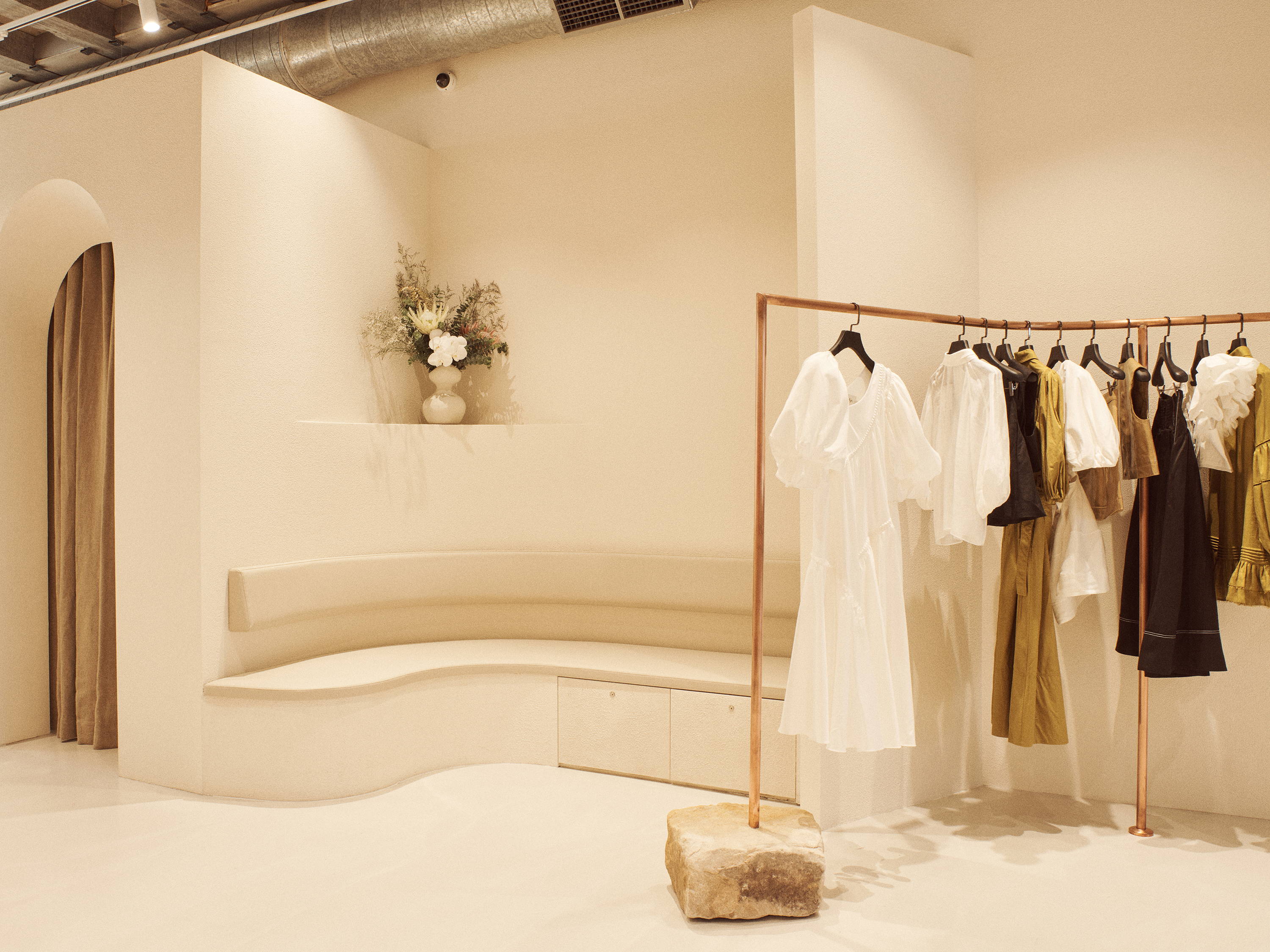 Aje is a quickly rising star in the Australian fashion scene. The brand is peak Aussie fashion. Its elevated basics and statement pieces capture the effortless, relaxed look that put Australia on the map.
Its clothing works for both the beach and the city. Aje pieces range from puff-sleeve evening gowns to denim matching sets. It's a highly versatile brand that isn't afraid to use bold colors and daring silhouettes.
Aje has glowed in the spotlight thanks to a recent surge in popularity among social media influencers and A-list celebrities. For example, Lisa Aiken, Vogue's Executive Fashion Director, is a massive fan of the brand.
ZIMMERMANN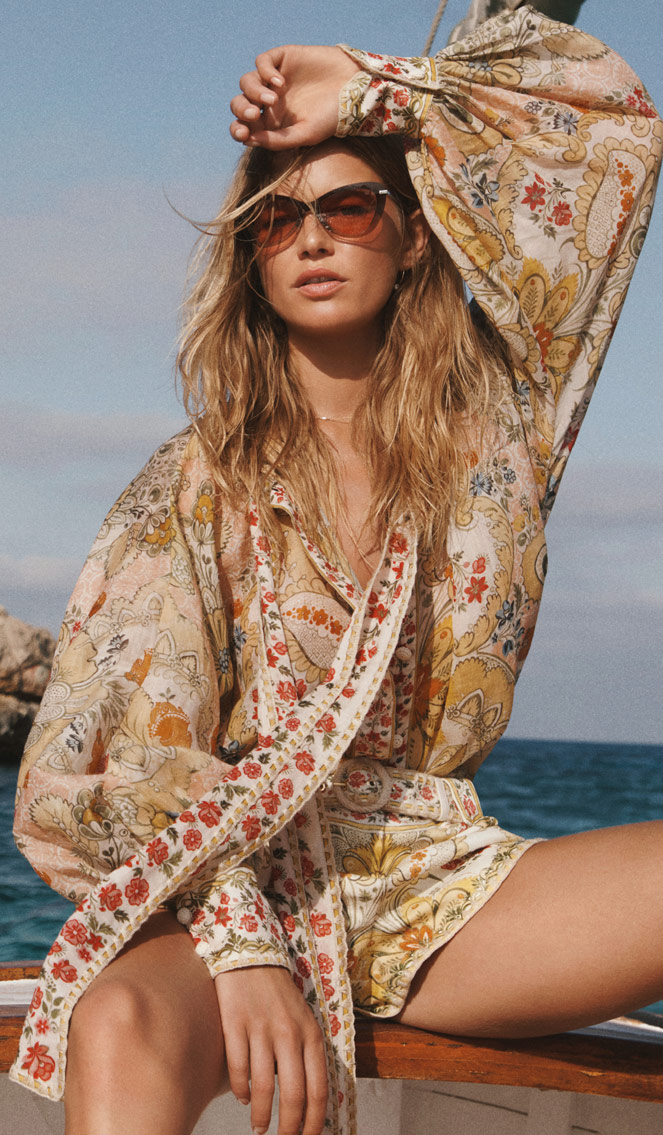 ZIMMERMANN is by far one of Australia's best-known luxury brands. Founded by sisters Simone and Nicky Zimmermann in 1991, the brand has been going strong for decades.
Its lively, colorful, and feminine designs are full of whimsy and wanderlust. Floral and brocade patterns pair with fun appliques that make you want to relax on the beach or stroll along the French Riviera.
ZIMMERMANN has grown to include kid's clothes, swimwear, and various accessories. The brand also has an international presence with stores throughout the U.S., Europe, and China.
Scanlan Theodore
Scanlan Theodore, established in 1987, is an undisputed staple in the Australian fashion landscape. Its clothes have an international appeal because of its simple designs and wide range of products.
The brand's straightforward, clean aesthetic is evident in every design. Versatile separates are easy to mix and match with each other. Wardrobe staples like button dresses and overcoats are well-made, refined, and subtly feminine.
In addition, Scanlan Theodore's color palette is understated and muted, elevating its basics to a new level of luxury. (Not to mention its beautifully color-coded online store.) Fans of the brand love its modern elegance, and we totally understand.
Song for the Mute
If you think Australia isn't into streetwear fashion, think again. Song for the Mute, founded in 2010, is a men's and womenswear brand taking the fashion world by storm with its conceptual collections.
Each new Song for the Mute collection is a "chapter" in the brand's story. Its recent SS 2023 chapter, "1999," channels the trendy Y2K aesthetic with a dystopian twist. Its pieces in "1999" and the rest of its collections expertly combine vintage looks with updated cuts, patterns, and fabrics.
Song for the Mute has a global reach, with stockists across Asia and Europe. In addition, it has an ongoing collaboration with adidas Originals.
Alice McCall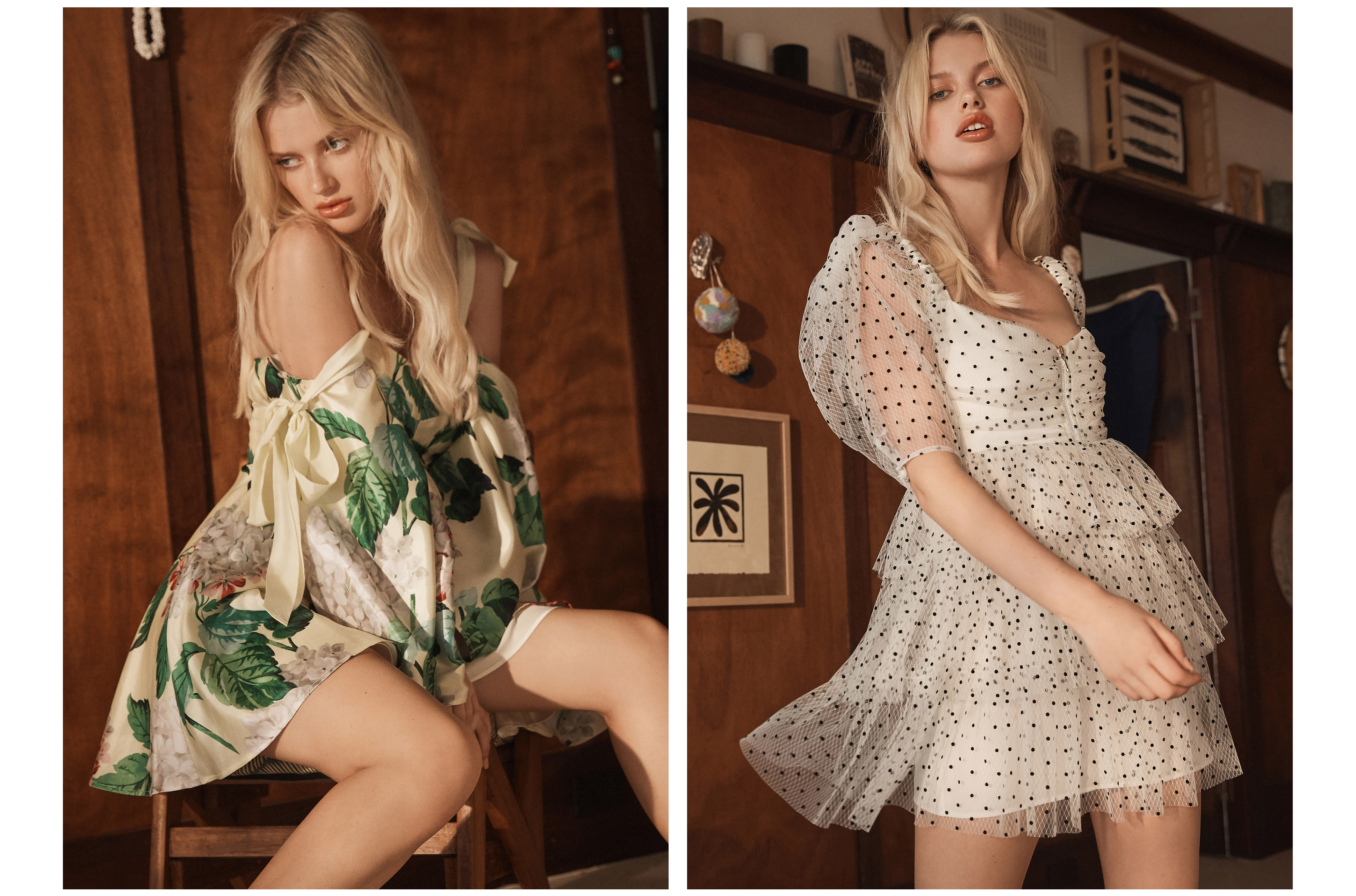 Alice McCall's designs are instantly recognizable thanks to its glamorous, dynamic cuts, fabrics, and patterns. The brand, started in 2004, enthusiastically embraces a relaxed, bohemian aesthetic
Its flirty, feminine ready-to-wear line draws inspiration from the '70s with its floral patterns and crochet statement pieces. There are also ruffles and embroidery galore in each Alice McCall collection.
The brand has international recognition for its high-quality craftsmanship and use of color. Unique patterns, bright colors, and artisan handiwork are all reasons Alice McCall is one of Australia's top luxury brands.
Matteau
Matteau started off as a renowned swimwear brand and recently began producing resort wear collections. Fans of Matteau love its swimwear because of its sophisticated and modern cuts.
The brand's ready-to-wear line is just as refined as its swimwear. Flowing dresses and relaxed pants are perfect for a stroll on the beach. In addition, each piece is seasonless to drive the brand's sustainability and slow fashion goals.
Matteau is constantly working to improve its sustainable practices. Its fibers are all-natural, recycled, or deadstock. Poplin, regenerated nylon, and organic cotton are its primary fabrics.
Romance Was Born
Romance was born in 2005 – literally. Designers Anna Plunkett and Luke Sales cofounded Romance Was Born to create fun, colorful collections for shoppers who love statement pieces.
Romance Was Born draws inspiration from patterns of all kinds. From patchwork-inspired jackets to watercolor-infused prints, the brand pays homage to feminine motifs of the past.
The brand is famous beyond the borders of Australia. It collaborates with other brands, such as Disney and the Sydney Theatre Company, to create immersive, breathtaking special collections.
Arnsdorf
Arnsdorf is a Melbourne-based womenswear brand focused on sustainability. It is an ECA-accredited and B Corp-certified brand, with almost every step of the production process done in-house.
Designer and founder Jade Sarita Arnott re-launched Arnsdorf in 2016 after taking a break to restructure her sustainable brand. Arnsdorf releases limited, small collections using recycled materials and natural fibers.
Arnsdorf's designs are simple, elegant, and chic. Gorgeous tailoring and minimalist silhouettes make Arnsdorf pieces timeless classics that fit into anyone's capsule wardrobe.
Posse
Posse is all about embodying the "less is more" mentality. As a result, its clothing is straightforward, letting the craftsmanship and fabrics speak for themselves.
The brand draws inspiration from vintage patterns and silhouettes. Its pieces are timeless summer staples that people can wear repeatedly. Each collection follows a slow-fashion mindset and is made in small batches.
Posse is a beloved brand because its pieces have understated elegance and quiet confidence. On top of that, its flowy dresses and linen tops are relaxed and comfy.
Abysse
Abysse is a sustainable swimwear line that fits in perfectly with the spectacular beaches of its Byron Bay home base. Its elegant two-pieces and wetsuits elevate beachwear to new levels of refinement.
Every Abysse swimsuit is made from 100% recycled fabric sourced from water bottles and old fishing nets. In addition, it uses Yamamoto Japanese Ecoprene, an innovative rubber made from limestone, for all its wetsuits.
Abysse's muted color palette of white, brown, and black has the occasional subtle splash of color. Chartreuse and burnt yellows appear in refined yet modern patterns.
Oroton
Founded in 1938, Oroton is Australia's oldest luxury fashion brand. It's known as a brand that masterfully combines the elegant with the utilitarian in unexpected ways. Under the current creative director, Sophie Holt, Oroton has adapted to modern sensibilities while remaining timeless.
Its classic leather bags come in fun colors like kelly green and blush pink. In addition, its ready-to-wear line is full of classy swimwear and stylish dresses that can easily transition from the beach to the dining room.
The brand offers products beyond clothing. Luxury candles, umbrellas, and dog collars let shoppers infuse a sense of luxury into every part of their lives. You can even buy a crossbody water bottle holder of pure white leather.
Ginger & Smart
Ginger & Smart is a versatile womenswear brand based in Sydney. Founded in 2002 by two sisters, the brand focuses on creating timeless, sustainable clothing.
Its classic tops, dresses, and pantsuits easily transition from day to night. In addition, specialty prints and bright pops of color bring an element of surprise to pieces like pussy bow tops and wrap dresses.
Ginger & Smart's designs use recycled, biodegradable, and natural fabrics. The brand also exclusively works with ethical factories and manufacturers to ensure fair treatment of the workers that produce its clothing.
Rachel Gilbert
Rachel Gilbert's namesake brand is eveningwear at its best. Its elegant dresses beautifully marry old Hollywood with Australia's signature relaxed look.
In addition to eveningwear, Rachel Gilbert creates stunning wedding gowns and refined separates like knitwear and women's suits. Voluminous silhouettes and painstakingly detailed beading are standard for the brand.
Rachel Gilbert's pieces are red carpet staples. Taylor Swift and Olivia Palermo have worn some of the brand's tasteful creations.
Christopher Esber
Since designer Christopher Esber launched his brand in 2010, it's been creating precisely tailored, modern pieces with a traditional twist. As a result, the brand is constantly pushing the boundaries of women's fashion with each collection release.
The brand is best known for its innovative approach to classic silhouettes. Sculpted hems and clashing fabrics create an exciting balance between the androgynous and the feminine.
Esber's use of cut-outs is precise and surprising. It adds an element of delight to each piece. For example, Christopher Esber's sculpted venus top creates a beautifully organic-looking garment that seems to be a part of the wearer's body.
Anna Quan
Anna Quan founded her self-named brand in 2013 with one goal: reimagining the classic white shirt. Almost ten years later, the brand continues to build its reputation for reinterpreting traditional tailored styles.
Its minimalist style lends itself to detail-oriented, subtly modern designs. Anna Quan's innovative button-up designs and matching knitwear sets are classic without being old-fashioned.
In addition, each Anna Quan piece is seasonless and timeless. You can mix and match its ribbed knits and structured skirts over and over again without being an outfit repeater.
Camilla and Marc
Much like Ginger & Smart, the Camilla and Marc brand started with two siblings who wanted to make a mark in the fashion world. Camilla Freeman-Topper and Marc Freeman founded their namesake brand in 2003.
Camilla and Marc creates tailored, quality pieces that exude elegance. Its deceptively simple designs create classic silhouettes that give its wearer an understated, subtle look. In addition, each piece has an element of surprise, such as a cleverly detached neckline seam or an artful cutout on the side of a dress.
The brand aims to create enduring, versatile pieces that work well in a capsule wardrobe. The brand's high-quality construction and materials ensure that Camilla and Marc pieces can last a lifetime.
Lee Mathews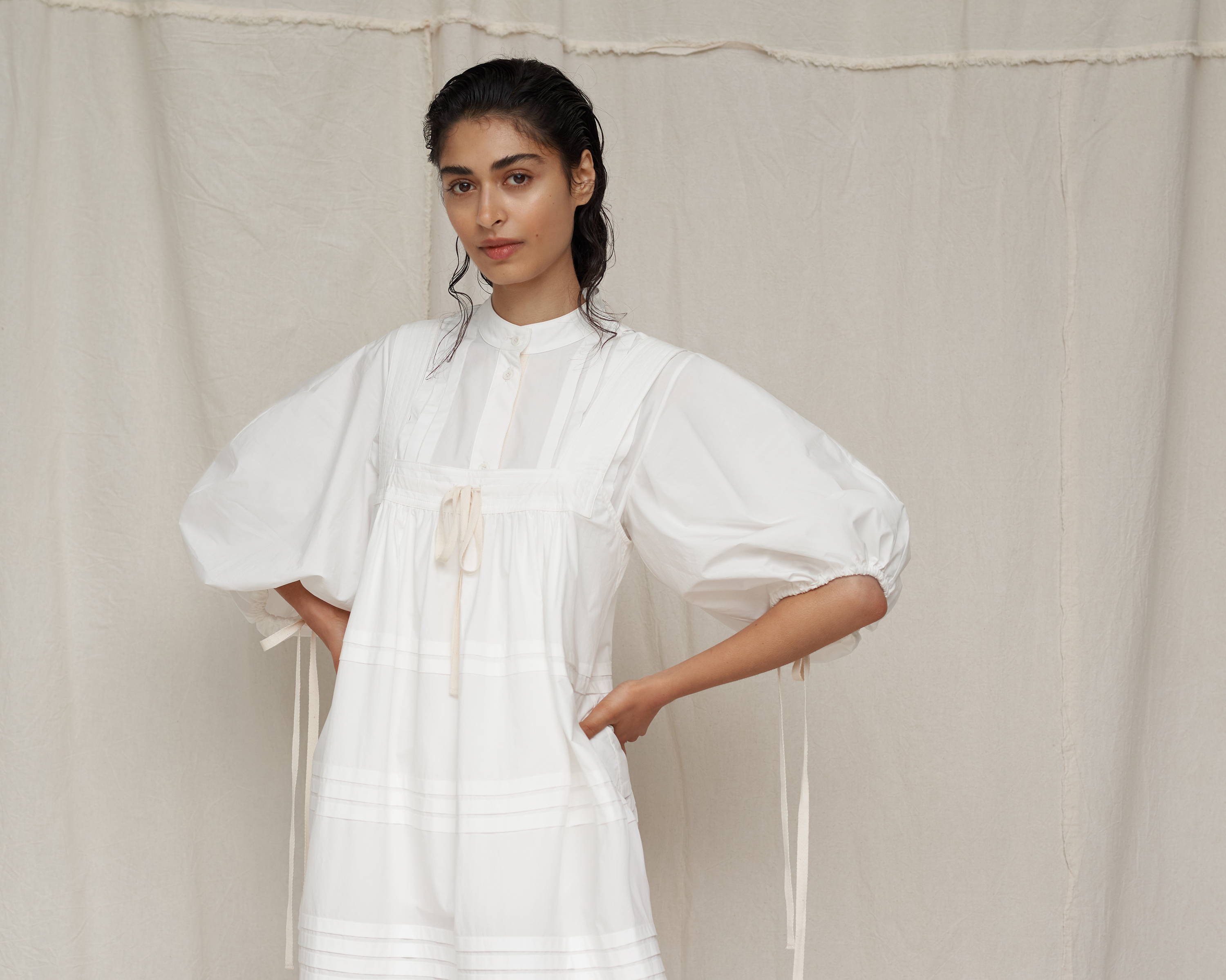 Lee Mathews started her namesake brand after her stint as a Vogue Australia editor. What began as a passion project reworking thrifted clothes has turned into a luxury brand mainstay.
Lee Mathews creates creatively tailored pieces that are functional and elegant. For instance, its roomy dresses add volume without being shapeless. In addition, its knitwear celebrates classic cuts with unique prints, and its pants are appropriate for any occasion.
The brand leans into its reputation for making comfortable, breathable, and refined clothing. Each piece is timeless and is easy to wear across seasons for many years.
Réalisation Par
Réalisation Par is the ultimate cool-girl brand. With fans such as Alexa Chung and Olivia Rodrigo, it's no wonder the brand can barely keep their pieces in stock.
The brand creates '90s-inspired, feminine pieces that have an effortless edginess. In addition, Réalisation Par embodies a fun-loving vibe throughout its collections. Unique prints, teasingly sheer dresses, and vintage-inspired tees all come together to create the perfect fashion influencer wardrobe.
Its slinky, form-fitting dresses and cardigans have cheekily clever names after popular fashion icons, like "The Winona" and "The Rachel." (IYKYK) If you're lucky enough to snag a Réalisation Par piece for your wardrobe, it will quickly become a top favorite.
Bec + Bridge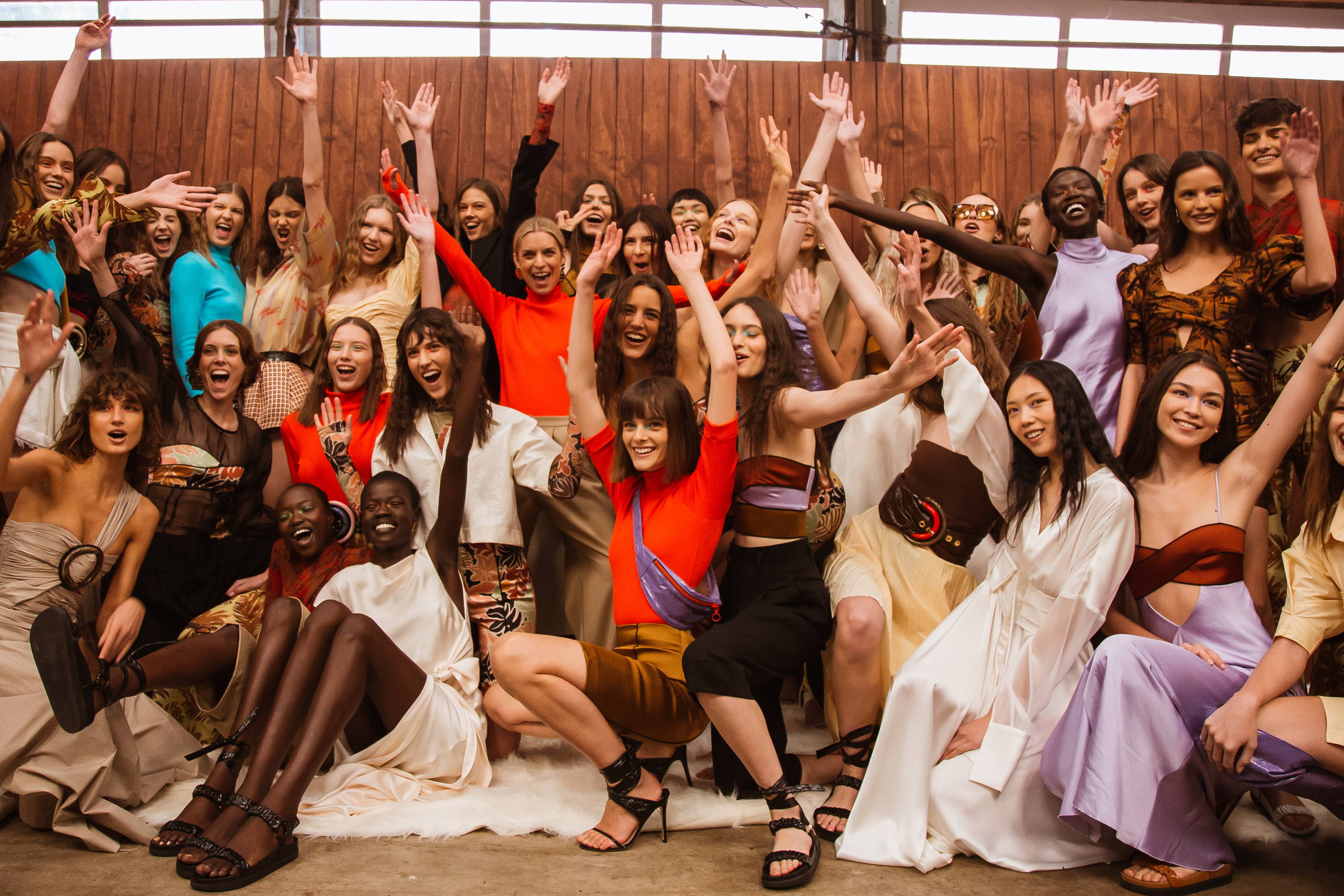 Bec + Bridge has been a must-have international brand for years. Its fun, colorful gowns and separates embody the perfect on-trend wardrobe that draws influence from LA fashion and the Australian coast.
The brand is best known for its slinky party dresses in soft jewel tones and crop tops that are somehow sexy and classic at the same time. Bec + Bridge brings floor-length gowns back into the mainstream with their dress edits.
It-girls like Kendall Jenner, Hailey Baldwin, and Gigi Hadid constantly wear Bec + Bridge pieces. But, despite the brand's wild popularity, It's not entirely unattainable. The brand aims to empower all women with its clothing and is reasonably priced compared to other luxury brands.