There has always been a lack of diversity and inclusion in luxury brands and fashion. But the tides are turning.
Amid the Black Lives Matter movement, people started actively calling out many high-end labels, demanding they address the racist undertones and cultural appropriation that has run rampant in the industry for decades.
However, for some shoppers, these brands' half-hearted apologies are too little, too late. People are interested in moving their money to brands that actively support the Black community in the U.S. and beyond.
If you want to invest more money in Black-owned luxury brands, you've come to the right place. Here are 25 Black-owned fashion brands to put on your wardrobe's radar.
Pyer Moss
Part art project, part luxury brand, Pyer Moss embodies a modern aesthetic with callbacks to tradition and Black history. Trailblazing designer Kerby Jean-Raymond named the brand after his mother, Vania Moss-Pierre, and used the Haitian phonetic spelling for "Pierre."
Each of its ready-to-wear and couture collections centers on a historical figure or theme relevant to Black culture, explored throughout the brand's cutting-edge designs.
Jean-Raymond brings themes such as American hypocrisy and racial injustice to the forefront. American flag tent dresses walk down the runway next to sculpted bustiers reminiscent of gas masks.
Pyer Moss has made headlines this year for its iconic collab with Reebok. In addition, the brand has collaborated with fellow Black-owned shoe brand Brother Vellies.
Hanifa
Designer Anifa Mvuemba founded her luxury brand in the early 2010s, but it really took off during the pandemic. After canceling Hanifa's first New York Fashion Week show in 2020, Mvuemba created a virtual presentation that quickly went viral.
African tailoring heavily influences Hanifa's feminine silhouettes. The brand's meticulous, structured cuts ensure each piece perfectly fits the curves of every woman's body. Its jumpsuits, dresses, and knitwear exude sexiness while remaining comfortable.
Hanifa has built its reputation on bold colors, fun prints, and fluid silhouettes. Its recent FW 2022 collection features edgy cut-outs, cozy knits that are to die for, and asymmetrical cuts.
LaQuan Smith
LaQuan Smith formally debuted his self-named brand in 2013. His sexy, sultry designs have been making "best dressed" lists since.
His brand is the perfect mixture of unapologetic edginess and classic glamour. For example, LaQuan Smith's iconic bustier top comes in bright, bold metallics reminiscent of Y2K club culture. There is also a wide variety of bodysuits and catsuits in any pattern or cut you can imagine.
The brand made headlines in February 2022 when tabloid darling Julia Fox opened its New York Fashion Week show in the hottest revenge dress ever. Other fiercely independent celebrities like Beyonce, Rihanna, and Kim Kardashian love the brand and act as LaQuan's muses.
Telfar
Telfar is here to change the game of luxury fashion. The luxury streetwear brand's slogan is "Not for you– for everyone," and it's caught on with people worldwide.
The brand focuses on making luxury more accessible and inclusive, making it wildly successful. For example, Telfar's iconic Shopping Bag sells out in literal minutes upon release. The refined, subtle logo bags aren't exorbitantly priced, either. The smallest Shopping Bag is only $150.
Alongside its handbags, Telfar offers products that celebrate Black fashion and culture. Durags, leather baseball caps, and comfy slides embody the brand's signature refined aesthetic.
Off-White
Although renowned designer Virgil Abloh passed away in 2021 at the too-young age of 41, his legacy lives on in his brand. Off-White, based in Milan, was founded by Abloh in 2013. It is world-famous for bridging the gap between streetwear style and runway fashion.
Off-White collections constantly push the envelope of high fashion. Bold blue bodysuits juxtapose with muted knee-high boots. Form-fitting matching sets disrupt the relaxed feel of corresponding bucket hats and skorts.
Today, Off-White offers everything from home goods to kid's clothing. Every item infuses the elegance and effortless cool that put Abloh's brand on the map. The brand also has collaborations with Nike and feminist artist Jenny Holzer.
Brandon Blackwood
Brandon Blackwood's eponymous brand creates luxury handbags, outerwear, and accessories with an haute couture edge. Its innovative micro bags and faux fur coats infuse humor and whimsy into classic luxury items.
The brand experienced tremendous growth in 2020. It went viral when Blackwood released a special edition tote bag that read "END SYSTEMIC RACISM" across one side. Blackwood donated some of the proceeds to the nonprofit Lawyers' Committee for Civil Rights Under Law.
Since Brandon Blackwood blew up in popular culture, the brand has released chic, understated handbags and outerwear. The designer also founded the Brandon Blackwood Foundation, which aims to empower POC creatives.
WEAR BRIMS
WEAR BRIMS cofounders Archie Clay III and Tajh Crutch began their luxury hat company with three guiding principles in mind: the pillars of family, faith, and confidence.
Hats have a long, rich tradition in Black church culture and history. WEAR BRIMS continues that tradition with its gorgeously made fedoras and caps. Richly woven straw hats, velvet ribbons, and lush wool elevate this everyday object to a sign of luxury.
WEAR BRIMS is the first Black-owned luxury hat brand sold at Nordstrom. Neiman Marcus also sells the brand's specialty hats.
Tori Soudan
Tori Soudan's self-named brand launched in 2011 and produces classically chic heels, flats, and handbags. Designer Tori Soudan was initially inspired to enter the world of shoemaking during a trip abroad to Venice, Italy.
Italian artisans handmade each pair of Tori Soudan shoes with high-quality leather. The brand embodies refined, effortless confidence with its classic quilted bags and sexy heels named after iconic women. Unfortunately, we can neither confirm nor deny if the brand's Kamala Pumps are named after Kamala Harris.
Tori Soudan's artisan shoes have caught the attention of celebrities like Zendaya and Saweetie. In addition, major news publications like ESSENCE magazine and CNN have also featured the designer.
ASHYA
ASHYA is a unisex leather accessories brand created by designers Ashley Cimone and Moya Annece in 2017. The two women draw on their Jamaican and American backgrounds to create versatile travel items like crossbody bags and innovative backpacks.
Each ASHYA piece is truly luxurious, with 14K gold hardware, vegetable-tanned leather, and organic cotton lining. Its minimalist aesthetic lets the quality of the materials and the bag's practical design shine through.
ASHYA bags keep the modern traveler in mind. Their compact size and sleek design bring a fresh look to the often clunky belt bags and fanny packs used by tourists.
Brother Vellies
Brother Vellies, founded by fashion industry veteran Aurora James, is a footwear and accessory brand focused on sustainability and slow fashion. It makes each of its products in small batches to encourage mindful consumption.
The New York-based brand uses traditional techniques and practices to create its handbags and heels. Each pair of shoes is handcrafted, and the brand ensures its artisans receive fair compensation.
Creating sustainable and eco-friendly shoes is notoriously tricky, but Brother Vellies is up to the challenge. It uses creative materials like recycled tires and floral dyes to bring a more natural, thoughtful vibe to its pieces.
Undra Celeste
Undra Celeste is a Brooklyn-based designer redefining modern womenswear. Her brand, Undra Celeste New York, creates professional workwear that is classic but on-trend. The brand's tailored dresses, structured trousers, and voluminous silhouettes instill confidence and comfort.
Undra Celeste isn't afraid to bring a modern twist to traditionally stuffy officewear. Turtleneck knits have dramatically flowing bell sleeves, and the "grandpa cardigan" shape has braided elements along the hem.
Its FW 2022 collection is currently available exclusively at Saks Fifth Avenue. In addition, publications such as Harper's Bazaar and Vogue regularly celebrate the brand.
Christie Brown
Designer Aisha Obuobi's acclaimed brand launched in 2008. The label operates out of her native Ghana. Obuobi named Christie Brown after her grandmother, a skilled seamstress who never got to start a brand of her own.
The brand uses rich, deep colors and vibrant fabrics in all its designs. Its eclectic and unique prints pay homage to traditional Ghanaian weaving and textile practices. Bubble sleeves, expertly tailored skirts, and creative cuts create Christie Brown's powerful, feminine vibe.
Christie Brown proudly celebrates African craftsmanship and heritage. The brand's flagship store in Accra has put Ghana on the map as a hub for fashion and innovation.
Ozwald Boateng
British-Ghanaian designer Ozwald Boateng has been making refined waves in menswear for over 30 years. His eponymous brand celebrates Black excellence, expert tailoring, and Boateng's Ghanaian heritage.
The Ozwald Boateng brand fuses traditional Savile Row tailoring with a modern aesthetic. Silk dress shirts use sumptuous jewel tones, while skinny ties reflect traditional Ghanaian patterns. The brand's casualwear has the same precision in its silhouettes and fits.
The menswear brand also offers made-to-order items like kimonos and bomber jackets. Each piece is one-of-a-kind and made to fit perfectly. Owning a couture Ozwald Boateng piece is like owning a work of art.
Andrea Iyamah
Designer and brand owner Andrea Dumebi Iyamah brings haute couture and swimwear together like no other. Her brand celebrates retro styles, African cultures, and modern femininity.
Andrea Iyamah's resort wear collections create a refined, relaxed look with flowing robes and voluminous jumpsuits. In addition, its swimwear has gravity-defying structural elements more commonly found on evening gowns, like ruched, off-the-shoulder sleeves or high necklines.
The brand also offers bridalwear, but with a twist on tradition. Structured leotards and two-piece sets redefine the meaning of a wedding dress for its forward-thinking shoppers.
Mifland
Mifland started in 2011 as a handbag and accessory line. It grew so popular that it eventually expanded into ready-to-wear luxury streetwear. Its designs are colorful, playful, and fun.
Mifland's aesthetic brings effortless design to functional pieces. For example, its hand-painted utility totes juxtapose luxurious leather with free-spirited colors. In addition, its apparel takes classic shapes like quilted puffer jackets and infuses a bit of twee and whimsy.
Fans love Mifland for its functionality, versatility, and durability. The fandom extends to celebrities like Tessa Thompson and LeBron James, who have been spotted wearing the brand's clothing and toting around its backpacks.
Wales Bonner
Wales Bonner, headed by designer Grace Wales Bonner, is reappropriating Euro-centric conventions of fashion. The brand's collections make Afro-Atlantic influences the main focus of its designs, not just an accessory.
The brand's clothing is subtle but eye-catching with its refined tailoring and unique fabrics. For example, the black cashmere suit from its SS 2023 collection was a stunning, quiet stand-out.
In addition, Wales Bonner constantly incorporates traditional crafting methods into its designs. For example, its collaboration with adidas included crochet stripes and high-contrast stitching. The adidas collab pushed Wales Bonner into the mainstream, and we can't wait to see what comes next.
TODD PATRICK
Menswear brand TODD PATRICK looks to the future while respecting past traditions. Brand founder Desyree Nicole wants to start a conversation and encourage innovation with her designs.
TODD PATRICK's pieces take apparent influence from mid-century modern fashion but with a modern twist. For example, traditional men's button-ups use fabrics like lace and silk. In a more obvious homage, a graphic tee has an image of a silver spoon collection most of us would find hanging in our grandmother's den.
TODD PATRICK proudly touts itself as incorporating a women's touch into menswear. With her partner Gabriella Paulino, Desyree is pushing the envelope of men's fashion one bespoke piece at a time.
Christopher John Rogers
Emerging designer Christopher John Rogers launched his namesake brand a few seasons ago. His designs are already taking the fashion world by storm. The NYC-based brand merges the surreal with the practical.
Rogers refers to his designs as "pragmatic glamour." One look at his brand's collections will tell you why. Bold colors and textured fabrics harmoniously clash with practical pant suits and comfy dresses.
The brand's pieces are fresh air in the luxury fashion scene. Its creative use of unconventional fabrics creates energetic, fun pieces anyone can wear.
Ndigo Studio
Architecture and design are two enormous influences for Ndigo Studio founder Waïna Chancy. A fashion stylist who has worked on such films as Moonlight, Chancy pushes the boundaries of minimalism with her brand.
Ndigo Studio's designs are simple, sleek, and refined. However, instead of the basic blacks and whites standard in minimalist design, Ndigo fully embraces the colors of the rainbow. Electric green flies off a dress's billowing sleeves, while a beautifully pleated crepe creates new silhouettes.
Ndigo's pieces aim to combine art with fashion. Architectural construction and rich jewel tones are the mainstays of the brand's aesthetic. Some dresses even look like sculptural pieces you'd find in a museum.
Martine Rose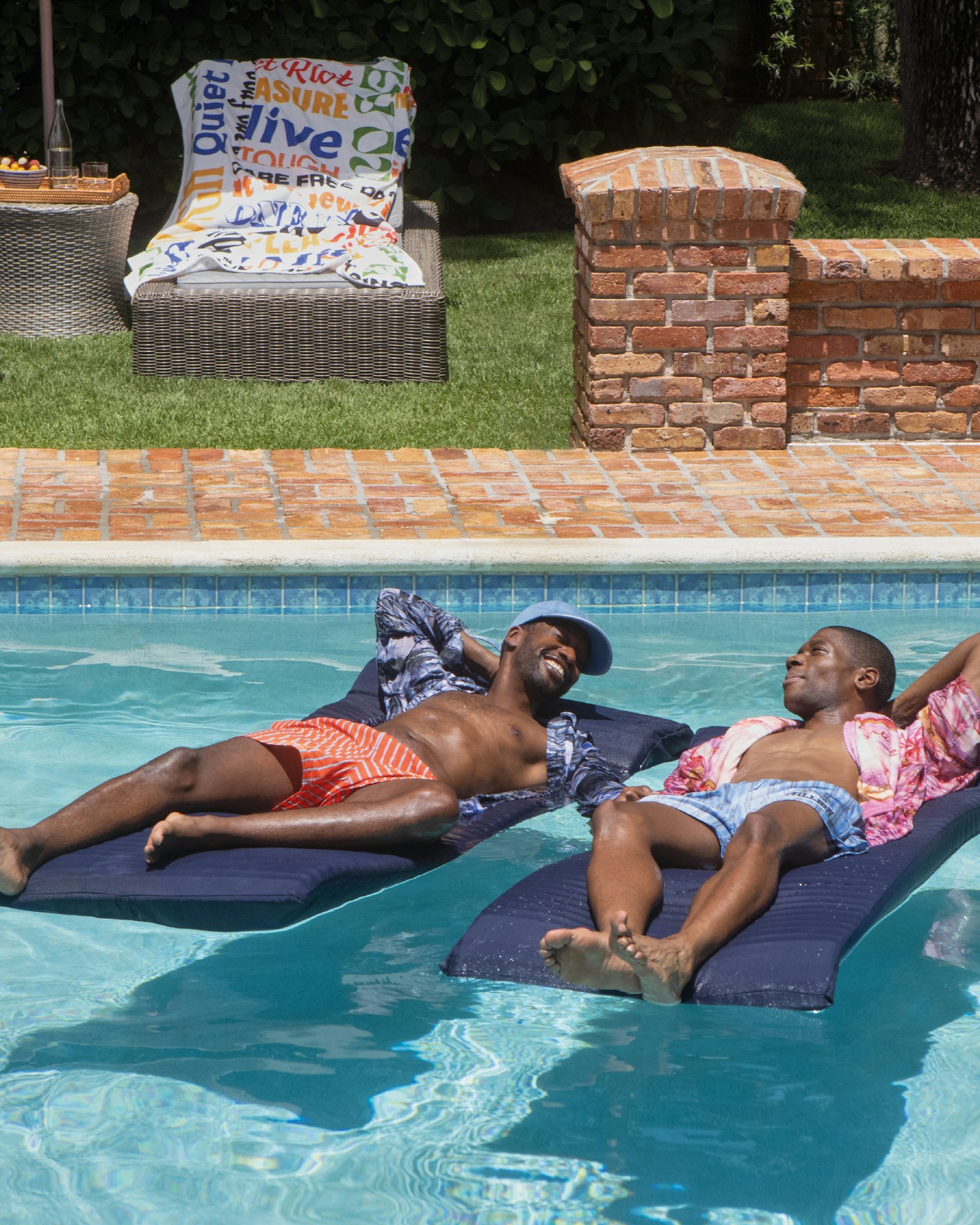 Martine Rose launched her namesake brand back in 2007. What started with a simple shirting collection has grown into one of the top menswear brands in Britain.
Martine Rose's menswear collections are relaxed, eclectic, and somewhat provocative. The brand's website and runway shows feature models of all ages, identities, and ethnicities wearing oversized tees, uniquely cut jackets, and tropical ties.
Martine Rose is known for pulling inspiration from various British subcultures, like soccer super fandoms or '90s club fashion. However, the brand recently surprised everyone with its Tommy Hilfiger collab. It doesn't get more "all-American" than that.
Thebe Magugu
South African designer Thebe Magugu's self-named brand creates high-end fashion influenced by South Africa's history and timeless design.
The brand incorporates its iconic Sisterhood symbol into many of its designs. The intertwining female figures represent unity and empowerment– two feelings Magugu wants its fans to feel when wearing its clothing.
Thebe Magugu is quickly becoming a household name. The brand has collaborated with adidas, and recently announced a capsule collection with Dior. Proceeds of the Dior collaboration will benefit CTAOP, a non-profit that provides education and healthcare to young South Africans.
Vavvoune
Vavvoune creates handbags and accessories that marry classic construction with modern shapes. Self-taught designer Valerie Blaise loves the feeling of nostalgia her leather bags illicit.
Bold handles, bright colors, and innovative shapes make Vavvoune bags the perfect companion for travel, work, or a night out. Each bag is versatile and functional but with a twist. For example, the deep bucket shape of its Mishe Bag and the fun fringe on its Clarette Baguette are both delightful elements.
Fans of the brand love its feeling of spontaneity and experimentation. All Vavvoune handbags are made in the U.S. and stocked at Nordstrom stores across the country.
Fear of God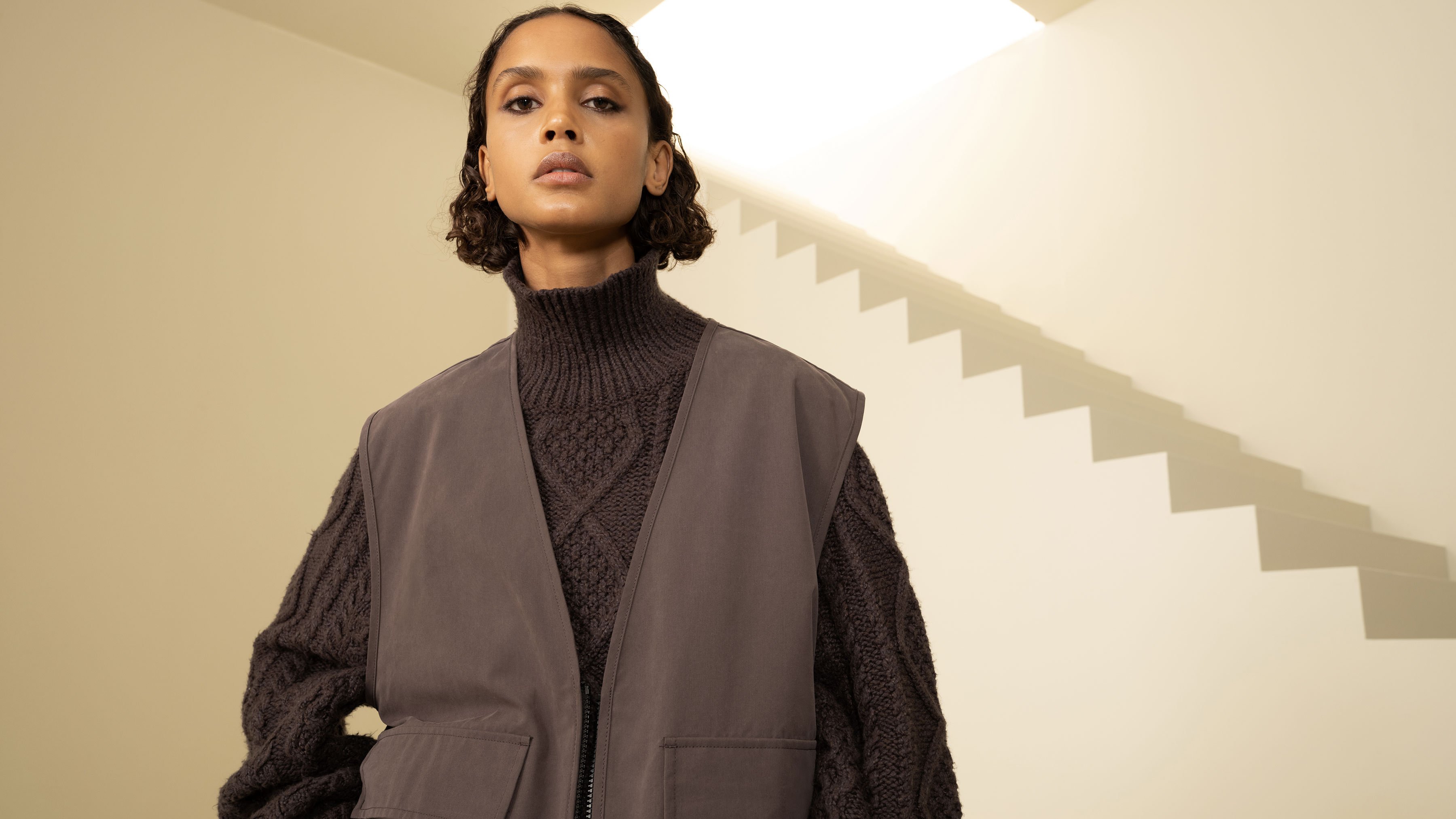 Fear of God remixes classic streetwear silhouettes to create something new and exciting. The brand was started in 2012 by Jerry Lorenzo, son of MLB player Jerry Manuel. Lorenzo was relatively unknown when he launched Fear of God, but that quickly changed.
Fear of God blends hip-hop fashion with vintage '90s grunge to create classic-yet-edge shirts, jackets, and hats. Recent pieces have nods to classic baseball motifs. It's a clever easter egg for fans who know Lorenzo's family history.
The brand has garnered attention from celebrities like Justin Bieber and Gigi Hadid. Its sister brand, ESSENTIALS, is also a favorite among fans. Its designs have a more minimalist edge than Fear of God's designs but still have Lorenzo's signature style.
Kai Collective
Kai Collective and its designer Fisayo Longe want women to feel confident and powerful when wearing Kai designs. Fisayo draws on her fashion and travel blogger career to get inspiration for Kai Collective's colorful clothing.
Bold patterns, sheer fabrics, and vampy silhouettes make Kai Collective the perfect brand for today's multi-dimensional, adventurous woman. Its long-sleeve mesh dress is a favorite because it is racy and modest.
The brand has branched out to menswear, swimwear, and more. In addition, the brand's "Kai at Home" line features luxuriously comfortable robes, pajamas, and kimonos.
Fe Noel
Fe Noel is a Brooklyn-based womenswear brand that celebrates founder Felisha Noel's Grenadian heritage. Tropical prints, flowy silhouettes, and voluminous sleeves are signatures of the brand's aesthetic.
Fe Noel's designs are for the wandering woman who loves to travel. Off-the-shoulder cloud tops and mesh button-ups make anyone wearing them look ready for a relaxing day on the beach. Each Fe Noel piece works well as a statement look and a mix-and-match staple.
The brand also dabbles in swimwear. Its most well-known design is the puff sleeve bodysuit, which creates a sexy and classic silhouette that looks straight off the runway.