Bohemian style, or boho style, is a fashion trend found all over the world. Although it's easy to spot, it can be hard to define.
The original boho style and culture originated from Bohemians who emigrated to France in the 18th century. Today, it's become a style known for its tiered dresses, floral prints, and flowy fabrics. Some boho brands embrace vintage elements, while others prefer a hippie aesthetic.
No matter your definition of boho style, we put together the ultimate list of boho clothing brands to incorporate into your wardrobe.
Free People
Free People is the quintessential boho brand on this list. What began as a small shop in Philadelphia in the 1970s is now a major brand sold in over 1,400 stores worldwide.
Free People's designs are classic, romantic, and chic. Elements like patchwork, tassels, and crochet give the brand a homemade feel that is never frumpy. Fan favorites include the brand's slouchy tees, floral shawls, and paisley tops.
The brand also embraces plenty of 70s silhouettes that are bohemian staples. Orange super-flare jeans, babydoll tops, and embroidered dresses highlight the brand's free-spirited, free-love aesthetic.
Chloé
Chloé is the brand most people think of when they hear "boho chic." Founded in 1952 by Gaby Aghion, the French luxury brand is known for its relaxed silhouettes and modern interpretations of classic looks.
Flowing white dresses, voluminous sleeves, and gladiator sandals are all staples that put Chloé on the boho fashion map. The brand is going in a more polished direction under Creative Director Gabriela Heart, but it still holds onto vintage chic with its relaxed trousers, eclectic knits, and layered dresses.
The brand is a favorite among celebrities because of its effortlessly chic pieces. For example, Boho fashion queen Sienna Miller recently wore an old pair of Chloé boots from 2009. It's a brand that stands the test of time because of its consistency and devotion to the boho aesthetic.
Faithfull the Brand
Faithfull the Brand was established by Helle Them-Enger and Sarah-Jane Abrahams in 2012. The two designers aim to bring a "sense of summer" and travel through their carefree, relaxed designs.
The brand's dresses, swimsuits, tops, and accessories all evoke a wanderlust that makes you want to escape to a tropical beach somewhere. Faithfull switches up the stereotypical boho aesthetic with bold colors and batik patterns.
Faithfull's dresses stand out in every collection. Their flowing silhouettes, clean lines, and feminine frills create a simultaneously effortless and refined look. Because the brand embraces a more elegant design side, it differentiates itself from many other bohemian-style brands.
Lucky Brand
Lucky Brand is best known for its jeans, but the label produces plenty of womenswear with a subtle boho vibe. Lucky Brand, founded in 1990, also incorporates a slightly Western feel into its designs.
The brand is beloved for its flowy babydoll dresses and comfy peasant tops in earth-tone and floral prints. Denim button-ups, faded vintage-inspired tees, and cozy cable knits are also brand staples. Its jeans also draw inspiration from the boho style, with plenty of corduroys and faded denim.
Although Lucky Brand filed for bankruptcy in 2020, it is still in business. The brand is now owned and operated by SPARC Group, the same company that runs Aéropostale and Forever 21.
Fillyboo
Designer Pippa Henderson launched Fillyboo in Sydney, Australia. The brand designs gorgeous, feminine clothing that is perfect if you want a girly boho look with a touch of Western style.
If you love patterns and florals, Fillyboo is the brand for you. From high-waisted shorts to gingham matching sets, it's hard to find a solid color in its collection. Each piece is ethereal, flirty, and fun.
Romantic ruffles and delicate prints are the mainstays for Fillyboo. There's no shortage of flowing maxi dresses with embroidered flowers or ruffled white floral tops with pussy cat bows. In addition, the brand has a line of clogs and boots that tie together its Western and boho aesthetic with gingham-printed leather and Dutch-inspired florals.
Cleobella
Couple Ange and Jim O'Brien founded Cleobella in 2006 to share their love of travel, art, and culture. The brand works with artists and makers worldwide to create gorgeous handmade clothing and accessories.
In classic boho fashion, the brand does not shy away from patterns and prints. Paisleys, plaids, and psychedelic waves are all found in Cleobella's dresses, skirts, and tops. In addition, elements like fringe and delicate tie-collars bring together the brand's look.
Cleobella's handmade, effortlessly chic clothing uses organic and sustainable fabrics. In addition, the brand's production process aims to preserve and nurture traditional techniques in wood blocking, embroidery, and more.
Lovestitch
Lovestitch offers affordable, fashionable boho-inspired designs for the modern woman. From floral peplum tops to loose cotton trousers, this brand has everything you need to build a solid boho wardrobe.
The LA-based brand also incorporates California style and vintage inspiration into its designs. Its cozy shawls, wrap sweaters, and eclectic maxi dresses all work for a relaxed day at the beach or a Sunday dinner at home.
Lovestitch works with fair-trade factories in India and China to ethically make its clothing. In addition, the brand also offers intimates and skincare products like body butter and charcoal face masks.
Stone Cold Fox
Stone Cold Fox is the best brand for boho girls who love a more understated look. The LA-based brand was co-founded by friends Cydney Morris and Dallas Wand in 2013. It draws inspiration from vintage styles and reinvents them for a modern audience.
Stone Cold Fox pieces are more slinky and figure-hugging than the average boho look, but the influence peeks through in touches like wooden buttons and bell sleeves. In addition, the brand's SCF Bride line also offers a range of boho-inspired wedding dresses with relaxed silhouettes and plenty of ruffles.
Most Stone Cold Fox designs are crafted in the US in small batches. Its wedding gowns are extremely popular, with new releases often selling out quickly. The brand also offers custom and made-to-order bridal pieces.
Fanm Mon
Haitian-born designer Sophia Demirtas started Fanm Mon in 2013 as an homage to her Caribbean culture and heritage. The brand, named after a Haitian Creole phrase meaning "mountain woman," crafts one-of-a-kind, handmade dresses, jumpsuits, and cardigans.
Fanm Mon's tiered maxi dresses and love of ruffles draw from the boho aesthetic but create a unique style. The brand celebrates slow fashion, embroidery, and flowing fabrics in each design. Larger-than-life embroidered roses, delicate cut-outs, and hand-stitched ruffles are brand hallmarks.
The brand's classic, feminine designs have drawn the attention of celebrities and influencers alike. Stars like Lauryn Hill have worn the brand's fresh designs. Also, its Demre dress is having a moment as the outfit of choice for pregnancy announcements and baby shower photo-ops.
MINKPINK
MINKPINK is a well-loved Australian brand known for its floral prints and feminine designs. Founded by designer Rachel Evans in the early 2000s, MINKPINK is all about fashionable, boho-inspired, flirty, fun designs.
The brand updates boho staples like paisley and ruffles into modern, sexy silhouettes. Matching sets, minidresses, and crop tops embody a relaxed, beachy feel. Shoppers can go all out with loose, tiered maxi dresses or ruffled mini skirts.
On the other hand, part of the brand's success is its wide range of designs. If you don't feel like going full-on boho, you can keep it understated with a form-fitting flare midi dress. The scope and versatility of MINKPINK's designs make it a fashion favorite for many shoppers.
My Sleeping Gypsy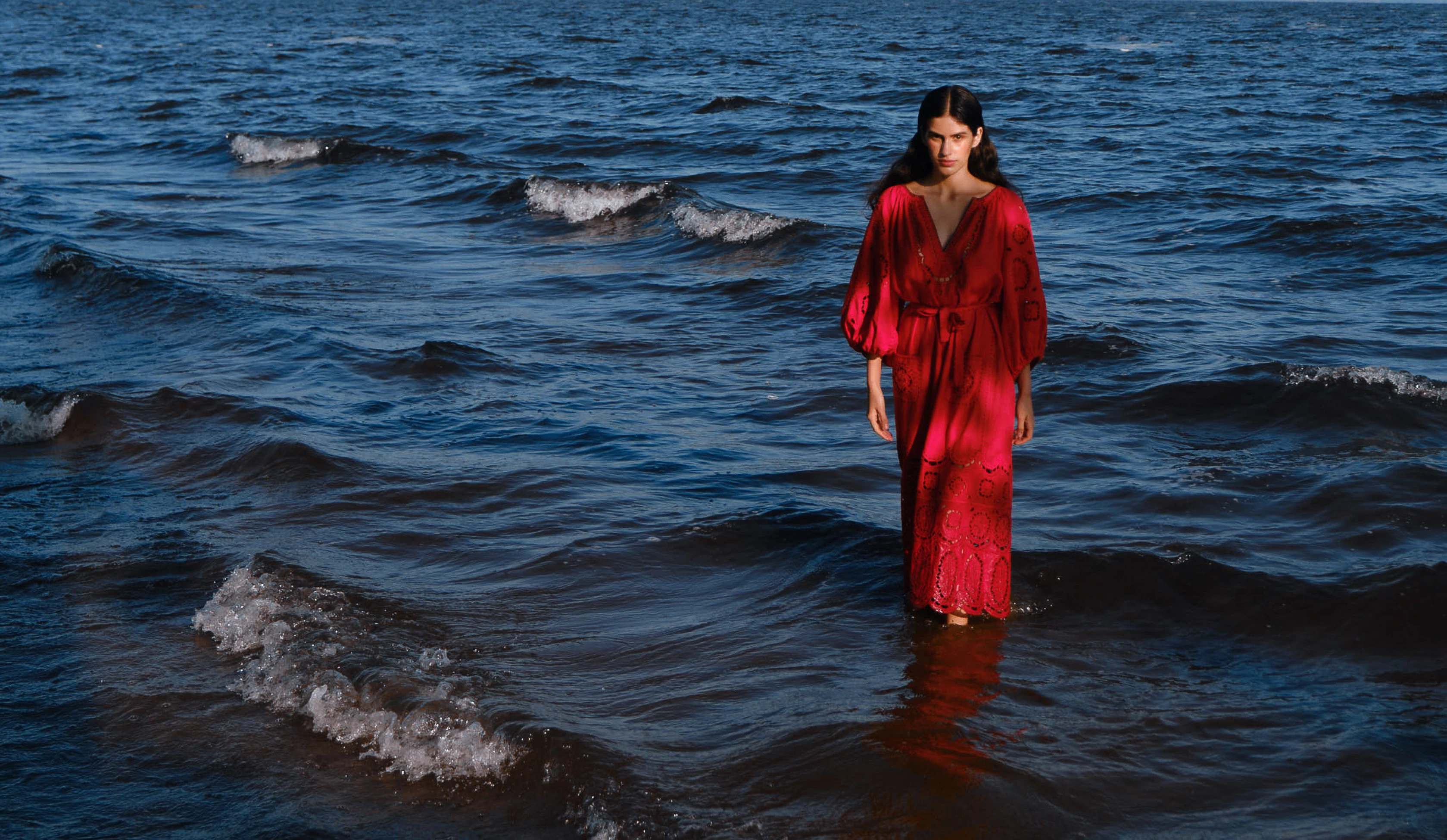 Ukraine-based brand My Sleeping Gypsy creates beautifully crafted pieces that draw inspiration from the traditional Ukrainian vyshyvanka and embroidery. It effortlessly incorporates Ukrainian clothing traditions into modern cuts.
The brand's clothing is chic and relaxed and contains a touch of whimsy. Masterfully embroidered designs and artful cut-outs adorn crop tops with voluminous sleeves, flowy dresses, and adorable matching sets. Each of My Sleeping Gypsy's designs celebrates textiles and pattern work.
My Sleeping Gypsy's ethos is all about connecting to Mother Nature and promoting slow fashion. The brand only uses natural linen fabrics and makes all its pieces in small batches to avoid overconsumption. As a result, its pieces last forever, and fans can pass them down from generation to generation.
We Are Kindred
We Are Kindred is an Australian brand started by sisters Lizzie and Georgie Renkert. The designers and co-owners describe their brand as "bohemian luxe," and we think the term fits perfectly.
We Are Kindred offers a minimalist boho chic aesthetic that is hard to find anywhere else. Its dresses come in light pastels and whites that give an ethereal, effortless vibe. Also, subtle florals and monochromatic paisley prints complement voluminous draping and delicate button-ups.
The brand's designs bring a relaxed summer day or a chic garden party to mind. It's an excellent brand for fashion-forward shoppers who want something understated, comfortable, and feminine.
FARM Rio
FARM Rio, established in 1997, is a Brazilian boho brand that celebrates nature, the feminine spirit, and the colors of Rio de Janeiro. Its designs are bold, lush, and truly a feast for the senses.
The brand's designs celebrate bold colors and unique, feminine patterns. Leopard print minidresses are complemented with hand-embroidered collars, while pops of rainbow color appear on black-and-white maxis.
Designers and founders Katia Barros and Marcello Bastos incorporate sustainability into their brand. FARM Rio partners with One Tree Planted to help reforest the Amazon rainforest and beyond. In addition, FARM Rio uses responsible fabrics like organic cotton, biodegradable nylon, and ECOVERO™ viscose.
MISA
Founded by designer Shadi Askari-Farhat, MISA's designs are boho chic with a touch of 1970s influence. Although Shadi died in a tragic accident in 2021, her brand lives on and celebrates her memory.
MISA is all about bohemian style, wanderlust, and travel. Airy fabrics, unique detailing, and easy-to-wear silhouettes are hallmarks of the brand. For example, folksy maxis highlight floral prints and loose cuts, while flared mesh pant suits serve a 70s rock-and-roll flair.
The brand is a perfect balance of sexy and sweet. For example, voluminous fabrics pair with off-the-shoulder styles and occasional surprise cut-outs. For this reason, this iconic brand is a favorite among it-girls like Gigi Hadid and Olivia Palermo.
SPELL
SPELL is an Australian brand with international reach known for its exclusive collections of small-batch bohemian-inspired clothing and home goods. It incorporates sustainable materials to make pieces with a carefree, 70s beach feel.
The brand's gorgeous mini, midi, and maxi dresses have silhouettes and cuts that look great on any body type. In addition, its gauzy fabrics come in various colors and patterns. There's something for everyone when you shop at SPELL, so it's hard to choose just one style!
Also, SPELL is unique because it offers Little SPELL, a line of boho fashions for kids. Its adorable mini-me blouses, dresses, and skirts make it easy to create matching mommy-and-me outfits that are comfortable and easy to wear.
ETRO
ETRO is a staple in the Italian luxury fashion world that embodies paisley prints and hippie glamor. Founded in 1968, ETRO creates boho pieces with a worldly Italian flair.
ETRO is perfect for shoppers who want the free-spirited feel of boho with structured, quality construction. For example, vintage brocade patterns pair with bell sleeves and geometric necklines. Also, variations of the brand's signature paisley and floral prints are reimagined into bold parkas, jacquard jackets, and wrap dresses.
ETRO holds onto its classic roots while moving into the future. Designer Marco de Vincenzo recently became the first head designer outside the Etro family. He aims to incorporate more slow fashion techniques and upcycling efforts into the brand's production system.
Christy Dawn
Christy Dawn is a sustainable luxury brand that creates timeless womenswear and accessories. Its collections draw inspiration from bohemian, cottagecore, and vintage influences. The brand also offers plenty of kids and plus sizes.
From casual dresses to corduroy overalls, Christy Dawn has everything you need to build an eco-friendly, boho-inspired wardrobe. Its designs are simultaneously comfortable and polished. For example, its dresses incorporate country-chic florals and cuts with structured silhouettes and fabrics to create a modern take on vintage boho.
Christy Dawn's Farm-to-Closet collections are 100% sustainable. Each piece uses organic cotton harvested from the company's farm in Erode, India. Proceeds go back to the community in Erode and support regenerative farming. Not to mention, the dress designs are adorable.
Antik Batik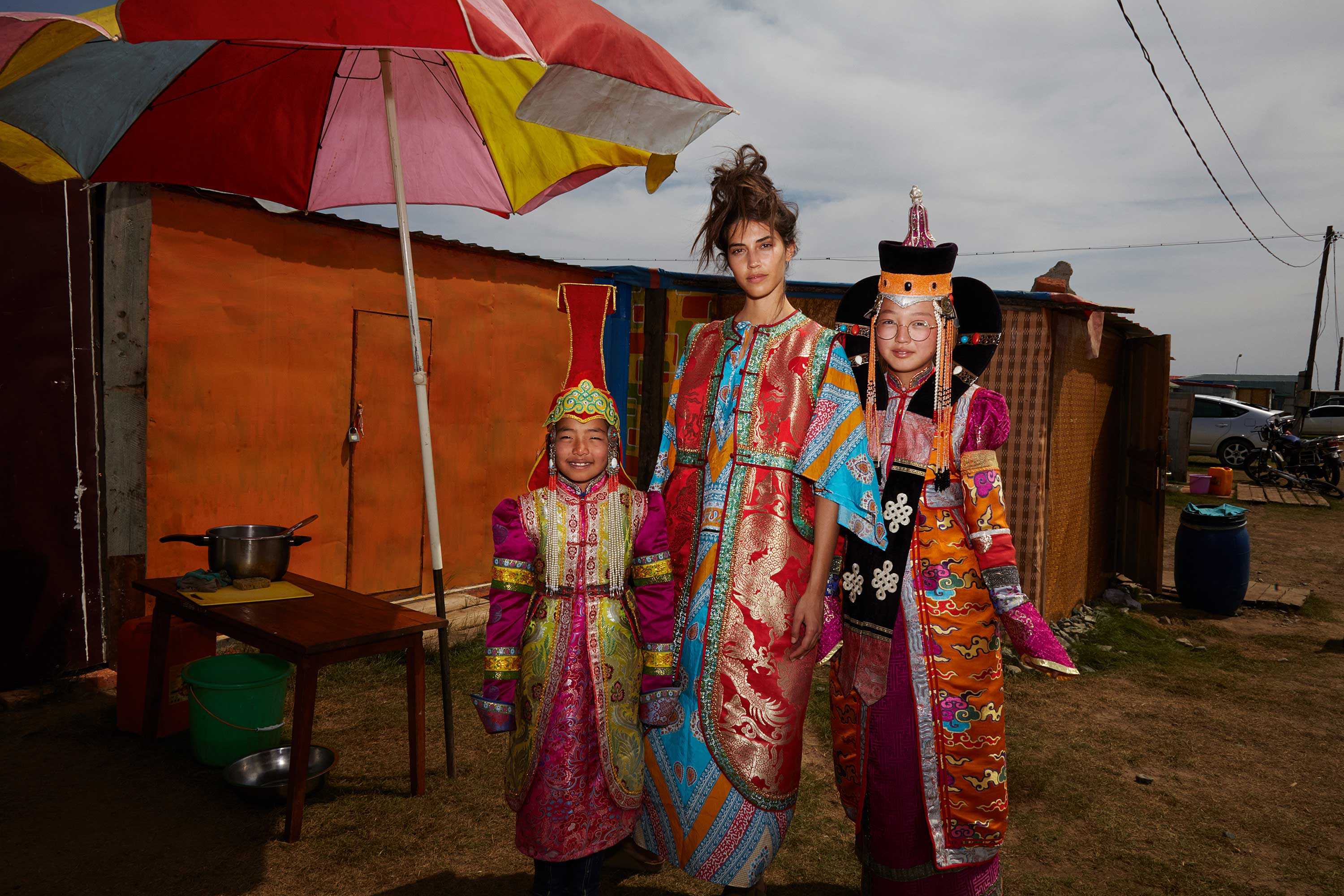 Designer Gabriella Cortese's Antik Batik label was born from her love of travel, the batik printing method, and traditional craft techniques. Her designs are a unique blend of boho and Parisian chic.
Antik Batik's pieces celebrate pattern and color, with mismatched floral prints often jiving together on one garment. In addition, rich reds and earth tones are typical in the brand's color palette, creating a bohemian feel in each piece. Hand-embroidered motifs, woven bags, and plenty of bell sleeves further emphasize this chic boho vibe.
The brand also incorporates some simple wardrobe staples into its collections. Soft and fuzzy pullover knits, pastel wrap cardigans, and all-black blouses perfectly balance the brand's other, more ethereal designs.
Lafayette 148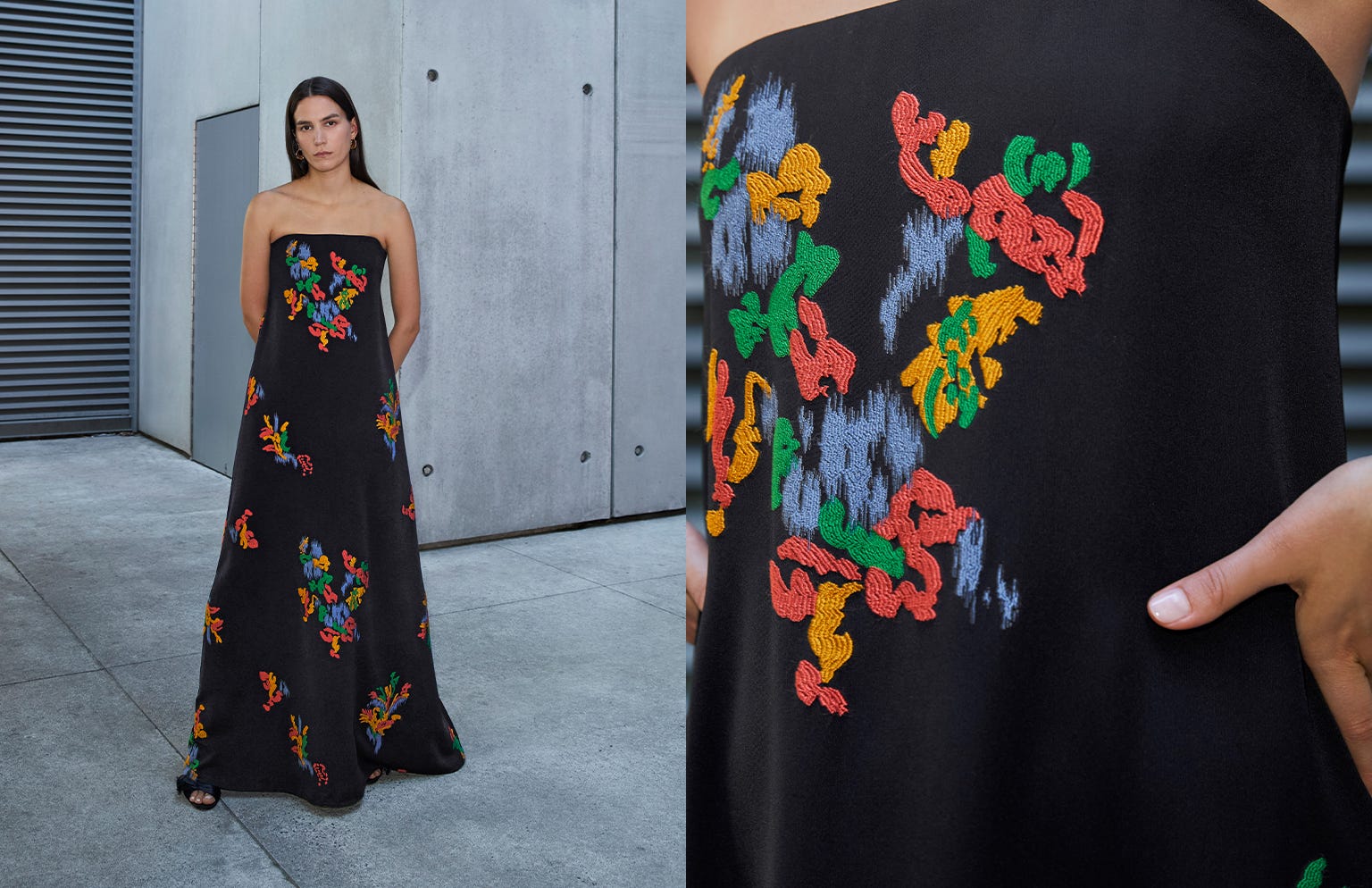 Lafayette 148 is a more understated take on boho because of its use of classic cuts and formalwear designs. The brand offers an eclectic mix of office staples and fun casual outfits that can spruce up any closet.
Although not every piece can be considered bohemian, the brand does offer some great staples that fall into that style. Touches of boho whimsy are everywhere in floor-length gowns with bright hand embroidery and country-chic florals. In addition, the occasional pleated top with a tie neckline shows the brand's definite boho influence.
Lafayette 148's style is fluid, allowing shoppers the flexibility to adapt its pieces according to the occasion. In addition, the brand is known for producing high-quality pieces that are bound to last for years to come.
Arnhem
Arnhem, based in the sunny beachside city of Byron Bay, creates cute, comfortable swimwear and clothing for women. The brand is known for bright pastels and delicate floral prints on almost all of its designs.
The brand's pieces are the perfect marriage of boho and beach styles. For example, its laid-back dresses effortlessly transition from a day on the beach to a night out with friends. Also, its gauzy scarf collection can work as sarongs or skirts over matching swimsuits.
Arnhem is also building a reputation as a lifestyle brand. It released a line of eco-friendly beauty products like bronzers, lip balms, and mascaras. In addition, it also creates beach accessories like umbrellas with its signature paisley prints and colors.
Ulla Johnson
Ulla Johnson established her namesake brand in 1998. Today, it's known as a label that creates dreamy ready-to-wear boho staples.
The Ulla Johnson brand is truly unique in the world of sustainable fashion. The designer establishes working relationships directly with artisans around the world to create handmade, one-of-a-kind pieces that are co-created, not appropriated. That means each colorful knit sweater and ruched, ruffled dress is unique.
Ulla Johnson's classy boho pieces are worn by A-listers like Jessica Alba, Katie Holmes, and Jennifer Lawrence. In addition, the brand is often in British Vogue, French Vogue, Wall Street Journal, and other reputable publications.
Juliet Dunn
Juliet Dunn is a London-based boho brand that creates effortlessly feminine beachwear and resort collections. The designer Juliet Dunn launched her self-named label in 2000 to create a one-stop shop for all things resort wear.
Juliet Dunn's pieces strike a perfect balance of effortless, sexy, and comfortable. For example, adorable babydoll dresses have accents like tiered fabric and scalloped hems. Also, botanical prints are found on off-the-shoulder boho dresses and babydoll tops alike. Its designs are adorable and whimsical without being too kitsch.
The brand is committed to sustainability and preserving artisanal practices. Most of its prints are made in Jaipur using specialty wood-blocking techniques and hand embroidery. In addition, the brand produces in small batches to prevent over-consumption and only uses natural fabrics in its pieces.
Kivari
Designer Kristin-Lee Keysers began her label Kivari to capture the sense of adventure she feels whenever she travels. The brand's designs pay homage to bohemian designs and silhouettes with a touch of the coastal Australian lifestyle.
Kivari's clothing and accessories are relaxed and understated, with femininity infused into every piece. Gold statement-piece jewelry pairs with flouncy, floral mini dresses to create a look that is effortlessly chic and ready for adventure.
Kivari has flagship stores throughout Australia. In addition, it is stocked in several upscale department stores worldwide, such as Saks Fifth Avenue.
Le Salty
Le Salty is a visual summer vacation that shoppers can't get enough of. The brand's goal is to capture the essence of summer in an outfit. Its love of ruffles, loud patterns, and vivid florals helps achieve that goal.
Le Salty's designs are bohemian with a tropical flair. Strappy mini dresses come in bright oranges and yellows, and its aquatic-colored midi dresses balance with plunging necklines and strapless backs.
However, the brand isn't limited to womenswear. It has a small selection of tropical men's shirts and a lively kid's line known as Lil Salty. Le Salty makes it easy to go all out and outfit your whole family in tropical boho looks during your next vacation.
Tree of Life
Tree of Life is a one-stop-shop brand for the modern hippie. From simple cotton tops to earth-tone ponchos, this brand embodies the carefree, zen attitude of the modern-day bohemian lifestyle.
Tree of Life comes from the founder's love of spiritualism and artisan craftsmanship. Many dress designs are inspired by the classic Indian sari and are comfortable, flexible, and versatile. The brand also offers plenty of simple matching sets perfect for yoga or relaxing in the sun.
The lifestyle brand also offers plenty of housewares, accessories, and jewelry to complement its clothing designs. Floral prints, peace signs, and patchwork stitching abound to add a handmade DIY look.
Salty Crush
Salty Crush offers affordable, cute boho designs that fit any body type. The brand's flowy, loose clothing is perfect for lovers of the bohemian look who want something a little more conservative. Generous hemlines and reasonable necklines are brand signatures.
Founded in 2016, Salty Crush's dresses, tops, and more are comfortable, elegant, and eclectic. For example, its signature mixture of floral and paisley patterns grace soft fabrics and loose-fitting dresses. In addition, wardrobe staples like black and white camis have cute cut-outs that give them a boho edge.
Salty Crush also incorporates touches of handmade and boho into its outerwear. Crochet pullovers, fringe maxi cardigans, and detailed embroidered jackets are all boho lovers' dreams come true.
Zimmermann
Zimmermann is easily one of Australia's most well-known fashion brands. Founded by sisters Simone and Nicky Zimmermann, the self-named brand creates feminine, powerful designs that have roots in bohemian fashion.
Zimmermann offers boho chic with a touch of avant-garde. The classic flowy form of the boho top is elevated with extra volume, while its flare jeans are almost too over the top in size. In addition, its pieces often infuse nautical touches, such as sailor necklines or French stripes.
The brand's Spring 2023 collection freshly embraces its bohemian aesthetic. For example, flowy white knits juxtapose with structured corsets and collars. Also, its highly stylized outerwear pairs with delicate, carefree floral dresses. It's overall a perfect encapsulation of Zimmermann's mastery of opposites.
byTiMo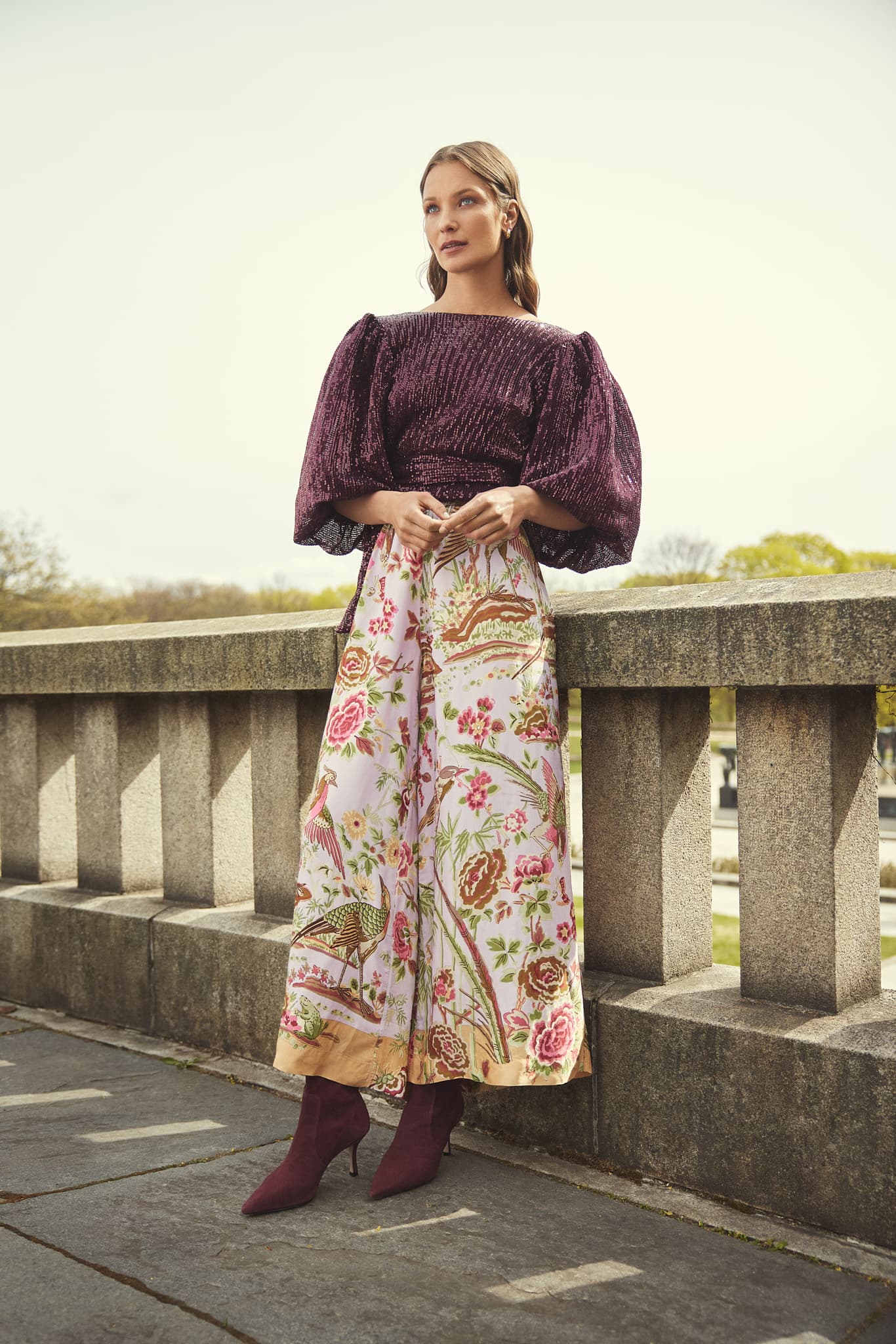 Founded by designer Tine Mollatt in 2004, byTiMo draws inspiration from vintage silhouettes and fabrics. The brand brings modern romance to classic boho hallmarks like layered dresses, floral prints, and flowy skirts.
ByTiMo's dresses are brand stand-outs. Its dress silhouettes range from classic and formal to relaxed and casual. For example, the brand experiments with volume in its boho-inspired sleeves. In addition, voluminous fabric is puffed at the shoulders and then cinched at the elbow, creating a truly unique shape rarely achieved by other brands.
ByTiMo stands apart from other bohemian-inspired brands because it incorporates vintage elements into its designs. Tine has a vintage archive that ranges from the 1800s to the 1970s. You can see that inspiration shines through in the brand's feminine frills, structured collars, and Victorian florals.
Sea New York
Sea New York was created by best friends Monica Paolini and Sean Monahan. Their quiet brand aims to develop sophisticated, fun, and elegant clothes. Its designs embrace boho's volume and relaxed nature, but with a modern twist.
The brand loves juxtaposing hard and soft materials, like dreamy knits and leather skirts. Also, its use of traditional patchwork and quilting motifs brings a chic country vibe into its flowing boho pieces. As a result, each collection is a true synthesis of Monahan's and Paolini's distinctive styles.
Take Sea's Resort 2023 collection. It reinterprets the brand's signature designs with new silhouettes and fabrics. For example, bulky knits have slimmer, shorter silhouettes like crop tops. Also, dresses are given new volume while incorporating scintillating cut-outs.
DÔEN
DÔEN, founded by sisters Katherine and Margaret Kleveland, is a boho brand that celebrates all things California and vintage. Its designs are romantic, feminine, and irresistible.
Each DÔEN piece has boho elements like puffy sleeves, ruffles, and loose fits. However, the brand is unique because it also incorporates elements of a romanticized Western past and 70s silhouettes. For example, loosely tailored white dresses seem to be more structured versions of homesteading nightgowns. Also, its knee boots and gingham tops bring California cool from the hippie era to mind.
In addition, the brand's designs are comfortable, versatile, and timeless. DÔEN's celebration of women and motherhood make its dresses easy to wear, its knitwear as familiar as a cozy hug, and its tops as free-spirited as its shoppers.
BELL
BELL by Alicia Bell is a gorgeous luxury brand that draws inspiration from the sea and beachside towns across the globe. Its designs have a flair of wanderlust and relaxation that is hard to resist.
All BELL's pieces are hand-block-printed and made with super soft cotton silk voile fabric. Mini, midi, and maxi dresses are the brand's specialties, and there are various styles, fits, and cuts. Shirt dresses, ruffled minis, and tiered maxis are all offered in a range of brightly colored paisleys and jacquard prints.
BELL adds an extra layer of luxury because it can create custom orders. So if you want a specialized size, pattern, or cut, BELL artisans can create a one-of-a-kind piece for you. This unique offering gives the luxury brand an intimate boutique feel.
Kobi Halperin
Kobi Halperin launched his eponymous luxury brand as an homage to his Eastern European roots and heritage. The brand's pieces elevate the every day in a way that is simultaneously timeless, trendy, and chic.
The label's collections use traditional motifs and techniques, like floral patterns drawn from Eastern Europe and Slavic cultures. Its silhouettes are a mix of relaxed and structured, with the occasional suit jacket or office-ready blouse interspersed among the tiered maxi dresses and flowing boho blouses.
Shoppers can find the brand's impeccably made pieces worldwide at stores like Neiman Marcus, Bergdorf Goodman, and Tootsies.
One Teaspoon
One Teaspoon is an Australian-based brand best known for its iconic denim cuts. The brand's sexy, frayed-edge shorts blew up when celebrities like Beyonce and Kendall Jenner began wearing them. What most people don't know, however, is that One Teaspoon also creates fun-loving boho clothing with an edge.
One Teaspoon is all about a bohemian mindset with a rock-and-roll attitude. For example, animal prints, distressed denim, and skimpy fits pair with flowing sleeves, ruffles, and layers. Of course, not every piece in the brand's line-up is "boho," but you can easily filter to find some boho designs with an edge.
One Teaspoon makes achieving the classic 70s boho look easy. The brand's designs are sexy, feminine, and approachable. You can get anything from mesh bralettes to running shorts, which are guaranteed to fit comfortably.