Getaround has been taking the car rental industry by storm. It's a cool idea and service, especially as an alternative to owning a car. I personally have used Getaround a lot, but it did catch my attention of how many competitors exist who offer similar services. But who are their competitors and what are they offering? Well, I'd be more than happy to tell you.
Getaround is a platform that lets you rent vehicles from people looking for a way to make money off their idle cars. This distributed system provides access to a large number of cars. Still, it is mainly used for rental purposes. You may, however, be interested in similar services, such as Getaround's competitors.
Getaround is a car-sharing service that competes with many other similar companies to provide the best rates, damage protection plans, services, and more. Here is the list of companies that Getaround competes with.
Turo
Sixt
Lyft
ZipCar
HyreCar
Avail
DriveShare
ShareNow
GIG Car Share
Currently, the car rental industry is rapidly evolving as more companies try to gain a foothold in the market. However, with the pandemic still at large, individuals still flock in droves towards Getaround and its competitors.
As a result, let's take a closer look at each Getaround competitor and see what they have to offer.
| Company | Headquarters | Founded Year | Company Stage | Total Funding |
| --- | --- | --- | --- | --- |
| Getaround | San Francisco | 2009 | Series E | $736M |
| Turo | San Francisco | 2010 | Series E | $500M |
| Sixt | Munich | 1912 | Public | N/A |
| Lyft | San Francisco | 2012 | Public | $4.9B |
| Zipcar | Boston | 2000 | Acquired | $60.7M |
| HyreCar | Los Angeles | 2014 | Public | $34.7M |
| Avail | Chicago | 2018 | Privately Held | N/A |
| DriveShare | Michigan | 2014 | Acquired | N/A |
| ShareNow | Berlin | 2008 | Joint Venture | N/A |
| GIG Car Share | California | 2017 | Privately Held | N/A |
Getaround Competitors
Not so long ago, sharing a vehicle would have seemed absurd. It was before smartphone apps made it simple to locate a set of wheels within walking distance of your house and hire them for a trip to a suburban big-box store.
The average vehicle costs $9122 per year in loan payments, insurance, gasoline, and maintenance. Yet, despite this, most automobiles remain inactive for most of the day.
As a result, individuals with other modes of mobility, such as city dwellers and college students, have begun to choose vehicle membership rather than car ownership. It's also why some people use peer-to-peer services like Getaround to hand over their keys to strangers.
Getaround, on the other hand, has some legitimate competitors in the market. Many of which have captured the hearts of renters like myself who are looking for a set of wheels for the weekend or essential day-to-day use. So, starting with Getaround's biggest competitor, Turo, let's take a closer look at what they have to offer.
Turo
According to the company's website, Turo is the world's largest peer-to-peer car sharing marketplace. It functions similarly to an Airbnb for cars. Owners of vehicles may become Turo hosts and rent out their cars.
Turo may be a cost-effective solution if you're heading out of town, your present car is out of service, or you're seeking an extended test drive of a specific vehicle. Turo was launched in 2010, and it currently has a lot of good evaluations and ratings on the internet.
Turo and Getaround are two capable services for vehicle owners who want to make extra money by renting out their vehicles. While Turo has expanded its reach outside the United States and is now available to owners in a broader geographic area, Getaround is catching up to its range in all major US cities.
Turo's Better Business Bureau rating isn't as glowing: From 347 customer reviews, the firm has an "F" grade and 2.76/5 stars. Many concerns center on the renter's car damage, cancellation complications, and late return fees. However, Turo has excellent reviews and ratings on both the Apple and Android stores.
On the other hand, Turo is active on BBB, having resolved 241 complaints in the previous 12 months as of this writing. So if you use Turo and have a problem, filing a complaint with the Better Business Bureau may be an excellent approach to have it fixed.
Sixt
The next major Getaround competitor is one of the oldest car rental companies globally: Sixt. Sixt specializes in delivering outstanding premium automobile rental offers worldwide for tourists, road trip enthusiasts, and business travelers.
With over 2,200 rental stations in 105 countries worldwide, there's a Sixt outlet close by no matter where you're from or where you're going.
Sixt offers an uncompromising focus on customer service and provides convenient pickup places at airports, railway stations, and city centers, with English-speaking and multilingual employees making every encounter more personable and compassionate.
Sixt vehicle rental locations in Europe include Geneva Airport, Nice Airport, Alicante Airport, and Malaga Airport. In addition, this company's hotspots for automobile rentals include New York, Miami, Los Angeles, Las Vegas in the US, and Dubai and Barbados.
With Sixt's vast fleet of minibusses and people carriers, you can choose from a variety of models that suit your needs.
On the other hand, this automobile rental company specializes in luxury brands like BMW, Mercedes-Benz, and Range Rover. So, if you want to arrive at your destination looking like a celebrity, you're in excellent hands!
Lyft Rentals
Lyft, Inc. owns and manages multimodal transportation networks in the United States and Canada, providing access to various transportation alternatives via its platform and mobile-based applications.
Its Lyft platform connects drivers and customers to provide car-sharing and transportation services via the Lyft smartphone app. Light Vehicles, drivers renting vehicles through Express Drive, Lyft Rentals renters, Lyft Driver Center, and Lyft Auto Care users are all served by the company.
Lyft entered the automobile rental market in 2019. The ride-hailing business said at the time that it would offer a rental service on its primary smartphone app that would function similarly to traditional vehicle rental companies. Furthermore, the rental service initially began in the San Francisco Bay Area and Los Angeles, California.
The business also gave tenants two $20 trip credits at the time to assist cover the expense of riding a Lyft to and from the pickup and drop-off places. The company's transportation network combines ridesharing, bikes, scooters, vehicle rentals, and public transportation into a single app.
ZipCar
Zipcar is a car-sharing firm based in the United States and a part of Avis Budget Group. Members of Zipcar can make car bookings billed by the minute, hour, or day; in addition to vehicle reservations, members may have to pay a monthly or yearly membership fee.
Although Zipcar is a well-known car-sharing company, unlike Getaround and Turo, it does not operate on a peer-to-peer basis. In addition, the fact that Zipcar rentals include petrol makes price comparisons more difficult, but the price discrepancies are significant enough to rank in order of total expenditures.
In most Chicago, DC, and San Francisco neighborhoods, hourly ZipCar rentals start at $10; however, ordinary cars (Volkswagen Golf, Toyota Corolla, or Ford Focus) start at $13.25 per hour.
You'll spend around a gallon of petrol on a two-hour drive, so you may deduct a few dollars from the rental fee when compared to other platforms; still, the total price considerably outpaces Getaround for a short-duration trip.
On a weekend trip, the cost of petrol (within Zipcar's authorized 360 miles) would not cover the difference in pricing between Getaround and Turo. ZipCar comes in at around $200 for that trip compared to approximately $85 or $95 for Getaround and Turo.
HyreCar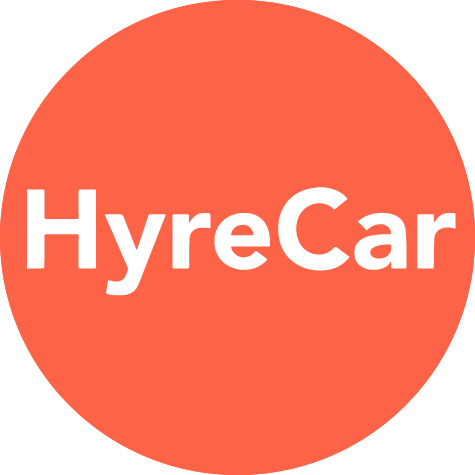 HyreCar is a peer-to-peer car rental business tailored to Uber, Lyft, and other on-demand delivery drivers.
HyreCar is a good choice for rideshare drivers who don't want to use their personal vehicle or those who don't have a car but want to make some extra cash as an Uber or Lyft driver because there are no contracts in play, sign-up fees, or additional waiting times.
HyreCar was created with rideshare drivers in mind, unlike other peer-to-peer vehicle rental platforms. As a result, the fixed fees are one of the most appealing aspects of HyreCar.
In addition, wear-and-tear charges are factored into the rental fee. As a result, it makes calculating overall costs for rideshare drivers more straightforward than it would be if they drove their own cars.
HyreCar is also a highly convenient service because you only pay for a vehicle when you need it. While other rideshare leasing systems such as Uber and Lyft demand weekly payments, HyreCar allows you to rent any car for the day and return it if you don't like driving it or need a break from ridesharing services.
Avail
Avail is a peer-to-peer car-sharing service that allows car owners to hire out their vehicles for short periods and earn money while not using them. The program links incoming passengers who may require a car at airports or inside communities, leaving travelers who possess automobiles.
When traveling, you can outsource your automobile via the mobile app platform. You can also borrow parked local cars that belong to people who have traveled or are on holiday.
As a result, automobile owners can avoid paying standard long-term parking costs when driving to the airport. In the long run, it will save you a lot of money. On the other hand, those traveling into cities have another choice for "wheels" whether on a business trip or holiday.
Avail offers two types of services. First, you have the option of borrowing a car or parking and sharing your own. Whatever you choose, you must first register with the platform by installing the Avail App.
Then fill out the registration form. Registration requires a valid driver's license. On the other hand, car owners merely need to enter their vehicle details onto the platform.
Avail excels in creating a smooth experience for drivers right from the start. You can book anything from your phone once you've registered with the site and provided a valid driver's license.
DriveShare is a subsidiary of Hagerty, a Michigan-based classic-car insurance firm that represents hundreds of thousands of antique vehicle owners, most of whom drive their vehicles very sporadically.
DriveShare is the BnB version for all things luxury and Classics. This company works similarly to Getaround, except it is designed exclusively for specialist vehicles.
There is a fee for hiring antique, classic high-performance automobiles, but it's absolutely something to consider if you want to make a road trip more memorable. If you've ever wanted to drive a Porsche 911 for a day, here is an excellent opportunity to do it.
Prices vary based on various conditions; however, in New Orleans, a 1969 Chevrolet Corvette Stingray leases for around $200 per day, and a 1962 Rolls Royce Silver Cloud costs about $975 per day to rent.
Individual renters are in charge of rental arrangements, and many owners are ready to transport the automobile to your home if you're within driving distance.
ShareNow GmbH is a car-sharing company based in Germany that was founded by the combination of car2go and DriveNow. It is a combined venture between Daimler AG and BMW that provides car-sharing services in metropolitan locations throughout Europe and formerly in North America.
The company maintains positive ratings on both the Apple App Store and the Google Play Store, thanks to the feedback of millions of users in 16 major cities.
ShareNow is no stranger to scrutiny, having received almost 100,000 app store evaluations across iOS and Android. Furthermore, customers have been voicing their opinions on their free-floating service for over a decade.
And the stats don't lie: with four-and-a-half star average ratings on both mobile platforms, it's safe to conclude that ShareNow is well-liked by drivers in both the Apple and Google ecosystems.
A3 Ventures' GIG Car Share is a car-sharing business that operates in sections of the San Francisco Bay Area, Sacramento, and Seattle. The firm owns and maintains a fleet of Toyota Prius Hybrids and all-electric Chevy Bolts with roof-top bike racks. In addition, it rents one-way point-to-point vehicles.
Although this firm now only works and competes with Getaround in Seattle, Sacramento, and the San Francisco Bay Area, it was included for two crucial reasons.
AAA Northern California runs it for starters, and its growth has been significant thus far. Second, it is the only firm that leases out hybrid or electric, which feels like a foreshadowing of the future of car rentals.
Bookings are made using an app, and automobiles are accessible in what is known as the "HomeZone," a defined region in the Gig app. As long as you finish the journey in a HomeZone, you may drive anywhere in the United States and stop as often as you like.
Rent by the minute, hour, day, or longer pre-packaged durations. And, because there is no membership cost, you will only be charged for the time you use it.
Conclusion
Companies similar to Getaround have sprouted up all over in recent years.
The United States is experiencing a statewide rental vehicle scarcity due to a perfect storm of strong demand and limited availability. As a result, tourists confront abnormally high pricing and, in many circumstances, an absence of vehicles.
That said, Getaround's competitors offer rates and services that compete with each other in an increasingly competitive market.
It's the end of our road for our look at the top Getaround competitors. We hope this blog post helped you identify Getaround's major and minor competitors in the peer-to-peer car sharing business and how it stacks up against the competition. Hopefully, this will save you some time when doing competitive research on your own.
If you have any comments or questions, or just want to say thanks, please contact us directly and we'll get back to you as soon as possible. Thanks so much for reading!
How Does Getaround Make Money? Business Model of Getaround