Breakfast wouldn't be complete without the delicious taste of golden hash browns. However, in today's busy world, most of us don't have time to shred fresh potatoes for hash browns.
That's why finding a delicious and fresh tasting ready to cook hashbrown is important. Use this list of hash brown brands around the world to find your perfect potato for breakfast.
Mr. Dell's
Starting in Missouri in 1969, Mr. Dell Foods started as a brokerage company for potatoes and onions. Two key ingredients to delicious hash browns! While they originally worked to provide restaurants with quality vegetables, their decision to change the way hash browns were made is what put them on the map.
For years, hash browns were sold in pre-formed patties that were often filled with preservatives. The other popular choice was homestyle diced potatoes. Then in 1975, Mr. Dell Foods shifted the focus to shredded hashbrown. The brand believed shredded potatoes would help enhance the flavor of hash browns, especially of any additional ingredients like onions and peppers.
While hash brown cakes and diced potatoes are still loved around the world, shredded hash browns are now the most popular type of hash brown throughout much of the United States. Especially in the heartland of the United States, where Mr. Dell's started the push for shredded potatoes.
Beyond the original shredded hash browns that started the trend, Mr. Dell's also offers O'Brien shredded hash browns with onions and peppers. They also continue to offer Southern Style Hash Browns for those who prefer diced potatoes.
Look for Mr. Dell's in Walmarts around the country.
Alexia
Alexia hashbrowns are the result of a Manhattan chef who wanted the side dish to get the same attention as the entree. That meant using the finest ingredients for all foods – even a simple side like hashbrowns.
Since starting Alexia, founder Chef Alex has passed the reigns. However, this brand is still run with the same goals Chef Alex started Alexia with. That means only the freshest and finest ingredients. Moreover, taking a simple side and making it stand out with flavor.
Alexia Hashed Browns are the perfect example of this brand's commitment to perfectly seasoned sides. Choose from their traditional Organic Hashed Browns (made from Yukon Gold potatoes) or the Yukon Select Hashed Browns (seasoned with onion, garlic, and white pepper) and enjoy the delightful flavor.
Beyond flavor, these frozen shredded hash browns are easy to fry up in the skillet or even in the air fryer. In addition to being easy to prepare, they are also easy to find. Alexia Hashed Browns can be found in most grocery stores and also purchased on Amazon. Just another reason to love this brand!
Cascadian Farm
Cascadian Farm isn't just a brand that uses the word farm for branding and sales. They use it because this company started as a small farm almost 50 years ago. Moreover, while Cascadian farms was acquired by General Mills in 2000, they maintain the original farm location.
The original farm is a reminder to both the brand and its customers of Cascadian Farms' commitment to the original values of the small farm. Like providing quality organic products to their customers. Including hash browns!
Choose from their original Premium Organic Hashbrowns or their unique organic Root Vegetable Hashbrowns. A delicious blend of Yukon Gold potatoes, orange sweet potatoes, and carrots. Both products keep fresh and frozen and can easily be cooked on the stovetop or oven.
Although Cascadian Farms is focused on organic products, you don't have to find an organic market to buy them. Simply look for them at your favorite local grocery store.
Dr. Praeger's
Packaged foods are not often known for their healthy qualities. However, when you pick up a bag of Dr. Praeger's hash browns you get a packaged food that was created with its customers' health in mind.
Started by two heart surgeons, this brand is committed to providing delicious frozen foods that are truly healthy. This is done by using simple ingredients from real foods. Just like their hash browns.
Dr. Praeger's hash browns go beyond a basic shredded potato. These hash browns are a blend of red, gold, purple, and sweet potatoes. All shredded together for perfect flavor. Not to mention, a wonderful blend of nutrients. In addition to the beautiful original blend, you can choose from two other flavor choices. One with little spice and one with a little bit of sweetness.
To add a little flavor kick to their breakfast routine, try Dr. Praeger's Southwest Hash Browns. A perfect blend of golden potatoes, green chiles, jalapenos, and chili powder. If you want a little bit of sweetness check out the brand's Sweet Potato Hash Browns. A lovely mixture of sweet potatoes and brown sugar.
In addition to taste, Dr. Praeger's knows that the key to getting people to eat healthy foods is to make them easy to prepare. That's why all of their hash browns are sold as hash brown rounds. These frozen rounds can be cooked in a skillet or popped in the toaster for easy on-the-go convenience.
Look for Dr. Praeger's hash browns at your local grocery stores or online at Amazon and Walmart.
Idaho Spuds
When it comes to taste and ease of making, Idaho Spuds is at the top of the list of best hash brown brands.
While most hash brown brands provide frozen potatoes, Idaho Spuds are dehydrated potatoes. No freezing is required, simply add water! This innovative approach to hash browns maintains the flavor and freshness of the product, while also making it extra versatile and easy to use.
These hash browns can be stored in the pantry. With no freezing or refrigeration required. This makes them easy to travel with and to take camping. That means you can enjoy fresh hash browns anywhere (and anytime).
If enjoying these at home, Idaho Spuds Original Hashbrowns can quickly be cooked in the microwaved! In addition, you can get crispy golden restaurant-quality hash browns with their Golden Grill Hash Browns. Simply add water and fry up in a skillet.
Idaho Spuds takes ease beyond the kitchen by also making their hash browns available for purchase through Amazon.
Golden Grill
If you like to keep your favorite foods on hand or are shopping for a large get-together, then Golden Grill hash browns are a great choice.
These dehydrated hashbrowns are sold in bulk at Costco (and sometimes Sam's Club). These are not to be confused with the golden grill hashbrowns by Idaho Spuds.
While the Golden Grill brand is different than Idaho Spuds, they do have some similarities.
Another form of dehydrated shredded hashbrowns these are easy to cook up with just a little bit of water. Once rehydrated, they can be crisped up by frying in a skillet with oil or butter.
Sold in 8 packs of 2-pound boxes, this is by far the best choice for those who regularly enjoy a quick and delicious hashbrown anywhere. Moreover, perfect for hosting a large breakfast or a group camping trip.
Idahoan
When looking for the best hash browns around you want to look for the best potatoes, and nothing beats an Idaho potato!
Every box of Idahoan Hash Browns are made from one hundred percent freshly grated Idaho-sourced potatoes. Therefore, you know you are guaranteed to get hash browns from the best potatoes every time.
In addition, you know you are getting the best potato that is easy to make! Like Idaho Spuds and Golden Grill, Idahoan is committed to providing quality hash browns that are easy to make and delicious to eat. Therefore, they follow the same method of dehydrating the shredded potatoes.
These simple-to-make hash browns are unseasoned and simple in flavor. This allows for the fresh flavor of the potatoes to come through. Moreover, allowing you to customize the flavor with any seasonings you choose.
Most grocery stores carry Idahoan potatoes and you can also order them on Amazon. However, as one of the most popular hashbrown brands around, they are often sold out online. Therefore, make sure to stock up when you can!
Bob Evans
Bob Evans is a company synonymous with fresh and tasty frozen foods. Starting in 1948, this brand was built on a commitment to helping families spend more time enjoying their meals together and less time in the kitchen. Moreover, doing this by providing quality farm fresh foods.
Described by the company as "quick-to-table farm-fresh foods," Bob Evans has continued to serve families for over 70 years. Both at their restaurants and through their frozen foods. All while maintaining their commitments to freshness and flavor.
To experience the home-cooked taste of farm-fresh foods at home, try one of their hash browns.
Unseasoned Homestyle Hash Browns
Restaurant Style Hash Browns seasoned with onion and parsley.
In addition to their shredded hash browns, you can also try their diced breakfast potatoes. Also available unseasoned or with onion and parsley.
A classic around the country, Bob Evans hash browns are easy to find in the freezer section of most grocery stores.
Simply Potatoes
In between frozen and dehydrated hash browns are Simply Potatoes. Simply Potatoes are shredded hash browns that go straight from shredding to the refrigerator section.
While many frozen hash browns aim to provide a restaurant quality of crispy golden hash browns, Simply Potatoes is best known for its homemade taste. As a subsidiary brand of Bob Evans Farms, LLC, you can bet on the quality of farm freshness.
Their original unseasoned shredded hashbrowns are simply fresh potatoes that taste just as if you had shredded them yourself. Ready to be cooked in any way you like.
In addition, they also offer three tasty seasoned hash brown options.
Garlic and Herb Shredded Hash Browns
O'Brien Shredded Hash Browns with garlic, onion, red and green bell pepper
Southwest Style Hash Browns
Ore-Ida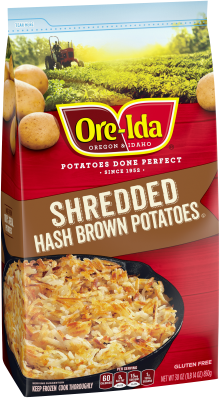 From french fries to frozen hash browns, this brand is truly one of the best when for potatoes at any meal.
Around since 1952, this company is committed to always providing the best quality of potatoes that are always sourced right in the United States. Specifically on the border of Oregon (Ore) and Idaho (Ida)!
When it comes to shredded hashbrowns, Ore-Ida's frozen ones are not only some of the tastiest but also the easiest to find. Beyond being sourced from local potatoes in the United States, this brand is popularly sold at most grocery stores around the country.
In addition, Ore-Ida is a great choice for both a traditional unseasoned hashbrown or one with a bit of flavor. They also offer a variety of types of potatoes. From shredded to diced and even hashbrown patties, you are sure to find a potato for every person.
Shredded Hash Brown Potatoes
Diced Hash Brown Potatoes
Potatoes O'Brien Seasoned with Onions & Peppers
Aldi (Season's Choice)
Aldi grocers are known for their commitment to providing quality products without the cost. Even more impressive than the quality of their products may be their international reach. With grocers across the United States and across the globe, you can most likely find an Aldi near you.
Aldi only is known for having some of the freshest produce. This carries into their frozen foods as well. Their Season's Choice frozen hashbrowns are known for going from "farm to frozen."
Beyond the quality of these frozen hashbrowns is the quantity. One package contains 20 frozen hash brown cakes. They also offer a traditional shredded hash brown that comes in a bag.
If you are looking for quality, quantity, and cost then Season's Choice hash browns by Aldi is the best brand around.
Hamburger Helper
Hamburger Helper may not be the first to come to find when thinking about hash browns. However, this household name has been around for over 50 years. Its parent company Betty Crocker has been around for over 100 years!
The Hamburger Helper brand was started in 1971. These easy-to-make pre-packaged meals became synonymous with the 1970s but are still popular today. Today, the brand continues to grow by adding new products – like hash browns.
While traditional Hamburger Helper meals are made with a pasta base, their breakfast meals are made with shredded potatoes. Moreover, they are mixed with a cheesy sauce to create delicious cheesy hash browns in just minutes. To make it a full breakfast simply add sausage, eggs, and any veggies you'd like for a quick skillet breakfast.
Look for these hash browns at most grocery stores and even online.
Hungry Jack
Hungry Jack has been known for their pancakes for decades. Now, they offer a yummy hash brown to serve alongside your favorite pancakes and other breakfast foods.
Just like their pancakes, Hungry Jack hash browns are super easy to make. Made from 100% real Idaho potatoes, these shredded potatoes are sold in a box. All they need is a bit of water to rehydrate them. While these come unseasoned, visit the Hungry Jack website for ideas on tasty flavor infusions to try with their hash browns.
As one of the most popular brands nationwide, you can find Hungry Jack hash browns in grocery stores, Walmart, and Amazon.
Steak 'n Shake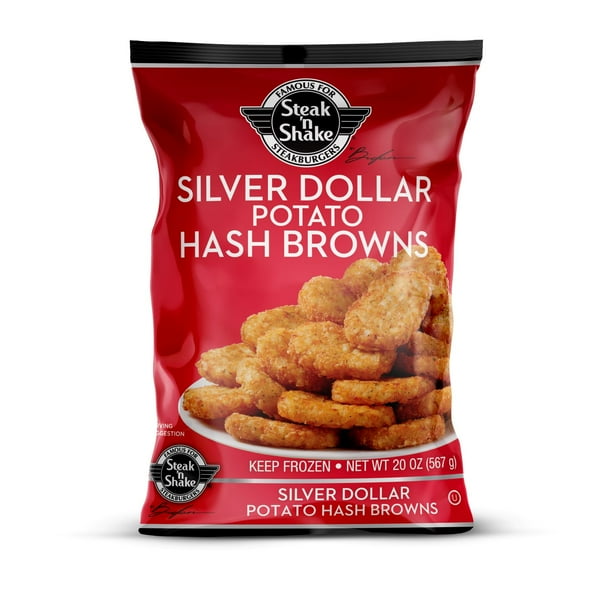 If you are from the midwest, then you are probably familiar with Steak 'n Shake restaurants. Known for their smash burgers and shoelace french fries, their foods are so popular that they began making certain items to buy for cooking at home.
One of these delicious at-home food options is their Silver Dollar Potato Hashbrowns. Known for having a perfect amount of seasoning and crispy golden outside, these perfectly sized hash brown cakes are a fan favorite. A great choice when looking for a restaurant breakfast taste from the comfort of your own home.
Look for these hash browns online at Walmart or other stores that sell Steak 'n Shake products.
McCain
For over 60 years this brand has been providing the best in frozen fries to Canada and beyond. Started by the McCain brothers whose father was a farmer, this now global brand began with their signature frozen french fries.
Over the years their products grew, as well as their reach! Today they have a manufacturing plant in the United States that is committed to the same quality of potato products as the original french fry.
Like most other brands, McCain offers a classic shredded hash brown. They are also one of the few brands that offer mini hash brown cakes. Their Baby Cakes are delicious bite-sized frozen hash brown patties that are perfect for kids and adults.
The only downside to this brand is that it is not as easy to find as other brands. Some specialty health food stores carry them, but they are not available in all mainstream grocery stores. If you come across this brand though, it is worth grabbing a bag to try.
Aviko
While many of the best brands started as small family businesses, Aviko began as a collaboration between 32 farmers. 32 farmers who didn't know what to do with all of the extra potatoes they had. Over 50 years later, they found a way to not only use their potatoes but share them with others!
Aviko original Hash Browns are sold in little patty cake forms. Making them easy to cook, eat, and take on the go (if needed). They are already seasoned and mixed with a bit of onion to give them a tasty flavor. In addition to their traditional hash brown cakes, they also offer mini Bite Sized Hash Browns.
Whether you get the original hash brown cakes or the bite-sized minis you will enjoy the
golden brown and light crispy outer layer with a lovely soft potato center. The only downside to this delicious brand is that it is not available in the United States. However, if you live in the UK (or are visiting) pick up a bag to enjoy!
Iceland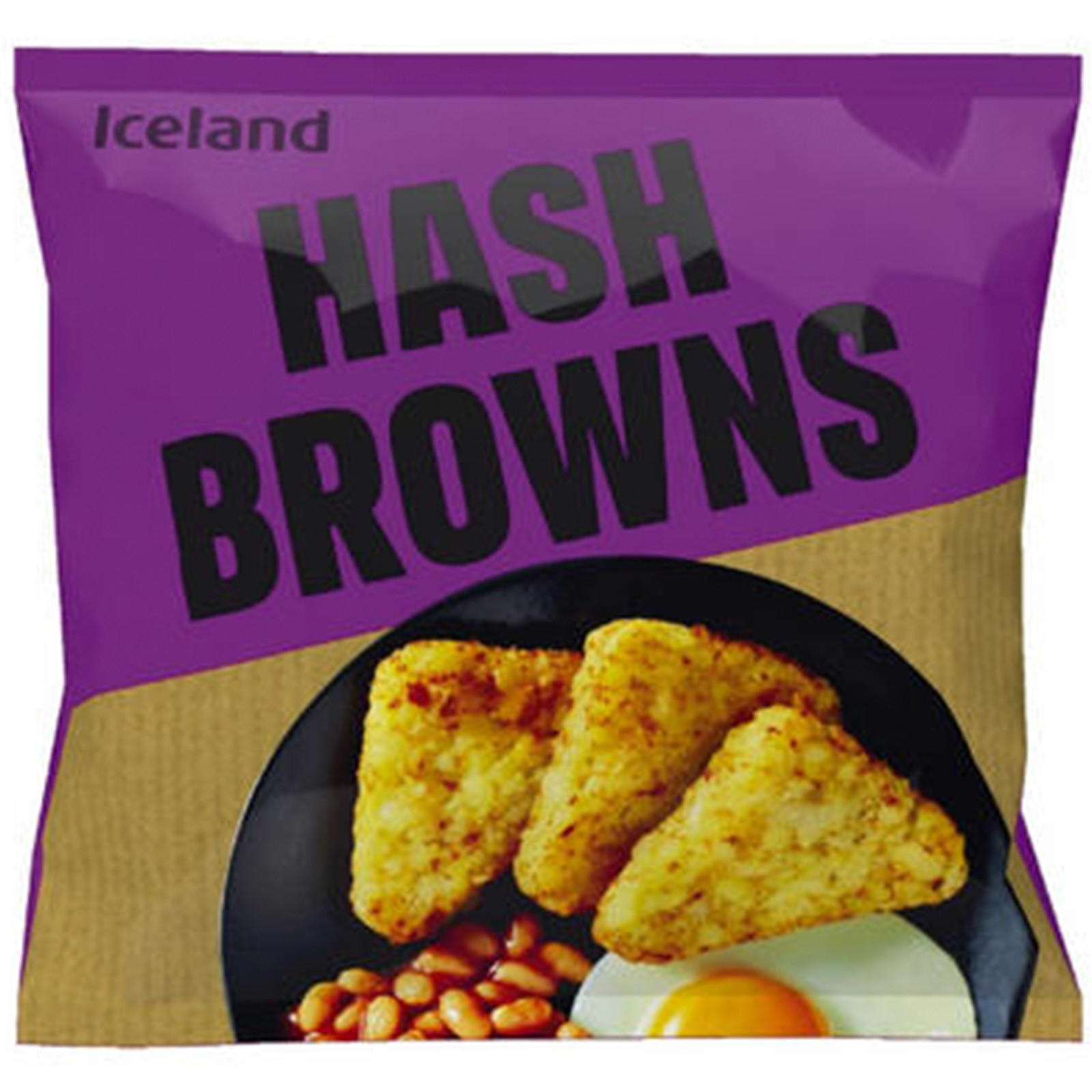 This unique grocer located in the UK started in the 1970s with the sole focus on frozen food. Over the next 50+ years, this brand continued to grow and now has over 900 cold stores around the UK.
Focused on creating deliciously frozen foods that are affordable, Iceland grocers has its own brand of products (but also sells other brands). The Iceland brand frozen hash browns are easy to cook and carry. These small triangle-shaped hashbrowns can be baked, fried, or even cooked in the air fryer!
In addition to their traditional hash brown cakes, they also have Cheesy Hash Browns (frozen hash brown sticks filled with cheese) and Hash Brown Fries.
While this is a uniquely British brand, the popularity of its frozen foods has helped it grow beyond British borders. Today you can find Iceland brand goods in several other European countries. However, at this time they are not currently available in the United States.
Heinz UK
As of August 2022, a new hash brown is coming to the UK. While the product is new, the brand is not. Heinz is a worldwide brand loved by many for its classic condiments like ketchup, mustard, and mayo.
Heinz UK has gone beyond the basics of condiments to create a new banger. Hash browns filled with baked beans. These new hash browns combine two favorite British breakfast foods, simply making them easier to eat.
For those in the UK keep an eye out for these frozen hash brown sticks that are making a buzz around the world. If they jump to the top of the best hash browns in the UK maybe they will be the next hash brown to come across the pond.
Keep an eye out for these at Iceland Grocers!
Waitrose & Partners
Waitrose & Partners is another UK brand for groceries. What started in 1904 as a single store, is now a global brand with several stores in the UK and exporting its Waitrose brand products to over 50 other countries.
While they carry other brands in store (like McCains), they are well known for their delicious store-name brand products, including their frozen hash browns.
The Waitrose Frozen Potato Rosti is a mixture of onion and potato. They have a rich savory flavor that many enjoy. However, if you don't love onions this may not be the brand for you.
A unique quality of these hash browns is that they are not only pre-formed into circles, but also pre-fried in sunflower oil. Therefore, you can get a crispy golden potato quicker when heating these up.
At the time, these are not available in the United States. However, keep them in mind if you live outside of the United States.
Conclusion
The hash browns market is a tough one to navigate. With so many brands to choose from and so many factors to consider, it's no wonder you're left feeling frustrated by your options. But we've researched all of them, so you don't have to—and we've saved you time by narrowing down your choices.
So there you have it! We hope you found this list of hash browns brands helpful. Now that you know about these brands, you can be sure to make an informed decision when buying your next pack of delicious hash browns.
But don't just take our word for it—try them out and let us know what you think! We'd love to hear from you!
Happy shopping!
14 Frozen Pancake Brands To Help You Find Your Favorite