Tourism is an important part of the economy of countless countries worldwide, including Iceland. Fortunately, Iceland tourism statistics show the location frequently attracts large numbers of culture-seeking travelers from around the globe.
Iceland's tourism market has been rapidly growing over the years, thanks in large part to the unique experiences the country has to offer, extending from the Northern Lights to the phenomenal arctic circle. As the country continues to invest in new tourism opportunities, there's plenty of room for new growth in the sector.
If you've been thinking of visiting Iceland, you've likely seen a few articles touting the wonders of this gorgeous country. With all this buzz, it's easy to see why so many people dream about heading for Iceland as soon as possible. And if you're one of those people, today is your lucky day because we're sharing with you the most alluring Iceland tourism statistics we could find.
This is a great resource if you're thinking about heading over to Iceland—or even just dreaming about it. We hope you enjoy it!
Iceland Tourism Statistics
The following Iceland tourism statistics offer an insight into the evolution of tourism opportunities in Iceland over the years.
1. As of 2020, Tourism accounted for 14.40% of Gross National Product in Iceland
(World Data)
Tourism is a significant part of Iceland's economy, accounting for 14.4% of the Gross National Product (GNP) as of 2020.
In Northern Europe, Iceland ranks as the 4th largest tourist destination. The country generated $3.13 billion in tourism in 2020, accounting for a total of 14.40% of its gross domestic product.
Even in 2020, when the pandemic was causing significant problems in the tourism sector, Iceland recorded a total of 488,000 tourists, ranking around 128th in the world for the number of tourists.
While the smaller countries naturally rank lower in comparison to the absolute total number of guests, placing tourist numbers in relation to the population offers a clearer picture. According to WorldData.info, Iceland is 37th in the world for the number of tourists per resident (1.3 tourists to every 1 resident in the country).
2. The average visitor spends $1,257 for a holiday in Iceland
(World Data)
According to research gathered from WorldData.info, Iceland generates around 3% of all international tourism receipts in Northern Europe, making it one of the biggest tourist destinations in the region. The study found the average visitor spends around $1,257 USD for a holiday in Iceland.
The average amount a visitor spends to visit Iceland today is higher than it was ten years ago in 2012 ($1,131), however, it's also much lower than some previous years. In 2005, visitors spent around $1,480 on a holiday in Iceland.
3. In 2020, Iceland saw a 75.8% drop in the number of visitors to their country.
(Ferdamalastofa)
Though tourism in Iceland continued to some degree during the pandemic, the region did experience significant changes as a result of the pandemic.
According to the Ferdamalastofa research board, only around half a million (486,308) tourists visited Iceland overnight, marking a 75.8% decrease from 2019. Passengers arriving via cruise ships also decreased drastically, by around 99.6% from 2019.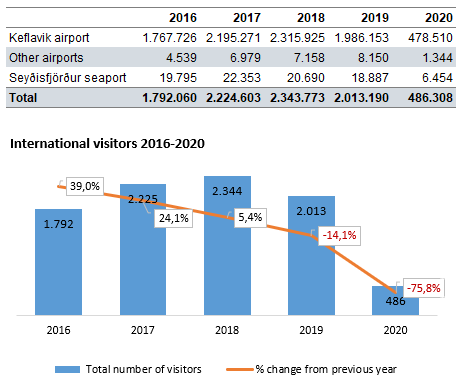 4. 739,065 people visited Iceland for a Holiday from March 2021 to February 2022
(Ferdamalastofa)
Ferdamalastofa's research revealed around 739,065 visitors (89.7% of the total visitors to Iceland during the period), visited Iceland for a holiday between March 2021 and February 2022. Only around 4.7% of people came to the country to visit friends.
The research also revealed the average length of the stay for all visitors was approximately 7.9 nights, indicating a decrease of around 13.2% from the previous year. People were more likely to stay in the country for longer during July, August, September, and October.
5. Tourist numbers in Iceland are expected to double by the end of 2022
(Schengenvisainfo.com)
Though tourism in Iceland was expected to suffer during the pandemic, the number of visitors has been steadily rising again since the restrictions on travel have begun to diminish.
According to Schengenvisainfo.com, more than 700,000 international tourists visited Iceland in 2021, compared to 2020 figures of around 486,000 travelers.
For 2021, the Iceland tourism board is expecting visitors to double to around 1.3 million international visitors, while the group believes the number could be closer to around 1.5 million in 2023.
Based on the figures gathered by the group, the first month of 2021 achieved a massive 4.8 million overnight stays, indicating around a 47% increase, and strong potential for growth.
6. Akureyri is the most visited tourist destination in Iceland.
(Ferdamalastofa.is)
According to a study done in 2018 by the Icelandic Tourist Board, 38% of foreign tourists visited Akureyri during their trip. This makes it the most frequently visited tourist destination in Iceland.
Akureyri is a small but bustling town in northern Iceland that makes the perfect base for exploring this beautiful part of the country. With so much to see and do, Akureyri is definitely worth paying a visit—especially if you've never been before!
The second most frequented destination in Iceland is the Capital Region with a share of 24% of all foreign visitors, followed by Þingvellir (17%), Borgarnes (16%), and Egilsstaðir (15%).
It's no wonder—the capital city and its surrounding suburbs boast a thriving nightlife, dozens of art and history museums, the infamous Blue Lagoon, and more natural wonders than you can imagine.
From urban adventures like exploring the National Museum of Iceland or taking in a concert at Harpa Concert Hall, to outdoor activities like whale watching or visiting a geothermal beach, there's plenty to keep you occupied.
It's only five hours from New York City, so it's become a popular travel destination for people from America looking for a quick trip abroad.
Its geographical location also means that it can be quite dark in winter, but in summer the city experiences nearly 23 hours of daylight.
7. Male visitors account for 52% of the international visitors to Iceland
(Ferdamalastofa.is)
Nearly 52% of Iceland's international visitors are men, whereas women make up slightly more than 47%.
Iceland is without a doubt one of the most beautiful places in the world. With its incredible glaciers and geysers, breathtaking waterfalls and hot springs, and vibrant history and culture, there's something in Iceland for everyone.
If you're a man, Iceland is the vacation destination for you.
That's right, Iceland has a larger proportion of male visitors (52%) than female visitors (47.8%)
All that rugged landscape and awe-inspiring nature is just waiting for you to conquer it, so go ahead and plan your trip now!
8. The average age of an international visitor to Iceland is 37.3 years.
(Ferdamalastofa.is)
The average age of an international tourist to Iceland is 37.3 years. That's right—Iceland is a hot destination for travelers, but it doesn't have the reputation of a party destination like Ibiza or Las Vegas.
Data collected by the Icelandic Tourism Board shows that visitors aged 25-34 years old make up 35.4% of all tourists visiting Iceland, followed by 18.2% who are aged 15-24 years old.
So there are definitely some young people on vacation, but if you're looking for an all-night rager, you won't find it here.
9. During the summer season, Iceland welcomes the highest volume of foreign visitors.
(Ferdamalastofa.is)
Iceland is an amazing place to visit all year round, but it's true that the country is most popular in summer. That said, the next most popular time of year to visit is winter—which should come as no surprise, given Iceland's incredible Northern Lights and other winter attractions!
According to the Tourism Board, Iceland sees its highest number of tourists during the summer months (35.4%). The second most popular season is winter with 33.3% of visitors. While this percentage has been holding steady over the years, it is increasing slightly and could become a point of focus for tourism management in the future.
The lowest amount of tourism occurs during the spring and autumn seasons, which have remained fairly stable over time (13.6% and 17.6%, respectively). This indicates that while these seasons are not as popular as summer or winter, they are still attractive to many visitors and likely need to be supported by the local tourism authority.
10. The largest number of foreign visitors to Iceland visit the country in August
(Ferdamalastofa.is)
What do you know about Iceland? Are you that person who immediately thinks of the movie Prometheus, because of the scene where Noomi Rapace and Michael Fassbender are running away from the monster in the waterfall? It's okay, we won't judge.
Do you know what is the best time to visit Iceland?
August is the most popular month for tourists to visit Iceland, according to a study by the Icelandic Tourist Board.
If you're looking for a vacation that will be out-of-the-ordinary but not too cold or wet, August is the time to go. Even though it only gets up to about 50 degrees Fahrenheit during that month, there are loads of things to do and places to stay. The Blue Lagoon spa is a major attraction, as well as whale watching tours and tours of the Hallgrimskirkja cathedral.
So what are you waiting for? This August, get your passport and head overseas for a warm (but not too warm) experience in one of the most unique countries on earth!
11. Iceland hopes to attract ISK 700 billion in tourist revenue by 2030
(Schengenvisainfo.com)
Iceland expects its tourism industry to earn over 700 billion kroner by 2030.
Authorities in Iceland are working hard to rebuild the tourism industry post-pandemic and increase jobs in creative industries to improve the competitiveness of the region.
According to Schengenvisainfo.com, the country recently created a new ministry to assist the country in reaching a goal of tourists spending ISK 700 billion by 2030.
In 2019, before the pandemic outbreak, Iceland had over 2 million international tourists. However, the Icelandic Tourist Board said the number of businesses in the travel industry may need to grow for the country to achieve spending goals.
The World Travel and Tourism Council believes the world's travel and tourism industry to reach around $8.6 trillion in 2022, 6.4% behind pre-pandemic figures.
12. 98.4% of visitors visit Iceland through the Keflavik International Airport
(Ferdamalastofa)
Around 478 thousand visitors of the just under half a million tourists arriving in Iceland in 2020 visited the region through flights arriving at Keflavik International airport. According to the Ferdamalastofa website, this represents around 98.4% of the total visitors.
Alternatively, around 6,400 visitors came through Seyðisfjörður, with Norræna, representing around 1.3% of the total. Only around 1,300 visitors (0.3% of the total visitors in Iceland for the studied period) came on flights through Akureyri or Reykjavík Airport.
13. The public budget in Iceland allocated to tourism in 2019 was ISK 2.2 Billion
(OECD Library)
Prior to the pandemic, Iceland was already investing a significant budget into the growth of the tourism sector. In 2019, the overall public budget provided for the tourism sector was ISK 2.2 billion. This money was distributed in a number of different ways throughout the sector.
Around 714.4 million was given to the Icelandic Tourist Board, while a further 544 million was provided to the Tourist Site Protection Fund, according to the OECD library.
1 billion was also delivered to tourism services, of which around 405 million ISK was given to promotion and marketing strategies designed to attract new visitors.
14. The number of people employed in tourism in Iceland dropped between 2019 and 2021
(Statista)
Perhaps unsurprisingly, the pandemic and the restrictions imposed on travel between countries around the world led to a number of changes in the tourism landscape for Iceland.
As the number of visitors to the country fell, Statista's Research Department also found the number of people employed in the tourism sector also reduced.
In 2019, around 32,906 people were employed in the tourism landscape by the third quarter of the year. However, in the second quarter of 2021, only 18,061 people were employed in this industry.
The most significant loss of employment at this time happened in 2020. However, the study also found a rise in employment through 2021, with around 25,000 people employed in the tourism sector by the end of the third quarter.
15. In 2018, tourism accounted for 39% of Iceland's export revenue
(OECD)
According to reports from the OECD library, the tourism sector played a significant role in Iceland's export market during the years before the pandemic. As of 2018, tourism was the major export earner in Iceland, accounting for around ISK 520 billion.
The sector also employed around 30,000 people, accounting for 15.7% of the workforce, and travel exports represent around 47.7% of total service exports.
Following 9 consecutive years of growth in tourism arrivals, the trend began to slow in 2019, representing a 14.2% decline from the previous year, due to reduced air access.
16. 80% of tourists in Iceland use rental cars
(Icelandic Travel Board)
According to the Iceland monitor and the Icelandic travel board, foreign travelers visiting Iceland generally prefer to explore the country using rental cars. Around 80% of visitors in total choose to hire a rental car when visiting the most common regions of Iceland.
The report also found that tourists tend to spend more in certain areas of Iceland, with visitors spending the most in Reykjavík, at around ISK 38,000 per day, or $303 USD. In this region, food, recreation, and overnight stays make up the majority of the cost.
17. Departures from Iceland reached 42,600 in June 2021
(Icelandic Tourist Board)
In a report published by the Icelandic Tourist Board in 2021, the departure of foreign passengers reached 42,600 in June, around 7 times more than in 2020, when there were only around 6000 departures in total.
The majority of departures in the country during 2021 came from the United States. US citizens accounted for around half of all departures.
According to the Icelandic Tourist Board study, since the start of the year, around 75 thousand foreign passengers left Iceland in total, representing a 78% decrease compared to the same period the year before, when departures reached around 342 thousand.
The tourist board notes the reduction in departures is likely a result of the pandemic and the problematic changes in travel restrictions imposed since.
18. 37% of Icelanders traveled abroad in 2021
(Icelandic Tourist Board)
The Icelandic Tourist board recently published the results of a new survey among Icelanders on their travel plans for 2022. The survey was conducted by Gallup and the Icelandic Tourist board and found around 37% of Icelanders travelled abroad in 2021.
Though the number of travelers in Iceland was slightly higher in 2021 than in 2020, it was much lower than the number of people traveling abroad in 2019 (around 80% of the population).
Those who did travel abroad went on an average of 1.8 trips, according to the report, around 1 trip less on average than in 2019. Additionally, the number of overnight stays was around 16.2 on average among those traveling from Iceland.
19. 84% of Icelanders traveled domestically during 2021
(Icelandic Tourist Board)
Though travel abroad and into Iceland has suffered over the last couple of years due to the pandemic, the Icelandic tourist board found domestic travel remains strong. Around 84% of Icelanders traveled domestically in 2021, a similar proportion to in recent years.
On average, Icelanders made around 6.5 domestic trips, the same number as in 2019, but slightly more than in 2020. Additionally, around 17.1 overnight stays were spent on domestic travels, and 6.2 day trips were taken.
Around 9 out of 10 Icelanders used the government's travel gift in 2021, compared to around 63% of all citizens in 2020.
20. Iceland receives the greatest number of foreign visitors from the United States.
(Islandsbanki.is)
According to the Iceland Tourist Board and Islandsbanki.is, the United States delivers the largest number of visitors to Iceland by far.
Approximately 52% of the visitors to Iceland in 2021 (May) were from the United States. This is much higher than the average of 26.6% of visitors coming from the United States between the years 2017 and 2019.
The second-largest percentage of visitors to Iceland in 2021 (May)came from Poland (9.1%), while Germany followed close behind with 6.5%.
Alternatively, visitors from Britain and other parts of the world have dropped significantly since the pandemic. The number of visitors from the UK in 2021 only accounted for 1.2% of all visitors, compared to an average of around 13.6% in previous years.
21. Overnight stay bookings in Iceland increased by 55% between 2020 and 2021
(Hagstofa Islands)
Statistics Iceland found that overnight stays at all kinds of registered accommodation establishments increased significantly between 2020 and 2021. The number of overnight stays rose by around 55%, moving from 3.3 million in 2020 to around 5.1 million in 2021.
Around 60% of the people booking overnight stays in the country during 2021 were from outside of Iceland, and the number of bookings was greater in the Reykjavik area In North Iceland, the number of rooms booked rose by 117.6% from 2020 to 2021.
Notably, around 2.5 million people spent their night in a hotel while around 1.8 million visited another form of registered accommodation.
Conclusion
In conclusion, Iceland is a beautiful and amazing place. We hope that these Iceland tourism statistics have given you a glimpse of the country that has stolen our hearts!
Iceland is also home to many natural wonders that have made it a popular destination for those looking for off-the-beaten-path travel experiences. While we don't know if this trend will continue or if it will reverse itself at some point, we do know that Iceland will always be there as an option for those looking for unique travel experiences!
If you're planning a trip to Iceland, it's time to start getting excited. You might not have known any of the things on this list before, but now you do! Who knows—maybe you'll be able to use some of these stats to impress your travel companions during your trip.
So take some time to look through the rest of our site and plan the perfect trip for you and your loved ones. Dream about all the things you want to do and see—and enjoy your trip!
25 Compelling New York Tourism Statistics (2022)
29 Las Vegas Tourism Statistics To Get You Amped
28 Sustainable Tourism Statistics To Share The Goodness
Sources