Looking for a lactose-free milk brand that tastes great and won't give you a stomachache?
Well, we're here to help. We've compiled a list of our favorite lactose-free milk brands so that you can be sure to get the taste and nutrition you need with none of the side effects.
Today, many people have an allergy to milk. However, milk is still a staple for everyday meals, cooking, and baking.
While some have found a good substitute by using plant-based milk, many don't like it and still crave the taste of real dairy milk. With lactose-free milk, you can enjoy the taste of real milk without the side effects of lactose.
Lactose-free milk is real milk without any lactose in it. This means that anyone with an intolerance or allergy to lactose can enjoy this delicious beverage without having to worry about any side effects or symptoms associated with drinking regular dairy milk.
Keep reading to find the best lactose-free milk brand on the market today so that you can make an informed decision about which one is right for you and your family's needs.
Lactaid
As one of the first lactose-free kinds of milk on the market, Lactaid set the standard for lactose-free milk.
Founded by the son of a dairy farmer in 1974, Lactaid was built upon the foundation of providing the same quality and deliciousness as cow milk without the negative effects of lactose.
Since beginning this journey, Lactaid has remained committed to this same mission for almost 50 years. Moreover, setting the standard for all other brands.
To set the standard, Lactaid begins by using fresh milk from cows that are never treated with artificial growth hormones. In addition, the milk is always tested for antibiotics.
Next, Lactaid uses a natural lactase enzyme to remove the lactose from the milk. This is the key to making lactose-free milk and is what allows anyone with lactose intolerance to enjoy the delicious taste of milk without any discomfort.
Lactaid milk has the same levels of vitamin A, vitamin D, and calcium that are found in regular milk. In addition, Lactaid offers a type of milk that is calcium enriched with an extra 200 grams of calcium per serving (500 grams per 1 cup compared to the standard 300 grams per cup). The Calcium Enriched Milk is available in 2% Fat and Fat-Free.
Beyond the calcium-enriched option, Lactaid has an assortment of other lactose-free milk choices.
Whole Milk
2% Reduced Fat Milk
1% Lowfat Milk
Fat-Free Milk
Protein Rich Whole Milk
Protein Rich 2% Milk
Chocolate Whole Milk
In addition to these standard types of milk, Lactaid also offers a shelf staple milk (whole and 2%) that can be kept in the pantry as food storage.
This brand is not only the best because of its variety of lactose-free milk choices but the assortment of other lactose-free dairy products!
Ice Cream
Cottage cheese
Sour Cream
They even have a lactose-free egg nog for the winter holidays!
Beyond the amazing assortment of delicious lactose-free dairy products, Lactaid gets the number one spot because of how easy it is to find. Look for it alongside the regular milk in the refrigerator section of most grocery stores.
Fairlife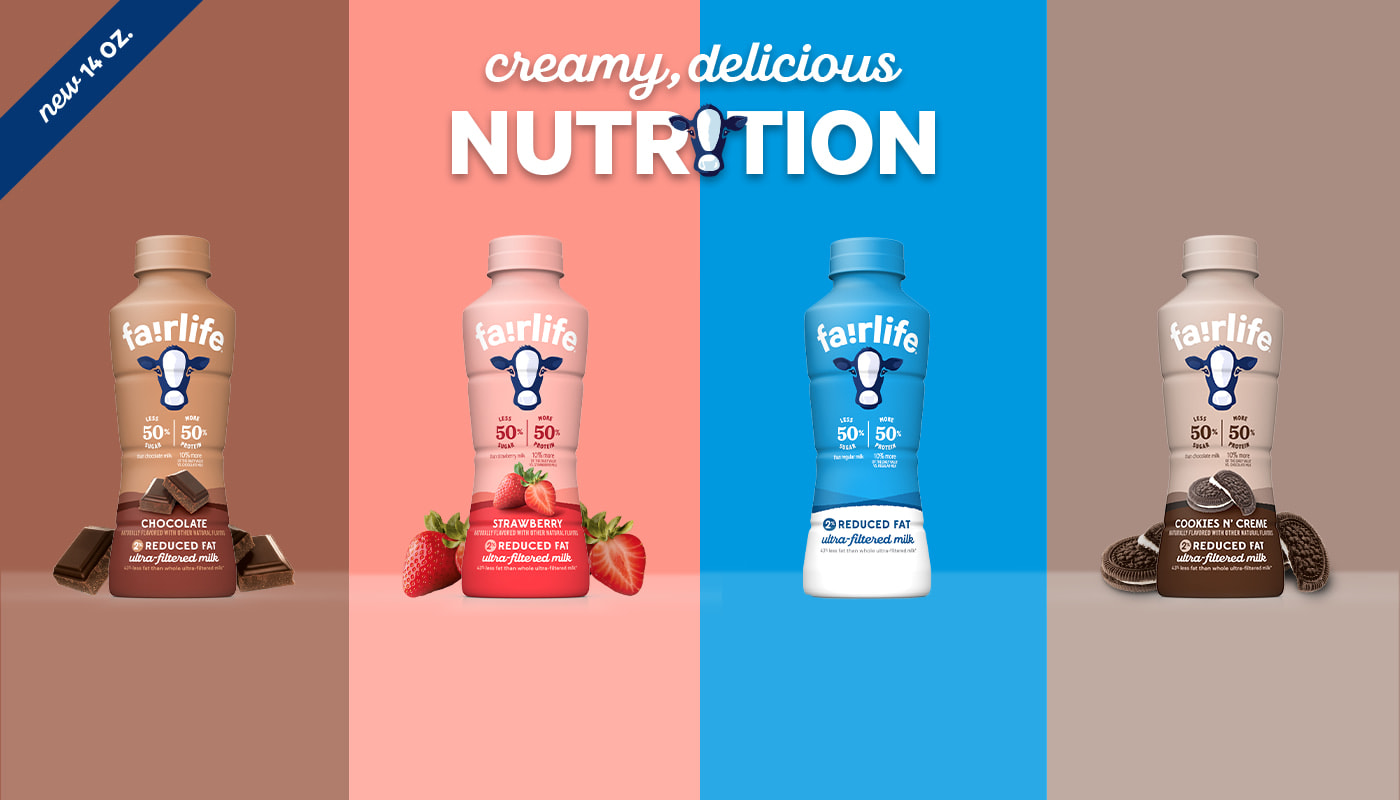 Fairlife gets the second spot on this list for several reasons. Not only does it meet the criteria already set by Lactaid, but has some added benefits that secure it in a top spot.
Fairlife is a newer brand that came onto the market in 2012. The brand's goal was to harness all the potential benefits of milk by focusing on creating quality lactose-free milk that was also low in sugar and high in protein.
Fairlife starts its process of creating its milk from the beginning at the farms. It tracks the milk from each farm to manufacturing in order to maintain a standard of using only the highest quality milk.
In order to create the final creamy lactose-free milk, Fairlife uses an ultra-filtration system alongside the use of lactase. This is a key part of the Fairlife process. It allows for extra sugars to be removed from the milk while allowing for more protein and calcium.
The result from the ultrafiltration process is milk that has 13 grams of protein per cup, 50% less sugar than regular milk, and zero hormones.
In addition, it is full of vitamins. Like Lactaid, you will find the standard percentage of vitamins A and D, as well as vitamin E. It also provides almost 100 mg more calcium per serving than regular milk.
If you want even more vitamins, you can choose from one of the brand's two kinds of milk (whole or 2% reduced fat) that have 3x the DHA Omega-3 vitamins as other kinds of milk.
While the health benefits of this brand already make them a winner, the taste of each product adds to the benefits. Each Fairlife milk tastes so creamy and delicious that it will make you wonder how it can taste so good and be so healthy. Moreover, this delicious taste is found in all of the brand's milk offerings.
Whole Milk Ultra-filtered
2% Reduced Fat Ultra-filtered Milk
1% Ultra-filtered Milk
Fat-Free Ultra-filtered Milk
2% Reduced Fat Chocolate Ultra-filtered Milk
Single Serving lactose-free Milk
Sticking to its commitment to making the health benefits of milk more readily available, Fairlife goes one step further to provide an on the go option. You can find single serving 14 oz bottles of the brand's different kinds of milk in grocery stores and gas stations across the country.
These on-the-go bottles are available in the standard milk varieties, as well as everyone's favorite chocolate. Plus, there are two other flavors available in the single-serving bottles: strawberry milk and cookies and cream. In addition, for those who want a real protein boost look for the brand's CorePower line.
The Core Power line remains committed to all the original health benefits of Fairlife milk, including being lactose-free, while adding in even more protein. The perfect choice for a meal replacement on-the-go or for post-workout recovery.
Core Power with 26 grams of Protein
Vanilla
Chocolate
Banana
Strawberry
Core Power Elite with 42 grams of Protein
Vanilla
Chocolate
Strawberry
The Core Power milk choices can be found in 14 oz single-serving bottles at many gas stations and grocery stores. In addition, you can also order them in larger quantities from Amazon.
Whether you are searching for a single-serving drink on the go or a gallon of milk for the house, keep an eye open for Fairlife ice cream while you are at the grocery store.
Organic Valley
Although Fairlife and Lactaid have two of the largest varieties of lactose-free milk options and also offer farm-fresh milk, they are not organic. Therefore, if an organic milk option is important to you will want to look for Organic Valley (or Horizon).
Organic Valley produces all of its milk (and other dairy products) from pasture-raised cows. Therefore, they are recognized as having products that are naturally more nutrient dense than some other brands.
However, while Organic Valley does make lactose-free milk, it is not their primary product. Therefore, they only offer one option for lactose-free milk.
Organic Valley lactose-free whole milk is the same milk that comes from its pasture-raised cows. This means no antibiotics, no synthetic hormones, no toxic pesticides, and non-GMO. Moreover, it still maintains all the amazing vitamins found in this nutrient-rich milk.
The only difference between the lactose-free milk and the regular Organic Valley whole milk is that the lactose-free one is processed using a natural lactase enzyme to remove lactose. Therefore, when it comes to taste, this brand also maintains the rich, creamy flavor and texture of real cow milk.
Since you won't be able to tell the difference between lactose-free and regular whole milk by taste, make sure you grab the right carton at the grocery store. Organic Valley is a common brand that is sold in most grocery stores across the country.
Horizon
If you can't find Organic Valley lactose-free milk at your local store, then look for Horizon. Packaged in bright red cartons, this other organic brand is easy to spot.
A USDA-certified organic brand, Horizon prides itself on producing milk from happy cows that come from happy farms. Although there are over 500 different farms that are part of the Horizon family, each one follows the same belief and farming principles that make this a certified organic brand.
In addition to being organic, Horizon milk provides vitamins A and D. Moreover, it is known for its creamy texture and taste. These traits are found in not only the regular milk, but also the brand's lactose-free milk.
Like Organic Valley, Horizon is a brand that produces a wide array of organic dairy products. Therefore, lactose-free milk is not its primary product. However, Horizon has both whole milk and reduced-fat options that are lactose-free (compared to Organic Valley that only offers whole milk).
If you can't find the lactose-free Horizon milk at your mainstream grocery store, look for it at health-focused stores like Sprouts or Whole Foods.
365 By Whole Foods
If you find yourself on the way to Whole Foods to find lactose-free milk, then consider checking out the store's 365 brand. This in-store label is known for having great products that are less expensive than other name brands.
The 365 lactose-free milk is a good choice for those who drink milk daily.
One reason for this is the price. Lactose-free milk is typically more expensive than regular milk. Therefore, if you use it every day for cereal and other meals, it can become quite expensive. However, compared to other brands, 365 is more affordable for regular purchases.
A second reason this is a good choice for daily milk drinkers is that it does not stay fresh long. 365 does not ultra-pasteurize its milk like most brands. Therefore, while this allows for a better flavor, it doesn't keep the milk fresh for as long as other brands.
Beyond these two unique qualities, this brand matches up with the other brands in regard to vitamins and minerals. Moreover, it is also made with the same type of natural lactase enzymes used to make the other lactose-free milks.
If you are near a Whole Foods, grab a carton of 365 to compare it to your other favorite name brand lactose-free milk. You may find you like this everyday brand better.
Clover Sonoma
While most of the brands that produce lactose-free milk are larger companies, Clover Sonoma is a family-owned brand in Northern California. This brand is not built by just one family, but several families.
Clover Sonoma sources dairy from a small and select handful of family owned dairy farms in Northern California. Each farm is committed to providing the best milk around. That means staying committed to raising healthy and happy cows.
Since Clover Sonoma is recognized for following American Humane certified animal welfare standards, you can be confident that each farm they work with is truly raising healthy and happy cows. Moreover, you can taste the difference in the brand's rich, creamy milk.
As a smaller company, Clover Sonoma only offers one choice when it comes to lactose-free milk. It is made from the company's regular whole milk and then processed with lactase. In addition to the vitamins and minerals already present in the milk, Clover Sonoma adds extra D3 to its lactose-free milk.
While this local company is one of the best choices for lactose-free milk it is also one of the more difficult to find. Use the store locator on the company's website to see if they have a retailer near you.
Parmalat
Parmalat is a newer brand in the United States. However, the brand has been around since 1961.
For almost thirty years, Parlamat was primarily an Italian brand. It began in Italy by pastuerizing and selling milk in glass bottles. However, in the 1990s it moved into American and other European markets. By 2018, it had become an international brand with a presence in over 23 countries.
Today, it is easy to find this brand in the United States. You may be surprised by where to look for it, though. Parlamat milk is located on the pantry shelves in the grocery store, not in the refrigerated section. The reason Parlamat can be found in the pantry aisle is due to the way it is processed.
Parlamat is a brand that only makes Ultra High Temperature "UHT" milk. This means the milk is pasteurized at extremely high temperatures to kill any bacteria. Moreover, it is quickly packaged and sealed in air-tight cartons to prevent any new bacteria from forming. The result is milk that can stay unrefrigerated until it is opened.
While it may seem odd to purchase milk that is not cold, this type of milk is a great choice for keeping a carton of milk on hand for emergencies. The milk comes from the same cows as refrigerated milk. It has all the same nutrients and flavor. It is just processed differently.
This process can also be used on lactose-free milk, which is why Parlamat is listed as one of the best brands. Although they only make one choice of lactose-free milk, it is an excellent choice for adding a lactose-free option to your food storage.
Another great thing about this brand is that it is easy to find and affordable. You can find it at almost any Walmart in the United States.
Carnation
Milk for regular needs like drinking or eating cereal is not the only place that you may need a lactose-free replacement. If you enjoy baking, you may find yourself in need of lactose-free evaporated milk.
Luckily, the same brand known for its regular evaporated milk also makes a lactose-free version. Carnation!
Evaporated milk is regular cow milk that has been heated until about 60% of the water content has evaporated. The result is a richer and sweeter flavored milk.
This milk is used as a staple in baking and is a key ingredient in making pumpkin pie. While you may not originally think about it, desserts like pumpkin pie need to be made with lactose-free milk for those with lactose intolerance.
Carnation lactose-free evaporated milk is made the exact same way that its regular evaporated milk is made. The only difference is that lactose-free milk (made with lactase) is used instead of regular milk. The result is the same rich, sweet, and creamy evaporated milk that you can use the same way in any recipe.
If you can't find the lactose-free version at your grocery store, order it online at Amazon.
Judee's
Evaporated milk is not the only other type of milk that is commonly used in cooking. Powdered milk is another form of milk that is used in baking. Moreover, it is another shelf staple milk option.
Like regular evaporated milk, regular powdered milk is also made from traditional cow milk. Therefore, it is necessary to find a brand that uses lactose-free milk to dehydrate and turn it into powdered milk. Judee's is one of those brands.
Judee's is a brand that was started in 2009. It began as a gluten-free brand and has grown to include other products to help with other food sensitivities. This includes its lactose-free powdered milk.
Made from real dairy, this product is non-GMO and rBST hormone free. Therefore, providing the same ealth benefits as regular powdered milk, but without lactose and its negative effects.
Availabe in either whole milk or skim milk powder, this product is excellent for replacing regular powdered milk in any baking recipe. Moreover, it can be reconstituted with water if you need lactose-free milk in liquid form.
While you can buy directly from Judee's website, the best place to buy this brand is on Amazon.
Dairy Sky
Dairy Sky is another choice for lactose-free powdered milk. This brand is much newer to the dairy game, but this family-owned business is committed to creating dairy products that are delicious and nutritious.
As a newer company, there is not the same range of products as the larger companies. However, if you are only in need of a lactose-free powdered milk, at an affordable price, they are a great choice.
Moreover, Dairy Sky is easy to find both online and in person. Therefore, if you do not want to wait to order dried milk from Amazon you can pop into your local Walmart.
Conclusion
Just because you have an intolerance to lactose doesn't mean you have to miss out on the pleasure of real milk. Thanks to lactase enzymes and quality farmers, there are several amazing options for enjoying anything that calls for milk.
Whether it is milk to bring back the joy of cereal for breakfast, an ice-cold glass of chocolate milk, or evaporated milk for pies, this list is all you need to enjoy every tasty moment – without lactose.
277 Dairy Farm Name Ideas to Milk Unlimited Money
263 Catchy Milkshake Shop Name Ideas to Serve Fresh
379 Udderly Good Milk Brand Name Ideas