Several things are considered when choosing a luxury mattress: high-quality materials, hybrid mattresses that combine the plush comfort of memory foam with the support of tempered innerspring, and a plush top layer.
In addition to the luxurious quality of the mattress, customer satisfaction and the warranty and home trial periods play a part in creating a luxury brand. Check out the luxury mattress brands below to see how they live up to these criteria.
Helix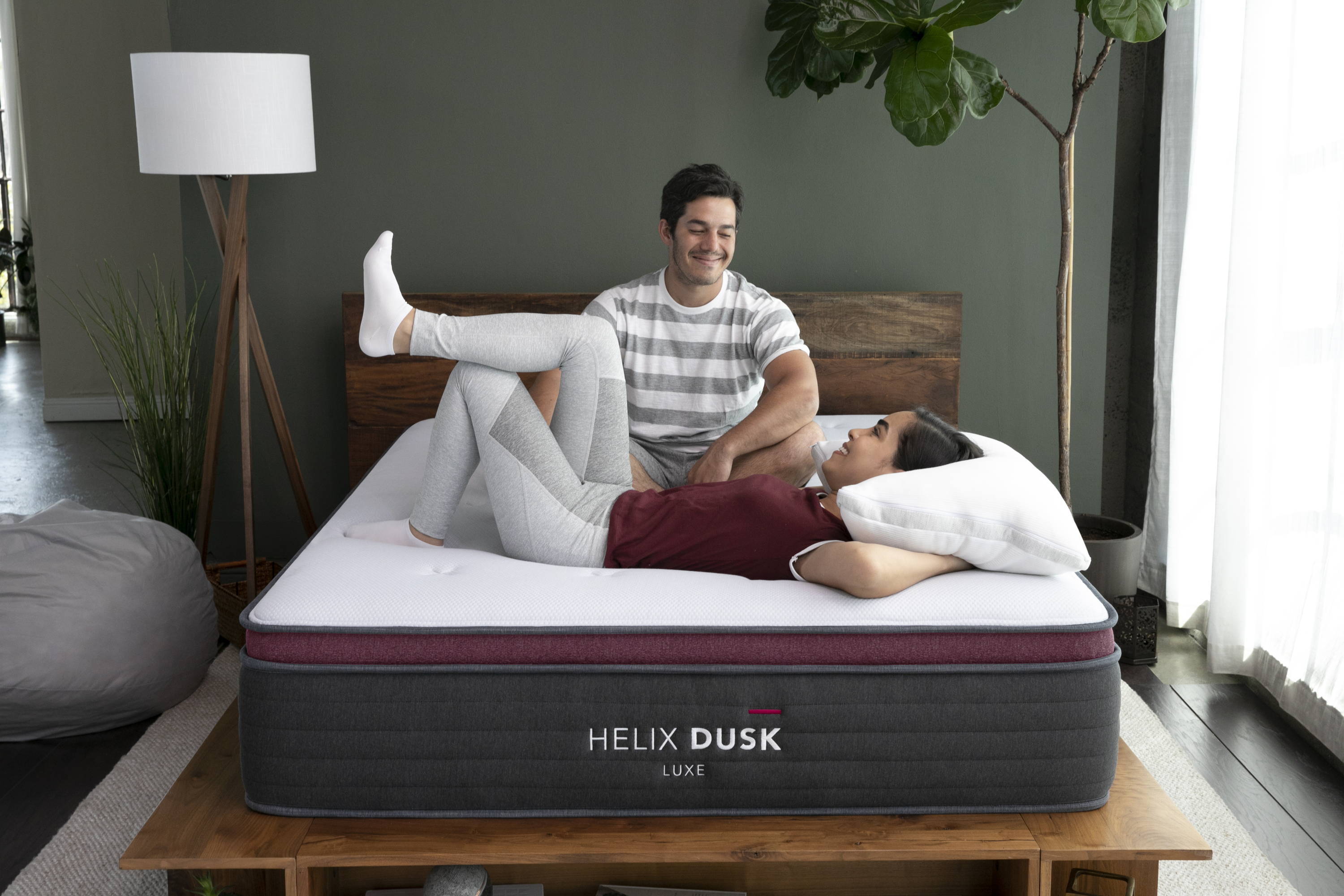 When it comes to luxury mattresses, Helix is one of the best in the business. Just ask the hundreds of people who have rated Helix as their favorite compared to other brands. In addition, ask the doctors who endorse this brand for improving the quality of sleep.
In 2021 this brand won Best Overall Mattress by Wired and was also awarded Best Overall Mattress in 2022 by Apartment Therapy. These are just a couple of notable mentions.
Helix even made the Forbes Best of 2022 list as the best mattress brand for side sleepers.
To help customers find their perfect mattress, Helix has a short survey to help you find the right fit. Based on the results, potential customers will be provided details about one of the several luxury mattresses Helix makes.
Back & Stomach Sleepers
Helix Moonlight Luxe (Soft Luxury Feel)
Helix Dusk Luxe (Medium Luxury Feel)
Helix Dawn Luxe (Firm Luxury Feel)
Side Sleepers
Helix Sunset Luxe (Soft Luxury Feel)
Helix Midnight Luxe (Medium Luxury Feel)
Helix Twilight Luxe (Firm Luxury Feel)
In addition to the luxury mattresses listed above, Helix makes a standard mattress for all of these choices. This provides even more options from a quality mattress brand.
Cost of a Helix Mattress
Helix Luxe mattresses begin at $1199 for a twin mattress and go up to $2499 for a Cal King mattress.
A mattress is an investment. Especially a luxury one. However, it is an investment that will help you live better by providing better sleep. Therefore, Helix wants to make its luxury mattresses available to everyone.
With flexible payment plans through Affirm and Katapult, customers can enjoy quality sleep now without paying for it upfront.
Helix Sleep Trial Period
This brand offers a 100-night sleep trial on all of their mattresses. However, these experts required that you keep the mattress for a minimum of 30 nights. This is what Helix calls the "Break-In Period."
If after the initial 30 days and before the first 100 you still are not in love with the mattress, Helix will pick it up and refund you.
Helix Mattress Warranty
For those who fall in love with their Helix luxury mattress and keep it, there is additional comfort in the warranty. If for some reason something happens to the mattress, all Helix luxury mattresses are covered under a 15-year warranty. In addition, the brand's standard mattress and kid mattress have a 10-year limited warranty.
Saatva
Saatva is one of the top premium luxury mattress brands in the country. This brand has one of the largest assortments of mattresses that range from classic pillow tops to hybrid mattresses to memory foam. Each type of mattress offers a specific quality to support different sleeping styles and needs.
Types of Saatva Mattresses
Saatva Classic
This mattress is a hybrid innerspring mattress that has durable coils to provide a responsive feel when you lie down. In addition, it has a luxury 3-inch pillowtop that is excellent for alleviating back, shoulder, and hip pain.
While all of the Saatva Classic mattresses have the pillowtop, how soft it is will depend on which of the three levels of firmness is purchased: Plush Soft, Luxury Firm, and Firm.
In addition to selecting your desired firmness, you can also select your desired bed height. The Saatva Classic comes in an 11.5-inch or 14.5-inch height.
Saatva HD Mattress
Beyond the Saatva Classic is the Saatva HD mattress which is made specifically for bigger bodies. In fact, it is considered the first luxury hybrid innerspring mattress for bigger bodies.
With all of the same amazing qualities as the classic, plus extra layers for comfort and support, this five-star mattress is one of the best on the market.
Solaire
If you are looking for a bed that provides plenty of options for you and your partner then this mattress is worth looking into. This luxury customizable mattress has 50 precise firmness options to choose from.
In addition, the mattress can be adjusted to various inclines. And for those who want even more individual choices the Solaire Upper-Flex mattress offers a split top (in select sizes) so that each person can choose what incline they prefer.
Saatva Latex Hybrid
For couples that are not quite ready to invest in an adjustable mattress then the Saatva Latex Hybrid is a great choice. This mattress is medium-firm which provides a level of comfort that suits the majority of people's sleeping needs.
Made from organic wool and natural latex, this mattress has excellent airflow that provides for cooler sleeping. Like the Saatva Classic, the pocketed coils and cushioned Euro top are great for alleviating back, shoulder, and hip pain.
Zenhaven Natural Latex Mattress
If you cannot sleep while you are hot then another option for a cooling mattress is the Zenhaven Natural Latex mattress. This is made with natural latex that is breathable and hypoallergenic.
Beyond the cooling effect, this mattress is dual-sided which offers a pressure-relieving effect that will make you feel buoyant when you lay down. This is a customer favorite in the luxury mattress industry with a solid five-star reputation.
Memory Foam Hybrid Mattress
Featuring Aircradle memory foam, this premium mattress has everything you need for a solid night of sleep. The gel-infused memory foam offers a body-contouring feel that also helps keep your spine aligned.
In addition, pocketed coils make it easy to move around the bed by providing a responsive feel, while the brand's LuxeCool System keeps you cooler while you sleep. An excellent luxury choice for those who want a medium-firm mattress for a full night of sleep.
Loom & Leaf
This ultra premium memory foam mattress is a 5-pound mattress that provides all the benefits you would expect from a luxury mattress. Memory foam to offer support by contouring the body, gel-infused foam to keep the air flowing and keep you cool, and an antimicrobial cover made from organic cotton.
Another benefit of this mattress is the choice of two levels of firmness: Relaxed Firm or Firm. With so much to offer this mattress has been recognized as a top luxury mattress for several years.
Saatva Youth and Crib Mattresses
If you are looking for a luxury brand for the whole family then Saatva has you covered. These kids' mattresses have a dual-sided hybrid innerspring that provides the same level of comfort as the adult mattresses. This is a great way to ensure that you kids are well rested every day.
Sizes of Saatva Mattresses
Aligned with a wide range of mattress types, Saatva offers a complete range of mattress sizes.
With the exception of the youth and crib mattresses all of the Saatva mattresses can be purchased in any of the following sizes:
Twin
Twin XL
Full
Queen
King
Split King
Cal King
Split Cal King
Cost of Saatva Mattresses
Along with its range of styles and sizes is the cost of mattresses. Depending on what style and size of mattress you choose, these luxury mattresses begin at around $995 and go up to around $5,000.
For a better idea of what each type of mattress costs take a look at the price ranges below.
Saatva Classic: $995-$2,710
Saatva HD: $1,795-$3,990
Solaire: $2,525 – $5,505
Saatva Latex Hybrid: $1,295-$2,990
Zenhaven: $1,795-$3,990
Loom & Leaf: $1,195-$3,150
Memory Foam Hybrid: $925-$2,630
Saatva Youth: $795-$1,055
Crib Mattress:$355
Like many other mattress brands, Saatva offers financing options through providers such as Affirm.
Home Trial
This luxury brand prides itself on offering luxury services. Therefore, any mattress you order will be delivered by the Saatva white glove delivery crew (no mattress in a box that you have to unload yourself). Once you receive your mattress you get an entire year to see how well you like it.
The brand's 365-night home trial is one of the longest in the industry. Giving you plenty of time to decide if the mattress is really what is best for your sleep.
Saatva Mattress Lifetime Warranty
If you decide to keep the mattress beyond the first year, Saatva still has you covered with its Lifetime Warranty. Called the "Friends for Life" Warranty it will cover the cost of a repair or replacement in situations where there are defects in workmanship and materials.
However, the coverage changes depending on how long you have had the mattress (to account for natural wear and tear). If a defect in workmanship is noticed within the first two years of ownership then Saatva will replace the mattress. Once you have owned it for 3 years or more then the company will pay for repairs, but there is a $149 processing fee paid for by the owner.
In addition, in order to qualify for the warranty you must be the original owner. You must also be able to prove that the mattress was handled in accordance with regular use. You can learn more about the exact specifications that must be followed in order to qualify for this lifetime warranty.
Dream Cloud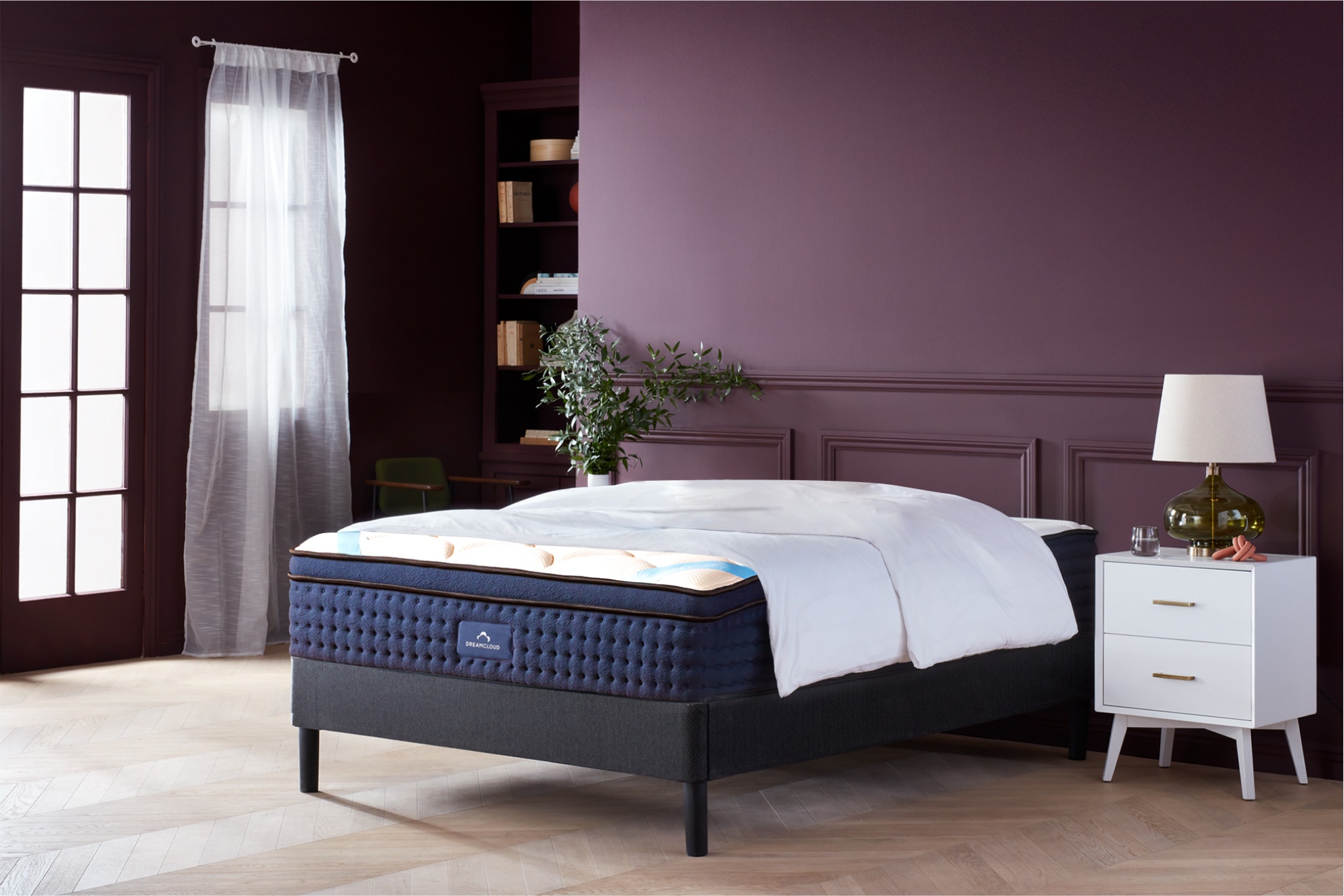 From winning "Best Luxury Bed in a Box" in 2021 by Mattress Nerd to the winner of "Best Sleep" in 2022 by Architectural Design, and dozens of other recognitions, DreamCloud continues to be one of the best luxury mattress brands around.
With seven layers of luxury in every mattress, DreamCloud covers all the necessities for luxury comfort and sleep in this 14" mattress. Take a look at what each layer offers, as described by DreamCloud.
Layer 1: Breathable, Cashmere Blend Cover
Layer 2: Contouring, supportive soft foam
Layer 3: Pressure-Relieving Gel Memory Foam
Layer 4: Dynamic Transition Layer
Layer 5: Individually-Wrapped Coils with Reinforced Edge Support
Layer 6: Stability Base Layer
Layer 7: Shift-Resistant Lower Cover with Handles
Beyond the seven layers of the original Classic Comfort DreamCloud are two other mattress choices: DreamCloud Premier and Premier Rest.
DreamCloud Premier
The traditional cashmere top gets upgraded to a cashmere Euro top in this extra plush premier mattress. It also has enhanced pressure relief that comes with added support. Like the classic mattress, this mattress is 14" tall. This is the most popular of the three DreamCloud luxury mattresses.
Premier Rest
The Premiere Rest gets an additional layer of comfort making this 8 layered mattress the thickest and plushest of the three DreamCloud designs. The added layer of a deluxe Pillow Top is perfect for anyone seeking extreme comfort. The extra layer adds two inches to this mattress, making it 16" tall.
Mattress Sizes
Although DreamCloud does not offer the same array of mattresses that some other brands do, it still offers a wide range of mattress sizes. All of the DreamCloud Mattresses are available in a Twin (including a Twin XL), all the way up to a Cali King.
Cost of DreamCloud Mattresses
When it comes to luxury mattresses, DreamCloud is one of the most affordable brands. Especially for the quality of the mattresses.
The DreamCloud Classic begins at $599.25 for a Twin and goes up to $1,124.25 for a Cal King
The DreamCloud Premier Hybrid starts at $749.25 for a Twin mattress and goes up to $1424.25 for a Cal King
The DreamCloud Premier Rest begins at $1,124.25 for a Twin and goes up to $1,724.25 for a Cal King.
Home Trial for DreamCloud
In addition to getting an entire year to try out your DreamCloud mattress, the company also provides free shipping, free returns, 2 pillows, a sheet set, and a mattress protector with each purchase.
If after a full year of sleep you decide that DreamCloud is not the luxury mattress for you, then simply return it.
DreamCloud Lifetime Warranty
Not only is DreamCloud one of the few brands to offer a lifetime warranty but it offers one of the best lifetime warranties. Unlike Saatva that will only replace a mattress within the first 2 years of its lifetime warranty, DreamCloud gives customers 10 years.
Therefore, if you encounter a defect in the mattress and it qualifies under the warranty terms, DreamCloud will replace your mattress with a new one. After 10 years, the brand will repair and recover mattresses. Moreover, it will only cost you $50 instead of the $149 charged by Saatva.
Nectar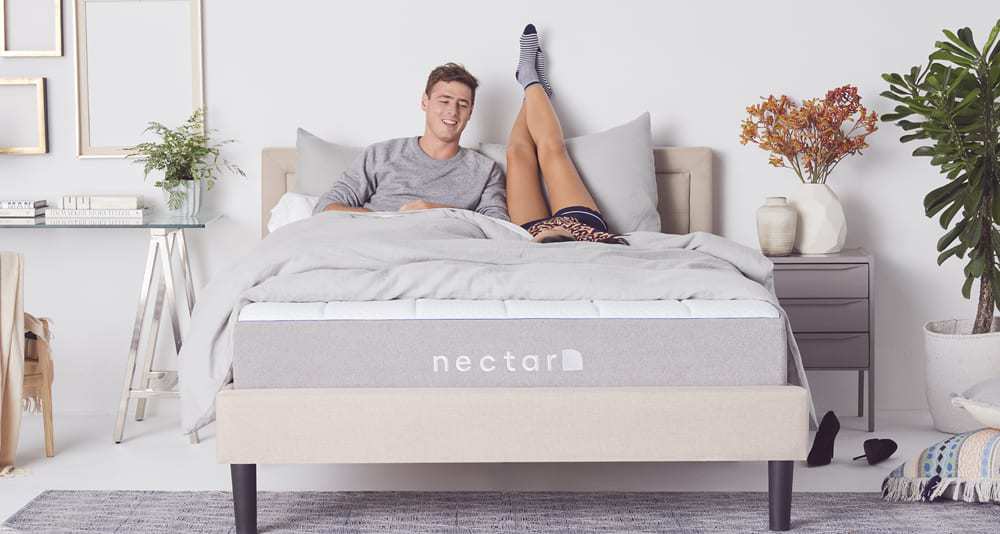 This mattress-in-a-box brand has been awarded several awards since 2019. Moreover, each year it has earned even more awards than the previous year. While Nectar offers a few different memory foam mattresses, its Premier Copper Luxury Mattress was awarded the "Best Overall Mattress 2022" by Forbes.
In addition to the Forbes award, the Premier Copper mattress was also awarded the "Best Memory Foam Mattress" award in 2022. Beyond the Premier Copper mattress, the classic Nectar Mattress and Premier Mattress are also award winners that offer luxury sleep.
Nectar Memory Foam Mattresses
The Nectar
This 12" memory foam mattress has multiple layers that provide classic comfort. The base layer provides active support while the second layer assists to minimize motion transfer across the mattress. In addition is gel memory foam for pressure relief and a single-action cooling layer.
Nectar Premier
This is the brand's most popular mattress. It includes all of the same elements as the classic Nectar, but with an extra inch of gel memory foam making this a 13" mattress. In addition, this premier mattress uses HD foam to further enhance the cooling and contouring elements and dual-action cooling.
Nectar Premier Copper
In addition to the same standard base levels as the other two mattresses, this award-winning luxury mattress has 4" of therapeutic gel memory foam (two inches more than the standard Nectar). Beyond that, it has HD foam and triple-action cooling that includes real copper.
Hybrid Nectar Mattress
In addition to the memory foam mattresses, Nectar also offers the option of a hybrid mattress. This option is only available for The Nectar and The Nectar Premiere. It has innerspring coils aligned with memory foam that further elevate its luxury status.
Nectar Mattress Sizes and Prices
A unique quality of this brand is that in addition to the full range of mattress sizes offered by many other brands, Nectar offers a Split King. This is a size only offered by a few brands.
Moreover, Nectar has some of the most affordable prices for a luxury mattress.
The Nectar Mattress is only $359 for a Twin and $1,030 for a Split King.
The Nectar Premier Mattress starts at $669 for a Twin and goes up to $1,406 for a Split King.
The Nectar Premier Copper Mattress starts at $937 for a Twin mattress and goes up to $1,942 for a Split King.
The Nectar Hybrid ranges in price from $468 for a Twin to $1,164 for a Split King
The Nectar Premier Hybrid ranges in price from $803 for a Twin to $1,674 for a Split King
Beyond having some of the most affordable prices, Nectar makes it even easier to purchase a luxury mattress by offering one of the widest ranges of payment options. In addition to Affirm, which is offered by most brands, Nectar also offers payment options through Split, Katapult, and Amazon Pay.
Nectar Home Trial
Once a Nectar mattress is opened you must keep it for a minimum of 30 days before requesting a return. However, you can keep the mattress for up to 365 days to try it out. If after a year you are not satisfied with the mattress you can request a full refund before the 365 days is up.
Nectar Warranty
Nectar offers a lifetime warranty that covers manufacturing defects for the life of the mattress. Like DreamCloud, Nectar will replace the mattress in the first 10 years.
After 10 years the brand will repair or recover the mattress as needed. This is the same policy offered by DreamCloud and for the same incurred cost of $50 to the customer.
Winkbed
While a lot of the award-winning luxury mattresses are memory foam, Winkbed is recognized as one of the best hybrid mattresses. The blend of gel memory foam and innerspring topped with a Euro-pillow top creates a perfect balance of support and cushioning.
Like the other luxury brands, Winkbed offers a few different mattresses to choose from so you can find the best fit for your body.
Winkbed Mattresses
The WinkBed
This mattress has a Euro pillow top and gel foam that help hold the body by offering cushion contour and support. This mattress is especially great for providing support to the hips, back, and shoulders.
Below the gel foam is a layer of individually wrapped pocketed coils. In areas where the mattress receives more weight, there are more coils to support the body. In contrast, areas of the mattress that have less weight have fewer coils.
In addition, all Winkbed mattresses have added support around the edges of the bed. These special edges help you feel more secure using the full width of the bed (knowing you won't roll off), while also helping to prevent sagging.
The final touch on this luxury mattress is the brand-specialized moisture-wicking Tencel® Cover. This specialized cover keeps the body cooler than any cotton or linen cover.
Mattress Firmness
The standard Winkbed mattress comes in several levels of firmness which provides you with even more choices for finding your perfect sleep fit.
Choose from the standard Luxury Firm, Softer, Firmer, or Plus (for bigger bodies).
The choice of firmness does not change the price, with the exception of the Plus mattress which is about $300 more than the Luxury Firm.
GravityLux
This WinkBed mattress adds additional luxury to the already supportive and contoured standard mattress. It includes a special layering of foam designed to help muscles and joints relax and align. In addition, it has a LumbarLayer to help align the spine.
A unique quality of this mattress is the use of AirCell Memory Foam which helps isolate motion. Therefore, minimizing the feeling of movement from restless sleepers. This makes it the perfect choice for couples.
Another benefit of this memory foam is that it does not retain heat, making it another mattress that will help you sleep cool and comfortable.
EcoCloud Hybrid
If your mattress goals include being eco-friendly then this mattress is an excellent choice. It is made with natural Talalay latex and no synthetic foams or fabrics.
This mattress has the same pocketed coil support base and the extra edge support as the original Winkbed. It also provides similar support for those who sleep hot, by offering cooling fabric.
Beyond being a good choice for those who are environmentally conscious, this mattress is designed well to support side sleepers.
Mattress Firmness
Choose from four different levels of firmness in the EcoCloud Hybrid. The price of the mattress is not impacted by the level of firmness selected.
Cost of WinkBeds Mattresses
WinkBed
Twin $1,149
Twin XL $1,249
Full $1,499
Queen $1,799
King $1,999
Cal King $2,049
GravityLux
Twin $1,199
Twin XL $1,299
Full $1,599
Queen $1,799
King $1,999
Cal King $1,999
EcoCloud
Twin $1,399
Twin XL $1,499
Full $1,699
Queen $1,999
King $2,399
Cal King $2,399
WinkBeds Home Trial
WinkBed offers customers 120 nights to try any of the brand's mattresses. If you are not completely satisfied then you can return the mattress for a full refund. There is no restocking fee.
In addition, if you want to try a different mattress you can exchange it for $49 (plus any difference in price). While you won't get the full 120 days to try the second mattress, the brand will give you 60 days to try it out. If it turns out that none of the mattresses work then you can still return it before the 60 days is up.
WinkBeds Lifetime Warranty
Lifetime means lifetime. While many brands that have lifetime warranties only offer a full replacement within a specific time, WinkBeds truly offers a lifetime warranty.
During the entire lifetime of ownership, you can get the bed replaced if there is defective workmanship. Plus, there is no charge to you for any shipping or mattress pickup.
Puffy
Puffy is one of the most versatile mattress brands on the market that includes two luxury mattresses. The versatility of this brand can be seen in the varying awards it has received over the years.
This brand has been recognized as a customer favorite based on reviews in popular publications such as Forbes, People Magazine, and Healthline.
Forbes "Best Mattress for Side Sleepers with Back Pain" in 2023
People "Best Memory Foam Mattress" 2023
Healthline "Best-Rated Mattress-in-a-Box" 2023
Types of Puffy Mattresses
Like many brands, Puffy offers three different types of mattresses. While all of these qualify as luxury mattresses, the Puffy Lux and Puffy Royal are the most luxurious choices. This is due to the additional layers of foam plus inner springs.
Puffy Mattress
The standard Puffy mattress is a medium-firm mattress with 5 layers that is 10 inches tall. The layers begin with the brand's grip base cover.
On top of the first layer is the firm core support (high-density stabilizing foam), followed by a layer of climate control foam (which wicks away moisture) and another layer of cooling cloud foam (gel-infused breathable foam).
The mattress is topped with a stain-resistant cloud cover that can be removed and washed.
Puffy Lux Mattress Hybrid
This is a medium-plush mattress with 6 layers that is 12 inches tall.
It has the same 5 layers as the classic Puffy mattress, but with the addition of an exclusive plush dual cloud foam layer. This supports the body with additional support that minimizes strained movements.
In addition, this mattress is a hybrid. Therefore, the high-density foam layer is combined with pocketed coils. This further helps to alleviate more pain points in the body.
Puffy Royal Mattress Hybrid
The most luxurious mattress from this brand has 7 layers that create an ultra-plush mattress. It is 14 inches tall.
This luxury mattress includes some of the same layers as the other two mattresses: Grip Base Support, Firm Core Support + Pocketed Coils, Climate Comfort, and Stain-Resistant Cover.
However, it also has several layers exclusive to the Royal mattress: The Cloud Air Technology layer that provides zoned support for the entire body, Reflexive Memory Foam, and an Infused Cooling Foam with Plush Contouring.
This luxury mattress provides a range of support for the whole body that is better than many mattresses. Moreover, it is one of the few mattresses endorsed by the American Chiropractic Association
Sizes
Puffy provides a range of mattress sizes similar to other luxury brands. You can select any of the three mattresses in any of these sizes:
Twin
Twin XL
Full
Queen
King
Split King
Cal King
101 Nights Home Trial
This brand provides 101 nights to try your mattress at home. However, you must keep it for at least 14 nights before deciding to return it. If you decide to follow through on a return, the company will pick it up and donate it to a local charity. All at no cost to you.
Cost of Puffy Mattresses
The original Puffy mattress begins at $1,449 for a Twin mattress and goes up to $1,999 for a Cal King.
The Puffy Lux mattress starts at $1,749 for a Twin and goes up to $2,449 for a Cal King.
At the highest end of the spectrum, the Puffy Royal Mattress starts at $2,099 and goes up to $3,449.
Puffy offers 0% financing through Klarna to help make these mattresses affordable. Moreover, Puffy is known for having several sales throughout the year. Therefore, you can often find a Puffy mattress for a fraction of the cost by visiting the Puffy website.
Puffy Lifetime Warranty
Like WinkBed, Puffy is one of the few brands that truly has a lifetime warranty. For as long as you own your Puffy mattress it will be covered for any manufacturer defects.
If a defect is found that falls under the warranty then Puffy will fully replace the mattress – all at no cost to the customer.
Nolah
If you suffer from back pain then Nolah is one of the luxury mattress brands to put at the top of your list. In addition to awards for the best mattress, Nolah has won awards that are specifically related to back support and spinal alignment.
Forbes "Best Cooling Mattress for Spinal Alignment" 2022
Good Housekeeping "Best Mattress of 2022"
Sleep Foundation "Best Mattress for Spinal Alignment" 2022
In addition, this brand offers a wide range of mattresses to provide sleep support for everyone in the family – even the kids.
Types of Nolah Mattresses
Nolah offers a range of mattresses that all fall into the luxury category. In addition, they have an original mattress with several of the same luxury benefits, but at a lower cost.
Whether you choose a top-tier luxury mattress or stick with the standard, all of the mattresses include the benefit of cooling AirFoam Technology. This technology helps customers sleep cooler all night long (even the kids).
Nolah Evolution
One of the reasons this is the brand's best-selling mattress is because of its support of spinal alignment. The awards mentioned above are specifically for this mattress.
Seven layers of support create the hybrid design that includes individually wrapped coils in three zoned areas. These three areas are targeted to offer natural alignment for the spine. On top, are several comfort layers that further add support and pressure relief.
A total of 15" thick, this mattress is one of the thickest on the market In addition, you can choose your desired level of firmness. Choose from the standard Luxury Firm, Firm, or Plush.
Nolah Signature
The brand's signature mattress comes in either a hybrid option or foam only option. The hybrid includes a combination of Nolah's signature AirFoam and flex coils, while the foam mattress is only made from the different foam layers.
Both are known for providing excellent support at pressure points. Therefore, offering pressure relief for the hips, shoulders, spine, and other joints. In addition, the hybrid is a favorite for those who sleep on their sides.
Nolah Natural
This 11" mattress is ideal for those who prefer a luxury mattress made with natural materials. Made with organic cotton, organic wool, and natural Talalay latex, this hybrid mattress is good for the body and the earth.
With the same qualities of three different zones of support coils as the other Nolah hybrid mattresses, sleepers receive the same support for the spine and other joints. In addition, the Talalay latex is known for offering even better pressure relief than other types of latex (such as synthetic or Dunlop).
Nolah Original
At 10", this is the least thick mattress by this brand. However, it still includes several of the same benefits as Nolah's thicker mattresses.
The original has four layers that include a layer of the AirFoam used in the other mattresses. Therefore, customers get spinal support and pressure relief from the billions of microscopic air bubbles in the AirFoam.
Like the Nolah Signature mattress, the Nolah Original can also be purchased as a hybrid that includes added coil support. Moreover, the Nolah Original has won several awards just like the Nolah Evolution (and the other mattresses).
Nolah Nurture
This 10" mattress comes in a Twin, Twin XL, or Full size. It has the same hybrid benefits as adult mattresses, including multiple layers of foam and individually wrapped coils. Therefore, kids get the same pressure relief to support their growing bodies.
Mattress Sizes
All mattresses (except the kid mattresses) can be purchased in every size, starting at a Twin and going up to a Split King.
Cost of Nolah Mattresses
Nolah Evolution
Twin is $1,599 and goes up to $3,598 for a Split King. (The price does not change between levels of firmness, so choose what suits you best.)
Nolah Signature Foam
Ranges from $1,099 for a Twin up to $2,398 for a Split King.
Nolah Signature Hybrid
Starts at $1,198 for a Twin and goes up to $2,596 for a Split King
Nolah Natural
Ranges from $1,499 for a Twin to $3,198 for a Split King
Nolah Original Foam
Ranges from $699 for a Twin to $1,798 for a Split King
Nolah Original Hybrid
Starts at $798 for a Twin and goes up to $1,996 for a Split King
Nolah Nurture
Twin $1,499
Twin XL $1,499
Full $1,799
All Nolah mattresses can be financed through Affirm for up to 24 months.
Nolah Home Trial
Nolah offers customers 120 nights to try any mattress. While you must try the mattress for at least 30 nights, you can return it for a refund before the 120 nights are up.
The company will send someone to pick up the mattress for an easy return. However, the customer does pay $99 for a transportation fee.
Nolah Mattress Warranty
While Nolah offers a lifetime warranty, there are some limitations to it. Within the first two years of ownership, the brand will fully replace the mattress at no charge to the customer.
After those first two years though, the warranty only covers repairs or recovering the mattress. However, there is an additional charge of $99 for the transportation of the mattress.
Beyond year 10, the warranty is still in effect for repair and re-covering the mattress but the customer is required to pay a percentage of the cost. More information on the percentage incurred by the customer can be found on the Nolah website.
Awara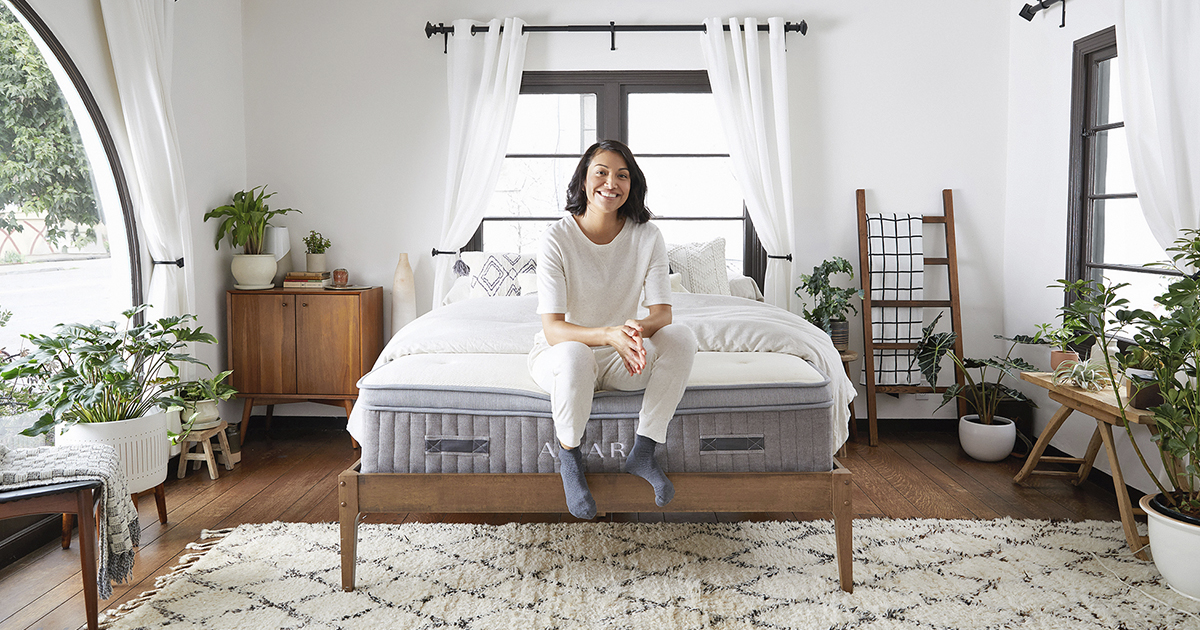 Awara embodies luxury with its use of organic materials such as organic New Zealand wool, organic cotton, and premium natural latex. In addition, this luxury brand offers hybrid mattresses that incorporate the benefits of memory foam and innerspring coils.
The quality of these luxury mattresses is further seen in customer reviews and awards. Awara was named "Best Mattress for Stomach Sleepers" in 2021 by Insider Magazine. And GQ included Awara in its "Best Stuff" list of 2022.
Types of Awara Mattresses
Unlike many of the other brands, Awara only offers two mattress choices. However, both mattresses provide plenty of luxury benefits.
Awara Natural Hybrid Mattress
The signature mattress is made with 4 layers of natural materials, beginning with the supportive base which is covered in a natural cotton blend.
Moreover, it has four sturdy handles that make this mattress easy to move.
Speaking of moving, the individually wrapped coils in this mattress absorb motion so your partner can toss and turn without waking you. Furthermore, the coils are topped with latex that helps to support all the curves of your body and offer support.
In addition, this latex is Rainforest Alliance certified. Therefore, providing you with the best natural products around.
A lovely blend of organic cotton and wool tops this mattress to help cool the body by wicking moisture. In addition, this blend creates breathability which helps reduce the formation of bacteria.
Awara Premier Natural Hybrid Mattress
While the signature mattress has several luxury benefits, the Awara Premier adds additional luxurious features.
On top of the supportive base and layer of individual coil support, the Premier mattress has a 4-inch layer of Dunlop latex (in contrast to the 2 inches in the signature mattress). In addition, the top cover is a plush Euro Top made from the same organic cotton and wool blend.
Mattress Sizes
Both the Awara Natural Hybrid and the Awara Premier mattresses come in a full range of sizes. Either mattress can be purchased as a Twin, Twin XL, Full, Queen, King, or Cal King.
Cost of Awara Mattresses
Awara Natural Hybrid Mattress
Twin $1,398
Twin XL $1,498
Full $1,798
Queen $1,898
King $2,198
Cal King $2,198
Awara Premier Natural Hybrid Mattress
Twin $1,698
Twin XL $1,898
Full $2,198
Queen $2,298
King $2,598
Cal King $2,598
Awara regularly has sales on its mattresses. Therefore, if you check the website you can often get one of these luxury mattresses for an even lower price.
In addition, you can choose Affirm to help finance the purchase. With Affirm you get to purchase now and pay later, choosing from payment plans between 3 and 24 months.
Awara Home Trial
Awara offers customers a full year to try its mattresses. Therefore, you can get a clear idea of if it is the best mattress for you. If after a year you are not fully satisfied then simply return it for a full refund.
Awara Warranty
Committed to wellness, Awara believes that a mattress should last forever. Therefore, they are one of the few that offer a lifetime warranty.
If at any point your Awara mattress begins to sag or break down as a result of the manufacturing process, then Awara will replace or repair the mattress. Even better, unlike some brands, Awara does this at no additional cost to the customer.
Cocoon by Sealy
Sealy has been a recognized name in quality mattresses for over a hundred years. Therefore, it should be no surprise that Cocoon by Sealy is one of the best luxury mattress brands.
While Sealy has a wide range of mattresses, Cocoon is a specialized brand. It focuses on providing "supremely comfortable" mattresses that help you stay cool while you sleep. Therefore, the mattresses are aptly named the "Chill Memory Foam" and "Chill Hybrid."
Cocoon Mattresses
Cocoon Memory Foam Mattress
The Cocoon memory foam mattress is 10 inches tall and is made from all foam. The mattress is topped with a stretch-knit cover that helps to keep the body cool by absorbing the heat. Therefore, you can sleep cool and comfortably every night.
This memory foam mattress provides full support for the body while still offering comfort. In addition, it can contour and adapt to all body shapes and sizes.
Cocoon Hybrid Mattress
The Cocoon hybrid mattress is a blend of memory foam and springs. It is 12 inches tall and includes the same cooling technology as the memory foam mattress.
The springs in the hybrid mattress allow for a more classic mattress feel. In addition, they help to absorb movement so that you can feel more rested throughout the night.
Cost of a Cocoon Mattress
Chill Memory Foam
Twin $769
Twin XL $869
Full $969
Queen $1239
King $1539
Cal King $1539
Chill Hybrid
Twin $1139
Twin XL $1309
Full $1469
Queen $1699
King $1999
Cal King $1999
Cocoon regularly has sales that cut these prices down making them even more affordable. This brand does not offer as many payment options as many other brands. However, they do offer 0% financing and payment plans when ordered online at the Cocoon website.
In addition, Cocoon offers free pillows and sheet sets with the purchase of each mattress. This allows customers to get the full experience of a chill night's sleep.
Cocoon Home Trial
Cocoon offers a 100-day trial to test out the mattress. While this is not as long as some other brands, it still offers customers a significant number of nights to see if Cocoon is a good luxury mattress for them.
If you do not love your Chill mattress the company will refund you, pick up the mattress for you, and donate the opened mattress to charity.
Cocoon Warranty
There is a 10-year warranty that accompanies the mattress, both the memory foam and hybrid. For up to 10 years after purchase, Cocoon by Sealy will fully replace the mattress for manufacturing defects.
Tempur-Pedic
Tempur-Pedic is one of the most recognizable brands when it comes to mattresses.
One of the things that makes this brand truly luxurious is its unique memory foam.
The memory foam used by Temepu-Pedic is the same cushioning material developed by NASA. This is the exact material that was developed to support astronauts in space travel. As the only brand that uses this material, you will experience sleep that is out of this world.
Tempur-Pedic Mattresses
Tempur-Adapt
This mattress is known for providing 30% more support and molding to the body than mattresses by other brands.
As part of the adaptability of this mattress, customers can choose between an all-foam mattress or a hybrid. Whether you choose the all-foam or hybrid you still get to enjoy the world-class memory foam Tempur-Pedic is known for.
While the hybrid mattress only comes in one level of firmness (medium), the all-foam mattress has three fitness levels. Choose from soft, medium, or firm
Tempur-breeze
As the highest-rated mattress by Tempur-Pedic, this mattress keeps the body up to 8 degrees cooler than other mattresses.
Like the other mattresses by this brand, it comes in either a foam or hybrid model. Moreover, it uses the same out-of-this-world memory foam.
The hybrid is available in a medium firmness. The all-foam one comes in the same three levels of firmness as the Tempur-Adapt: soft, medium, and firm.
Mattress Sizes
Whether you choose from the Tempur-Adapt or Tempur-Breeze line you have the same range of mattress sizes to choose from.
Twin
Twin Long
Full
Queen
King
Split King
Cal King
Split Cal King
Cost of Tempur-Pedic Mattresses
While Tempur-Pedic is one of the best luxury brands in the sleep world, luxury comes with a cost. Therefore, you will notice that the prices for these mattresses are quite a bit higher than the other brands mentioned above.
Tempur-Adapt mattresses begin at $1,949 for a Twin and go up to $3,898 for a Split Cal King
Tempur-breeze is not available as a Twin. However, these mattresses begin in a Twin Long that costs $3,949. The Tempur-breeze is one of the most expensive mattresses on the market, going up to $7,898 for a Split Cal King
Although Tempur-Pedic is the most expensive luxury mattress brand it offers payment plans to make luxury more affordable. Apply for 0% APR for 24 months or 36 months on the Tempur-Pedic website.
In addition, while this brand does not offer as many sales as some other brands it does have closeout mattresses every once in a while. Therefore, if you are not in a rush to get a mattress you may choose to wait for one of these special offers.
90 Night Sleep Trial
While Tempur-Pedic is one of the most popular luxury brands it does not offer the same benefits of a home sleep trial as the other brands. In comparison to the others which range from a minimum of 100 nights to a full 365 nights, Tempur-Pedic only offers a 90-night sleep trial.
However, as one of the most recognized and beloved mattress brands around this is more than likely plenty of time to fall in love with your mattress.
10 Year Warranty
In addition, this brand only offers a 10-year warranty in contrast to several others who have a lifetime warranty. When your mattress is made from materials that can last in space though, you can bet your mattress will last a lifetime.
However, if you are concerned about the possible need for a warranty, you can read about all of the requirements that must be met on the company website.
Conclusion
Choosing a luxury mattress is a big decision. It is something you will be sleeping on for hopefully several decades.
To make sure you find the luxury mattress that is best for you, consider the luxury mattress brands above. With a variety of mattress types, sleep trials, and warranties, you are sure to find the luxury brand that is best for you.
315 Mattress Company Name Ideas: The Only List You'll Ever Need
175 Catchy Mattress Slogans and Taglines