Shopping is more than just finding the perfect outfit and getting some retail therapy. It's a way to express yourself and make a positive impact.
If you're looking for an ethical and stylish wardrobe, consider buying from mental health clothing brands that make a difference beyond fashion. There are a plethora of unique clothing brands that actively spread awareness about the stigma surrounding mental health.
According to CNN, nine out of ten US adults feel the country is experiencing a mental health crisis. Now more than ever, we need fashion companies and other industries to acknowledge and promote mental health awareness.
Here are 22 mental health clothing brands that are making a difference and challenging the stigma surrounding mental wellness and self-care.
Madhappy
Madhappy is one of the leading brands in the mental health apparel space. Founded in 2017, Madhappy is all about creating conversations around mental health and wellness. The brand started small with founders Noah Raf, Peiman Raf, Josh Sitt, and Mason Spector selling t-shirts out of their homes.
Madhappy has since made thousands of sales, established a nonprofit, and organized pop-ups in some of the hottest neighborhoods in the US. Madhappy donates a portion of each sale to its nonprofit, The Madhappy Foundation, which provides resources and partners with mental health organizations that work with under-represented communities.
Madhappy's designs are the epitome of cool. Its minimalist hoodies and tees use plenty of trendy fonts, washed-out earth tones, and modern cuts. For example, its fuzzy gradient crewneck looks like a luxury item off the runway. Madhappy's pieces don't smack you over the head with positive messages about mental health, but their cheerful colors and cozy fabrics convey the brand's optimism.
The Mayfair Group
The internet and social media can give us major FOMO and negatively affect our mental health. The Mayfair Group is here to fight off the toxicity of unrealistic societal standards. Founded in 2017, The Mayfair Group creates clothing that celebrates positive thinking.
The Mayfair Group's streetwear is comfy, casual, and chic. Its retro graphic designs add a touch of whimsy to messages about the serious topic of mental health. In addition, its silhouettes and cuts perfectly capture the 90s chic style that is so hot right now.
Since The Mayfair Group focuses on positivity in the digital sphere, it only makes sense that it has a sizable presence on social media. The brand's TikTok, Instagram, and Twitter are safe spaces for people who want their daily dose of positive affirmations and gentle reminders about keeping their peace, sticking to boundaries, and taking care of their mental health while online.
Own Your Stigma
Own Your Stigma is a mental health awareness brand founded in 2018. The brand creates apparel that opens conversations about mental illness without shame or guilt. Everyone struggles with mental illness in one form or another, and Own Your Stigma wants people to feel comfortable opening up about it.
Own Your Stigma features plenty of comfy, well-designed tees, hoodies, and hats that send a positive message. One of the brand's most famous slogans is, "Be kind to your mind," and we couldn't agree more. In addition, there are plenty of specialized messages for dog lovers, cat lovers, nurses, and many more walks of life.
The clothing brand donates portions of its proceeds to several mental wellness organizations. In addition, Own Your Stigma advocates mental health advocacy on social media. As a result, many wellness influencers are fans of the brand, from Caitlin Fladager to Angel Vaughn.
The Local Love Club
Celebrity stylist Maeve Reilly is one of the most famous forces behind the current athleisure streetwear trend. In 2021 she launched a purposeful streetwear brand called The Local Love Club, and it's since grown and flourished into one of the leading mental health clothing brands.
The Local Love Club creates luxury athletic and athleisure wear with a message. The brand's hoodies, sweats, and tees feature positive messages that promote treating others with decency, being nice, and bringing positivity with you wherever you travel.
The positive messages behind The Local Love Club stem from Maeve's own mental health struggles. She was bullied as a child and still experiences extreme toxicity through social media harassment. With The Local Love Club, she wants to spread the message that being nice and empathetic can lead to less negativity and improve people's well-being.
Museum of Peace & Quiet
The Museum of Peace & Quiet is part clothing brand, part art project. In today's over-stimulating and fast-paced world, MOPQ creates apparel and accessories that encourage us to focus on what matters with a clear state of mind.
The Museum of Peace & Quiet features contemporary, minimalist designs on hipster-worthy items like canvas totes, quilted jackets, and tapered sweatpants. As its name suggests, the brand's messaging is about finding peace and quiet to focus our stressed minds. For example, its matching separates come in soothing neutrals and earth tones with a small logo so as not to distract or draw too much attention.
Collaborations with big brands such as Vans, Walden, and Frame Denim put MOPQ on the fashion map. Fans of MOPQ appreciate its slow and quiet sentiment and eagerly wait to see what the brand will do next. Whatever it is, it's bound to be full of intention and will encourage us to slow down our fast-paced lives.
Sadire
Sadire is a mental health clothing brand that Dan Hoban created when he struggled with depression. Sadire creates artistic streetwear that uses humor, satire, and honesty to talk candidly about the sadness we all feel at some point or another.
The brand offers a range of apparel and accessories that promote conversations about mental health and our feelings. For example, Sadire's graphic tees have slogans like "It's All In Your Head" or "The Great Indoors" to comment on the interior thoughts many people with depression may have.
Sadire is a cult-favorite brand that constantly keeps fans on their toes. Dan Hoban recently announced that Sadire is releasing an NFT collection called The Sad Times. The collection explores depression and the human condition through satirical sheep characters.
Happiness Project
The mission of the Happiness Project is to "elevate happiness throughout the world while supporting those impacted by mental health issues." Jake Lavin founded the clothing brand to honor Nick Spaid, a classmate who lost his battle with mental illness in 2017. Through the Happiness Project's supportive messaging, Jake wants to show people that it's okay to not always be okay.
The Happiness Project offers a range of clothing items, including t-shirts, sweatshirts, and hats, all of which feature positive messages about mental health. In addition, the brand's smiley face, named in honor of Nick, is featured in many designs. For example, its Talk About It hoodie features a smiley face with the message, "It's okay to talk about your mental health."
Through its positive messaging, Happiness Project spreads awareness and supports non-profits working in suicide prevention. Happiness Project donates 15% of net profits to the American Foundation for Suicide Prevention.
Shine the Light On
Eli Brown launched Shine the Light On after silently struggling with depression and anxiety. After asking for help and starting his recovery journey, he didn't want others to feel alone and alienated as he did all those years ago. As a result, Shine the Light On promotes mental health advocacy, education, and outreach with its positive apparel.
Shine the Light On offers effortlessly cool streetwear like hoodies, sweatpants, and crewnecks. Instead of an oversized brand logo, each piece has a simple message about how the light you see in others also shines within yourself. It's a simple, sweet message of encouragement that can reach hundreds of people by simply wearing it out on the street.
In addition to its core collection, Shine the Light On collaborates with influencers and celebrities to create unique capsule releases. For example, the brand currently features collabs with actresses Laura Marano and Corinne Foxx, the daughter of Jamie Foxx.
You Are Enough Co.
When Natalie Oniszk-De Vincenzi lost a good friend to his personal battle with mental health, she knew she had to do something. So she founded You Are Enough Co. to normalize conversations about mental health and illness. In addition, Natalie aims to create a community through her brand's positive, supportive apparel.
You Are Enough Co.'s trendy apparel features positive affirmations, bright graphics, and bold typography. The brand's online store has several collections, such as You Are Enough, Self Love, and One Day At A Time. Each collection features a unique selection of screen-printed designs on cozy hoodies, sweats, and t-shirts.
The brand cares about more than selling clothes. There is a page of 24/7 and international mental health and crisis resources for anyone that needs them. In addition, You Are Enough Co. wants its shoppers to get involved. Artists can submit their designs, especially if they honor someone who has or is currently struggling with mental health.
STAY
Shane Ball founded his clothing brand in 2014 with a simple message in mind: stay. STAY conveys the powerful message of acceptance, love, and purpose. The world is a better place if you stay in it.
STAY has affordable, trendy streetwear with unique graphic art and supportive messaging. It's cool to be kind with the brand's positive affirmations that are screen-printed on high-quality cotton apparel. For example, STAY's Trying My Best sweatshirt captures the effortless cool of streetwear while remaining gentle and positive.
The three sides of STAY's triangle logo represent the brand's three charity partners. STAY donates 10% of each sale to the National Alliance on Mental Illness, the Anxiety & Depression Association of America, and the American Foundation for Suicide Prevention.
Self-Care Is For Everyone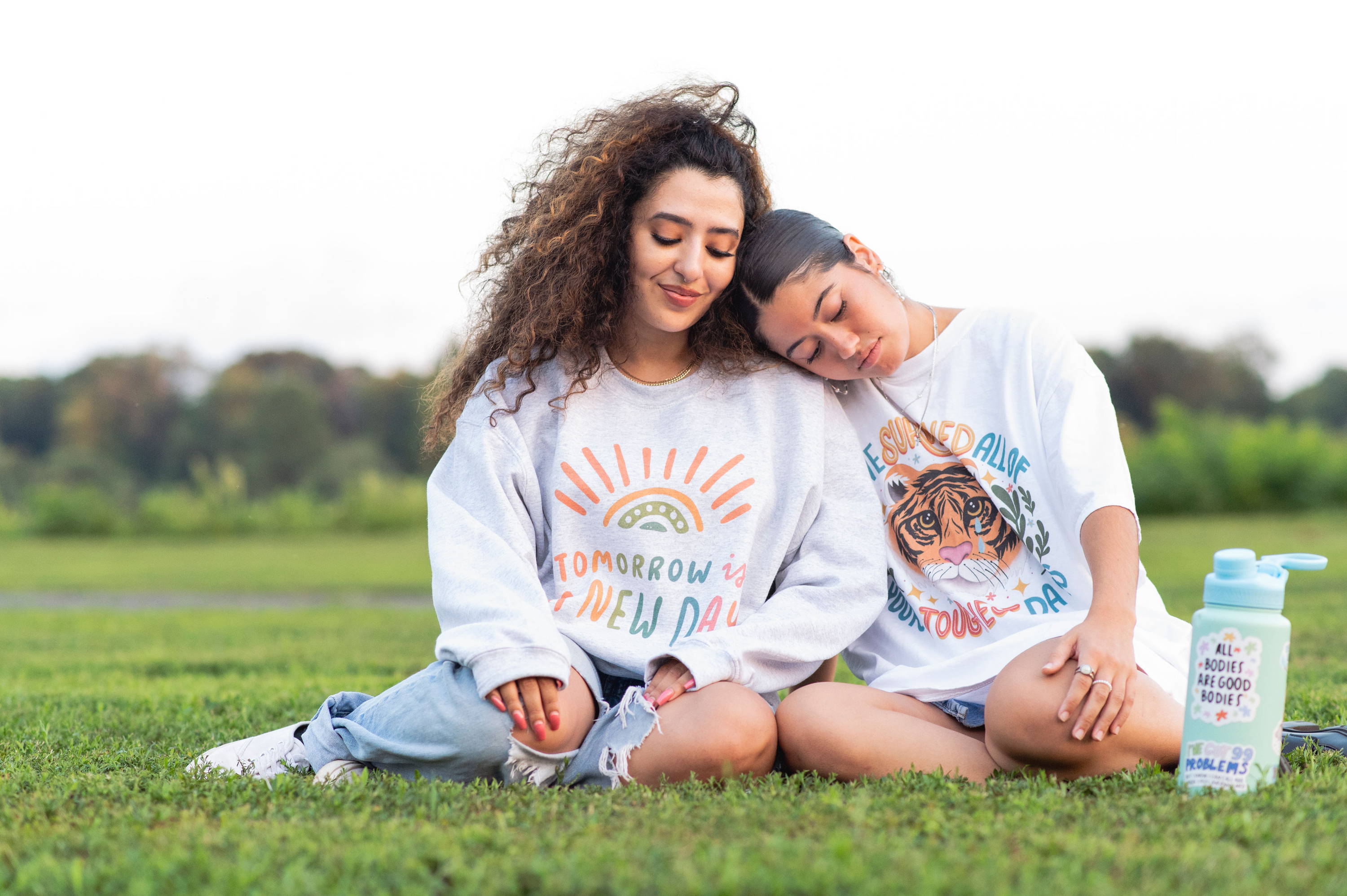 Self-care is a vital part of mental health. Self-Care Is For Everyone is here to remind you to slow down and take care of yourself. Founders Sasha Aronzon-Martofel, AJ Martofel, and Jonathan Martofel launched their positive self-care brand in 2018 on World Kindness Day.
The sweatshirt and t-shirt brand features adorably colorful and whimsical designs that remind us of what's important in life. There is even a sweatshirt with 9-8-8, the suicide and crisis lifeline, boldly printed across the front. The best part? Each customer gets one free month of therapy included with their order!
Self-Care Is For Everyone stands by its name by including diverse voices in its brands and advocacy work. For example, the brand collaborates with artists of diverse backgrounds to broaden the conversation about mental health and self-care. Also, the brand donates at least 10% of net profits to mental health advocacy organizations that serve diverse groups, from The Trevor Project to The Audre Lorde Project.
Happii
Happii creates clothing and accessories with positive affirmations you can wear and see daily. In addition, the brand aims to promote crucial mental health skills, like self-love and compassion, that can help us navigate any mental health struggles we may have.
Happii's designs are minimal but powerful. Bold statements such as "I am enough" and "You can do hard things" are hand-printed on super-soft, high-quality tees, hoodies, and crewneck sweatshirts. In addition, each product in its online store has a detailed explanation of the design and how it relates to mental health awareness.
The brand also spreads positivity beyond its online shop. Happii donates a portion of each purchase to the American Foundation for Suicide Prevention and other mental health organizations.
The Sad Society
While many mental health clothing brands lean into positivity and affirmations, The Sad Society embraces the mantra that it's okay to not be okay. Founded in 2017, the popular brand creates bold, unapologetic streetwear conveying that sadness is a normal part of life.
Many of The Sad Society's designs are eye-catching for their pop-culture references. In fact, its signature logo is reminiscent of a very famous, very strange Netflix series (get it?). In addition, the brand encourages shoppers to face their feelings head-on with a bold, larger-than-life sad-face hoodie or a more cheerful tie-dye pullover.
The Sad Society is a small but mighty brand. It's a cult favorite among celebrities and models like Kristen Stuart and Delilah Belle. In addition, the brand has a huge social media following of people who can't get enough of its quirky designs.
D.R.E.A.M. Clothing
D.R.E.A.M. Clothing, created by Sammy Sucu in 2017, creates fun, casual, and informative clothing that promotes openness and conversation about mental health. Designed to make people feel seen and heard in their struggles, D.R.E.A.M. wants everyone to feel good inside and out.
The streetwear brand creates edgy, trend-focused pieces that draw influence from skate culture, punk, and the avant-garde. For example, its recent Handle With Care collection features hoodies with bright pastels, modern cuts, and an adorably unironic teddy bear with stuffing coming out the seams. D.R.E.A.M. knows that we can't be tough and untouchable all the time.
D.R.E.A.M. contributes to mental health and wellness by donating 10% of its profits to nonprofits. The brand currently partners with the National Alliance on Mental Illness and donated over $550,000 to all its nonprofit partners in 2022!
Boys Get Sad Too
Boys Get Sad Too fights toxic masculinity one piece of clothing at a time. Society often ignores the importance of male mental health, but Boys Get Sad Too wants to open up conversations about mental wellness and reduce stigma.
The brand features a wide selection of unisex hoodies, shirts, and accessories that highlight a simple message. Boys get sad, too, and they should feel supported and safe when they express their feelings healthily. The bold text screen printed on each piece conveys that message loud and clear.
In addition to its simple sans-serif designs, Boys Get Sad Too also has eye-catching graphics like snakes, wavy fonts, and pizza slices that bring an edgy streetwear vibe to its positive messaging. Most importantly, Boys Get Sad Too has a comprehensive list of mental health resources available in the UK for shoppers who need assistance.
Feeling Swell
Brothers Billy, Eric, and Brian Barr started Feeling Swell as a fundraising effort for a local New Jersey family affected by Hurricane Sandy. Their first shirt design was such a hit that they decided to make it official and start selling clothing that continued to make a positive impact.
Feeling Swell creates surf-inspired, retro designs and features comfy hoodies, tees, and accessories. You can't help but feel swell when looking at the brand's groovy, cheerful designs. For example, its smiley Sun Daisy Crew pullover and 70s-inspired Kindness is Cool Tee ooze positivity and good vibes.
The brand also runs The Feeling Swell Foundation, dedicated to suicide prevention and destigmatizing conversations about suicide and mental health. Through this foundation, a portion of Feeling Swell's profits goes toward mental health nonprofits like Loveland Foundation and the American Foundation for Suicide Prevention.
This Is Your Sign
Like several other mental health clothing brands in this list, This Is Your Sign started during the pandemic of 2020. Founder Rya Partible launched TIYS because she wants more positivity and light in the world, which can sometimes seem very dark and overwhelming.
This Is Your Sign creates limited edition collections of hoodies and tees with positive, supportive messages. Its signature slogan is "Tell them you love them," which is very sweet and poignant. The brand also has other collections that support open discussions about community, perseverance, and self-care.
Currently a college student, Rya states in her brand's mission statement that she wants This Is Your Sign to be a Gen Z movement. She wants more young people to uplift their communities, inspire others, and open up about their mental wellness. Overall, her brand is a powerful force in the mental health fashion sphere.
Ban.do
Ban.do is all about self-care. This famous Los Angeles brand was founded by Jen Gotch and Jamie Coulter in 2008. Ban.do's mission focuses on spreading positive vibes and encouraging people to care for themselves mentally, emotionally, and physically.
Ban.do's cheerful, girly designs spark joy and inspire people who need a little encouragement in their day. The brand carries everything from planners to outerwear with positive messages like "Smile" and "Rest, Relax, Repeat." We dare you not to smile while wearing the brand's fun apparel.
In addition to being optimistic about mental health, Ban.do's designs are also fashionable. Each piece draws inspiration from retro designs of the 60s and 70s, creating an effortlessly cool vibe. The brand also collaborates with diverse creative contributors to produce its joyful graphic designs.
Unbroken Athletica
Emily Draeger has a truly inspiring story behind her brand, Unbroken Athletica. She launched her small business in November 2020, the first anniversary of her suicide attempt. Emily felt she had to remain tough as an athlete and never voice her mental health struggles. Through Unbroken Athletica, Emily wants to break down that stigma and support other athletes going through similar struggles.
Unbroken Athletica celebrates the athlete in all of us with its comfy, versatile hoodies, pullovers, and tees. Each piece features signature interlocking circles and the brand's name, which are subtle signifiers to other athletes that the person wearing Unbroken gear supports mental wellness in athletics.
In addition to its simple yet powerful athletic wear, Unbroken Athletica provides resources on its website for athletes and others who may experience a mental health crisis. Also, 10% of every Unbroken sale is donated to organizations that support athletic mental health, like Athletes for Hope and Athletes Against Anxiety & Depression.
Talk Clothing
Talk Clothing founders Will Birley and Max Cooper want their shoppers to talk about mental health. The Exeter-based brand features casual streetwear with creative, positive messages to encourage, support, and motivate people.
Talk Clothing produces small-batch collections that speak volumes. For example, its Hey Person Behind Me collection features hoodies with a simple, encouraging message printed on the back for anyone to read. Also, the brand donates 10% of each purchase to its partner organization, CALM, which provides resources and a hotline for people who need to speak with a qualified professional.
In addition to mental wellness, Talk Clothing cares about environmental health. The brand is dedicated to high sustainability and ethical production standards, ensuring its clothing uses high-quality, responsibly sourced materials. Talk Clothing knows that promoting a world of positivity and good health includes taking care of our planet.
Serenity Clothing
Serenity Clothing is a UK-based mental health clothing brand serving positivity with a streetwear aesthetic. The brand launched in 2021 as a response to the mental health struggles many people experienced en masse the year before. Therefore, Serenity Clothing is here to create empowering clothing for everyone.
The brand's products include tees, hoodies, and crewneck pullovers. Its designs are trendy, minimalist, and relaxed. For example, its Empower Your Mind sweatshirt conveys a powerful, positive message while being relaxed, comfy, and casual. Also, its End the Stigma shirt is bold and classic.
Serenity Clothing donates 10% of each order to local UK charities, such as the Mental Health Foundation. In addition, the brand partners with nonprofits to host fundraising and awareness events that further its mission of destigmatizing mental health awareness.
Circa 7
Circa 7 is a Deleware-based brand that crafts on-trend, edgy streetwear for men and women. Circa 7 stands out in the streetwear scene because it openly supports mental health awareness and crafts clothing to break the stigma of mental health struggles.
Circa 7's Mental Health Collection features a wide selection of tees, hoodies, and sweats with powerful mental health messages and designs. Circa 7's clothing is understated and comfy, focusing on earth tones and pastel fabrics to support its messaging. For example, shoppers can find unisex hoodies and tees with slogans like "The world needs you" in modern, sleek colors.
In addition to its positive messaging, Circa 7 is eco-conscious. Its Mental Health Collection uses fabrics like organic cotton and recycled polyester. Also, its garments are produced in Fair Trade Certified™ windmill-powered facilities.