When the craving for a delicious cookie hits, you don't often want to stop and make cookies. Therefore, having a favorite brand of cookie you can pick up at the store can help satisfy that craving. It's not just about getting any type of cookie, though. It's about satisfying the craving for a certain type – like a chewy oatmeal cookie.
Thankfully, there are several delicious oatmeal cookie brands to choose from when you need to satisfy your craving. From classic oatmeal to ones with raisins or chocolate chips, there is one for every person's taste buds.
Happy Belly
There have been many favorite brands of oatmeal cookies over the years. One that was a favorite for over 35 years was Mother's. Unfortunately, this beloved brand was discontinued.
Despite being discontinued, many people still look for that same amazing taste and texture of Mother's oatmeal cookies. If you were a fan of Mother's oatmeal cookies, then you are in luck.
Happy Belly oatmeal cookies taste very similar to the old Mother's cookies. Moreover, some customers have said they even taste a little bit better.
As an Amazon private label, you can easily find Happy Belly Oatmeal cookies on Amazon and have them delivered to your house. Since they are only available on Amazon, though, you will need to plan when you want these cookies since you can't run to the grocery store for a last minute craving.
Heavenly Hunks
Cookies may be a treat, but they don't have to be unhealthy, especially with Heavenly Hunks. Heavenly Hunks Organic Dark Chocolate Oatmeal Cookies are full of flavor while still being good for you. Even better, they come in a snack-friendly size that is easy to grab on the go.
Not only are these delicious cookies dairy-free, but they are also gluten-free and vegan-friendly. In addition, Heavenly Hunks cookies are made with all organic ingredients. A perfect choice for those who want a cookie that tastes amazing while still being healthy.
Grab a bag of these fun-sized oatmeal cookies at Walmart or on Amazon.
Voortman
Hailing from Canada is Voortman Bakery. This wonderful brand makes cookies with only the finest ingredients, like whole grain oats for their oatmeal cookies.
Moreover, they believe in leaving out the ingredients that most consumers like to avoid. That means no artificial flavors, no artificial colors, and no high fructose corn syrup.
Beyond making a simple and delicious classic oatmeal cookie, this brand offers several additional choices. Including sugar free oatmeal cookies!
Oatmeal Raisin
Oatmeal Chocolate Chip
Oatmeal Cranberry Flaxseed
Fudge Striped Oatmeal
Sugar Free Oatmeal Cookies
Sugar Free Mini Iced Oatmeal Cookies
This wide range of oatmeal cookies is perfect for anyone who favors oatmeal cookies above all other cookies.
Even though this is a Canadian brand, they are easy to find in the United States. Look for an assortment of Voortman Cookies at Ralph's grocery stores or online at Amazon.
Alyssa's
One of the newer oatmeal cookie brands on the market is Alyssa's Cookies. This company started making cookies in 2010 and has only continued to grow since then. It grew even more when billionaire Mark Cuban invested in the brand on the TV show Shark Tank.
If Mark Cuban was willing to invest money, then you can bet these cookies are worth every bite. Not only are they made with the highest quality ingredients, but they are also free from additives and fillers.
In addition, all of the cookies from Alyssa's are gluten-free and made with Non-GMO ingredients. These are just some of the ways Alyssa's demonstrates its goal to make delicious cookies that are good for you!
When you bite into an Oatmeal Bite from Alyssa's you are getting more than just a sugar filled cookie. You are getting a bite of rolled oats, flax seeds, chia seeds, and dried fruits. A great blend that is full of flavor and fiber. Healthy and delicious, these are bound to become a new favorite snack.
Order directly from this family business on their website Alyssa's Cookies & Healthy Oatmeal Bites (alyssascookies.com), or from Amazon.com.
Grandma's
If you can't get a cookie from your own grandma, then reach for one from the brand that is everyone's grandma – Grandma's cookies!
Grandma's is known for providing delicious cookies with amazing flavor and texture. The brand's oatmeal cookies are especially tasty. The chewy texture and large plump raisins make these a favorite for many people.
Even better, these cookies are sold in individual serving packages that are easy to grab on the go. With two cookies per package, you can enjoy them by yourself or share them with a friend.
Look for Grandma's Oatmeal Raisin cookies at Walmart and even online at Amazon.
Little Debbie
Little Debbie Oatmeal Creme Pie cookies is a sweet treat with a decadent twist on a regular oatmeal cookie. These soft chewy oatmeal cookies are sandwiched together with a creamy vanilla filling. A little bit like an Oreo cookie.
As the first product of Little Debbie back in 1960, you may have taken these in your lunchbox when you were a kid or enjoyed them at Grandma's house after school. Wherever you enjoyed these, they still provide the same classic and comforting taste from childhood.
While one box comes with several creme pies, each one is packaged in a single serving. Making it extra easy to grab on the go or add to your kid's lunchbox! Look for this classic oatmeal cookie brand at Walmart, Amazon, or most major grocery stores.
Archway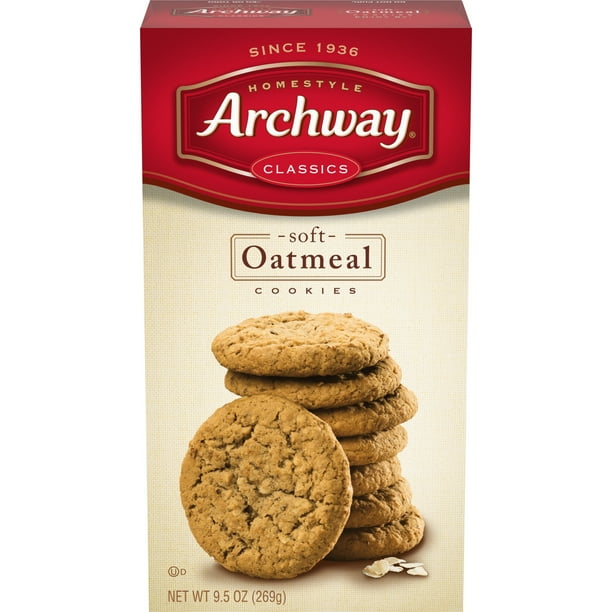 If you want an oatmeal cookie with the nostalgia of cookies from grandma's house, then Archway is a great choice. Around since 1936, this brand is known for bringing home-style taste to store-bought cookies.
Moreover, these aren't just a basic oatmeal cookie. These soft and mildly sweet oatmeal cookies get an extra boost of sweetness with a drizzle of icing. The perfect choice for those who love a distinctly sweet cookie.
Find these cookies on Amazon or look for them in some grocery stores across the country.
Lil' Dutch Maid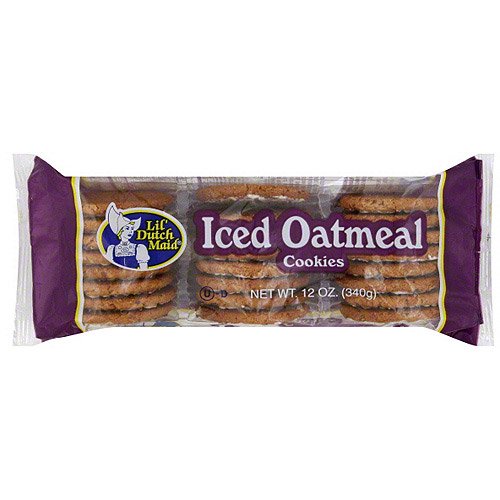 For those who prefer to eat your cookies with milk, check out Lil' Dutch Maid oatmeal cookies. These cookies have the perfect texture for taking a bit with a sip of milk or even for dunking.
This brand focuses on making cookies from recipes handed down over the generations. Providing a homemade taste that is full of classic flavors.
These are also one of the best-priced oatmeal cookie brands on the market. Not only are they available on Amazon, but you can even find these at the Dollar Store! Even if they don't end up being your favorite oatmeal cookies for a dollar they are worth a taste.
Great Value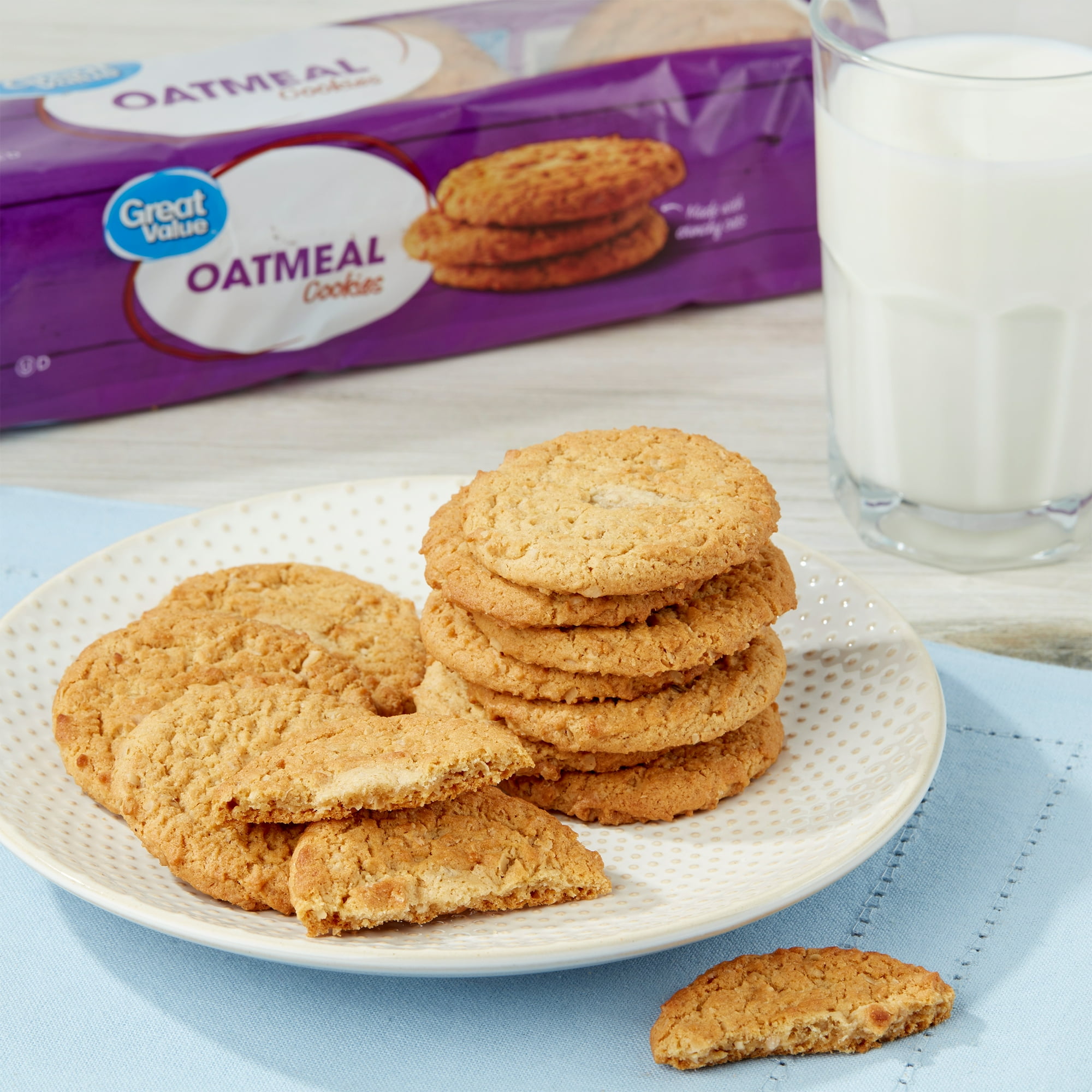 Although not quite as inexpensive as the Lil' Dutch Maid cookies you can find at the Dollar Store, Great Value by Walmart also has an inexpensive oatmeal cookie option.
These oatmeal cookies are made with crisp oats. Therefore, they have a harder texture compared to softer cookies. This makes them a wonderful choice for enjoying as a sweet treat with coffee or a cold glass of milk.
If you prefer a softer cookie, you can still enjoy this brand of oatmeal cookies. Many customers suggest letting these oatmeal cookies sit out for a day or two to naturally soften up. A great way to get two textures from one cookie for a great price!
Since Great Value is a Walmart label, you can only find these cookies at Walmart.
Fiber One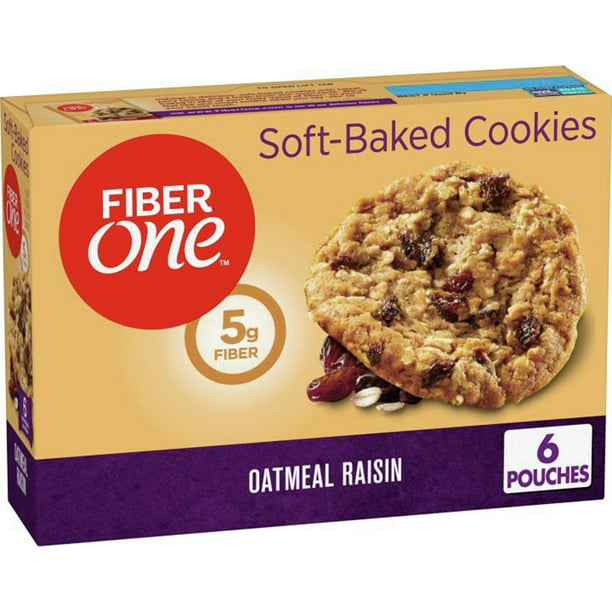 When it comes to cookie choices, it makes sense to think of oatmeal cookies as the healthier choice. Packed with nutritious oatmeal, they provide the added benefits of fiber that other cookies may not.
To really feel good about the nutritional value of an oatmeal cookie though, reach for one by Fiber One. These soft oatmeal raisin cookies provide you with not only great taste and texture but 20% of your daily fiber intake.
Look for a box of these easy-to-grab individually packaged cookies at your local grocery store. You may also find them at Walmart or online.
Betty Crocker
If you want the taste of warm cookies fresh out of the oven but without the hassle of making them from scratch, then Betty Crocker is the brand for you.
Betty Crocker cookie mixes are easy to prepare in minutes. All you need is butter, water, and eggs. Add those to the cookie mix and stir. Very little measuring or mess to worry about.
Even though you can prepare them in minutes, these cookies bake up just as if you had spent extra time making them from scratch, just like homemade oatmeal cookies that are soft, chewy, and full of flavor.
In addition to a classic oatmeal cookie mix, you can also choose an oatmeal chocolate chip mix. There are also plenty of ways to boost both of these mixes. Consider adding raisins to the classic mix or nuts to the chocolate chip one. Tons of options to get your perfect oatmeal cookie.
As one of the most popular brands in the baking world, Betty Crocker Oatmeal cookie mixes are easy to find in most grocery stores. They are also available at Target and Walmart and even on Amazon.
Nabisco
As a leader in snack foods, it is no surprise that Nabisco makes a tasty oatmeal cookie with flavor that stands out. This brand's Oatmeal Raisin cookies have a lovely crispy texture for those who love a cookie with crunch.
Each cookie provides a nice raisin flavor but without large pieces of raisin. Therefore, making these a perfect choice for those who like the added sweetness of raisins but not the texture.
As expert snackers, Nabisco knows that one cookie is often not enough, so they provide 2 cookies in each single serving package.
With so many things to love about this brand, they often sell out. Therefore, while you can find these on Amazon, they may not be available at the time you need to order. If they are not available online, keep an eye out for them at your local grocery store.
Back to Nature
Back to Nature is a plant-based brand that is focused on creating delicious snack foods with quality ingredients. This means using only Non-GMO ingredients and focusing on whole grains.
This quality comes through in all of Back to Nature's cookies – including its Crispy Oatmeal Granola Cookie. Customers love the fresh flavor and crispy texture of these cookies.
While these are available for purchase online they are often sold out. Therefore, you may have better luck looking for these at your local grocery store.
Effies
Effies is a brand that started with one woman's desire to share her culture with her new community. Effie MacLellan was originally from Nova Scotia. When she moved to Dorchester, Massachusetts, she brought with her a family recipe for oatcakes.
Today these oatcakes are still made using a fourth generation recipe. Somewhere between a cookie and a cracker, they have a delicious crumbly texture of toasted oats with a rich buttery flavor and a hint of salt.
While not a traditional oatmeal cookie, these oatcakes will give you all the flavor and texture you need to satisfy a craving. Moreover, they are perfect for pairing with sweet and savory spreads. Add a spread of jam or chocolate to create a decadent oat treat.
These delicious oatcakes can be ordered directly from the company website
Oatcakes – Effie's Homemade (effieshomemade.com)
Nairn's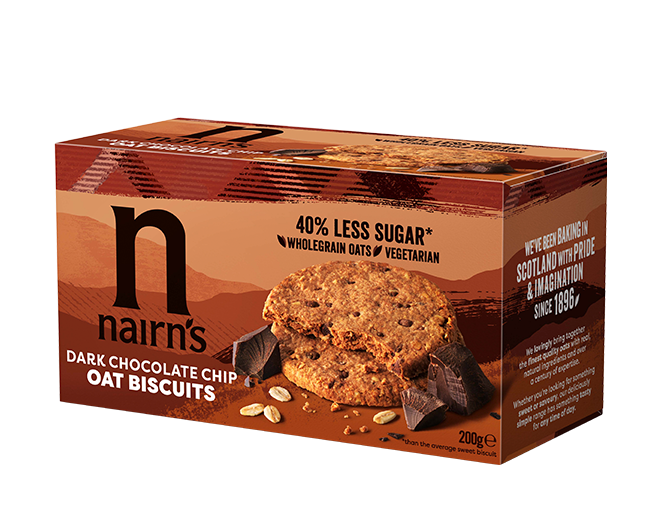 Nairn's is a brand that has been around since 1896. Founded in Scotland, this bakery brand is known for its traditional oat biscuits (and oatcakes).
Unlike a classic oatmeal cookie in the United States, oat biscuits are crumblier. They have a texture more similar to an English tea biscuit rather than a cookie. However, despite the difference in texture Nairn's oat biscuits have a wonderful rich flavor that still satisfies a sweet tooth.
The brand also provides a wide range of flavors to satisfy anyone's taste buds.
Chocolate Orange
Dark Chocolate & Mint
Salted Caramel
Dark Chocolate Chip
Coconut & Chia
Mixed Berries
Stem Ginger
Moreover, Nairn's also offers gluten-free oatcakes. Providing a delicious sweet treat without any wheat. For a sweet craving without the gluten, reach for Nairn's Original Oaties or Oaties Choc Chip.
In addition to the sweet taste of the brand's Oaties and oat biscuits, you can also choose from a wide array of savory oatcakes. While not what you may typically think of when searching for an oatmeal cookie, these savory oatcakes are a delicious alternative when you are in the mood for something less sweet.
Nairn's is a brand most commonly sold in the UK. However, they do export their goods to other countries, including the United States. Therefore, you can find their oat biscuits and oatcakes in some Walmart stores and on Amazon.
Conclusion
Whether you decide to try a new spin on an oatmeal cookie with an oat biscuit or to stick with the classics, keep this list handy, so you can always find a perfect oatmeal cookie for any craving.
If you like this guide, please share it with your friends and family! And if there are any oatmeal cookie brands that we missed, let us know! We love hearing from our readers, and we're always looking for ways to improve our guides.
Until next time, keep eating oatmeal cookies and being the best version of yourself!
497 Creative Ideas for Cookie Business Names