Oreos. Known for their rich chocolatey wafers and sweet creamy filling, these cookies are the perfect blend of taste and texture. As kids, most of us wouldn't even touch off-brand Oreos. Whether it was because of the taste or the marketing – we only wanted the real thing.
However, as adults, we all seem more willing to explore our favorite kid snacks in off-brand form. Sometimes this willingness is born out of necessity and sometimes it is a desire to save a few bucks. Whatever your reason for reaching for an off brand Oreo, we did the research to help you find the off brand cookie that is best for your taste buds!
The History of Oreos
If you are still a bit hesitant about trying the knock-off version of America's favorite cookie, it may help to know that in the beginning, Oreos were the knock-off brand! While Oreo made chocolate wafer cookies with creme filling as a household name, they were not the first brand to create this type of cookie.
In 1908 a company named Hydrox launched the delicious sandwich cookie. However, while many people who have tried this brand say their cookies are just as delicious (or more so) than Oreos, the name Hydrox doesn't quite roll off the tongue like Oreo.
Therefore, as a result of poor marketing and branding Hydrox cookies did not take off in the same way as the then off-brand cookie – Oreo! Oreos made a name for themselves in 1912 with the launch of what was the copycat version of the Hydrox cookie. Now, for over 100 years, Oreos have been the name brand chocolate-filled sandwich cookie.
What Happened to Hydrox?
With the rise in popularity of Oreo cookies, Hydrox cookies faded out in the eyes of consumers. They didn't disappear from store shelves, though. In fact, they were a popular product under the new Sunshine Biscuit brand for several decades. While Sunshine Biscuit discontinued Hydrox cookies in 1999, they have returned!
Off Brand Oreos
Hydrox by Leaf Brands

Leaf Brands is the name behind several favorite candies like Whoppers®, Milk Duds®, Jolly Rancher®. Located in Newport Beach, California. For over 100 years, they have been committed to bringing favorite candies to the communities. Moreover, in recent years bringing back childhood favorites. Like Hydrox cookies!
While Sunshine Biscuits discontinued Hydrox cookies at the turn of the century, Leaf Brands reintroduced them in 2015. Using the original recipe that gave Oreos something to compete with, Hydrox cookies have rich chocolate wafer and deliciously creamy center.
Moreover, while Leaf stayed true to the original sandwich cookie recipe, they made one important change. Swapping out high fructose corn syrup for real sugar! That was just the beginning of creating a healthier cookie for their customers. Over the years, Leaf has removed hydrogenated oils and artificial flavors. In addition, they now only use non-GMO ingredients.
The NEW Hydrox cookies are now a new and improved version of the original cookie. So, even though Hydrox may be seen as a knock-off of today's Oreos – they are actually the ones who started the chocolate sandwich cookie craze. Therefore, if you want to try the best off-brand Oreos, then give Hydrox cookies a try!
Hydrox cookies can be purchased and shipped from Amazon. You can also ask your local grocery store to connect with Leaf Brands to start stocking them in your store.
Joe Joes by Trader Joe's
Coming in at the top of the list for the best swap for Oreos is Trader Joe's Joe Joes. Time and time again, these off brand cookies have been hailed by consumers as one of the best alternatives to the childhood cookie.
People who love Joe Joe's hail the slightly chewy wafer cookie. This differs from the classic crunch of an Oreo cookie. However, many find the difference in texture a nice change. Moreover, the chocolate wafer has been noted as having a more authentic chocolate flavor.
In addition to the real chocolate flavor of the outside wafers, TJ's Joe Joe's are known for their creamy center filling. In contrast to the firmer creme of Oreos, Joe Joe's have a filling that is softer and resembles homemade vanilla frosting. These cookies are also filled with more creamy goodness than your original Oreo.
This off-brand choice is a great one for those who love a more homemade feel to a store-bought cookie. Another tasty option is their seasonal mint Joe Joe's. While not everyone has a Trader Joe's in their city, at a reasonable price of around $3 a box these are worth keeping an eye out for when you come across them.
KaleidOs by Kroger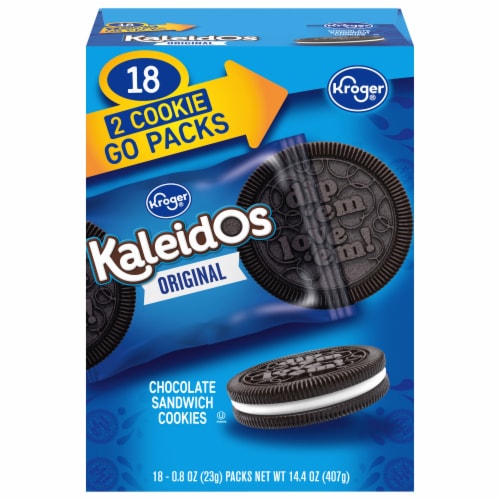 It's a big deal when someone thinks an off brand product is better than the real deal. That is saying a lot! While not everyone has made this claim with Kroger, several Kroger customers have made this claim when it comes to the Kroger KaleidOs Chocolate Sandwich Cookies.
Although many customers find KalediOs to be just as tasty (or tastier) than Oreos, they are not identical in flavor. KaleidOs go stronger on the creme filling flavor and softer on the outside wafer.
The chocolate wafers have a milder chocolate flavor. However, the creamy center filling is distinctly sweeter than Oreo brand cookies. Therefore, individually the cookie wafer or creme filling on their own may not provide the same flavor experience you crave from childhood.
Kroger is clear on what these cookies are meant for though: dunking! This is clearly stated to customers, every time they reach for a cookie the words "Dip 'em Love 'em!" stare back at them. Each cookie is imprinted with these words to tell you exactly what to do to enjoy them. Dip them in milk! You won't even notice they aren't the pricier name brand you grew up with.
Kroger brand offers a couple of other benefits as well. In addition to their KaleidOs Original Chocolate Sandwich Cookie, they have several other tasty flavors. Some of these resemble similar flavors by Oreo and others are unique new flavors.
KaleidOs Unicorn Sandwich Creme
KaleidOs Original Double Filled Chocolate Sandwich Cookie
KaleidOs Chocolate Double Filled Chocolate Cookie
KaleidOs Golden Double Filled Vanilla Sandwich Cookie
KaleidOs Mint Double Filled Chocolate Sandwich Cookie
Another bonus is the extra step Kroger took to maintain the quality of the packaging used by the name-brand cookies. KaleidOs are all packaged in resealable packaging just like Oreos. Therefore, you can keep these budget-friendly cookies fresh for longer.
Chocolate Sandwich Cremes by 365 Everyday Value
Just because Whole Foods is known for being a healthy food store, they still recognize the need for a sweet treat every once in a while. Therefore, they created an off brand oreo under their 365 Everyday Value Brand.
While many other off brand options vary in the texture of the cookie, this brand does a great job at providing a cookie with a texture that is most like a real oreo. Moreover, they come closest to resembling the overall taste of an oreo as well.
The biggest difference in the cookies by Whole Foods is the creme center. It is slightly sweeter than original Oreo cookies and has a more distinct vanilla flavor. In addition to the traditional chocolate creme-filled sandwich cookie, this brand offers two other flavors.
The 365 Vanilla Creme Filled Sandwich cookie is a tasty knock-off of Oreos Golden Sandwich cook. This off brand also has its own unique flavor that has one chocolate wafer and one vanilla wafer, with a vanilla creme center. Therefore, if you can't decide between vanilla and chocolate you can enjoy both with the 365 Mismatched Sandwich Cremes.
Even if you don't have a Whole Foods store near you, you can order all three cookie flavors online through Amazon for only about $4 a box.
Twist & Shout by WalMart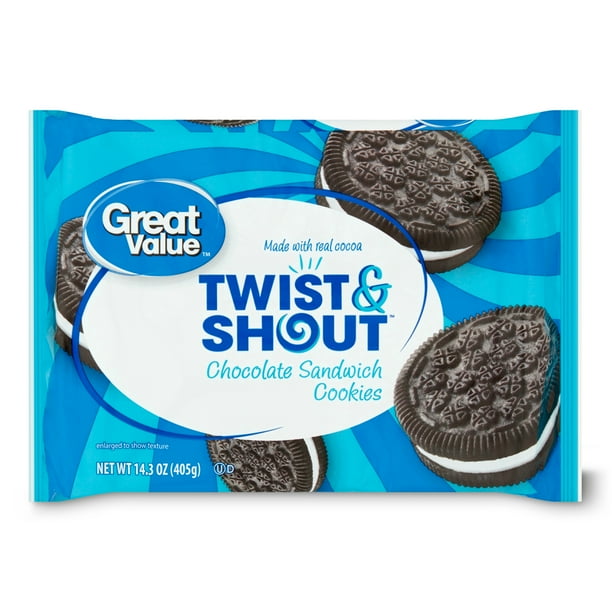 Even though your local Walmart most likely carries an assortment of Oreo flavors, you may want to reach for the store's Great Value Twist & Shout cookies. This off brand Oreo looks the same as the real thing, even down to the textured design on the outer chocolate cookie.
These cookies may be named Twist & Shout, but they are not quite as easy to twist as the real deal. However, if you can get them to twist apart you will be pleasantly surprised with the familiar taste and texture of the creme filling. On the other hand, the chocolate wafer is a bit drier than real Oreos. This can interfere with the twisting and licking of the cookie the way you did as a kid.
The best way to enjoy this off brand Oreo? With a glass of frosty cold milk. The compactness of these cookies makes them perfect for dipping in milk because they hold their shape and texture. Moreover, they taste just like the real deal when softened with a little milk.
These are a good choice for those who always eat their Oreos with milk. Grab a package the next time you are at Walmart to see what you think. At about a ⅓ the cost of real Oreos it's worth a taste test.
Benton's by Aldi
Another grocery store brand cookie is Aldi's private in-store label Benton's. This brand is not as popular as other off brand cookies Walmart's Great Value or Trader Joe's Joe Joe's. However, for those who regularly frequent Aldi as their main grocery store, this off brand cookie is a good choice.
Compared to other off brand options this one has less of an original Oreo cookie texture. In addition, the overall flavor is a bit underwhelming as a cookie. However, bring out the ice-cold milk and you have yourself a good alternative in a pinch.
Since product availability will depend on popularity and availability, it is possible your local Aldi may not have these cookies available. While they may not have the original chocolate creme cookies in stock, they may have the double-filled version. This is a great choice for those who love Double Stuffed Oreo cookies.
Famous Amos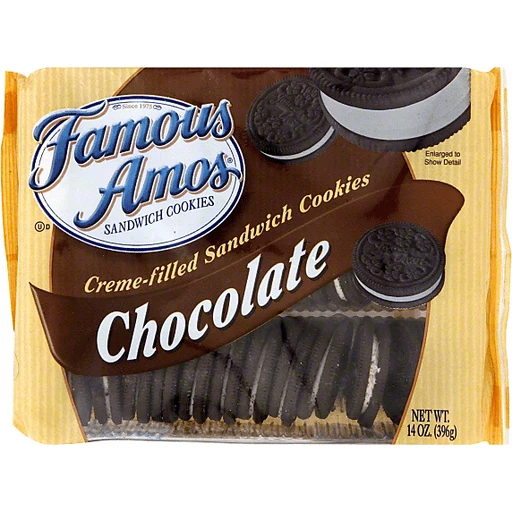 If you are looking for an off brand Double Stuffed Oreo then be on the lookout for the chocolate creme-filled sandwich cookies. This off brand version provides an extra thick filling compared to the other brands. Moreover, the filling is not overly sweet. Therefore, the extra creme filling can be enjoyed without feeling too sweet.
Even if you have never tried these cookies, you may be familiar with the Famous Amos brand. A popular cookie brand, they are most well known for their tasty bite-sized chocolate chip cookies. If you have tried these tasty chocolate chip cookies then you are already familiar with the firm and crunchy texture that this brand is known for.
These off brand creme-filled sandwich cookies have the same crumbly and extra crunchy consistency that other Famous Amos cookies are known for. Therefore, if you don't love a crunchy cookie this may not be the brand for you. However, if the crunchy texture balanced by the extra creme filling sounds like a perfect combo, Famous Amos is for you.
While they do not always have these cookies available in-store or on the Famous Amos website, you can find them on Amazon.
Original Newman-O's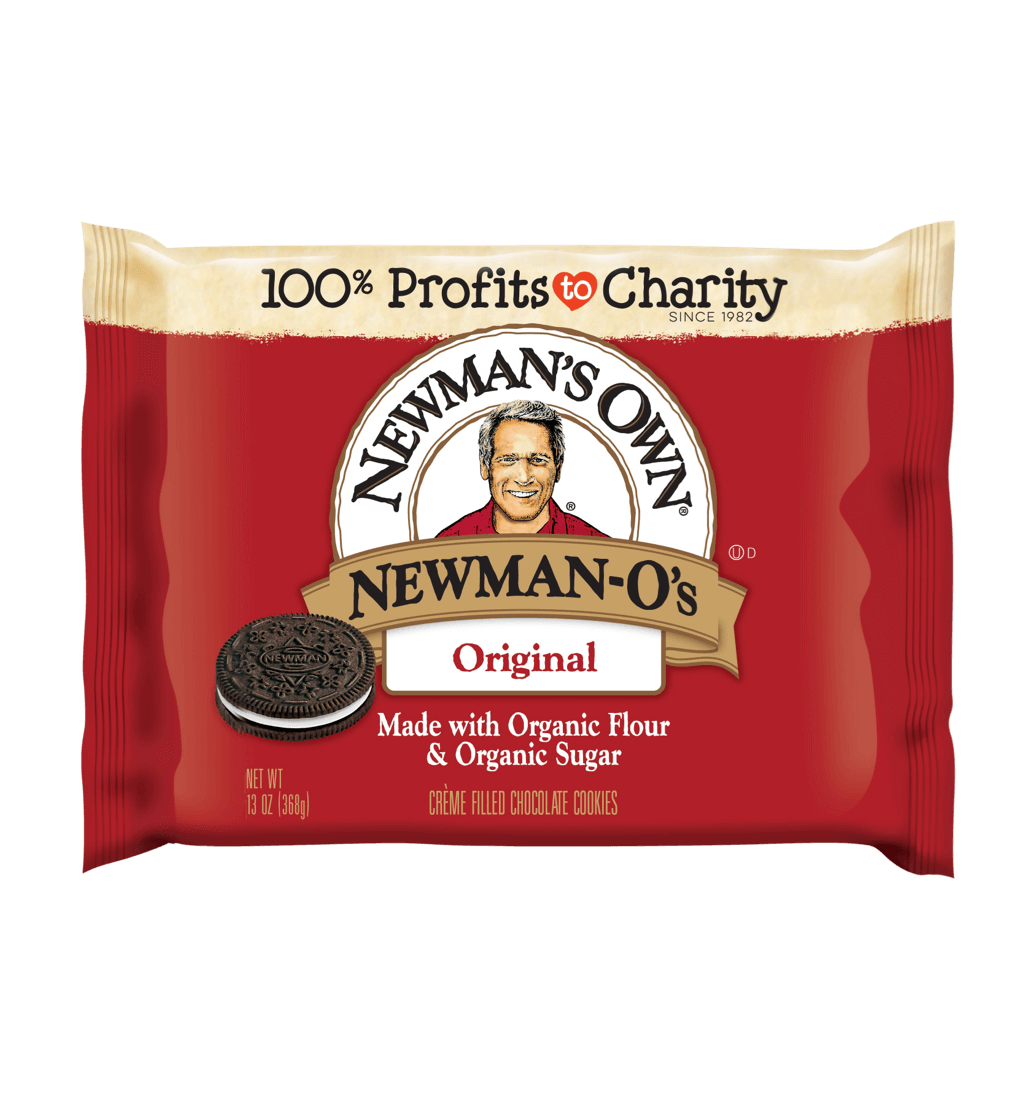 One of the joys of eating a stack of Oreos as a kid was the naivety of the lack of nutrients in a delicious cookie. While cookies are intended to be a treat, as an adult you may find that you prefer to have a somewhat healthy treat.
Newman's Own is a brand popularly associated with healthy snack options. This includes providing a healthy alternative to the more processed Oreo cookie.
These off brand cookies are made with almost all organic ingredients. Organic unbleached wheat flour, organic sugar & powdered sugar, organic corn starch, and organic palm fruit oil. The other ingredients are not organic but are still whole ingredients you know and recognize. When you read the label of Newman's O's you know with confidence that you will not be eating any artificial ingredients.
Although the lack of artificial ingredients is a better option for overall health, it does mean sacrificing some of the taste and texture that a more processed cookie provides. Without the artificial addition of flavor, you may find that this healthier version is missing a little bit of oomph in the chocolate department. The texture is also a bit more crumbly.
However, while the chocolate wafer part is not as reflective of an old-school Oreo the cream filling is a great change from the processed cream in many other cookies. Newman's O's have a creamy frosting-like filling that is softer and more flavorful than the creme center of Oreos.
Newman's O's can be found in many different grocery stores and may be available for purchase online through different grocery retailers.
Back to Nature Classic Creme Cookies
As the brand name suggests, this alternative Oreo brand is on the healthier end of the spectrum. Unlike Newman's Own cookies, these do not contain organic ingredients. However, they do use all-natural ingredients. This ingredient list includes unbleached wheat flour, cane juice, raw sugar, palm oil, safflower oil, cocoa powder, and brown rice syrup – all familiar and non-processed ingredients.
Like other off brand options that take the healthier route with ingredients, this will be reflected in the flavor and texture of the cookies. The chocolate wafer of Back to Nature's cookies has a firmer texture compared to classic Oreos. It is also a less distinct chocolate flavor. On the other hand, the creme filling is distinctly sweet. For those looking for a more natural cookie option, the filling may taste too sweet.
To get the best of both worlds – being healthy and enjoying cookies – try balancing the creme filling with a dunk in your favorite plant-based milk.
Off Brand Oreos Around the World
Beyond the borders of the United States, there are several different off brand Oreos around the world. However, many of these are often considered subpar to the original Oreo cookie.
While we can't list them as the best of the best when it comes to off brand Oreo options, we felt they were worth a mention in case you feel like seeking out some of these lesser-known brands during your travels.
Okidoki
Bud's Best Caco Chocolate
WhoNu
Sedap Ori'Orio
Lieber's Sanwich Cremeos
Gullon Twins
Dallas Black Power Sandwich Cookies
Sondey
Conclusion
Whether you decide to venture out with an off brand Oreo taste test on your travels or to try the local off brand Oreo cookies at your local grocery store, there are plenty of different brands to try. The best part? If you don't find one you absolutely love, it is easy to find the real deal anywhere you are since Oreo is a worldwide brand.
497 Creative Ideas for Cookie Business Names
Top 10 British Chocolate Brands That Will Make You Drool