In this fast-paced world of online shoe sales, you need to keep your brand at the forefront of consumers. Jumpstart your branding campaign with our taglines and slogans for your shoe business. A slogan is often the first touchpoint with the customer. It should be able to inspire and embody your brand personality.
We have created a list of shoe slogans that will help you get more customers through your door and give them shoes that will work for their feet and leave them walking away happy.
Catchy Shoe Slogans
You've got the greatest shoes on the market. Your customers love you. But can you capture this in your tagline? The pressure to 'put something catchy together' (good luck with that) is enough to give any sane person sleepless nights.
A catchy slogan has four key things – clarity, brevity, relevance, and memorability. It should identify your business and your product, quickly, simply, and emotionally.
Utilizing our professional experience in branding and product trialing we've over the years compiled a huge list of catchy shoe slogans:
Our shoes are so cute, you'll wish you had more feet.
The shoe that will not let you down
Bring on the fun and excitement every one of our shoes brings
There are no bad days, just bad shoes
The details make the shoe
The shoe company that knows how to make it special
You can't have too many pairs of shoes.
Shoes are the accent of your outfit
Walk the walk, rock the shoes
We are all about shoes
Shoes designed for action.
Just when you thought your shoe game was pimp.
The coolest shoe 👟 money can buy.
The sky is the limit, just flaunt it.
It's not just about the shoe.
Pretty sweet, huh?
Shop a pair of shoes and prepare to see a new world.
Fall at its finest. Kick it all off with (your shoes)
Made for walking, and that's just what they'll do, one mile after another.
'Til their shoes fall off
When you don't know what to wear, reach for something classic.
Get back to basics with a touch of luxury
Experience the personal touches and hand-crafted feel of heritage country shoes
Keep one step ahead in effortless style
Like your look never go out of style
Urban neutrals with a twist is the next big thing in footwear
Up your style game and get in on the action.
Do it in style
Walk the walk
Treat your feet
Be unique
Stay warm and look fresh
If you haven't got a good pair of shoes, then you haven't got any.
Try something new. You're worth it.
It fits your foot!
It feels good
Comfort is a must
Every stride is a boost
Run on cloud nine
A unique running experience
Walk more, run less
Shoes that will last
Get your shoes from the experts
Add some shock and awe to your wardrobe with these trendy sneakers
Shoes 'R' Us
Your style. Your ticket.
The perfect pair for the perfect day!

Be the life of the party in these!

Don't just buy a shoe ­- invest in wearability!
Walk the talk – Don't just walk, Strut with it!
Happy feet, make happy people.
Flaunt it
Walking on air
Every pair is like a dream come true.

You can never have too much of a good thing

An unexpected heel makes all the difference

You don't need a task to have an occasion to wear your favorite heels

Because every day is special.
Keep calm and walk on
Be a unicorn
Be true to your sole
Never hold back
It's not cheating, it's strategizing
The wear-to-work shoe that changed it all
Get one step closer to business casual nirvana.
We've got you covered. We have shoes for everyone, from babies to adults.
You walk a mile in our shoes and we'll return the favor.
Let your feet take you there.
They're not just the most comfortable shoes we've ever made, they're engineered to move like you do.
You'll feel great, or your money back.
What if shoes had feelings?
Did somebody say they wanted a pair of new kicks? We've got your bad self covered.
Shoes make the outfit, put some spring into your step!
Life is better when you wear (your shoes).
Wear sneakers to work. Wear heels after work. 😈
Fall is just around the corner, and we've got the perfect new kicks for the season.
Kick-off this fall right with a pair of shoes from our fall collection
It's more than just a pair of shoes. It's a feeling.
And there's no telling where you'll land when you try them on ☀️ ✔️
You can never be too rich, too thin, or wear too much leather
You can't be cool if you don't wear cool shoes.
You'll love the way your feet feel
Style that pops
Think different.
Sole mates
Walk proudly
Waterproof in a storm
Rocking this town
Dream in these
A walk in the park
Fall in love
Go run a marathon

Something fun to wear

Get more in these shoes!
Let us do the running and you do the walking
You are what you wear

The perfect casual shoe

The get-noticed shoe
The dressy shoe
Shoes make the outfit
Leave only footprints when you walk
We make sneakers you can't forget
Put on your dancing shoes
Be bold
You never walk alone.
Let your toes breathe
Sometimes shoes talk back
These aren't shoes. They are wings.
There is no finish line. The winner is the one who keeps out running.
Sneakers should enhance your look not take away from it
Put on the finishing touches and make your style complete

Step out in style

Stay agile at all times
Stay true to your values
Only be late when you're fashionably late
Stay on the right path in life
You'll be amazed at what you can accomplish.
The shoes you should wear if it is raining
Go natural
Going green
Live without limits
Jumpstart your shoe business with these ready to use shoe company names handpicked by branding experts at Soocial
Cobbu.com
Cobbu is the ideal name for a shoe-related business as it lends itself to connections with the shoe world.
It is a delightful name that makes a memorable, trusted connection with customers. It's easy to spell and remember.
Your customers will be able to find your website easily as it will come up first in Google and has no competition.
Buy this domain name for your company now before someone else does!
Cobbu!
Mocaby.com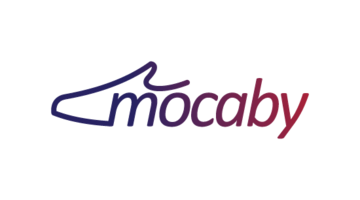 This is the ideal branding opportunity for any shoe company and yes, there is a story behind the brand!
Mocaby is a name that we created based on these 6 letters in mind: M– Modern, O-Organized, C-Confident, A-Amicable, B-Brilliant and Y-Youthful
Mocaby is a unique name that will stand out from other brands.
The name mocaby is based off moccasin and is fun to say, spell and pronounce.
Buy this domain name for your company now before someone else does!
Shoe Taglines
Finding a catchy tagline for your shoe business is almost as time-consuming as the actual shoe-making. That's a lot of missed opportunities along with piles and piles of frustration.
Not sure where to start? What to avoid? Lost for words? Why waste hours trying to think up shoe taglines when you can browse them here:
Walk tall, feel right
Fit for a king
Durable. Fashionable. Well made.
Comfortable and easy to walk in
Combat boots with metal chains as decoration
Leather combat boots, made for walking all day outdoor or walking in town all night long
Wear your heart on your feet
Good things come in small packages
Keep your feet warm and toasty
Comfort is king
Proper support for your feet
Strong and sturdy
Meet the all-star, new balance fresh foam
It's not that we make better shoes, it's just that we make
Go Ahead, Step Out
Wear the shoes, don't let them wear you
Keep it sexy
Wear the design on your shoes
Be adventurous
Never compromise style for comfort
Life is short, wear the funkiest shoes
Every pair tells a story
Only you know where they've been
They'll take you as far as you can go
Walk tall in them
Get ahead
First impressions
Wear with everything
Be creative and expressive
Keep it simple!
Keep calm
Walk tall
Better than money in the savings account!
Play to your strengths
Better traction and excellent cushioning for the ultimate playing experience.
The first running shoe ever designed with barefoot technology. Feel the difference of going barefoot.
Here's what's been making a buzz on the street.
Fall in love with our new series of shoes.
Rolling in it—our stylish and comfortable boots.
Slip into these and fall in love all over again 😍
Summer is all about keeping it fresh and feeling cool.
Be a catalyst for change in the world and on your feet
Make a statement
Be original
Exclusivity is key
Treat your feet
Who knew a shoe could be cute?
Feet first
Put your best foot forward
Ready to catch a ride in these?
Your feet deserve the best
We make shoes out of the box
When life leaves you flats, wear heels
Add sparkle to your look
We will put a spring in your step

Don't walk away from a good thing

Stylish and affordable
Wear your heart on your..err…feet
Always have the high-end look
What happens on the court stays on the court
I'm comfy, and you should be too.
Even the best shoes need a good shine
Wear me to work. Wear me on weekends. Wear me anywhere.
Wear me and forget about your ex!
Love without limits!
The easiest way to dress up an outfit
Wherever your destination, we'll take you there
If you run in, you live in
You are fast, free, and perfect. Why settle for second best?
Unique style, function, and comfort
Don't let curves be misunderstood
You will love how the slim line design of this shoe makes your feet look beautiful.
Ask more from your shoes

Be inspired by vacation

Innovative Footwear
Comfortable, fashionable, and affordable
We work hard to be your favorite shoe store.
Always on trend

Shoes that combine style, comfort, and longevity

You'll come out ahead… That's a guarantee
Sheepishly good
It's go time!
Ready to get weird?
Funny Shoe Slogans
Funny slogans are proven to be effective in advertising campaigns as they are great for getting attention.
Need a funny shoe slogan but can't think of one? Don't stress out. It's easier than you think. Let our list of funny shoe slogans help you get started:
Never wear low cut shoes with high cut dress
A woman's shoes tell a lot about her.
People always end up running in them.
Laughter is the best footwear
Shoes with benefits
It's all inside my shoe
Change your shoe, change your life
Shoe me the money
We made shoes for people who wear suits and ties
If you can always show them by walking
Look awesome in these shoes
Dress for the job you want
Your shoes are just as unique as your snowflake.
I laughed, I cried, I bought the shoes
Some people collect shoes. What do you collect?
How long would you like your ankle to be?
Our shoes help you get to a place where the only thing that matters is good taste in shoes.
As the oldest footwear brand in America, we're here to make your feet look good 👟
Let's face it, getting together is better when you have shoes to match your outfit.
If you're reading this in your cubicle right now, take a short break to step away from your 9-5 and get some air with us.
Finding arch support with no conversation required.
Your feet deserve more than just comfortable shoes. They deserve happiness. 😍💨
🌈 Footwear unicorns are real
If you have a shoe, and I have a foot, well, why the heck don't we connect?
Get funke'd up in these 🤘
🙈😍😘🎺☕=👟👞👠
Today's forecast calls for a shoe and a sunny disposition 😎.
Athletic Shoe Slogans
One of the hardest areas of your business to advertise is sport shoes. It's hard reaching that target audience, and once you reach them, holding onto them is very difficult.
Many athletic shoe companies focus on expensive marketing strategies, hoping that their campaigns will be successful. What these companies fail to realize is that branding starts with developing slogans to communicate with the customer on an emotional level.
Soocial has put together a list of athletic shoe slogans for you to use in your marketing campaigns:
Athletic performance footwear
Run this town.
The right fit for your feet
Athletic shoes should be the only thing you think about whether you're at the gym, on a run, or sitting at work
Feet don't fail you now
If you run, you need these
We make your feet stronger so you can never give up on your running dreams.
The shoes with more bounce
The ones you can't live without
The only sportswear you'll ever need
The perfect shoe for any sport
Let the force be with you
Have fun but protect your feet
Work out hard, play hard too
Life is better at the playground
Enjoy the freedom of movement
Get lit.
Feel tomorrow's freedom today.
Tackle everything in your path—with style and confidence.
Go the distance.
We've got you covered at every distance. 🏃🏽‍♂️🏃🏻‍♀️
Always on the move.
Not every workout is for every day
Run wild.
Whatever your sport, we've got the shoe for it!
You see the world in color, we make performance footwear for you to do it in.
We're giving our joggers a little love before it's time for them to hang up their sneakers for the season.
Running, Jumping, Hiking, Training. Tell us about your next adventure wearing our shoes.
Work hard, play harder… Or just play all day. They're sneakers!
Life moves fast. Make every step count.
Lightweight yet substantial.
Fast yet relaxed.
A running shoe that combines precision with comfort.
Get fit. Get noticed. Be humble in your victory.
Homegrown by runners for runners.
Get set, go
Run, climb do it all. Make every day an adventure
Keeping you young and inspired to run farther longer.
There's no off-season. Get out there.
Safety Shoe Slogans
A list of safety shoes slogans, sayings, and advertisements. These slogans can be used to promote and create awareness about safety shoes:
The most comfortable safety shoes ever
Shoes that make you happier
You never know when your accident will happen
You have the right to be safe
Be ready to protect yourself at any time
Walk tall and proud in safety shoes
Keep your feet strong and healthy
Save yourself a life long of problems
Satisfaction is guaranteed
Feel the difference with our products
Make sure you're protected
Don't get hurt…
Don't let it happen to you…
Wear shoes to protect your feet
Feel more confident in yourself
Work safely
Prevention is better than cure
Take care of safety
Safety makes good sense
Safety first always
Always be safe
Don't get hurt
The outcome will not be compromised
Balance well-being with productivity
Think safety first
Care for safety
Be careful out there
Conclusion: Shoe Slogans
Do you know that shoe brands are failing to grab their market position because they lack a unique set of slogans for their shoe business? Having a unique catchphrase for your brand must have been on your checklist for a long time now.
You wanted to get on top, stay there and continue to be the best that you can be. Slick copy paves the way for making an unforgettable impact on your brand. It will stay in your customers' minds forever, guaranteeing the consistency of positive feelings about your business and its products.
Your consumers will come back repeatedly and will feel an innate desire to make recommendations about your product to their family, friends, and colleagues.
421 Shoe Store Name Ideas to Keep on Running Forever
279 Catchy Badminton Slogans and Taglines
303 Catchy Dance Slogans and Taglines