Founded in 1977, American Eagle has been a favorite brand among young shoppers since the early 2000s. The casual clothing retailer is a staple in almost any mall in America, and for a good reason.
Its relaxed styles, quality denim, and affordable prices make American Eagle an accessible store for young shoppers that crave a clean-cut boho vibe.
However, most shoppers like to shake things up from time to time. So if you're looking for some new pieces to compliment your American Eagle basics or craving more adventurous looks in the vein of the brand's all-American aesthetic, you've come to the right place.
We've rounded up the best stores similar in style, price point, and vibe to American Eagle. So, get your wallets ready! Here are 30 stores like American Eagle to add to your shopping rotation.
Lucky Brand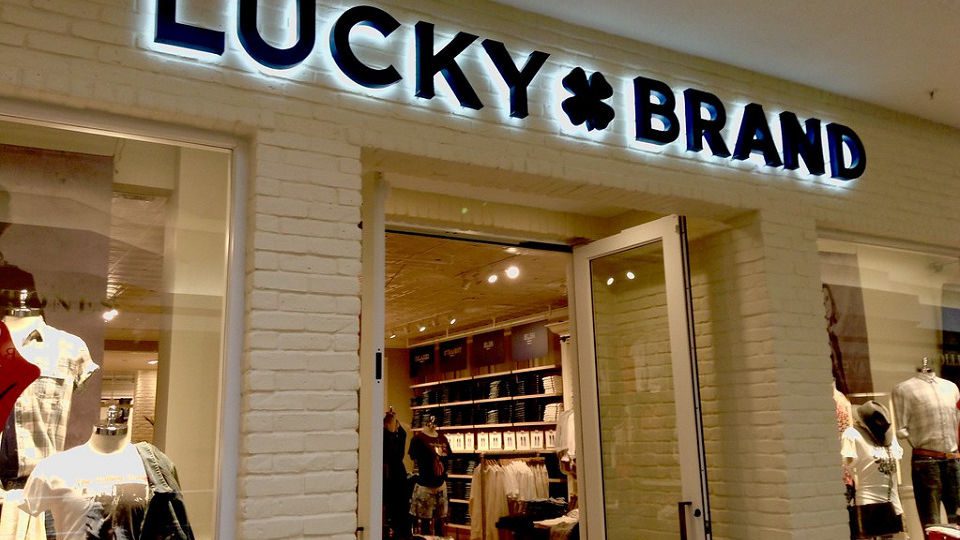 If you love American Eagle's affordable denim, try out Lucky Brand. The California brand is famous for its expertly constructed denim jeans and premium boho apparel. Lucky Brand is an excellent option if you love American Eagle but want something a bit more luxurious.
Lucky Brand, founded in 1990, serves up quality vintage-inspired jeans for men and women. Its distressed denim, modern cuts, and variety of washes make it a timeless fashion favorite. Lucky Brand's denim is pricier than American Eagle's jeans, but the quality is unmatched.
In addition to denim, Lucky Brand offers vintage and boho looks that run in the same vein as American Eagle. There are plenty of comfy graphic tees, lace-trimmed blouses, and flowy dresses in soft, earthy colors. A piece from Lucky Brand seamlessly fits into any American Eagle lover's closet.
Abercrombie & Fitch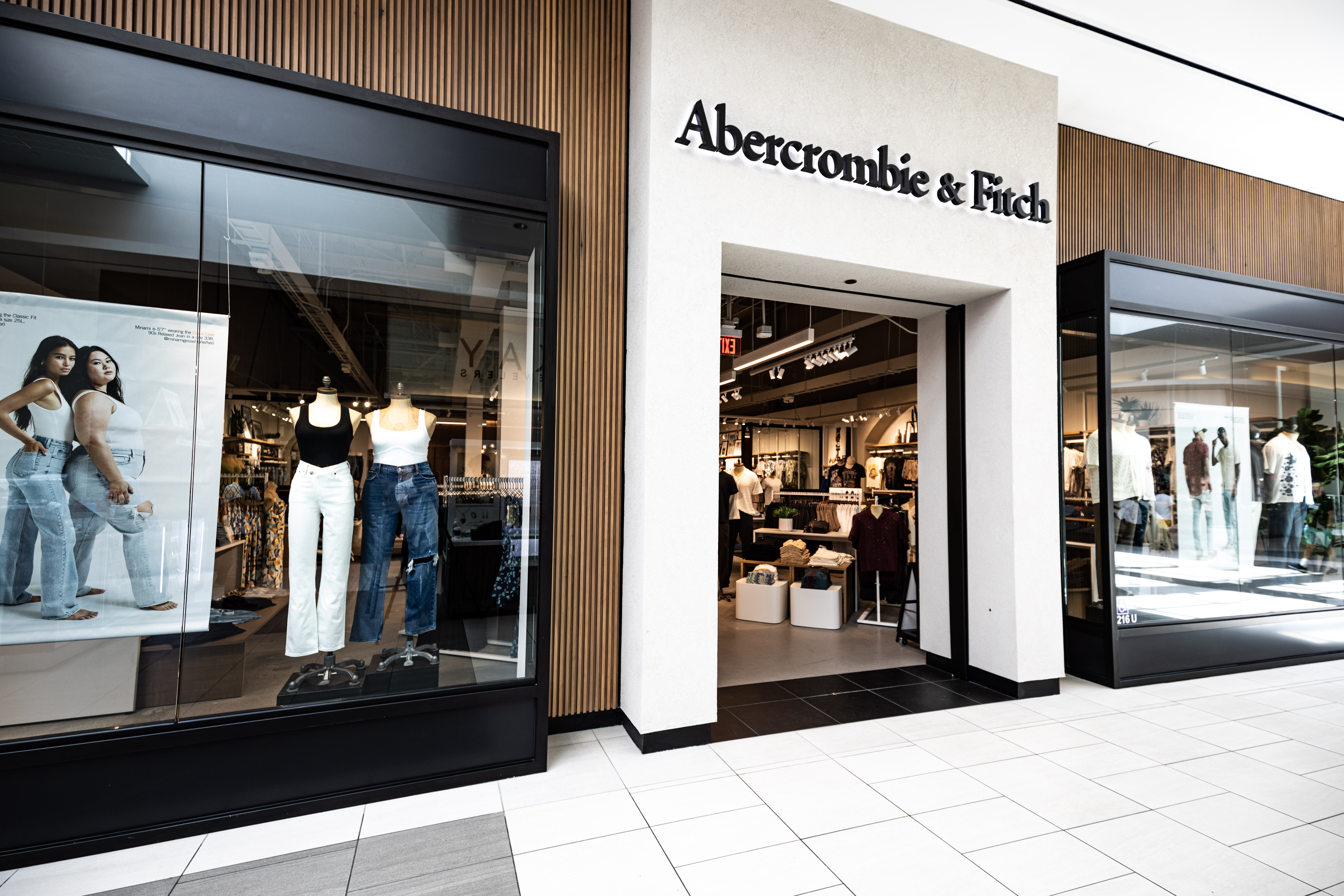 Abercrombie & Fitch is another mall stalwart that many of us associate with the early 2000s and cologne-infused frat boys. However, its current CEO gave the whole brand an overhaul. As a result, Abercrombie & Fitch is back and better than ever.
Abercrombie & Fitch's revamped style matches perfectly with American Eagle's vibe. It's relaxed and casual but still captures the vintage preppiness of Abercrombie's years past. For example, its men's polo sweater gives private school vibes without looking too stuffy.
The brand has a ton of other understated yet trendy styles. For example, its t-shirt bodysuits, vegan leather pants, and monochromatic maxi skirts offer shoppers the same effortless cool of American Eagle with more "city chic" vibes than edgy "beach bum" looks.
Forever 21
We've all heard of Forever 21, right? This fast fashion retailer lives at pretty much any mall alongside American Eagle. Despite some bumps in the road a few years ago, Forever 21 is making a comeback and is a great store to shop at if you love American Eagle.
Forever 21 is so appealing because it offers such a massive range of styles. You can find the casual, comfy styles of American Eagle alongside more daring, trendy cuts. So, it's a great option if you want to add some variety to your wardrobe without totally abandoning your favorite pullovers and tanks.
Another plus is that Forever 21 is more affordable than American Eagle. The store is always hosting sales in-store and online, making it easy to stock up on neutral basics, relaxed zip-up hoodies, and other fashion staples you would otherwise buy at American Eagle.
Madewell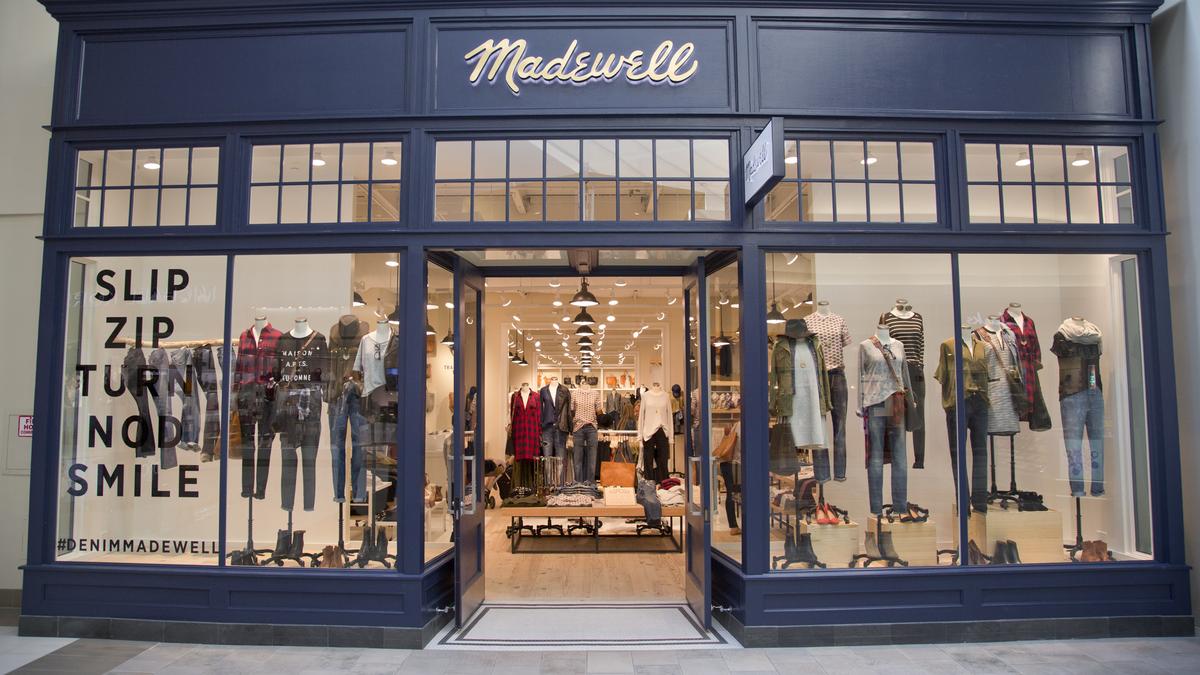 Madewell is like American Eagle but all grown up. The brand, owned by J.Crew, is extremely popular for its casual but cute women's clothing and premium denim. Madewell is excellent for American Eagle shoppers looking to level up their wardrobe staples.
Like American Eagle, Madewell is known for its denim collection. Shoppers love Madewell's denim for its superb construction, comfortable tailoring, and timeless appeal. While quite pricey, its jeans are a worthy investment that will last for years.
In addition, Madwell's tops, matching sets, dresses, and more offer shoppers fashion-forward options without being too trendy. Its plaid outerwear, cozy knits, and 90s-inspired neutral tops are all more refined, mature versions of American Eagle's fun-loving separates.
PacSun
PacSun features styles similar to American Eagle but with an edgier skater vibe. The brand began in the 1980s in Seal Beach, California. Its relaxed styles perfectly capture those beach vibes to this day.
Like American Eagle, PacSun features a wide selection of casual denim and timeless basics. For example, its 90s-inspired ribbed tanks and patchwork jeans are quintessential California cool, and its cropped tops and cargo pants are perfect for a day at the beach or the skate park.
In addition to its own branded apparel, PacSun carries looks from other trendy brands like Brandy Melville, Free People, and Converse. This variety gives shoppers more options when shopping in-person or online.
ASOS
If you love American Eagle but want more options, look no further than ASOS. The online retailer carries everything under the sun, from formalwear to casual loungewear. You can spend literal hours browsing the online store for pieces that work perfectly with your American Eagle favorites.
ASOS may be more well-known for its edgy streetwear and club-ready looks, but the brand also offers boho-inspired pieces. For example, quilted jackets, faux shearling outerwear, and flowy floral dresses perfectly combine boho-chic with trendy grunge.
ASOS also features plenty of menswear similar to American Eagle's offerings. There are endless options for polos, graphic tees, and casual flannels at reasonable prices. In addition, ASOS is always running a sale, so you're bound to find a good deal!
Wildfox
Wildfox features fun, everyday basics for American Eagle shoppers who love a girly vibe. The Los Angeles brand, launched in 2008, features effortless yet edgy loungewear and separates with a subtle Western influence.
At Wildfox, you can get high-quality graphic sweatshirts, joggers, and knits. Like American Eagle, many of the brand's graphics are retro-inspired, such as its distressed "Sweeter Than Honey" pullover or a navy blue sweatshirt with a cute pussy bow screen printed on the front.
There are also plenty of cute essentials, like fitted henley tees and relaxed matching sweatsuits. In addition, Wildfox features a few stand-out pieces to add some flair to your wardrobe. For example, its Flapper Roadtrip Sweatshirt features a subtle silver fringe reminiscent of cowboy glam.
Brandy Melville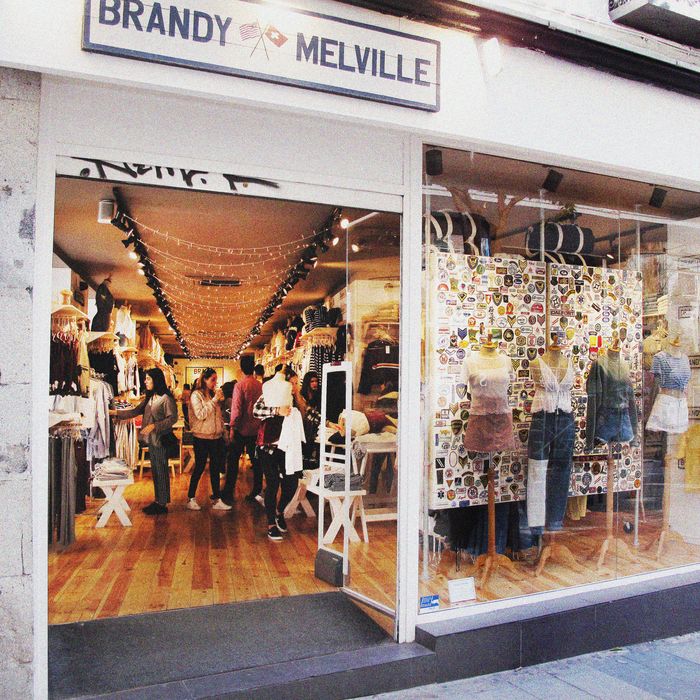 Brandy Melville crafts casual cool-girl clothing that captures the same vintage aesthetic as American Eagle. The retailer's neutral basics, vintage-inspired bottoms, and grunge-adjacent tops are must-haves for anyone following the 90s and Y2K fashion trends.
At Brandy Melville, you can get affordable, unique basics like striped sweaters, baggy cargo pants, and simple cardigans that look straight out of a fashion magazine. Its pieces are more curated and exclusive than American Eagle, but the price point is the same, if not cheaper.
One drawback of Brandy Melville is its lack of sizing options. The brand follows a "one size fits all" model, which basically means it only carries small and medium sizes. While most of Brandy Melville's clothing is loose and stretchy, American Eagle is better if you want something more size-inclusive.
Nobody's Child
Nobody's Child, launched in 2015, is a London-based retailer serving free-spirited boho womenswear. Its sustainable pieces capture the carefree vibe of American Eagle and take it to the next level.
The brand's selection of comfy, classy dresses makes it hard to choose just one! From fluttery midi dresses to floral maxis, Nobody's Child has many adorable cuts and silhouettes. Its designs are refined, feminine, and classic, making them popular, heavy-rotation items in any wardrobe.
In addition, Nobody's Child features gorgeous basics that use organic and natural fabrics. For example, you can't go wrong with a recycled polyester turtleneck or Lenzing Ecovero square-neck top. Lastly, Nobody's Child carries a line of sustainable denim, an excellent alternative for the American Eagle fan who wants to be more eco-friendly.
J.Crew

Like its sister brand Madewell, J.Crew offers plenty of styles and cuts that fit American Eagle's aesthetic. The upscale retailer crafts classics with a modern twist, and its pieces are easy to mix and match with favorites already in your closet.
J.Crew's designs are more mature and refined than most American Eagle pieces. However, J.Crew still captures that all-American, wholesome look that so many American Eagle fans know and love. For example, its feminine button-up shirts and cashmere sweaters are timeless and classy.
In addition to its cozy knits and dressed-up tops, J.Crew features a line of refined swimwear and intimates reminiscent of American Eagle's in-house brand Aerie. Aerie and J.Crew carry timeless two-piece bikinis and comfy loungewear that are always cute and classy.
UNIQLO
Japanese retailer UNIQLO is a fashion favorite with universal appeal. It opened its first store in 1984 and is popular for its affordable, high-quality basics and gender-neutral clothing. It's an excellent brand if you love American Eagle's accessibility but want something more polished and streamlined.
You can get any type of wardrobe essential in almost any color at UNIQLO. From women's cropped henleys to men's zip-up fleece jackets, UNIQLO serves modern basics that mix and match seamlessly with other pieces. In addition, the brand is known for its minimalist design, making it universally appealing no matter your style.
UNIQLO loves subtle patterns like floral or plaid on its dresses and skirts. In addition, you can easily find minimalist pieces with a slight boho influence, such as its flannel tiered mini dress. Lastly, UNIQLO's prices are a major steal, so you can stock up on basics without breaking the bank.
Everlane
Everlane is a sustainable online retailer focusing on denim and ethically made basics. The startup brand led the recent surge in popularity of minimalist fashion and elevated essentials. So if you love American Eagle's line of classic button-ups and neutrals, check out Everlane.
Everlane stands out for its sustainable, high-quality denim jeans. Each pair is ethically made, uses organic cotton, and produces significantly less water waste than traditional denim products. There's also a wide range of modern, streamlined tops like button-ups, flannels, and knits with a polished, professional edge.
Admittedly, Everlane isn't cheap. However, the brand prides itself on being the opposite of fast fashion by partnering with ethical factories and using sustainable fabrics. So if you love American Eagle's dressed-up basics but want something built to last, Everlane is the store for you.
Levi's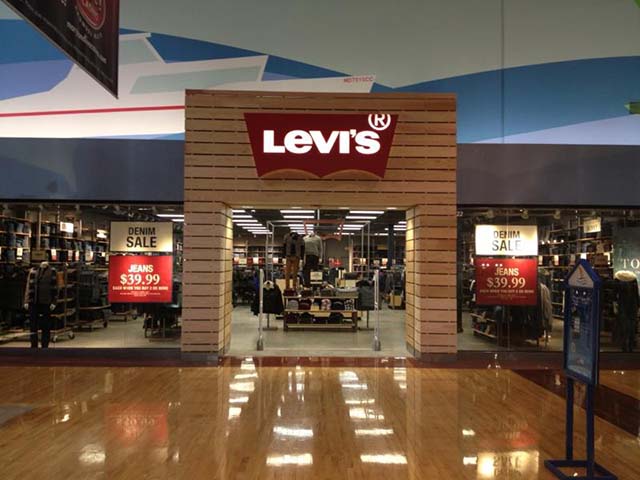 There's no denying that American Eagle is beloved for its denim. However, look no further than Levi's if you want more variety in the jeans department. This iconic brand has produced some of the best denim jeans in the business since the late 1800s.
Obviously, Levi's knows a thing or two about denim. To this day, its leather label, iconic pocket embroidery, and classic cuts remain a symbol of effortless cool, carefree style. The famous brand offers various cuts and washes, from distressed wide-leg jeans to skinny jeans.
In addition to Levi's line of denim for all shapes and sizes, the brand offers accessories and apparel. Its denim jackets, classic tees, and understated silhouettes perfectly complement American Eagle's relaxed style.
Fisher + Baker
Fisher + Baker's refined, understated menswear is an elevated addition to American Eagle's casual basics. Fisher + Baker is for you if you want more clothing with a comfortable fit, modern style, and an effortlessly relaxed look.
Fisher + Baker's designs strike a perfect balance of fashion and function. Its menswear is timeless and seasonless, making it easy to build a go-to wardrobe that will last for ages. For example, its polos and button-ups are modern takes on the classic staples, much like American Eagle's offerings.
Fisher + Baker is at a higher price point than American Eagle, especially regarding its outerwear. However, you get what you pay for. Its expert tailoring and slim silhouettes make the brand's pieces a worthwhile investment.
Gap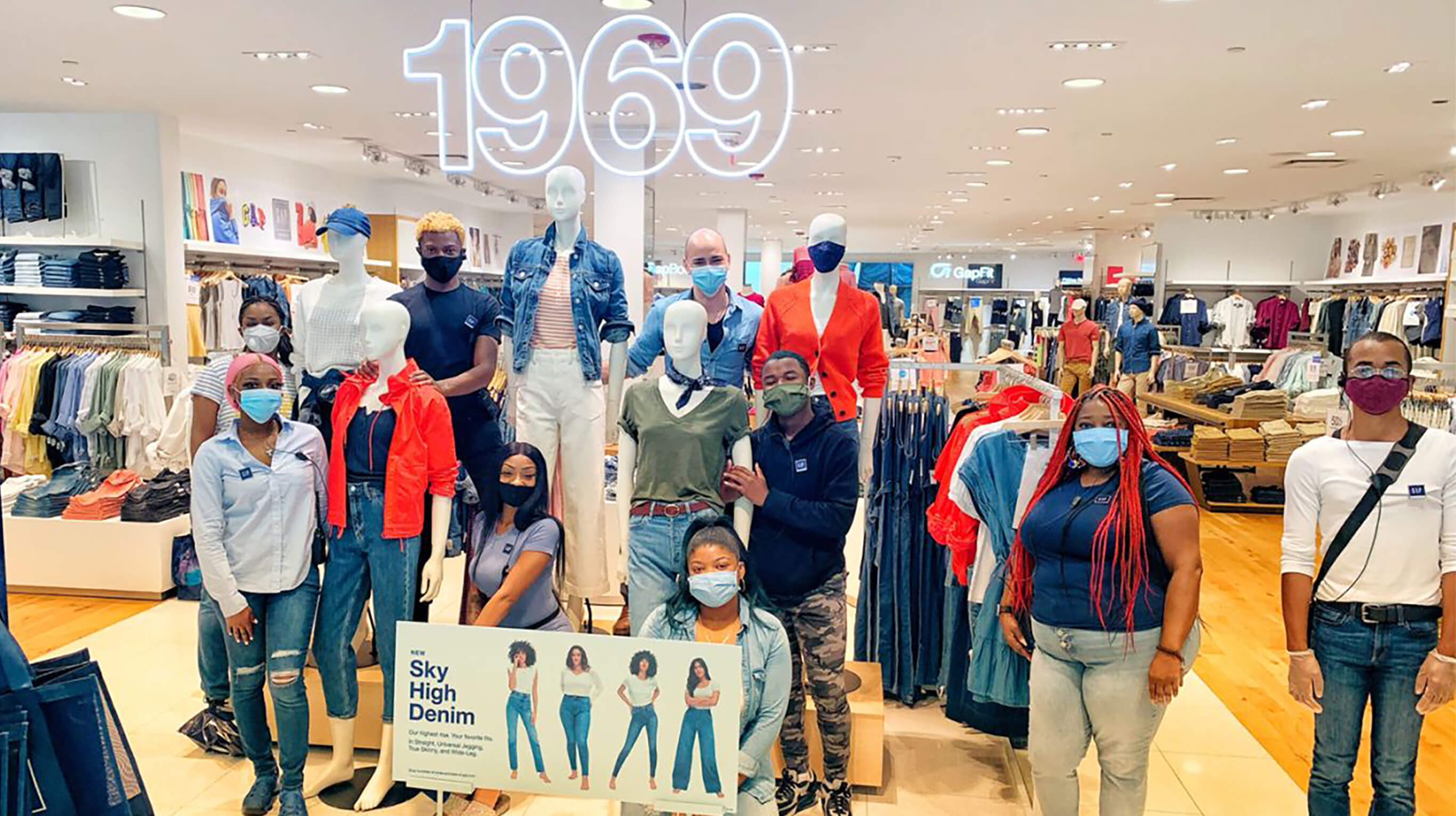 There's no clothing brand more classic than Gap. Founded in 1969, the American retailer offers similar styles and cuts to American Eagle. However, Gap's superb tailoring and high-quality materials give this mall staple a high-end edge over the competition.
Like American Eagle, Gap offers a selection of dressed-up basics like patterned button-up shirts and relaxed dresses. Some pieces have a slight boho edge, such as the puff sleeve denim minidress or soft green boyfriend shirt featuring a lovely eyelet fabric.
In addition to men's and women's clothing, Gap also produces collections for kids and babies. There's everything from sweet infant onesies to wholesome graphic tees. So, you can equip your whole family with a relaxed, carefree style!
Unionbay
Established in 1981, Unionbay creates men's and women's apparel that is very similar to American Eagle. The Seattle-based brand captures the grunge aesthetic that the city is famous for and makes the style accessible to shoppers everywhere.
Unionbay creates designs that are relaxed, cool, and totally comfortable. The brand aims to instill confidence through its versatile everyday streetwear. For example, its classic cargo pants and grunge-inspired flannels are easy to wear and go with almost anything.
In addition to its cornerstone flannels, Unionbay carries pullovers, button-ups, and graphic tees. The brand is also highly affordable and accessible. Shoppers can find Unionbay apparel at retailers such as Kohl's, Amazon, and Tillys.
Hollister
If you grew up going to the mall in the early 2000s, you probably have vivid memories of walking into Hollister's dimly lit, strongly scented storefront. Well, Hollister is still alive and well today, and it is another store that easily fits the American Eagle vibe.
Like American Eagle, Hollister is well known for its mid-range denim collection. If you love how American Eagle jeans fit but want variety, Hollister has everything from beachy ripped jeans to dark wash bootcut styles. With so many washes and styles, you'll find a new favorite in no time.
Hollister also leans into the relaxed beachy vibe that fans of American Eagle know and love. Neutral basics, cute graphic tees, and comfy athleisure wear are staples of the brand and must-haves for any shopper that loves a carefree, effortless look. In addition, Hollister still offers classics such as its branded polos and lace-trim tanks so you can relive the best Y2K fashion.
Old Navy is a Gap, Inc. division that targets younger shoppers, many of whom know and love American Eagle's style. Old Navy's aesthetic is way more youthful and fun than its Gap and Banana Republic counterparts, so it matches American Eagle.
Old Navy features men's and women's styles that are simple, fresh, and wholesome. If you love the tried-and-true flannel shirts from American Eagle, you can find plenty of different styles and color combos when shopping at Old Navy. There are also plenty of cute graphic tees, simple intimates, and classic outerwear looks.
The biggest plus of Old Navy is its affordability. The brand offers stylish and trendy cuts for as low as $10! In addition, Old Navy is almost always running an epic clearance sale or discount of some kind, so it's easy to update your look while staying on budget.
Aéropostale
Aéropostale is another "mall brand" that offers trendy, comfy clothing that is easily recognizable. Launched in 1987 by Macy & Co, the brand is known for its wholesome, all-American designs and relatively affordable prices.
Aéropostale features casual, easy-to-wear apparel for men and women that match the vibes of American Eagle. Its branded graphic tees, boho dresses, and flannels are wardrobe classics that capture an easy-going, free-spirited lifestyle.
Aéropostale also has quality denim at affordable prices. The brand's line of jeans is extensive, with options to shop by styles such as "90s Baggy" or "Mom Jeans." In addition, you can take Aéropostale's fun Denim Quiz to find out which cut and wash best fits your style.
Cotton On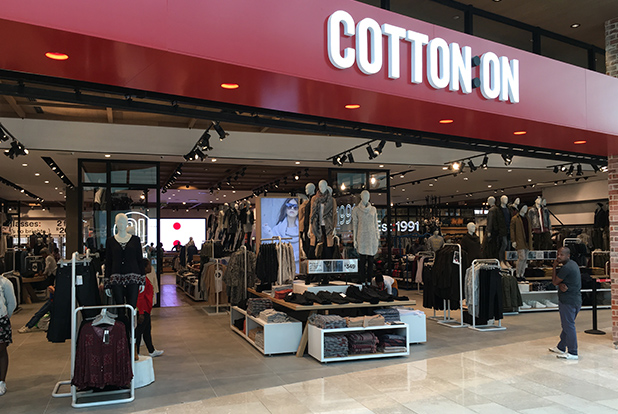 Cotton On is an affordable retailer that offers styles similar to American Eagle but with a bit more edge. The Australian brand is now a worldwide presence, offering curated trendy basics and separates for men and women.
Cotton On's designs are casual and on-trend. For example, its extensive graphic tees feature vintage imagery and 90s pop culture references. In addition, Cotton On's knits and dresses feature bold patterns, grunge-inspired silhouettes, and gorgeous color options.
Cotton On is an excellent store to check out if you have a casual style but want to add more trendy stand-out pieces to your outfit location. Its price points are similar to American Eagle, and its online store hosts plenty of sales year-round.
Bershka
Bershka is Europe's version of the type of "mall brands" we associate with American Eagle in the US. The Spanish Inditex group owns the brand, the same company that runs Zara and Pull&Bear.
Bershka has everything you need to build a comfy, casual wardrobe. It carries trend-focused basics and statement pieces. Because of its wide selection, you'll find something similar to American Eagle's aesthetic.
For example, Bershka features affordable basics like long-sleeved tees, camis, and legging in neutral colors. In addition, its men's sweats are comfy without looking sloppy. Bershka is a great option if you want a good deal on trend-centered, minimalist pieces.
Bonobos
Bonobos serves professional looks for men who have a relaxed, laid-back style. In addition, the brand is known for its high-quality garment construction and superb tailoring. Therefore, it's a nice brand for men who want to add professional pizzazz to their closets.
Bonobos supplies all the basics needed for a put-together, effortlessly professional wardrobe. Shoppers can't go wrong with the classic Oxford shirt or a lightweight flannel. Unlike American Eagle's menswear, Bonobos focuses on subtler colors and refined plaid patterns.
In addition to its shirts, Bonobos offers chinos, dress pants, and jeans that combine classic cuts with modern silhouettes and tailoring. The brand emphasizes comfort and fit with its products, so various sizes are available.
Banana Republic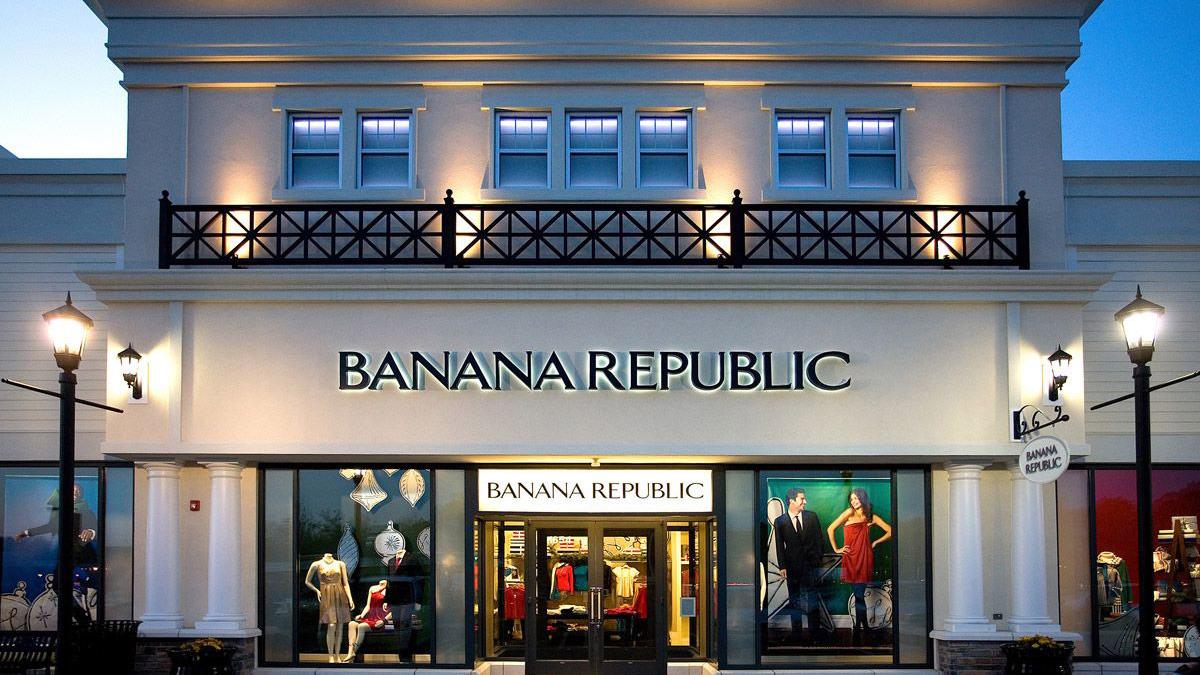 Banana Republic is owned by Gap, Inc and is an excellent option for more mature American Eagle shoppers. Its apparel focuses on traditional classics with a twist. Banana Republic's quality materials and refined styles make it a brand to add if you want luxury pieces in your wardrobe.
Like American Eagle, Banana Republic crafts cozy knits, quality denim, and simple button-up shirts for men and women. Banana Republic stands out because of its nod to luxury fashion. Items that appear simple at first glance have elegant touches. For example, its mock neck sweaters have unique bell sleeves, and its wrap dresses use quality fabrics like suede and Ecovero viscose.
Add Banana Republic to your shopping rotation if you want to add a touch of refinement and luxury to your casual wardrobe. Its style resembles American Eagle's squeaky clean aesthetic, just all grown up.
Rue21
Rue21 is a Pennsylvania-based retailer offering youth-focused apparel at affordable prices. Social media trends, pop culture references, and streetwear fashion heavily influence its style.
Rue21 is an excellent go-to brand for graphic tees, flannels, and basics. It offers styles similar to American Eagle but with a streetwear edge. For example, its floral corset top and front-tie babydoll blouse capture the boho style but add a sexier vibe than anything you'll find at American Eagle.
Rue21 also carries curve-hugging styles like bodycon dresses, pleather wrap skirts, and deep v-neck bodysuits. Additionally, Rue21 features a plus-size line with pop culture graphic tees, varsity-inspired sweatsuits, and stylish knits.
Pink Ice
If you love the simple femininity of American Eagle's womenswear, look no further than Pink Ice. The brand features boho-inspired fashion for women who want to look professional and put-together at all times.
Pink Ice has super cute styles that work across seasons. Get cozy with a flannel hoodie, or cool off with a flowy beach-ready jumpsuit. The brand features floral and tropical-inspired patterns alongside classic neutrals and pastels.
The brand's dresses are definite stand-out pieces. For example, the low-back Paraiso Maxi Dress is perfect for a night out on the town or a day at the beach. There are so many cuts, silhouettes, and patterns that you're bound to find something you love.
Francesca's
Francesca's is all about fun, flirty, feminine fashion. The brand features classic, chic, and free-spirited womenswear, like American Eagle, but with a more delicate, girly feel.
Francesca's has the perfect outfit, no matter the occasion. Dreamy dresses, elegant knits, and comfy essentials make it easy to build a whole new look. There are short and sweet boho dresses alongside floor-length evening gowns. The brand even carries a selection of wedding dresses!
The brand continues to grow under its new CEO Andrew Clarke, appointed in 2020. New endeavors include LGBTQ-friendly apparel and accessories and a new line for young girls called Franki by Francesca's.
Pull&Bear
Pull&Bear is an up-and-coming brand that most American shoppers don't know about. So, check out the brand's online store if you like to be ahead of the curve. It's chock full of streamlined, fashion-forward pieces bound to make you shine.
Pull&Bear offers plenty of casual hoodies, pullovers, tees, and more, similar to American Eagle. The main difference is that Pull&Bear apparel is not branded and has an edgier feel. For example, its 90s-inspired line of oversized hoodies and joggers features screenprints of pop culture icons like Brigitte Bardot and Van Gogh.
Pull&Bear is a fairly new fashion player in the United States. The brand became available online to US shoppers in 2019 and continues to gain popularity. Overall, Pull&Bear is available in over 40 countries worldwide.
Free People
If you love American Eagle's boho vibe, Free People is a great upscale retailer to explore. Owned by Urban Outfitters, the luxury retailer creates elegant, timeless pieces that can easily complement American Eagle's basics.
Free People's designs are effortless, feminine, and chic. Its dresses feature plenty of florals, ruffles, and tiered layers. The brand also carries elevated basics with high-quality details like embroidered fabric or expert draping.
In addition to boho classics, the brand has on-trend pieces that lean into the 90s and Y2K look. For example, you can find ruched tank tops, high-waisted denim skirts, and see-through mesh tops. These trendy pieces still have the timeless quality that Free People is known for, so it's worth the price tag!
Project Social T
Project Social T set out to create the perfect t-shirt in 2011. The brand was successful and now carries a diverse selection of core essentials for women. If you love the accessible simplicity of American Eagle's basics and tees, you'll love this brand.
Project Social T crafts expertly tailored tops, knits, and bottoms that are truly timeless. In addition, the brand uses a limited color palette, so its buttery soft shirts and pants can mix and match with anything else in your closet.
The brand's mid-range price point is more expensive than American Eagle's, but its pieces have unique details you won't find anywhere else. For example, its two-piece knit sets function as three looks in one. You can wear both pieces together to form a cohesive look or wear each separately with other favorites.
& Other Stories
In 2013, the H&M Group launched & Other Stories as an upscale subsidiary for women who crave timeless, unique pieces that fit their personal style. & Other Stories captures the fun-loving spirit of American Eagle but with a more refined aesthetic.
& Other Stories features dressed-up basics that easily match most American Eagle pieces. Its designs are similar to Madewell but with a more minimalist sensibility. For example, you'll find plenty of mid-range luxury knits in a muted cream, black, and tan palette.
Check out & Other Stories if you love American Eagle's denim and solid-color basics. This brand will add elegance and refinement without abandoning comfy cuts and casual silhouettes.