From burritos to enchiladas and soft tacos, none of our favorite Mexican dishes would be possible without tortillas. These soft wraps have a rich history. Originating thousands of years ago in Mexico, they received their name from Spanish conquistadors that referred to these "little cakes" as tortillas.
In today's modern world many people associate tortillas with soft flour tortillas used to wrap burritos. However, the original tortillas in Mexico were made from ground corn. Therefore, the corn tortillas used today for enchiladas and other traditional dishes are closer to the original tortillas of long ago.
While corn and flour tortillas are the traditional types of tortillas, there has been an increase in specialty tortillas in the last couple of decades. With changing dietary restrictions (like gluten intolerance) and dietary preferences (like low-carb or paleo) a need for new tortillas arose. Therefore, if you want the delicious taste of Mexican food, with a twist on the tortilla, there are several brands that have what you need.
Whether you want a soft flour tortilla, a tasty corn tortilla, or a specialty style tortilla, there are several brands that offer delicious options. Keep reading to find your perfect tortilla!
Traditional Tortilla Brands
If you want the best brands that are the most authentic, then you want a brand whose roots are in Mexico. Brands that were founded either in Mexico or by families from Mexico started their companies with traditional recipes.
Therefore, even though some of these brands have grown from small family businesses into nationwide corporations – they all originated with traditional tortilla recipes from Mexico.
Mission Foods
Mission Foods has a rich history that is reflected in the authentic taste of their tortillas. The original Mission Tortilla factory was in the San Fernando Valley. However, it didn't see its rise to popularity until it became part of one of today's most well-known Mexican food manufacturers – GRUMA.
GRUMA was founded in 1949 on the principle of providing fresh tortillas to the people in Cerralvo, Nuevo Leon, Mexico. Since that first mission to provide a staple food to local Mexicans, GRUMA has grown into an international company.
Mission Foods started to see success after it was acquired in by GRUMA in 1977. Since then, Mission has continued to grow. Today, Mission Tortillas is known as the number one tortilla company in the United States.
They've earned this title not only for the quality, taste, and texture of their tortillas but for their variety. Mission Tortillas offers the widest variety of tortillas around.
From traditional flour and corn tortillas to their "better for you" series – Mission comes in at the top of the best tortilla brands due to its innovative and delicious tortillas.
Mission Flour Tortillas
Mission offers over a dozen different types of flour tortillas! In addition to traditional burrito-sized flour tortillas, here are some other fun favorites.
Street Tacos Sweet Hawaiian Tortillas
Soft Taco Flour Tortillas
Fajita Extra Fluffy Flour Tortillas
Organic Flour Tortillas
Multi Grain Soft Taco Flour Tortillas
With different sizes and textures, you are sure to find the perfect tortilla for any recipe!
Mission Corn Tortillas
In addition to their wide array of flour tortillas, Mission also has delicious corn tortillas. The perfect original gluten-free tortilla. They offer these in both white and yellow corn varieties.
Mission Better for You Tortillas
While Mission began their tortilla company with flour tortillas, they have been able to grow their brand by recognizing the need to change with what their customers want.
In today's world, that means offering an assortment of options for varying dietary choices and restrictions. In addition to the naturally gluten-free corn tortillas they make, they also have a specialty selection of "Better for You Tortillas"
Low Carb
Whole Wheat
Organic
Gluten-free
La Tortilla Factory
In the same year that Mission Tortilla was acquired by GRUMA and began to grow in southern California, another tortilla brand was starting north in Sonoma County, California. La Tortilla Factory.
La Tortilla Factory was first introduced to the world in 1977 by Jose and Mary Tamayo. The goal of this family-run tortilla company was to simply provide its customers with delicious quality food.
That goal continues today. Part of that mission includes using quality non-GMO and organic ingredients in many of their products. In addition, it involves taking an innovative approach to tortilla making (like using cauliflower instead of flour) that appeals to today's modern customer.
As the first tortilla brand to make a soft and tasty low-carb tortilla, they are trusted as experts in making a variety of tortillas.
Check out the wide variety of tortillas offered by La Tortilla Factory:
Traditional Flour Tortillas
Traditional Corn Tortillas
Hand Made Style Tortillas
Light Tortillas
Organic, Non-GMO Tortillas
Gluten Free, Wheat Free, Tortillas
Grain Free Tortillas
Low-carb Tortillas
Sonoma All Natural & Organic Tortillas
Mi Rancho
Tortillas are one of the many authentic products made by the family owned and operated brand Mi Rancho. Originally a small Mexican market in Oakland, tortillas were the first product to move Mi Rancho beyond the walls of the store.
Known for their authentic taste and texture, as well as being all organic, Mi Rancho tortillas became sought after by customers as well as restaurants. In the last 20 years, Mi Rancho took their premium tortillas nationwide.
Today, Mi Rancho tortillas have not only expanded in availability but also in the variety offered.
Here are several of the organic Mi Rancho tortillas that can be found in grocery stores around the United States.
Ancient Grain Tortillas
Artisan Corn Tortillas
Burrito Flour Tortillas
Gluten-Free Tortillas
Low Carb Tortillas
Soft Taco Flour Tortillas
Whole Wheat Tortillas
Guerrero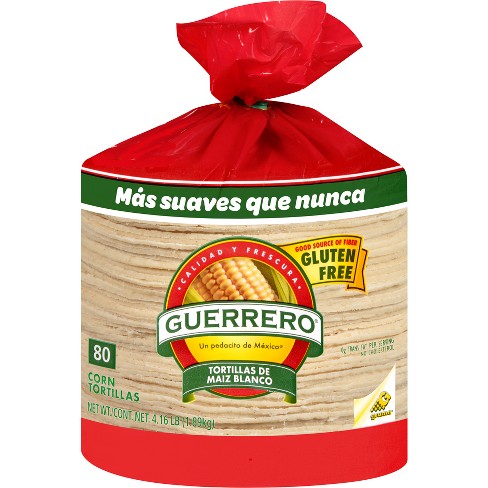 Like many of the other best tortilla brands, Guerrero began with a simple mission to bring quality Mexican tortillas to the United States. While Guerrero was originally a small family-owned business, like Mission Tortillas, they were acquired by GRUMA.
After becoming part of the GRUMA group in 1989, Guerrero grew and became known around the United States. Today their corn tortillas are one of the most recognized packages in the grocery aisle. Beyond their traditional-sized yellow corn tortillas, they offer mini and king-sized corn tortillas. Moreover, Guerrero is also known for having some of the best soft taco flour tortillas.
In addition to the traditional tortillas they are known for, Guerrero recently jumped on the low-carb kick. They now offer two low-carb tortilla options that are both made with flaxseed:
Low Carb Whole Wheat Tortillas
Low Carb Flour Tortillas
Don Pancho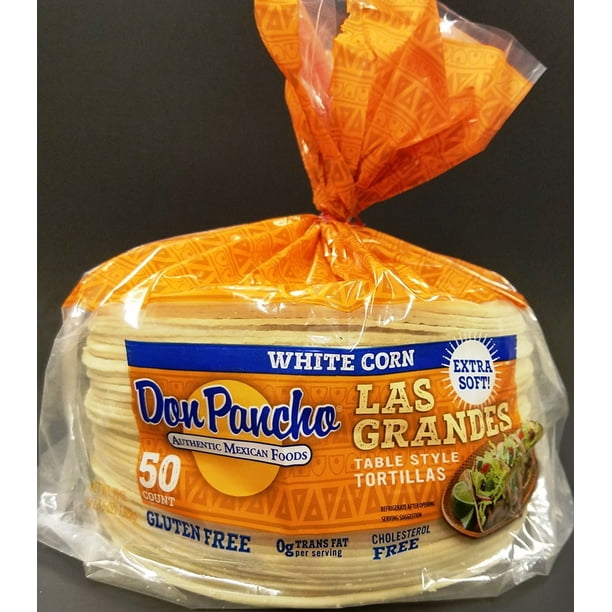 Started in 1979, Don Pancho prides itself on the authentic taste of its tortillas. However, while they are committed to tradition, like many of the other brands, they believe in staying on trend with what the customers like.
Therefore, in addition to their traditional tortillas, they also offer a wide range of health-conscious tortillas. Moreover, Don Pancho goes beyond the tortilla to also offer healthy wraps. These wraps continue to offer great taste and texture but provide a wider variety of uses (beyond traditional Mexican cuisine).
Flour Tortillas (ranging in size from 6"-10")
Organic Tortillas
Street Taco Tortillas
Corn Tortillas (ranging in size from 4" -6" both in yellow and white corn)
Flavored Wraps (spinach wrap & garlic herb wrap)
Non-GMO Tortillas
El Milagro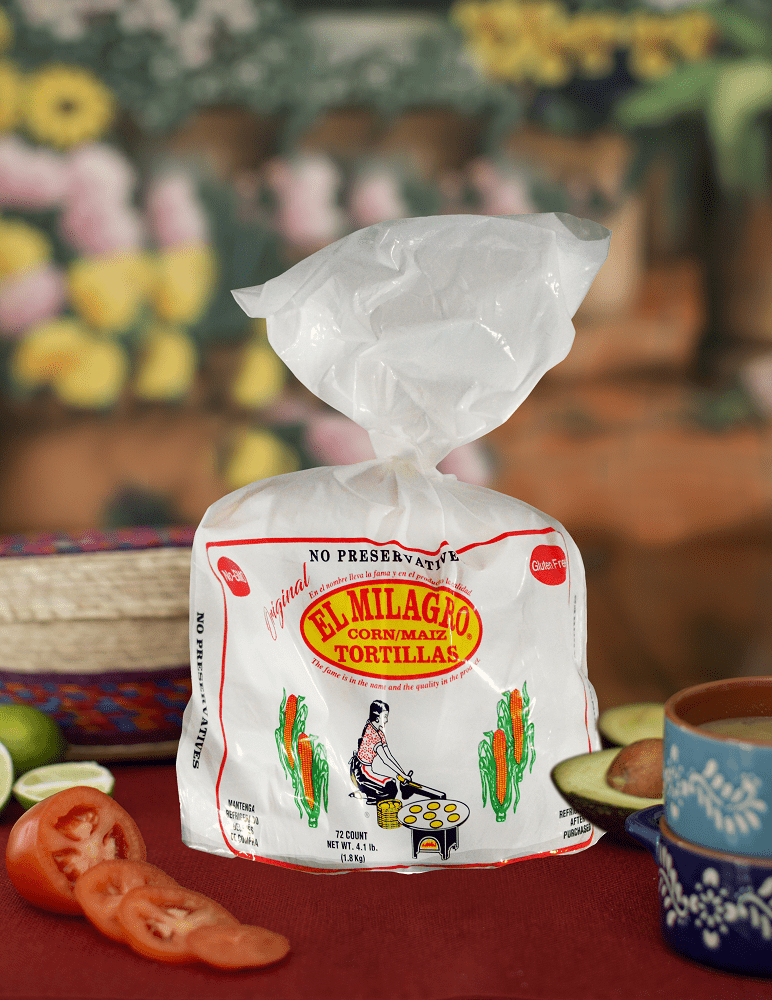 El Milagro is a small family-owned business out of Chicago, Illinois. Around since 1950, they are known for their commitment to using only non-processed ingredients. This includes non-GMO corn that is stone ground to make their corn tortillas.
While they are known for their unique and delicious corn tortillas that are made from unprocessed whole kernel corn, they also offer flour tortillas. Their flour tortillas are made with similar high-quality ingredients and have a soft texture that is perfect when heated up.
While you can order El Milagro on Amazon, they also have a handful of stores in the United States. Next time you are in Chicago, visit one of their two stores or taqueria. You can also visit their stores in Austin, Texas, and Doraville, Georgia.
Hola Nola
If you are looking for tortillas just like they were made back in the day, then you need to try Hola Nola tortillas. This brand prides itself on not doing it like the other guys. Rather than using fast modern machinery to manufacture several tortillas at a time, Hola Nola believes in taking things slow.
More than just slow, they believe in the simple tradition of tortilla making. Therefore, they only use the same ingredients that were used way back when. Non-GMO corn and coconut oil.
While their approach to tortilla making is built on the traditions of their ancestors, they still believe in keeping up with trends. In addition to their tasty traditional flour and corn tortillas, they offer a selection of specialty tortillas.
Whole Wheat Tortillas
Spinach and Herb Wraps
Sun-drieded Tomato Wraps
The only downside to this brand is that they are currently only available in the southern United States. However, they can be found in almost any grocery store (even Target) if you are in the right state!
Ole Mexican Foods
Ole Mexican foods is still run by the woman who founded it in 1988, Veronica Moreno. Veronica created Ole Mexican Foods with the intention of bringing families together through authentic homemade food.
Veronica's brand was founded on the tortilla. She began Ole Mexican Foods with homemade tortillas made the way she had learned to make them as a kid growing up in Mexico.
Almost 50 years later, Veronica's brand has grown beyond that first tortilla. Ole Mexican Foods is now the head company for four other brands! Two of these brands share the Ole name: Ole Homestyle and Ole Xtreme Wellness.
Between the three Ole brands, there is an assortment of tortillas. This includes the same homestyle tortillas that started it all.
Ole Homestyle Soft Taco Tortillas
Ole Homestyle Fajita Tortillas
Ole Flour Tortillas (family pack)
Ole White Corn Tortillas
In addition to the traditional tortillas, Ole Xtreme Wellness offers a Keto Certified high fiber tortilla.
La Banderita
La Banderita is one of the four brands that was created underneath Ole Mexican Foods. Therefore, it has the same rich authentic Mexican history.
While the other brands in the Ole Mexican Foods family have some tortillas, La Banderita is known primarily for its tortillas. They have been said to have some of the best corn tortillas. Moreover, this tortilla brand offers a unique style of tortilla not offered by many others: a ready-to-cook tortilla
La Banderita's ready-to-cook tortilla is packaged as an uncooked tortilla. Then, you simply toss it in the frying pan and let it puff up into a fluffy soft tortilla in minutes. Truly the freshest tortilla you can get from a package!
In addition to their corn tortillas and ready-to-cook tortillas, they also have a carb counter street taco tortilla. While other companies offer low-carb tortillas, this street taco tortilla by La Banderita is (currently) the only zero-carb tortilla around.
La Banderita also offers several other tortilla types:
King Corn Tortillas
Carb Counter Queso & Jalapeno
Carb Counter Whole Wheat
Burrito Grande Flour Tortillas
Street Taco Corn Tortillas
Sopes
This brand is also one of the best because it is easy to find at most major grocery stores.
Masienda
When it comes to a brand that truly values quality ingredients, it is hard to beat Masienda. Masienda was built around finding ingredients that would create an authentic tortilla that was aromatic and flavor-filled.
The search led to heirloom corn in the Central Valleys of Oaxaca, Mexico. Once they found the source of what made the distinct and delicious taste of each tortilla they ate in Mexico, the founders of Masienda knew they needed the same corn.
Therefore, Masienda partnered (and continues to partner) with small farmers in Mexico to source their heirloom corn. One unique thing about this brand is that they do not make their own tortillas, but rather provide ground corn needed to make fresh tortillas.
The quality of taste found in Masienda's ground corn is so distinct that restaurants like Frontera Grill purchase their corn from Masienda. However, you don't have to be a restaurant to get your hands on this amazing product.
You can order a variety of ground corn (masa harina) directly from the Masienda website. Then you can make your own fresh tortillas at home!
Red Corn Masa Harina
White Corn Masa Harina
Blue Corn Masa Harina
Flour Tortilla Blend
Maria and Ricardo's
Maria and Ricardo's Tortillas are best sellers on Amazon! While this family-owned business began as a small tortilla shop outside of Boston, it is now available anywhere that Amazon ships. In fact, Amazon is the only place to find ALL their available products.
If you have time to wait to get a shipment of tortillas, these artisan tortillas are worth the wait. Created out of a need to fix what founders Maria and Ricardo called the "Boston tortilla problem", these tortillas follow the traditions of Mexico tortilla making to provide exceptional flavor and texture.
These cousins didn't just stop at the basics though. They grew their business by creating innovative tortillas with new flavors, textures, and ingredients to appeal to the changing tastes of society.
Soft Yellow Corn Tortillas
White Flour Tortillas
Organic Sprouted Tortillas
Organic Whole Wheat Tortillas
Low Carb Tortillas
Spinach Tortillas
Grain Free Sweet Potato Tortillas
Cauliflower Tortillas (grain free)
Old El Paso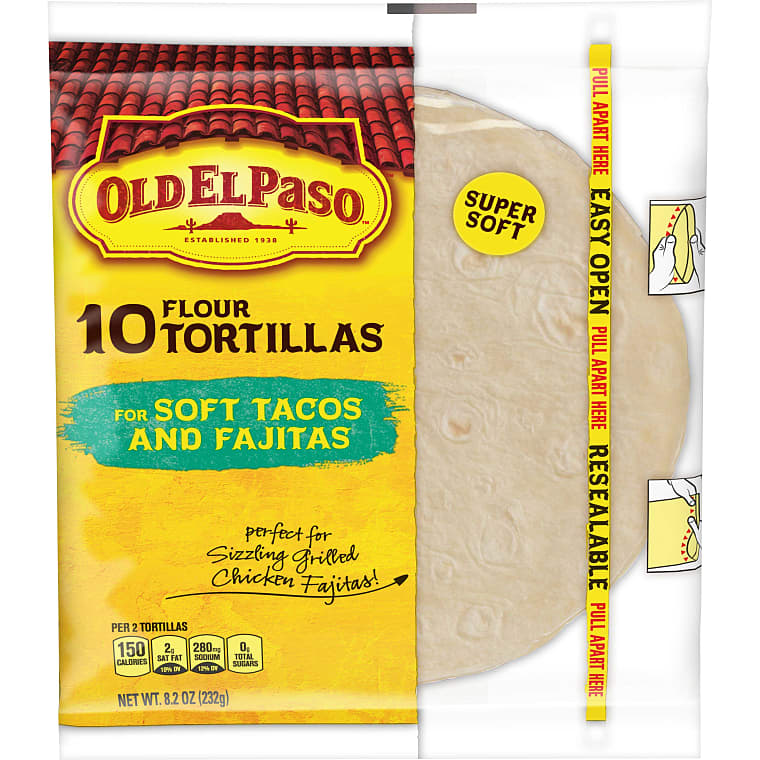 Old El Paso is one of the oldest Mexican food brands around, dating back to 1917. They were originally known as the Mountain Pass Canning Company and were the first company to can pinto beans.
In 1938 Old El Paso was started. When they became Old El Paso, they began to add in other Mexican food items, like tortillas. While tortillas are not their primary product, they still make a good basic flour tortilla.
Ortega
Old El Paso and Ortega have a lot of similarities. While they both currently offer tortillas, they were not started as tortilla companies.
While Old El Paso was the first to can pinto beans, Ortega was the first company to preserve and package chili peppers. However, over the years this company that started as a family business grew and added more foods. Such as tortillas.
Ortega's is no longer owned by the Ortega family. They sold the company in 2003 to a large corporation. Like Old El Paso, their tortillas are simpler in flavor and texture. However, they do have a bit more variety compared to Old El Paso.
Flour Tortillas
Whole Wheat Tortillas
Cauliflower + Flour Tortillas
Siete
Siete is a specialty tortilla brand with Mexican roots. With the inability to eat grains (due to autoimmune disease), the co-founder of Siete could not enjoy the delicious traditional Mexican foods she grew up with as a Mexican-American.
Therefore, she and her family set out to make grain-free tortillas. They ended up with three delicious grain free tortillas:
Cassava Flour Tortillas
Almond Flour Tortillas
Coconut Flour Tortillas
These different choices are perfect for anyone who wants a grain-free or Paleo tortilla that has good flavor and texture. However, the almond flour and coconut flour options do have more distinct flavors than traditional flour tortillas.
The only downside to this brand is that they are mostly sold in specialty health food stores like Whole Foods; however, they can also be ordered.
Store Brand Tortillas
While the brands above are built off the rich knowledge of traditional tortilla making, there are several store brands that have begun making their own tortillas. While these brands may not have the authenticity of the other brands above, they do offer a good basic product.
The best thing about these store brands is that if you are someone who shops exclusively (or mostly) at one of these stores, you can still find a simple tortilla with a basic flavor.
Trader Joe's
Trader Joe's offers basic flour and corn tortillas. Moreover, they also offer several other tortillas to appeal to different tastes and dietary needs. However, since Trader Joe's often rotates through seasonal products some tortilla options may not always be available.
Chile and Onion Flour Tortillas
Wheat and Corn Tortillas
Brown Rice Tortillas
Good and Gather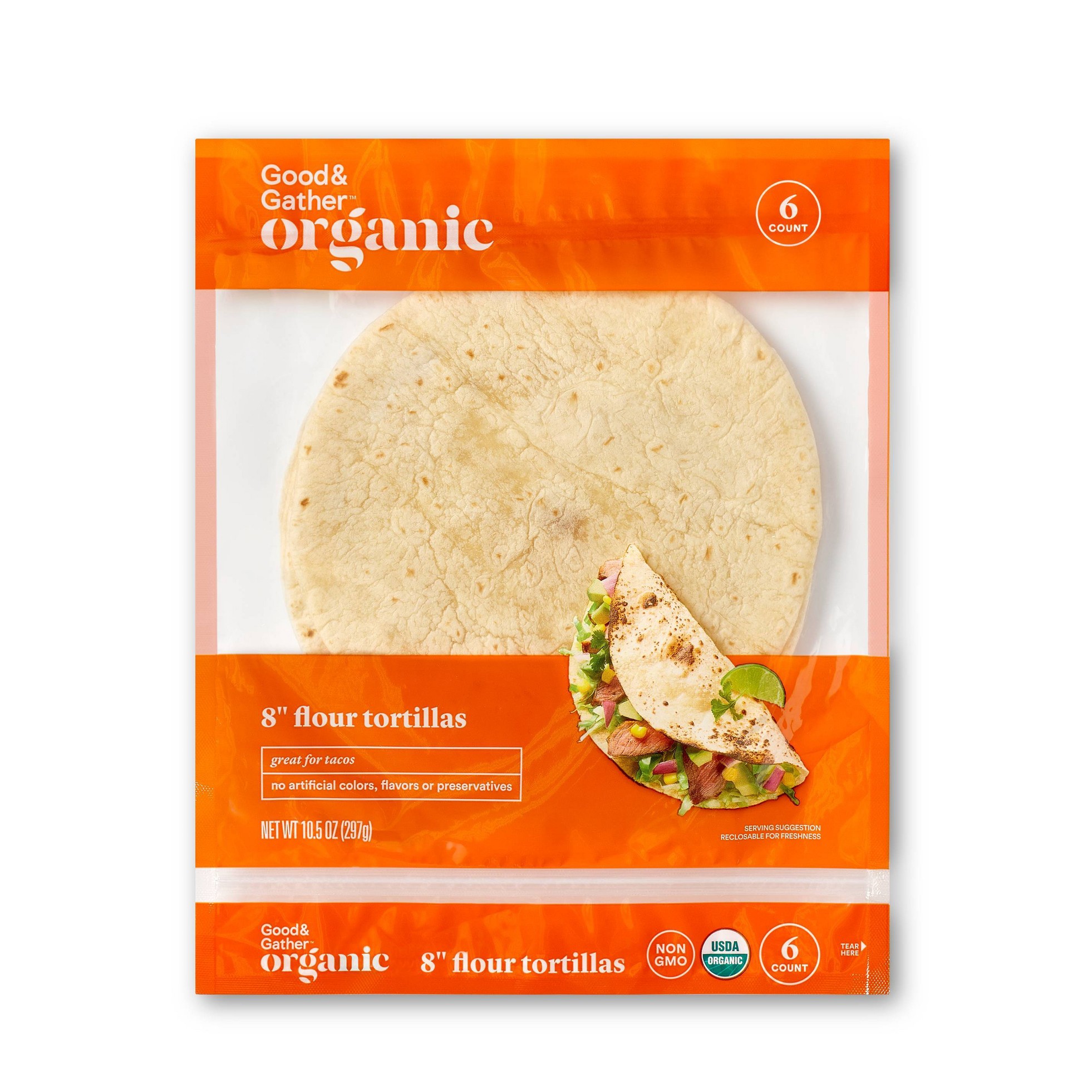 Target has two in-store brands that sell tortillas: Market Pantry and Good and Gather. Both brands make a simple white flour tortilla that is soft and wraps well. These are both good options for those who want a simple tortilla at a reasonable price.
365 by Whole Food Markets
Like Target, Whole Foods has its own brand – 365. Therefore, if you shop primarily at Whole Foods, you may consider trying out their 365 flour tortillas. These basic flour tortillas will provide a great base for any Mexican-inspired dishes.
Specialty Tortillas
As mentioned earlier throughout the article, specialty tortillas are a trend that continues to grow. While many traditional tortilla brands have incorporated specialty tortillas into their product base, there are also health food brands that make specialty tortillas. Here are four of the best specialty tortilla brands.
Rudi's
Rudi's makes a wonderful gluten-free tortilla made from several whole grain flours like brown rice, millet, and amaranth. The combination of different flours provides a good texture that is still soft and easy to roll.
The only downside to Rudi's tortillas is that they are more difficult to find in regular stores. Look for them in the freezer aisle of a specialty health food store.
BFree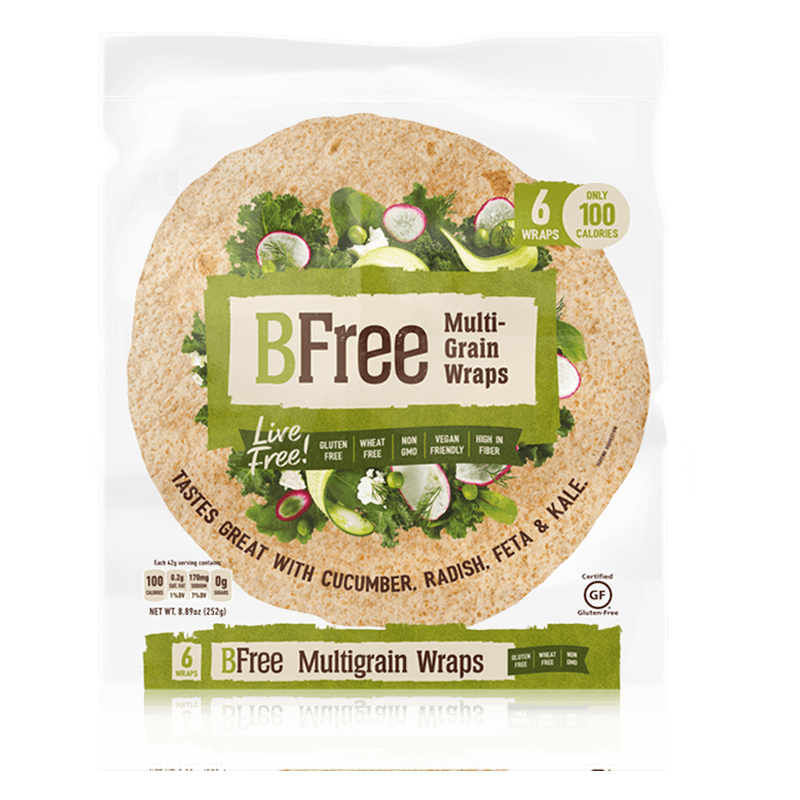 BFree is another great choice for those who want a gluten-free tortilla. Made with quinoa and chia seeds, these tortillas have a nice soft and chewy texture that is easy to wrap.
However, they do have a distinct flavor from the quinoa and chia seeds. While many enjoy this nutty and natural flavor, it can distract from other flavors in a dish. These are also not widely available in mainstream stores but are a great brand to explore if you can find them.
Food For Life
Food for Life offers an assortment of health-inspired tortillas. These unique tortilla blends are great for those who want a nutrient-dense tortilla. However, they have a stronger texture & taste than a flour tortilla. Therefore, you may notice they do not roll quite as easily, and they add an extra flavor to your dish.
Ezekial Sprouted Grain Tortillas
Exotic Black Rice Tortillas
Brown Rice Tortillas
Sana Foods
If you are in search of the best tortilla that is easy to roll, gluten-free, and grain-free, then give the coconut tortillas by Sana Foods (previously The Real Coconut) a try. Made from the ground and processed coconut meat, these light tortilla wraps are perfect for those who don't want a flour or corn tortilla.
However, keep in mind that since these are made from coconut they do taste like coconut. Therefore, if you do not enjoy the taste of coconut, check out some of the other specialty brands above. If you do like coconut, though, give this unique brand a try for a delicious paleo-inspired tortilla.
Conclusion
It's been a fun journey exploring the many different tortilla brands out there, and we hope you've enjoyed it as much as we have.
Whether you want a traditional tortilla, an easy-to-find one at the store, or a specialty tortilla, the best brand is the one that you enjoy the most. Therefore, take some time to look through these tortilla brands and see what sounds the tastiest. Then, see if it is available at your store!
You may have to try a few different brands before finding your perfect one, but there are worse things than taste-testing tortillas!
And if there is any tortilla brand we missed, please let us know! We'd love to try it and see if it's worth sharing with our readers.
1221 Food Business Name Ideas That Nobody Can Resist
567 Mexican Restaurant Names To Inspire Your Next Opening