Veganism is gaining popularity as more people become aware of how animal-derived products negatively impact our planet. However, being a vegan doesn't just mean never eating meat or avoiding eggs.
For many vegans, supporting ethical and animal-free fashion brands is just as important as not eating animals and their byproducts. Although the sustainability of vegan fashion is complicated, avoiding animal products like leather and feathers is generally better for the environment.
The number of vegans and vegetarians is rising, especially among younger people. As a result, the fashion industry is taking notice and action on how it sources materials and produces clothes.
If you're looking to build a more sustainable wardrobe, here are 20 clothing brands making it easy to be vegan with high-quality, animal-free products.
Santos
Santos by Mónica burst onto the fashion scene a couple of years ago and is ready to shake things up. Designer Mónica Santos Gil quit her corporate fashion job to create fun, quirky clothing and handbags that call back to 90s nostalgia.
The best part? All Santos materials are vegan! The brand uses innovative natural and vegan materials like cactus leather and Eucalyptus Lyocell. In addition, each Santos piece is handmade in New York, which makes this slow fashion brand even more sustainable.
Santos's designs are colorful, lively, and creatively minimalist. Its high-waisted trousers, collared button-ups, and cut-out skirts are fresh, modern, and classic at the same time. As a result, it's a perfect brand for cruelty-free shoppers that want funky statement pieces with clean silhouettes.
Baro
Believe it or not, finding a heavy-duty vegan coat can be challenging. Baro is an all-vegan brand based in the Pacific Northwest that produces jackets out of recycled, animal-free material.
Baro maintains its vegan and ethical idealogy without sacrificing quality. All its outerwear is durable, breathable, and waterproof, thanks to its signature polyester, cotton, and nylon fabrics. In addition, the brand partners with PrimaLoft to produce high-performance jacket insulation that is 80% recycled.
Baro seamlessly mixes functionality with fashion. Its puffer jackets, coats, and parkas come in muted, sophisticated colors and minimalist cuts. Baro's designs give you everything you need for cold weather without looking frumpy.
Plant Faced Clothing
Plant Faced Clothing is the perfect brand for all the streetwear-loving vegans out there. All its clothing and accessories are animal free, cruelty-free, and ethically made. Also, it doesn't hurt that its designs are incredibly cool.
Plant Faced has a wide selection of tees, hoodies, and more that have aggressively trendy graphic designs and cuts. In addition, slogans such as "Kale 'Em With Kindness" and "Plant Life" are printed on 100% cotton with water-based inks.
The brand's vibe is chill streetwear with a slight punk influence. It's all about high-contrast, black-and-white designs. Because honestly, what's more punk than disrupting a toxic system?
Matt & Nat
Matt & Nat creates vegan bags, outerwear, and accessories from recycled, sustainable materials. The brand's name derives from the phrase "Mat(t)erial and Nature" and embodies that motto.
The Canadian brand uses animal-friendly alternatives to leather that are 100% recycled and biodegradable. It also uses materials from unexpected sources, such as recycled windshield glass resin and fruit skin fibers. In addition, all Matt & Nat jackets use recycled water bottles for their lining.
Matt & Nat's Chelsea boots, bucket bags, and sneakers make adding vegan accessories to your wardrobe easy. Its designs are minimalist, sleek, and classic without harming the environment.
Nanushka
Nanushka is a luxury cruelty-free label based in Budapest. Founded by designer Sandra Sándor in 2006, Nanushka creates sophisticated designs with low-impact materials that embody "less is more."
Nanushka is unique in vegan fashion because it strives to create vegan versions of animal materials. For example, polyester makes realistic-looking fake shearling, and the brand's proprietary alt-leather uses recycled backing.
Sándor studied Bauhaus during her time at the London College of Fashion, and the movement's influence is evident in Nanushka's designs. Minimalist silhouettes and muted color palettes combine with surprising elements like creative pleating, oddly-placed cut-outs, or an unexpected fabric.
LaSeine&Moi
Real fur coats may not be as fashionable as they once were, but LaSeine&Moi is bringing the trend back in a modern way. The brand, founded by Lydia Bahia, is the first faux fur brand entirely produced in Paris.
LaSeine&Moi captures the elegance and romance of vintage Parisian fashion. Its coats are luxuriously soft with classic collars, cuts, and natural colors. The brand even offers a line of faux shearling coats made of recycled plastic bottles and hemp.
The brand has the backing of many sustainable and animal-friendly organizations. For example, PETA recognized its vegan approach to fur in 2017. Overall, LaSeine&Moi is known for classic fur luxury with an animal-friendly approach.
Save the Duck
Save the Duck may have a funny-sounding name, but this brand is serious about creating high-quality outerwear. Every single piece by Save the Duck is completely animal- and cruelty-free. In addition, Save the Duck was the first Italian fashion brand to become B Corp certified.
Save the Duck is a leader in the sustainable fashion world. It uses technologically advanced fabrics to create flexible, lightweight jackets that hold up to the elements. Its advanced PLUMTECH® polyester fabric acts better than traditional down padding.
The brand's puffer jackets, parkas, and faux fur zip-ups capture the outdoorsy vibe that nature fanatics love while completely respecting the environment. Save the Duck also offers other outdoor essentials like beanies, vests, and boots.
In The Soulshine
In The Soulshine is an Australian-based brand that lives and breathes the vegan lifestyle. Its t-shirts, sweaters, and accessories are cruelty-free and don't use any animal or animal byproduct materials.
In The Soulshine is an adorably cheerful brand, with light-hearted graphic tees that read "There's No Planet B" and "Eat Fruit, Not Friends." Its organic cotton pullovers also include hand-drawn designs like a dinosaur labeled "herbivore."
The brand recently adopted a range of natural plant dyes derived from fruit waste, flowers, and leaves. This new process reduces the use of harmful chemicals in the brand's production system. In The Soulshine also donates to nonprofits that protect animals, like PETA and animal sanctuaries.
ROMBAUT
If you want a vegan alternative to the popular Balenciaga dad sneakers, look no further than ROMBAUT. The Paris-based brand creates sustainable, vegan footwear and athleisure that doesn't skimp on trendiness.
ROMBAUT's innovative use of technological materials is genuinely cutting-edge. For example, its iconic Nucleo sneaker uses PU vegan leather and nylon. In addition, the sole consists of recycled Thermoplastic Polyurethane, rubber, and algae resin.
The brand's futuristic activewear is 100% vegan. Organic cotton, recycled polyester, and elastane create the brand's Y2K-inspired looks. Amorphous cut-outs, psychedelic prints, and a muted color palette grace ROMBAUT's tanks, tees, and bodysuits.
Delikate Rayne
Delikate Rayne is all about slowing down fashion and creating with a purpose. Sisters Meg and Komie Vora founded the vegan brand in 2013 after they couldn't find any vegan clothing that fit their edgy, fun style.
The brand creates womenswear that's modern, cool, and sexy. Its vegan leather bustiers, zip-up skirts, and lace-trim kimonos break through preconceived notions of what animal-free clothing can be.
Every Delikate Rayne piece is made in the United States in ethically-minded factories. In addition, the brand is constantly researching and using new, innovative cruelty-free materials and fabrics in its garments.
Groceries Apparel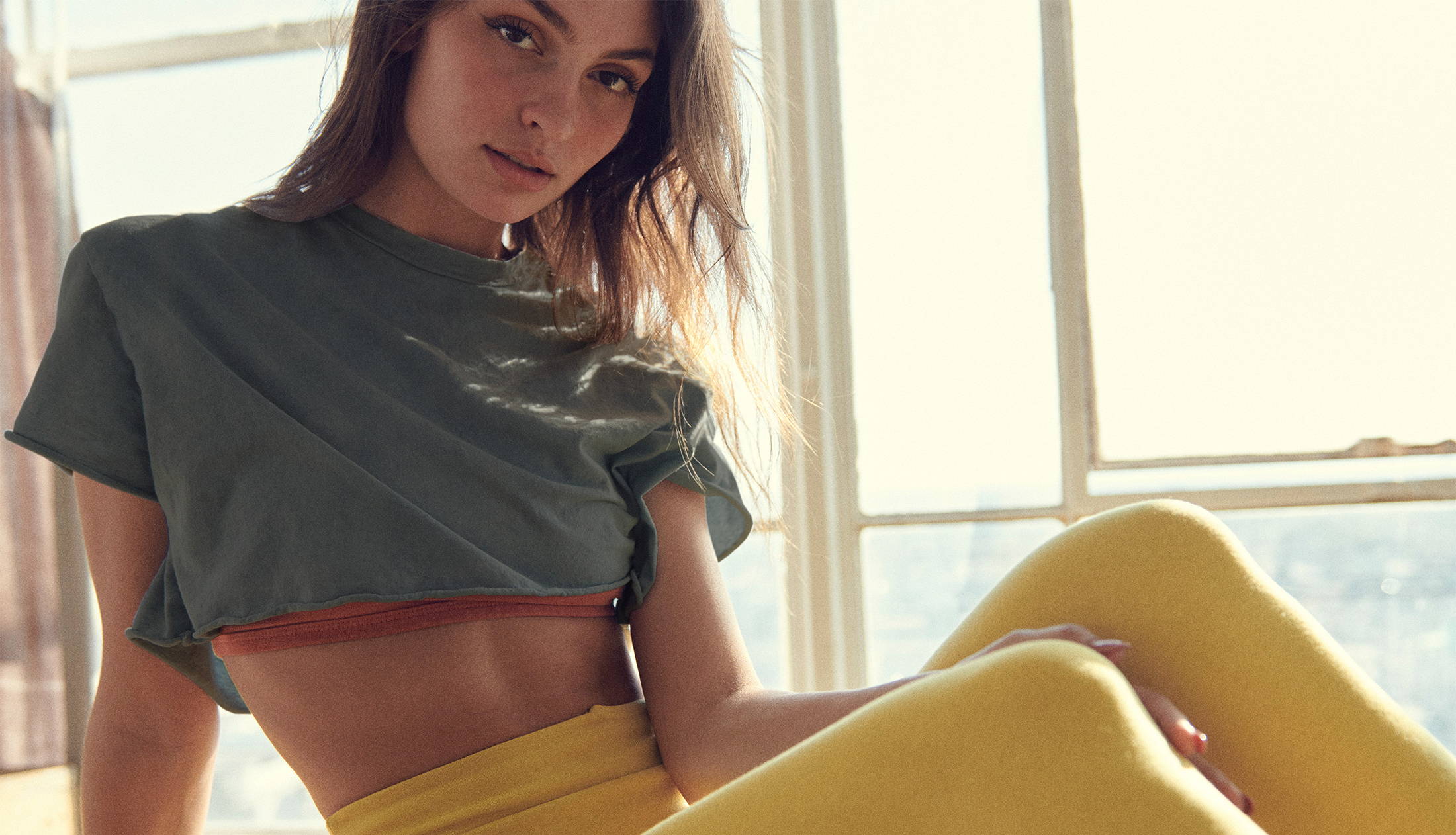 Groceries Apparel is taking a truly unique take on sustainability and circular fashion. The brand is literally using your old groceries to dye its clothing!
The LA-based brand built out its own high-volume non-toxic dye house and upcycles locally sourced food scraps to dye its clothing. Coffee grounds, avocado pits, onion skins, and more create non-toxic dyes for completely eco-friendly garments.
On top of being a fresh, innovative eco-brand, Groceries Apparel's clothing is cute to boot. Tie-dye matching sets, layered pencil skirts, and a perfect little black dress made of eucalyptus fiber are just a few examples of the brand's excellent, versatile basics.
No Nasties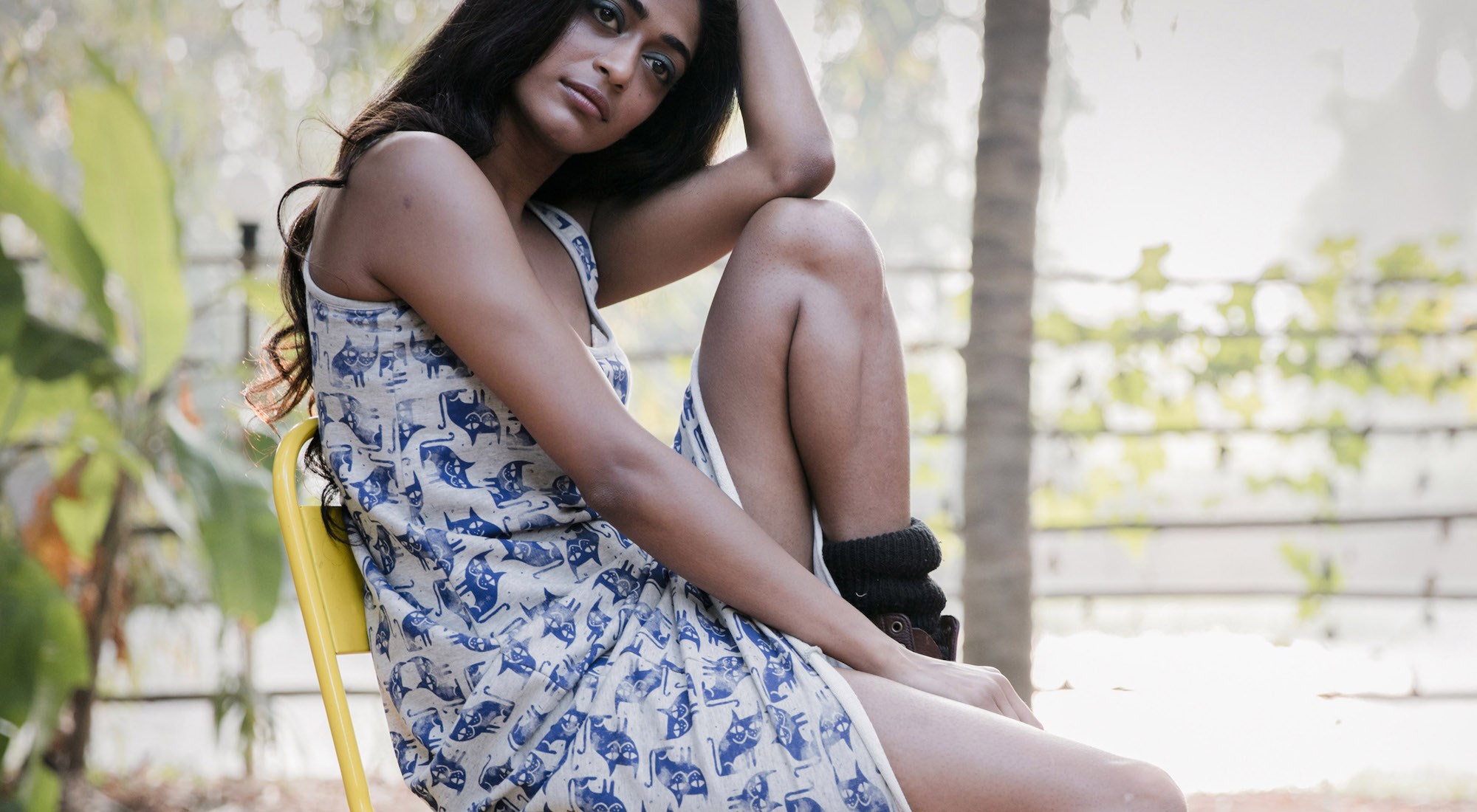 No Nasties is a genuinely unique vegan brand. Based in Goa, India, No Nasties is a sustainable pioneer because every piece of clothing it creates is planet positive. That means when you buy No Nasties, you're actually having a positive impact on the environment!
No Nasties only uses 100% organic cotton for its pieces. The brand even spins an organic cotton yarn to creat its cozy knitwear. In addition, the brand has a collection of tees, shopper bags, and henleys made from overstock cotton fabric.
The brand's pieces are excellent basics to add to any vegan wardrobe. Its drop-waist mini dresses, comfy hoodies, and adorably printed knits are all relaxed but refined. No Nasties also carries men's classics like button-ups, polos, and cozy jumpers.
Manufacture de Lin
Manufacture de Lin creates 100% vegan linen clothing for men and women. The brand, based in Kyiv, Ukraine, was established by two childhood friends, Olga and Tanya.
Manufacture de Lin's designs are relaxed, refined, and effortlessly cool. The brand's loose-fitting dresses, comfy trousers, and adorably rustic coats are all made from one of the most eco-friendly fabrics around. In addition, linen is plant-based, durable, and biodegradable.
Due to the war in Ukraine, designers Olga and Tanya had to evacuate their home city of Kyiv. Manufacture de Lin is selling prints of Olga's daughter's artwork to stand with Ukraine and support the brand during this challenging, tumultuous time. Its regular line-up of vegan-friendly clothing is also still for sale on the site.
ENDA
ENDA, founded in 2015 by designer Ran Enda, creates 100% vegan and ethical womenswear. The New York-based brand started due to Enda witnessing the unethical practices of manufacturing first-hand. ENDA is here to change that.
ENDA's designs are minimal, chic, and classic. Each piece works across seasons and will last in your closet forever. Dresses, tops, and jumpsuits are all made from vegan fabrics like organic cotton, TENCEL™, and viscose. In addition, all ENDA products use plant-based dyes.
The brand is PETA-approved vegan and handmade in the United States. ENDA works with a pattern-making house in New York to ensure each piece is one-of-a-kind, locally constructed, and ethically made.
Maylyn & Co
Designer May Deldari founded her brand because of her own sensitivity to synthetic fibers. She wanted to develop a line of super-soft, luxurious sleepwear sets made without harmful dyes or animal by-products. Thus, Maylyn & Co was born.
Maylyn & Co's lounge and sleepwear are made entirely from animal-free fabrics. Specifically, the brand sources vegan silk from the designer's home country of Iran. The silk is made from lotus fibers and is produced by hand, minimizing production waste.
Maylyn & Co's silk slips strike the perfect balance of comfort and sexiness. Lace accents and sumptuous colors create a sensual vibe, while the super-soft, breathable material keeps you cool all night.
Lé Buns
Lé Buns is an Australian-based vegan brand creating inclusive swimwear, intimates, and apparel. Its sleek, simple designs are known for being high-quality, comfortable, and durable.
Lé Buns' versatile, body-positive underwear and bras provide full coverage while remaining sexy and modern. The brand also offers maternity intimates made from organic cotton that work with your body, not against it.
The fabrics used by Lé Buns give its pieces long-lasting durability and luxurious comfiness. It only uses organic cotton and bamboo fabric in its apparel. In addition, the regenerated nylon thread used in its swimwear comes from recycled fishing nets in Italy.
Toad & Co
Toad & Co creates fashionable, comfortable men's and women's clothing for the outdoor enthusiast. Formerly known as Horny Toad, the company changed its name to Toad & Co in 2015 and doubled down on creating a truly sustainable brand.
Toad & Co's pieces are casual, fun, and comfy. In addition, it provides versatile basics that won't break the bank. For example, hoodie dresses, flannels, and overalls are all priced under $200 and consist of 100% organic cotton.
The brand's website provides a detailed outline of its sustainability practices and goals. In addition, you can search for clothing by fabric type, just in case you have a favorite material or want to avoid the handful of wool products in the lineup.
ADKN
London-based ADKN aims to create high-quality, affordable clothes that combat fast fashion's unethical, harmful practices. Established in 2013, ADKN only uses low-impact, animal-free fabrics and produces its clothes in small batches to avoid over-producing.
ADKN's designs are a dream for the professional vegan. The brand has a sizable collection of business casual dresses, tops, and trousers that are perfect for the office. In addition, its flowy, flirty dresses are cute without being too risqué.
In 2019, ADKN launched its first slow-fashion collection made of post-consumer plastic bottles. Today, most of its fabric is created from recycled plastic waste sourced from around the world.
TAMGA Designs
TAMGA creates sustainable, vegan clothing at accessible prices. The brand was founded in 2014 when Yana Barankin and Eric Dales worked at a non-profit in Bangladesh. They witnessed the aftermath of a horrific garment factory accident and decided to make a difference.
TAMGA never uses animal products in its fabrics and dyes. Instead, the brand's feminine, comfortable designs use sustainable materials like linen, ECOVERO™ viscose, and TENCEL™ Lyocell. In addition, its vibrant dyes are non-toxic and low-impact.
You don't have to sacrifice style or color to have completely vegan and responsibly created clothing. TAMGA's pieces are full of color, hand-drawn patterns, and modern, flirty silhouettes perfect for the office or a vacation.
Van Harper
When you land on Van Harper's website, it boldly declares, "We are not a fashion company." Instead, Van Harper wants to distance itself from the harmful and wasteful practices of the fashion industry by creating the most sustainable clothing brand possible.
Van Harper's comfy, casual athleisure collections are entirely produced in Europe using organic cotton and recycled polyester. Branded hoodies, cozy knitwear, and basic tees are sustainable essentials any guy can add to their closet.
The brand also produces a line of shoes, but while its recycled polyester designs are revolutionary, they're not entirely vegan yet. Most Van Harper shoe designs use some form of ethically sourced leather. Unfortunately, sneakers are notoriously difficult to produce sustainably.
Stella McCartney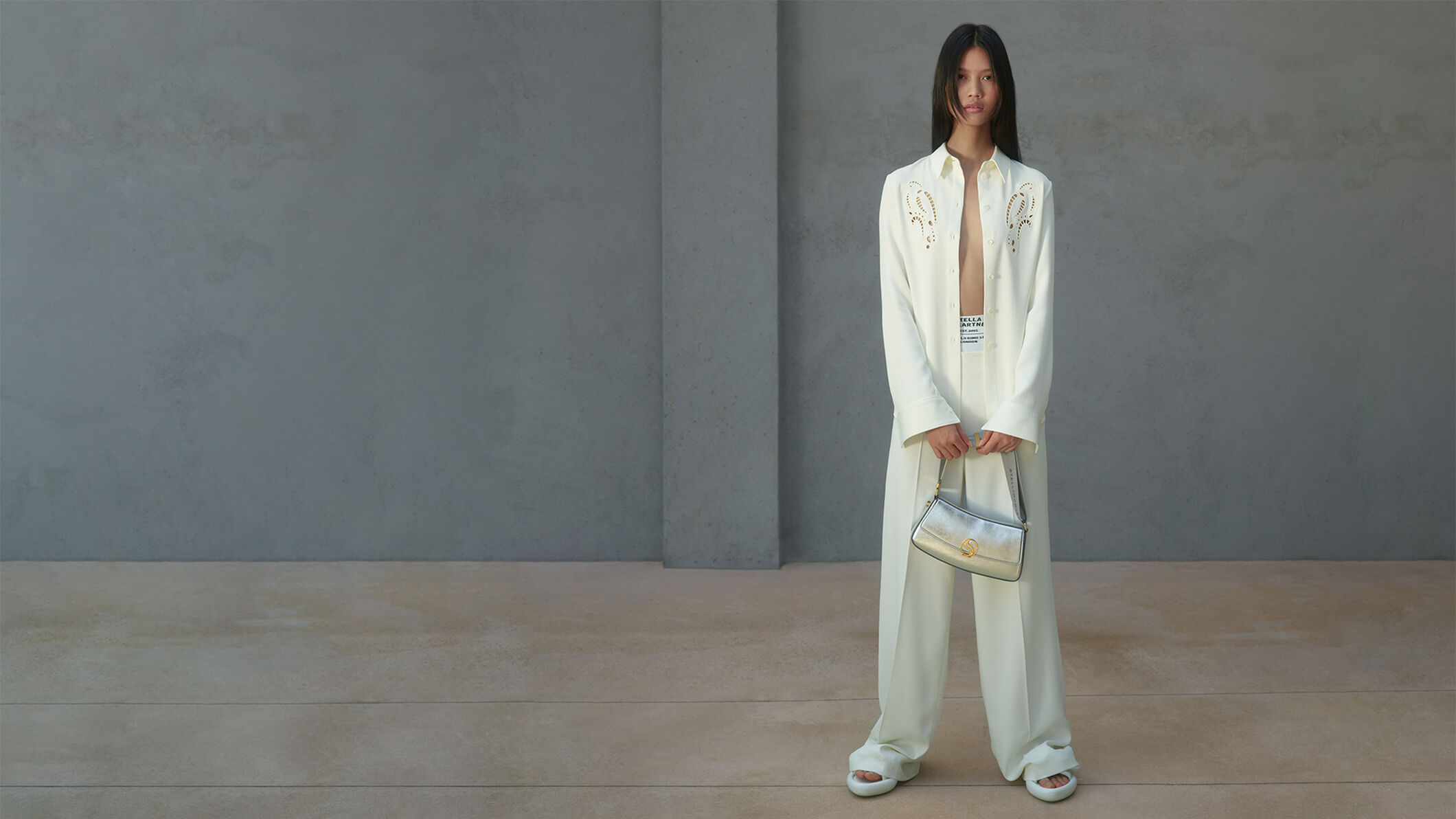 Stella McCartney's self-named brand has been cruelty-free since its inception in 2001. A vegetarian herself, McCartney has never used leather, fur, or feathers in any of her brand's designs.
While the label is not 100% vegan (yet), Stella McCartney offers a dynamic selection of vegan pieces that make great additions to any animal-free wardrobe. In addition, many pieces are made entirely from sustainable fabrics like linen, viscose, and organic cotton.
In addition, innovative vegan materials are constantly tested and introduced into the brand's collections. For example, Stella McCartney recently introduced an animal- and plastic-free leather called MIRUM® and is experimenting with synthetic silks.