If you haven't noticed, witchcraft is having a moment! From the Chilling Adventures of Sabrina to WitchTok, it seems that the witchy aesthetic is everywhere you turn.
With interest in witchcraft and all things mystical on the rise, more and more people are getting into the spellbinding style of witchy clothing brands. Whether you're a practicing witch, a fan of the supernatural, or just want to get in touch with your spiritual side, there are plenty of perfect witchy clothing brands to help you find your inner witch.
Of course, "witchy" can mean different things to different people. From dark goth to earthy boho, we've put together a guide of witchy clothing brands with a magical aesthetic bound to match any modern witch's style.
Here are 30 witchy clothing brands sure to cast a spell on your wardrobe.
Cosmic Drifters
Cosmic Drifters makes the most magical clothing for modern-day witches. Founded by artist Jenny Cook, this Leeds-based indie clothing brand explores creativity, storytelling, and magic through its designs.
Cosmic Drifters makes all of its pieces by hand, and most of its inventory is made to order. The brand illustrates gorgeous original patterns featuring celestial bodies, fungi, and any other magical iconography you can think of.
The brand's illustrated fabrics transform into flowing dresses, triangle shawls, and two-piece lounge sets that infuse a boho aesthetic with a witchy sensibility. Cosmic Drifters wants its shoppers to have fun and express themselves through fashion, and that's just what its bewitching designs do!
Foxblood
Foxblood is an excellent indie clothing brand for minimalist modern-day witches. The LA-based brand, founded in 2017, is run by Lindsay Hearts. Hearts is a former red carpet stylist and costume designer, so she knows a thing or two about what looks good.
Foxblood's designs are classic and draw heavily from vintage silhouettes. For example, its mock neck a-line dress is a witchy version of the quintessential 1950s silhouette. Also, its tulle Aurora Gown is straight out of a Jane Austen novel.
In addition to its black-centric clothing, Foxblood carries a huge variety of accessories. Its platform sandals, vegan leather purses, and retro-inspired sunglasses perfectly tie together any witchy outfit.
Restyle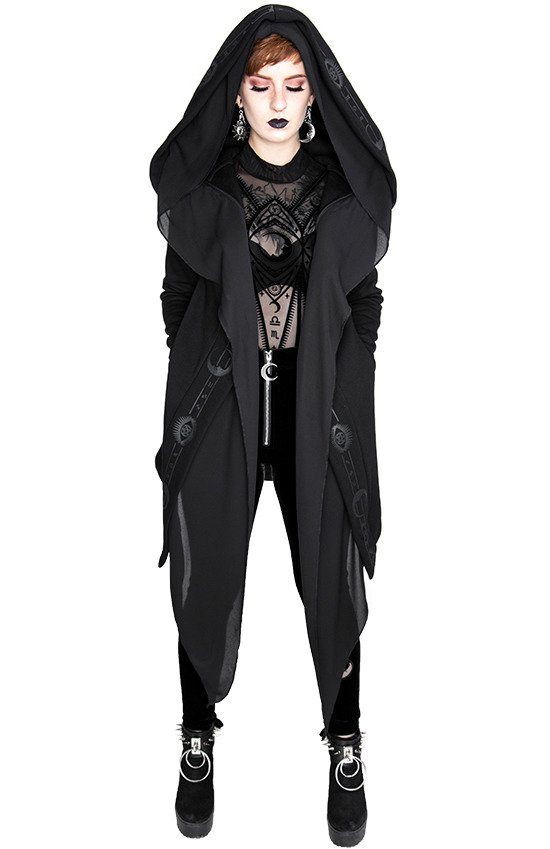 If you want to channel your inner goth witch, look no further than Restyle. The Polish brand, launched in 2009, features alternative goth clothing for those who love the "all black everything" life.
Restyle's designs are gorgeously witchy without being kitschy. Each dress, coat, and skirt is expertly constructed with high-quality materials. Plus, you can find a range of silhouettes, from sexy pencil skirts to flowing gowns. In addition, Restyle offers a comprehensive collection of corsets for all the Victorian goths out there.
Although most of Restyle's clothing is black, it offers plenty of different styles to match your specific witchy vibe. There are ethereal lace dresses for the fairy goth, ruffled velvet mini dresses for the vintage witch, and skin-tight suspenders embroidered with fern leaves for the earthy gals.
Hot Topic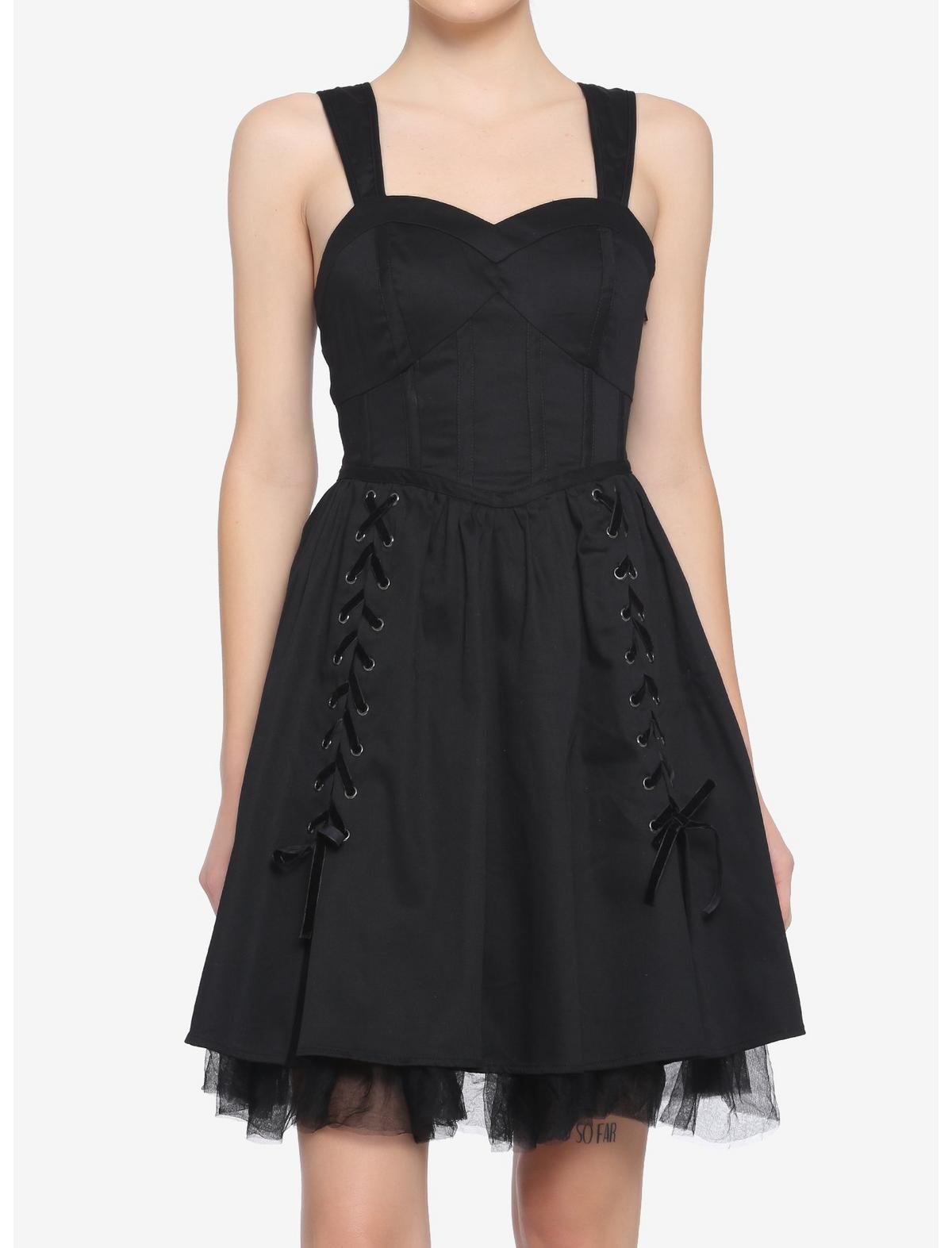 As any witch knows, you don't always feel like wearing all black all the time. Enter Hot Topic. The first Hot Topic opened in a California mall in 1989, and the world has never been the same. The essential cornerstone store for every mall goth and emo kid in suburbia is still going strong.
Today, Hot Topic creates a ton of cute, kitschy merch that appeals to nostalgia and pop culture fandoms. You can find colorful Care Bear cardigans next to Blink-182 band shirts. It's the perfect store to stock up on clothing that playfully celebrates the subcultures that so many witchy folks know and love.
In addition, Hot Topic serves classic witchy looks with its punk-inspired suspender pants, vintage rockabilly skirts, and cute midi dresses with natural patterns. Of course, these witchy designs come in a selection of dark colors like black, burgundy, and olive green.
Unique Vintage
One of the great things about witching clothing is its freedom of expression. There's a niche for every style, and Unique Vintage is here for all the pinup and rockabilly witches out there.
What began as a vintage reselling business is now a vintage-inspired retailer celebrating diversity and inclusion. Its designs are playful, feminine, and oh-so-cute. Although Unique Vintage's color palette is brighter than most witchy brands, there are still plenty of black, pink, and white 50s-style skirts and dresses.
Size-inclusive vintage fashion is hard to find, which is why Unique Vintage is such a gem. Founder Katie Echeverry ensures that each of the brand's designs comes in a range of sizes, from XS to 5X.
The Last Kult
The Last Kult is a slow fashion brand based in Birmingham, England. It's all about celebrating goth subcultures while advocating for sustainable fashion practices. What's more witchy than that?
The Last Kult makes "clothing for your personal dystopia," including cyberpunk, gothic, and post-apocalyptic designs. Its Blacker Than Sin collection is particularly witchy, with all-black looks full of lace, sequins, and velvet.
Each piece by The Last Kult is carefully made by hand with high-quality fabrics and materials. Its designs are irresistibly dreamy, too. For example, its Victorian mini dress features a high collar, flowing sleeves, and a short hemline for a timeless yet modern aesthetic.
Skydance
Skydance is hands-down one of the best witchy clothing brands for millennial goths. The Polish brand's designs are based on the quintessential Tumblr aesthetic of the 2010s. But, of course, everything is infused with a gothic flair.
Skydance creates dreamy pieces inspired by the moon, punk, and all things witchy. The brand carries everything from hoodies to babydoll dresses. Complete your wardrobe with glittery mesh tops, plaid tennis skirts, and grunge-inspired floral maxi dresses.
Skydance also carries a unisex line featuring graphic tees and pullover hoodies with gorgeously spooky screenprint designs. For example, its Wither Hoodie features a black and white print of dying roses against an ornate frame. Also, its Deathly Fairy t-shirt is a fan favorite.
Psylo
Psylo, founded by best friends Ami Ganiel and Dan Keller, creates universally edgy clothing for alternative globe-trotters. After traveling the world, Ami and Dan wanted to make comfortable and functional clothing that still expressed their unique sense of style.
Psylo's designs are sleek and modern with an alternative flavor. Raw hemlines, braided detailing, and slashed cutouts give each piece a dystopian vibe that fits right into a Mad Max scene. In addition, its muted color palette of gray, slate, black, and brown make the designs all the more edgy.
The brand's women's and menswear is perfect for anyone who wants to stand out while remaining comfortable. Its cuts and silhouettes allow for movement, breathability, and flexibility. In addition, all pieces use sustainable fabrics like organic cotton and upcycled materials.
Jawbreaker
Jawbreaker is an East London brand that channels the punk and goth aesthetic into deliciously witchy designs. From casual hoodies to suede overcoats, velvet dresses to harness skirts, Jawbreaker has everything your gothic witch heart desires.
You can channel your inner goth queen with ruffle babydoll dresses, Victorian collars, and velvet black high-low gowns. The brand even has a dedicated Wednesday Collection inspired by the fashion of Netflix's hit series Wednesday.
Jawbreaker is a wonderful witchy clothing brand because of its affordable prices. Most pieces come in under $100, and there's almost always a sale. So, check out this brand if you want to freshen up your black-on-black looks but don't want to break the bank.
Noctex
Noctex has what you need if you're looking for a more subtle witchy vibe. The sustainable Canadian brand creates androgynous, subtly alternative clothing out of deadstock fabrics. The brand aims to create a versatile, timeless capsule wardrobe for witchy souls.
Noctex offers colorful graphic tees with vintage and pop culture designs. In addition, it carries alternative classics like black velvet skirts, dystopian corset tops, and Y2K-inspired outerwear. For example, you can pair an ironic tie-dye Lion King tee with black cargo pants for a chill, witchy look.
In addition to its own designs, Noctex stocks apparel and accessories from other witch-friendly brands and indie designers. Noctex prides itself on featuring brands local to Canada and the US that follow sustainable practices.
NUIT Clothing Atelier
Witchy style comes in many forms. NUIT Clothing Atelier creates stunning pieces inspired by historical depictions of witches and mysticism. Founded by designer Anastasia Ikonnikova in 2012, NUIT is truly one-of-a-kind.
All of NUIT's collections draw inspiration from archetypes and historical female figures that have an inherently witchy vibe. NUIT's designs marry "the sacred and profane" with ethereal fabrics, powerful silhouettes, and subtle detailing. The brand's seasonal collections feature expertly draped capes, meticulously constructed bustiers, and gauzy dresses.
For example, its recent Fall/Winter collection draws inspiration from historical undergarments. Pannier corsets, drawstring skirts, and see-through robes stand on their own as complete outfits made to be seen.
Ovate
Ovate is a witchy slow fashion brand that crafts beautiful monochromatic garments inspired by historical fashion and minimalism. Founder Audrey Cantwell designs and sews everything herself with the assistance of a small team, making each piece a true work of art.
Ovate's designs are elegant, earthy, and classic. With natural fibers like cotton, linen, wool, and silk, Cantwell creates dresses, trousers, and skirts that are timeless and austere. For example, its Vetiver dress features a v-shaped waistline reminiscent of a classic witch outfit, with a fitted bodice and gathered hem.
Other pieces in Ovate's collection are reminiscent of Puritan silhouettes, which inevitably brings to mind the Salem witch trials of the 1690s. Reclaiming knit bonnets, stand collars, and minimal embellishments as fashion statements seems pretty witchy to us.
Voriagh
Voriagh is a French clothing brand that plays with the classic witchy wardrobe of centuries past. The brand's name derives from the Old Norse word for Vikings, explorers, and traders. Voriagh's designs live up to the brand's name with their historically-influenced cuts and embellishments.
Voriagh's austere shirts, simple shift dresses, and minimalist outerwear harken back to simpler times when we were connected to our natural surroundings. For example, its wool coats are perfect to wear while foraging for mushrooms in the fall forest.
Voriagh's designs are the perfect witchy additions to any wardrobe. Its dresses are so unique that they work if you wear them on the daily or choose one for a special event. Its Alina embroidered dress is a particular stand-out. It draws inspiration from ancient Norwegian corset dresses and features hand-embroidered bird patterns.
Celtic Fusion
The history of witches is tied in with folklore from around the world. Celtic Fusion celebrates Ireland's ancient Celtic and Viking history with its unique alternative clothing. Designer Regina Tierney began her brand after failing to find clothing that reflected her love of Ireland's "wild beauty" and history.
Celtic Fusion's garments are perfect for those who want an original witchy costume or everyday essentials that celebrate their own Celtic heritage. Its dresses and capes feature Celtic embroidery, earth-toned tartan, and other folk elements. Many of its pieces, like its flax tops, are versatile enough to incorporate into an everyday wardrobe.
Celtic Fusion also offers custom bridal dresses made to order by Tierney herself. Each dress uses all-natural fabrics and incorporates classic Celtic design elements. While each piece is unique, flowing sleeves, ethereal draping, and Celtic embroidery are always present.
Arcane Trail
Arcane Trail, founded in 2018, makes gloriously dark clothing for "pagans, Wiccans, and goths." Its designs draw from mysticism, the occult, and dark aesthetics. This witchy clothing brand is perfect for those who love sultry silhouettes and daring hemlines.
There's plenty of lace, leather, and chains in Arcane Trail's pieces so you can channel your inner bad babe spirit. For example, its lace and leather bustiers feature peek-a-boo lace-up fronts and plunging necklines. Also, its form-fitting black dresses are the perfect marriage of punk and sultry goth.
In addition to its feminine, goth-inspired clothing, Arcane Trail carries a selection of lifestyle accessories and mystical supplies. For example, you can get new tarot cards, incense, and crystal jewelry. After all, being a witch is more than a fashion statement. It's a way of life.
Holy Clothing
Holy Clothing is a slow fashion brand that makes gorgeously witchy, fantasy-inspired clothing. The body-positive brand, founded in 2001, creates everything you need to create the perfect fantastical outfit, including overdresses, chemises, and skirts.
Holy Clothing offers various dress styles, including Wiccan, Renaissance, Celtic, and Viking-themed collections. Its gorgeous designs feature flowing fabrics, hand-embroidered detailing, and magical silhouettes.
If you want to channel your inner fairy, elf, or fantasy-inspired witch, you can't go wrong with any of Holy Clothing's sustainably made pieces. Pair a full-length gown with braided detailing and flowing tulle over a cotton chemise. Throw on a witchy cloak, and your outfit is complete!
Elven Forest
Elven Forest is another size-inclusive, slow-fashion brand that crafts immaculate fantasy gear for all the modern witches out there. The brand makes everything by hand and specializes in creating custom pieces that fit perfectly, no matter your size.
Elven Forest is fantastical but grounded in the modern day. Its ready-to-wear dresses feature contemporary silhouettes and cute details like pockets and pixie hemlines. Also, each piece has a tinge of fantasy with roomy hoods, celestial fabric accents, and flowing sleeves.
Overall, Elven Forest's clothing is excellent if you want something witchy without being too "costumey." The brand uses comfy, stretchy fabrics like cotton and spandex to construct pieces that look casual enough for every day but can easily be dressed up for a more formal gathering.
Killstar
If you're looking for trendy witchy clothing on a budget, check out Killstar. The affordable brand is known for its wide selection of witchy clothing and accessories for men and women. From bodycon dresses to lingerie, velour hoodies to corsets, Killstar has it all.
The vibe of Killstar's designs is dark, gothic, and edgy. Its mesh and lace see-through dresses are not for the faint of heart, as are its bondage-inspired body suits and underthings. However, there are also plenty of other options, such as its vegan leather coats trimmed with faux fur or its lace-lined skull-and-roses dress.
In addition, Killstar is an excellent option for witchy clothing because of its line of plus-size styles. You can get some of Killstar's most popular designs in extended sizes up to 4XL. A major perk is that Killstar prices its plus-size pieces about the same as its other sizes, unlike many other brands that charge extra.
Magick Workings by WitchyMade
Magick Workings by WitchyMade is a small indie brand based in Sisters, Oregon. The brand runs a small website and Etsy shop full of empowering clothing and accessories that help get in touch with your witchy side.
Magick Workings offers casual clothing for all the witchy guys and gals. Its tees, hoodies, and long-sleeved shirts feature bewitching designs with moons, butterflies, and skulls galore. In addition, each design has an intention behind it.
For example, its Moon Goddess Hoodie features the moon's phases to get in touch with your celestial side. Magick Workings also makes fan merch for your favorite pop culture witches, like the Sanderson Sisters and Glinda the Good Witch.
Cat Coven
Cat Coven is a labor of witchy love run by artist and designer Kjersti Faret. The indie brand is based in Harrisburg, Pennsylvania. It features one-of-a-kind designs that are sacred, profane, and adorable.
Cat Coven's 100% cotton apparel features playful designs that are simultaneously dark and whimsical. For example, its "Halloween Is A Lifestyle" tee features a vintage-inspired jack-o-lantern rejoicing in the spooky holiday spirit. Another design reads, "I am full of magic!" and features a celestially relaxed black cat living her best life.
Cat Coven's clothes are screen printed by hand and released in limited quantities. Its upcoming release is called The Everday Fantasy Collection. It's a crowd-funded collection of medieval and witchy attire perfect for galavanting around at the next Ren Faire that comes into town.
Turn Black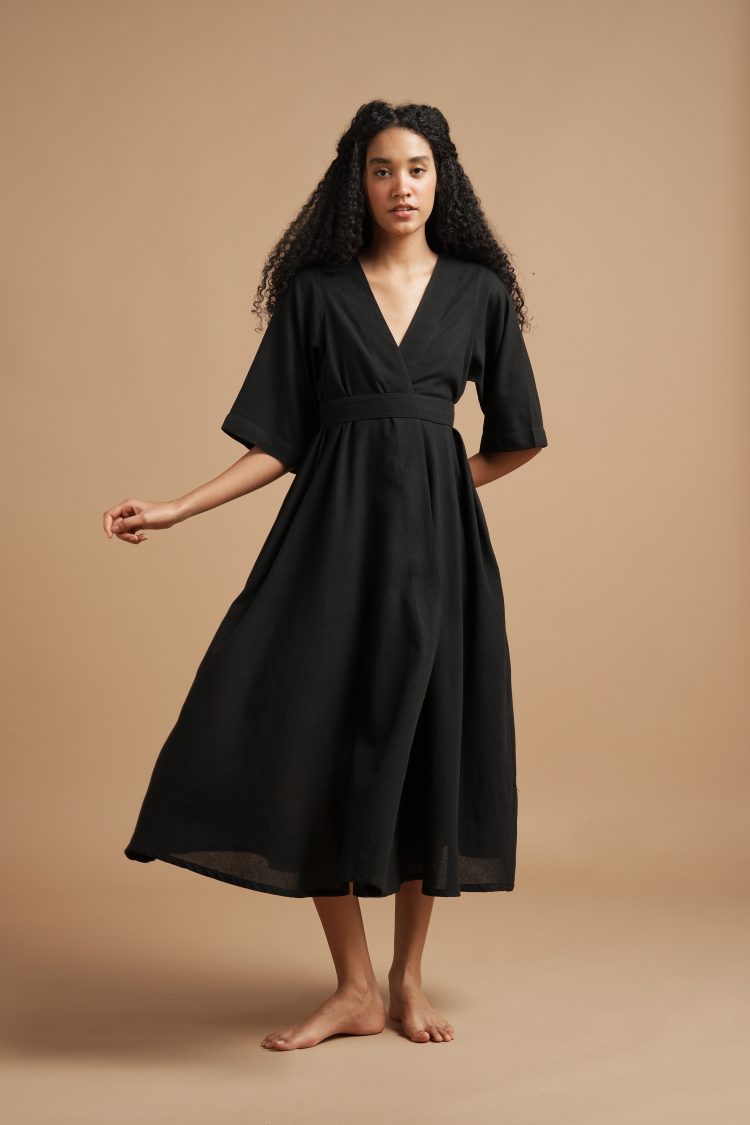 Being witchy doesn't mean you always have to wear lace and leather. Turn Black has what you need if your style is more minimal and quiet. As its name implies, the brand crafts unique pieces in only one color: black.
Turn Black celebrates the color's dark and foreboding reputation by fully embracing it. Turn Black's artistic mission is to free people from the confines and bias of society. Through its simple, streamlined designs, you can find your freedom to be your witchy self.
Turn Black explores the witchy aesthetic through minimalist design and classic silhouettes. Its matching sets, flowing dresses, and outerwear are expertly tailored, refined, and timeless. Both men and women can build a complete minimalist goth wardrobe with this brand.
Black Milk Clothing
Black Milk Clothing is a fun-loving Australian brand that makes it easy to infuse color into any witchy wardrobe. The brand was founded in the early 2000s by designer James Lillis, who pawned his CD player to buy his first sewing machine.
Today, Black Milk is extremely popular and has a huge cult following of witchy fashionistas. It offers an endless selection of dresses, bodysuits, tops, and more that infuse pop culture, bright colors, and adorably dark designs. For example, its licensed Sanrio pieces feature beloved characters like Maru on all-black tees, mesh tanks, and more.
Black Milk stands out for its punchy collection of fun dresses. You can get colorful mini dresses featuring pop culture characters or all-black pieces if you want something more refined. You can even find timeless goth pieces like lace-up corsets and celestial-themed overalls.
Nour & The Merchant
Nour & The Merchant is part art project, part indie label. Designer Cristina Ghanem started Nour & The Merchant to honor the memory of her mother. Cristina grew up loving her mom's fairytales and created a brand that captures the same sense of wonder and fantasy.
Nour & The Merchant's pieces are luxurious and breathtaking. Each handmade dress captures a sense of fantasy. In fact, each piece is crafted around a specific fairytale or magical source of inspiration. For example, its Puritan-inspired Molly dress draws inspiration from the Dark Academia aesthetic and the magic of autumn.
In addition to its collection of fairytale dresses, Cristina and her team work one-on-one with brides to make couture wedding gowns that are absolutely dreamy. In addition, Nour & The Merchant has a boutique in Ferrara, Italy, where you can see all its magical designs first-hand.
HagCraft Farm
HagCraft Farm is a one-woman indie label based in rural Virginia. The brand's owner and designer, Leann, draws inspiration from nature and history to create her sustainable alternative pieces.
HagCraft's designs are earthy, romantic, and comfortable. Its exclusive collections feature handmade dresses, tops, and cloaks that capture the magical elements of nature. In addition, organic and upcycled fabrics like hemp and bamboo are naturally dyed lush earth and jewel tone colors.
The indie brand's pieces perfectly capture the spiritual connection many witchy people feel to the natural world. For example, its hooded cloaks have tie-dye patterns that resemble reflections of the night sky or a dark forest floor. HagCraft is an excellent witchy brand to check out if you love the holistic side of witchcraft.
Disturbia
Disturbia has been making mysterious, witchy clothing in the UK since 2003. Founder and designer Francis Major bases Disturbia's aesthetic on the Rebellious Magician archetype. So, there's plenty of the esoteric and occult in the brand's designs.
Disturbia has something for every genre of gothic witch. From metalheads to horror queens, this brand has it all. For example, its 90s-inspired fantasy graphic tees feature mythical creatures and grand adventures. However, if fantasy isn't your thing, the brand has slinkier alternatives like black velvet corset tops.
Disturbia is an excellent witchy brand because it offers a huge selection of reasonably priced styles. Most of its dresses come in under $100 and are totally unique. For example, you'll be hard-pressed to find similar midi dresses with screen-printed snakes, barbed wire, and mushrooms elsewhere.
The Pretty Cult
The Pretty Cult is one witchy cult you won't mind following. One look at its gorgeous designs will tell you why. Founded by designer Arielle Salsa in 2015, The Pretty Cult creates size-inclusive gothic apparel for the inner witch in all of us.
The Pretty Cult's designs are simple yet edgy. Velvet crop tops, tulle babydoll dresses, and celestial robes infuse a vintage sensibility into cute, elegant silhouettes. The brand also offers some pops of color, such as its leopard-print cami tank and burgundy cloaks.
In addition, The Pretty Cult makes plenty of witchy streetwear. Its screen-printed tees feature larger-than-life renditions of tarot cards and archetypes done in an American Traditional tattoo style. We dare you to choose just one!
Rogue + Wolf
Rogue + Wolf is a self-proclaimed purveyor of dark fashion and all things occult. The indie brand is all vegan and celebrates originality and provocative style. This brand is for you if you have a tough witchy exterior but secretly love getting in touch with your spiritual side.
Rogue + Wolf's aesthetic is sleek, modern, and dark. Its graphic tees feature bold black-and-white screen prints of tarot card designs, celestial skies, spellbinding creatures, and more.
The brand creates cheeky, humorous designs, too. For example, some shirts feature witchy recipes, like how to make a "Kill Your Enemies" potion or a spell to exit an awkward social situation dramatically.
Dr. Faust
Dr. Faust is a UK-based brand supplying some of the best gothic styles for men and women. Its versatile and affordable designs make it a great option if you want to dip your toe into the gothic style.
Dr. Faust offers an extensive collection of dresses featuring vintage silhouettes and vixen vibes. If you're feeling playful, there are plenty of 50s-inspired halter dresses with fun patterns like black cats, flamingos, and cheetah prints.
If you're feeling spicy, Dr. Faust also offers skintight bodycon and mini dresses– all in black, of course. In addition, the brand has a line of unisex and men's tees and jackets featuring dark, goth graphics. That way, no one has to feel left out.
Bewitched Wicker
Halloween is by far the witchiest holiday, for obvious reasons. Bewitched Wicker has the best spooky apparel for people who love celebrating Halloween all year. The Chicana-owned brand is based in Montebello, California, and serves cute vintage-inspired fashion.
Bewitched Wicker makes adorably spooky dresses, knits, and separates that fully embrace the vintage and kitsch aesthetic. For example, you can find 50s-inspired cardigans embroidered with purple bats, candy corn, and Nightmare Before Christmas characters. Also, its sweaters feature classic knit patterns with stylized ghosts and bats.
Bewitched Wicker's dresses and skirts are cornerstones of the brand's apparel. Its silhouettes, patterns, and designs are heavily influenced by rockabilly, tiki, and occult styles. So, you can find everything from celestial wrap dresses to pin-up worthy a-lines.
Black Mast
Sometimes wearing all black just isn't enough. That's where Black Mast comes in handy. The LA-based indie brand creates spooky and sarcastic apparel, which is perfect if you like your witchy vibes with a side of horror.
Black Mast's designs are fun and horrifying at the same time. Its pieces infuse humor, artwork, pulp, and gore into bright, creepy graphics and patterns. For example, its Bloody Valentine collection features skulls and bleeding hearts in lovely shades of pink and red.
A small team runs Black Mast, and they achieve an indie aesthetic in everything they create. Co-owner Brandon Redenius creates the brand's designs and artistic patterns. In addition, the brand is stocked in a select few indie clothing stores across the US, from Salem, Massachusetts, to San Francisco.