Sketchy Tank is one of the most famous artists to arise out of the internet in recent years. His slightly disturbing, humorous illustrations appeal to street art lovers, hipster kids, and underground subcultures alike.
Sketchy Tank founded Lurking Class to build a community of fans "for whom normalcy is not an option." His iconic skeleton characters feature prominently on t-shirts, hoodies, and other streetwear staples.
Although Lurking Class is a brand like no other, many fans of the artist are on the hunt for other brands that are similar in style.
You've come to the right place if you're looking for alternative clothing brands that capture the same outsider art vibe as Lurking Class. Here are 20 cool brands like Lurking Class by Sketchy Tank.
A Lost Cause
A Lost Cause is an artistic streetwear brand that captures the same irony and sense of humor as Lurking Class, with a metal edge. So if you love Lurking Class' skeleton imagery, A Lost Cause is the brand for you.
A Lost Cause crafts screenprint designs with snappy slogans, dark imagery, and ironic phrases. Psychedelic-inspired graphics are combined with heavy metal typography to create something entirely new. For example, its "Dead Inside" tie-dye shirt features a melting smiley face with an ominous skull underneath.
The brand also has plenty of cheeky horror-inspired graphic tees and hoodies. Its recent collection of neon-inspired artwork features slogans such as "Love You to Death" and "Death's Embrace" juxtaposed with bright, cartoonish illustrations. Overall, A Lost Cause is the perfect brand to tap into your dark side.
Boss Dog Art Dept.
Boss Dog Art Dept. is an artist-owned and operated brand based in Palm Springs, California. Artist Mikey Boss Dog co-owns the brand with his partner Sam and creates all the highly detailed, brightly colored designs.
Boss Dog Art Dept.'s aesthetic may look intimidating to some, but the brand is all about positive vibes, mental health, and progressive values. Classic comic book illustrations heavily influence Boss Dog's artwork, and the vivid colors and bold linework stand out on each tee and hoodie.
The brand works at its own pace, releasing limited edition product drops every few months. Boss Dog is an artist dedicated to his craft and focuses on the process rather than the fast-paced cycle of social media.
Supreme
Supreme is perhaps one of the most famous streetwear brands ever, making it an easy comp to Lurking Class' skate-inspired apparel. Supreme was founded in 1994 by James Jebbia as a small indie skate shop in New York City. Today, it is one of the most coveted brands.
Supreme is known for its iconic, minimalist logo and unique takes on pop culture imagery. Its designs intersect streetwear and high fashion, using innovative fabrics and patterns to elevate puffer jackets, hoodies, and more.
Its latest Spring/Summer 2023 collection features bold logos and styles that call back to subcultures and street styles of the 90s. Its Kurt Cobain Sweater features an oversized image of the famous singer printed on the front, making it a stand-out collection piece.
Broken Promises
Broken Promises, founded by Mandee Bence and Jason Blake, is a streetwear and lifestyle brand that embraces complicated human emotions. Its bright, detailed designs grace hoodies, tees, swimsuits, and more.
Broken Promises has what you need if you love stand-out graphic design and classic horror-inspired illustrations. Its tees, hoodies, and joggers feature everything from tie-dye horror monsters to death metal anime designs.
Broken Promises remains an indie label but has collaborated with major brands like Hot Wheels, Casper, and Mountain Dew. This innovative brand is always thinking up a new product drop, so it's an excellent brand to keep on your radar.
SWIXXZ
Some lovers of Lurking Class' skeleton characters may seek clothing brands with a more gothic edge. That's where SWIXXZ comes in to save the day. Founded by musician Maggie Lindemann, SWIXXZ embraces everyone who doesn't fit into the status quo.
SWIXXZ creates bold graphics that are every goth's dream come true. Grim reapers, spider webs, and skeletons prominently feature on its black hoodies, tees, and crop tops. The brand also offers more unique pieces like corset tops and halter tanks.
SWIXXZ is more than an underground online store. Its pieces are carried in ZUMIEZ stores across the country. In addition, the brand has recently branched out to some ZUMIEZ Canada locations.
Sullen
Sullen is a mainstay in the underground streetwear scene. Founded in 2001, Sullen celebrates Southern California beach and tattoo culture. Its resulting graphic designs are true works of art.
Sullen collaborates with different tattoo artists and graphic designers to create bold, larger-than-life designs that pay homage to classic tattoo iconography and the subculture's ever-evolving style. As a result, you can find everything from traditional linework to neo-traditional art designs.
If you're not into the brand's seasonal artist collaborations, have no fear. Sullen also creates more minimal branded tees and tanks for brand fans. Its logo, a modern take on the classic skull and crossbones, features heavily in its everyday essentials.
Emma Atterbury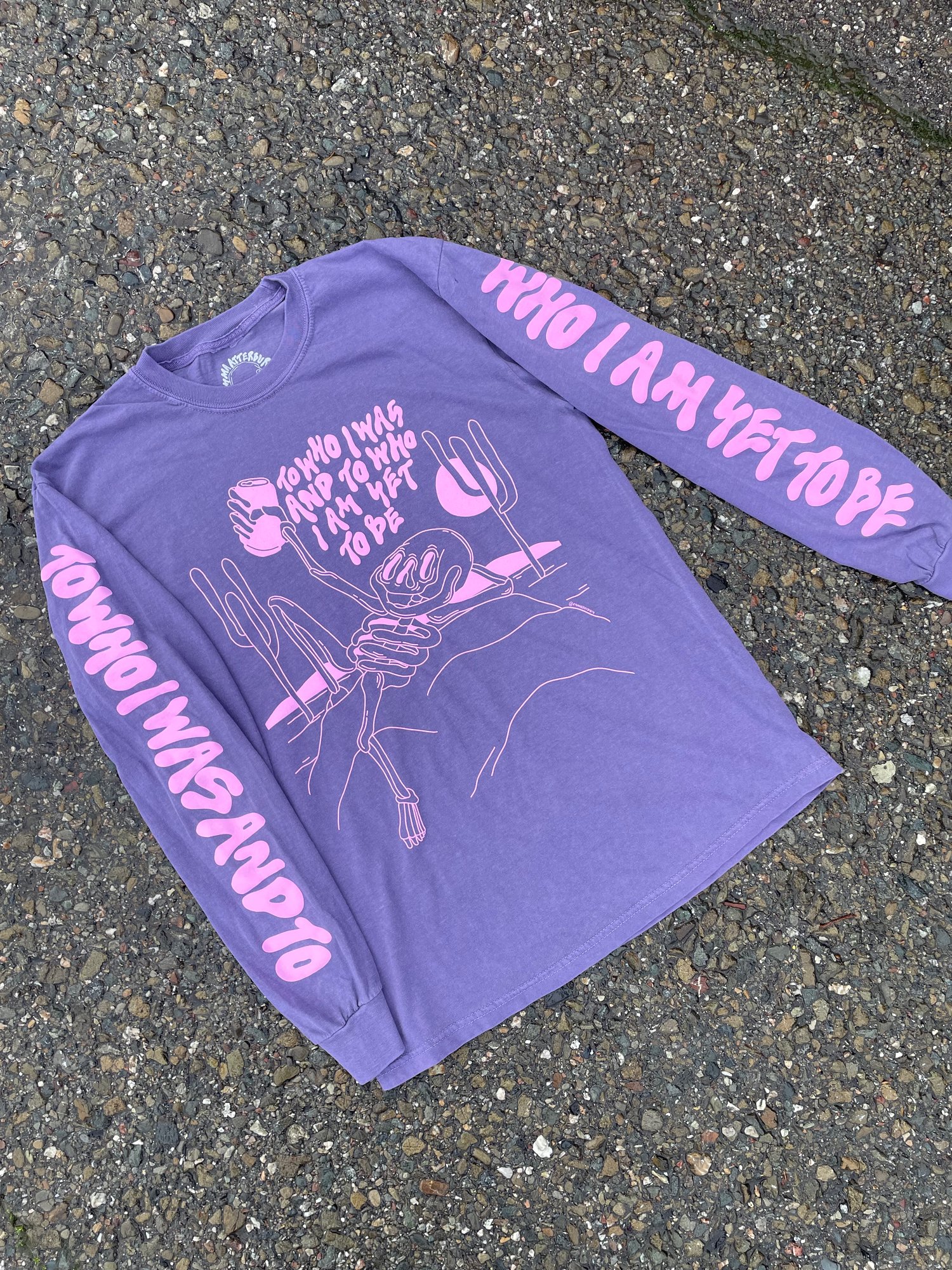 Emma Atterbury is an artist and designer based in Oakland, California. Her eponymous brand features her colorful, enchanted artwork on classic streetwear, such as hoodies, t-shirts, and sweatpants.
Emma Atterbury's skeleton illustrations are more psychedelic, saturated versions of Sketchy Tank's work. Her clothing is perfect if you're looking for something bright and cute with a little bit of edge. Her illustrations feature positive messages in dripping letters, such as "Our Paths May Be Different, But We Are All Connected."
In addition to tees and sweatshirts, Emma Atterbury offers illustrations on stickers, beer cozies, and socks. The brand's bucket hats are a trendy addition and feature high-quality embroidery of her signature happy skeletons.
Wicked Clothes
If you find Lurking Class' designs cute and creepy, check out Wicked Clothes. Founded in 2010, this brand's vibe is "goth meets dad jokes." It's the perfect brand to add to your rotation of creepy cute miscellany.
Wicked Clothes combines humor and horror into all of its designs. Its unisex tees feature bold graphics that comment on the modern-day agony of being alive. For example, it recently released a design featuring a skeleton on fire in front of a computer. The text reads, "I hope this email finds you well."
If dark death-related humor isn't your thing, plenty of other, more light-hearted designs exist. For example, there's a design of a skeleton hand "booping" an adorable black cat on the nose. Or, grab a hoodie that reads, "empathy is more rebellious than a middle finger." Overall, Wicked Clothes is wicked good fun.
Creepy Co.
Creepy Co. is a brand similar in style to Wicked Clothes, focusing more on classic horror films and pop culture. The casual graphic apparel from Creepy Co. is an excellent addition to your wardrobe if you love the creepy vibes of Lurking Class.
Creepy Co. leans into all types of horror styles, from classic pulp to modern minimalism. In addition, you can find unisex graphic tees featuring your favorite horror characters like Chucky and Michael Myers.
If you need to get a little more dressed up, there are plenty of button-up tees featuring creepy patterns like coffins, Bela Lugosi, and swamp monsters. Creepy Co. creates infectiously fun styles. You'll open your wallet with just one look at its online store.
Discount Cemetery
Discount Cemetery creates clothing at the intersection of punk rock, science fiction, and horror. The brand creates casual clothes with quirky, unique artwork that explores dark themes in a light-hearted way.
Discount Cemetery's apparel features a huge range of artwork. There are homages to classic horror films, like "Creature from the Black Lagoon" and "Dracula" (Bela Lugosi's rendition, of course). Also, the brand has varsity-inspired tees that simply read "Cemetery" or "Cremated Remains." Perfect for those with a sense of dark humor.
Discount Cemetary handprints all of its designs in its Los Angeles studio. In addition, the brand is dedicated to making the world a better place through its clothing sales. Some proceeds are donated to foundations like the ACLU and LA LGBT Center.
Last Call Co.
Last Call Co. is another clothing brand that heavily features skeletons and skulls in its designs. In addition, the brand creates imagery that plays on the double meaning of "last call" as either a final drink or a last chance.
Last Call Co.'s graphic tees feature designs perfect for all the creepy beer and coffee lovers out there. The grim reaper is featured sipping a cup of morning joe, and a skeleton hand pours a tall glass of draft beer. In addition, the brand's signature skeletons can be seen fighting, dancing, and chilling in other t-shirt designs.
The brand's designs are bold, minimalist, and eye-catching. Its illustration style is in the vein of traditional tattoo style, with a minimal color palette and bold linework. Last Call Co. is a perfect brand for fans of that art practice.
Cool Shirtz
The brand Cool Shirtz doesn't take itself too seriously. This brand stands out from the rest with its bold, eclectic approach to t-shirt design. The only way to describe this brand's vibe is chaotic but in a good way.
Cool Shirtz is a cool brand for fans of Lurking Class who love the brand's dark themes but want more color. Cool Shirtz is a maximalist's dream come true. Explosions of color grace every printed tee and sweatshirt, from anime-inspired characters to ironic vintage-inspired fantasy motifs.
Cool Shirtz offers some stand-out, avant-garde pieces in addition to its standard t-shirt fare. For example, The Very Long Hoodie seems more like an art piece than a piece of clothing, but it is totally functional. A quick dive into this brand's designs quickly reveals there is more than meets the eye.
Wizard of Barge
Many people who love outsider art like Sketchy Tank naturally gravitate towards subcultures like Dungeons and Dragons and high fantasy. If you are one of those awesome people, check out Wizard of Barge.
Wizard of Barge is an indie clothing label owned by Los Angeles-based artist BARGE. BARGE is a friendly local wizard who creates fantastical artwork featuring D&D references, iconography, vivid colors, and elaborate lettering.
Each design features menacing monsters and twists of humor. For example, its BDSM tee features wizards, dragons, and sparkles in BARGE's signature cartoonish style. Oh, and "BDSM" stands for "Battles, Dragons, Swords, Magic." What did you think it meant?
Minor Misfortune
Like Lurking Class, Minor Misfortune focuses on and even celebrates the darker themes of life. Based in Los Angeles, Minor Misfortune was created by a group of friends who all experienced a minor tragedy during the trip. They founded the brand to celebrate how these misfortunes increased their lust for life.
Minor Misfortune draws inspiration from art practices like American traditional tattooing and pop artists like Roy Lichtenstein. In fact, the female characters in its designs are directly inspired by Lichenstein's paintings.
The brand's designs are snarky, ironic, and irreverent. For example, one t-shirt design features a skeleton hand emerging from a coffin with the line "Stay Optimistic" printed across the top. This brand is perfect for lovers of outsider art who are tired of the toxic positivity that is all too common these days.
Doomsday Co
Doomsday Co is a UK-based skate and streetwear brand that celebrates the artistry of tattoo culture. The brand began as a way for its founders to display their passion for traditional tattoos before they were legally allowed to get one.
Today, the brand collaborates with some of the top tattooers in the business. Featuring work by different tattoo artists allows the brand to offer various styles, from Japanese-inspired imagery to minimalist linework drawings. Doomsday also produces shorts, button-ups, and cardigans if you can't get enough.
Doomsday Co is a small business that loves to support and celebrate independent artists. All Doomsday designs are printed in its South Wales studio on high-quality garments. So when you order a t-shirt from Doomsday Co, you get a piece of art.
No Fit State
No Fit State is a Birmingham-based streetwear brand creating gritty horror-inspired artwork that will warm the heart of any Lurking Class fan. The brand's designs are bold, playful, and made to stand out.
No Fit State produces graphic tees with prints of black-and-white crows, colorful Hayao Miyazaki characters, and everything in between. This brand is an excellent option for shoppers who love pop culture references but what something more underground and subtle.
This brand has plenty to offer fans of edgy, gothic imagery. Stark prints of Baphomet and a skull with bleeding eyes are particular stand-outs. But, if dark art design isn't your style, have no fear. There are t-shirts featuring Prison Mike and Slimer, too.
Mystic Vibes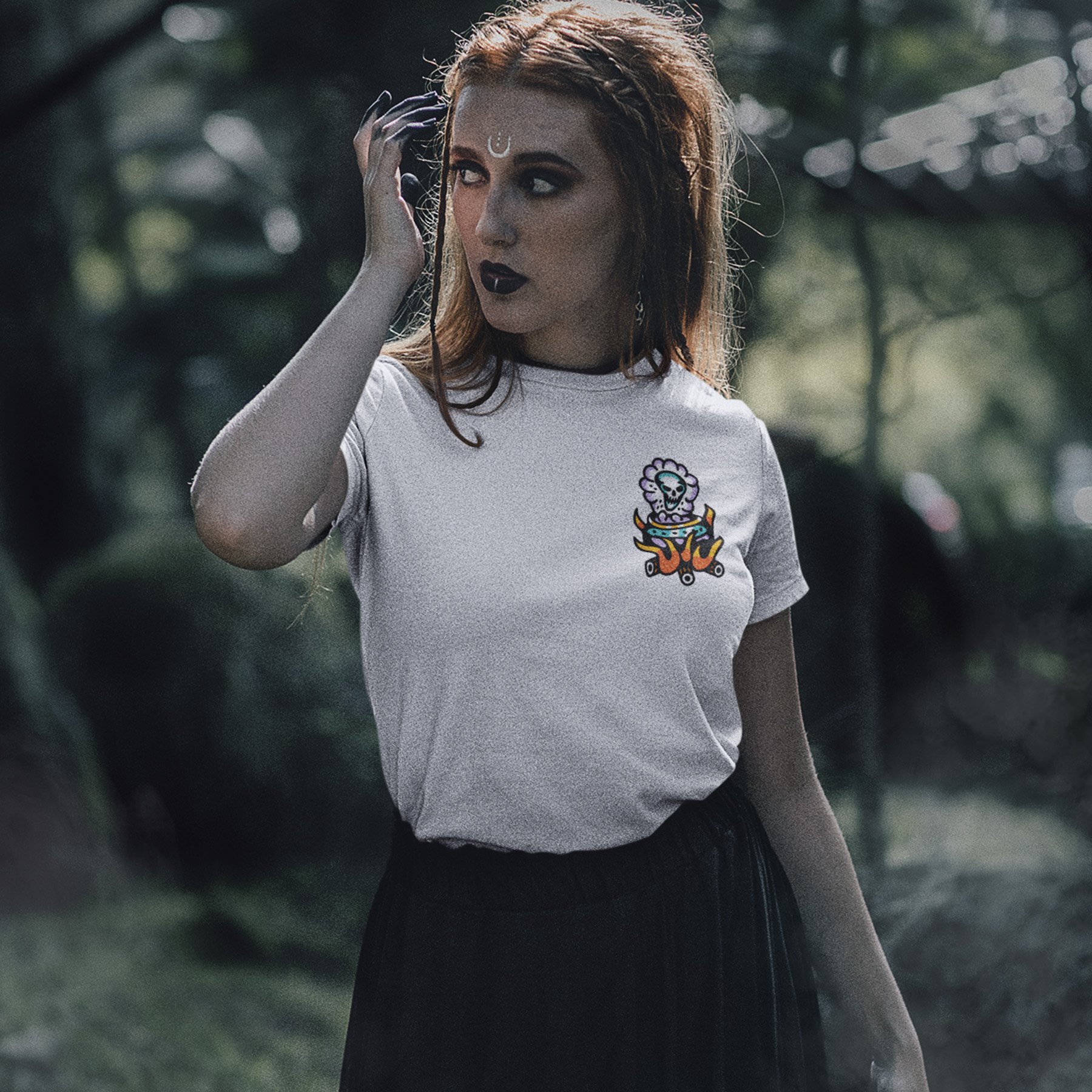 Mystic Vibes is a magical clothing brand inspired by alternative culture and all things cosmic. The brand is a bit more holistic than Lurking Class, but you'll still find plenty of skeleton imagery in its designs.
Mystic Vibes creates exactly what its name implies. Its unisex graphic tees lean into mysticism and feature wizard skeletons, magic mushrooms, and psychedelic typography. Its aesthetic is bright, cartoonish, and fun-loving.
The brand's screenprinted designs pay homage to forces bigger than ourselves. When you wear a Mystic Vibes tee or hoodie, you're allowing yourself to get in touch with the magic side of the universe. Each art design has an element of surrealism in it as well, making Mystic Vibes an irresistibly dreamy brand.
Born Dead Clothing
Born Dead Clothing is an excellent brand to check out if you love outsider art with a twist of ironic vintage. The brand creates unisex casual apparel inspired by goth, skate, and music subcultures.
Founders Vinny and Tate aim to celebrate the artistry of tattooing through their brand's designs. For example, its tattoo collection features artwork done in many styles, from classic linework to neo-traditional. In addition, the brand offers plenty of skull, skeleton, and mystic imagery.
A unique aspect of Born Dead Clothing's designs is its use of vintage streetwear aesthetics. Distressed screenprints feature mainstays of 90s streetwear fashion, such as bold lettering, lowriders, and metal typography.
NOOWORKS
NOOWORKS is a brand to check out if you love Lurking Class's DIY, indie artist vibe. The California-based indie brand is women-owned and creates gender-neutral, fun, and inclusive designs.
NOOWORKS produces small, ethically-made collections in collaboration with artists who craft unique patterns. As a result, all of its pieces stand on their own but unite under NOOWORKS' bold, colorful aesthetic. For example, you can get an olive jumpsuit, 60s-inspired overalls, and a babydoll dress covered in fiery comets all in one shopping trip.
All of NOOWORKS' pieces are made in small batches and feature a one-of-a-kind, limited edition pattern produced exclusively for the brand. Its designs feature bright colors, mystic motifs, and busy patterns. By all means, NOOWORKS is for shoppers who want to stand out from the crowd.
Bad Monday
Bad Monday is a streetwear brand that started in designer Mark Avey's garage. It quickly evolved from a side gig into a full-blown business creating edgy tees and hoodies.
Bad Monday embraces all your negative feelings about the world and transforms them into beautifully dark, vivid illustrations. For example, the It's Over hoodie features the phrase printed above a bright drawing of the grim reaper holding a burning planet Earth. You know, a casual design to wear into the office on Monday.
Many of Bad Monday's designs are inspired by vintage tattoo iconography and 90s streetwear trends. Bad Monday is a brand that is not afraid of color, so check it out if you love bold graphics and edgy imagery.