Chicago, Illinois, is a bustling Midwest metropolis home to over two million people. It's a hub for creativity and diversity, so it's naturally home to a vibrant fashion scene.
Chicago is known for its casual, comfortable style and unique blend of creativity and innovation. So if you're looking for new clothing brands to add to your wardrobe, Chicago has an incredible selection.
From high-end luxury to streetwear, here are 20 of the best Chicago clothing brands to check out.
Loop Wear
Loop Wear creates streetwear that puts Chicago on the map. The small indie brand aims to celebrate all parts of the city, especially the neighborhoods along the famous L line.
Loop Wear is the brand for you if you want to show your love for Chicago. Loop Wear's designs incorporate colorful linework that resembles train maps and skylines. In addition, its hoodies, tees, and joggers have bright LOOP logos that are playful but understated.
Loop Wear's products are unisex and include outerwear, loungewear, and casual shirts. Its creative graphics use subway trains, buildings, and other symbols of Chicago to create an edgy but fun vibe.
Ann Everett Designs
Ann Everett is a Chicago-based designer originally from Tipperary, Ireland. She officially founded her eponymous line in 2012 after informally making clothing for over a decade.
Ann Everett Designs draws inspiration from the streets of Chicago and the designer's childhood home. Meticulous detail, exciting textures, and upcycled fabrics are the mainstays of the slow fashion brand. For example, its fuzzy streetwear jacket reflects the harshness of Chicago winters while balancing a delicate elegance.
Ann Everett Designs makes one-of-a-kind pieces that are made to order. The brand is the epitome of slow fashion because it doesn't release seasonal collections or sell large quantities. Instead, Ann Everett mainly sells her designs through private trunk shows and local Chicago events.
Idrine Bishweka
Idrine Bishweka is a designer originally from Goma in the Democratic Republic of Congo. After graduating from Columbia College Chicago, she launched her namesake brand. Idrine Bishweka's versatile designs draw inspiration from her multicultural background.
Idrine Bishweka's collections are elegant, comfortable, and modern. The designer combines traditional African fabrics with Western silhouettes, creating truly unique pieces. The designer brand is best known for its chic dresses and outerwear that are timeless and work across seasons.
The brand offers dresses for all occasions. From the form-fitting Leo dress to the flowing layers of the Huguette dress, Idrine Bishweka's designs are perfect for those who want something classy, understated, and artistic.
Ricorso
Founded by designer Daryl Sneed in the mid-2010s, Ricorso reimagines wardrobe classics into fresh must-haves. Some of the best Chicago creatives in the business lead the small label, including Chicago designer Elda De La Rosa as Tailoring Director.
Ricorso is reclaiming vintage styles and transforming them into modern, beautifully minimalist pieces. Classics like full skirts, pussy bow blouses, and 60s shift dresses are given new life with modern fabrics, chic tailoring, and gorgeous colors.
Ricorso is a small operation and only creates small batches of each design. Because of this slow fashion approach, attention to detail is out of this world. Hand-beaded organza tank tops, metallic floral prints, and tweed jackets embellished with sequins are just a few of its stand-out pieces.
M2057
Maria Pinto is Chicago's most famous designer you've probably never heard of. She's repeatedly designed looks for both Michelle Obama and Oprah Winfrey, so she knows a thing or two about fashion. Pinto launched M2057, her latest fashion venture, in 2018.
M2057 captures Pinto's unique talent of combining elegance with comfort. The brand's womenswear is professional, versatile, and (most importantly) all machine-washable. You can find everything from wrap dresses to crop-length pants and overcoats to turtlenecks.
Every item in M2057's inventory oozes elegance. Its blouses, blazers, and more make getting ready for the office a piece of cake. The brand's designs are conservative and modest but never look stuffy or frumpy.
Azeeza
When designer Azeeza Khan left her tedious 9 to 5 job to establish her own fashion brand, she held no punches. Her eponymous label, launched in 2015, creates stunning designer pieces that put Los Angeles and New York to shame.
Azeeza's designs are bold, feminine, and elegant. The brand mainly deals in dresses and embraces flowy raw silk and romantic tailoring. The overall look is ethereal yet powerful. For example, its latest collection features soft pinks and delicate ruching with dramatic silhouettes and billowing puff sleeves.
Azeeza is a brand to keep your eye on. The likes of Beyoncé, Hailey Bieber, and Jennifer Lopez wear designs by the Chicago atelier. In addition, high-profile collaborations with brands like Nike make Azeeza a force to be reckoned with.
Sheila Rashid
Sheila Rashid is an independent designer bringing androgynous clothing to the forefront of Chicago fashion. Her self-named label is a one-woman operation. Rashid designs and creates every piece herself.
Sheila Rashid's designs capture a playfulness that is hard to come by in designer fashion. Each piece straddles the line between masculine and feminine, creating a truly unique aesthetic. For example, its unisex denim features a bold red heart printed on the front. The dramatic, vintage-inspired Meghan Markle tee is also a humorous cornerstone piece.
Sheila Rashid's innovative style has caught the attention of quite a few heavy hitters. The designer has created one-of-a-kind pieces for celebrities like Zendaya, Chance the Rapper, and Bella Hadid.
Mata Traders
Mata Traders is an ethical fair-trade clothing brand that aims to make the world a better place with its designs. Founded by Maureen Dunn Fetscher in 2007, Mata Traders partners with producers in Nepal and India to create its fashion-forward pieces.
The brand's designs are simple, fun, and cute. Its dresses are relaxed yet professional, featuring cheerful patterns and colorful fabrics. There are also timeless fashion staples for the hipster in all of us, such as its black plaid midi skirt and various little black dresses.
Mata Traders creates genuinely unique pieces because artisans make each piece by hand. In addition, makers use traditional techniques to craft the brand's unique patterns and products. For example, most of Mata Traders' patterns are block or screen printed by hand.
Monica & Andy
Monica & Andy was born in 2014 when founder Monica Royer set out to create the softest organic baby essentials out there. Being a new mom, Monica wanted to ensure that other parents had access to a seamless shopping experience that gave them GOTS-certified organic clothing and peace of mind.
The brand offers super soft, all-natural clothing for infants and kids up to ten years old. Its designs are simple, sweet, and playful. In addition, you can find everything from fancy holiday dresses to versatile basics for your little ones.
Monica & Andy began as an online-only brand, but its success has spurred the creation of three brick-and-mortar stores. There are two stores in its native Chicago and one location in New York City. In addition, popular stores like Target and Buy Buy Baby now stock the brand.
Gente Fina
Latinos are Chicago's second-largest population group, and Gente Fina is here to celebrate that. The Latino-owned brand was founded in 2018 by Manny Cabrera and Abraham Cortez to celebrate their city's unique intersections of race and culture.
Gente Fina features on-trend streetwear emphasizing the Latino and Mexican culture unique to Chicago. Past collections have featured Virgencita denim jackets, Viento City hats, and jeans with the Chicago skyline embroidered on the back pockets.
Gente Fina also offers plenty of outerwear that is a perfect fit for the Windy City. Its recent release features a bomber jacket with "Chicagoan" embroidered on the front, and a giant "Till Chicago Ends" patch on the back. So if you're a proud Xicago resident, Gente Fina is the brand for you.
Jugrnaut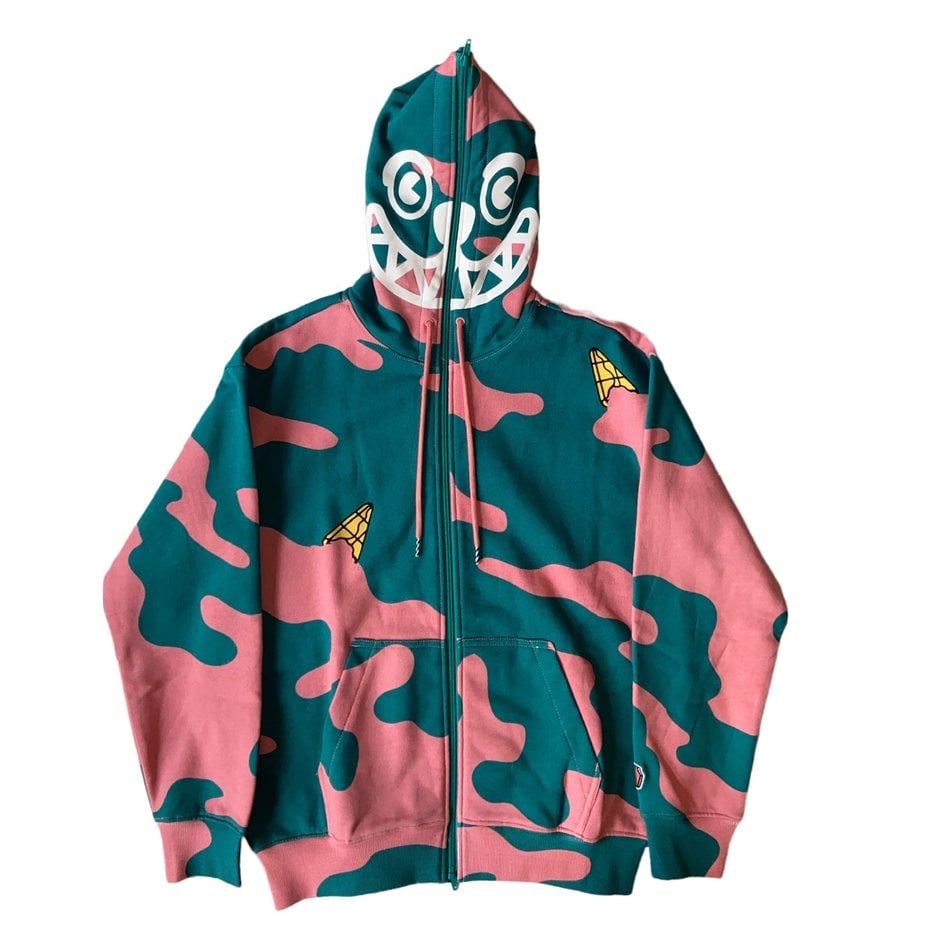 Chicago is a place known for its streetwear. The brand Jugrnaut is a perfect example of the city's burgeoning scene. The brand is based in the South Loop neighborhood of Chicago and has been creating buzzworthy streetwear since 2007.
Jugrnaut creates clothes for "fashion kids, hip-hop heads, skaters," and everybody in between. Its understated retro vibe pays homage to Chicago and its unique culture. For example, its Chicago Everywhere merch features bold Helvetica typography and stylized city symbols.
Jugrnaut also features a lot of streetwear for all the sports fans out there. Plenty of its designs reference local teams, so if you know, you know. For example, the brand's Chicago Panthra tee features a red panther in the style of the Chicago Bulls mascot.
Relish
Relish creatively takes its name from the iconic neon green relish that accompanies any Chicago-style hot dog worth its salt. The brand, founded in 2013, creates casual apparel with bold, Chicago-centric designs.
Relish features casualwear staples like tees, zip-up hoodies, and pullover sweatshirts. Each design is made to be seen, with bold lettering, bright colors, and in-your-face illustrations. It takes classic Chicago iconography and spices it up with skeletons, flowers, and mystical creatures.
The brand also infuses humor into many of its designs. One hoodie in its "Don't Be Plain" collection looks like a classic pizza box. Its red-and-white checkers and cheeky phrases bring classic Chicago-style pizza to mind, but with a twist.
Cobalt
Nadya Nguyen founded Cobalt in 2019 as an answer to the destructive fast fashion industry. Cobalt uses responsibly sourced materials to create high-quality clothing that has a better impact on our environment.
Cobalt creates womenswear built to last. Its pieces are timeless and elegant, making them versatile and easy to work across seasons. You can find classic knee-length dresses, black trousers, and comfy wrap skirts that are easy to dress up or down.
Cobalt's apparel is above the trends of fast fashion. For example, its color palette is full of neutrals and earth tones. In addition, each piece uses high-quality, eco-conscious materials that will last for years. When you buy Cobalt pieces, you are building a sustainable closet.
Stock Mfg Co
Stock Mfg Co means business when it comes to workwear. The upscale Chicago clothing brand launched in 2012 and has a reputation for creating high-quality uniforms with a retail appeal.
Stock Mfg Co's designs are minimal, classic, and versatile. Its button-ups, pants, aprons, and blazers are a dream come true for hipster businesses in Chicago and beyond. Each piece is professional enough to act as workwear but fashionable enough to be a wardrobe essential.
In addition to minimal, unadorned basics, Stock Mfg Co offers full-service custom wholesale. So, you can get personalized, quality workwear with subtle branding and comfortable fits for all your employees. Some high-profile clients include Chicago's own Soho House and the swanky Cherry Circle Room.
Squasht
Squasht is a small label and boutique in the Ukrainian Village on the west side of Chicago. Designer and owner Lesley Timpe is dedicated to supporting local and handmade businesses on top of Squasht's seasonal collections.
Squasht's designs are sophisticated and have a subtle European vibe to them. Timpe studied fashion in Spain and incorporates that influence into her handmade designs. Drop-sleeve sweaters, chic scarves, and cute rompers are just some of the brand's offerings.
The brand also makes some fun pieces to add pizzazz to your wardrobe. For example, its high-waisted polyester shorts come in tie-dye, zig-zag, and stripe patterns that give major spring and summer vibes. Squasht's slow fashion styles are perfect for lovers of an easy, breezy, cute aesthetic.
Sophia Reyes
Designer Sophia Reyes launched her namesake brand in 2008 and has been making waves in the local fashion scene ever since. The indie label produces small batches of clothing inspired by Sophia's love of contemporary art and streamlined design.
Sophia Reyes' style is classic, minimalist, and feminine. The brand creates womenswear for the modern woman who wants comfort and versatility while remaining fashionable. There are chic wardrobe staples like blouses, winged scarves, and duster cardigans that are guaranteed to dress up any look.
The brand stands out because of its unique patterns. Sophia Reyes takes everyday staples like wide-leg pants and pussy bow blouses and elevates them with gorgeous florals, polka dots, and Asian-inspired motifs.
Wulfka
Designer Kate Van Asten embodies the slow fashion, DIY ideal with her brand Wulfka. The indie brand operates out of Van Asten's small studio in Chicago and creates perfect pieces for an elevated casual wardrobe.
Wulfka is all about eco-friendly comfort. Its collections include earth-toned separates like elegant sweaters, pencil skirts, and mock-neck tees. However, the brand always incorporates key pieces with bold patterns and feminine embellishments. Its citrus-themed matching set is perfect for the creative professional, and its ruffled crop tops are simple yet unique.
Wulfka's sustainable styles are also size-inclusive, with garments in sizes XS to 4XL. In addition, several Chicago boutiques, such as Squasht, stock the brand so you can shop locally.
Mildblend Supply Co.
Mildblend Supply Co. is a well-known Chicago boutique offering indie brands made in the USA. What many people may not know, however, is that Mildblend Supply creates its own line of high-quality denim and outerwear.
Mildblend Supply collaborates with other indie brands to create the best denim jeans out there. Its men's jeans use luxury materials like Japanese denim, proprietary broken twill, and raw cotton slub. The brand embraces the classic American aesthetic of clean lines, durable construction, and masculine fits.
In addition to its denim, Mildblend Supply creates bomber jackets and other outerwear that oozes classic Americana. Its leather bombers have fur-lined collars that immediately take you back to the 1970s (in a good way). Its vintage-inspired varsity jackets are also must-haves for any man's closet.
BellaNiecele
BellaNiecele, owned by designer Niecele Nicolas, creates handcrafted couture clothing for the forward-thinking woman. The brand reduces waste and supports a sustainable business model by making each piece to order.
For a small label, BellaNiecele has a massive selection of styles. This brand has everything from bridal wear to casual men's tees. In addition, BellaNiecele's designs incorporate unique twists into classic garments, making each handmade piece a work of art any fashionista would be proud to add to their closet.
For example, its bridal collection features classic draping and satin with innovative silhouettes, such as side-slit pants and crop tops. In addition, BellaNiecele knows that everyone wants to look their best. You can shop its designs according to different body types, such as pear, hourglass, or diamond, to find the pieces that will look best.
Elda De La Rosa Couture
Elda De La Rosa is one of Chicago's best-known couture designers. Her self-named brand serves tailor-made, elegant looks that are perfect for women who want to stand out.
The label's style is sophisticated, classic, and chic. With Elda De La Rosa, you can find floor-length ball gowns, stunning cocktail dresses, and unique pieces like zebra-print shawls. Each ready-to-wear piece has a vintage vibe, but with modern tailoring and glitzy embellishments.
In addition to the ready-to-wear offerings, Elda De La Rosa can create custom couture gowns. The designer herself works closely with her clients throughout the whole process to create the perfect evening look. Elda De La Rosa Couture has a brick-and-mortar location in the Oak Street District of Chicago.