Los Angeles is known for its mix of cultures and thriving creative community. So, it's no surprise that LA is a hotbed for up-and-coming designers and innovative clothing brands.
If you're looking for fashion that breaks all the rules, constantly reinvents itself, and celebrates comfort, you can find it in Los Angeles.
From beach-chic to cutting-edge cool, we've rounded up 30 of the finest Los Angeles clothing brands to add to your fashion rotation.
Reformation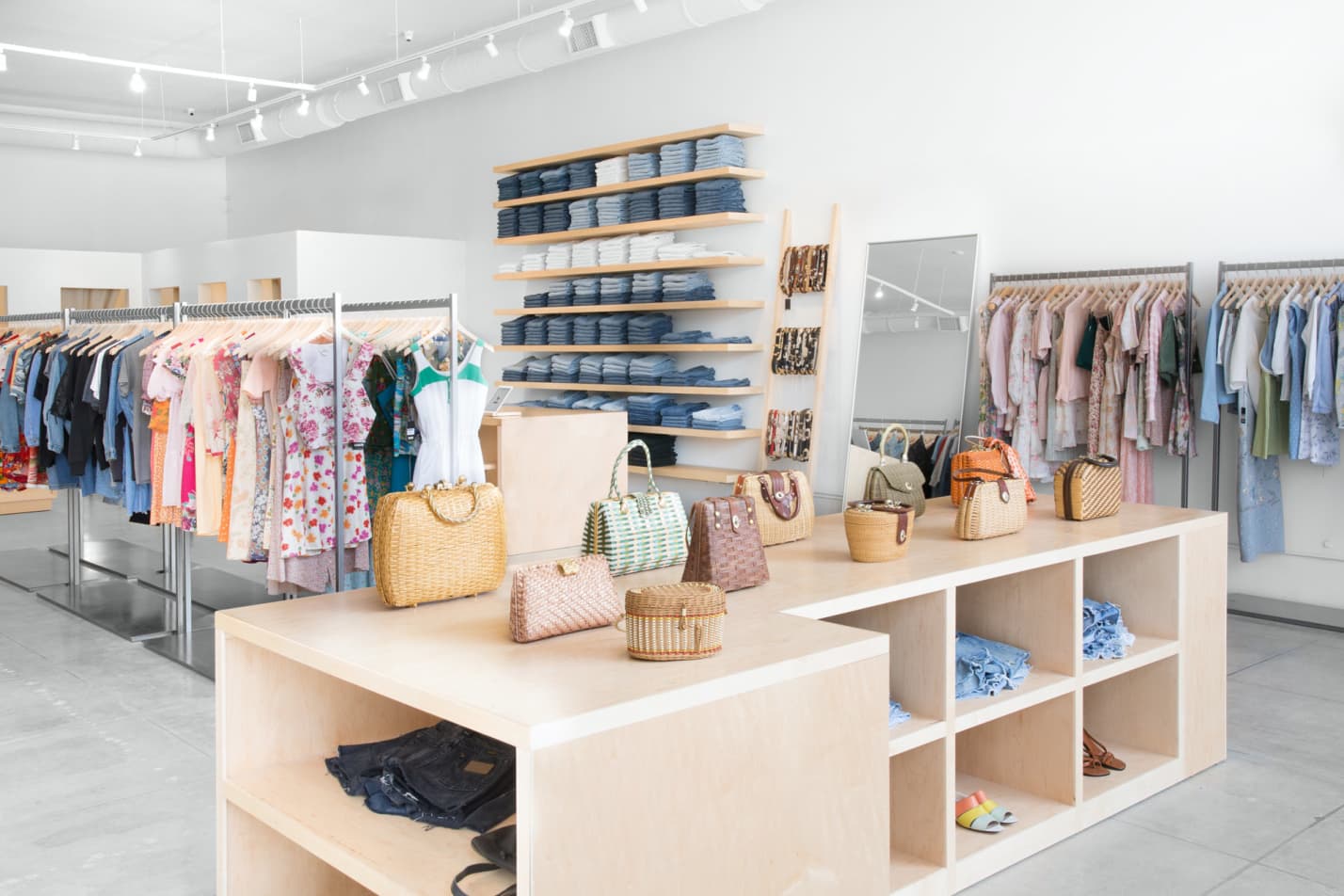 Reformation is by far one of the most popular clothing brands to come out of Los Angeles in recent years. Initially founded in 2009 as a vintage retailoring business, the brand quickly began making its own original designs. Today, it's a cult favorite among minimalist and sustainable shoppers.
Reformation's clothing is classically feminine and effortlessly elegant. The brand barely uses embellishments, and its silhouettes are sleek and understated. For example, its dresses feature subtle ruching and vintage-inspired cuts that let the patterns and fabric speak for themselves.
The brand is also well known for its denim collection. There is a wide variety of cuts, washes, and fits to choose from. In addition, each pair is sustainably made with recycled materials, organic cotton, and other eco-friendly fabrics.
Calle del Mar
Calle del Mar is an up-and-coming brand started by Aza Ziegler, the daughter of Banana Republic's founders. However, Ziegler's brand creates modern looks that are far from the classic aesthetic of her parent's company.
Calle del Mar creates non-seasonal knitwear that is simultaneously classic and modern. The brand utilizes vintage-inspired silhouettes, like collared cardigans and wide-leg sweatpants from the 2000s. However, its pieces infuse a modern vibe with bold colors, monochromatic matching sets, and slim fits.
The trendy brand is making waves in LA, with people like Beyoncé proteges Chloe and Halle wearing its designs on-stage. The brand makes everything in its LA studio and runs a small storefront in Atwater Village.
Pretties
Linda Meltzer is the stylist who popularized the shrunken baby t-shirt that celebrities like Cameron Diaz, Winona Ryder, and Jennifer Aniston went wild over in the 1990s. Now that 90s style is coming back in fashion, Meltzer's tiny t-shirts are back and better than ever with her brand, Pretties.
Pretties features Meltzer's signature baby tees and other teeny tiny essentials that any vintage-loving it-girl needs in her wardrobe. The brand makes frilly cropped tanks, fabulous vintage cardigans, and ruffled mini skirts that would make any 90s starlet proud.
Each Pretties piece is flirty, feminine, and fun. Delicate lace, light colors, and girly embellishments are cornerstones of the brand. In addition, each piece is made with 100% Pima and pointelle cotton to ensure ultimate, fashionable comfort.
Simon Miller
Simon Miller is a brand that perfectly captures LA's adventurous, quirky side. The brand, founded by Jake Sargent and Daniel Corrigan, originally started as a denim brand. Today, Simon Miller is an avant-garde luxury brand that isn't afraid to infuse humor and playfulness into its designs.
Simon Miller creates unique, off-the-wall pieces you didn't realize you needed. For example, its shiny silver pants that look like a disco ball and bright green snakeskin coat infuse a playfulness that is hard to resist.
Overall, Simon Miller's designs are not for the faint of heart. Its latest 2023 Resort collection features bold animal prints, bright primary colors, and zany patterns. Its pleather pants and heavily ruched bodycon dresses play into the current Y2K trend without being too obvious– a classic LA vibe.
Cult Gaia
One of the hottest brands to come out of LA in recent years is Cult Gaia. Launched by designer Jasmin Larian in 2012, the brand only recently went viral when its Ark handbag was spotted on the arms of Jessica Alba and popular social media influencers.
Cult Gaia makes more than showstopping handbags. The brand's clothing collection perfectly combines designer luxury with avant-garde style. The best part? Most of its dresses, tops, and pants come in under $1,000.
Cult Gaia's style is elegant and modern. The brand's dresses reinvent classic silhouettes with interesting cut-outs, voluminous construction, and trendy colors. For example, fringe, feathers, and peekaboo midriffs are in almost every Cult Gaia piece. Overall, its pieces are refreshingly fun and cutting-edge.
Groceries Apparel
Groceries Apparel uses your old groceries to make its clothes. Yes, literally. The indie label dyes its sustainable basics with upcycled food scraps like pomegranates, avocados, and coffee grounds!
Groceries Apparel makes fashion-forward basics for the modern closet. It has everything you need to build a sustainable, versatile wardrobe. For example, its selection of dresses, matching sets, and athleisure wear is essential for the easy breezy LA weather.
The brand also makes more dressed-up pieces like skirts and wide-leg pants. Each piece comes in natural earth tones and fun tie-dye colors that give a soft feel. As icing on the cake for eco-friendly shoppers, most Groceries Apparel pieces are made in-house in the brand's Fashion District DTLA factory.
MATE
Los Angeles has a reputation for being way more laid-back and informal than other fashion capitals. So it's no wonder the athleisure wear brand MATE calls LA home. Founded by Kayti Carr, the clothing brand is reinventing relaxed chic with its clean, sustainable practices.
MATE crafts organic, ethically-produced activewear for men, women, and kids. Minimalist, sharp designs feature a muted, natural color palette and no-frills essentials. For example, MATE's bestsellers include its organic cotton plain white tee, cropped fleece pullover, and stretch biker shorts.
MATE follows the clean living movement that is prevalent in LA and beyond. So, all fabrics are organic, dyes are natural, and plastic use is kept to a minimum. In addition, the brand operates on a circular model, so you can donate your old MATE clothes to be upcycled into material for new items.
My Violet
My Violet is the sister brand to goth favorite Foxblood. My Violet explores the softer side of alternative clothing with a cotton candy palette of pink, purple, and turquoise.
My Violet is the perfect brand for pastel goths and lovers of all things girly. Its dreamy, colorful designs are soft, feminine, and fun. You can find everything from bubblegum pink biker shorts to fluffy pastel Selkie dress dupes.
In addition, My Violet carries unique pieces that will draw attention and compliments. For example, adorable cow print overalls and oversized sweater dresses are sure to bring out your inner child. Don't worry; pretty much everything is available in pink!
Boyish
Denim jeans are a staple of any LA wardrobe. Boyish creates women's jeans inspired by vintage silhouettes and classic fabrics. Founder Jordan Nodarse created the brand in honor of all the stylish women who describe their personal style as "boyish."
Boyish creates denim jeans, shorts, jackets, and overalls built with a woman's body in mind. Gone are the days of too-tight jeans that have no pockets. Instead, with Boyish, you get comfortable cuts, sustainable fabrics, and modern style.
The brand updates classic denim with fun colors and feminine prints. For example, its Desert Rose denim shorts feature a beige and pink floral pattern constructed with organic cotton. The brand also produces boho-inspired dresses featuring tiered layers, earthy colors, and breathable fabrics.
Gil Rodriguez
Eliana Gil Rodriguez founded her eponymous brand after gaining experience as a designer for American Apparel, perhaps one of LA's most well-known fashion companies from the early 2000s.
With that experience under her belt, Rodriguez now runs a slow fashion brand that takes basics to the next level. Gil Rodriguez creates versatile essentials that every girl needs in her closet. From nude bodysuits to drop-waist midi dresses, Gil Rodriguez has it all.
The brand ethically crafts its garments in solid colors and timeless silhouettes meant to work across seasons. As a result, its collections don't follow current trends. Each Gil Rodriguez piece is constructed to last for years. The brand also creates men's basic tees and pullovers in addition to its womenswear essentials.
UNIF
UNIF makes the best Y2K fashion that LA has to offer. This family-run small business creates small-batch womenswear that leans into the current 90s and early 2000s fashion trends. In addition, UNIF doesn't mass-produce its clothing.
UNIF, an acronym for "Ur Not In Fashion," is every teenage grunge girl's dream. Its distressed vintage tees, raw hem skirts, and crocheted shrugs bring back the simpler times of listening to CDs and AIMing your besties.
Since its inception in 2010, the brand has gained a considerable following, with about one million followers on Instagram. It's the perfect Los Angeles clothing brand for lovers of vintage, comfort, and effortless style.
The Elder Statesman
We don't often associate cold weather with Los Angeles. However, The Elder Statesman just might be the most luxurious knitwear brand out there. Founded in 2007 by Greg Chait, The Elder Statesman infuses whimsy and light-hearted vibes into the traditional practice of fiber work.
The Elder Statesman's pieces are made almost exclusively with Italian cashmere, giving them an innate luxurious quality. One look at the brand's collection of casual joggers and classic cardigans will convince you that your whole wardrobe needs to be made of its 100% cashmere fabric.
In addition to classic knits, The Elder Statesman creates unique, playful pieces that incorporate tie-dye, abstract patterns, and gorgeous jewel tones. All of its tie-dye pieces are created in-house by hand. In addition, the brand's yarn is handspun and loomed in its Downtown LA studio.
donni
The beginning of Alyssa Wasko's clothing brand began with a scarf. After her father's death, Wasko began making comfortable scarves for herself. Before long, a business was born. Donni, named in honor of her father, now creates comfortable, high-quality clothing and accessories.
Donni's designs capture the effortless style that LA is known for. As a result, you can find elegant essentials for lounging and more. For example, its ribbed knit matching sets feature loose, flowing pants and classic spaghetti-strap tanks.
Donni offers more dressed-up options, like its silky pleated trousers and open-front silk top with a classy pearl closure. Wasko still designs each piece herself, and the brand is dedicated to ethical and low-waste production.
Selva Negra
Selva Negra is a size-inclusive, ethically-made fashion label serving chic, cool styles. Designer Kristen Gonzalez began the brand in her New York apartment in 2016 but soon relocated to Los Angeles.
Selva Negra's designs are understated, modern, and effortlessly chic. Its aesthetic leans into the 90s and Y2K trends without trying too hard, making each piece timeless and seasonless. For example, each dress is minimal and pared down but comes in cheery pastels and twee patterns that will inevitably make you smile.
In addition, the brand crafts comfy, relaxed separates like chartreuse sweaters, duotone sweatpants, and ruffled crop tops. Overall, the brand has a vintage beachy vibe that is quintessentially LA.
Rezek Studio
Designer Ariel Rezek founded Rezek Studio in 2018. Inspired by her love of vintage, Rezek started her brand to create pieces that captured a retro feel with a modern fit.
Rezek Studio's claim to fame is its Hustle Pant, first released in 2021. The shimmery, metallic-colored pants are a must-have for anyone into current trends. Its high waist, contemporary flare fit, and stunning jewel-tone fabric make the Hustle Pant a perfect combination of old and new.
In addition to its fabulous trousers, Rezek Studio creates other fun pieces like feather-trimmed tops, slinky skirts, and snatched corset tops. The brand's monochromatic collection uses soft jewel tones that bring to mind the style of the 70s and early 2000s. With Rezek Studio, you can get an entire shimmery outfit in colors like green, gold, pink, and baby blue.
Et Tigre
Et Tigre, formerly known as Tigre Et Tigre, is a womenswear brand that is all about bespoke production and thoughtful design. Founded by Alnea Nabos and Adele Tetangco, Et Tigre locally produces small batches of it-girl-worthy looks.
The brand's designs are trendy yet timeless, featuring easy-to-wear silhouettes and fun interpretations of essentials already in heavy rotation in any fashionista's wardrobe. For example, classic mock neck tees are reinterpreted with silver velvet fabric, making it the ultimate Y2K separate.
Et Tigre creates fun pieces like sheer gold maxi shifts, off-the-shoulder bubble dresses, and wavy, textured matching sets in pure white deadstock polyester. Basically, Et Tigre's designers make what they want, when they want. Since stock is limited, each new piece is highly covetable and truly one-of-a-kind.
Staud
Founded by Sarah Staudinger in 2015, Staud is a Los Angeles brand that infuses a classic, retro aesthetic into high-quality, versatile basics. Staud is a cult favorite because it effortlessly blends a sense of playfulness into elegant and timeless pieces.
In typical LA fashion, Staud doesn't take itself too seriously with its refined and laid-back style. Staud's dresses incorporate original, whimsical details while still looking red-carpet-worthy. In particular, its Calluna dress reinterprets the floor-length silhouette with see-through fabric and interesting volume.
Staud also offers other pieces like colorful knits and vibrant accessories, making it a favorite brand among Hollywood starlets and influencers alike. Alexa Chung, Dakota Fanning, and Emily Ratajkowski are just a few LA fashion queens who wear Staud on the regular.
Whimsy + Row
Whimsy + Row is a beloved indie brand founded by Rachel Temko. The sustainable brand is all about creating beautiful, timeless fashion pieces that don't negatively impact the environment. It operates with a focus on local production and eco-friendly materials.
Whimsy + Row creates elegant, easy-to-wear pieces. The brand embodies a relaxed, feminine feel with its delicate floral prints, ruffles, and sweetheart necklines. Whimsy + Row is beloved for its dress designs, which feature romantic silhouettes paired with a relaxed boho feel that is 100% LA.
The brand makes everything locally in its downtown LA studio. In addition, each design is made in limited small batches to reduce material waste. So when you shop with Whimsy + Row, you get something handmade with love rather than a dull mass-produced item.
Sotela
Sotela crafts gorgeous, ethically-made clothing that fits bodies of all shapes and sizes. Each Sotela piece is flexible and stretchy to accommodate weight gain, weight loss, bloating, and the other every day changes our bodies experience.
Sotela stands out because its designs are comfy and fashionable. Elastic waistbands and stretchy fabrics are integral to its elegant, chic looks. For example, its stretchy Ryan Trouser is a brand staple that is loose and comfy but totally appropriate for work.
In addition to inclusivity, the brand focuses on sustainable practices. For example, each garment is made-to-order to reduce waste. Also, Sotela only uses natural fibers like cotton, TENCEL™, and linen.
Dazey LA
Dazey LA is fashion's version of a perfect Los Angeles day. Its pieces are warm, sunny, and fun. Founded by artist and designer Dani Dazey in 2016, the brand reflects all things bright and campy.
Dazey LA makes self-proclaimed "art apparel," with each pattern, color choice, and design created and curated by Dani herself. The brand is a maximalist's dream come true. The overall vibe of Dazey LA is 1970s retro, with psychedelic flowers and bright colors galore.
You can find matching sets and flowing dresses with all-over paisley and flower prints in every color imaginable. The brand also makes graphic tees, leggings, and crewneck sweaters if you want something more casual but just as fun. In addition, Dazey LA features home decor for fans of Dani's interior design work.
Wolven
Wolven takes on the athleisure look that LA is famous for, but with a twist. Founded by Kiran Jade, the brand creates comfortable active and athleisure wear that celebrates our body's differences instead of shaming them.
Wolven makes cute leggings, joggers, and athletic tops that combine comfort and fashion. Wolven stands out from other activewear brands with its earthy patterns and unique cuts. For example, many of its stretchy tops provide support but incorporate cut-outs and off-the-shoulder silhouettes that give each piece a high-fashion feel.
All of Wolven's designs draw from Jade's South Asian heritage. Many of the patterns draw inspiration from her family's henna designs. In addition, Wolven is sustainable. The brand uses recycled fabric and is carbon neutral.
Buck Mason
Buck Mason got its start in 2013 in Venice, California. The brand's co-founders, Sasha Koehn and Erik Allen, crafted a brand that captures the Los Angeles mentality of ease and comfort in everyday, modern menswear.
Buck Mason makes it easy to look good. Its high-quality menswear essentials are built to last and don't follow flash-in-the-pan trends. Instead, you'll find staple pieces such as cotton henleys, classic tees, and Japanese denim jeans that are easy to mix and match.
A big appeal of Buck Mason is its lack of branding. You won't find any over-the-top logos or embroidered brand names. Buck Mason is only interested in making long-lasting, durable classics for the modern man. Also, Buck Mason makes a smaller line of women's basics so everyone can enjoy this versatile brand.
Los Angeles Apparel
If Los Angeles Apparel's name and website look familiar, there's a reason. Dov Charney founded the brand in 2016 after being ousted from his original company, the once-famous American Apparel.
Los Angeles Apparel is basically American Apparel reinvented. It operates largely as a wholesale clothing brand, but shoppers can still buy its dynamic basics directly through its website.
Los Angeles Apparel is known for its comprehensive selection of modern, versatile basics. Gone are the days of stuffy, heavy cotton tees. Instead, its unembellished pieces are soft and comfortable and come in many colors. You can find any modern basic you could possibly need with this brand.
Big Bud Press
Lacey Micallef and Philip Seastrom started Big Bud Press in 2015. Its creative brick-and-mortar stores have since become a hipster staple in northeast LA. The brand aims to create size-inclusive, sustainable essentials for everyone.
Big Bud Press makes colorful unisex clothing that is cheerful and versatile. Its stand-out product is its famous jumpsuit, which comes in a rainbow of 70s-inspired colors like terracotta and olive green. Each piece is retro-inspired, durable, and comfortable for all body types.
In addition, Big Bud Press makes other basics like dressed-up joggers, t-shirts, and overalls. Its aesthetic is playful, inclusive, and practical. Most of its cuts draw inspiration from traditional workwear, but Big Bud Press modernizes everything with updated silhouettes and colors.
Raquel Allegra
Raquel Allegra began her namesake brand making upcycled shredded tees out of vintage t-shirts from the LA County Prison System. Today, her brand infuses that same cutting-edge sense of style into refined, elegant womenswear.
The brand's pieces are feminine and classic while infusing modern prints and cuts. Its ethereal prints and patterns look like naturally occurring watercolors, bringing an understated look to its chic trousers and dresses.
Raquel Allegra likes to keep everything local. Almost all of its pieces are dyed and constructed in LA. Also, the brand opened its first brick-and-mortar store in the Beverly Grove neighborhood in 2016.
John Elliott
Designer John Elliot's eponymous brand creates chic menswear that draws influence from California's skate culture. Founded in 2012, John Elliott makes it easy to look put-together and effortlessly cool.
John Elliott offers understated essentials that every man needs in his closet. However, the brand stands out for its use of luxury fabrics and designer-level construction. For example, you can get an oversized pullover that is streetwear ready but made of 100% cashmere.
The brand's overall aesthetic is minimal, streamlined, and effortlessly chic. Luxury hoodies, crewnecks, and cargo pants are mainstays of the brand. Also, its muted color palette of neutrals and pastels elevates its essentials to something modern and cutting-edge.
AMIRI
AMIRI infuses European style into the relaxed, informal fashion scene of Los Angeles. Founded by designer Mike Amiri, the brand crafts luxury men's and womenswear worthy of rock 'n' roll royalty.
AMIRI's designs are simultaneously chic, elegant, and casual. Its men's tees, hoodies, and jeans look quotidian at first glance but use high-quality fabrics and modern silhouettes that elevate each piece. In addition, its logo lives on many pieces, making it perfect for logomania fans.
If you're looking for classic wardrobe staples with an elevated streetwear edge, AMIRI is the Los Angeles clothing brand for you. Its pattern jackets and branded tees are a favorite among stars like Justin Bieber, The Weeknd, and Harry Styles.
LACAUSA
LACAUSA is a Los Angeles clothing brand founded by Rebecca Grenell in 2012. Since its inception, it has produced high-quality, locally-made basics for every woman's modern wardrobe.
LACAUSA offers a huge range of pieces that can be mixed, matched, and combined to create a versatile, timeless look. It features everything from a full-body unitard to classic plaid trousers. There is also a wide range of dresses in different lengths, silhouettes, and colors. It's hard to pick just one look!
With LACAUSA, you get responsibly-made clothing at relatively affordable prices. All of the brand's pieces use sustainable or deadstock fabrics in an effort to produce less waste. In addition, its pieces are made in its Downtown LA factory.
Stone Cold Fox
Stone Cold Fox was founded in LA by two friends, Cydney Morris and Dallas Wand. Since its inception in 2013, the brand has been serving some of LA's sleekest, chicest looks.
Stone Cold Fox creates boho-inspired styles with a modern twist. Its vintage-inspired pieces perfectly combine slinky silhouettes with boho classics like flowing bell sleeves and tortoise shell embellishments.
The brand's handmade collections perfectly balance LA's casual vibe and simple sexiness. Its silhouettes are minimal yet feminine, with surprise elements like way-high leg slits or a plunging neckline. In addition, Stone Cold Fox crafts an extremely popular line of elegant bridal gowns.
Nasty Gal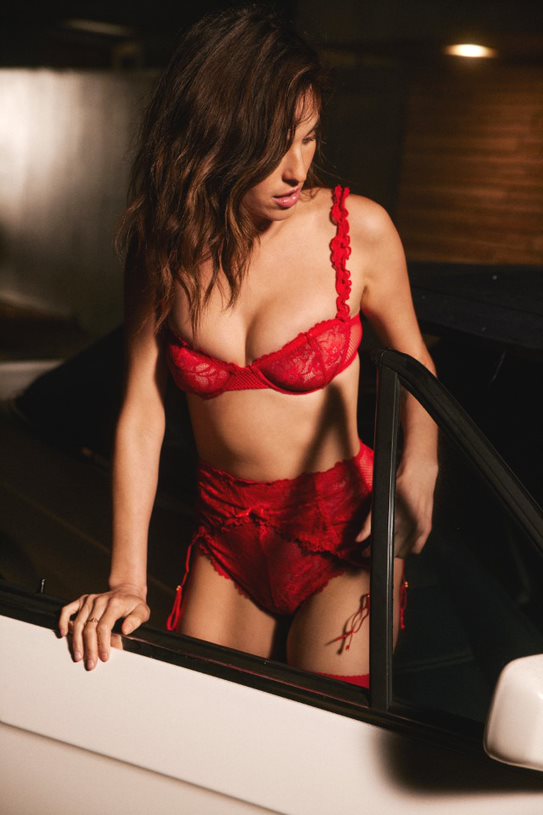 Nasty Gal is an online retailer that features cutting-edge womenswear with a vintage flair. Its pieces exude the rocker chic that LA is known for, incorporating grunge and Y2K trends.
The brand offers everything from grunge staples to party outfits. You can find everything from full-sequined matching sets to casual wide-leg beach pants. In addition, Nasty Gal has some fun pieces for adventurous souls. For example, its pastel chainmail top is totally see-through!
Nasty Gal is an excellent option if you want on-trend pieces at a reasonable price. The brand is almost always running a sale so that you can get stand-out pieces for a fraction of the cost. In addition, its designs are so unique you can build a colorful wardrobe without breaking the bank.