The Space Center, Beyoncé, and a delicious culinary scene might be the first things that pop into your mind when it comes to Houston, Texas. But did you know Houston is brimming with some seriously cool clothing brands?
Put aside any preconceived notions you may have about Houston's fashion scene. This culturally rich metropolis is the fourth most populous city in the US, right behind New York City, LA, and Chicago. That means there's plenty of opportunity for designers and brands to let their creativity flourish.
Whether you're planning a visit to Houston, want to show off some city pride, or looking to update your closet, check out 20 of the best Houston clothing brands.
Accel Lifestyle
Accel Lifestyle started with a stinky shirt. Founder Megan Eddings began to wonder why certain "moisture-wicking" fabrics retained body odor. So, Accel Lifestyle's "no stink" apparel was born.
Accel Lifestyle produces athleticwear with its unique Prema® Fabric technology. Prema® is antibacterial and truly odor-free, making it easy to stay fresh while working out. In addition, Accel's fabric and clothing are ethically made in the US.
On top of being comfortable, Accel Lifestyle's clothing is sleek. You can look better than ever while working out with Accel's black-and-white color palette, minimalist graphics, and modern athletic cuts. Fan favorites include its toning crop tank and Stars, Stripes, and Stance tee.
Chloe Dao
If you're a fan of reality TV, you may already know Chloe Dao. Chloe won the second season of Project Runway and now runs two boutiques in Houston under her self-named label.
Chloe Dao's style is classic, chic, and put-together. The brand features bold, monochromatic looks that work across seasons and ages. From its expertly tailored trousers to its floral sundresses, the brand makes it easy to build a versatile, unique wardrobe.
The brand crafts gorgeous formalwear in addition to its professional separates. Chloe Dao's gowns are famous for their elegance and timelessness. On top of that, you're guaranteed to feel good while wearing one. Chloe Dao's silhouettes are feminine without being too revealing, allowing for freedom of movement, comfort, and confidence.
DIOS Brand
DIOS, which stands for "Did It Ourselves," is one of Houston's buzziest streetwear brands. Founded by Jorgey Casanova and rapper LE$, DIOS Brand celebrates underground hip-hop culture and independent art.
DIOS' streetwear stands out by design. Its classic Gothic logo, bright colors, and limited production make DIOS pieces highly coveted by fans. In addition, many of its designs celebrate Houston car culture and city pride, such as its Diamonds & Wood and Shinnin' Mercedes tees.
The popularity of DIOS exploded quickly, and the brand opened a brick-and-mortar store within months of its online launch. The store remains incredibly popular. A line out the door is standard. So if you're ever in Houston, be sure to drop by DIOS Brand's Main Street storefront.
CHARworkroom
CHARworkroom debuted during New York Fashion Week in 2016, but the Houston-based brand didn't explode until much later. A Facebook ad in 2021 featured its now-iconic silver High-Cut Cheeky Short. After that, CHAR went viral.
Designer Tacharra Perry creates fun, original womenswear that is simultaneously futuristic and retro. Shades of silver, neon, and velvet bring a Y2K vibe to its feminine ruffled shorts and comfy cropped pullovers. In addition, its barely-there tops are beloved among Instagram It-girls and club-goers alike.
CHAR crafts other designs that social media can't get enough of. Its bodycon dresses feature sexy cut-outs and bold fabrics that look great on and off camera. The brand is still run and operated by Tacharra, so collection releases are limited but well worth the wait.
BIDA
Designer Bianca Dabney started BIDA in 2018 to combine her love of style and comfort. The Houston-based brand features elevated basics, luxurious dresses, and plenty of accessories that make getting ready a piece of cake.
BIDA is reimagining simplicity with its neutral, refined designs. Each piece is simultaneously comfy, sexy, and modern. In addition, BIDA reimagines streetwear and formalwear classics, like its Art Deco-inspired mini dress or ribbed, flared leggings.
BIDA's luxe clothing stands out from the rest because of its innovative elements. For example, its slashed black tank features artfully placed cut-outs across the front, leaving plenty to the imagination while capturing a sensual edge. In addition, its larger-than-life buckle skirt balances the fine line between designer luxury and everyday wear.
Cotidié
Cotidié takes athleisure to the next level by creating everyday womenswear with comfy technical fabrics. The thing is, Cotidié's pieces are professional and polished enough for the office!
Houston native Kristina Haag founded Cotidié. Kristina was inspired to create her brand when she couldn't find attractive professional clothing that held up to the heat and humidity of Houston's weather. As a result, Cotidié's pieces use stretchy, breathable fabrics like StellaForm, SolaSmooth, and LunAir.
Cotidié's designs are modern, chic, and refined. You can get everything from button-up collared shirts to belted blazers, pencil skirts to pocket dresses. At first glance, you can't even tell Cotidié's clothing is made with performance fabric! Professional wear doesn't get better than this.
MAITETXU
Designer Maite Candina left her corporate job to start MAITETXU, and she hasn't looked back. Her slow-fashion brand creates unique pieces for women who want to stand out and make a statement.
MAITETXU crafts relaxed wardrobe staples that have a slight boho vibe. Its kimonos, professional-looking tank tops, and gorgeous wrap skirts are all reinventions of timeless pieces that will last in your closet forever.
All of MAITETXU's pieces are created locally in Houston in small batches. The brand strives to reduce its environmental impact, so it only makes pieces to order with high-quality fabrics built to last. In addition, you can have custom MAITETXU pieces made upon request.
Savage Hearted Clothing
Founded in 2015, Savage Hearted Clothing is about nurturing culture and diverting from mainstream fashion trends. Its cutting-edge streetwear is colorful and celebrates all things Houston.
Savage Hearted Clothing's designs break the mold commonly found in streetwear. For example, its shorts feature all-around designs like a full-color screenprint of the Houston skyline. In addition, its recent product release features hand-stitched patches that draw inspiration from graffiti art and pop culture.
Savage Hearted Clothing believes you can infuse art into your everyday life through fashion and home goods. The brand features unique lifestyle products like canvas prints, shower curtains, and punch needle rugs. Also, don't forget to top off your look with an embroidered snapback hat.
Of Myth and Muse
Established in 2017, Of Myth and Muse is a slow fashion collaboration between friends Emelia Natalicchio and Kendall Hanna. The Houston clothing brand creates timeless, seasonless wardrobe staples for the minimalist inside all of us.
Of Myth and Muse captures a boho-desert vibe with its designs. From flowy crop tops to sunset orange jumpsuits, the brand has everything you need for a weekend at Coachella or a day out in the sun. In addition, its silhouettes and cuts are loose, comfortable, and relaxed.
Every Of Myth and Muse piece works across seasons. The brand emphasizes the importance of slow fashion, mindfulness, and simplicity. If you want to experience the Of Myth and Muse vibe in real life, Emelia and Kendall have a brick-and-mortar studio in east downtown Houston.
Pinto Ranch
Vaqueros and cowboys are an integral part of Texas history, and Pinto Ranch celebrates that with its classic, traditionally made Western wear. Pinto Ranch originally began in the 1930s as a fully-operational ranch. Today it offers some of the highest quality Western apparel and leatherwork in Texas.
Pinto Ranch features apparel that captures the freedom of the West. Fringe skirts, sturdy jeans, and Western button-ups are brand staples. The brand also carries exclusive handmade cowboy boots that are unmatched in craftsmanship. In addition, Pinto Ranch has plenty of other brands that fit the cowboy and cowgirl aesthetic.
Pinto Ranch remains true to its roots by operating three retail spaces in Houston and Dallas. Its newest location, opened in 2015, is in the Bush Intercontinental Airport, making it easier for everyone to get a taste of the Southwest.
ENGOMICHU
ENGOMICHU was founded in 2016 by designer Luis Astengo. The brand is an homage to Luis' Peruvian heritage and love of Houstonian culture. As a result, ENGOMICHU crafts beautiful, sleek ready-to-wear pieces.
ENGOMICHU features boho-inspired dresses, tops, and bottoms that are relaxed, feminine, and chic. Its silhouettes are tailored yet loose, allowing for ultimate comfort without looking sloppy.
The brand uses natural fabrics in its designs, focusing on organic linen. In addition, its color palette is natural, light, and subtle. Shades of rose, beige, and green let the garments speak for themselves.
Haute Baby
If you want unique, adorable outfits for your little one, look no further than Haute Baby. The children's clothing brand has been handcrafting its pieces in its Houston studio for over 20 years.
Haute Baby makes clothing for infants, toddlers, and little kids who love everything frilly, girly, and cute. Of course, it also makes some boy's clothes, but adorable dresses are its specialty. For example, its poofy floral dresses and lace-edged frocks are fit for a princess.
Haute Baby's clothing is handmade and a bit on the pricier side. However, its pieces are great for special occasions like holidays, birthdays, and photoshoots. The brand also has accessories, matching sets, blankets, and much more to spoil your little one.
J.O.A.N. Atelier
Designer Vicky Adegbola started J.O.A.N. Atelier as a creative outlet to make eccentric, bold designs she couldn't find anywhere else. J.O.A.N. is an acronym for "jaunty, optimistic, audacious, and natural," and the independent brand is absolutely embodying that slogan.
J.O.A.N. Atelier features a wide range of womenswear for the modern woman. You can find everything from embroidered tracksuits to bodycon mesh dresses. Its designs are bold, classy, and refined but with a modern twist. For example, the billowing sleeves of its Amina Top are anything but understated.
Vicky wants to empower Black women in her community through her small business to feel confident, supported, and prioritized. The brand's powerful, feminine designs play into that mission perfectly.
Cuclie
Cuclie creates luxury baby clothes made from 100% Pima cotton. Megan Anderson and her husband launched the children's clothing brand in 2014 after falling in love with the quality and feel of Pima.
Cuclie's designs are a nice break from the often loud designs found on other baby clothes. Its classic onesies and rompers come in light colors like white, pink, and baby blue. In addition, its themed collections feature hand-embroidered designs that are delicate and sweet, just like your little one.
The brand ethically makes its clothing in Peru, where Pima cotton is a native crop. As a result, Cuclie's baby clothes are simple, sweet, and luxurious. Its fabric is silky soft to the touch and won't irritate your baby's skin, no matter how sensitive.
Luisa Nadarajah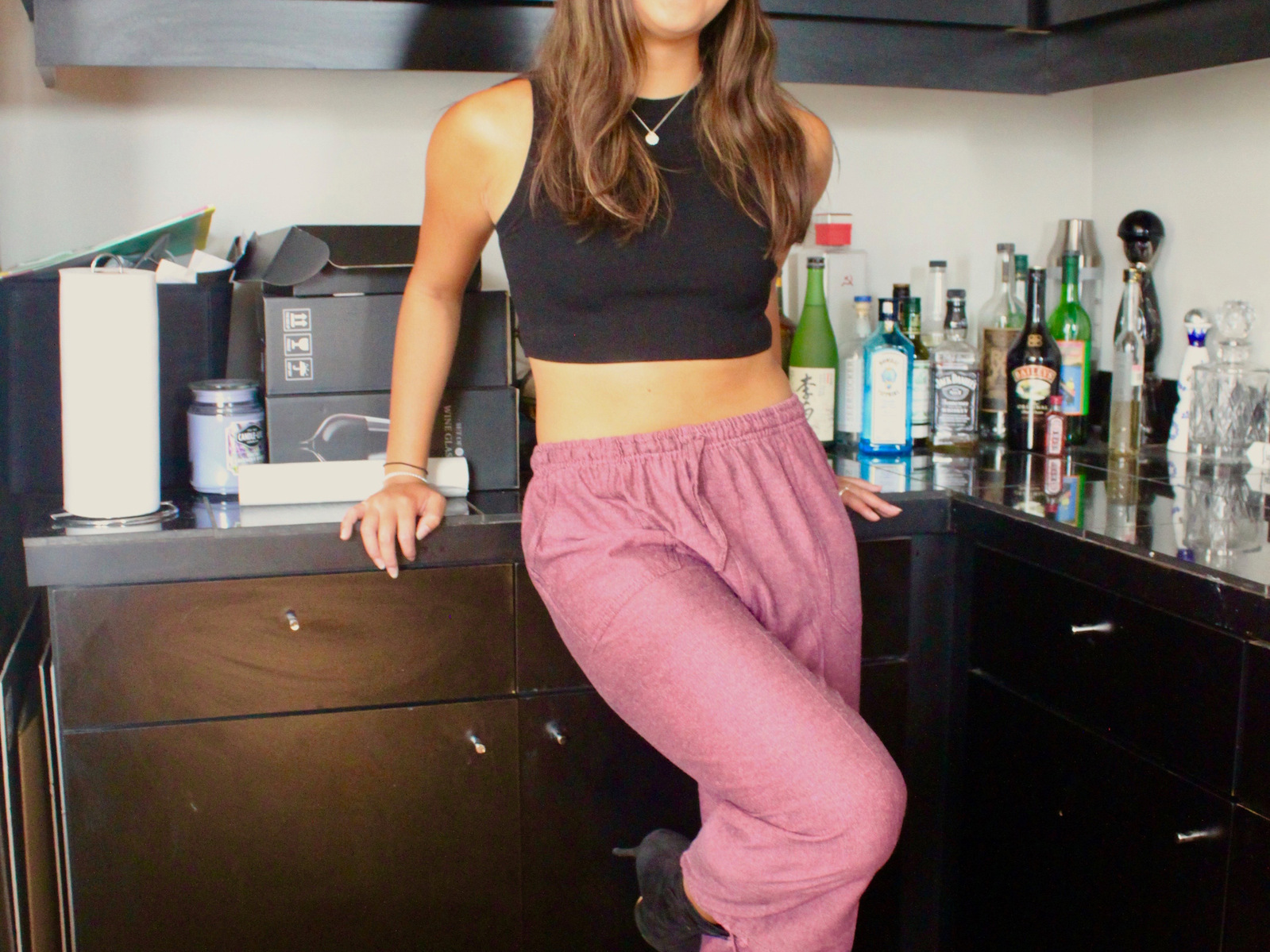 Designer Luisa Nadarajah launched her self-named brand after discovering a passion for making wearable art. Through her brand, Luisa and her team create bespoke avant-garde pieces for adventurous fashionistas.
Luisa Nadarajah's designs are diverse, eclectic, and versatile. The brand explores freedom in design, pulling inspiration from the upcycled materials available in the studio. For example, you can find simple ruffle dresses alongside alpaca hair vests and hand-embroidered floral trench coats.
Luisa Nadarajah's designs are ethically made and embody a slow fashion mindset. Each piece is handmade and hand-embroidered in its Houston studio. Most fabrics are deadstock and upcycled, and the brand sources new materials from fair trade factories.
Slumped Boyz
Slumped Boyz, founded in 2015, is taking Houston streetwear to the next level. The brand creates limited edition tees, sweats, and hoodies that infuse humor, social commentary, and classic streetwear aesthetics into unique designs.
Slumped Boyz designs call back to classic motifs like airbrush lettering, lowrider culture, and early 2000s street culture. For example, one of the brand's latest collections features a barbed wire and skull design trailing up the sides of its nylon tracksuits. In addition, many of its graphics feature graffiti art, camo, and so much more.
Fans go wild over the brand's limited edition product drops, often selling out quickly. In addition to its products, Slumped Boyz also gives back to the Houston community. The brand participates in local events like toy drives, and many of its designs comment on socio-political issues in Houston and the US at large.
Emerson Rose
Emerson Rose is a trendy womenswear brand with three retail locations throughout Houston. It's beloved for its cute mid-range designs that capture a feminine, modern feel.
At Emerson Rose, you can find almost anything you need to spice up your wardrobe. The brand carries updated basics alongside more dressed-up pieces like sequined dresses and velvet corset tops. In addition, there are plenty of comfy pullovers, pajamas, and matching sets.
If you think Emerson Rose has forgotten its Texas roots, have no fear. The brand features plenty of cute athleisure pieces that show off Texan pride. Acid-wash pullovers and tees feature bold catchphrases like "Cowgirls don't cry" and "Everyone thinks they're a cowboy these days." If you know, you know.
Pomp and Circumstance
Houston native Marie Earthman began Pomp and Circumstance in 2007 with a small jewelry line. From there, Marie's business grew. Today, the brand features a full line of fun, flirty womenswear.
A mom herself, Marie knows how hectic it can be trying to get everyone ready in the morning while still looking good. Pomp and Circumstance solves that problem with its colorful, versatile pieces that are easy to mix and match. For example, the brand features floral tops that are comfortable but modern, with tailored fits and ruffled sleeves.
In addition, its dresses, jeans, and tops are a perfect balance between casual and professional. Each Pomp and Circumstance piece can easily be dressed up for a night out with friends or dressed down for an after-school carpool.
75th & Canal Co
75th & Canal Co is a Houston streetwear brand that has been quietly gaining prominence since its founding in 2014. Launched by Victor Bernal, 75th & Canal Co is an homage to Houston's Eastside.
75th & Canal Co brings a vintage feel to Houston streetwear culture. Its tees and sweats feature colorful, cartoonish designs that bring to mind hot summer days spent on the streets with friends. Its retro typography also incorporates a softness that isn't often seen in streetwear fashion.
The brand also features limited edition Nike drops with its hand-embroidered "still holdin'" slogan. If you're lucky enough to snag one of these limited-release collections, the brand usually includes a hand-dyed retro tee to match.
Paid in Texas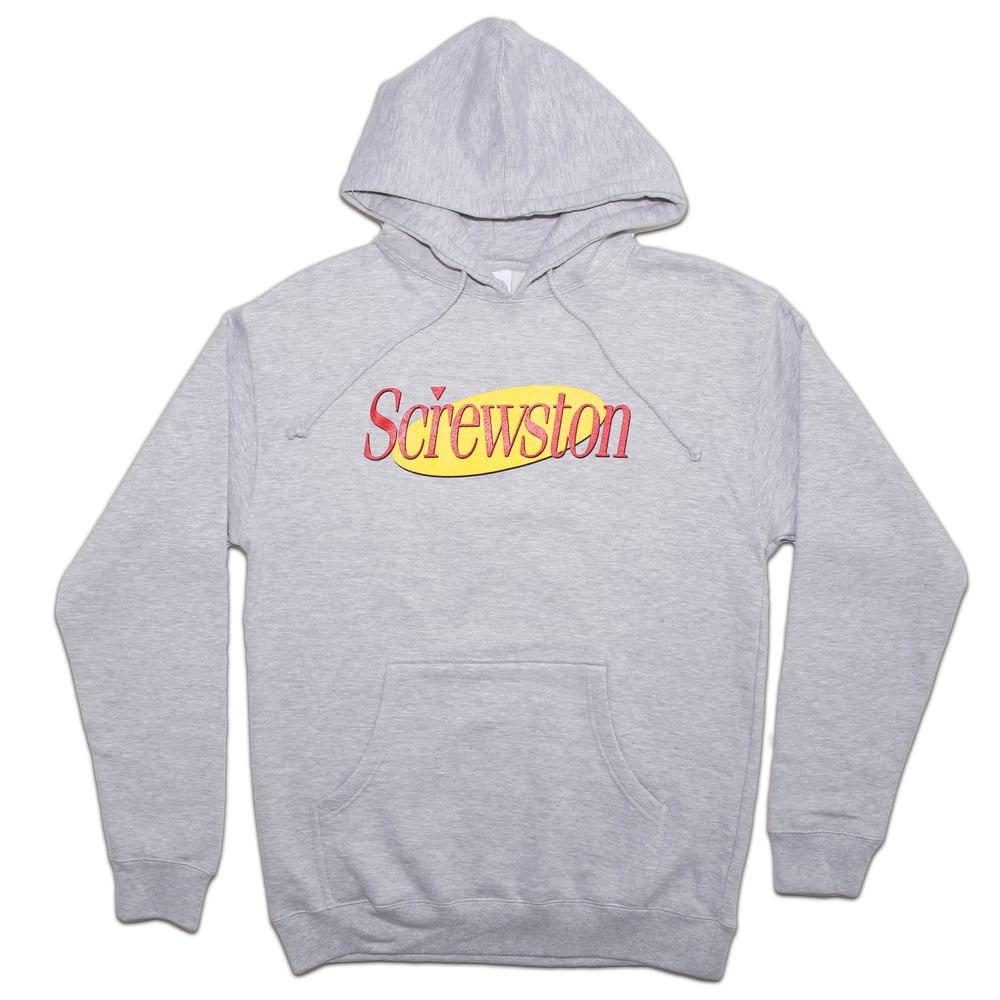 If you're a diehard lover of H-Town, Paid in Texas is the brand for you. The online t-shirt company produces edgy, in-your-face graphics on simple, everyday tees, hoodies, and beanies.
Paid in Texas offers an eclectic variety of designs that range from funny to classic. For example, you can get a simple flannel button-up or a bold Ridin' Dirty tee featuring a vintage Firebird. Its most popular products feature Screwston, a nickname for Houston, boldly printed across the front.
In addition, Paid in Texas features designs with pop culture references, like Seinfeld, Supreme, and Burger King. All in all, you're bound to find something to fit your mood when you peruse Paid in Texas' online store.