Over the last several decades, flavored spirits have been on the rise. Two of the most popular in recent years have been peanut butter whiskey and cinnamon whiskey.
While peanut butter whiskey is quite new, cinnamon whiskey has been around for several decades. However, it has seen a resurgence in popularity which has led to more brands trying their hand at this flavored whiskey. Therefore, there are now several cinnamon whiskey brands to choose from.
Fireball
When it comes to cinnamon whiskey there is only one original. The original brand to pair whiskey and cinnamon, Fireball has been making its rounds to college campuses and parties since 1984.
This classic spirit is easily recognized by its hot and spicy cinnamon flavor that tastes like a hot cinnamon candy in liquid form. In addition to its heat, it has a smooth sweet flavor that makes this brand one of the standard go-to choices for shots.
Beyond the easy-to-shoot flavor, its lower alcohol percentage (compared to other types of liquor) of 33% makes it easy to enjoy two or three shots. However, if you lived it up in your college days with Fireball, the thought of this brand may make you feel a certain way.
While drinking cinnamon whiskey in your twenties may have attached a few too many feelings to Fireball, you don't have to give up all cinnamon whiskey. There are more than a dozen other cinnamon whiskey brands to choose from today.
If you are in the minority that didn't drink Fireball in your twenties, it is a classic choice. Give it a try first so you can compare the original cinnamon whiskey to all the others that are now available.
Even though Fireball is known for being taken as a shot, this is also a tasty choice to add to spiced cider or a hot toddy. In addition, it can be used to add spice to other fun cocktails.
Even though Fireball is a popular choice among younger generations, it is one of the more expensive brands. A bottle of Fireball runs about $21.
Jack Daniel's
For those looking to explore cinnamon whiskey from a more mature perspective, look towards the brands that were first known for their whiskey. Like Jack Daniel's.
Jack Daniel's has been making whiskey since 1866 when the founder purchased his first distillery. Moreover, this brand was the first registered distillery in the United States.
As the first official whiskey brand in the United States, it makes sense that Jack Daniel's decided to explore the cinnamon whisky rage. However, this traditional brand held out until 2014.
When Jack Daniel's finally decided to participate in the cinnamon whiskey trend it did so by still honoring what it is known for. Rather than creating a new flavored whiskey, Jack Daniel's began with its classic No. 7 whiskey and then added spicy cinnamon liqueur.
Jack Daniel's Tennessee Fire is a wonderful blend that honors the tradition of whiskey and the fun of creativity. This cinnamon liqueur in this whisky adds a spiciness that presents boldly and lingers. A great choice for a sophisticated shot.
In addition, the same smooth finish of No.7 is clearly present which makes for a nice sipping spirit. The smooth flavor and 35% ABV make it easy to enjoy neat, over ice, or as an alternative to plain whiskey in many cocktails.
The more mature flavor of this classic whiskey brand makes it slightly more expensive than other brands. It runs about $25.99 a bottle.
Evan Williams

While Jack Daniel's may have had the first official distillery registered in the United States, whisky was being made long before that took place. Before Jack Daniel's launched in Tennessee, Evan Williams was making whisky over fifty years earlier in Kentucky.
Evan Williams opened the first distillery in Kentucky in 1783. Since first opening its doors along the banks of the Ohio river, Evan Williams has continued to make whiskey in a time-honored way.
While this brand is known for its commitment to tradition it is also a brand that continues to grow with its customers. Therefore, it has added flavored whiskies to its lineup over the years. It has a variety of flavors like peach, apple, and cherry. It also has a delightful cinnamon whiskey.
Evan Williams describes its Fire whiskey as, "…the right way to play with fire." Infused with honey-inspired cinnamon, this whiskey is sweet and smooth. And at 32.5% ABV, it is a perfect choice for a fiery shot that will add a little bit of warmth to the belly but still have a smooth taste.
At only $14.99 a bottle, this brand is an inexpensive choice that still offers a great overall flavor. Moreover, as one of the oldest and most popular whiskey brands in the country, it is easy to find anywhere whiskey is sold.
Jim Beam
Since 1795, Jim Beam has been distilling some of the most popular whiskey in the world. Known for its traditional Kentucky Straight Bourbon, this brand is not afraid to keep up with modern times. Therefore, as the desire for flavored whiskies grew, so did the many flavored options by Jim Beam.
Although they are keeping up with modern demands, Jim Beam is staying true to tradition in the way it makes its flavored whiskies. Like Jack Daniel's, Jim Beam starts with its famous Kentucky Straight Bourbon. Then they add the cinnamon liqueur.
Jim Beam Kentucky Fire Whiskey has a balanced flavor that is smooth, sweet, and fiery. In addition to the bold cinnamon flavor, there are also distinct notes of vanilla and caramel.
This cinnamon whiskey is another excellent choice for a more sophisticated shot. With an alcohol percentage of 35%, it will even give you a little bit more bang for your buck. But as the brand says, "Drink it any damn way you please."
Available for around $18 a bottle, Jim Beam is a great choice for exploring a well-made traditional whiskey with a bold cinnamon flavor.
Jeremiah Weed
Jeremiah Weed came onto the market in the 1960s and was a popular whiskey enjoyed by military men during the Vietnam war. However, over the years it has not been promoted in the same way that many other whiskey brands have been. Therefore, you may not be as familiar with it.
While Jeremiah Weed may not be a brand you are as familiar with, it is a solid choice to look for when exploring different cinnamon whiskies. Similar to Fireball, this brand has a bold cinnamon flavor that is like cinnamon candy in liquid form.
That first sip gives you the same experience as the first bite of a Hot Tamale. This initial kick smooths out and is followed up with warm notes of cinnamon and vanilla.
One unique quality of Jeremiah Weed Addition is its oak-aged flavor. The distinct warm oak-aged flavor is specific to this brand of cinnamon whiskey. At 35.6% ABV this whiskey you can easily enjoy the oakiness of this cinnamon whiskey by sipping on it in a cocktail, neat, or over ice.
Although this brand has not been promoted in the same way as other brands, it has continued to be a staple spirit over the years. Therefore, it is easy to find in liquor stores across the country. At around $18 a bottle, it is a good choice for those who want a new spin on a bold cinnamon-flavored whiskey.
Stillhouse Moonshine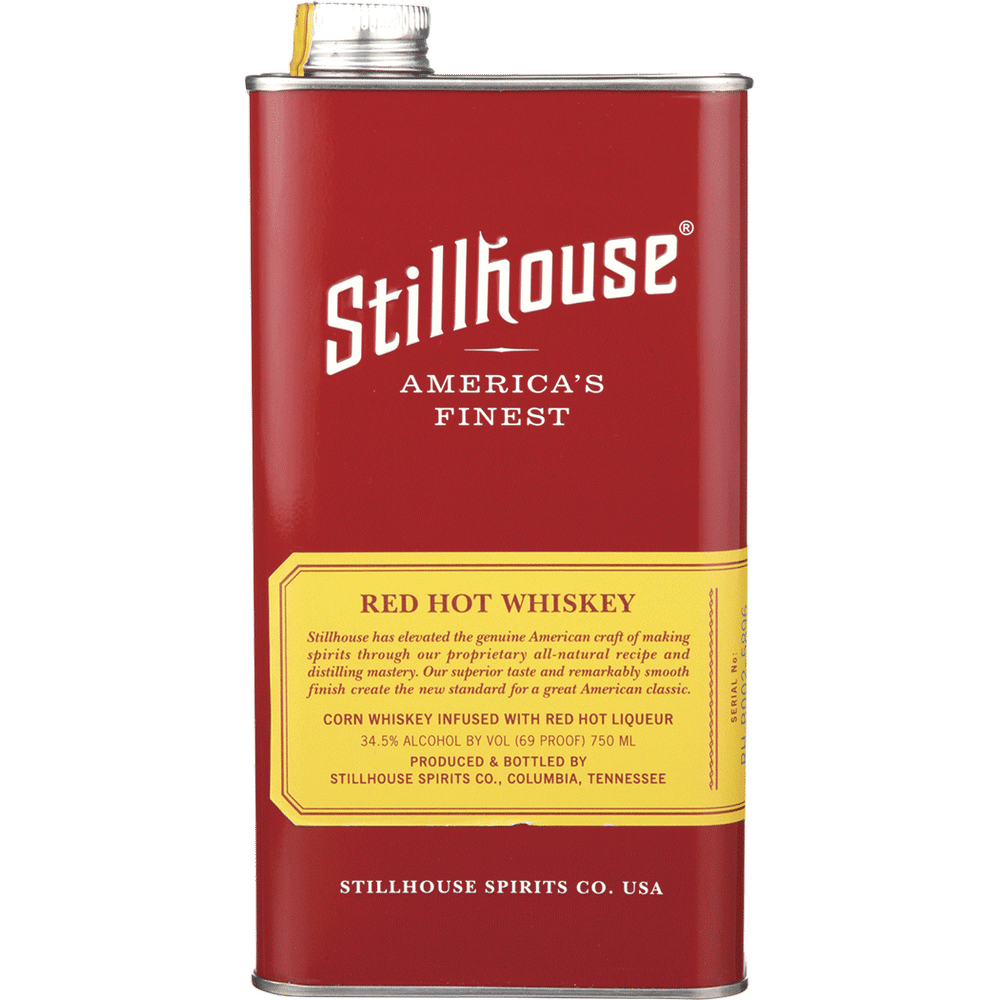 While sitting at home sipping on cinnamon whiskey or taking shots in a bar are classic places to enjoy a boldly flavored whiskey, they are not the only place. One of the best places to enjoy a bit of warmth in the belly from whiskey is outdoors.
Bottling cinnamon whiskey to follow you anywhere you may go, that glass cannot go, is the goal of Stillhouse Moonshine. This brand bottles all of its spirits in stainless steel packaging. Not only does this make it easy to enjoy hiking, camping, boating, or at concerts, but it also keeps it at the perfect temperature.
Made from 100 percent corn whiskey and natural cinnamon, this flavored whiskey presents the same flavor you would expect from freshly ground cinnamon. In addition, a perfect amount of sweetness adds to the warmth of the spice.
This super smooth cinnamon whiskey has an alcohol percentage of 34.5%. Therefore, you can enjoy bold smooth shots of cinnamon whiskey straight from the can while out in nature or pour a glass to sip on at home.
Look for Stillhouse Moonshine Red Hot Whiskey at your local liquor store, or ask for it in a bar. It runs about $22.99 a can.
Yukon Jack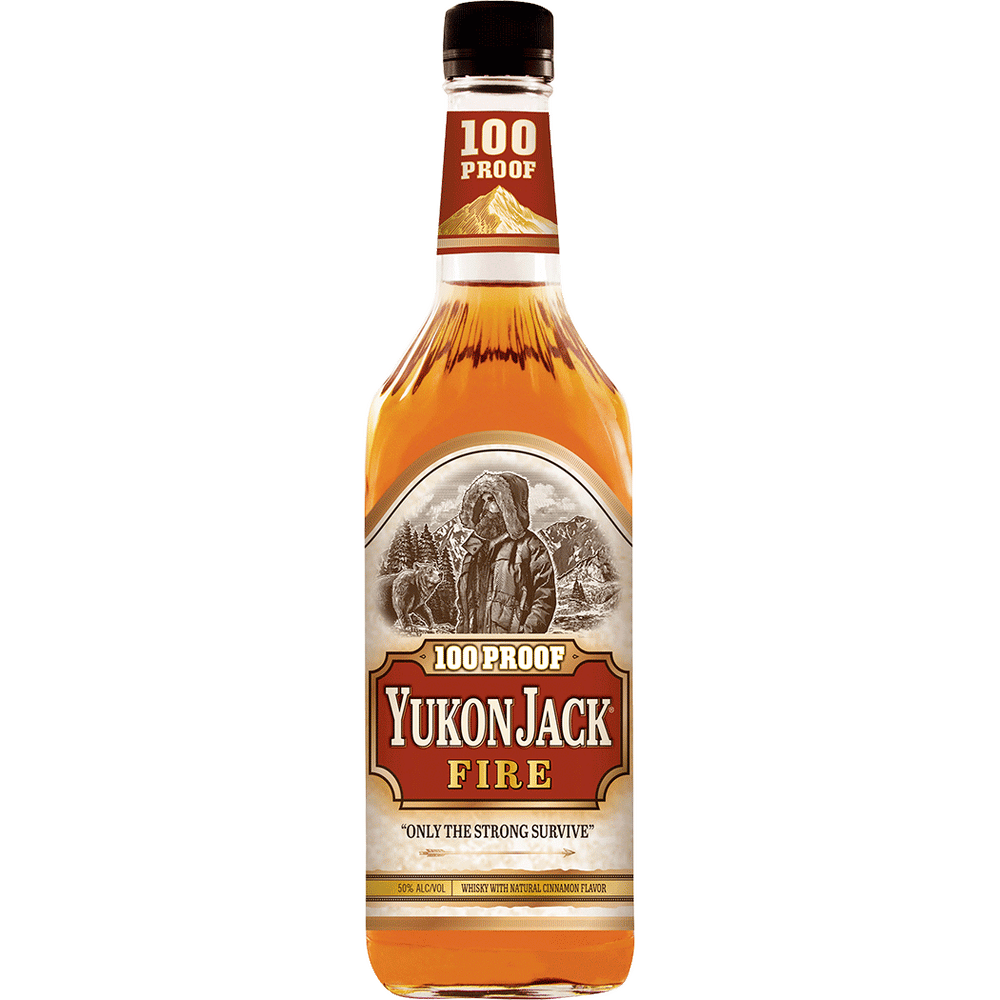 As a brand under the famed Sazerac company out of Kentucky, Louisiana, Yukon Jack has a rich background in whisky making. This brand's original whiskey is a 100-proof whiskey that is advertised to those looking for "…a challenge."
Therefore, while Stillhouse Moonshine may be bottled for the outdoors, Yukon Jack is distilled for the rugged drinkers of the great outdoors. And for those looking for an extra challenge, Yukon Jack created Yukon Jack Fire.
Yukon Jack Fire has a bold cinnamon kick that will put fire in the belly. The 50% ABV of this whiskey adds to the boldness of the flavor and makes it the perfect cinnamon whiskey to add a kick to ciders.
While many prefer to mix this strong cinnamon whiskey, remember that Yukon Jack is made for the bold. Therefore, it can be enjoyed on its own by straight shooters as "a true test of strength."
This brand is popularly sold on Drizly.com and runs about $20 a bottle.
Cinerator

While many classic whiskey brands have added cinnamon-flavored whiskey to their lineup, there are some brands that only make cinnamon whiskey. Fireball is the most popular brand that is known specifically for only making cinnamon whiskey. Another brand that only makes cinnamon whiskey is Cinerator.
Although Cinerator only makes cinnamon whiskey, this brand is bottled by one of the most famous bourbon distilleries in the United States. Located in Louisville, Kentucky, Heaven Hill is a family-owned distillery founded in 1935. Since its opening, this distillery has become the largest family-owned bourbon distillery in the world.
While Heaven Hill has been making whiskey for almost a hundred years, Cinerator is one of the newer brands to be bottled at this famous distillery. Moreover, Cinerator is one of the newest cinnamon whiskey brands on the market. However, since coming onto the scene in 2013, it has quickly become one of the best.
This 91.1 proof whiskey is one of the boldest and strongest on the market. It provides an intense cinnamon flavor that is made from ground cinnamon bark. However, despite its bold flavor and 45.2% ABV, Cinerator prides itself on how smooth it goes down.
Made for having a good time, Cinerator has created several cocktails around its bold cinnamon whiskey. These fun cocktail recipes can be found on the Cinerator website. If you want to test the smoothness though, feel free to take a strong shot of this cinnamon whiskey.
At only about $15 a bottle, this new brand gives you the most flavor for your buck. Look for it at liquor stores nationwide.
SinFire
Distilled in Hood River, Oregon, Sinfire is a flavored whiskey brand that uses Canadian whisky (which is reflected in its spelling of whisky with no "e"). And since it came onto the market in 2012 it has quickly become a popular choice for those seeking a cinnamon whisky with a well-balanced flavor.
Made with all-natural cinnamon flavors this whiskey begins with a soft cinnamon flavor and leads up to a spicy cinnamon finish. In addition to the cinnamon-forward flavor, the brand says you will notice notes of pie spices and toasted grains. This blend of flavors creates a soothing and warm flavored spirit with the perfect amount of sweetness.
Beyond the classic cinnamon-flavored whisky by Sinfire, this brand is unique because it has created several variations of the cinnamon-flavored whisky. When you are ready to explore a new take on cinnamon whiskey, check out one of the many other amazing Sinfire flavors.
Apple Cinnamon Whisky
Vanilla Cinnamon Whisky
Sriracha Honey Whisky
In addition to getting creative with its flavors, Sinfire has created its signature temperature-controlled bottle for its cinnamon whisky. When warm or at room temperature it reflects the red logo. However, when it is chilled to perfection the logo turns blue.
At 35 % ABV and $16.50 this brand is excellent for fun flavored shots or to elevate other flavors in a whisky cocktail. Sinfire is easy to find across the country, so look for it next time you are at your local liquor store.
Revel Stoke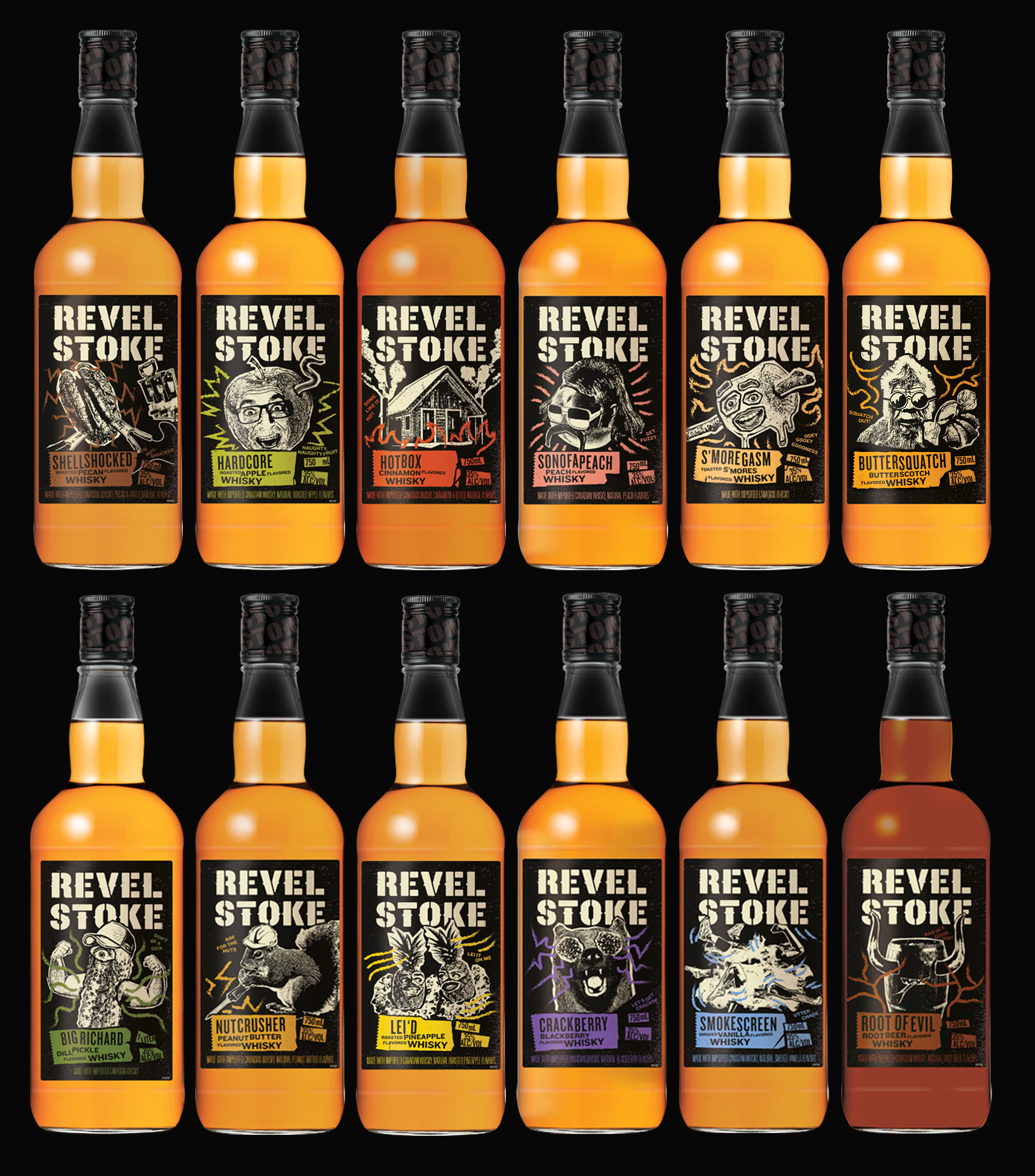 Revel Stoke is another brand that is similar to Sinfire. It is a Canadian whisky that is bottled in the United States and a brand that is known primarily for its flavored whiskies.
While Sinfire is bottled and sold in Oregon, Revel Stoke comes to us from Princeton, Minnesota. With those cold Minnesota winters in mind, Revel Stoke knows exactly how to warm the belly with a deliciously flavored spiced whisky.
The secret to this brand's perfectly balanced Hotbox Cinnamon Whisky is its use of both Saigon and Ceylon cinnamon. Saigon cinnamon is more commonly used in baking and cooking. However, Ceylon cinnamon is often referred to as "real cinnamon" and offers a rich flavor as well as many health benefits.
This balanced cinnamon flavor lends a delightful spice that is supported by other notes of nutmeg, caramel, vanilla, and cardamon. In contrast to other whiskies with a bold cinnamon candy flavor, this brand is sometimes described as having a flavor that is closer to a spiced rum.
Following the Revel Stoke motto to "Celebrate Good Times," this Hotbox Cinnamon Whisky is perfect for any type of celebration. With 35% ABV is great for a slightly sweet and spiced shot or to add to a cocktail or paired with a classic Coca-cola.
In addition, this reasonably priced spiced whisky is affordable for any occasion at about $17 a bottle. It is easy to find at liquor stores in major cities across the country. However, it may be more difficult to find in smaller towns.
Ole Smoky
Ole Smoky takes pride in its history of making moonshine in the Smoky Mountains for generations. While it wasn't always legally made, the rich history of Ole Smoky has been on the right side of the law for several decades since opening its first federally licensed distillery in Gatlinburg, Tennessee.
Since that first official distillery, this brand has continued to grow. Today, there are a total of four Ole Smoky distilleries spread across Tennessee. With four distilleries, this brand has been able to keep up with demands for new flavors and products.
While Ole Smoky began as a moonshine company it later added whiskey to its line of spirits. Moreover, a wide selection of flavored whiskeys. One of the brand's most popular whiskey flavors is its cinnamon-flavored whiskey.
This cinnamon whiskey offers a bit of boldness in every sip with a hot cinnamon flavor right up front. With 35% ABV, Ole Smoky lovers suggest enjoying this flavored whiskey as a shot or sipping it over ice.
At around $19.99 a bottle, Ole Smoky can be found nationwide.
Bird Dog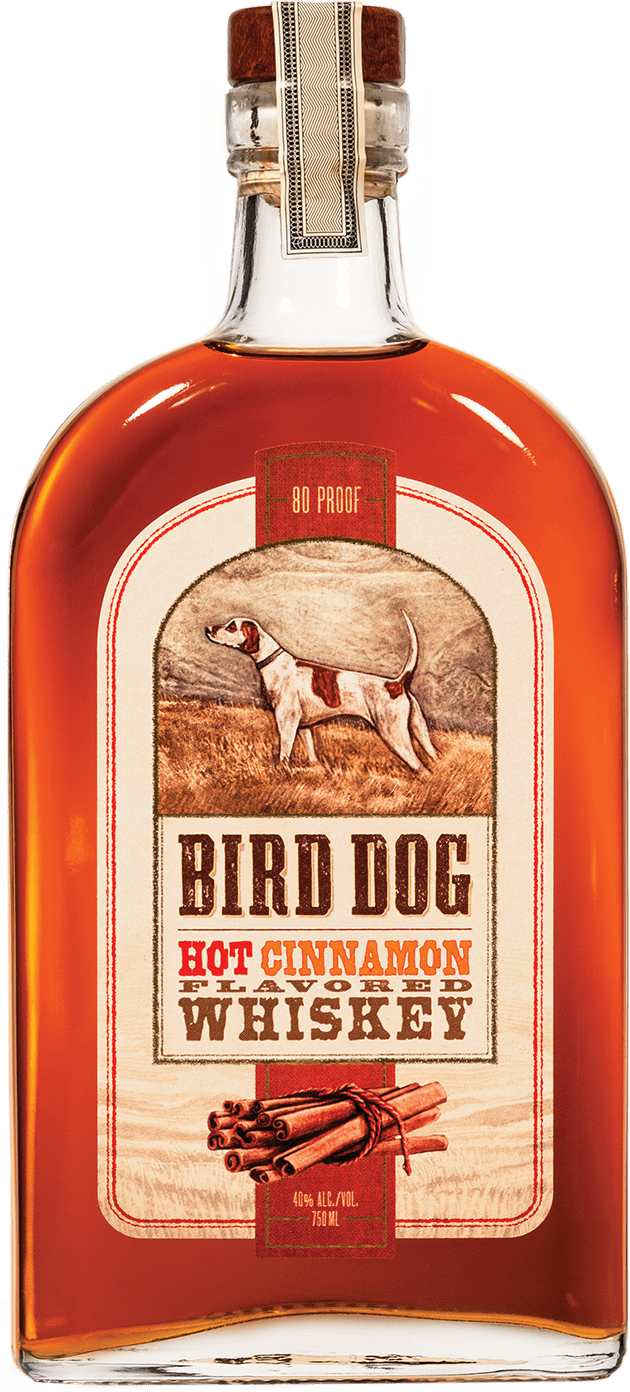 Bird Dog may be newer to the whiskey community, but since coming onto the scene in 2010 this brand has made a name for itself in the world of flavored whiskey.
With a special focus on crafting only flavored whiskey, Bird Dog knows exactly what is needed for the perfect blend of whiskey and flavoring. This is seen in all of its flavors including its Hot Cinnamon Whiskey.
Bird Dog Hot Cinnamon Flavored Whiskey greets your taste buds with a spicy cinnamon flavor that is followed by softer notes of caramel and vanilla. While this balanced flavor profile can be enjoyed in cocktails, the Bird Dog team suggests shooting this whiskey straight to enjoy its full flavor benefits.
With an alcohol percentage of 40%, this brand is a bit higher than some other cinnamon whiskey brands that are traditionally used for shots. However, that means you can enjoy spreading the Bird Dog out throughout the evening.
At about $19.99 a bottle Bird Dog can be found at several local retailers around the country and can also be ordered online through stores like Drizly.com (depending on where you live).
Creekwater
A craft whiskey out of Durham, North Carolina, Creekwater has been on the rise since releasing its first whiskey in 2018. This brand's original whiskey is a 100-proof whiskey made from a blend of rye, malt, and corn. The result is a strong whiskey with aromas of tobacco and maple syrup.
Like other brands known for their traditional bourbon blends and whiskey, Creekwater added a modern option with a cinnamon-flavored variety. In addition, this brand elevated its modern take on whiskey by collaborating with a celebrity. Creekwater American Cinnamon Flavored Whisky is a collaboration with rapper Yelawolf.
To create this modern flavor, Creekwater began with its original 100-proof bourbon. However, to help balance the boldness of this 100-proof spirit, the brand cut it down to 70-proof and then added a new type of boldness with the cinnamon flavor.
The result is a bold cinnamon whiskey that is reminiscent of the same aromas you would smell while baking with this spice. Including the addition of vanilla, brown sugar, and honey.
This craft whiskey is one of the more expensive on the market at around $30 a bottle. Moreover, it is not as easily found across the country. However, you can order it online from the store at forwhiskeylovers.com
Sugarworks
One of the newest brands on the market, Sugarworks is a family-owned and operated distillery located in New Smyrna Beach, Florida. This brand is committed to providing small-batch whisky, rum, and moonshine that follows the original distilling processes and also uses locally sourced ingredients.
Made with 100% corn whiskey, its Shark Bites Cinnamon Whiskey is made with fresh cinnamon and local raw honey. Two unique ingredients compared to some larger brands that use artificial sweeteners and flavoring.
Although sweetened with honey, this cinnamon whiskey is not too sweet. It is well-balanced with a cinnamon-forward flavor at the first sip that is followed by red peppery notes.
With an alcohol percentage of 35%, this brand is on par with larger brands and is even a bit stronger than the original Fireball. A well-balanced alcohol this cinnamon whiskey can be enjoyed in any manner.
This craft cinnamon whiskey is not as readily available across the country. However, it is sold in many stores throughout Florida and can be purchased directly from the distillery. In addition, you can try this whisky during a tasting at the distillery before purchasing.
Atomic Red
Atomic Red is a lesser-known brand but it has gained notoriety among some for being an inexpensive replacement for Fireball.
This blended Canadian whiskey has a hot cinnamon flavor that is straightforward when taken as a shot. However, when mixed into a cocktail it loses some of its boldness but will help enhance the other flavors in the drink.
While this brand may not be available in all liquor stores it is easy to find online through retailers like Drizly.com and MaineSpirits.com.
With the same 33% ABV as Fireball and only about $12.99 a bottle, this is a great brand to seek out for a cheap alternative to the original cinnamon whiskey.
Angels and Demons

Angels and Demons cinnamon whiskey is distilled in Minnesota and is a nice option for those who want a low alcohol percentage spirit with a bold flavor.
This cinnamon whiskey is lower than most brands at only 30% ABV. However, it still has a nice spicy cinnamon flavor that comes through nicely in a shot, served neat, or mixed into a cocktail.
In addition to the clear cinnamon flavor that has a similar candy-like sweetness as Fireball, Angels and Demons also has similar notes of caramel and vanilla.
At only $12.99 a bottle this smaller brand is worth checking out when you are ordering online at Drizly.com or other popular online liquor distributors.
Magma Flame
Magma Flame is another lesser-known brand that is an inexpensive choice. Moreover, this brand is ideal for those who want a sweeter spirit.
With a less prominent whiskey flavor, Magma Flame has a sweeter cinnamon and brown sugar flavor. It is also a lighter spirit with only 30% ABV.
The sweeter side of this cinnamon-flavored whiskey is a nice addition to sweet cocktails, but it could also be enjoyed as a shot for those who want something less spicy than Fireball.
Look online for this inexpensive brand that is about $13 a bottle.
Hellboy Hellwater
In addition to the craft distilleries, the original whisky brands, and the trendy flavored whisky makers, is Hellboy Hellwater Cinnamon Whiskey. The whiskey was made just for the famed Hellboy character.
Made from corn whiskey at XXX Distillery in the United States, this whiskey is more about the name and less about the whiskey. Made with natural cinnamon flavor and caramel coloring this basic cinnamon whiskey provides a cinnamon candy flavor that is on the sweeter side.
Although this may not be the cinnamon whiskey you buy for everyday drinking, it is a fun choice for those who love Hellboy or as a gift for someone who is a Hellboy fan. However, since this is a less common brand, you will need to plan ahead to order it from Drizly.com
At 33.3% ABV and about $20 a bottle this cinnamon whiskey will provide a similar experience as Fireball with the addition of Hellboy branding.
Conclusion
When Fireball launched the first cinnamon whiskey in the 1980s, it launched a trend that would last for decades. Today, there are dozens of brands that have taken on the challenge of creating the best cinnamon whiskey.
Whether you are looking for a cheaper alternative to the original or a more mature take on a college classic, there is a brand for you. So, grab a shot glass and decide which one is your favorite.
20 White Rum Brands For Your Next Cocktail Party