When in need of clear liquor for mixing cocktails, many people reach for vodka or tequila. But there is a third clear liquor that is just as amazing. Rum. White rum, specifically.
White rum still has the same rich warm notes of brown sugar and butterscotch you find in dark and spiced rums but without the color. Therefore, making it a perfect clear liquor to use in an array of flavorful cocktails.
Bacardi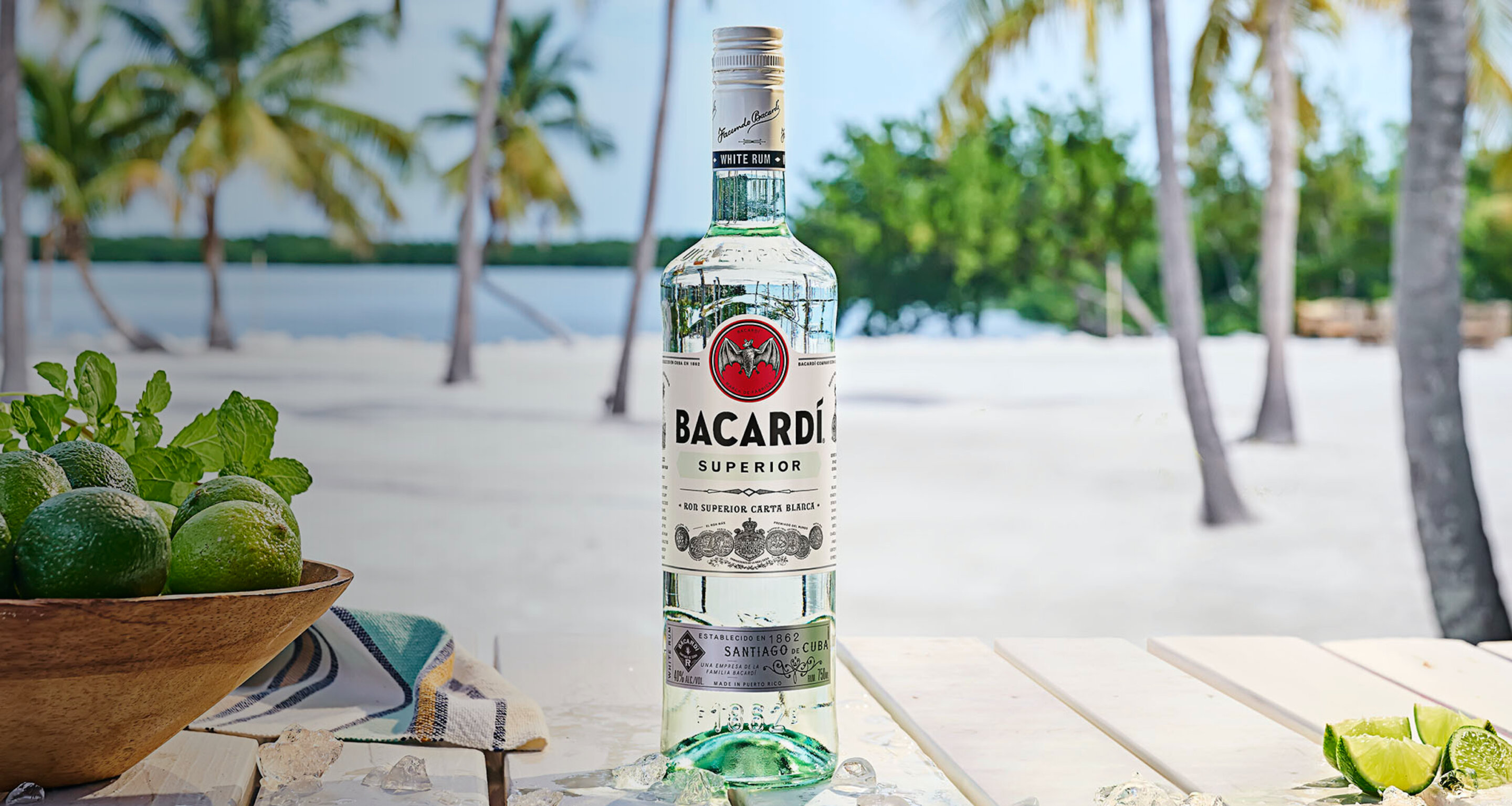 You cannot talk about rum without first mentioning Bacardi. While some may associate Bacardi with an inexpensive liquor favored by college students, this brand was once a favorite of the rich and famous
Bacardi secured its fame with the wealthy when it was awarded a gold medal at the Exposición Universal de Barcelona in 1888. This was quite an accomplishment, having only released its first rum six years earlier, in 1882.
Winning the gold medal in Barcelona was just the beginning of fame for Bacardi. For the next century, it continued to grow and expand around the world. Bacardi didn't just expand its sales and distribution around the world but also its production.
Today, Bacardi is usually associated with Puerto Rico. However, Puerto Rico is only one of the many locations where Bacardi is distilled. Moreover, the first distillery was in Cuba, founded by Don Facundo Bacardí Massó in Santiago de Cuba.
When the brand first expanded its production, it opened a distillery in Barcelona, Spain, in 1910. With a growing demand for Bacardi in the United States at that time, the next distillery opened was in New York City.
Puerto Rico eventually got its distillery in the 1930s, along with Mexico. Puerto Rico and Mexico are the largest Bacardi distilleries.
Bacardi Superior White Rum
Today, Bacardi has an extensive range of rum. However, the first rum distilled by this brand was its white rum.
The first rum of its kind, this white rum is a blend of two separately distilled spirits, that are distilled multiple times and aged in oak barrels. The result of the Bacardi distillation process is a smooth rum with a light and balanced flavor.
As the rum that set Bacardi on the road to fame, Bacardi Superior White Rum is properly named as it is superior to many other brands.
Bacardi Superior White Rum was the inspiration for some of today's most popular rum cocktails, such as the Cuba Libre and Mojito. Therefore, whether you plan to mix it with soda or blend it with fruit, you can't go wrong using Bacardi in a mixed cocktail.
In addition, Bacardi is also great paired with soda water and a squeeze of lime. A simple way to enjoy the light crisp flavor of Bacardi and appreciate the underlying hints of vanilla.
With so many ways to enjoy this white rum, you will appreciate its affordability at around $20 a bottle. You will also appreciate that it is easy to find at any liquor store (and many grocery stores) across the country.
The Real McCoy
If it wasn't for Bacardi, The Real McCoy would be number one for the best brand of white rum. In fact, let us just say that they are tied.
The Real McCoy is made at the Foursquare Distillery in Barbados. While this brand may not be as commonly known in the states as Bacardi, it has an equally rich history that dates back to 1820.
If the fact that Foursquare has been distilling rum for over 200 years is not enough to convince you it's one of the best, then listen to your local bartender. The Real McCoy is one of the white rums preferred by bartenders, and any time the bartenders like a liquor you know it is a good one.
To craft this highly sought-after white rum, The Real McCoy is aged for three years to help develop its rich flavor. Afterward, it goes through a charcoal filter to remove the color.
The final result is a white rum with an extra smooth classic flavor. In addition to the classic caramel flavor, you will pick up notes of banana, coconut, and citrus.
This perfectly balanced blend of tropical flavors is ideal for mixing into all the classic rum-based cocktails, like pina coladas and daiquiris. Like Bacardi, this brand of rum can also be enjoyed paired with a simple soda.
In addition, the sweet notes of this white rum are perfect to pair with bitter flavors. Therefore, making it a delightful base for many chocolate or coffee cocktails.
As one of the favorite white rum brands on the market, many liquor stores carry The Real McCoy. However, if you can't find it at home, it's a great excuse to book a trip to Barbados, where you can visit the distillery.
At an affordable price that ranges from $13 to $22 a bottle (depending on where you purchase it), this brand is worth trying in place of your regular go-to rum.
Probitas Rum
Probitas is a brand of rum under the larger brand Altamar out of California. Altamar is on a quest to bring flavor back to the spirits in the United States, and that includes rum.
Probitas feels that over the years, white rum has lost the rich flavor it was known for prior to Prohibition in the United States. Therefore, in order to revive the bold flavors of this spirit, Probitas collaborated with two of the best rum distilleries in the world: Foursquare Rum Distillery in Barbados and Hampden Estate Distillery in Jamaica.
These two distilleries are known for producing some of the best rum in the Caribbean. Therefore, making them the perfect choice for creating a new rum that honors the original flavor. All without added sugar, artificial flavors, or coloring.
This new white rum is a perfectly blended flavor that Probitas imagines is the exact type of rum used to make daiquiris back in the days before Prohibition. In addition to the flavor, this rum has a slightly stronger alcohol percentage of 47% which adds additional boldness to cocktails.
While Probitas is not currently available at all liquor stores in the states, you can find a detailed list of distributors on the Altamar website. In addition, you can also order Probitas online (depending on where you live). This premium rum runs about $34.99 per bottle.
Captain Morgan
Next to Bacardi, Captain Morgan is one of the most recognizable rum brands in the world. Especially in the United States. However, Captain Morgan didn't come onto the scene until much later, in 1944.
Although Captain Morgan has been around for almost 80 years, it did not become popular until 1984 when it released its spiced rum. Since then, Captain Morgan has mostly been recognized for its spiced rum.
While its spiced rum is one of the best around, there is more to this brand than a single type of rum. Captain Morgan produces several other types of rum, including a wonderful white rum.
Inspired by the Caribbean, this white rum is extra smooth thanks to being distilled 5 times. Made from fine cane molasses, it has the perfect sweet notes to make a Mojito or other classic tropical drink.
One of the reasons Captain Morgan is popular is because of its price. Moreover, how easy it is to find. This reasonably priced rum is a bit cheaper than Bacardi and can be found across the country at any liquor store and many grocery stores.
Ten To One
Marc Farrell, the founder of Ten To One, is on a mission to elevate the conversation around rum. Moreover, help those in the United States to explore rum as the spirit of choice for several occasions (not just the stereotypical Spring Break).
Founded on the rich Caribbean culture of rum, Ten To One honors the history of this spirit while adding modern elements. The brand's white rum reflects this in its unique and modern flavor.
A blend of unaged rum from the Dominican Republic and unaged rum from Jamaica, this white rum is crisp and clean. Part of the flavor profile is due to this rum being made without any added sugar, coloring, or flavoring.
In contrast to the heavier and sweeter notes of brown sugar seen in many rums, Ten To One is lighter. This white rum emphasizes notes of jasmine, honeysuckle, white pepper, and lemongrass.
If you are ready to explore the new direction of rum, then Ten To One is the brand to try. You can find this elevated brand at several locations nationwide. For exact locations, visit the Ten To One website. This craft rum is currently priced at $36.99 a bottle.
Rhum Barbancourt
Rhum Barbancourt is recognized in Haiti as the only true Haitian rum. This brand is also Haiti's number one export.
The honor of being number one began in 1862 when Barbancourt was first established by Dupré Barbancourt. In the 1950s, Jean Gardère took over the brand. He continued to honor the history of Barbancourt while also allowing it to move in a modern direction.
Today, the same traditions that built this brand are honored by the granddaughter of Jean Gardère, Delphine Gardère. This includes distilling a white rum that is perfect for traditional cocktails, as well as modern ones (like the brand's signature Champ-De-Mars or Blue Tap-Tap).
Made from pure sugar cane juice, the brand's white rum is crystal clear and full of flavor. It is a young rum that is not aged like many other brands' white rums. In comparison to aged rums that often have heavier and sweeter flavors, this rum is lighter with bright citrus and floral flavors and a bit of spice.
If you want to explore a new rum at a price point similar to Bacardi, Rhum Barbancourt is a great choice. Many large liquor stores carry it across the country, as well as online stores.
Mount Gay

In 1703, Sir John Gay Alleyne dug a well in Barbados. This well was the beginning of Mount Gay rum. Moreover, it is the well that continues to be used 300 years later to keep this brand alive.
This rum is one truly built from the earth. In addition to the water used from the well, Mount Gay continues to use the cane and airborne yeast of Barbados. Moreover, following the traditional practice of turning local cane into sugar, sugar into molasses, and molasses into rum.
Unlike many brands that began with distilling white rum, Mount Gay just recently added white rum to its collection. However, Silver by Mount Gay takes its lead from the classic rums the brand is already known for and follows the same starting process that has been used for centuries.
While many of the brand's classic rums are aged, its white rum is unaged. It is also double distilled in a traditional column and double retort pot stills. The final clear white rum has a smooth finish with the same warm butterscotch, toffee, cane, and fresh fruit notes found in the original rums by Mount Gay.
Tradition doesn't just stop with how this rum is made, but how it is enjoyed. Mount Gay rum is still enjoyed as it has been for ages, at rum shops around the island.
If you cannot make it to a rum shop though, look for this rum closer to home. While it is not available in all states, you can quickly find it by using the store locator on the Mount Gay website.
El Dorado
While rum is often associated with the Caribbean, Cuba, or Puerto Rico, El Dorado is a brand from Demerara (a historical region located on the north coast of South America and is part of the country of Guyana). Demerara is home to Demerara Distillers Limited which manufactures the El Dorado brand.
Although this brand is located in a region different from many other rum distilleries, El Dorado has an equally rich history in rum making. As early as the 1600s, rum-making was a regular part of the economy in Demerara and by the late 1700s, there were over 300 rum distilleries in this region.
Over the years, these individual distilleries slowly started to shut down. In 1999, the remaining nine distilleries merged under one brand and distillery – Demerara Distillers Limited.
The century-old practice of distilling rum is evident in the El Dorado white rum. Aged for a minimum of three years, in oak barrels, this brand is committed to taking time for the best flavor.
After the aging process, the rum is double-distilled and then run through a charcoal filter to remove the color. This is much like the aging and distillation process used to make The Real McCoy.
The final taste of this rum is well-rounded and smooth. In addition to the primary notes of citrus and vanilla, you may even pick up on chocolate, raisins, and coconut.
This more complex flavor makes for a perfect cocktail mixer. It is a particularly great choice for a fruit-forward or chocolate cocktail.
El Dorado is comparable in price to Bacardi and easy to find at most large liquor stores.
Havana Club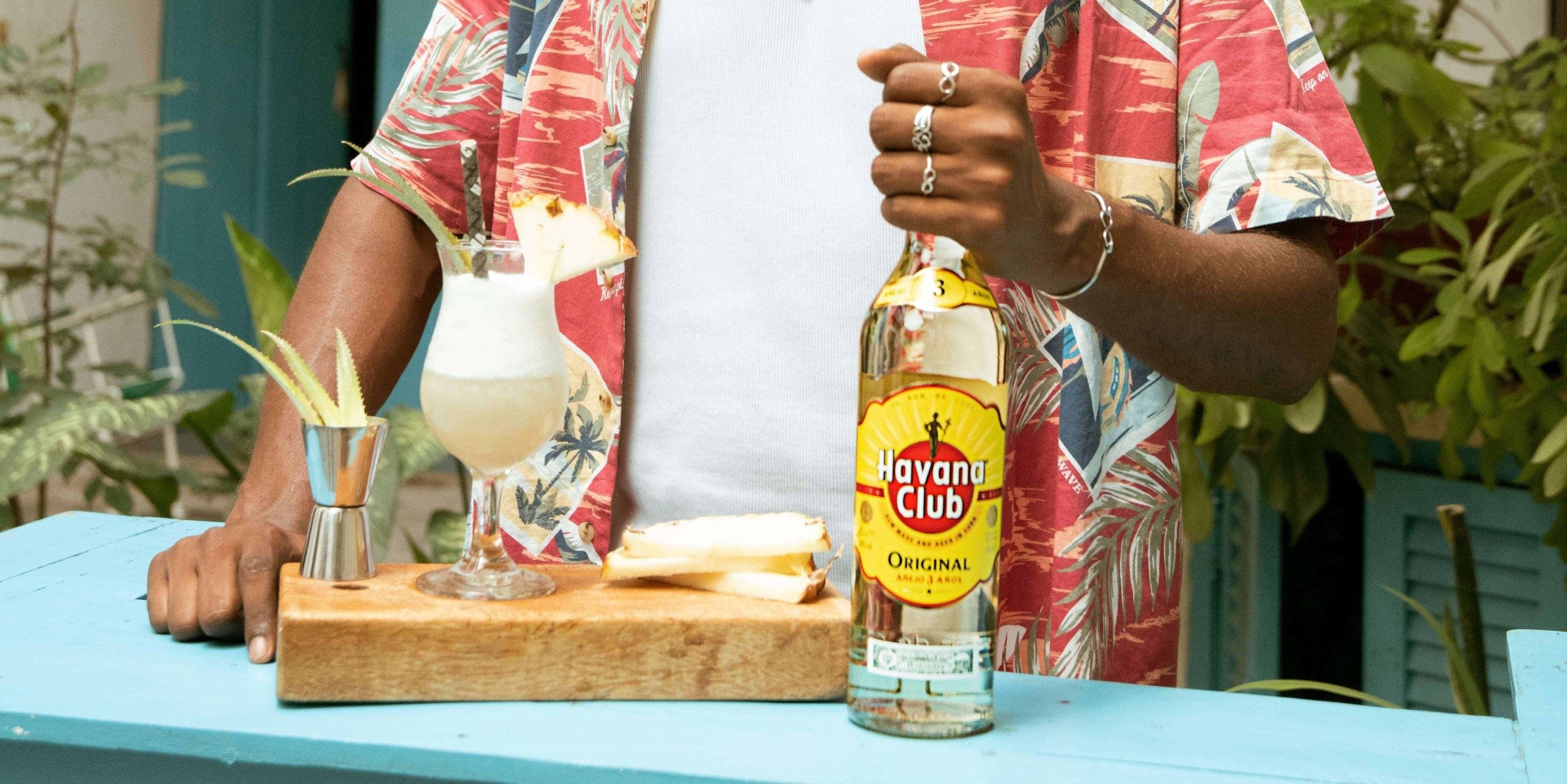 Enjoying a cocktail often includes the sharing of stories. If you want a good story to go along with a good white rum, then Havana Club has both.
The story of this brand begins with a dream in Spain, lands in Cuba, is exiled to Miami, and has decades of events in between. With a story that spans more than a century you can enjoy reading about this brand on its website, while enjoying the REAL Havana Club white rum.
This white rum is the only thing that the Archebala family, the founders of Havana Club, was able to keep when the original distillery and name were stolen in Cuba. It was only saved because it had been memorized.
Now distilled in Puerto Rico, this family recipe is still followed to create the traditional Anejo Blanco. This includes using the same double aging process that was first introduced by this brand in 1934 and continues to be a key piece to making the original Anejo Blanco.
This rum is fruit forward with hints of molasses and just a tiny hint of vanilla, brown sugar, and roasted nuts. If a mojito is your cocktial of choice, Havana Club is the rum for the job.
Havana Club is used in bars across the country and can also be ordered through online retailers like Drizly and Total Wine. It is comparable to Bacardi and other popular rums at around $20 a bottle.
Denizen
Denizen prides itself on making rum that is full of flavor and made with "soul." This unique brand was formed in Amsterdam but sought out the best rums in the Caribbean to create its distinct flavor.
This journey to find the best rum included trips to Trinidad and Jamaica, hand-selecting barrels of rum, and relying on the rich knowledge of rum-making found in these countries.
Wanting to go beyond the basic, Denizen chose to blend two different rums – one from Trinidad and Jamaica. The result is a more complex flavor than other white rums, while still maintaining the light and smooth flavor desired in white rum.
The full-bodied flavor is fruit-forward with the unique addition of green sugar cane. It is a perfect mixer for bold drinks or a classic mojito. The complex flavor is also one that can easily be sipped on its own or elevated with a squeeze of lime.
While Denizen is used by bartenders in big cities across the country, you may have more difficulty finding it at your local store. However, you may have success at larger liquor stores.
The enriched qualities of this rum increase the price a bit, but it is typically only a few dollars more than Bacardi and other similar brands.
Plantation 3 Stars
If a white rum with a complex flavor is your preference, then Plantation 3 Stars is another brand to try. Like Denizen, this brand follows the Caribbean tradition of sourcing rum from multiple islands.
Plantation 3 Stars fully embraces this historic way of making rum by using a blend of rums from all three of the primary Caribbean territories: Jamaica, Trinidad, and Barbados. Unaged rum from Barbados, Trinidad rum that's been aged 2-3 years, and unaged Jamaican rum with just a little bit of 10-year-old Jamaican rum.
The final flavor of this complex blend has warm notes of brown sugar, coffee, and honey, plus a hint of vanilla. A blend that Plantation 3 Stars says is perfect for daiquiris. In addition to daiquiris, this white rum is excellent for other tropical cocktails like Mai Tais.
Look for this tasty white rum at a local liquor store next time you are planning a summer cocktail party. It is priced in the same range as Bacardi.
Don Q
Rum-making is a family affair at Don Q. This Puerto Rican brand that released its first rum in 1865 is still run by the Serrallés family, over 150 years later.
While this brand has always been known for producing some of the best rum, it began exploring more innovative ideas in the 1980s. One of the innovations that have helped make Don Q a notable brand is its innovative waste reclamation process
This process was introduced in 2004 by Roberto Serrallés, who has a Ph.D. in Environmental Sciences. This development put Don Q on the map as one of the greenest spirits producers in the world. Therefore, if choosing a brand that is not only great tasting but great for the environment is important to you – Don Q is a great choice.
Beyond being made in the greenest way possible, the brand's classic white rum Cristal is unique in other ways. Following a multiple distillation process, plus being aged for anywhere from 18 months to 5 years, Cristal is extremely smooth.
This smooth white rum is so smooth that the brand proudly advertises that it can pass as vodka. Therefore, instead of buying both vodka and rum, save money and grab a bottle of Cristal for all your cocktail needs.
As one of the least expensive white rums on the list, you'll save money with this brand, without sacrificing taste. Moreover, it is easy to find at most liquor stores across the country.
Diplomatico Planas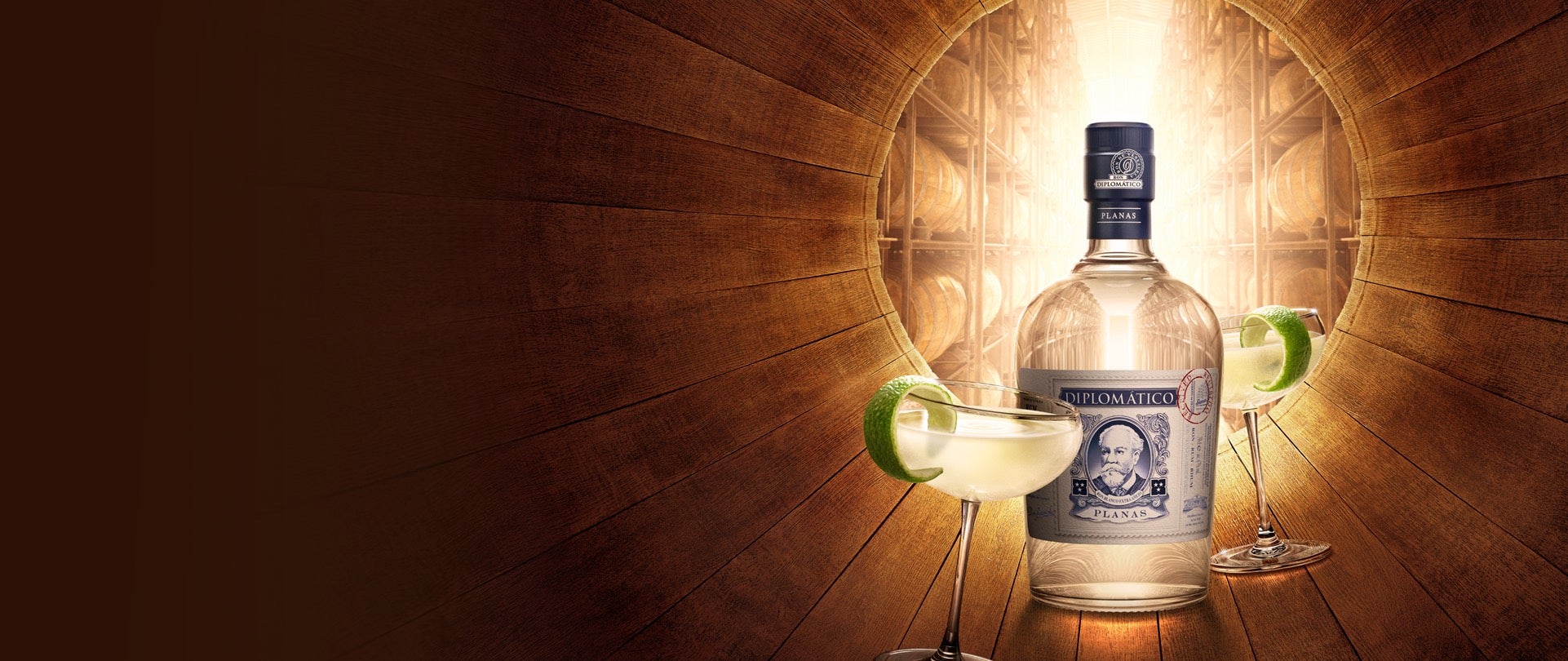 While white rum is usually used as a mixer, not every white rum has to be mixed to be enjoyed. Just like a well-aged whiskey that can be sipped neat, so can a well-aged white rum.
Diplomatico Planas is known for its premium white rum that has been aged for at least six years. This is about 3-4 years longer than most rum brands. In addition, Diplomatico Planas is known for using three different distillation processes.
The balance of additional time aging and multiple distillations is the key to this ultra-smooth white rum. Smooth enough to sip on its own or to mix for an elevated cocktail.
Established in 1959 in Venezuela, this brand is younger compared to many other brands. However, it has proven that the innovation and dedication needed to create an exceptional premium spirit does not require a hundred years to perfect.
The only downside to this exceptional brand is that its availability is more limited than other brands. It is primarily used in bars on the west coast and in Hawaii. Look for it on the cocktail menu the next time you are out for drinks.
Flor De Cana
The story behind many of the best rum brands began with Spanish immigrants. However, Flor De Cana is a story originating in Italy and continuing in Nicaragua. To this day, Flor De Cana is still owned and operated by the original family.
Like Diplomatico Planas, this brand is aged a bit longer than most brands. Its white rum Cristalino is aged for only four years though (in contrast to the six years used by Diplomatico Planas).
In contrast to other brands that often use sugar to assist with the aging process, all Flor De Cana rums are naturally aged in bourbon barrels without added sugar. This provides a drier flavor compared to many other brands.
However, a drier rum does not mean a lack of flavor. This distinct white rum has warm notes of chocolate, with hints of vanilla and orange. Mix it into a traditional cocktail or with club soda.
Look for this sustainably produced spirit the next time you are in search of a white rum that is well-suited for any occasion.
Wray and Nephew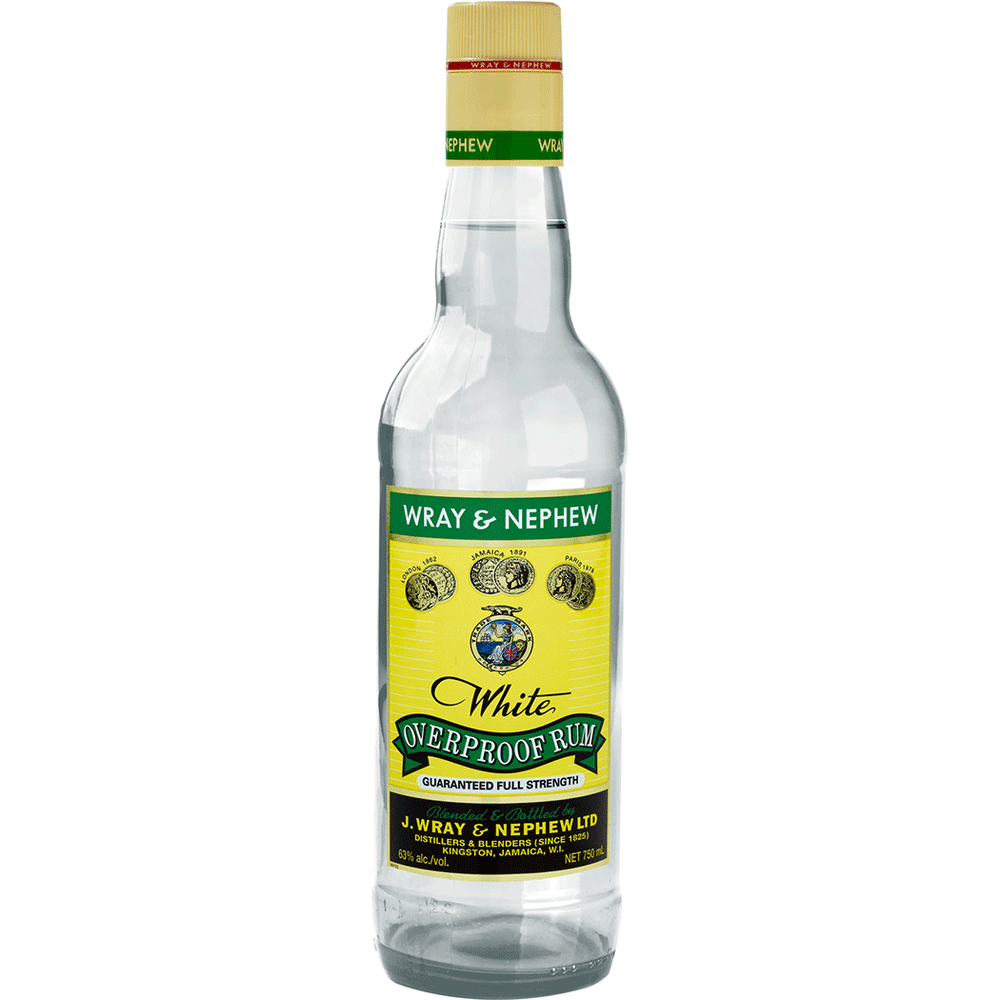 If your goal is a strong drink, then look no further than Wray and Nephew. Distilled in Jamaica, Wray and Nephew's white rum has an alcohol percentage of 63%, compared to the average 40% of most white rums.
This overproof rum is considered Jamaica's original rum. The brand's founder John Wray first opened a tavern in Jamaica in 1825 which later led to him creating his own rum.
A distinct flavor that includes hints of tropical fruit and spice, this original white rum is a great choice for bold cocktails. In addition, many enjoy pairing it with a lighter rum for a strong flavored drink.
Wray and Nephew is slightly cheaper than brands like Bacardi and a common white rum sold in many liquor stores. If you visit Jamaica, Wray and Nephew is a must-try while you are there.
Rhum J.M.
Like many of the other best rum brands, Rhum J.M. has a rich history in rum-making. Named after its founder, Jean-Marie Martin, this brand released its first rum in 1845.
Over the years, this brand went through some financial difficulties that led to changes in how the brand was run. First, they partnered with the Crassous de Médeuil family in 1914. Then, in 2002 the brand and distillery were sold to the Group Bernard Hayot.
Despite the changes in ownership over the years, the quality of this premium rum brand has stayed intact. Moreover, today it is recognized not only for its premium white rum but its exceptional sustainability practices.
One distinctly unique thing about this historic brand is that it offers three different types of white rum.
Rhum Blanc
40% ABV
Sweet flavor with notes of honey, fresh lime, and cane flowers.
Preferred by bartenders as a well-rum for any rum-based cocktail
Rhum J.M. Blanc
50% ABV
Similar bold flavors of fresh lime, honey, and cane flower as the 40% version.
The preferred choice for daiquiris and ti' punch
Rhum J.M. 110 Proof Blanc
55% ABV
Flavor notes reflect the same elements as the other two white rums but are enhanced by the elevated proof of this rum.
The preferred choice for a shaken rum cocktail.
The different choices of proof provided by Rhum J.M. make this a great all-around brand to be familiar with. While a younger audience may enjoy the common well spirit of the classic Rhum Blanc, a more mature audience may lean towards the more expensive Rhum J.M. 110 Proof Blanc.
Whatever your preference, this popular brand is easy to find across the country in liquor stores and bars. Therefore, giving you plenty of opportunities to explore all three varieties to find your favorite one.
Owney's
The centuries-old tradition of rum distilling is making a comeback as a new business venture. Especially in the United States.
Distilling spirits in the United States was a regular part of the culture until Prohibition. However, while it was permitted again at the end of Prohibition, it has been a slow-growing practice.
In New York City, Owney's is one of the distilleries that has brought back this historical practice to the United States. Although based on tradition, this distillery has several modern elements.
Unlike traditional rum that is distilled for years in oak barrels, Owney's uses pot distillation. This makes for a shorter process, without sacrificing flavor. Another modern spin is that Owney's is a female owned distillery.
Owney's classic white rum presents bold floral notes balanced with molasses and tropical fruits. It also has hints of banana, cane, and smoke that provide a bit of earthiness. A few cocktails favored for this rum are a classic daiquiri, El President, and Newgrowney (Owney's spin on a negroni).
In addition to this classic white rum, Owney's also makes an overproof variety. The overproof white rum leans on grass and cane sugar as its primary notes. It has a strong sharp flavor that represents the 65% ABV.
Distilled in Brookly, this craft white rum is not as readily available across the country as the more classic brands. In addition, as an artisan spirit, it is more expensive than traditional rums. A single bottle runs about $33.
However, if you are in New York and want to support a local distillery, this is an excellent modern rum to try.
Cutwater
On the other side of the country is another modern distillery. Located in San Diego, Cutwater Distillery is one of the most popular modern distilleries.
However, a big difference between this brand and the other rum brands is that Cutwater is not solely a rum distillery. Cutwater distills several different types of spirits.
Despite rum not being its primary spirit, this brand has created a high-quality small batch of white rum. Moreover, a rum that reflects the spirit and flavor of the west coast it is made along.
Made from 100% pure cane sugar, Cutwater white rum is distilled in a hybrid pot-and-column still. The result is a smooth silver rum with a light flavor that can be enjoyed on its own or mixed in with your favorite cocktails.
Even though this is a small-batch rum, it is not any more expensive than brands like Bacardi. Therefore, if you want to try a modern take on a classic spirit, give Cutwater a try.
If your local liquor store doesn't carry cutwater, you can order it on Drizly.com
Cane Run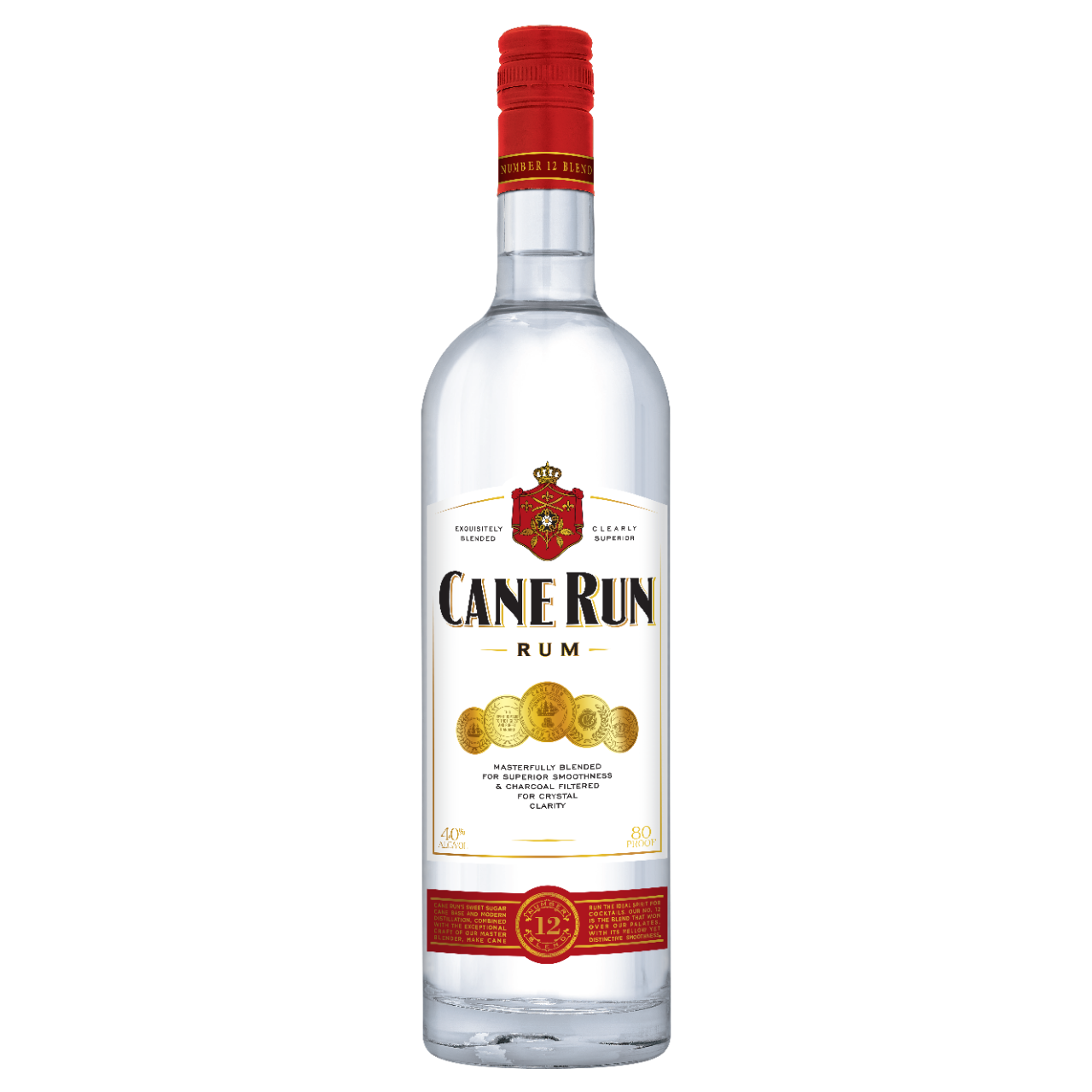 Cane Run prides itself on being a modern rum brand. However, as one of the many brands owned by the Sazerac Company, this modern brand reflects a history of almost 400 years.
The Sazerac Company began in 1630 with the Cognac business in France. In the 1800s the company migrated to the United States, landing in New Orleans, Louisiana. Since then, the Sazerac Company has continued to grow each century.
Today, the Sazerac Company is a global leader in premium spirits. This includes Cane Run, which is a premium imported rum. Charcoal filtered and aged up to 5 years, this rum is given plenty of time to develop a rich flavor.
The complex flavor of Cane Run white rum is intended for sophisticated rum drinkers. Specifically, for those that will appreciate the classic sweetness of brown sugar, molasses, and vanilla, with the addition of a peppery and spicy finish.
Although intended for a sophisticated drinker, Cane Run is one of the least expensive brands around. Therefore, making this premium rum available for all drinkers.
Blue Chair Bay
Blue Chair Bay is a modern brand that was founded by country singer Kenny Chesney. Inspired by island life, this brand focuses on creating flavored rums that add a modern twist to a classic spirit.
While many of the signature rums by Blue Chair Bay are flavored, they all start with its flagship white rum. Aged along the Caribbean coastline, this white rum is made special by the wind and salt air that sneak into each oak barrel. The final aged product is a flavor-filled white rum.
With classic notes of golden sugar and tropical fruit, plus a little bit of spice, this rum is made to be enjoyed in true Caribbean fashion – mixed in a fruity cocktail and sipped while sitting on the sand.
This beachy rum is easy to find across the country and to order online. With a similar price point to popular rums like Bacardi, you can enjoy it all summer long. So, pick up a bottle, pull up a chair, and turn on some country tunes.
Conclusion
A spirit rich in history, white rum has been helping to create stories for centuries. Moreover, continuing to create new stories through modern distilleries.
While there are many similarities between the various white rum brands, each brand provides its own identity and story. Now, it is your turn choose the brand that is best for your story.
15 Mexican Beer Brands to Get Your Buzz On
481 Wine Captions for Instagram to Make Your Vino Game Lit