Swiss chocolate is known for being the best in the world due to its deliciously balanced flavor and rich, creamy texture. The result of a perfect blend of cacao and milk.
While Swiss chocolate traditionally must be made in Switzerland, you can purchase it worldwide. Here are the 13 Swiss chocolate brands to try, wherever you live.
Lindt
Lindt chocolates are easy to find at almost any grocery store or market in the United States. Therefore, you may not have realized Lindt is a Swiss Chocolate Brand. Moreover, you may not have known this world-renowned brand is over 175 years old.
History of Lindt Chocolate
This brand was established in 1845 by a father and son duo who set out to create a tasty solid form of chocolate. Originally working from a small bakery in Zurich, David Sprugli-Schwarz and his son Rudolph Sprungli-Ammann quickly moved to a larger factory after the social elite demanded more of the decadent chocolate.
Since that first move in 1847, this family-owned chocolate brand has continued to grow rapidly. However, the Lindt name was not officially associated with the company until 1879.
After World War 2 the demand for chocolate became even greater and the famous Swiss brand began expanding into other countries. This expansion was not only one of exporting chocolate but also developing new factories.
Today, the Lindt brand has dozens of subsidiary brands worldwide. Moreover, they are recognized as the number one premium chocolate brand in most areas of the world.
In the United States market, this traditional Swiss chocolate is one of the bests not only because of its taste and texture but its variety. Lindt has a range of chocolate flavors that include milk chocolate, white chocolate, and dark chocolate.
In addition to the brand's traditional year-round chocolate flavors and Lindt balls, you can find an assortment of different chocolate items for different holidays. This includes peppermint chocolates and Santa-shaped chocolate for Christmas and creamy chocolate bunnies for Easter, just to name a few.
Whether you are looking for a perfect holiday treat or just something sweet on a weekday, Lindt chocolates are easy to find at Target, Walmart, and online.
Cailler
Although Lindt is the most well-known Swiss chocolate brand today, it is not the oldest. And there is something to be said about a chocolate brand that is still around after more than 200 hundred years.
Initially started in 1818, Cailler chocolates were made and sold from a small grocery store owned by the Cailler creators Francois-Louis Cailler and Abram L.C. Cusin. While this initial partnership eventually dissolved, Francois-Louis Cailler continued to run the business.
With the growth of the company, Cailler was bought by Nestle in 1931. However, Cailler is still manufactured under the Cailler name and logo. Its products are also still manufactured in Switzerland. Moreover, it continues to use only the best ingredients. This includes sustainable cocoa and fresh milk from local dairies.
Cailler chocolates are traditionally sold as chocolate bars. They come in a range of delicious flavors from creamy milk chocolate to dark chocolate, and other options with nuts and caramel.
This traditional Swiss chocolate can be purchased online at their website, where you can also learn more about the rich history of the oldest Swiss chocolate brand.
Nestlé
While we are mentioning Nestle, let us add this worldwide brand to the list. If you live in the United States, you are most likely familiar with Nestle products. The brand behind iconic chocolate bars like Crunch, Baby Ruth, and Butterfinger, Nestle is no stranger to chocolate.
One of their most popular chocolate products is Nestle Chocolate chips. These are an important piece of chocolate history as they are part of the original chocolate chip cookie recipe that Nestle bought in 1930.
History of Nestle in Switzerland
Although Nestle chocolate is known in the United States for its easy-to-grab chocolate bars and delicious chocolate morsels, its history is in Switzerland.
The foundation for the Nestle group began in 1866 with the invention of milk formula for babies. It then continued to grow from there and eventually became a global brand.
While some Nestle products may not have the same indulgent qualities as many other Swiss chocolate brands, it is one of the more affordable and common brands. Therefore, it is worth mentioning alongside a list of other historical Swiss brands because of its ease and affordability.
When you can't get your hands on artisan Swiss chocolate, reach for an easy-to-find Nestle bar.
Favarger
Favarger is a runner-up for the oldest Swiss chocolate brand. Almost 200 years old, this brand originated in Geneva, Switzerland. Since 1826, this brand has been recognized for its commitment to not only tradition but trying new things.
It was the willingness to be innovative that brought about the brand's most famous chocolate – Avelines. Favarger first put Avelines on the market in 1922.
These iconic chocolates are made with Coca, Swiss milk, hazelnuts, almonds, and Madagascan vanilla. Available in either milk chocolate, dark chocolate, or white chocolate, these are a symbol of both Swiss chocolate and Favarger.
Ten years later, in 1932, the brand added another iconic chocolate to the mix – the Nougaline. This is a Swiss chocolate filled with a delicious nougat filling.
Whether you find yourself wanting the hazelnut crunch of an Aveline or the chewy center of a Nougaline, you will be met with the rich flavor and creamy texture of true Swiss chocolate.
While you can buy this online at the Favarger website, consider adding one of their boutique chocolate shops to your travel plans for the next time you visit Switzerland.
Frey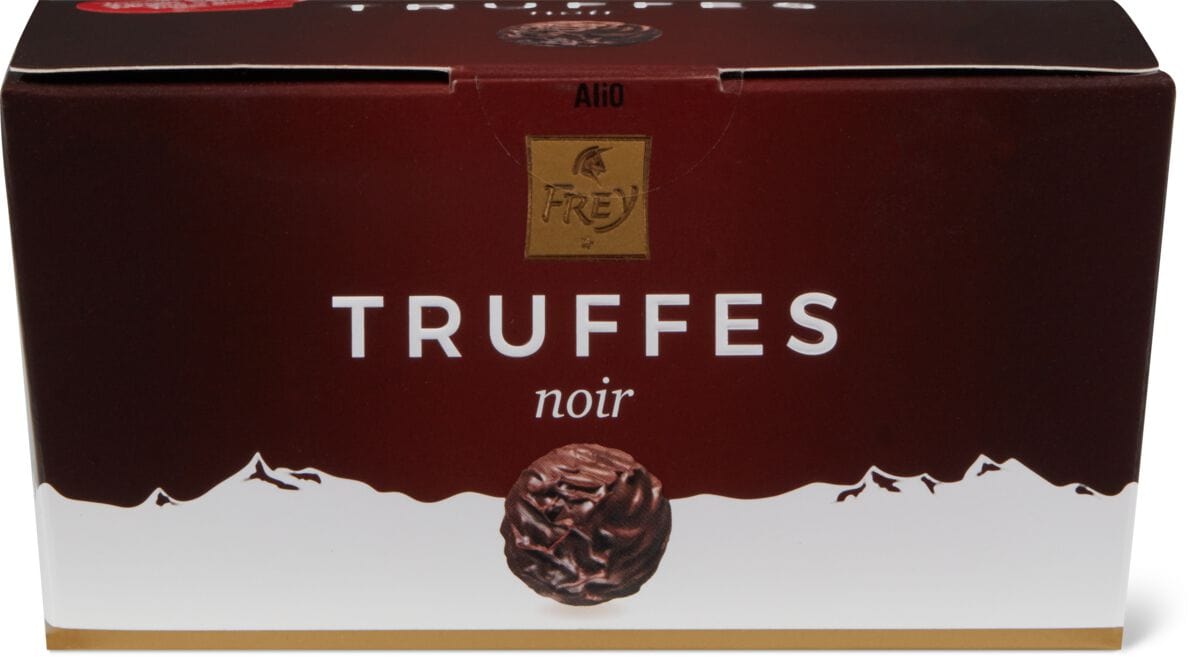 Frey is a well-known brand of Swiss chocolate and has been since 1887. This traditional Swiss chocolate brand started out like many brands, perfecting the basics: chocolate bars and cocoa.
Frey remains committed to its roots and is made 100% in Switzerland. Moreover, this brand does its best to focus on using local products as much as possible.
Although Frey sources many of its ingredients locally, the brand also knows that some of the best ingredients come from other countries. Like cocoa beans. The brand also recognizes the opportunity this gives them to give back and work with other communities.
Therefore, since 2012 Frey has been committed to sourcing cocoa beans directly from the 500 farmers that are members of the Necaayo cooperative in the Ivory Coast. By sourcing directly from the cooperative, Frey can help the cooperative build schools and create better living conditions.
This is what makes it one of the best Swiss brands because when you eat chocolate from Frey you know that you are not only tasting some of the best Swiss chocolate in the world but that you are also helping to support farmers and communities.
Their commitment to working with others is a reflection of their innovative spirit. This idea of innovation transfers to the brand's chocolate as well.
Using the traditional recipes and values that started the brand, Frey has built a chocolate empire for the modern day. Filled with both traditional and fun new flavors.
Whether you are a dark chocolate lover or someone who prefers a bit of sweetness and added flavor, Frey has something for everyone in its standard Flat Chocolate Bar Collection.
Intense Dark 91%
Extra Dark 85%
Satin Dark 69%
Caramel Sea Salt Dark
Mint Dark
Orange Dark
Dark Hazelnuts Croquant
Milk Hazelnuts Croquant
Extra Fine Milk
The variety of Frey is not only in the brand's range of flat chocolate bars. In addition, Frey offers a wide range of crunchy chocolate bars.
Beyond the basics of chocolate bars, this brand demonstrates its innovation with fun products like the Hazel Stixx that have a chocolate outside and creamy hazelnut filling, and Clouds which are chocolate clusters filled with different mixtures of fruits and nuts.
While Frey is a worldwide chocolate brand, it is more difficult to find in the United States. Therefore, you may need to look for an opportunity to order it online or pick some up on your travels to one of the many countries where Frey is regularly sold.
Austria
Australia
Germany
South Korea
Japan
China
Switzerland
Costa Rica
Israel
Toblerone
While Frey is more difficult to find in the United States, you have probably seen Toblerone in your local grocery stores. This iconic brand is one of the best Swiss chocolate brands not only because of its creamy flavor but also because it is easy to find.
Toblerone was created in 1908 in Switzerland by Theodor Tobler and his cousin Emil Baumann. What makes this brand unique compared to other Swiss brands is its distinct shape. The triangle shape and pacKäging are recognizable around the world.
As one of the most recognizable Swiss chocolate brands worldwide, Toblerone relies on tradition. It continues to use only the best raw ingredients to create its distinctive flavor. Moreover, it remains committed to its iconic shape.
While you only have two chocolate choices to choose from, milk chocolate or dark chocolate, Toblerone offers a unique option that other brands do not. You can personalize the box that the chocolate comes in.
You can add a message like, "Noel" for Christmas or someone's name for a birthday message. This makes Toblerone the perfect choice for an everyday treat or as a specialized gift.
Personalized chocolates can be ordered online. However, you can find the original packaged Toblerone chocolate at many stores around the United States.
Gottlieber
Gottlieber is a name you may not recognize as quickly as other chocolate brands like Toblerone. However, this Swiss brand is revered by chocolate lovers worldwide. Moreover, the Gottlieber Hüppen rolled wafers are an iconic Swiss treat.
Started by Elisabeth Wegeli in 1928, this company was founded on this sweet treat. The rolled wafers are filled with delicious sweet flavors, including decadent Swiss chocolate. Other popular flavors include pralines, vanilla, and amaretto.
While this brand did not begin as a chocolate-focused company, it has grown to include several traditional chocolate treats. In addition to the Gottlieber Hüppen, the brand now makes delicious truffles and other chocolate treats.
Whether it is making chocolate for the wafer fillings or as a tasty truffle, Gottlieber remains committed to tradition. This means using traditional flavors and recipes for Swiss chocolate.
Moreover, using only the best ingredients. All Gottlieber chocolates and treats are made with natural ingredients. No artificial ingredients or preservatives. Therefore, you can expect a delicious and decadent flavor every time – in every treat.
While these traditional Swiss sweets are not easily found in the United States, you can order them online at places like The Swiss House Shop.
Stella Bernrain
Steeped in a long family tradition of creativity and quality, Stella Bernrain began with the name Chocolate Stella in 1928.
While it began the same year as the other popular brand Gottlieber, Chocolate Stella began with a primary focus on chocolate (in contrast to the wafers that were the focus of Gottlieber).
Although the newly formed Chocolate Stella company did not focus on only making hüppen, it was one of the popular Swiss treats made at the chocolate factory. Other popular chocolate treats were the brand's chocolate-covered marshmallows and "branches" (chocolate twigs).
After the formal chocolate factory was established in 1932, this new chocolate brand continued to grow. Throughout its growth over the next several decades, it would continue to be run by family members and remain committed to creating quality chocolate. Moreover, creating chocolate that was innovative and addressed modern consumer needs.
Today, in addition to its original chocolate recipes, Chocolate Stella Bernrain has a range of vegan chocolate, organic chocolate, lactose-free chocolate, kosher and halal chocolates, and sugar-free chocolates.
In addition, the company also focuses on crafting chocolate from fair trade and single-origin resources. This is one of the widest varieties of Swiss chocolate available from any brand.
You can order this private-label chocolate directly from the brand's website. In addition, if you want to experience this Swiss chocolate in Switzerland, you can visit one of their two production sites.
Camille Bloch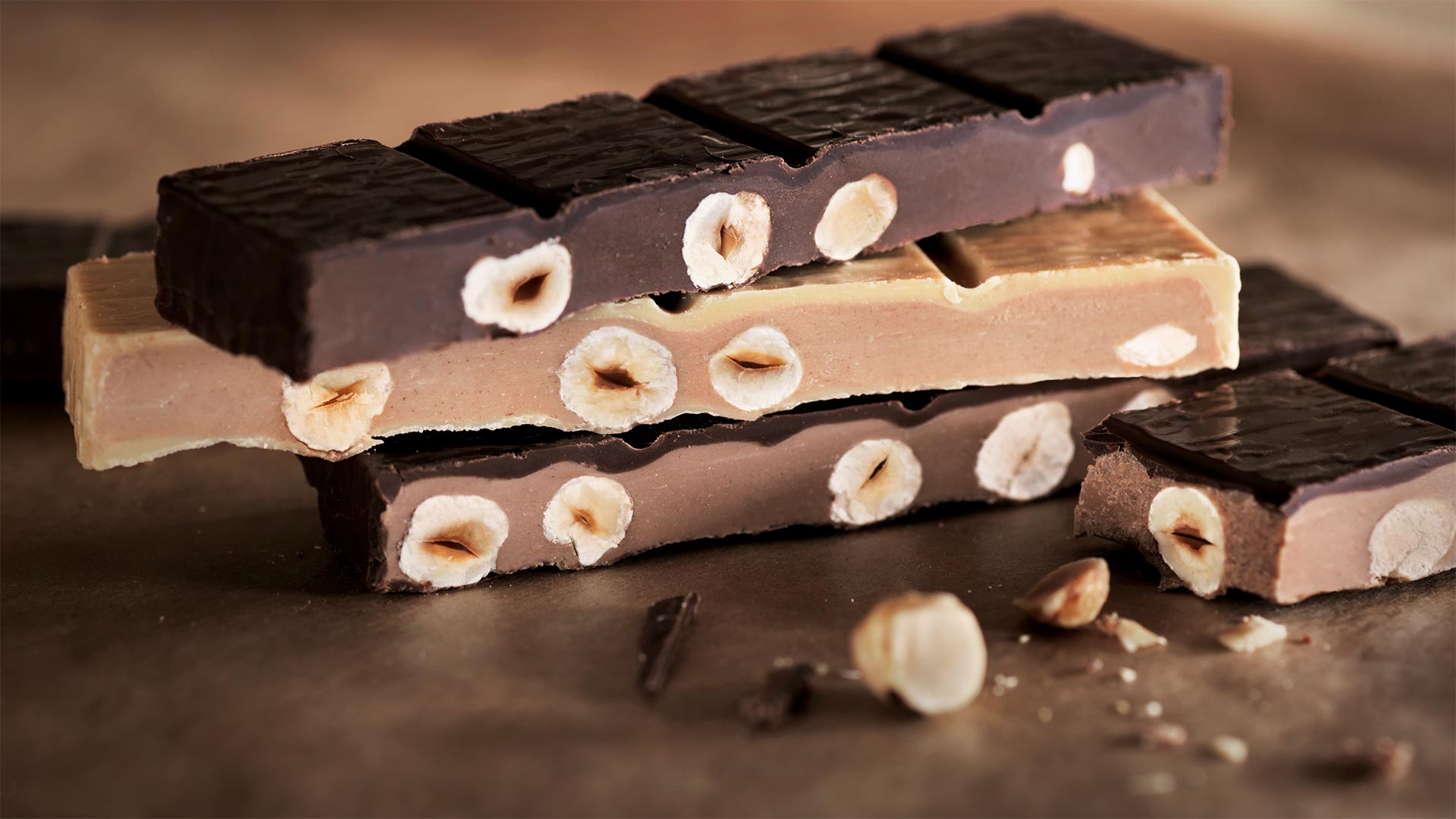 Camille Block is another family-owned chocolate company in Switzerland. It started in 1929, only a year after Chocolate Stella Bernrain and Gottlieber. Today, it is still a family-run business.
This brand is one of the most popular chocolate brands in Switzerland. It is known for its classic product, the Ragusa. The original Ragusa has a smooth praline filling with whole hazelnuts. It is then covered in delicious Swiss chocolate.
The flavor is a perfect combination of texture and taste. It is made even better by the all-natural raw ingredients that are at the base of each Ragusa bar. In addition to the Ragusa Classic, the brand makes a Ragusa blonde and a Ragusa noir.
Camille Bloch is also known for another classic Swiss chocolate treat, the Torino. The classic Torino Lait is a thin layer of delicious milk chocolate with a bitter praline center. These bite-sized chocolate treats also come in dark chocolate and white chocolate varieties.
Beyond these two classics, this brand has a wide variety of other Swiss chocolate treats. It is easy to explore these and purchase them online on their website.
Kägi
Like many other Swiss brands, Kägi has a long history with chocolate. However, this brand is known for a different type of chocolate – chocolate wafers.
Since 1934, Kägi has been known for its delicious wafers that are layered with mousse and covered in Swiss Chocolate. A perfect blend of flavor and texture.
As seen with other Swiss chocolate brands, Kägi has added to its traditional recipe over the years. While the company remains committed to making chocolate wafers it has expanded the flavor options.
These assorted flavors still include Swiss chocolate coverings, but with a variety of mousse flavors. In addition, there is a variety of milk chocolate coatings or dark chocolate.
Kägi Dark
Kägi Hazelnut
Kägi Dark Orange
Kägi Coconut
Although an international company, these chocolate wafers are easy to find on Amazon. Have a box shipped to your home today to try this traditional Swiss treat!
Caotina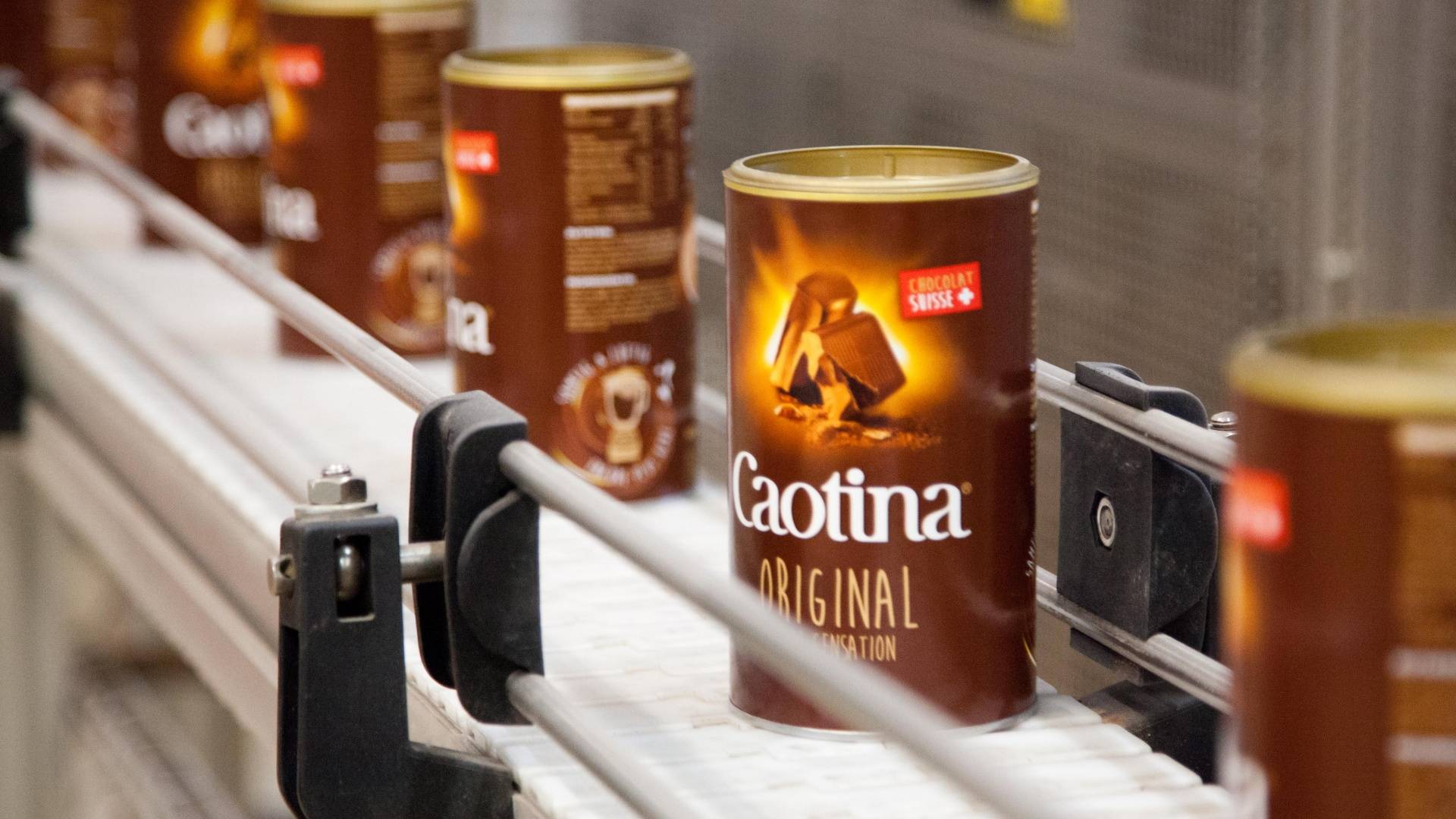 When it comes to chocolate, the Swiss are not only committed to the chocolate you eat as a truffle or candy bar. The Swiss are committed to making the best chocolate in all forms. Including drinking chocolate.
Caotina is one of the popular brands known for bringing the rich decadent flavor of Swiss chocolate to a drink. Available in three flavors, classic, dark, and white, this brand is a favorite for chocolate lovers.
Since it was founded in the Swiss Alps in 1963, it has continued to be a favorite with its signature cocoa powder that can be easily dissolved in both hot and cold water. A perfect beverage year-round.
Moreover, a testament to the quality of this product. For over 50 years it has been considered one of the best chocolate drink mixes – without needing to change or add anything to its traditional product lineup.
The easiest way to get your hands on this chocolate is to order it from the company's United States Distributor, The Swiss Bakery online shop.
Maestrani
If a bar of decadent chocolate with nuts is your idea of the perfect chocolate bar, then Minor is the brand for you. However, if you desire a chocolate bar that has extra creaminess from the added milk, then a Munz chocolate bar might be for you.
Whether you want a Minor or Munz chocolate bar, what you really want is something by Maestrani. This Swiss brand is focused on providing an authentic Swiss chocolate experience, whether it is under the namesake Maestrani label, or the Minor or Munz label.
In addition to having three brands of chocolate, this company is also unique in its business focus. Maestrani focuses on offering chocolate experiences for corporate gifts. Therefore, it is an ideal brand for companies looking to create personalized gifts for their employees.
If you are a business owner or manager that wants to show your employees that you truly care about them, check out the Maestrani website to learn how to order classic Swiss chocolates for your company.
Läderach
Compared to the other Swiss chocolate brands, Läderach is newer. However, it has still been crafting chocolate for over 50 years.
This brand was built on the idea of creating sweet treats as gifts. And it has continued to live up to this goal. Since 1962, Läderach has been creating rich decadent chocolates and confectioners that are perfect for gifts any time of the year.
An example of this brand's gift boxes is its bestseller Pralines & Truffle box – a box of 36 pralines and truffles made in the classic Swiss tradition. You can also find a smaller version of this in an 8-count box.
In addition to the treats that can be packaged as everyday gifts, Läderach is also known for its commitment to holiday-themed gifts. You can find several choices of advent calendars and other themed chocolate gifts that are perfect for Christmas.
Whether it is a classic truffle or a chocolate Santa dog, only the finest fresh products are used to create these Swiss chocolates. Moreover, the brand remains committed to its values of tolerance, respect, and freedom of expression while making every delicious treat. Just another reason to list them as one of the best chocolate brands.
Visit the Läderach website to order the perfect chocolate gift for a friend or loved one.
Conclusion
One of the things that makes these brands all great choices is that they remain true to their commitment to what makes Swiss chocolate excellent. Each brand follows traditional recipes.
Even when exploring new innovative ideas, they come back to the tradition of using the finest ingredients and the recipes that make Swiss chocolate stand out from the rest. Therefore, whatever brand you choose, you can rest assured that you are biting into one of the best Swiss chocolates around.
Top 10 British Chocolate Brands That Will Make You Drool
10 Italian Chocolate Brands To Make Your Life Sweeter
615 Chocolate Slogans and Taglines To Boost Your Sales