French fashion is synonymous with luxury. Brands worldwide try to emulate the effortlessly chic style of famous brands like Chanel and Louis Vuitton, but none can quite compare.
France has been home to many fashion icons, dating back to famous monarchs like Marie Antoinette and Louis XIV. Despite the rising popularity of fashion hubs such as Tokyo and New York, Paris remains a cornerstone of the fashion world to this day.
Here's our list of over 26 of the finest French luxury brands. From well-known labels like Hermès to up-and-comers like Sézane, keep these brands on your must-have list.
Chanel
There is no other brand more quintessentially "French" than Chanel. Founded by the famous Coco Chanel in 1910, the luxury fashion house continues to revolutionize women's fashion, one silhouette at a time.
Chanel created many fashion essentials. Perhaps Coco's most important design creation is the first "little black dress," which debuted in 1926 and changed the course of fashion forever. In addition, there's the iconic tweed jacket, signature CHANEL N°5 fragrance, and the adorably chic Flag Bag.
Today, Chanel carries on the precedent of Coco and Karl Lagerfeld. Modern colors, unique accessories, and updated cuts bring the brand's classic designs into the present.
Louis Vuitton
In 1854, Louis Vuitton established his self-named brand in Paris. The brand started off producing high-quality leather luggage for the wealthy elite of Europe and the U.S. Today, it's known for so much more.
Its world-famous "LV" logo is on most of its pieces, from the iconic Neverfull bag to bikini tops. Each Louis Vuitton piece is undoubtedly a status symbol, popular among streetwear fans and high fashion clientele alike.
The brand has many reputable creative directors under its belt, including Marc Jacobs. Currently, Nicolas Ghesquière is the creative director of womenswear, and Virgil Abloh of Off-White fame heads menswear.
Cartier
Cartier, founded in 1847, is one of the most prestigious jewelers in the world. Its watches and jewelry are highly coveted and gorgeously crafted.
The brand has many iconic styles, such as the Love bracelet screwed around the wrist to signify everlasting love. Its Trinity ring and Panther emblem are also instantly recognizable.
Cartier has a long-lasting relationship with many royal families across Europe, including the British royal family. The brand created one-of-a-kind tiaras, rings, and necklaces for many royals, many of which are still passed down through the generations.
Hermès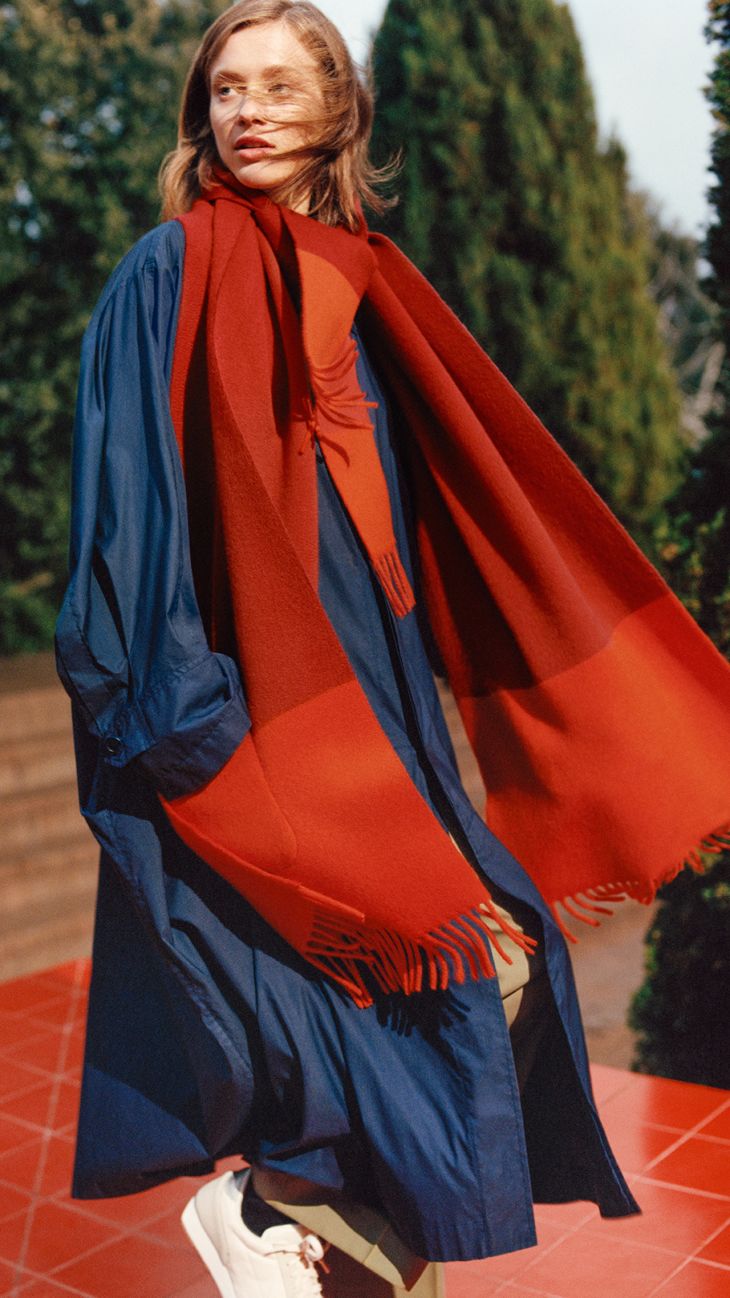 Hermès is most famous for its iconic Birkin bag, created for actress Jane Birkin in 1984. In addition, it's also made iconic fashion pieces like the Kelly bag (named after Grace Kelly) and its silk scarves.
Established in 1837, Hermès initially sold equestrian gear like bridles and harnesses. The brand evolved over the years to include leather accessories, and it now produces refined ready-to-wear lines for men and women.
Hermès' pieces are elegant, understated, and classic. Clean dress silhouettes, subtle pops of color, and expertly crafted bags are the mainstays of the brand. In addition, many designs and cuts pay homage to the brand's equestrian roots.
Saint Laurent
Saint Laurent, also known as YSL, was founded in the 1960s by a young Yves Saint Laurent. The celebrated designer became famous for his sexy, refined designs that were quite radical at the time.
Saint Laurent introduced key trends in womenswear, like tailored trousers and feminine tuxedo suits. Today, the brand still makes timeless pieces with slinky silhouettes and a minimalist color palette.
YSL's latest Spring 2023 collection celebrates the body as a canvas. Floor-length, tubular bodycon dresses are complemented with structured, heavy trench coats. In addition, expert draping and fine tailoring traditions are pushed forward with each new YSL release.
Marcia
Marcia, founded by designer Emma Reynaud, is all about sustainable sexiness. Marcia's form-fitting, skin-baring mini-dresses use regenerated and upcycled fabrics. Its design practices have easily made it a pioneer in French sustainable fashion.
Marcia's shockingly sexy dress designs quickly became a favorite among Instagram influencers. Its curvaceous side ties and lace-up seams make it virtually impossible to wear anything underneath! Marcia's dresses leave plenty to the imagination, however.
Its geometric necklines and stark silhouettes add an element of class that is distinctly French. Marcia also offers full-body catsuits, 90s-inspired cardigans, and comfy bralettes. The brand is definitely living up to its motto, "rhymes sexy with comfy."
Christian Louboutin
You only need one glance at a six-inch stiletto with red-lacquered soles to recognize a Louboutin shoe. The iconic bright red flash of color was born in 1993 when the designer used an assistant's red nail polish to paint the soles of some of his shoes.
Louboutin's sexy, classic shoe designs brought stiletto heels back into fashion during the 1990s and early 2000s. The brand's gravity-defying shoes exude confidence, power, and sensuality.
Louboutin designs also include sneakers, boots, and loafers. All have that signature pop of bright red. In addition, the brand creates handbags and accessories that perfectly embody the brand's sleek allure.
Givenchy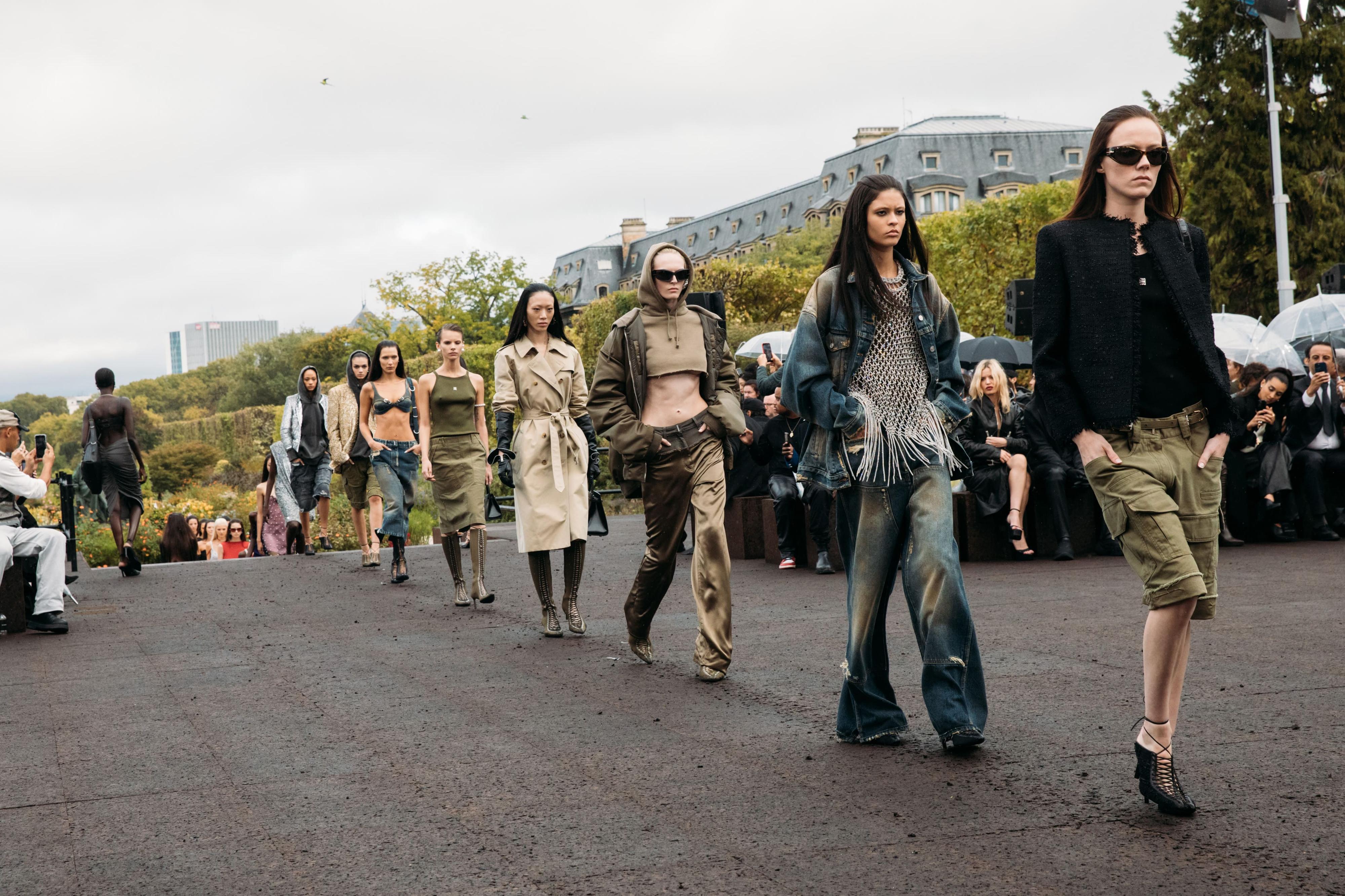 Givenchy rose to prominence in the 1950s. Its versatile, simple designs are rooted in elegance and are truly timeless. Stark black dresses, sleek knitwear, and tailored cuts are all brand signatures.
Givenchy is best known for its long-term collaboration with Audrey Hepburn. Hubert created specially crafted dresses for many of Hepburn's movies, including the iconic black dress from Breakfast at Tiffany's. To this day, Givenchy is renowned for chic, understated silhouettes and cuts.
The brand continues to dress elegant stars. For example, Clare Waight Keller, former brand artistic director, designed Meghan Markle's wedding dress.
Chloé
Chloé is the ultimate boho chic brand. The brand was founded in the 1950s by Gaby Aghion and became one of the market's earliest ready-to-wear French luxury labels. Since the beginning, Chloé has celebrated relaxed silhouettes and modern classics.
Romance infuses each of the brand's designs. For example, the billowing sleeves of a sweater combine beautifully with the simple elegance of a flowing midi skirt. The Marcie, its most famous bag design, is also a perfect marriage of sophistication and practicality.
Designer Gabriela Hearst became Chloé's creative director in 2020. She leads the brand into more sustainable practices, such as using more environmentally-friendly materials and low-impact fabrics.
Sézane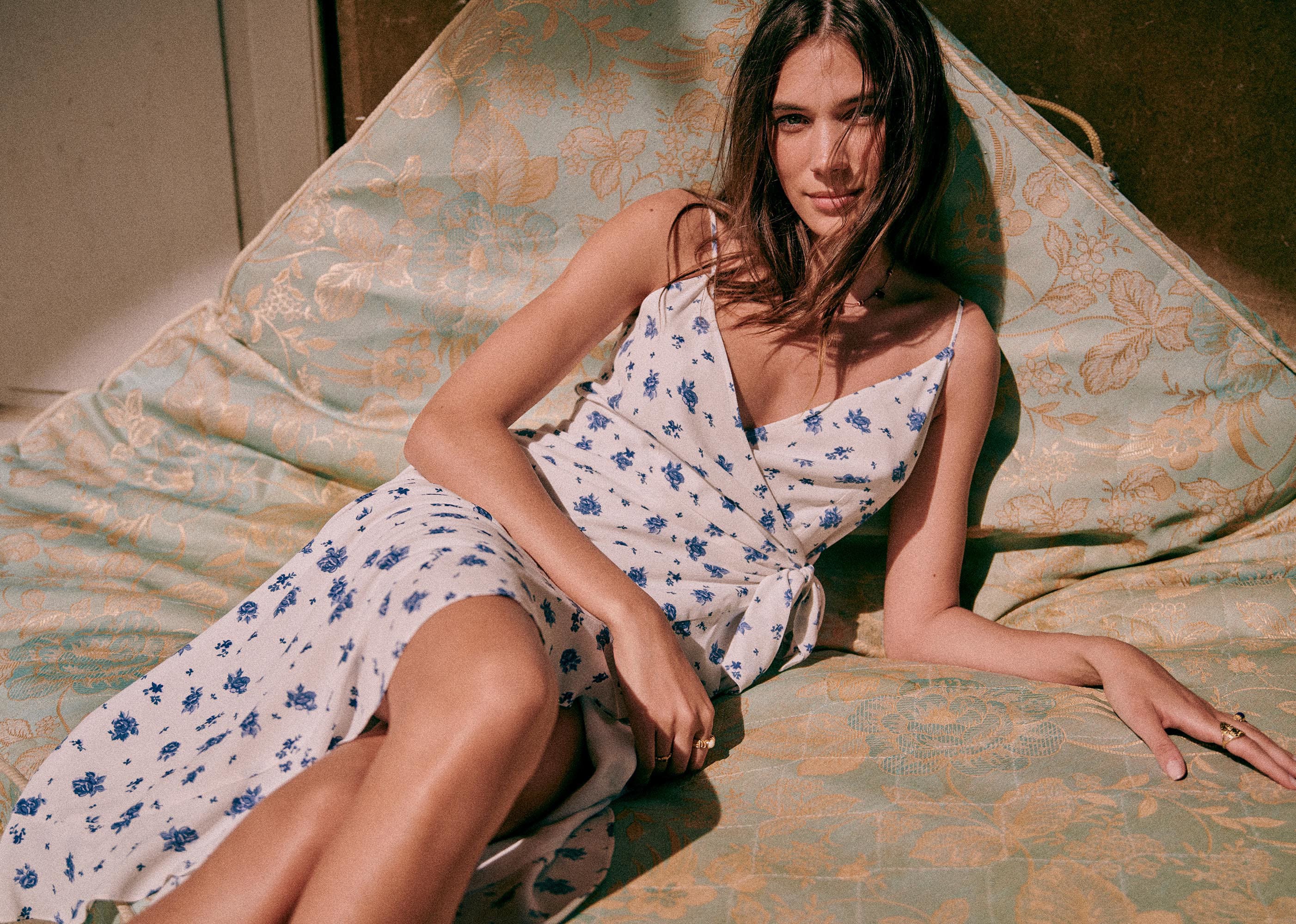 Sézane is an up-and-comer in the French fashion game. However, it already has a strong cult following in France and abroad. Born out of a love of vintage, founder Morgane Sézalory began her brand in 2013.
Like many younger luxury brands, Sézane focuses on creating seasonless and sustainable pieces meant to last in your closet for years. The brand creates chic knitwear with a touch of modern whimsy, feminine dress designs to die for, and classic coats.
Sézane is an environmentally and socially conscious brand. Up to 75% of its materials are eco-friendly, and the brand donates 10% of its global sales to charity. Shoppers love Sézane because they can buy wardrobe staples while feeling good about what they purchase.
Dior
Designer Christian Dior made history when he debuted his brand's first collection in 1947. Titled "New Look," the rich array of cinched-waist dresses and curved necklines rejected the precedents of 1920s and 30s fashion.
Since that fateful debut, Dior has been making waves and redefining elegance in French fashion. Its womenswear designs are always feminine with a modern edge. Vintage floral patterns, black lace, and gold hardware pieces are the brand's most recent aesthetic.
Dior continues to celebrate the feminine with its Autumn/Winter 2022 collection. White lace, billowing sleeves, and ruched skirts bring a romantic fairytale feel to the forefront. The brand also offers menswear, fragrances, and accessories.
Goyard
Goyard is the most prestigious luxury bag maker that no one knows about. This elusive and exclusive brand has been around for centuries and initially crafted travel trunks. Today, its subtly powerful handbags are a true status symbol for the in-crowd.
The brand's signature interlocking chevron pattern identifies Goyard's finely crafted, sophisticated bags. Its subtle, understated designs are not flashy, but they ooze opulence.
The brand is so exclusive, in fact, that it doesn't engage in online sales or advertising. Rumor also has it you can get your initials hand painted onto your Goyard bag for a price. The brand is only available at a few physical locations, including one flagship store in Los Angeles and New York.
Jacquemus
Jacquemus isn't as well-established as some other, more famous, French brands. However, its designs are a much-needed breath of fresh air in the French fashion landscape.
Designer Simon Porte Jacquemus, only 32 years old, creates lively, youthful pieces for men and women. Each collection has elements of the surreal and bizarre but are incredibly wearable. Off-kilter cutouts and drapery create unique silhouettes. Ubiquitous streetwear cuts utilize traditional fabrics like linen and shearling.
Jacquemus is also well known for its youthful, fun bag designs. The ever-popular Chiquitos bag features a rounded handle that contrasts nicely with the bag's severe geometric shape. The Bambinos bag is modern and minimal and comes in various colors, from mint green to canary yellow.
Celine
Surprisingly, Celine began as an artisanal children's shoe brand. It pivoted to ready-to-wear women's fashion in the 1960s.
Celine's designs are quintessentially French. Tailored jeans, crisp cardigans, and collared shirtdresses incorporate effortless sophistication and chic design. In addition, each Celine piece is versatile and can work across seasons because of its timeless nature and subtle color palette.
The brand is also known for its handbags and leather goods. Former creative director Phoebe Philo brought Celine to the forefront with must-have bag designs. The brand's Luggage, Trapeze, and Belt bags are all fan-favorite classics.
Courrèges
Designer André Courrèges, who passed away in 2016, is the invisible force behind 1960s fashion. His namesake brand gets credit for popularizing the miniskirt and defining the iconic go-go boot.
Courrèges pieces infuse modernism and futurism into classic French pieces. For example, high-neck bodysuits have innovative cutouts, while vinyl minidresses nod to the brand's signature 1960s style.
The brand is known for creating cuts and silhouettes that are sexy but easy to wear. In addition, it adapted to modern tastes by infusing elements of streetwear fashion into recent collections. For example, you can dress staples like ribbed turtlenecks and workwear jackets up or down according to your mood.
Rouje
Rouje was founded in 2016 by model Jeanne Dumas. The brand quickly became popular among trendy influencers for its flexible basics and whimsical style.
Dumas says that each Rouje collection is an opportunity for her to create a new dream wardrobe. It's a brand made for women, by women. As a result, Rouje's designs are feminine, flirty, and versatile. Floral prints and classic knitwear are brand staples.
Rouje is so successful because it combines vintage French style with a modern aesthetic. The brand's classy, adorably simple dresses are constantly spotted on celebrities like Selena Gomez and Nina Dobrev.
Musier Paris
Musier Paris is a luxury brand fresh on the French fashion scene. It was founded in 2018 by influencer Anne-Laure Mais. Her love of vintage clothing and all things feminine constantly inspires the brand.
The brand embraces 1990s silhouettes and infuses them with a modern touch. For example, detachable pearl necklaces accent fuzzy tank tops, and adorably ribbed cardigans have embroidered collars.
Anne-Laure credits her design inspiration to powerful, everyday women. The Musier Paris website has a whole page dedicated to female influencers serving as the brand's muses. Celeb It-girls also love the brand, including Emma Roberts and Bella Hadid.
Patou
Patou is a highly esteemed fashion house founded by Jean Patou in 1914. Jean Patou's original designs are credited with "liberating the female figure" because his dress designs eliminated corsets and shortened hemlines. Patou was so popular, in fact, that it was a fierce rival of Chanel back in the day.
Although it is not as well-known by international shoppers as other French brands, Patou is still a French classic. The fashion house was rebranded as simply "Patou" in 2018 and continues to create feminine, chic pieces.
Voluminous collars, ruffles, and pleats are a whimsical call back to Patou's classic French girl style. In addition, its Le Patou bag is minimalist, chic, and subtle. The brand also has a unisex line of casual clothing, like branded bucket hats and tees.
Lanvin
Jeanne Lanvin founded her fashion house in 1889 and quickly became known for her reinterpretations of 19th-century fashion trends. Today, Lanvin is one of the oldest French luxury brands still in operation, and it's not slowing down any time soon.
Lanvin is famous for its perfumes, but its clothing designs are also iconic. Lanvin pieces are known for their stunning silhouettes and refined use of color and dramatic elements. The brand has even kept up with the high-end streetwear trend by producing its own line of sneakers.
Recently the brand announced it's going back to basics to focus on a more subtle, contemporary look. As a result, we may see less opulence and more subdued silhouettes in upcoming collections, but Lanvin's refined taste in design will remain the same.
Maison Kitsuné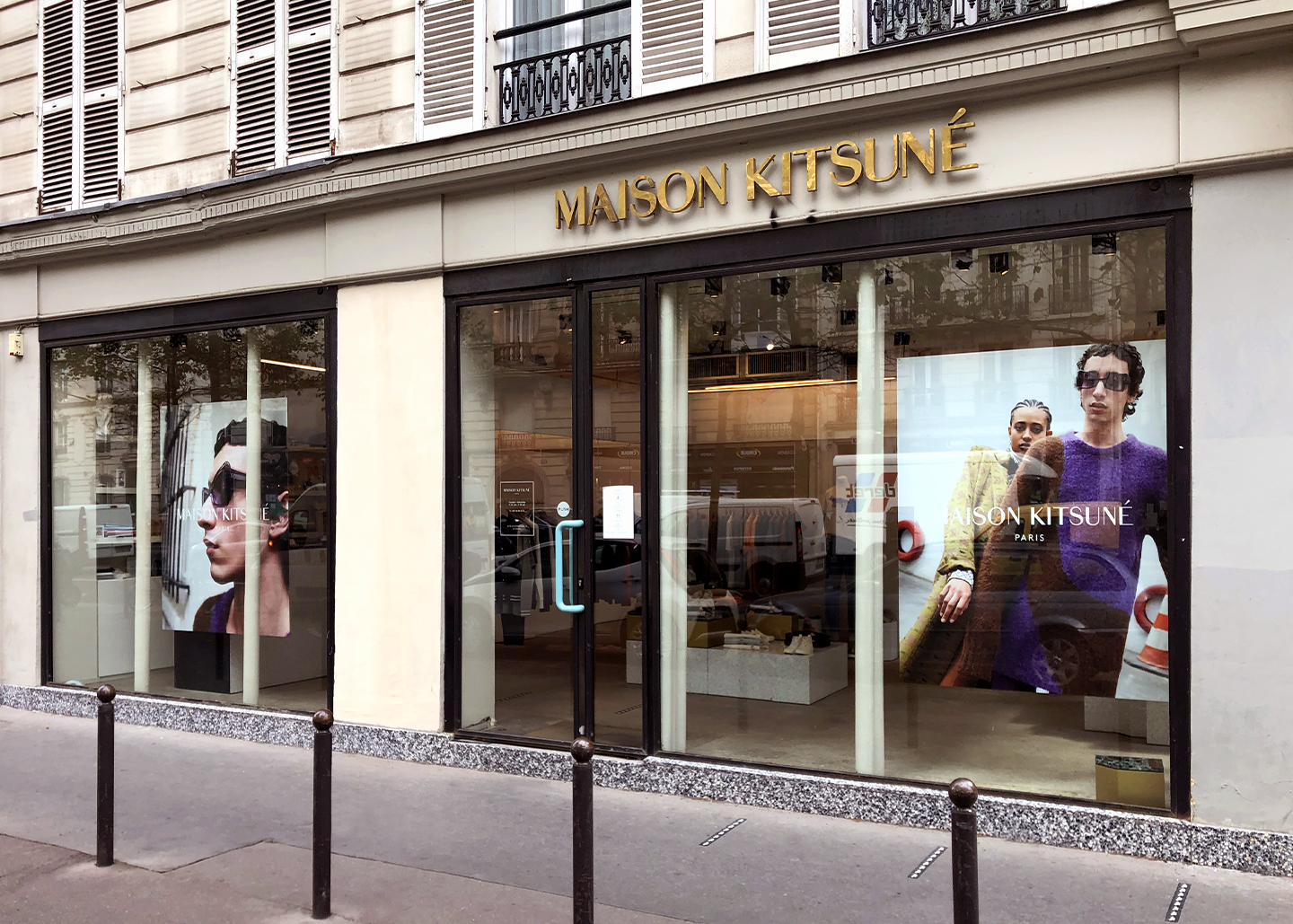 Maison Kitsuné is an all-encompassing lifestyle brand. It is part record label, cafe, art gallery, and fashion label. Its fashion line embodies the generally cool, relaxed vibe Kitsuné wants to put out with all its disparate projects.
Maison Kitsuné draws inspiration from manga, Japanese street style, and classic French sensibilities. As a result, its designs are relaxed, comfortable, and chic. In addition, preppy cardigans, screen printed hoodies, and quilted leather bags all have the brand's adorable fox logo somewhere in the design.
In traditional streetwear style, the brand has collaborated with PUMA, Eastpak, and many other brands to release special edition collections of clothing, backpacks, and even camping chairs. It's a lifestyle brand in every sense of the word.
Balmain
Pierre Balmain and his eponymous brand quickly became known as one of the top French luxury brands after its founding in the 1940s. To this day, the brand is known for its sexy silhouettes and voluminous elements. Balmain fans love its short hemlines, Baroque handbags, and stark prints.
Balmain's current creative director Olivier Rousteing does an excellent job of bringing the brand's timeless style into the modern day. In addition, the brand keeps everyone on their toes with unexpected releases, like its colorful collab with Stranger Things or its Unicorn dad sneaker.
In addition, Balmain's couture gowns are red-carpet-ready. Famous names constantly wear the brand's dresses, such as Lupita Nyong'o, Lizzo, and Beyoncé. On top of that, Cher made an iconic finale walk during Balmain's Spring 2023 show.
Amélie Pichard
Amélie Pichard creates shoes, handbags, and accessories full of fun and whimsy. Her self-named brand stands out from the crowd with its off-kilter, slightly surreal shoe designs.
Amélie Pichard's designs quickly bring out your inner child. For example, fake buckles are drawn onto clogs, golden crocodiles hang out on top of bags, and candle holders look like food.
Amélie Pichard recently adopted a slow fashion approach to business. All shoes are made-to-order, and the designer herself states she's not interested in the exponential growth that big business often applauds. Slow and steady wins the race. We bet Amélie Pichard will be here for a long while.
Isabel Marant
Everything about Isabel Marant screams, "French cool girl chic." The designer's self-named brand started creating clothes in the early 90s and has since remained a French luxury staple brand.
Isabel Marant creates everything from coats to socks. As a result, crafting a whole wardrobe from the brand's easy-to-wear high-fashion pieces is easy. Items like velvet maxi dresses, leather overalls, and shearling cardis bring innovation and refinement to everyday basics.
The brand also has a line of chic watches and jewelry to top off your look. In addition, its handbags come in all shapes and sizes. But, of course, it's hard to choose just one style when Isabel Marant offers patterned tote bags, leather crossbodies, and ruched minibags.
ERES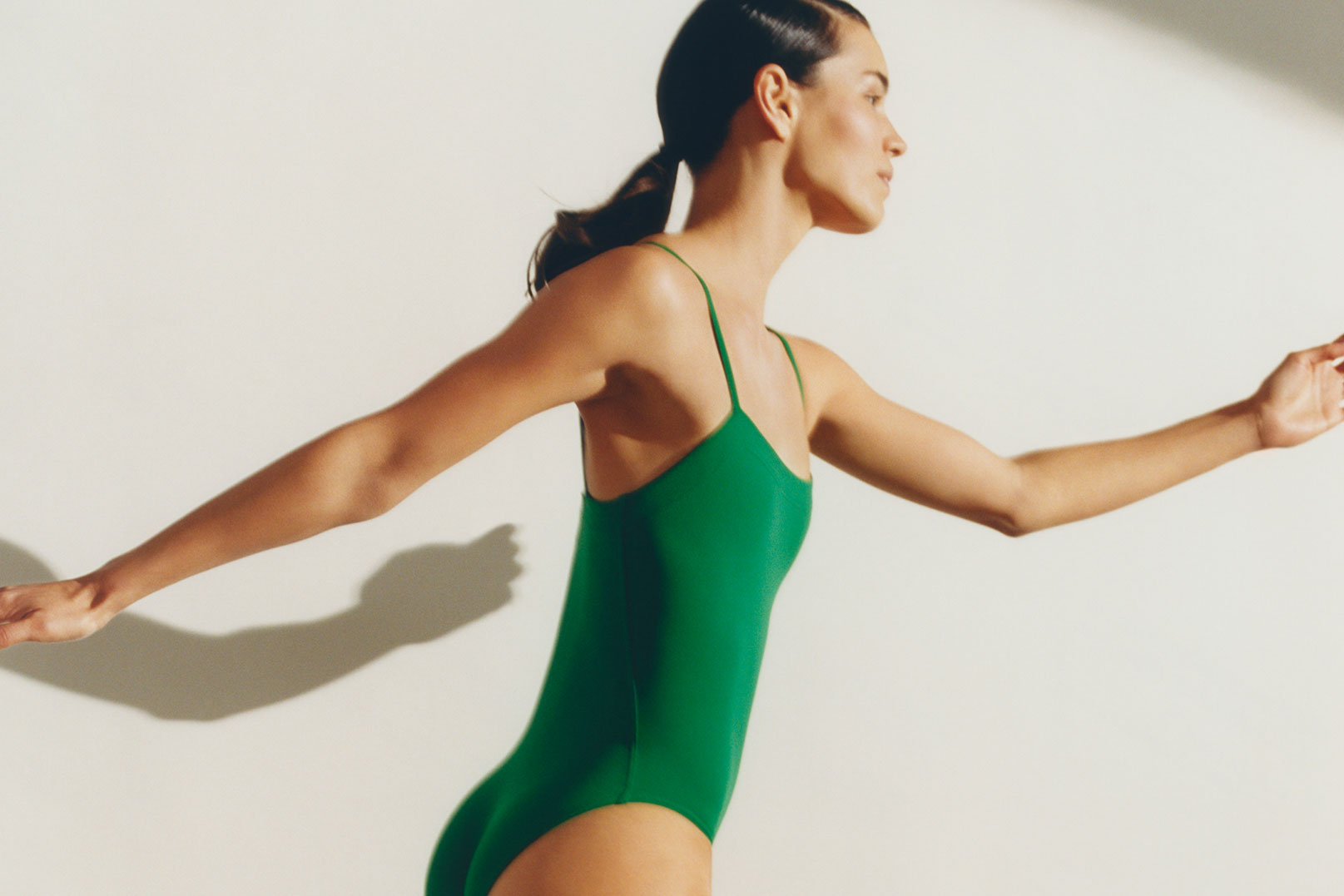 ERES is a beloved lingerie and swimwear brand. It is renowned for its simple cuts, quality fabrics, and flattering fit on pretty much all body types. The brand started in the 1960s to create swimwear without unnecessary padding and wires.
The brand's underthings and swimsuits are no-frills but aren't boring. Each design maintains an elegant sexiness. For example, its sheer bralettes with polka dots look elegant instead of childish.
ERES swimsuits have a cult following for a reason. With their high-quality construction and flattering styles, ERES swimwear is well worth the hefty price tag. We promise if you try one on, you'll never go back.
The Kooples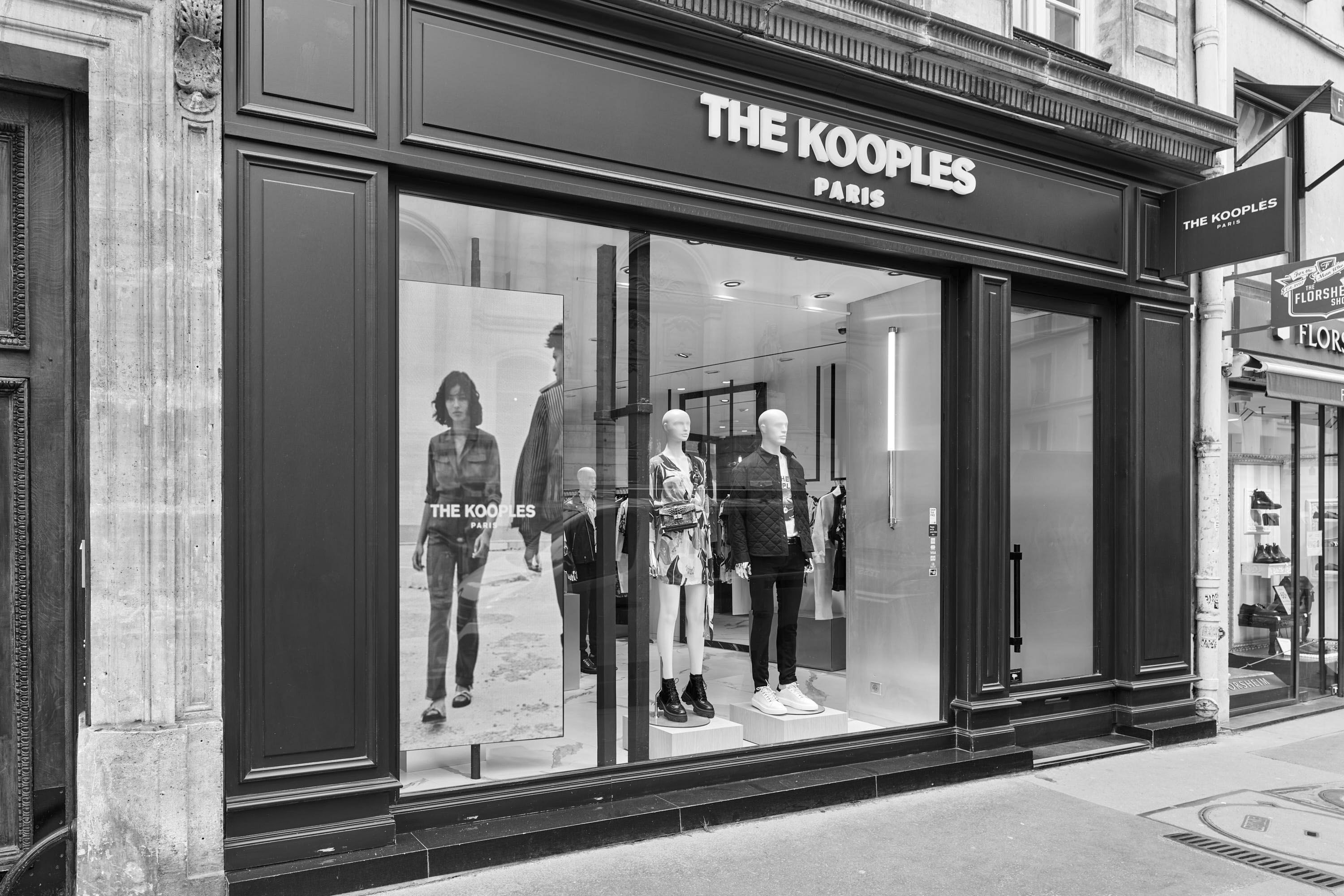 Paris-born brand The Kooples creates pieces inspired by French street fashion. Founded by brothers Laurent, Alexandre, and Raphaël Elicha, the brand skyrocketed to success in the early 2010s.
Its style is rocker chic with a twist of UK grunge. A dark palette pairs with leopard print and plenty of velvet and vinyl. The Kooples' menswear also leans heavily into the rocker aesthetic with leather jackets and graphic pullovers.
After a short-lived artistic director stint by Tom Van Dorpe, the brand recently hired Marie Schott as CEO. Schott aims to bring The Kooples back to its rock 'n roll roots to appeal to Gen Z and younger audiences.
Saint James
What is more iconically French than a striped Breton shirt? Nothing. If you want to add this classic staple to your wardrobe, go with Saint James.
It's a bit of a stereotype, but there is a rich history behind this signature piece of knitwear. Saint James originally made the Breton sweater for fishermen to keep them warm while out on the water. Later, the iconic stripes became the French naval uniform.
Saint James' Breton stripe shirts and sweaters are the most authentic you can get. Its 100% cotton pieces focus on durability and function that lasts a lifetime. The classic stripes speak for themselves.