You may remember Abercrombie & Fitch as a popular shopping destination for casual, slightly preppy looks that every popular kid in high school loved to wear. However, this classic mall mainstay knows how to keep up with the times.
Due to a recent rebranding, Abercrombie is back and more popular than ever before. The famous clothing brand is all grown up. It's now known as a go-to for relaxed, comfortable looks that are professional without being stuffy.
You're in luck if you love Abercrombie's stylish vibe but are looking for something a little different. We've put together 25 clothing stores like Abercrombie that offer similar styles. From sustainable and ethical brands to unique and on-trend stores, there's something for every Abercrombie fan on this list.
Hollister
Hollister is the most obvious brand similar to Abercrombie. Hollister is operated by the same company, Abercrombie & Fitch Co, and sells very similar casual clothing. However, the brand was initially founded in 2000 to target a slightly older demographic than Abercrombie.
Today, the tables have turned. Hollister's clothing and designs now appeal to a younger audience than Abercrombie but still carry California-inspired styles. You can find Gen Z favorites like wide-leg sweatpants, chill bodysuits, and ribbed crop tops.
Like Abercrombie, Hollister is famous for its men's and women's denim. However, Hollister offers more affordable options that are just as stylish as Abercrombie. You can get everything from distressed parachute jeans to tan chino pants. Its wide-leg silhouettes and casual cuts are geared towards a younger crowd but have the same high-quality construction.
American Eagle Outfitters
American Eagle Outfitters is another clothing brand that perfectly complements the style of Abercrombie. Founded in the 1970s, American Eagle combines classic all-American looks with a relaxed vibe that brings to mind long summer days and chill afternoons at the beach.
American Eagle's designs are comfy, cool, and timeless. It's a great brand to shop if you need long-lasting basics and classic pieces like button-up flannels, graphic tees, and cute tank tops. The brand also makes more on-trend pieces, like its 90s-inspired front-tie tops and ruffled crop tops.
American Eagle has a reputation for crafting affordable denim that is high-quality and fits great. No matter your style, American Eagle has a cut and wash for you. It offers everything from super distressed light jeans to dark denim flare cuts. Also, the brand has fun patterns and colors available to spice up your jean collection.
Aéropostale
Aéropostale is an excellent store to add to your rotation if you love Abercrombie's easy-to-wear, casual style. The brand, founded in 1987, offers cute, versatile womenswear and relaxed menswear at affordable prices.
Aéropostale's designs are comfy and chill with a preppy edge. You'll find plenty of cute tennis skorts, floral midi dresses, and essential camis. Its jean collection also features a selection of wide-leg and cargo pants so you can keep on the latest trends.
For men, there's no shortage of pastel chino shorts, polos, and Aéro branded hoodies. In addition, Aéropostale's latest collection draws inspiration from classic athletic wear, so there are letterman-inspired jackets, licensed sports logo tees, and tracksuits with vintage flair.
Levi's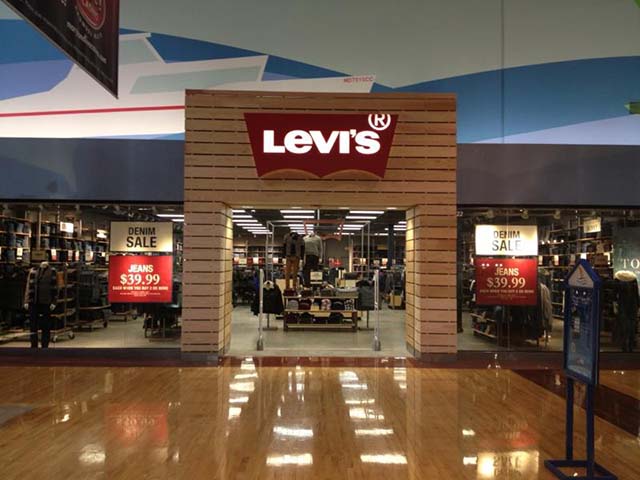 Nothing is more classic than a pair of Levi's jeans. The iconic brand has been in business since the late 1800s, making it a go-to for denim of all kinds.
Like Abercrombie, Levi's has a massive selection of different cuts, washes, and styles for people of all ages. From high-waisted bootcut to low-cut skinnies, distressed capris to 90s dad jeans– Levi's has it all.
In addition to its classic denim, Levi's crafts casual separates like polos, cardigans, and sweaters. Its designs fit in perfectly with Abercrombie's preppy, relaxed style. For example, its argyle sweaters and simple long-sleeved tees can quickly become a new go-to outfit choice.
Ralph Lauren
Ralph Lauren is a classic American clothing brand known for its timeless designs and sophisticated style. The luxury brand is pricier than Abercrombie. However, it's a great option if you want elevated basics and timeless foundation pieces that ooze preppy elegance.
Ralph Lauren's signature aesthetic is all about understated luxury. With its red, white, and blue color palette, preppy stripes, and iconic embroidered logo, it's the perfect brand for those who want an elevated version of Abercrombie's new chic look. For example, its 100% cotton crewnecks and cashmere cardigans are luxuriously soft and perfectly tailored.
The brand's menswear also elegantly combines casual looks with professional chic. For example, you can find relaxed, oversized pullovers alongside expertly tailored herringbone blazers. In addition, you can't pass up a classic Ralph Lauren polo with its signature equestrian polo emblem.
J.Crew
Like Abercrombie, J.Crew features plenty of preppy, understated pieces that work wonders for your wardrobe. The brand's timeless style is easy to mix, match, and work across seasons. The upscale retailer carries all the classic essentials with a modern twist.
J.Crew's designs are slightly older than Abercrombie, but they are still chic, refined, and straightforward. Classic foundational pieces like professional blazers, crewneck sweaters, and sheath dresses are kept fresh with bright colors and streamlined silhouettes.
J.Crew is an excellent brand to pair with your favorite Abercrombie pieces. The brand draws inspiration from retro design and infuses its pieces with a modern sense of fun. For example, its double-breasted blazer and matching chino pants come in bright lavender with neon green buttons.
Forever 21
If you love the look of Abercrombie's designs but are on a budget, look no further than fast fashion retailer Forever 21. You can find Forever 21 alongside Abercrombie & Fitch at almost every mall, so it's an accessible and affordable option.
Forever 21 offers an endless inventory of on-trend pieces that fit any style. This clothing store has everything from boho to Y2K club chic. The brand has plenty of options that fit into Abercrombie's chic, relaxed aesthetic, including essential tees, cropped blazers, and neutral-toned outerwear.
In addition to pieces that fit Abercrombie's neutral color palette, Forever 21 stocks stand-out pieces that are sure to add pizzazz. Options like its bright pink sequined blazer, patchwork denim button-up, and mesh bodysuit bring a modern edge to any wardrobe.
Madewell
Madewell and Abercrombie share a very similar aesthetic that primarily appeals to older millennial women. So basically, if you love Abercrombie's simple but modern pieces, you're almost guaranteed to love Madewell.
Like its sister brand J.Crew, Madewell crafts timeless pieces that will look good for years to come. However, it stands out from other brands with its signature sense of whimsy and vintage twee. For example, its poplin button-up shirt pairs with matching lounge pants, introducing a new way to wear a wardrobe staple.
Madewell's denim also has a cult following. Like Abercrombie, it's known for crafting body-hugging denim that is comfortable and looks good from all angles. Also, Madewell offers store credit if you turn in your old denim to resell or recycle.
Urban Outfitters
Urban Outfitters is a popular clothing retailer that keeps growing in popularity. Its designs are a bit edgier than Abercrombie's classic looks. However, you can find some excellent pieces that look great when paired with some favorite Abercrombie staples.
Urban Outfitters is the place to look if you love the resurgence of 90s and Y2K fashion. The brand modernizes classic looks for the modern age, such as its tie-dye sweater vests and funky-print polo shirts. While you can find neutral colors and basics at Urban, it's best for unique, stand-out pieces.
In addition, Urban Outfitters is known for its beloved denim line. Like Abercrombie, Urban's BDG jeans have a cult following who swear by the fit and quality. From high-rise to low-rise, Urban Outfitters carries it all at a comparable price point.
ZARA
Plenty of millennials and zoomers love Abercrombie's new "grown up" look. That's why ZARA is such a great clothing brand for Abercrombie & Fitch shoppers. The Spanish retailer is known for its chic styles that perfectly marry maturity with trends.
ZARA's refined designs have a hint of edginess. For example, its latest dress collection features long hemlines and prints of Renaissance paintings juxtaposed with sheer fabrics and skin-tight silhouettes.
The brand also has an impressive outerwear collection. Classic trench coats and sleek blazers can easily transition from day to night with their muted color palettes and classic cuts. In addition, ZARA's bomber jackets and puffer jackets capture the same minimalist style of Abercrombie with more on-trend fabrics and tailoring.
H&M
H&M is another store you can find in almost any mall. The Swedish fast fashion retailer has been selling in the US since the early 2000s, making it an obvious choice to compare to Abercrombie & Fitch.
H&M offers fashion-forward pieces at affordable prices. While the brand leans into the fast-moving trends in fashion, it also provides more timeless pieces that can last in your wardrobe for years. For example, you can find elegant outerwear like pleather trench coats, vintage-inspired blazers, and knit cardigans that look good no matter how old you are.
It's easy to shop at Abercrombie and H&M if you love classic, versatile pieces that you can dress up or down. While H&M offers a more colorful palette, you can also find gorgeous neutrals and earth tones to match your latest Abercrombie haul.
Express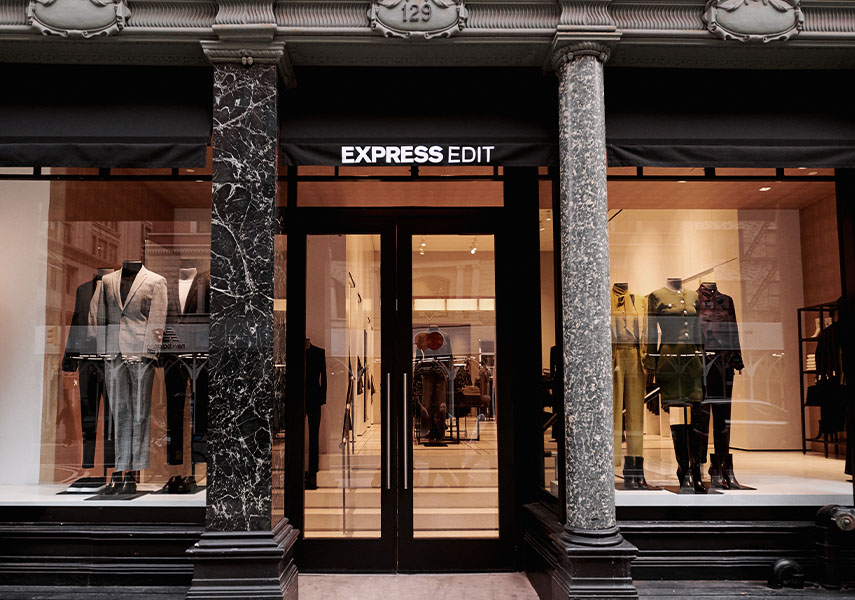 Abercrombie has distanced itself from the skin-tight, barely-there looks that made it so famous in the early 2000s. Today, its style is more minimal and classic, making it a perfect comparison to Ohio-based retailer Express.
Express creates professional, clean-cut looks for men and women, making it easy to look put together. The brand is known for its versatile, office-ready basics like trousers, blazers, and blouses. You can get everything you need to build a solid foundation for a professional wardrobe.
Although Express' looks are minimalist and office-appropriate, that doesn't mean its designs are stuffy. On the contrary, the brand elegantly leans into retro-inspired designs that bring an updated twist to classic favorites. For example, its matching sets feature 90s-inspired monochromatic cable knits that are tailored and come in bright, cheery colors like butterscotch and mocha.
G-Star Raw
Love Abercrombie's denim? Look no further than G-Star Raw. Founded by Dutch designer Jos van Tilburg in 1989, the luxury brand is famous for its raw, unprocessed denim that is built to last. It's an excellent option if you want to elevate your jean collection.
G-Star Raw celebrates denim in its most natural form. The brand expertly constructs each pair to fit your body comfortably. The longer you wear a pair of G-Stars, the more they will break in and mold to your body for the perfect fit.
In addition to its denim jeans and jackets, G-Star produces streetwear like camo puffer jackets, logo tees, and loose-fitting dresses. The brand also features a genderless collection of sleek and classic jean jackets, denim pants, hoodies, and more.
Calvin Klein
Calvin Klein is one of the most famous brands synonymous with American fashion. Calvin Klein launched his eponymous brand in 1968, but it didn't become a household name until its shock-worthy advertising campaign in the 80s.
Like Abercrombie, Calvin Klein offers minimalist, sleek styles with a classic Americana feel. Collared shirts, logo tees, white button-ups, and denim jackets are the mainstays of the brand. However, you can also find casual activewear, graphic tees, and designer athleisure wear.
Calvin Klein is an excellent option if you're looking for timeless, refined pieces. Its color palette is reserved, and you can't go wrong with its versatile basics. In addition, you can stock up on intimates, fragrances, and shoes the next time you shop.
Nudie Jeans
If you're looking for a sustainable version of Abercrombie's jeans, look no further than Nudie Jeans. The Swedish brand uses 100% organic cotton to craft its signature denim pieces.
Nudie Jeans crafts classic-fit denim that will last forever. The longer you wear them, the more comfortable they become. Its jeans are pricier than Abercrombie, but its craftsmanship and high-quality materials make it worth every penny.
To further its sustainability mission, Nudie Jeans offers a lifetime of free repairs. So if you get a tear or rip, you can drop your pair off at a Nudie Jeans Repair Shop or order a free repair kit to do it yourself. The brand is taking the phrase "make do and mend" to the next level!
Banana Republic
Banana Republic is an excellent clothing store if you love Abercrombie's effortless elegance. The brand, owned by Gap Inc, features traditional classics with a modern twist. As a result, it's an excellent alternative for more mature Abercrombie shoppers.
Banana Republic offers versatile, grown-up basics that can easily work in a million different outfits. Its cozy knits, sweater polos, and classic button-up shirts are great for the office and a night out. You can't go wrong with any of its chic womenswear.
The brand also produces menswear similar in style to Abercrombie. Its designs offer casual elegance with a bit more maturity. For example, its turtleneck sweaters and performance polos are perfect for the Abercrombie fan who needs to spruce it up a little for a business meeting.
Lucky Brand
Lucky Brand is another great option to check out if you want to add some diversity to your Abercrombie denim collection. The brand, founded in 1990, makes high-quality jeans in casual styles for men and women.
You can get every style of denim imaginable at Lucky Brand. You're bound to find something that matches your style, from loose denim cut-off shorts to super wide-leg jeans. Each Lucky Brand piece has a laid-back aesthetic that is perfect for a day at the beach or a casual day at home.
While Lucky Brand is best known for its quality denim, it also makes effortlessly cool apparel. It captures the same relaxed vibe of Abercrombie but with a boho twist. Flowy paisley tops, olive green canvas jackets, and cozy earth-tone knits are just a few of its comfy offerings.
& Other Stories
The H&M subsidiary & Other Stories is the upscale retailer everyone has been sleeping on. Like Abercrombie, it offers pared-down, minimalist looks that are simultaneously professional and on-trend.
& Other Stories offers everything from cropped trousers to tweed matching sets. It's a professional girl's dream come true. Its put-together but fun pieces easily make you the best-dressed person in the room.
Pops of unique colors and elements of surprise are integral to the brand's designs. For example, its simple midi dresses use a luxuriously shiny cellulosic fiber that is sustainable and looks great. Also, cashmere knits are simple but chic.
Alex Crane
Alex Crane is the perfect store to check out if you want more of Abercrombie's breezy, relaxed style. The indie label, founded by designer Alex Crane, creates clothes entirely out of natural fibers like linen, cotton, and wool.
The brand's light, breathable clothing is perfect for hot summer days. Also, its simple silhouettes, classic cuts, and light color palette make it an excellent alternative to Abercrombie if you want clothing made of sustainable materials. For example, its men's wool shirt jacket is an almost perfect match to Abercrombie's design.
Alex Crane also produces a small collection of kid's clothing so you can shop sustainably for your little ones. While not as extensive as Abercrombie, Alex Crane's designs never use synthetic dyes and use only the finest fabrics.
Gap
There's no brand more quintessentially classic than Gap. Its style is very similar to Abercrombie, but the brand has a high-end edge because of its reputation for tailoring and high-quality materials.
Gap is known for its dressed-up basics and chic dresses. You can find any kind of cut, color, and pattern imaginable, making it a one-stop shop for classic essentials like denim-tiered mini dresses and peplum tops. In addition, its basics usually have unique tailoring elements that dress up a predictable silhouette.
Gap's menswear is also a great comp for Abercrombie. Its pullovers, polos, and joggers come in a wider variety of colors and cuts to add flair to everyday essentials. The brand also features the occasional Hawaiian shirt and bold stripe pattern to add a pop to your monochromatic favorites.
ASTR The Label
ASTR The Label is an LA-based clothing brand creating trendy, romantic looks since 2012. The brand is beloved among millennial influencers, and its Instagram-worthy looks will have you clicking "buy" in no time.
ASTR The Label captures the feminine, flirty vibes of vintage Abercrombie. Its chic, modern dresses are straight from a fairytale with floral prints, light-as-air fabrics, and cheeky cut-outs. Its designs range from sultry to professional but always have a surprise element like a way-high leg slit or backless silhouette.
If you want to shop ASTR's dream looks in person, the brand has two brick-and-mortar locations in Los Angeles and New York City. Otherwise, its extensive inventory is available through its online store and Instagram account.
Everlane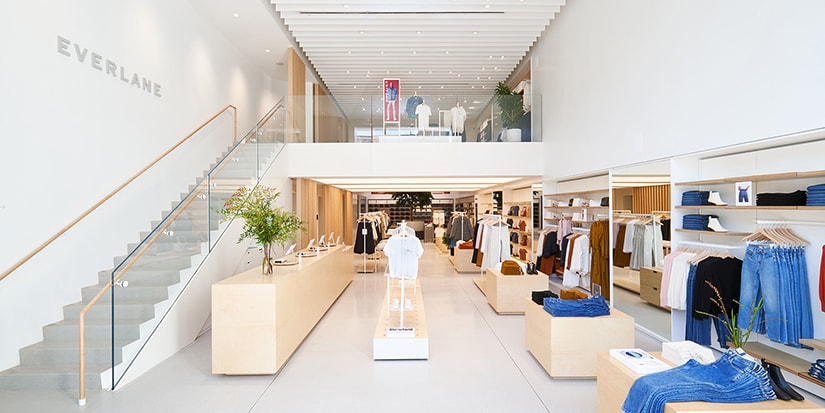 Everlane has been making ethically sourced and sustainable essentials since 2010. Its minimalist, modern designs are very similar to Abercrombie's– so much so that you could argue that Abercrombie followed its lead.
Everlane has what you need to build a sustainable professional wardrobe, from oversized button-ups to knit skirts. Each piece is built to last for years, making it's aesthetic timeless and classic. You can get essentials like pantsuits, trousers, and scoop-neck sweaters in a range of gorgeous neutrals and pastels.
Everlane also carries more casual looks for men and women. Its denim uses organic cotton and produces less water waste in production. Its men's linen button-ups and cotton shorts are just as sustainable.
Mott & Bow
Mott & Bow is all about creating the perfect pair of jeans. Founder and designer Alejandro Chahin grew up surrounded by the everyday workings of his family's denim manufacturing business. He decided to launch Mott & Bow after seeing how expensive and inaccessible quality denim is for the average shopper.
Mott & Bow's jeans are handmade from high-quality materials. In addition, the brand specially processes each pair to achieve unique washes and colors, from solid dark gray to stone-washed light blue. Mott & Bow specializes in skinny jeans, so if you love Abercrombie's line of denim, check out this brand.
In addition, Mott & Bow features an exclusive line of luxury sweaters, tees, and joggers. Made from luxe materials like cashmere and French terry, each piece has the same level of craftsmanship as its jeans.
Mango
Mango is one of Spain's leading clothing brands, and one look at its designs will tell you why. Much like Abercrombie, Mango's sleek, understated style is a go-to for millennials who want clothes that are trendy but age appropriate.
At Mango, you can find a vast selection of versatile, chic essentials that are easy to mix and match. There are cozy cable knit sweaters, cargo jeans, herringbone blazers, and so much more to choose from. Its website even has an "Office Looks" section full of powerful, refined professional pieces like pantsuits and satin wrap dresses.
Mango's menswear is also understated and classy, like Abercrombie. Plenty of neutrals and earth tones make up its collection of wool suits, trench coats, and athleisure hoodies. Mango's menswear pieces are youthful but professional, so you'll never look like you're trying too hard.
PacSun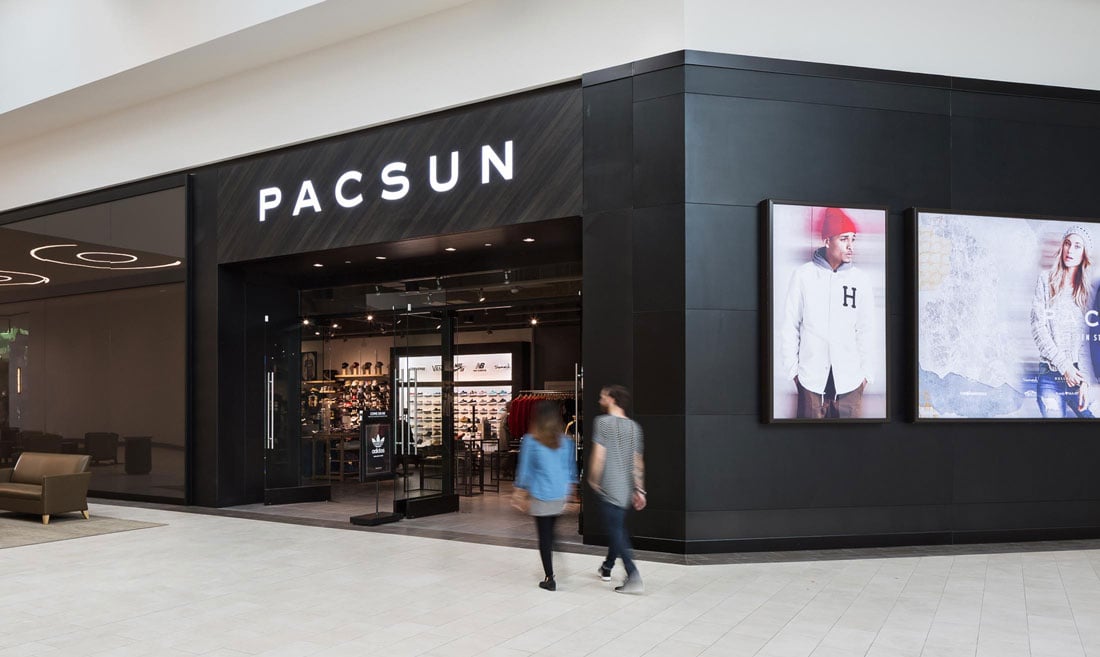 Check out PacSun if you love Abercrombie's relaxed, chill vibe but want something more beachy. The California-based brand serves sunny looks that perfectly capture the casual skater aesthetic many know and love.
PacSun's designs are classic but with more on-trend silhouettes and styles. The brand is currently leaning into the 70s and 90s aesthetic with flared jeans, tie-front cardigans, and lace-up mini dresses.
In addition to its versatile separates, PacSun makes plenty of jeans and pants to fit any style. Choose from oversized parachute pants, zip-off cargos, or a classic bootcut. Also, in addition to its own brand, PacSun carries popular brands like Brandy Melville, Adidas, and Billabong, providing more variety and selection than Abercrombie.